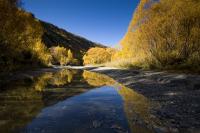 Arrowtown River Trail
A relaxing stroll above the Arrow River through picturesque woodland and past a waterfall.
Distance: 4.2 km loop
Duration: 1-hour return
Difficulty: Easy
Best time of year to go: Good all year. The track can get slippery so wear sturdy shoes.
Location: Arrowtown
Start / finish point: The trails notice board at Butlers Green.
Insider's tip: Turn this into an overnighter and hike the miners' old wagon trail 15 km to Macetown, where you can camp and explore the abandoned goldmining town. This route includes river crossings, so don't go when the river is high.
The Arrowtown River Trail hiking experience
Start the Arrowtown River Trail by the trails notice board at Butlers Green. Head to your left and cross the footbridge over Bush Creek. Then turn right and follow the track round to the left until you reach a track that crosses the Arrow irrigation pipeline. You'll be following the pipeline most of the way.
After walking for about quarter of an hour you'll pass a waterfall, where the Sawpit Gully stream flows into the Arrow River. After the falls, continue past the turn off to the Sawpit Gully Trail, and a few minutes later you'll come to the Norman Smith Footbridge. Here the trail joins the Macetown Road, and you can retrace your steps to Arrowtown.
Contact Us
Company:
Arrowtown River Trail
Physical Address