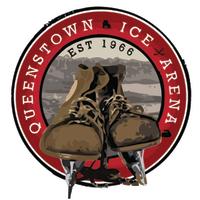 Queenstown Ice Arena
CAN'T WAIT TO SKATE! The Queenstown Ice arena offers a great value, super fun activity for all ages and abilities. Set in the gorgeous Queenstown Gardens, just a few minutes walk from town, the ice rink is a fully enclosed arena and represents a great all-weather option for families/groups.
NEW TO ICE SKATING? Don't worry our 20 minute quick-start lesson is often enough to instil the confidence to relax and start having fun on the ice. Let one of our experienced instructors get you started! Ages 4 + ($30 for 20 minutes / subject to instructor availability / to avoid disappointment call 441 8000 or email to book)
WHAT TO BRING  We recommend you bring some warm clothing and gloves to wear while at the rink. Don't forget your camera as the Queenstown Ice Arena is an INSTAGRAM WORTHY experience! Note that we do provide helmets, wrist guards and knee pads free of charge.
ICE HOCKEY: GIVE IT A GO! Hockey sticks are available for hire during some public sessions. Call to enquire if the hockey area is open. Cost: $10 includes: stick, helmet, gloves and puck hire.
ICE BUMPER CARS: Cool fun for the entire family, groups or for a date night - ice bumper cars are completely unique! Unlike the more traditional bumper car, the ice bumper car experience is very fluid because the slippery surface allows for the cars to bump, spin and slide.  
FUNCTIONS AND PARTIES The rink is available for group bookings, social and business events and birthday parties and private bookings.  We will cater to your needs & provide a fabulous customized experience.
Contact Kellye via email at kellye@queenstownicearena.co.nz
Check our website for costs and availability.
SKATING/STABILITY AIDS We have ice sleds, penguin pals and ride on seals for the kids who need a bit of assistance.  We also have skating aids for adults of all ages & sizes available as well.   $8 hire  + $2 refundable deposit.
CAFE Skaters and families can rest and refuel in the alpine inspired lounge and cafe which offers fresh, delicious food, hot drinks, cool movies and yummy treats all day long.  We have local tap craft beers & Gibbston valley wine.  Try out the Queenstown Ice Arena's famous Homemade mulled wine on a winter's evening or Mulled Ginger Bear to keep your cheeks warm.
RENTAL SKATES All prices include skate hire if required. Check out our new fleet of comfy rental skates. We have two rental skate varieties.- Hockey blade & Figure blade.  We have size 7j up to 15 UK.  
WATCH ICE HOCKEY The ice arena is home to the Skycity Stampede who compete in the NZIHL. Check our website for game dates and ticket prices.  We also have social leagues who train or play games 7 days a week & are FREE to watch.  Check online for our calendar of events.  queenstownicearena.co.nz  Cafe is open 7 days a a week!
HIRE FRISBEES  The ice arena hires discs for Frisbee Golf.  $5 hire plus ID as deposit.  Scorecard & map also available for $3.  
FREE PARKING OUTSIDE THE ICE ARENA!
OPEN:  Summer Season: October 21st-Feb 7th.  5 days a week (Closed Mondays & Tuesdays, please check our website calendar for exact skating times).  
Private Event, Functions & Venue Hire:  We are open to events, groups, conferences, etc YEAR ROUND. Call us or Email us at kellye@queenstownicearena.co.nz and ask for Kellye!
Contact Us
Company: Queenstown Ice Arena
Physical Address
Queenstown Gardens, 29 Park Street,
Queenstown, 9300
Bar/Lounge
Business Services
Coffee/Tea Facilities
Internet Access
Kids menu
Kitchen Facilities
On-site Parking
Outdoor seating
Restaurant on Site
Wheelchair Accessible
Wifi Internet
Open For Business : Yes


Wednesday : 12:00 PM - 5:00 PM
Thursday : 12:00 PM - 9:00 PM
Friday : 12:00 PM - 7:00 PM
Saturday : 12:00 PM - 7:00 PM
Sunday : 12:00 PM - 5:00 PM


Holiday hours : Please check our website calendar at queenstownicearena.co.nz to avoid disappointment
Months of Operation : January, February, December, May, April, June, July, August, September, October, November
Group Info: Contact us for group activities & rates


Group Reservation Email: kellye@queenstownicearena.co.nz


Group Capacity: 642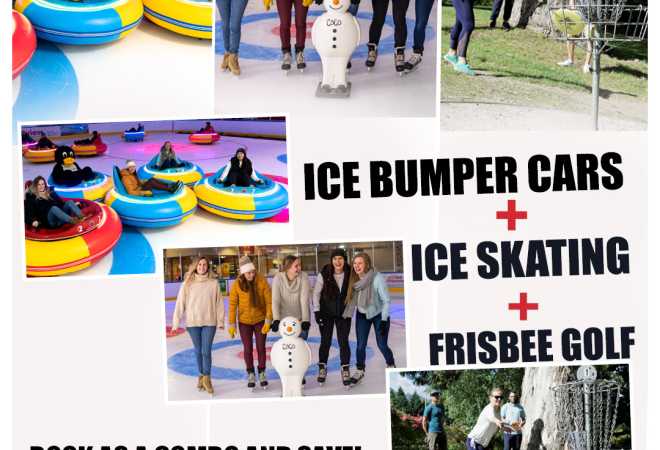 3 activities for $30 at the Queenstown Ice Arena. Ice Skating, Ice Bumper Cars & Frisbee Golf *3 for $30-Must be booked together as a combo in full. All activities must be done on the same day, by the same person during our operating hours. Please plan accordingly. No refunds will be provided for activities not completed or missed or for bad weather days. Valid Photo ID required for frisbee hire deposit per 4 discs hired. Guests must arrive at the ice arena 15 minutes prior to their Ice Bumper Car ride or they could forfeit that activity with no refunds.
Valid until 07 February, 2021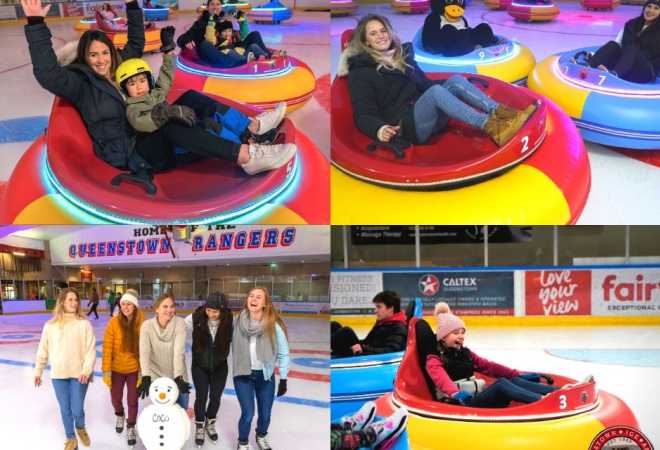 The ultimate deal for a fun day on the ice! Includes all day pass for ice skating and one bumper car ride for only $27.50… Bookings highly recommended!
Valid until 07 February, 2021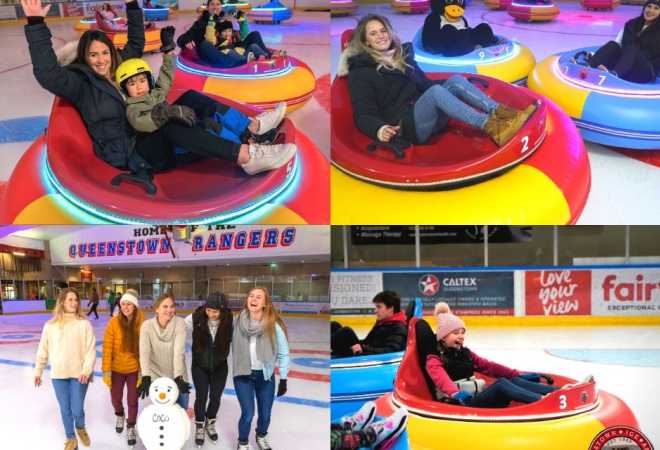 The ultimate deal for a fun day on the ice! Includes all day pass for ice skating and one bumper car ride per person (2 adults + 2 children) for only $99… Online bookings highly recommended!
Valid until 07 February, 2021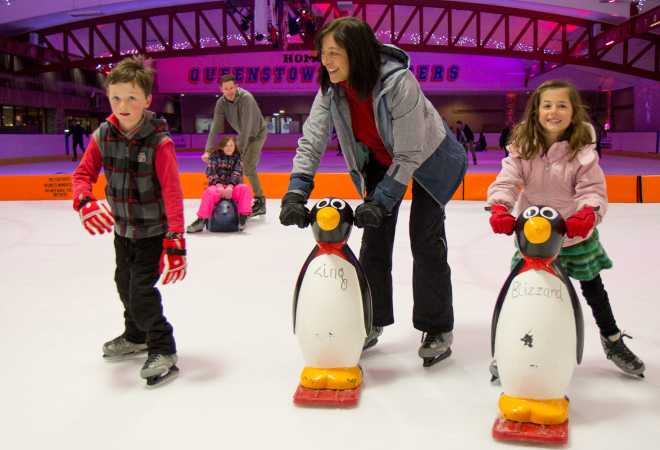 Book a family ice skating pass (2 adults & 2 kids) for only $55. This deal includes your skate hire & helmets. You can skate as long as you want during our public session time on that day, as well as leave & return with you hand stamp.
Valid until 07 February, 2021