Skiing in New Zealand is unlike skiing anywhere else in the world. The South Island is spanned from tip to tail by the mighty Southern Alps, the largest of which are glaciated and snow-covered all year round. These peaks match the European Alps in size and majesty, however what makes them unique is their untouched wilderness, crystal blue lakes, braided rivers and enormous valleys.
At a few points, access to the wild beauty of the Alps and their skiing potential has been established. Ten commercial ski fields across three different regions allow skiers of all abilities to experience New Zealand's jaw-dropping alpine scenery and world-class ski terrain, with comfort and ease.
Opening dates are subject to conditions. Be sure to check the individual ski area's snow reports for the latest updates.
1. Queenstown/Southern Lakes
Queenstown is by far the most established ski destination in New Zealand, with an international airport and a reputation as the Adventure Capital of the World. Nestled on the shores of Lake Whakatipu and surrounded by dramatic mountains, it has a balance between the metropolitan vibe of a small city and the youthful energy of a classic alpine ski town. With four world-class ski areas within 90 minutes' drive, the region is also home to the Winter Games NZ, a multidisciplinary ski and snowboarding event that attracts athletes and spectators from all over the globe.
Coronet Peak
Just twenty minutes drive from Queenstown lies Coronet Peak, New Zealand's oldest commercial ski field (formed in 1947). Home to some of New Zealand's best ski racers, Coronet Peak hosts many national championship and FIS events.
Carving fanatics love Coronet's pistes, and the First Tracks program offers an hour of sunrise skiing before the ski field opens to the public. Skiing freshly groomed pistes whilst watching the sun rise over the Whakatipu basin is something you'll never forget.
Easy access and playful, bowly terrain with high-speed chairlifts make Coronet Peak a favourite for local skiers on powder days and in slushy spring conditions. Coronet Peak is also open for night skiing, with live music events and great food and beverage options.
Coronet Peak open dates: 16 June - 1 October 2023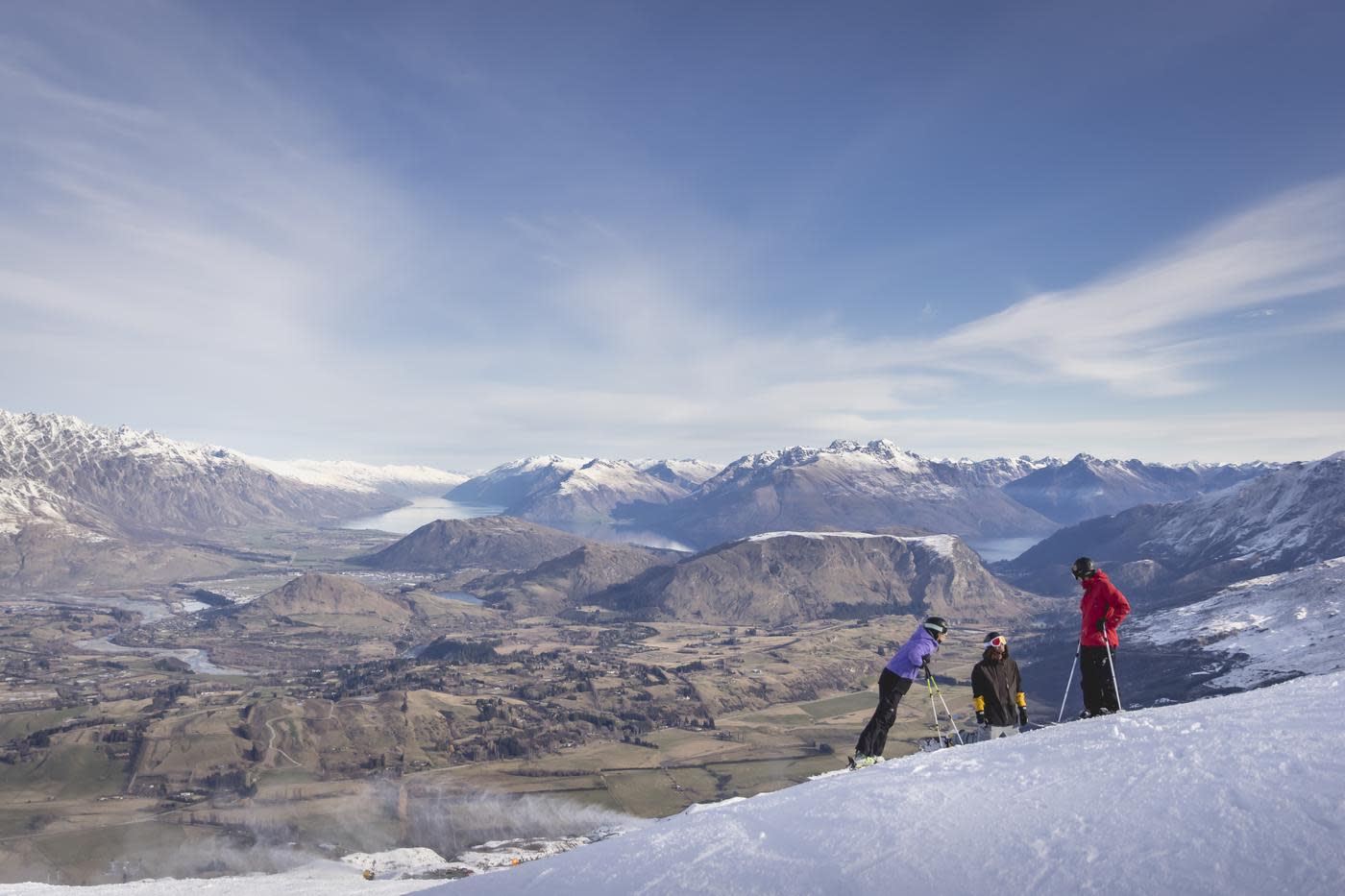 Coronet Peak 
The Remarkables
On the other side of the Whakatipu basin lies The Remarkables Ski Area. 'Remarks' is very different to Coronet Peak, with a large rocky basin full of terrain for every skier. Both ski areas can be accessed with the same multi-day or season pass, meaning you can shred two mountains in one day!
The steeps of Shadow Basin run and world-class backcountry access make it a mecca for freeriders and ski mountaineers, while the friendly, sunny pistes and fun terrain parks of Sugar Bowl make it a great place for a cruisy day with friends or family. The base building is state-of-the-art and there are several new high-speed chairlifts.
The Burton Stash terrain park, with playful features and wooden rails, is a favourite for 'Jibbers' and is home to the annual Burton Stash Gathering, a fun jam-session day with a mid-slope barbeque and guest appearances from Burton pro riders.
The Remarkables open dates: 17 June – 8 October 2023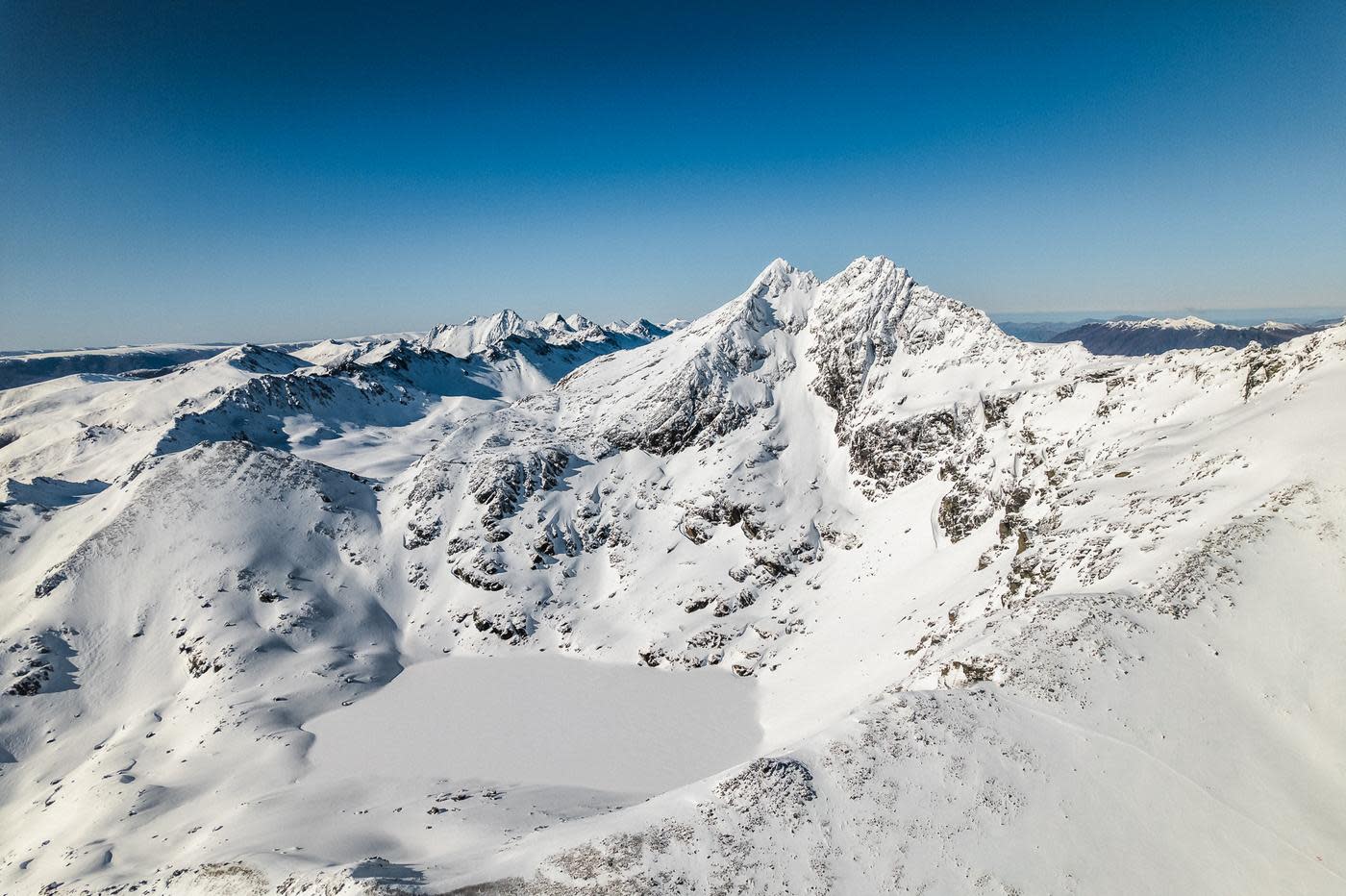 Aerial view of The Remarkables
Cardrona Alpine Resort
Just over the Crown Range, about an hour's drive from Queenstown lies Cardrona Alpine Resort. Known for its great ski school and its excellent restaurants and cafes, Cardrona Alpine Resort is a friendly place to ski as a family. While "Cardies" is the perfect beginner's mountain, it also holds some freeride gems and an unrivalled terrain park.
Home to several New Zealand Olympians and a hotspot for professional freestyle skiers, you can get inspired whilst riding Whitestar chairlift, watching the talented locals getting big air and landing smooth double corks. You can practise your own manoeuvres in the beginner, intermediate or pro-level terrain parks, or in one of the two world-class halfpipes.
At the top of McDougall's and Captains' chair lifts, are amazing views into the rugged Harris mountains. The new Willows chairlift now allows skiing on the south-western aspect, with playful wind features and beautiful afternoon light.
Cardrona opening dates: June 17 – October 15, 2023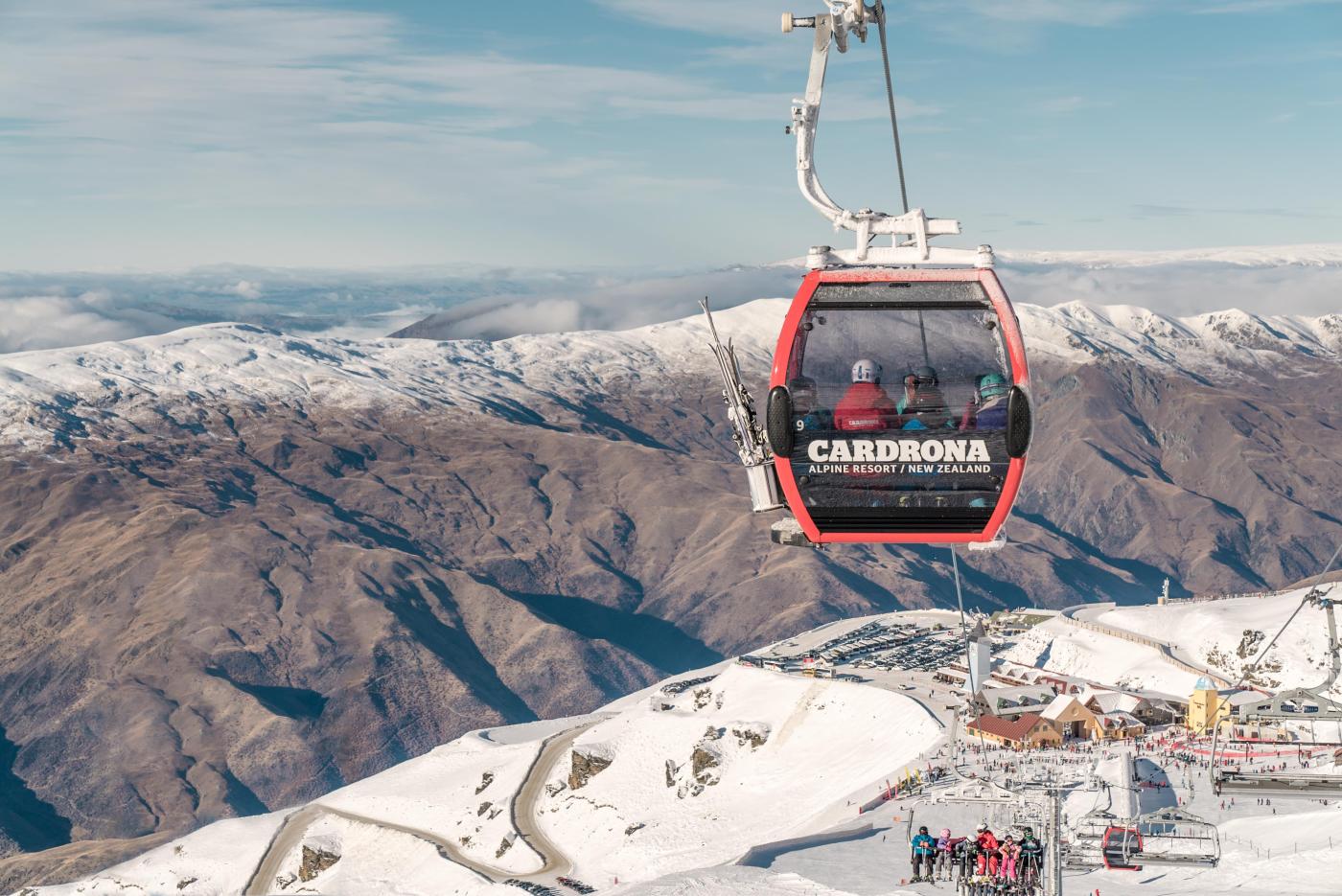 Cardrona Alpine Resort
Treble Cone
About an hour and a half from Queenstown (or 40 minutes from Wānaka) lies Treble Cone Ski Area (or known as 'TC' to the locals). Now a sister resort to Cardrona Alpine Resort, both resorts can be accessed with the same multi-day or season pass.
TC is home to jaw-dropping views and the longest runs in the country. Perched on the edge of Mt Aspiring National Park, TC displays the wild beauty of the Southern Alps. From the summit, or Matukituki basin, you can see the majestic Mt Aspiring or Tititea, which is the largest peak outside of Mt Cook National Park (3033m).
TC's saddle basin is famous for its steep terrain and playful natural half pipes. Home to some of the world's best freeride skiers, a powder day will always provide entertainment with epic stunts being done on the summit rocks. In spring, the north-facing slopes of the main basin turn into a t-shirt skiing paradise.
A bucket list item is Treble Cone's closing day, where the locals see the season off with crazy dress-up skiing and parties on the mountain.
Treble Cone opening dates: 24 June - 1 October 2023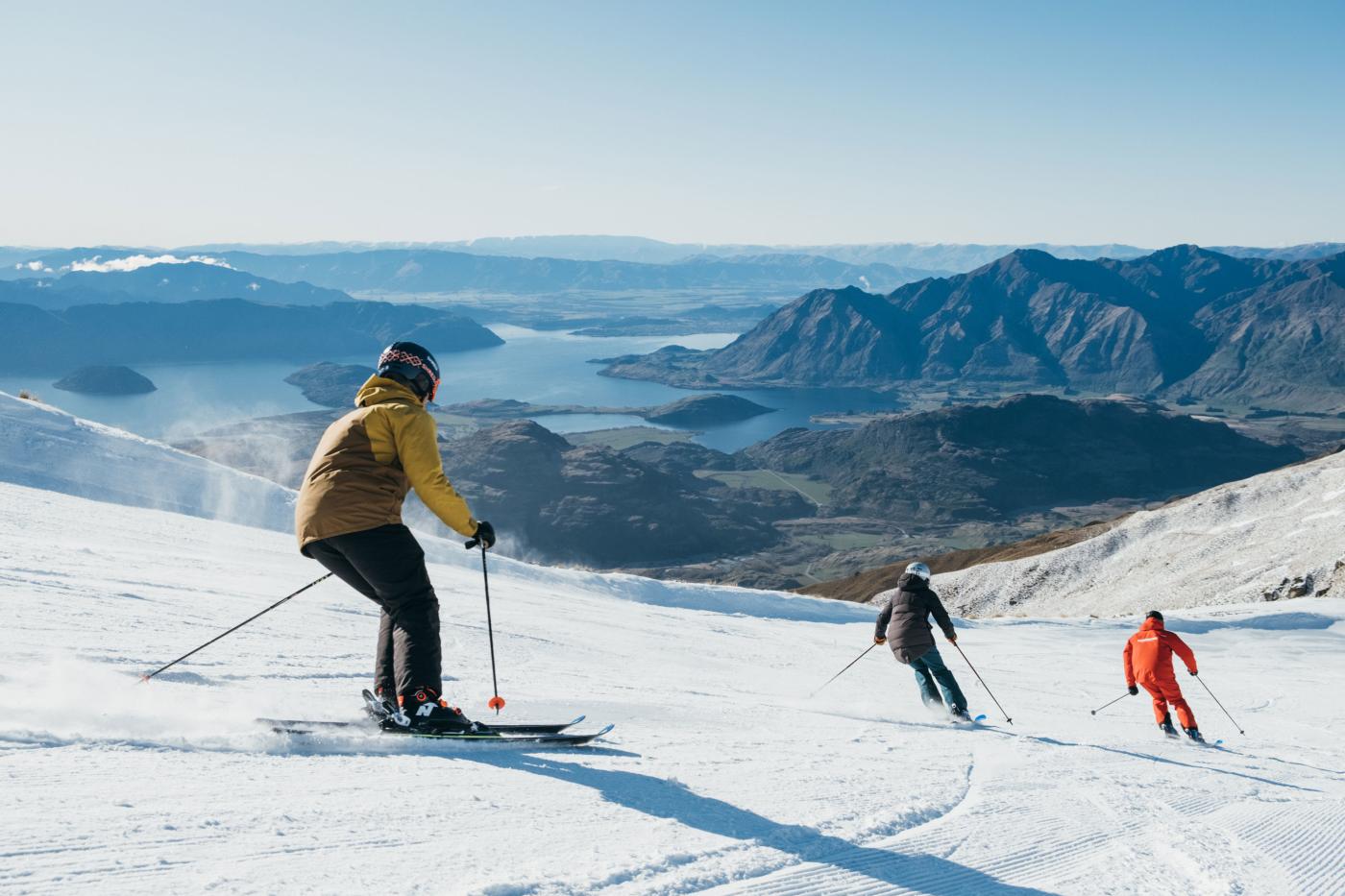 Treble Cone, Wānaka
2. McKenzie Country and Canterbury
Ōhau Snow Fields
North of the Southern Lakes, over the Lindis Pass, lies Ōhau Snow Fields. With a club-like atmosphere and great terrain, Ōhau is a special spot, especially on a powder day. Its one chairlift accesses a massive amount of terrain. Ōhau has a rich history as a hotspot of New Zealand's snowboarding community. It was host to a legendary 'powder 8s' competition, and many of New Zealand snowboarding's most famous magazine shots have been taken here. The reason why - Lake Ōhau lies below the resort, glistening an unbelievable shade of blue.
On the lakeside below is Ōhau village, very much an original New Zealand ski village, with Lake Ōhau Lodge as its crown jewel. Those who frequent this place are endemic to New Zealand snow culture. Ōhau is a classic kiwi skiing experience, and the village is close to the mountain which means less time driving and more time skiing.
Ōhau open dates: 24 June - 1 October 2023
Round Hill Ski Area
Further north across the plains of the McKenzie country, close to the town of Lake Tekapo, lies another centrepiece of Kiwi ski culture - Round Hill Ski Area. With a beautiful view of Lake Tekapo and the Godley Valley, the country surrounding Round Hill is big and impressive.
As the name suggests, Round Hill's T-bars are friendly for family and beginner skiing. It has world-class pistes (the summer home of the US ski team) and the Heritage Express Rope Tow accesses great steep terrain for more advanced off-piste skiers.
Round Hill open dates: 23 June - 10 September 2023
Mt Hutt Ski Area
Further north, close to Christchurch, lies Mt Hutt Ski Area. Mt Hutt is included in the 'Three Peak Pass' along with Coronet Peak and The Remarkables, meaning you can ski all three mountains with multi-day or season passes.
With a beautiful view over the Canterbury plains and all the way to the east coast, Mt Hutt is a great family resort popular with people from all over Canterbury. It is home to two quad chairlifts and a high-speed six-seater. The pistes are world-class, and the southern side of the resort has great terrain for powder days. The terrain park is the best in the region, with jumps of all sizes and the unique backdrop of farmland and ocean behind.
Mt Hutt has a strong snow community based in the town of Methven, and après-ski at the Blue Pub or Brown Pub is a must.
Mt Hutt open dates: 9 June - 15 October 2023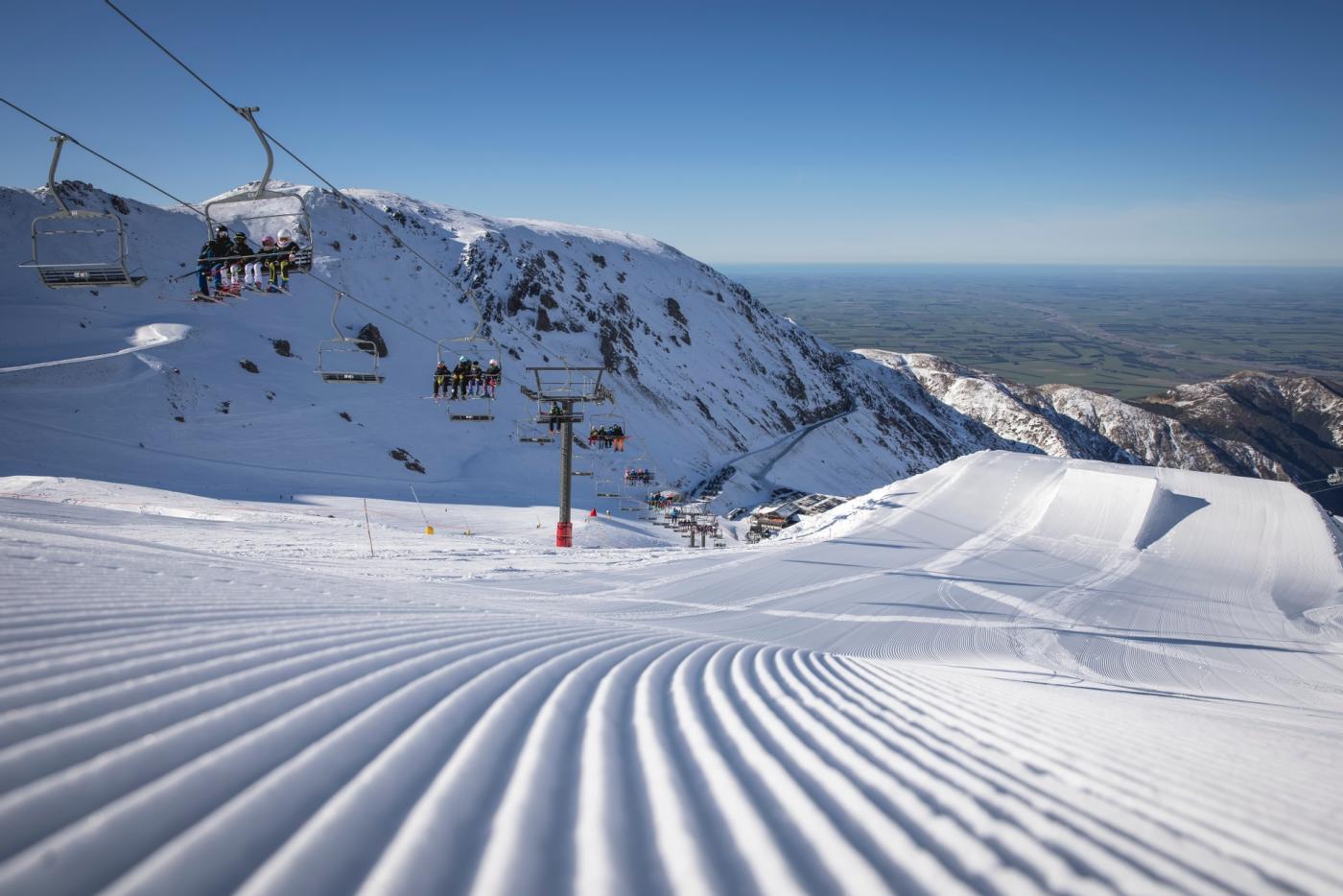 Mt Hutt Ski Area
Porters Alpine Resort
Porters Alpine Resort is an hour and a half north of Mt Hutt, above the village of Castle Hill. Slightly smaller and more clublike, Porters is closest to Christchurch. With beautiful views of the Rakaia Basin from the top ridge and many playful, weaving pistes, Porters has something for everyone. Its three T-bars and one new chairlift access a variety of terrain in a big, open bowl. Most famous are the two long steep runs, Bluff Face on the southern aspect which holds great snow throughout the winter, and 'Big Mama' which faces north and is at its best in springtime.
Porters open dates: 23 June - early October 2023
Canterbury is also home to several small, club-owned fields including Mt Olympus, Mt Cheeseman, Broken River, Craigieburn, and Temple Basin. These fields have a cult following and if you're an advanced skier, they're worth checking out to find out why.
3. Nelson/Tasman Region
Mt Lyford
Above the coastal town of Kaikoura is 'New Zealand's best-kept snow secret' - Mt Lyford.
If you have never skied with ocean views, this is the place. The ski area accesses Mt Terako (1750m) with great steep off-piste terrain on several aspects, as well as great beginner ski and sledding areas. The old-school rope tows, run by tractor engines, are an experience in themselves. The family vibes at Mt Lyford are unrivalled, and the beautiful Mt Lyford Village, complete with log cabins and snowy forest, is a true winter wonderland.
Mt Lyford open dates: 30 June - 15 September 2023
Rainbow Ski Area
Further inland, nestled in the Nelson lakes, lies Rainbow Ski Area. A sunny bowl with a large T-bar and several smaller rope tows. Wide uncrowded slopes and well-groomed trails provide superb terrain for beginners and intermediates, while advanced skiers can challenge themselves in the surrounding chutes or in the terrain park. Rainbow Ski Area is the furthest north ski field in the South Island and the only one in the Nelson region.
Rainbow Ski Area open dates: 09 July - mid September 2023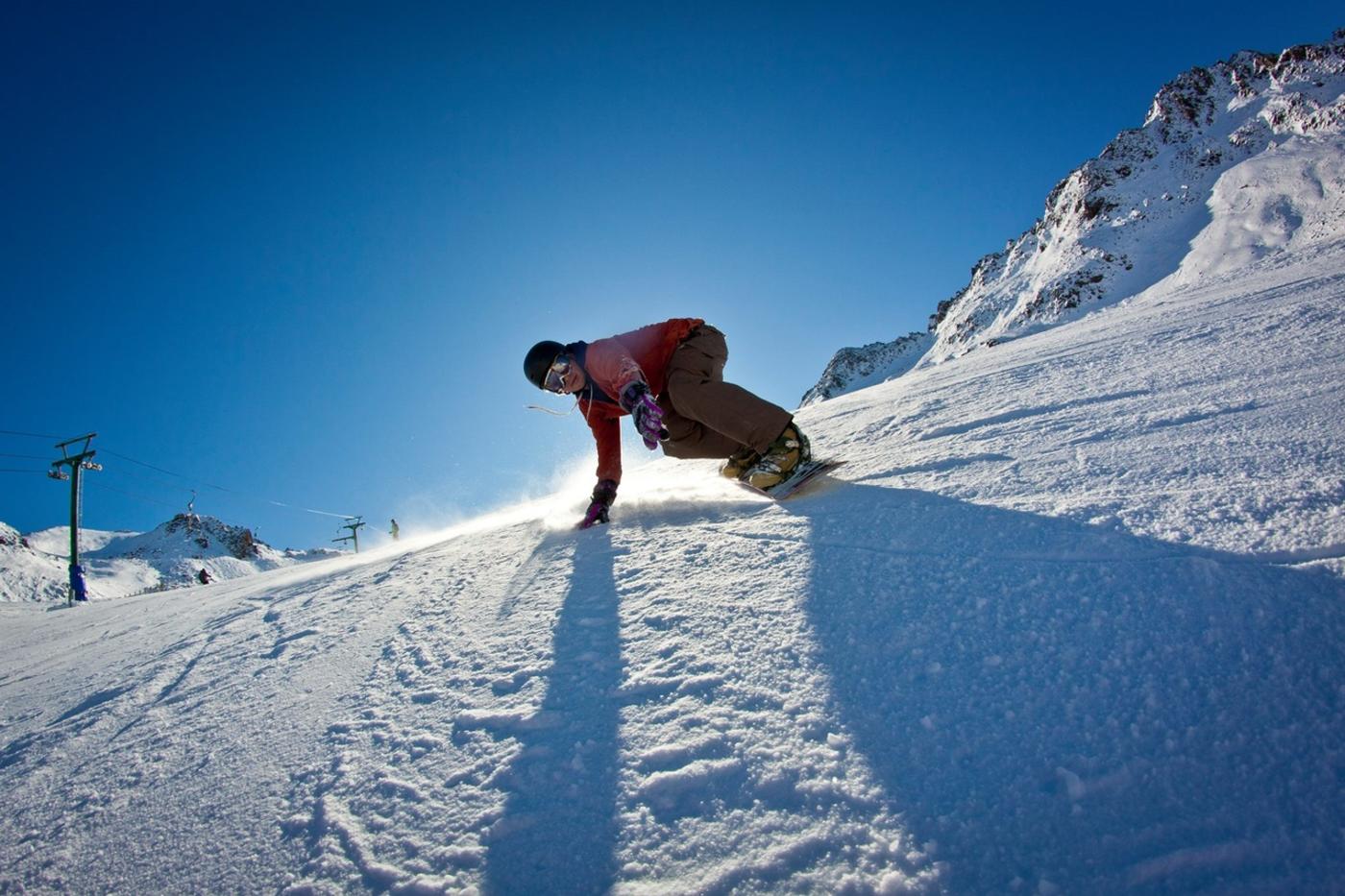 Rainbow Ski Area