For years Candice was the sommelier for the Rātā hospitality group.

Recognised as one of New Zealand's best sommeliers, she now consults for restaurants wanting to up their wine game and writes reviews for Raymond Chan Wine Reviews.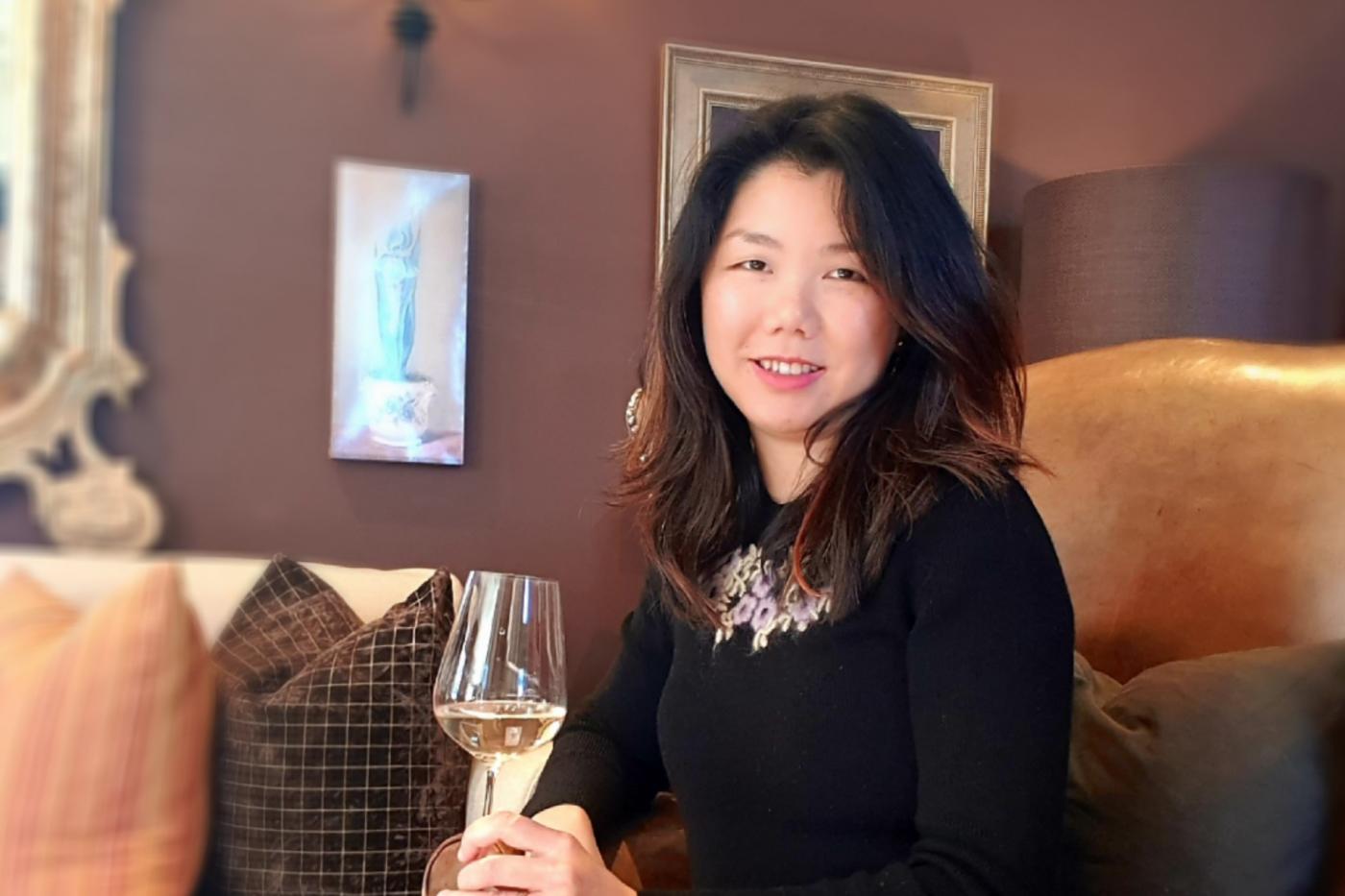 Candice Chow
Arrowtown & Gibbston Wine Region
Gibbston is the nearest wine region to Queenstown, a pleasant 25-minute drive through hilly countryside and along rivers, or there are plenty of excellent guided wine tour options available. If you've time we recommend hiring a bike and cycling the Queenstown Trail. Stop off in Arrowtown to explore the historic streets and meander along the trail above the Kawarau river and beside vineyards and cellar doors along the way.
Kinross Winery & Cellar Door
Candice recommends starting your tour of Central Otago wineries at Kinross, especially if you've only a short time to explore the region. This cellar door is a collaboration between Kinross Winery and four other small producers, Coal Pit, Hawkshead, Valli and Wild Irishman.
Valli Wine is made by pioneering Central Otago winemaker, Grant Taylor. One of the first winemakers to see the potential of the region and celebrated for his pinot noir, he crafts single-origin wines from Central Otago vineyards in Gibbston, Bendigo, Bannockburn and Waitaki. A tasting of Valli pinots is a tour of the terroir of the region.
Wild Irishman is by Alan Brady, the godfather of Gibbston Valley, and the first man to plant vines in the valley.  He retired in 2005, but you can't keep a good winemaker away from their barrels, so he started Wild Irishman to make small vintages of exceptional wines.
Head to Kinross to spend a happy few hours tasting wonderful wine and relaxing over good food in the winery courtyard.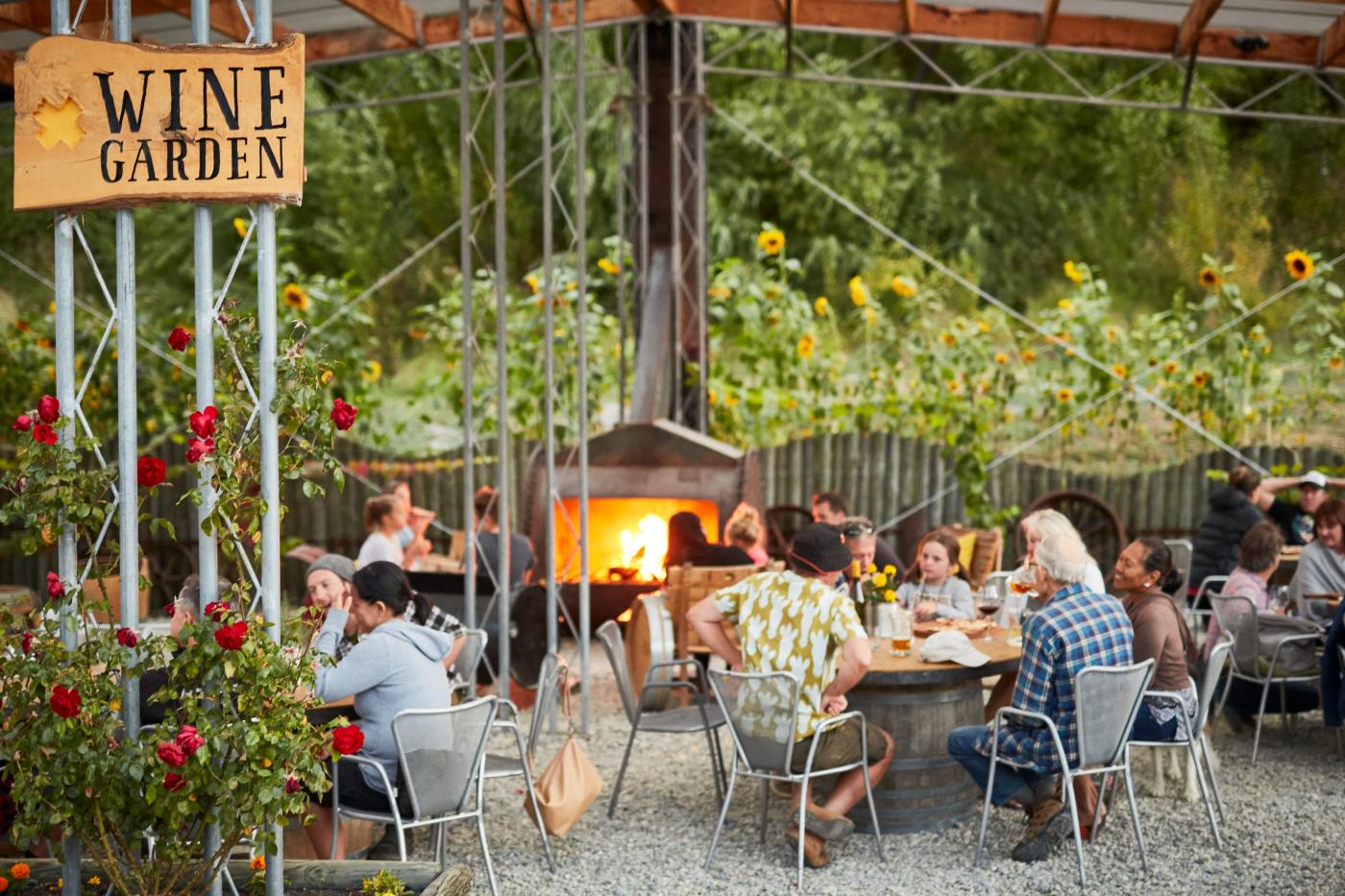 Kinross Winery
Gibbston Valley Winery & Cellar Door
Alan Brady's legacy, Candice rates Gibbston Valley Winery for the professionalism of their tasting room, their wine cave (the only one in the region), and their well-trained knowledgeable staff. It's a great spot for a lunch, and the winery's excellent chef has matched dishes with wine pairings for an exploration of local food and wine.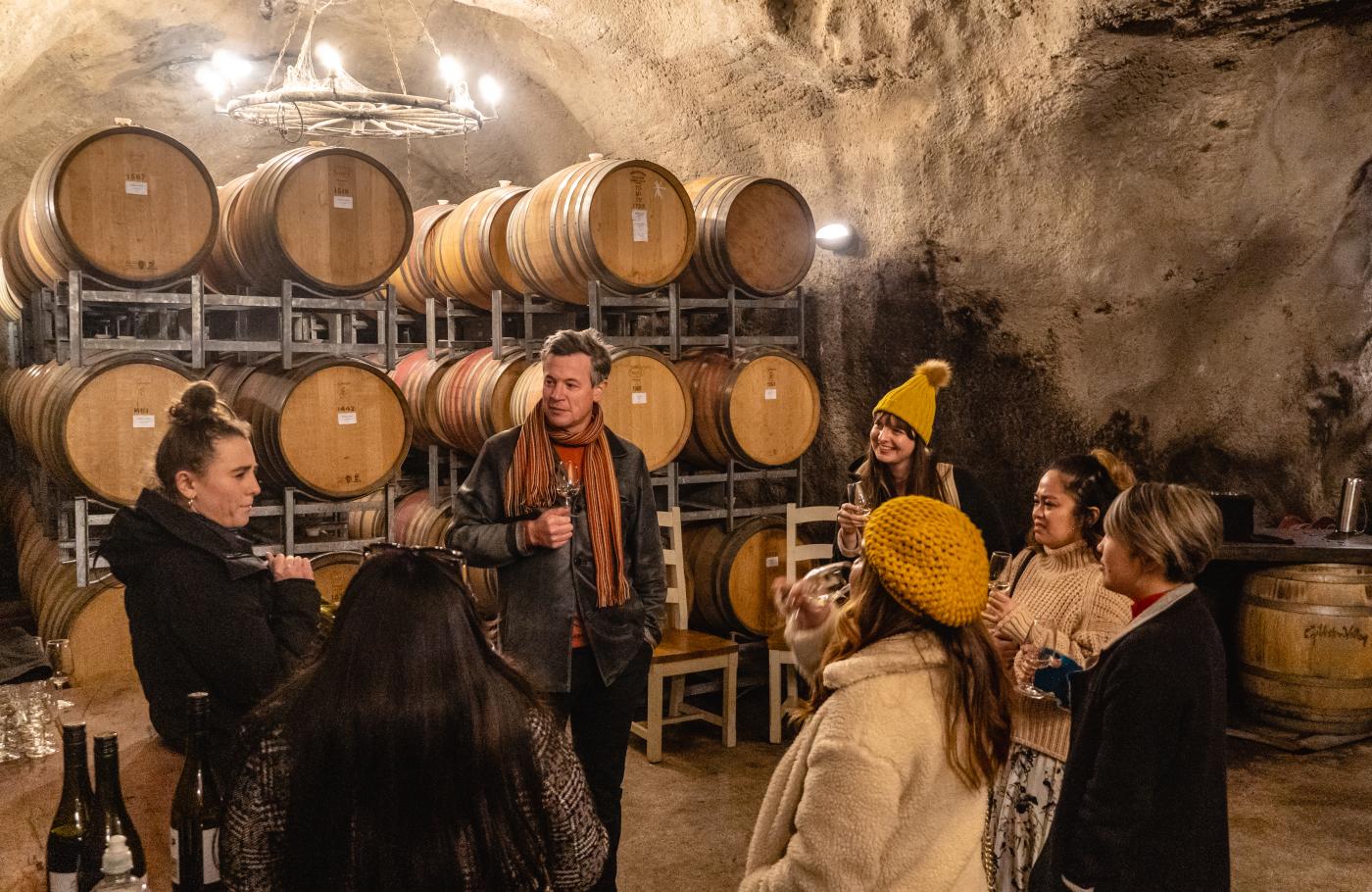 Gibbston Valley Winery Cave Tour with Christopher Keys
Arrowtown Wine Store
Arrowtown Wine Store is small, but its discerning owners have packed a good selection of wines from Central Otago's most interesting small producers into the compact space. It's Candice's top stop for wine, and she reckons it's the best wine shop in the region. She loves it because she says even although she's always rushing to get to a friend's house when she visits, she always leaves with a local gem, and she rates their selection of spirits too.
Bannockburn
To continue your exploration of the Central Otago wineries, continue through Gibbston and keep heading along State Highway 6. Bannockburn is a picturesque 50-minute drive from Queenstown past vineyards and mountains, and many of our wine tour operators offer Bannockburn as part of their full day wine tour experience from Queenstown
Carrick Winery
Candice recommends lunch in the lush green setting of Carrick Winery. She enjoys their seasonal menu that uses local produce and game, including vegetables from chef Gwen Hardie's vineyard garden. Sit surrounded by lavender bushes admiring the beautiful view looking down the Bannockburn Inlet. Sometimes they hold shows of work by local artists.
The crew at Carrick have also recently started a pizza truck serving up pizza, scones, coffee, and wine on tap to passers-by and appreciative cyclists on the Lake Dunstan Cycle Trail.
The certified organic winery makes excellent Rieslings and wild fermented wine with no sulphites. Candice particularly admires their 2020 Death of von Tempsky Riesling, awarding it 94 points when she reviewed it for Raymond Chan and says their pinot noir is always good.
Te Kano Estate
Te Kano Estate is Candice's top pick for a Central Otago winery to watch. On a beautiful site overlooking the Kawarau River on Felton Road, their architectural cellar door is filled with light and art. Not yet certified organic, they're in the process of conversion.
Te Kano make small batch and single vineyard wines, bottled with a gorgeous label embellished with delicate line drawn kōwhai blossom. Candice enjoys their quirky selection of varietals including a cabernet franc, and a blanc de noir, a very light coloured rosé made with hand-picked pinot noir grapes. They also do popular chardonnays.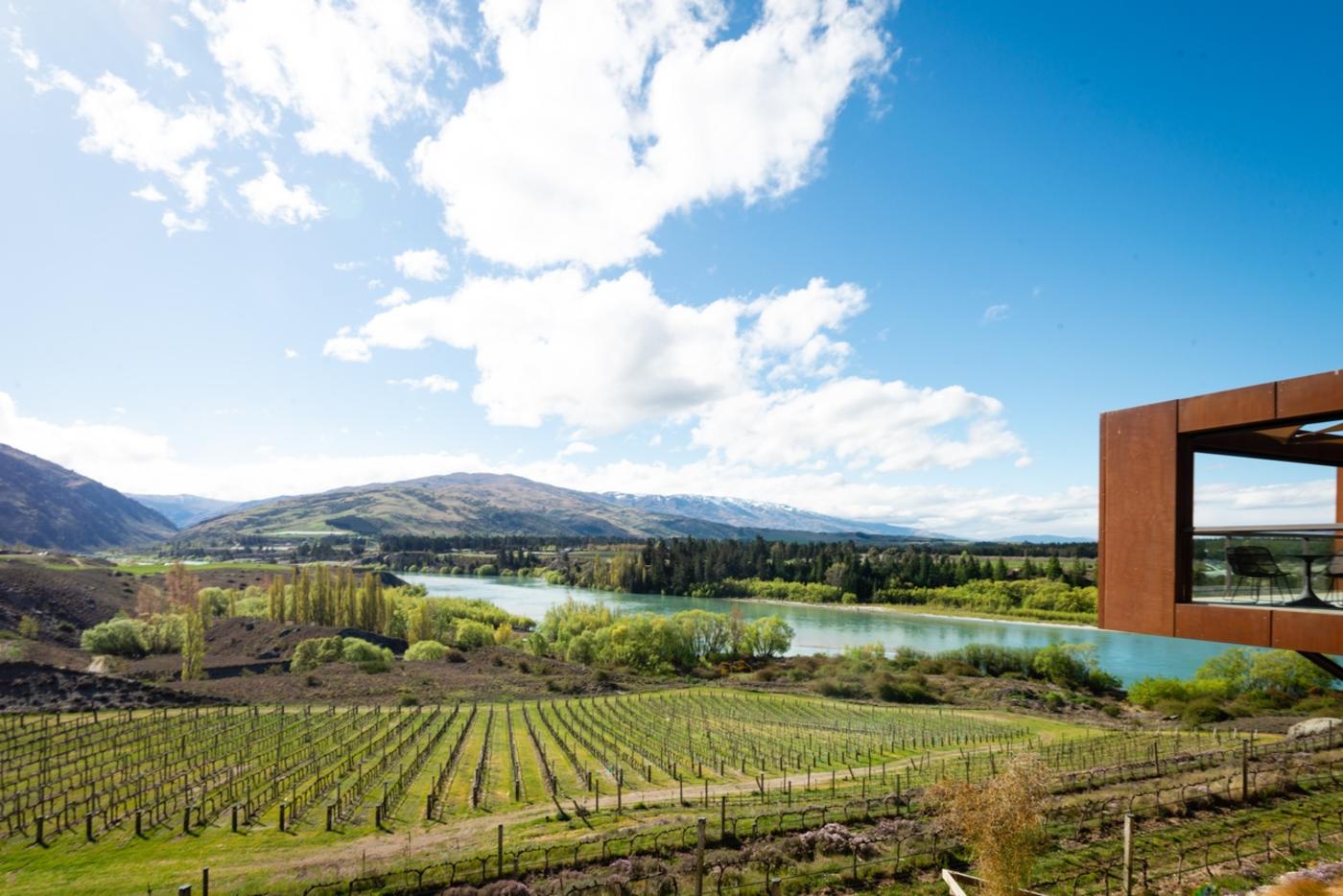 Te Kano Estate
Bendigo
If you're looking to head further afield into Central Otago wine territory, Bendigo is 79km from Queenstown, just over an hour's drive along State Highway 6 and only a short distance from Cromwell. Wineries sit along the Clutha River overlooking the spectacular Pisa range. Queenstown wine tours don't venture this far, but it's well worth the journey so make sure you have a driver who can transport you.
Māori Point
Situated alone in a bend of the Clutha River, Māori Point is the passion project of two professors and a winemaker. Candice finds them an interesting winery, because they only use fruit grown on-site, native wild yeasts from the vineyard for their fermentation, and do not fine or filter their wine, making their vintages a perfect evocation of the place.
They're best known for their velvety pinot noirs, but Candice also enjoys their cool, light-hearted approach to their younger drinking wines, a pet cat, a sparkling pinot gris, and a pinot noir bottled in beer bottles. A great Central Otago winery to visit if you want to experience a minimal intervention, terroir-driven approach to winemaking.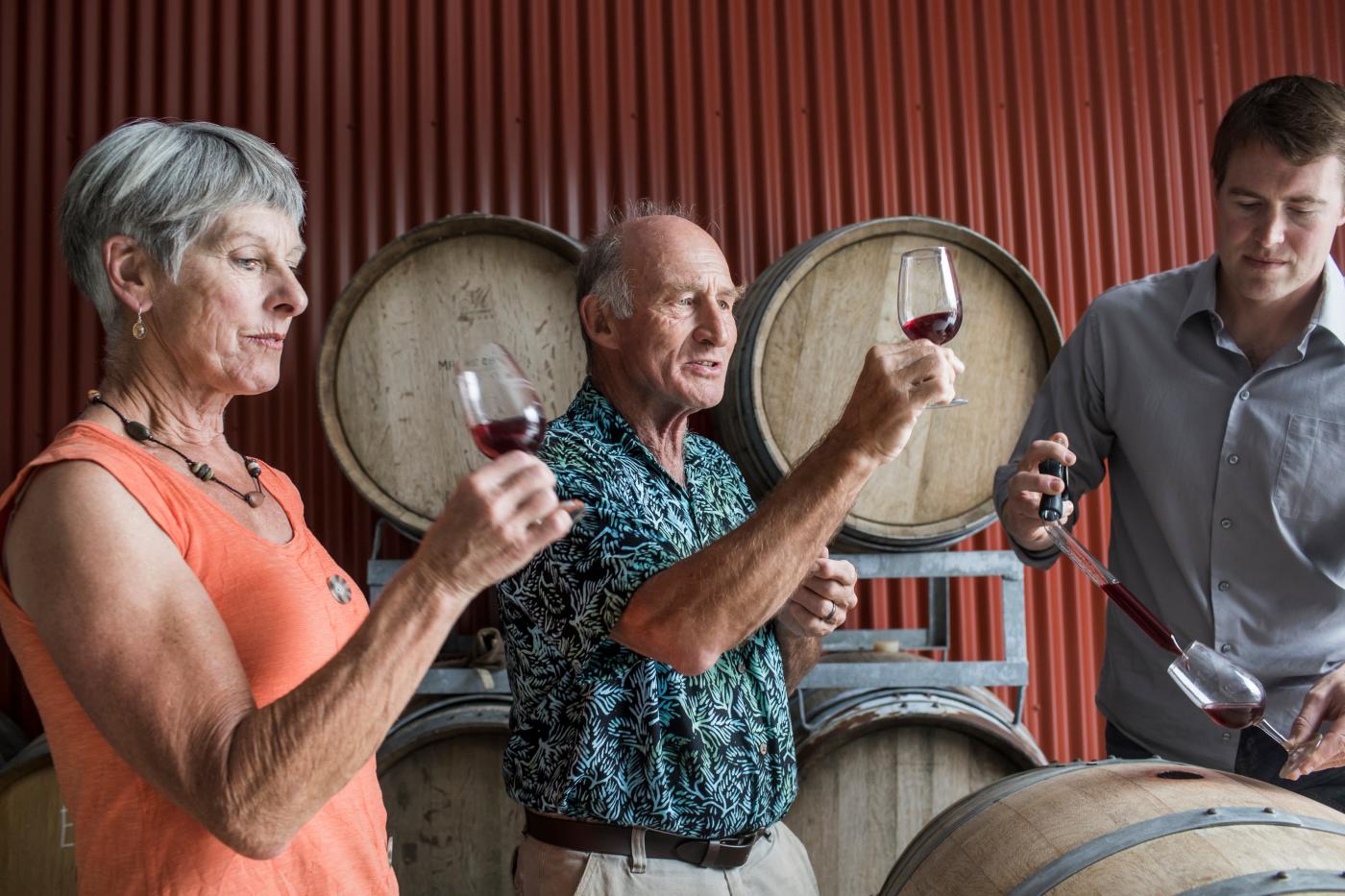 Maori Point Wines
Alexandra
Last on our tour of Candice's favourite Central Otago wineries, we're heading to Alexandra. This wine region is 92km and an hour and a quarter's drive from Queenstown past Gibbston, Bannockburn and Bendigo.
Dunstan Road Wines
A tiny two-hectare vineyard, winery, and shady tasting room with a leafy veranda. Candice says Dunstan Road Wines do a tasty pinot noir, but she also recommends their delicious mead, saying it's the best mead she's ever tasted, and it always sells out for a reason.
The winery is owned by a young family, and the vibe is relaxed and kid-friendly, with the owner's own wee ones free-ranging around. Time your trip for one of their wine and flowers evenings, where local florists teach you to make rustic bunches accompanied with Dunstan Road wines and platters.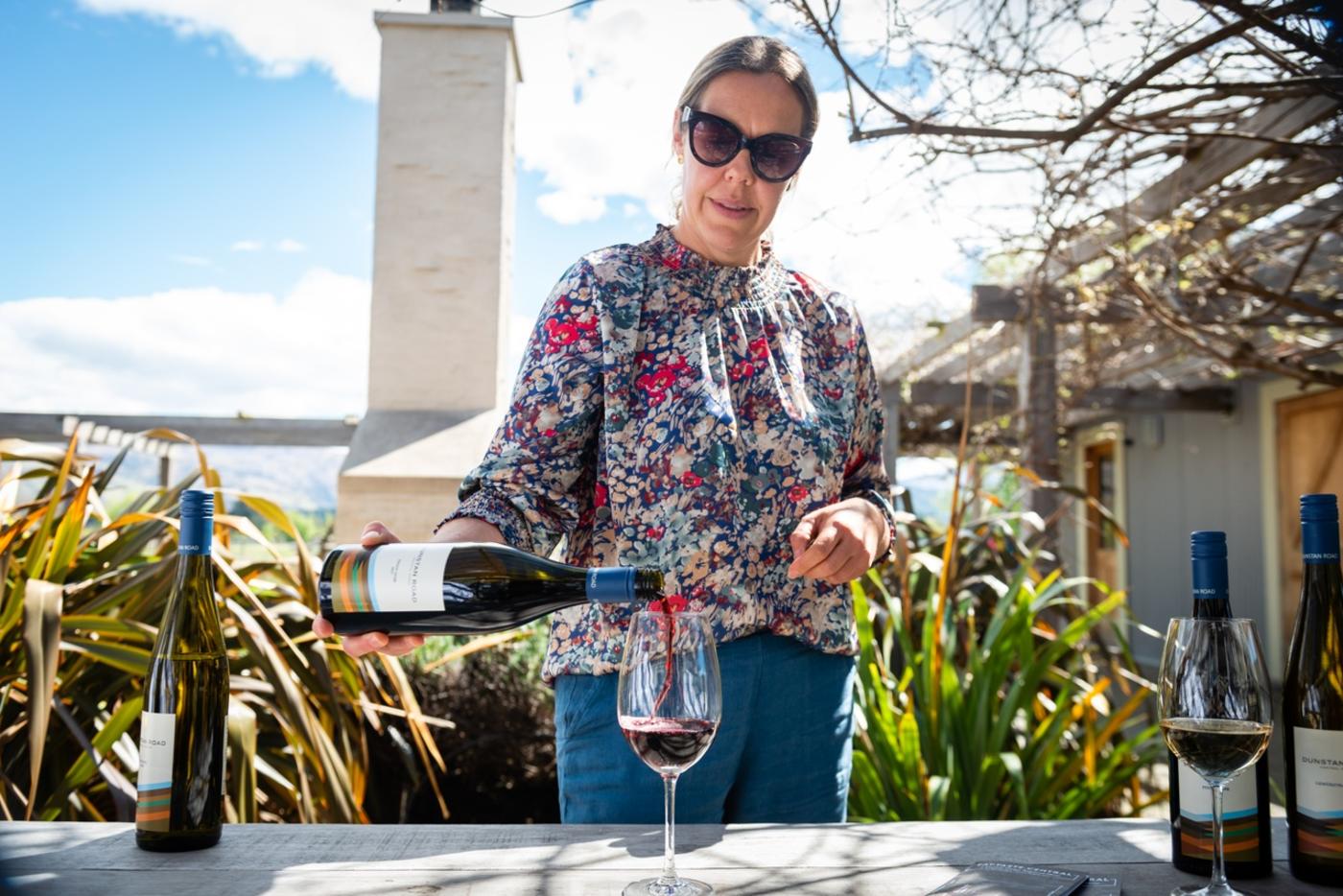 Dunstan Road Wines
Back to Queenstown
Back in Queenstown, Candice recommends a visit to The Winery on Beach Street. The world's largest specialist New Zealand wine store, you can taste 80 New Zealand wines, including many Central Otago vintages. Buy a tasting card at the counter and serve yourself at the press of a button. It's a fun place to spend a rainy afternoon.
Cheers to your delicious adventures exploring Candice's favourite Central Otago wineries. Share your favourite Central Otago vineyards with us on Instagram and #QueenstownLive