Nestled in Kawarau Village, Hilton Queenstown Resort & Spa and DoubleTree by Hilton Queenstown are guided by Travel with Purpose, Hilton Worldwide's Environmental, Social and Governance strategy to drive responsible travel and tourism globally.
Aimed at cutting the environmental footprint of all its hotels by half, and doubling investment in social impact by 2030, the hotels have initiated programs to create positive environmental and social impacts across their operations, supply chain and communities.
In March 2023, the Hilton Queenstown launched its 100% Carbon Neutral Meetings, offsetting all carbon for every meeting and event held at the hotel. Every event's carbon footprint is now measured by LightStay which generates a meeting impact calculator report for each event, providing an itemised measurement of the event's overall impact.
Whilst internationally, clients can choose to opt in (or not) to the initiative, General Manager Chris Ehmann has succeeded in implementing it as a requirement for all Hilton hotels in the Australasian region. 
"I've used Queenstown as a starting point, and have rolled it out throughout the region," says Chris. "Carbon neutral meetings may not be something that clients ask about, but we're trying to be the catalyst for change and inspire them to prioritise their environmental impacts and educate them along the way."
It was rubbish – or food waste and a chef's curiosity that was the biggest catalyst for change at the Queenstown Hilton six years ago.  
Executive Sous Chef, Aabhimanyu "Aabhi" Sekar, set out to find organic vegetables for signature restaurant Wakatipu Grill. During a visit to a local organic supplier, Aabhi learnt about the benefits of organic compost for crops. The supplier had recently started a worm farm to produce fertilizer, and this marked Hilton's foray into sustainable waste management.
"We were shocked the very first time we saw how much waste was created from the buffet breakfast alone. We went back to the drawing board and had to look at everything with a sustainability lens. From procurement right down to how guests consumed yoghurt in the morning," says Aabhi.
Within a few months, their signature restaurant Wakatipu Grill sent its first batch of food waste to the organic worm farm. This quickly grew to all four dining outlets plus the Hilton's staff canteen, with over 150kg (94%) of food waste being diverted from the landfill daily.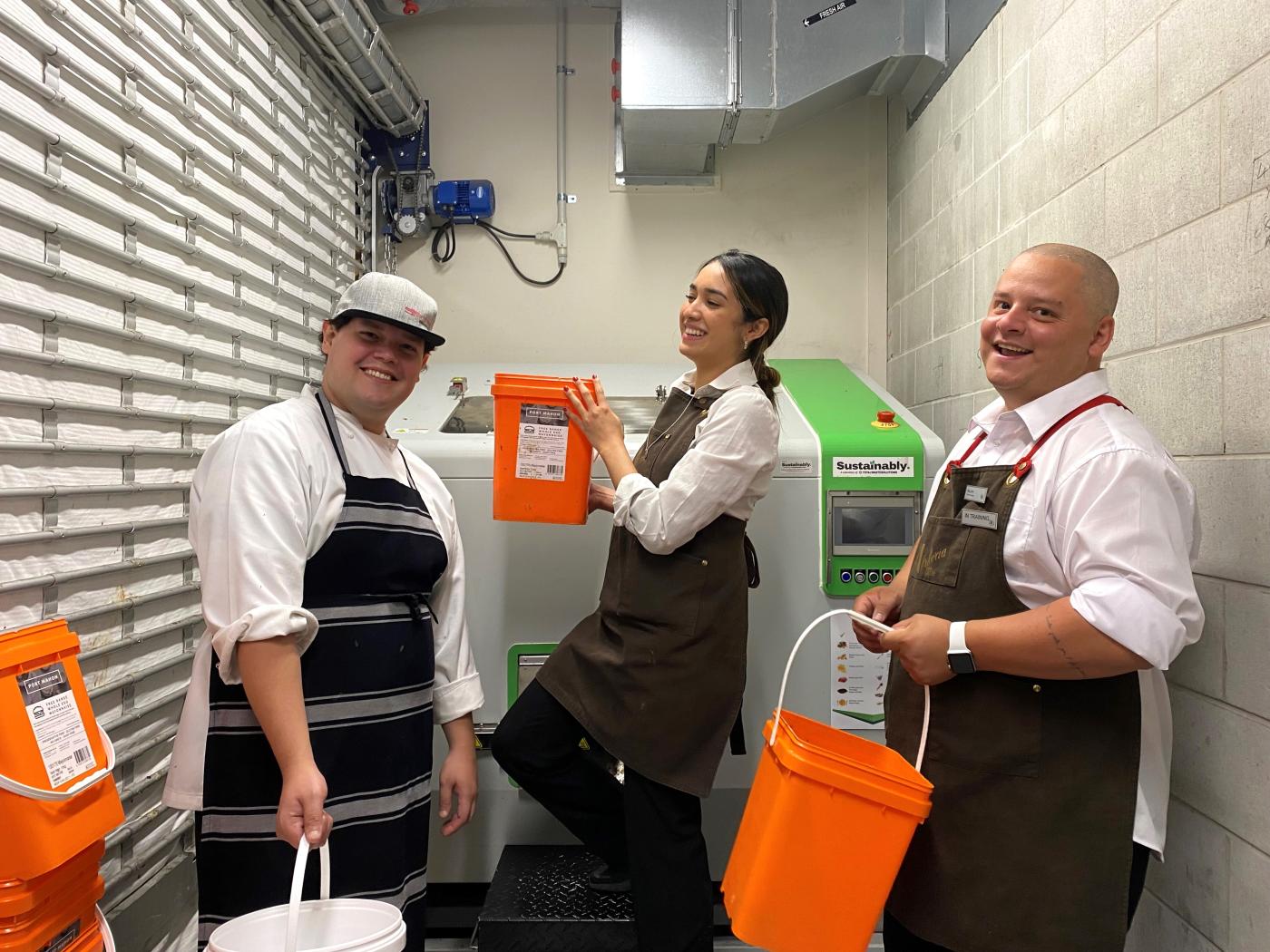 Hilton Queenstown Composting System
Shortly after, the Hilton became the organic worm farm's first large-scale supplier of food waste. This project lasted for two years (2018 – 2020), when the worm farm project ended due to council restrictions.
This, however, did not stop the Hilton from looking for an alternate solution. In June 2021, the Hilton procured an on-site food waste dehydrator to process scraps from all its outlets and staff canteen.  
The dehydrated food waste is collected by Waste to Wilderness, initiated by Queenstown local Michael Sly, who mixes it with his own hot compost. The compost is then donated to local projects like the Whakatipu Reforestation Trust, enabling the hotel to contribute to restoring the native biodiversity of Queenstown. 
Still at the Hilton, Aabhi's incredibly proud of what he helped start but longs for a time when there is zero waste.
"Having a visual on how much food waste is diverted inspires us to do better every day. It reminds us of how much more we can do."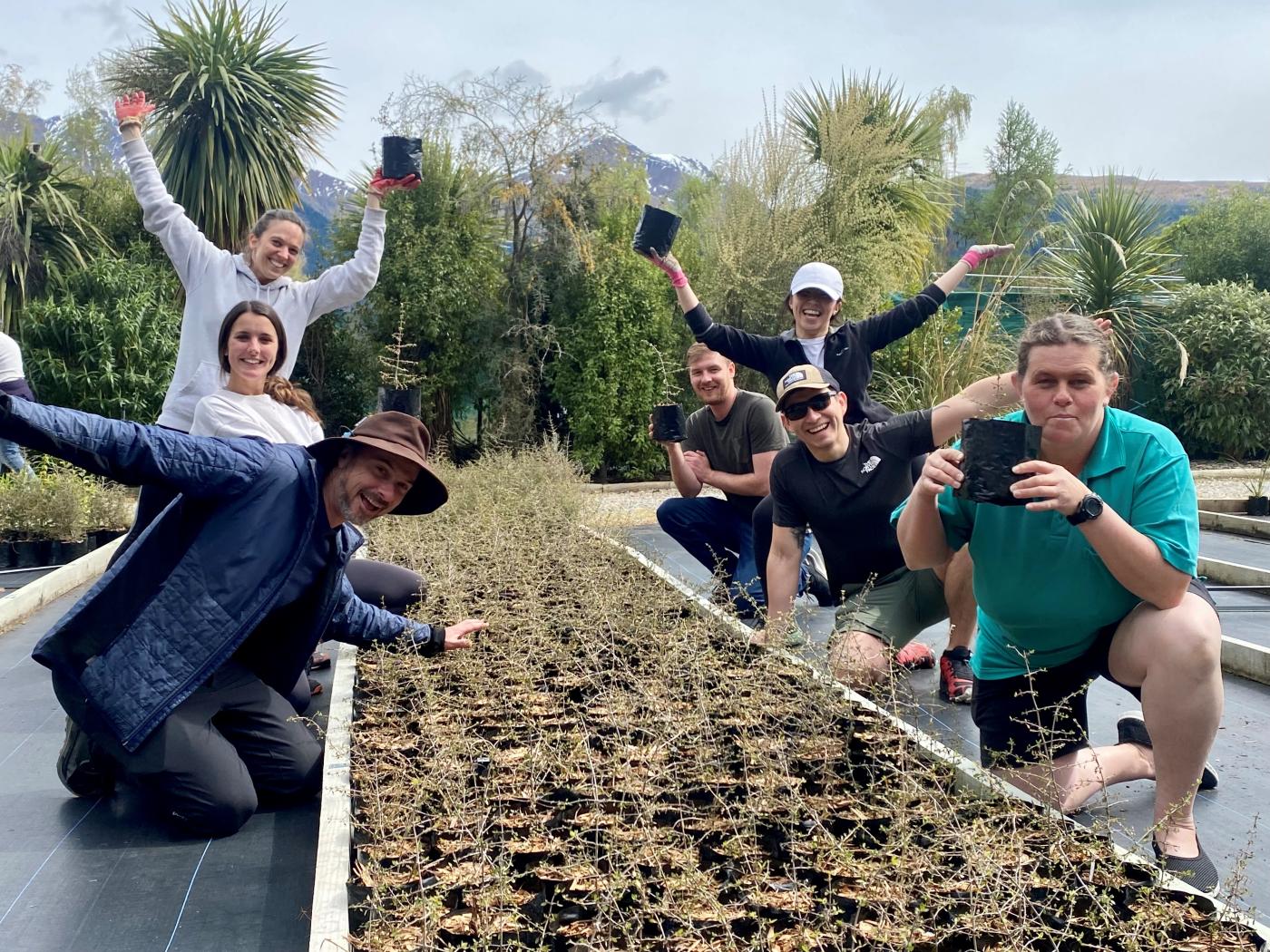 Hilton team volunteering with Whakatipu Reforestation Trust 
The hotel has also been diverting soap from landfill, since 2016. Initiated in Queenstown, every month the Hilton and local hotel properties collect and send the discarded soap to Soap Aid. From there it is sanitised and processed into bars that are distributed to those in need. The housekeeping team also collect discarded soap and shampoo amenity bottles. After establishing a partnership with Beyond Skin Deep in November 2019, these bottles are now shipped to its sorting facility, then redistributed to FuturePost, a New Zealand based company that makes plastic posts for wineries and farms in the country. In the last 12 months, Hilton Queenstown has sent 423kg of amenity bottles to Beyond Skin Deep, which has made up the equivalent of 23 plastic posts.
As with all the Hilton hotels, the Hilton Queenstown produces monthly (LightStay) reports on its waste, water, electricity and carbon, which are shared with the region. With its latest carbon neutral meetings initiative now underway, GM Chris Ehmann has a raft of other initiatives to consider from his team, of other ways to meet not only the Travel with Purpose goals, but also the region's regenerative tourism by 2030 goals. 
"We're an open source – we love having other businesses in town come and see what we're doing, or piggyback on our efforts. This isn't a competition. It's strength in numbers!"