Staff at Queenstown's friendly bike shops will happily advise on the best ride for you. They also offer high-spec hire bikes, updates on track conditions, and can hook you up with shuttle transport to reach remote trails or get a lift up hill so you can maximise the fun on the way back down. Ready for lift off? Read on.
Queenstown Bike Park
This awesome downhill riding comes courtesy of the Queenstown Mountain Bike Club and Skyline gondola, which transports riders and bikes up Bob's Peak from where an array of trails swoops through the forested hills above Queenstown. Some of the 30 trails are the steepest and gnarliest in New Zealand.
Highlights include the old-school roots, rocks and flow of Single Track Sandwich; the rock-fest that is Slippery Ninja; and the extreme freeride terrain of World Cup. The cheekily named Huck Yeah! features a series of sensational true-table top jumps, perfect for honing big air skills.
Queenstown Bike Park can be accessed year round by riding up Skyline Road or taking the Skyline gondola to the summit (from September-May).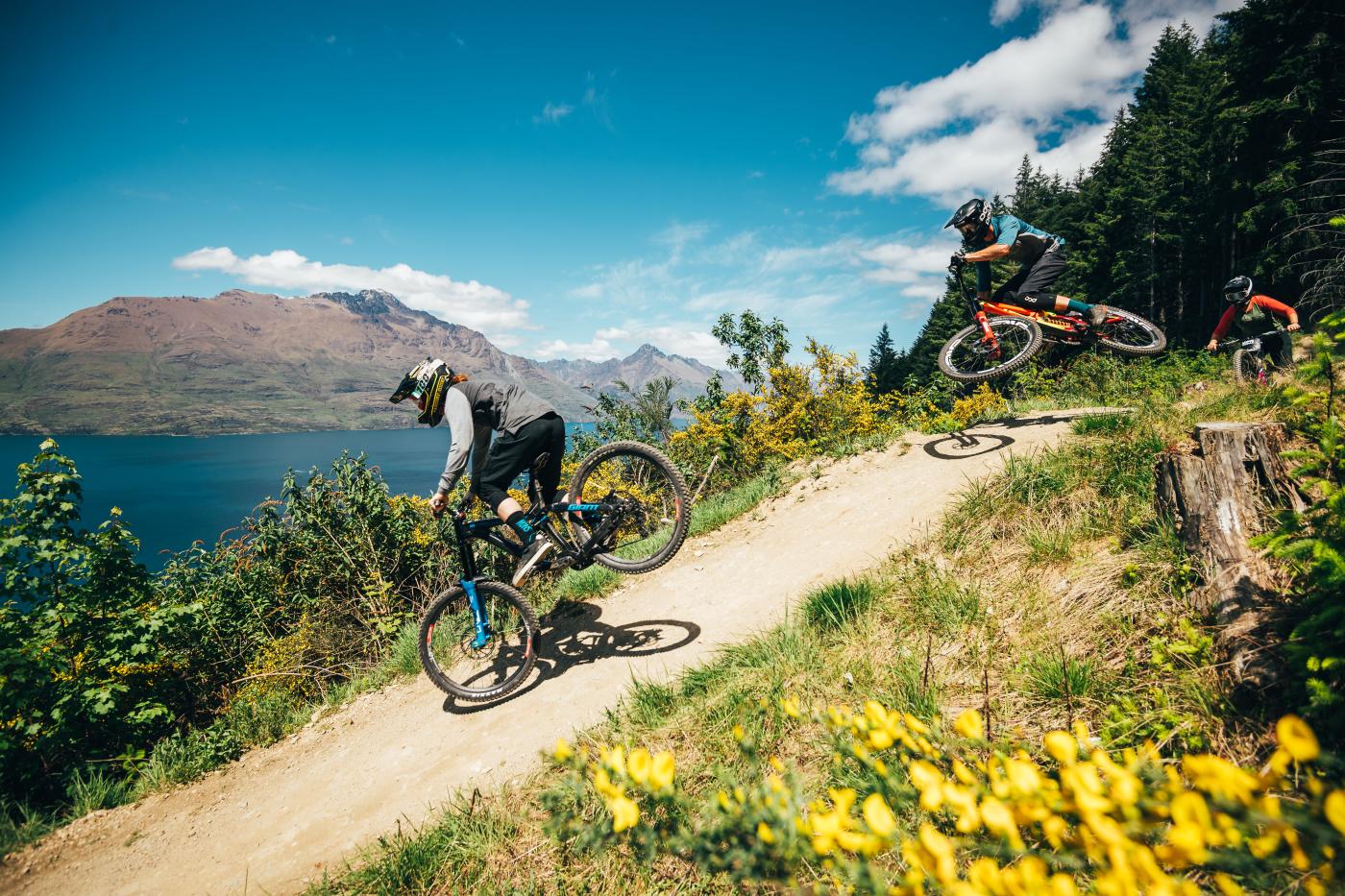 Queenstown Mountain Bike Park
Rude Rock
Named after a rather manly geological feature, Rude Rock is 3km of single track masterfully sculpted into a tussocky mountainside. Eye-popping scenery and exhilarating riding have made it one of the country's must-do trails, with fantastic footage like this only increasing its popularity.
Located around 15km from Queenstown near the Coronet Peak ski area, Rude Rock trail is only revealed after spring snowmelt. Once maintenance crews have worked their magic, the track dips and swerves in a perfect balance of fall and flow. Skilled riders can hit the track at full tilt, although some exposed, steep sections and rocky drops will keep most bikers on their toes. This summer, Rude Rock can also be accessed from the new Coronet Express chairlift.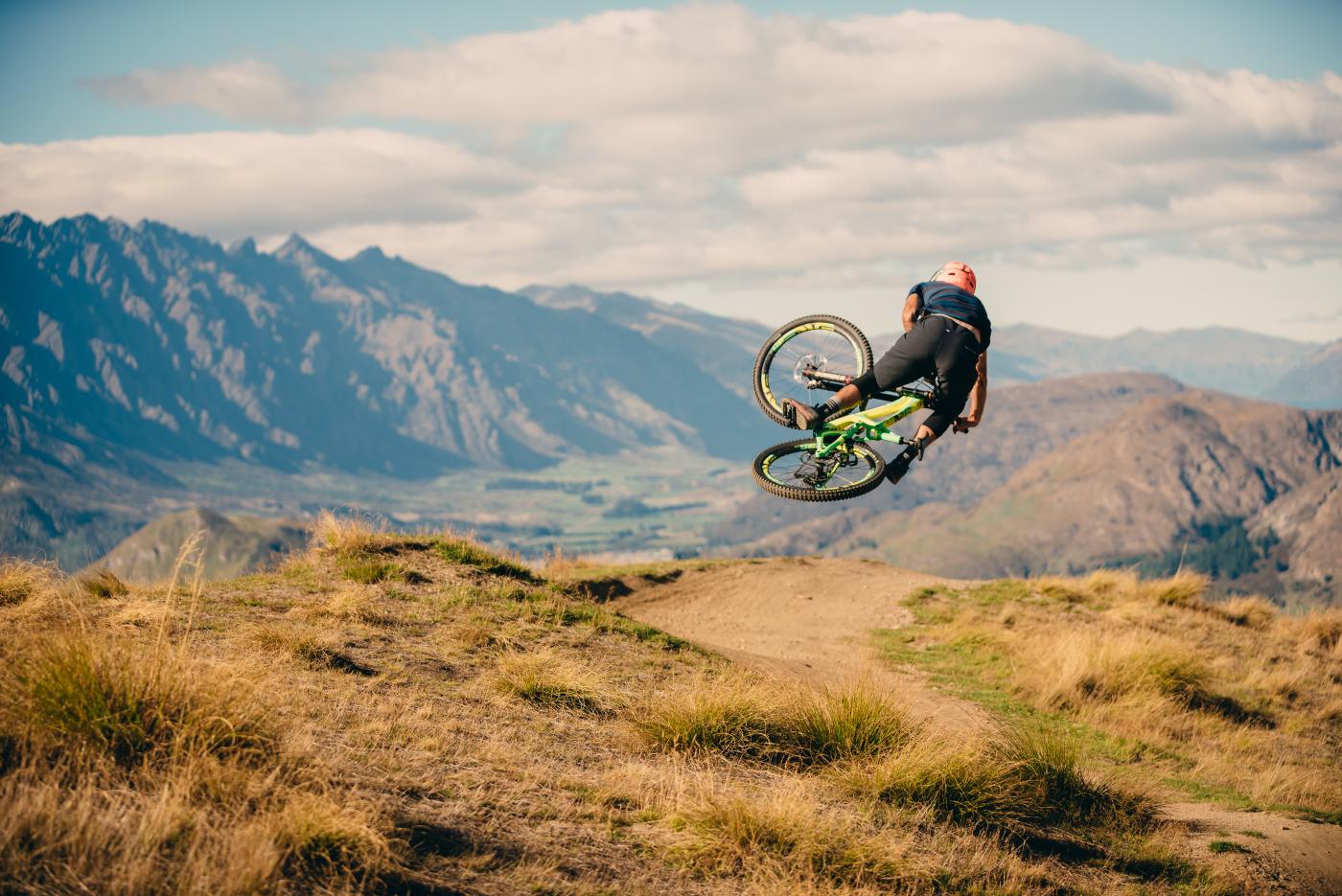 Rude Rock
Coronet Peak has opened for its first summer season which runs from the start of December until the end of March. Suitable for intermediate-expert riders, the Coronet XC trail is rated an intermediate grade 3, while the Coronet DH trail is for the more experienced rated at expert grade 5. A good range of passes are available with full Day, Sunset or Season passes on offer and discounts for NZSki 3 Peak Winter Season Pass holders.  Bike hire and transport also available.
Around the half way mark on Coronet Peak is Slip Saddle Track, a seriously steep descent with rocks and ruts aplenty, which can be accessed via the Coronet Express lift. 
Skippers Canyon serves up a heady cocktail of challenging trails. Highlights include the purpose-built Pack, Track & Sack,a tight and technical but flowy single-track. It links Rude Rock with the tricky Skippers Pack Track, cut in by goldminers more than 150 years ago and winding for 6km down a tussock covered gully strewn with oddball rock formations.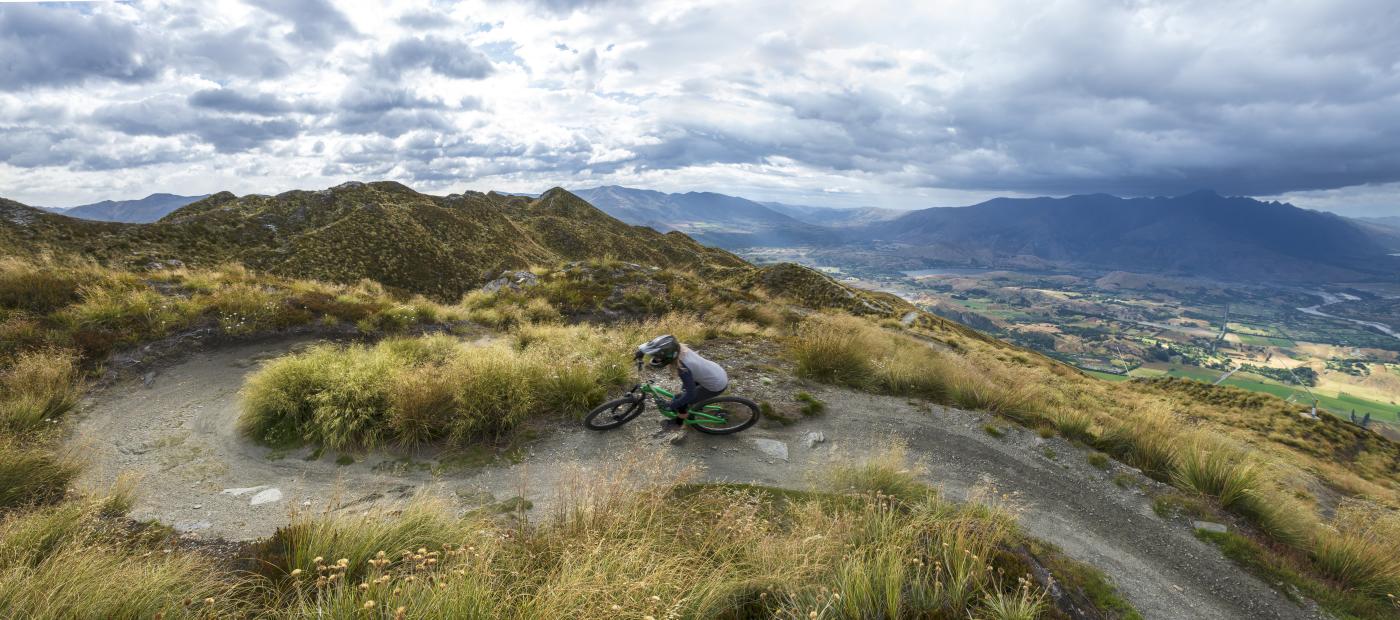 Coronet Peak
Cardrona Bike Park
New Zealand's highest mountain bike park, Cardrona ski resort keeps a couple of chairlifts operating in summer, giving access to mountain terrain and elevation normally reserved for heli-bikers and masochistic, uphill specialists. Among the expertly designed and constructed trails are DTL – tight, technical, and super-fast if the right lines are nailed; and Dirtstar Downhill – another black-diamond favourite with all the techy trickiness you'd expect on a trail built for the national champs.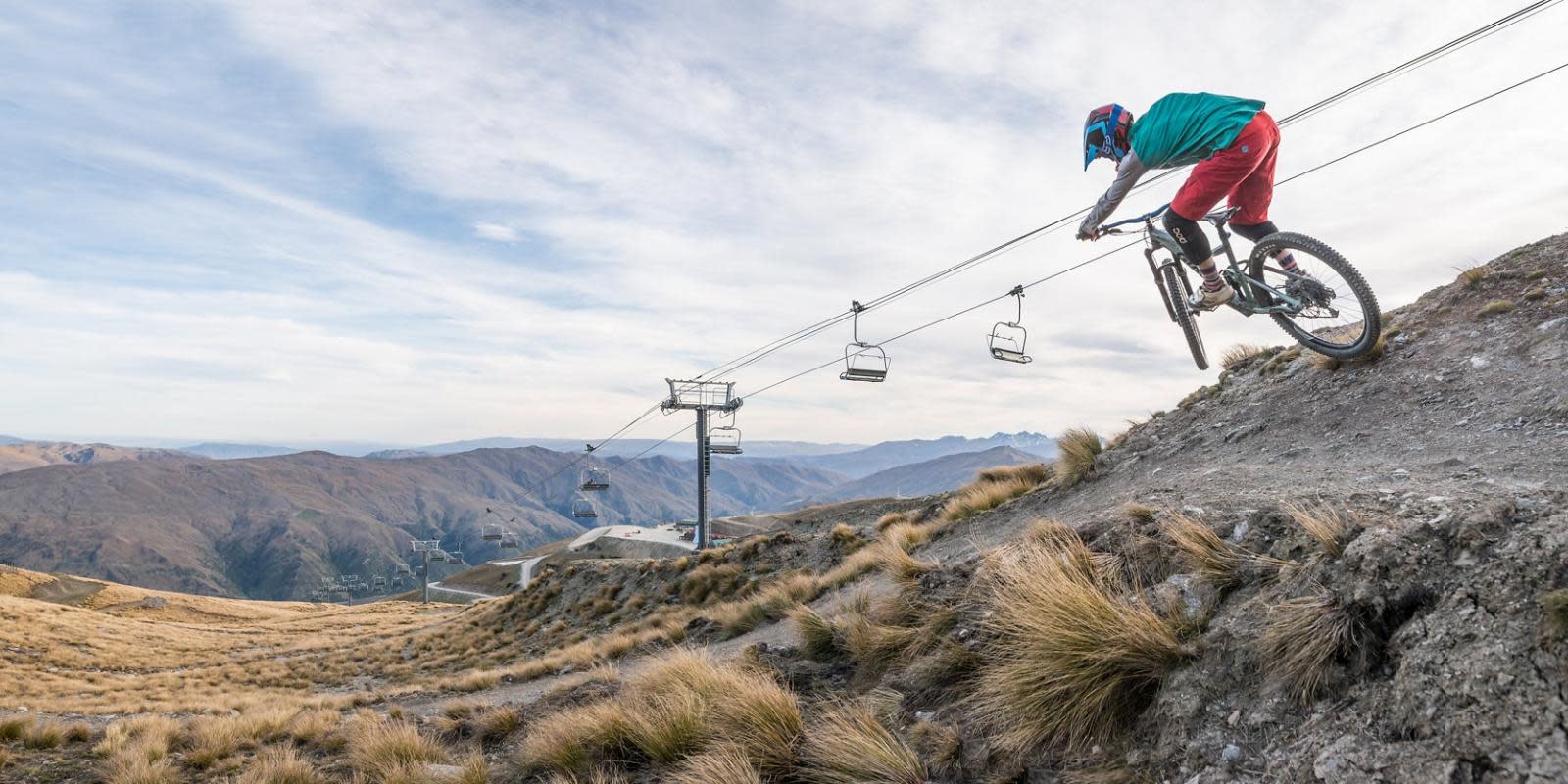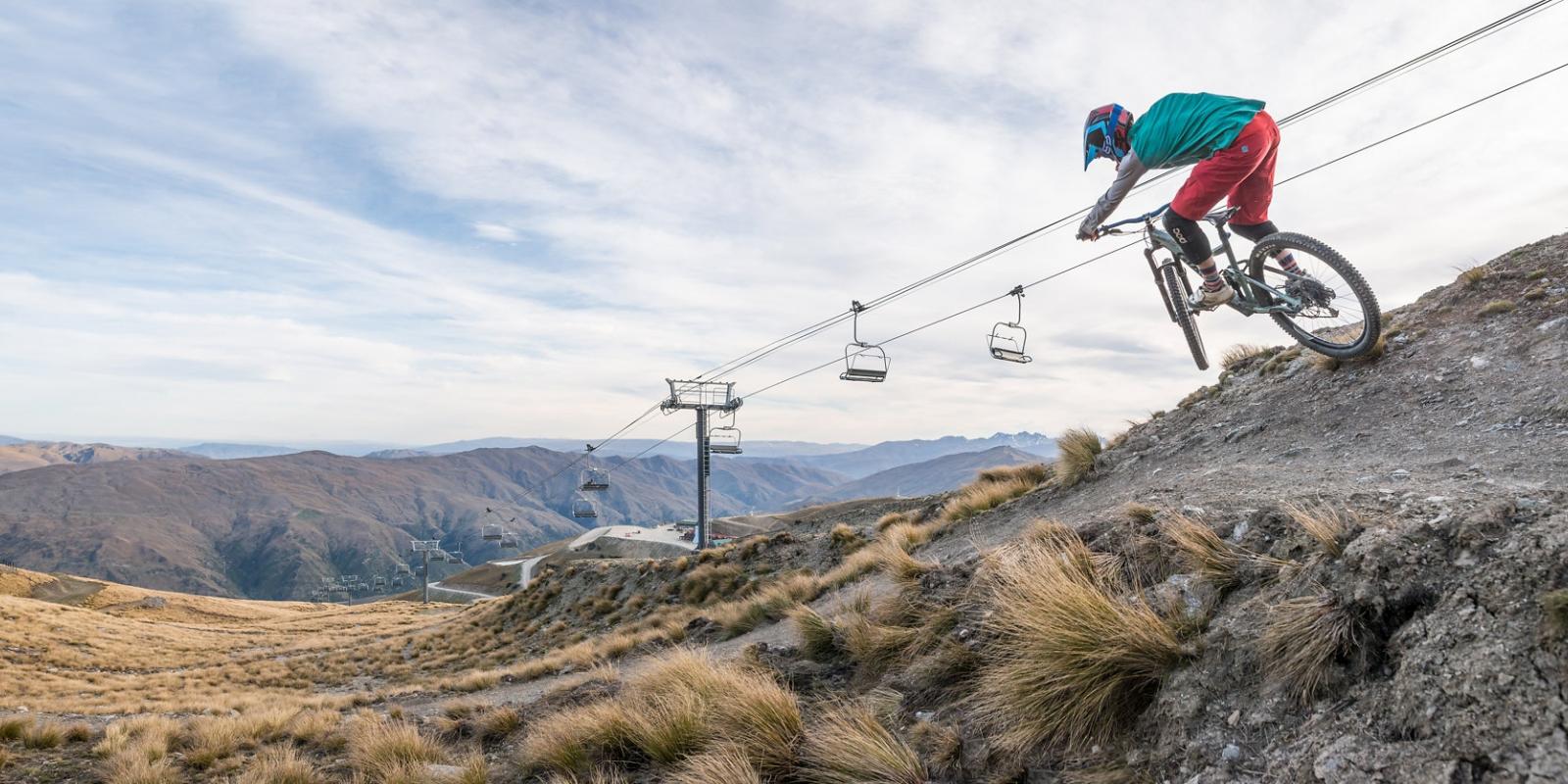 Cardrona Bike Park
Moonlight Track
Bucking the trend for purpose-built trails with sculpted berms and super-smooth lines are plenty of old-school cross-country options for diehard traditionalists. One of the region's best is the Moonlight Track that starts at Arthur's Point and follows a rough 'n' tough trail in the backcountry behind Queenstown, finishing at pretty Moke Lake. With plenty of natural obstacles, narrow sections and drop offs, good skills and fitness are required.
Fernhill & Wynyard
Some of the most exciting new trails are popping up around Ben Lomond, thanks to the industrious Queenstown Mountain Bike Club. Salmon Run kicks off with a riotous descent on a loamy track through pine forest clinging to precipitous terrain, with steep, tight switchbacks and plenty of nerve-jangling exposed sections. Lower down in native forest are roots and rocks galore that will test even the most techy riders in the wet. Approach with caution!
Salmon Run can be reached by riding up Beached As, a dreamy piece of uphill single track starting near the top of the Skyline gondola. Salmon run also connects up with downhill Wynyard DH, a Queenstown classic with super-flowy berms and an awesome jump park around half way down: the Wynyard Dream and Mini Dream. Huge lines will test the mettle of some of the best freestyle riders.
Gorge Road Jump Park
Just 5 minutes' ride from central Queenstown, this legendary jump park is a sculptural masterpiece with dozen of jumps and berms squeezed into a wedge-shaped space around the size of a footie field. Its tight lines are best suited to BMX and slope-style riders but there's something for everyone, including crazy folk capable of 20-metre backflips. Open all summer, it's a great place to just hang out and watch the action.
Gorge Road Jump Park
Heli-biking
The rugged ranges around Queenstown are riddled with farm roads, old pack tracks and other historic byways, custom-made for heli-biking. With some start points hovering around 2000m above sea level, there are plenty of opportunities for epic descents. Highlights include a double-descent down from The Remarkables involving two heli rides and almost 3000m of downhill; and Advance Peak, a sweet piece of downhill along an old gold miners' track to Macetown followed by a riverside ride to Arrowtown.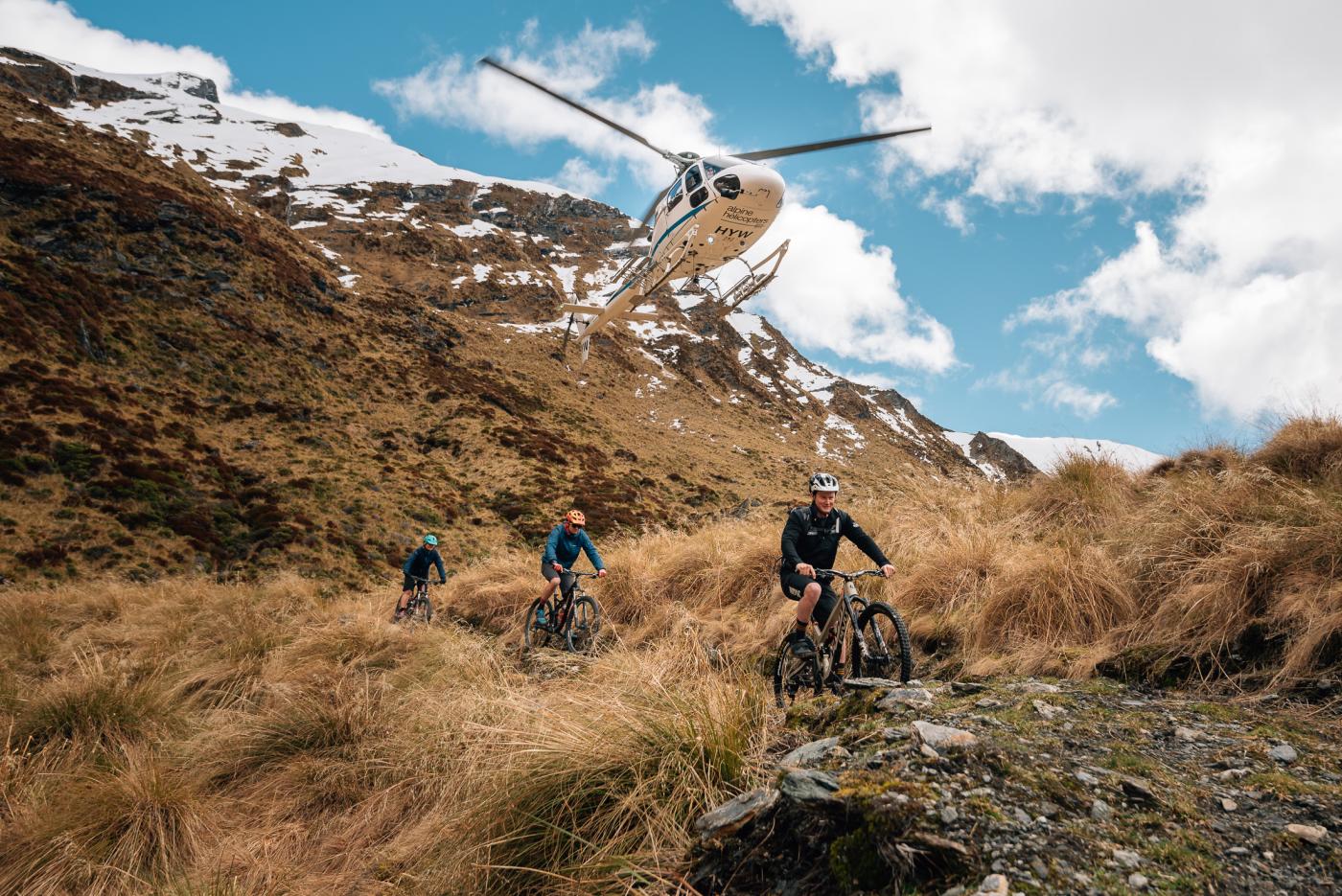 Southern Lakes Helibiking