Beautiful places have attracted and inspired artists for centuries, and Queenstown on New Zealand's South Island is no different. 
Many of New Zealand's best-known artists are based in Queenstown or have been influenced by its landscapes, alongside local painters, sculptors and photographers who call this place home.
Visiting art galleries and studios can give you an idea of what makes a place tick. It's no surprise that some of the world's top attractions are art galleries. And their smaller cousins – found at the back of houses, tucked away in historic buildings or down an alleyway – add to the story of a place just as these behemoths do.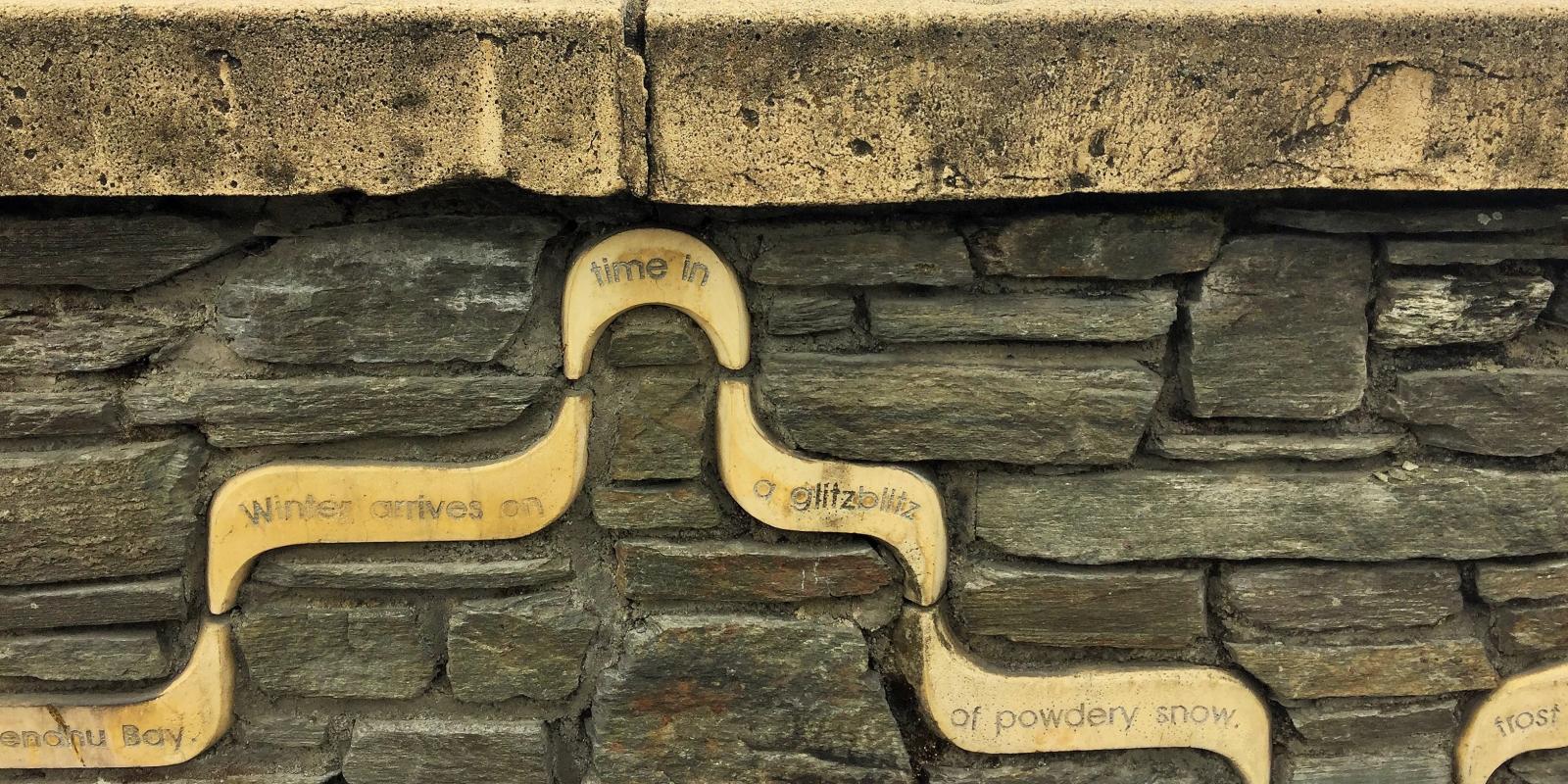 A poem carved into the wall along Queenstown Bay speaks of our heritage
Even Queenstown's airport is a testament to the town's thriving arts community. On the lawn outside of the terminal, you'll be greeted by towering cast-bronze figures by local artist Mark Hill. Aptly named Welcome O Visitors From Afar, the sculptures hint at the visual feast on offer all over the district.
The shores of Lake Whakatipu beckon, and walking along the trails of Queenstown you will encounter sculptures made from stone or metal adding interest to the already beautiful views. You may even find an ivy-covered gallery down past the Queenstown Gardens looking towards the Remarkables mountain range.
Queenstown rewards the art lover who looks a little closer. So take a walk around Queenstown, climb hills and bike along the beautiful Frankton Track on an art-finding odyssey around the Whakatipu Basin.
Queenstown Hill Time Walk
This 500-metre climb through pine forest to the summit of Te Tapu-nui (mountain of intense sacredness) is a rewarding hike (2 – 3 hours return) offering panoramic views across the town, mountains and lake.
Keep your eyes peeled as you wind through the forest for tiny fairy houses, a sculpture gate and plaques hinting at the area's rich history.
Near the top of the Queenstown Hill Time Walk is the Basket of Dreams, a steel and schist stone basket that's large enough to lie inside of. Created by artist Caroline Robinson, it was part of Queenstown's millennium project.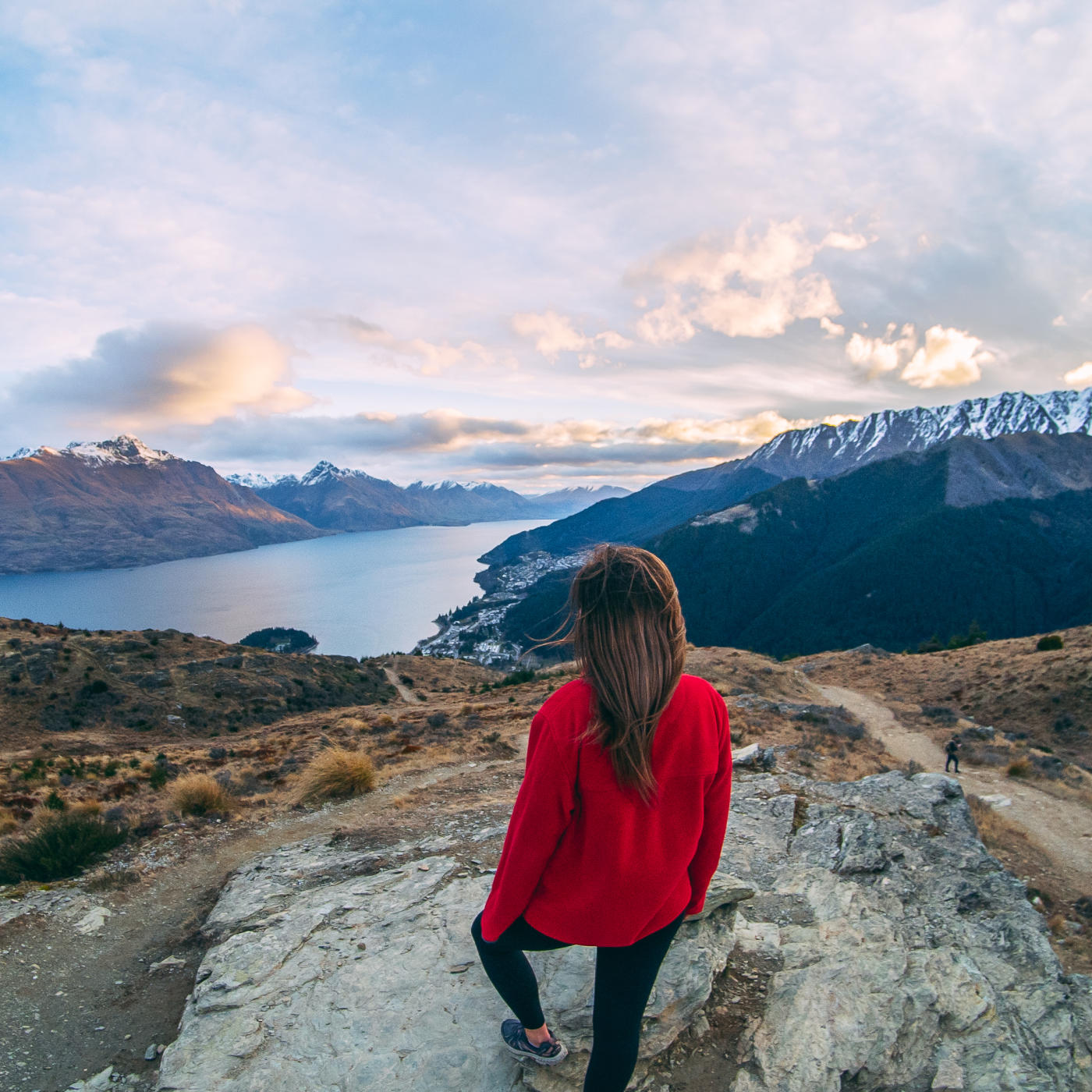 Hiking Queenstown Hill
Public art in the centre of Queenstown
Wander through the centre of Queenstown with a sharp eye and you'll uncover an array of art pieces, many of them tied to the history and culture of this region.
Explore waterfront lanes to find arty gifts and glistening photographic prints, and within Queenstown's central grid you'll find many galleries housing some of the country's best-known artists, including Ivan Clark, creator of the Lonely Dog series.
In the Post Office Precinct, the story of Hakitekura (the first person to swim across the lake) is sandblasted onto glass art that forms a balustrade alongside the stream.
Along the lakefront, a flowing river of words is chiselled into the stone wall; this long poem highlights the history and legends of the Whakatipu Basin. It was written by David Eggleton, one of New Zealand's poet laureates, and sandblasted by sculptor Stuart Griffiths.
Hoisting history on his back like a sugar-sack,
the swagger strides along greenstone trails.
Excerpt from Waipounamu (Wall Poem), 1994, by David Eggleton
Along Lake Esplanade, you'll also find Virginia King's Wakatipu Vessel, a large steel sculpture in the shape of a waka (canoe).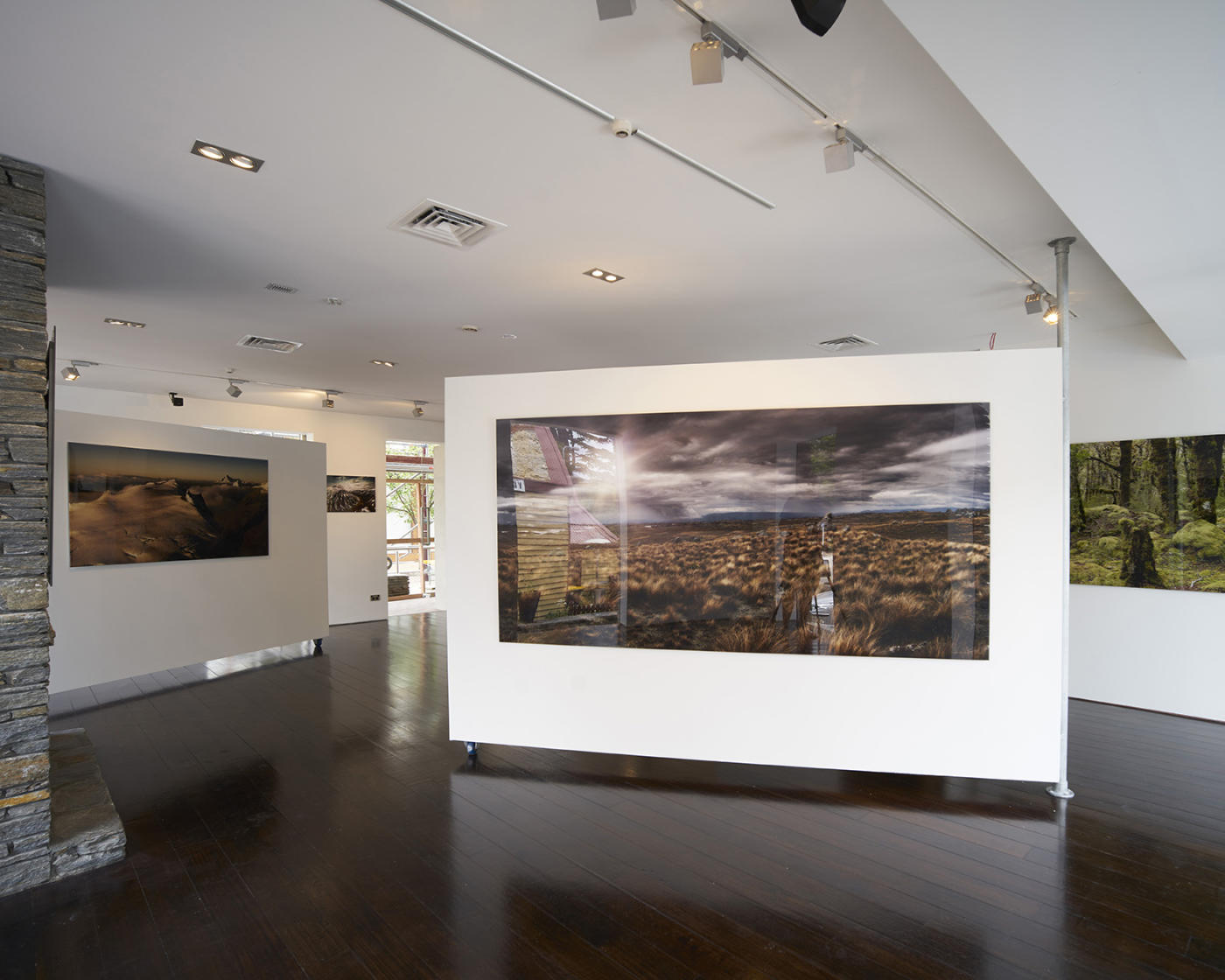 Romer Gallery, Queenstown
Sculptures of Queenstown Gardens
A bronze fern, a giant leaping Labrador and an ornate tree prop. The Queenstown Gardens is a botanical garden with more to it than meets the eye.
Wander between heritage trees and exotic plants, pause on the small stone bridge over the pond and look at the colour-changing fountain.
Hidden around the gardens is a variety of sculptures and art pieces.
Seek out Fleur, contemplating life on her pile of stone cushions. Or find the Good Book and join two bronze girls forever reading among the rose bushes.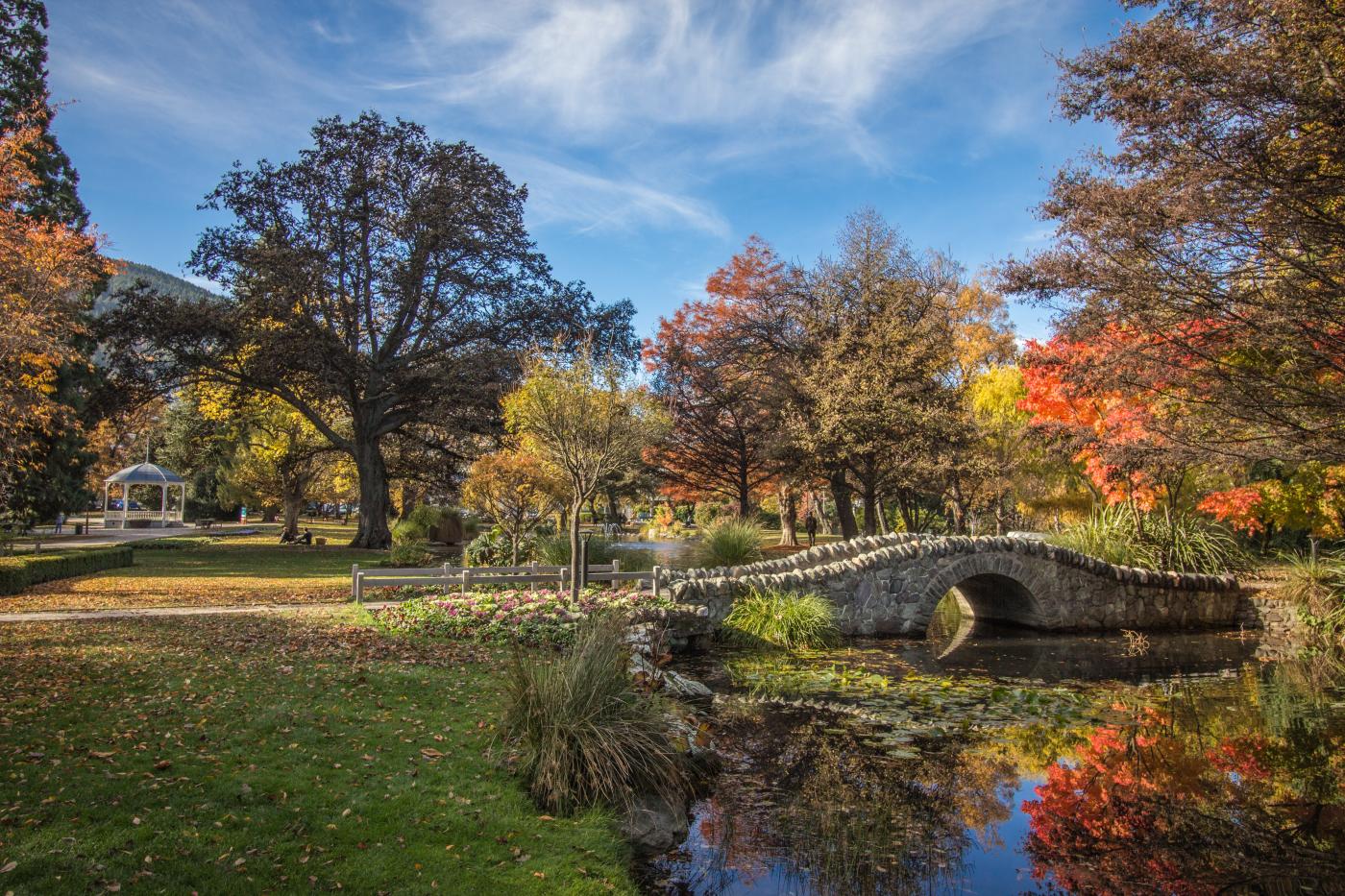 Queenstown Gardens
Kelvin Heights Sculpture Trail
Hop on your bike (or walk if you have time) along the beautiful Frankton Track (10km) towards the Kelvin Heights Peninsula Trail. This track hugs the lakeside, offering views across Lake Whakatipu and to the Remarkables.  
The Kelvin Heights trail is known for its striking sculptures by New Zealand artists, many of which were generously donated to the local community by an anonymous art lover. Spy the goats by Jeff Thompson, look out for Presence and Wakatipu Kuikui by Mark Hill. And don't forget to stop for a photo with Shane Woolridge's Thru Link to Peak sculpture, made using local schist rock.
So much of Queenstown's public art is easily accessible on foot or by bicycle. The town may be known as New Zealand's adventure capital, but there's a whole microcosm of art and sculpture in Queenstown just waiting to be found.