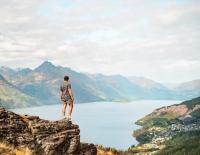 Queenstown Hill Time Walk
Located in the heart of Queenstown, the Queenstown Hill Time Walk is one of the most popular and accessible walks in the region.
The demanding 1.5km walk up Te Tapunui is built to show the past, present and future of Queenstown. Along the track are 6 information plates and illustrations about different time periods in Queenstown's history including Māori settlements, the goldrush and the development of Queenstown as we know it today.
The track winds through pine forest as you climb, before breaking out above the treeline where you will be rewarded with spectacular views of the Remarkables, Cecil Peak, parts of Lake Whakatipu and the Kawarau River. At the top is the famous 'Basket of Dreams' sculpture.
• Duration: 2-3 hours return
• Best time to go: Year-round. In Winter there may be snow so make sure to wear walking shoes that have good grip.
• Location: Central Queenstown
• Start/finish point: The starting point for the Queenstown Hill Time Walk is located at a small car park off Belfast Terrace in Queenstown, not far from the city centre. A Queenstown Lakes District Council sign marks the car park and the start of the walk.
• Difficulty: Medium to high fitness required
Queenstown Hill Time Walk is a council-managed track that crosses lease land. Please respect the landowner's property and stay on the trail at all times. Before you set out, always ensure you're prepared for any sudden changes in weather. Know these five simple outdoor safety rules before you go.
Contact Us
Company:
Queenstown Hill Time Walk
Physical Address