You've rounded up the troops, everyone's on board and you've finally got THE mountain bike get-away planned in Queenstown, the jewel in New Zealand's mountain bike crown. World-class trails and three lift-assisted bike parks await! 
For the most part planning has consisted of watching footage of locals shredding, but there is much more to the mountain biking scene in Queenstown than just the trails.
Coffee and eats
Queenstown has a host of great coffee and lunch stops. A few paces down from the Skyline Gondola is Bespoke Kitchen, voted New Zealand's Cafe of the Year in 2016. As well as hot drinks, Bespoke offers a varied and exciting menu that accommodates all tastes and preferences from the early morning, ideal to fuel up after a few lift-assisted runs at Queenstown Bike Park. Or, just a few paces up the road grab a quick but satisfying snack at Lord of the Fries, a hole in the wall fast food restaurant serving up tasty vegetarian burgers and hot dogs.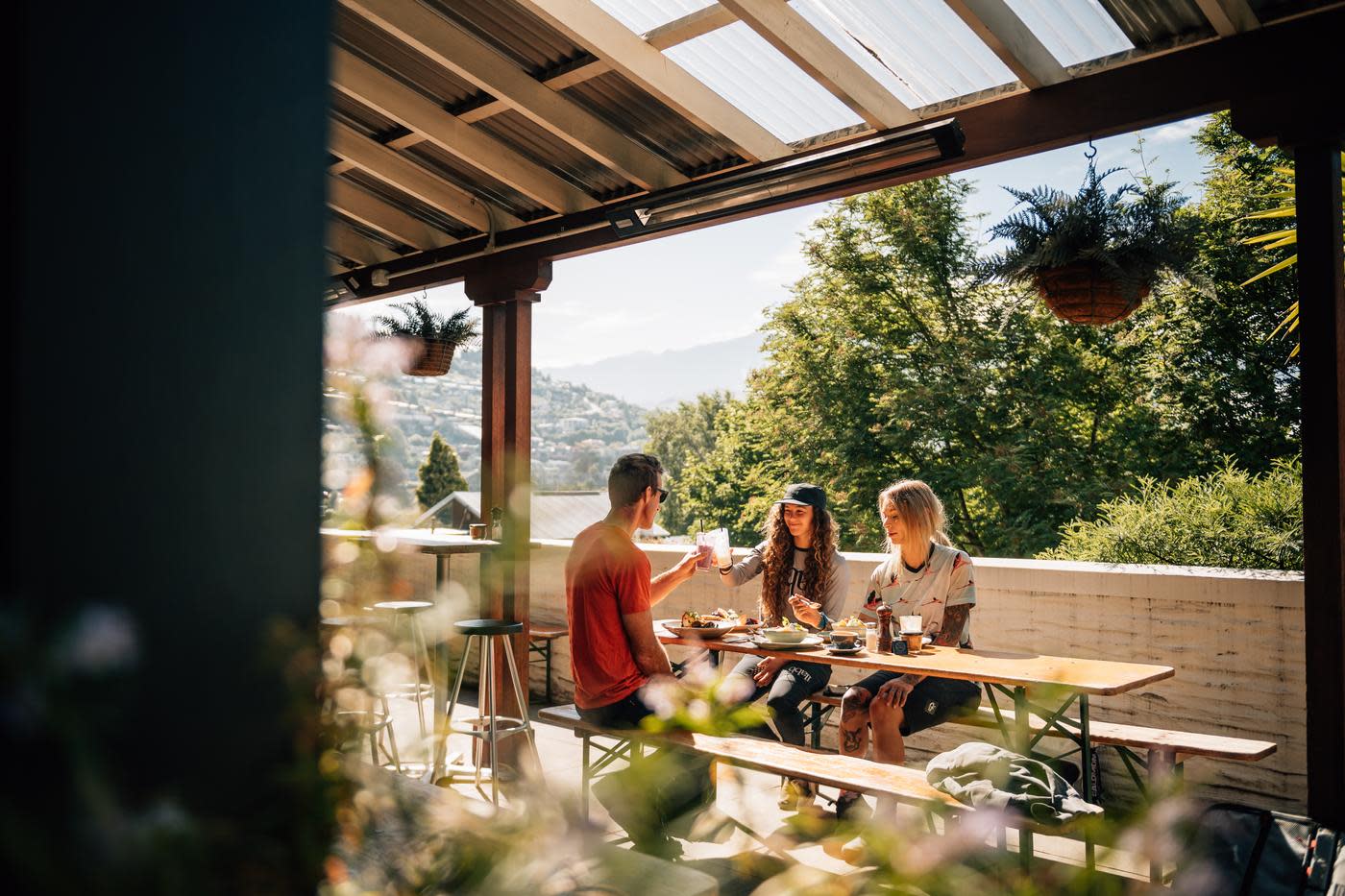 Bespoke Kitchen
Dinner fix
You've been riding all day, maybe on a big day at Wynyard relentlessly lapping McNearly Gnarly, or knocking out runs at Queenstown Bike Park. It's time to knock back a cold one and grab a bite to eat.
Atlas Beer Cafe is a very popular après bike bar with the locals. With generous bike rack storage and outdoor seating, it's a great spot for for food and a drink whilst talking over the days musings. Atlas is also an active contributor to the local MTB scene, each year hosting their 'Season of Shred' fundraiser, raising money for the Queenstown Mountain Bike Club and giving back to the community. Make sure you drop by on your visit, the Atlas steak is an institution, their craft beer line-up is ever changing and derived from the best local breweries.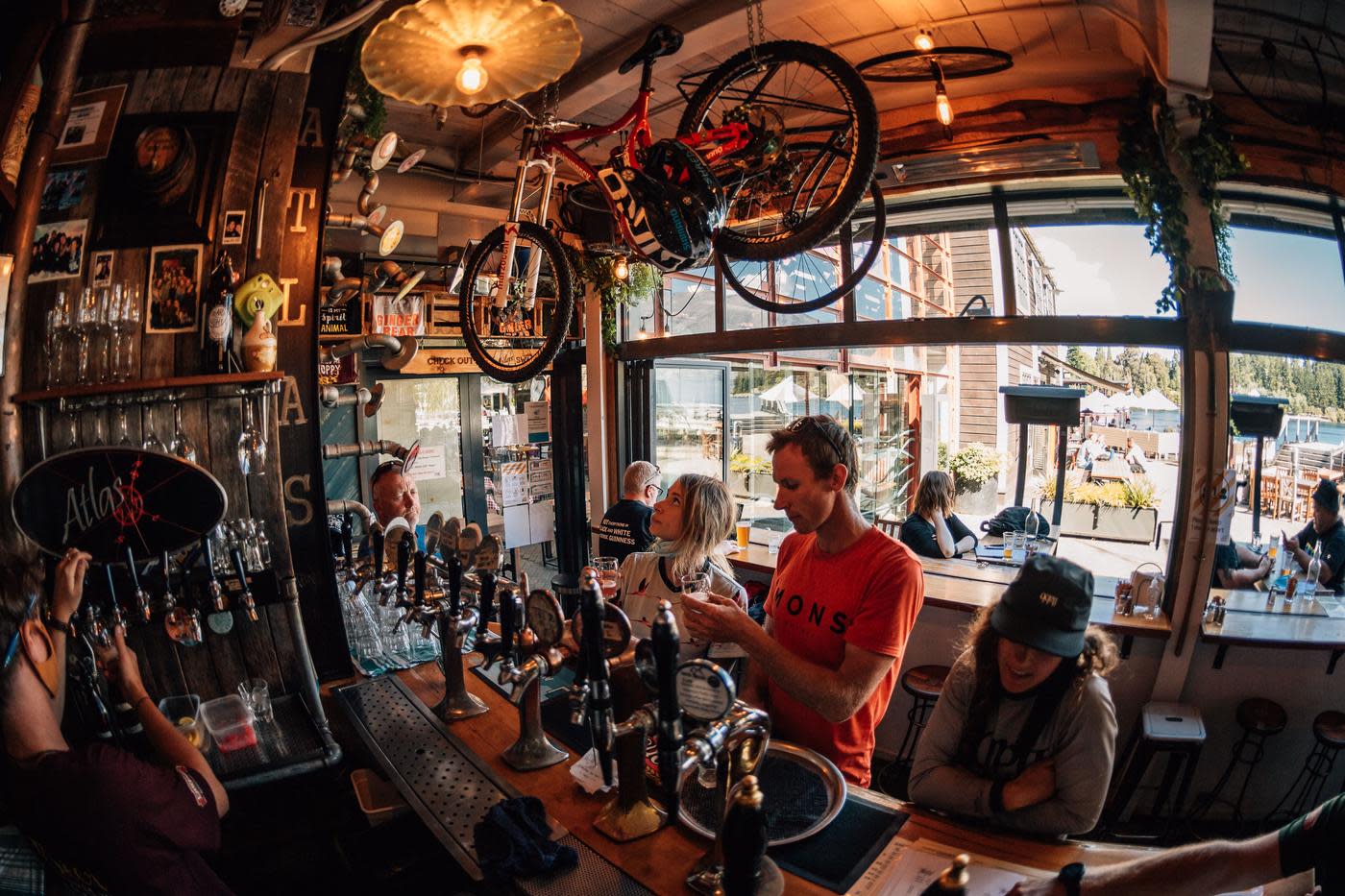 Atlas Beer Cafè
Drink
Developing a taste for the local craft beer, a worthwhile trip would be a visit to 'New Zealands raddest little brewery' Altitude Brewing. A short bike ride out of town along the Frankton Track you'll be greeted by another mountain bike-friendly watering hole. Offering indoor and outdoor seating along with ample bike storage donated by local bike shop Vertigo Bikes, Altitude is a great spot for an evening out with good company.
Bikers will find another great selection of locally brewed beers at Cargo at Gantleys, conveniently located at the base of Coronet Peak. Grab a beanbag and chill out in the sun in their spacious garden bar after hitting it hard on Coronet Peak's lift-accessed trails.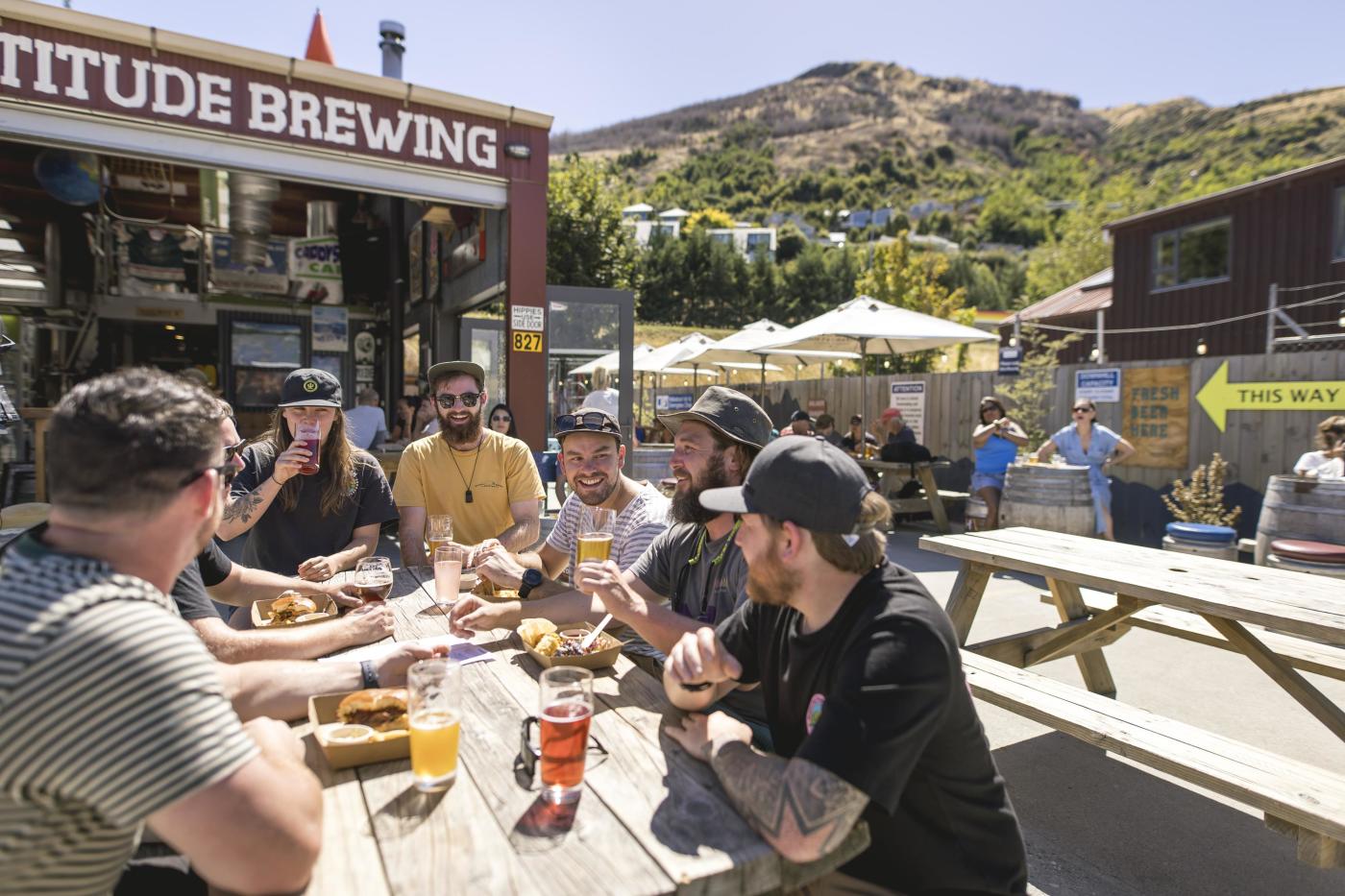 Altitude Brewing
Kick-on
It's later on in the evening, and those local craft beers have gone down well, stories of the days' epic saves and conquered trails have been elaborated and repeated on, a night out is justified to celebrate your survival and prepare for more of the same. Any Queenstown local would point you in the direction of World Bar and it's collaborative next door neighbour Yonder for a good night out. Open till the early hours, both are a staple in the mountain bike scene here. World Bar and Yonder hosts a wide and varied collection of events and entertainment on a regular basis, as well as being a popular pull for it's night life, both locations offer a generous food and drink menu daily.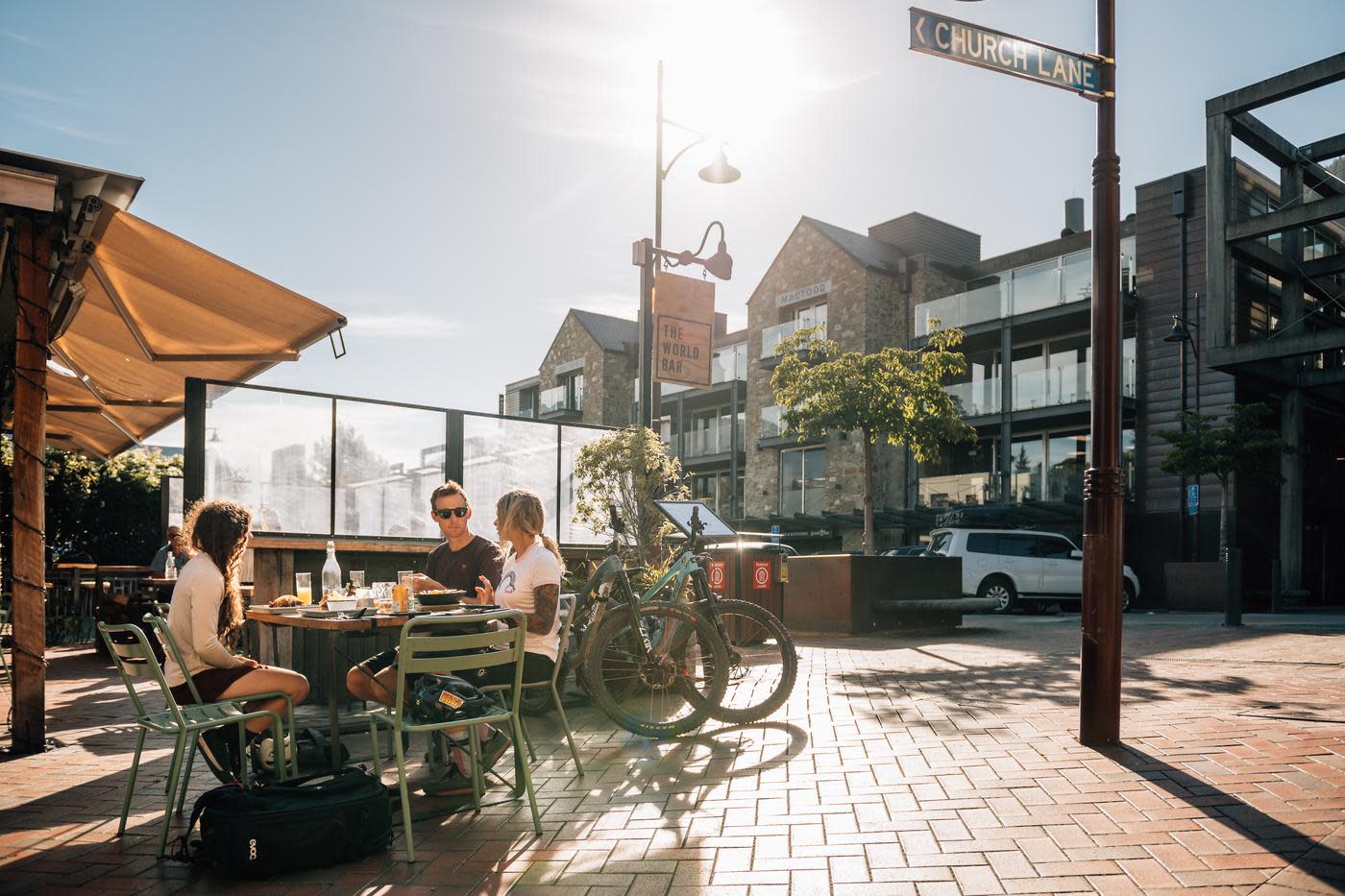 Wolrd Bar
Stay
Local accommodation providers are well-versed in catering to mountain bikers. You'll find many central town accommodation offer secure, on-site bicycle storage; it's a popular request. Some even provide bike hire such as Pinewood Lodge, The Hilton and Sofitel, while others provide useful amenities such as a bike workshop, which you'll find at Sherwood, ideal for those who need to tinker with their bikes before or after a ride. 
If you choose to stay further out of town toward Frankton you can make use of Queenstown's Trail network, a series of linked gravel tracks connecting the area, to get around. Notably, the Frankton Track, an easy 7km lakeside trail, is a great way to get into town.  
Queenstown Mountain Bike Park
Insider's tip
Testament to the areas great apres scene is the local MTB club's membership deals. A top tip for anyone coming to town would be to download the Queenstown Mountain Bike Club (QMTBC) app and join the club for deals on food and beer as well as exclusive offers for bike and body repair, everything from physio to discounted workshop labour and bargain tyres, QMTBC has you covered and once more, it's a great way to give back to the community who have built these trails and are constantly improving them.
Chill with the locals
The mountain biking scene has developed alongside the growing adventure sports town the past couple of decades and mountain bikers are a common sub-species in the area. You'll find them wondering around town, knee pads hanging by the ankles, helmets precariously hung off handlebars, or sitting comfortably into their preferred chairs at local bars, their favourite drink on the table.
Queenstown's biking community is one of the best around and behind that sweaty glaze is an abundance of enthusiasm for the town and even more recommendations for places to go and things to do.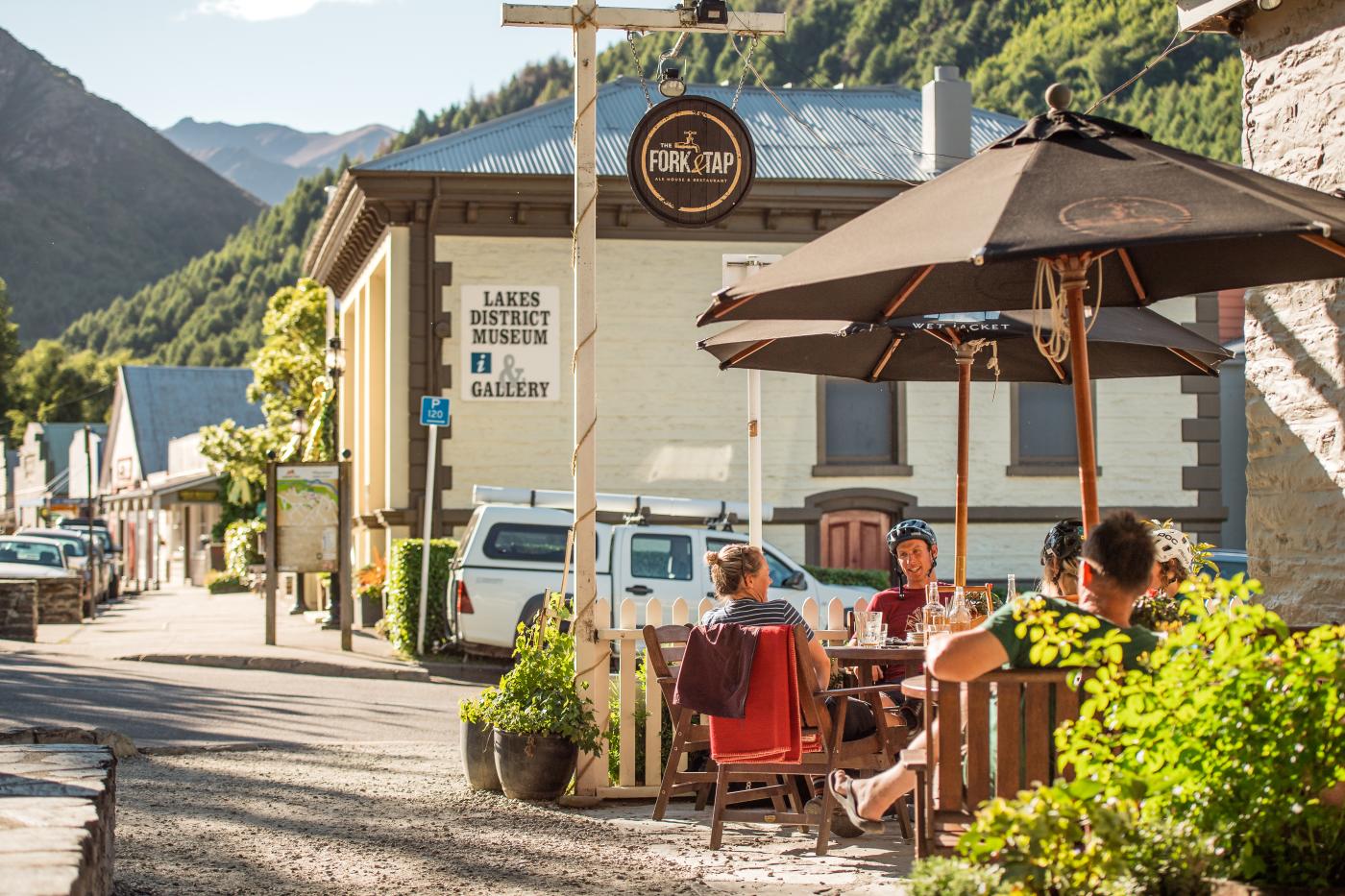 Drinks at the Fork & Tap, Arrowtown