There's more natural beauty to explore around Queenstown than you can shake your Camelbak at. With a variety of history-rich heritage walking tracks, there are plenty of ways to connect with both world-class scenery and stories of the past. Some are a stone's throw from town, some are a little further afield, but there are walks for every age and stage.
Here are seven heritage walks in and around Queenstown:
1. Arrowtown Chinese Village.
This is a nice short track which doesn't leave the Arrowtown village area and explores an important chapter of its history. The modest Chinese miner's huts date back to the gold rush of the mid-1800's, when at one point over 3,500 Chinese lived in Otago. The huts paint a picture of the stark difference between their lives and those of the Europeans, which are preserved in the grand main avenue of Arrowtown. A great stroll before or after a coffee at The Dishery, the kids will love ducking in and out of these huts!
Duration: 8 minutes.
Difficulty: Easy.
How to get there: The settlement is off Buckingham Street in Arrowtown.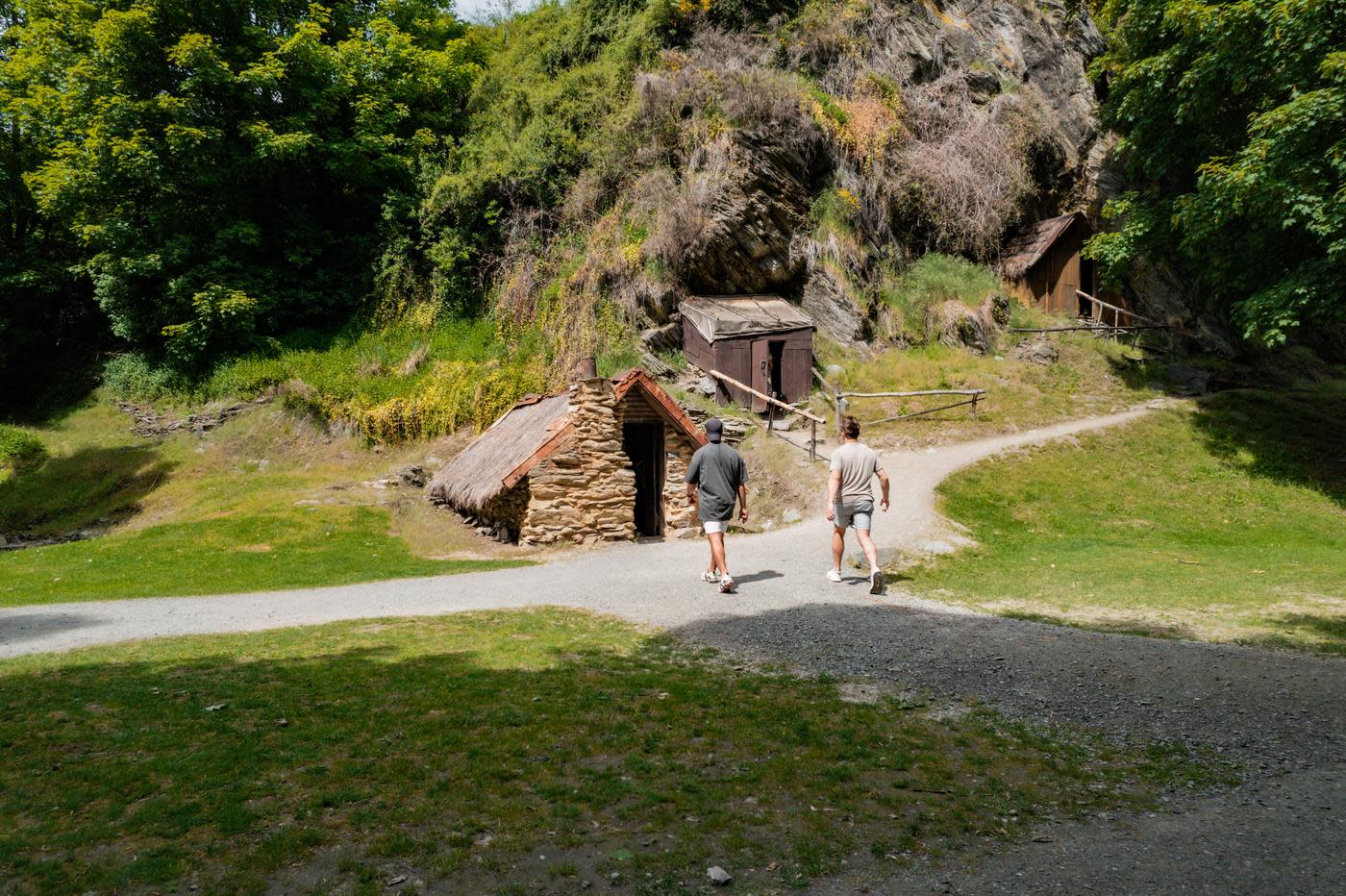 Arrowtown Chinese Village
2. Tobin's Track and Cottage.
Plenty of people stroll up and down the popular Tobin's Track behind Arrowtown every day, but not everyone knows the story of old Thomas Tobin. Thomas was an Irishman who, like the Chinese, came to Arrowtown during the gold rush of the mid-1800's. He was employed to build a road linking Arrowtown with Crown Terrace (and therefore Wānaka). Take the side trip off Tobin's Track to visit the remnants of the stone cottage where he and his wife, Letitia, raised their eight children.
Duration: 1-1.5 hours there and back.
Difficulty: Moderate.
How to get there: The track starts from the bottom of Ford Street in Arrowtown (off Centennial Avenue and Bedford Street corner). It starts by crossing the bridge from the car park. The family cottage is on your left as you ascend, keep an eye out for the markers.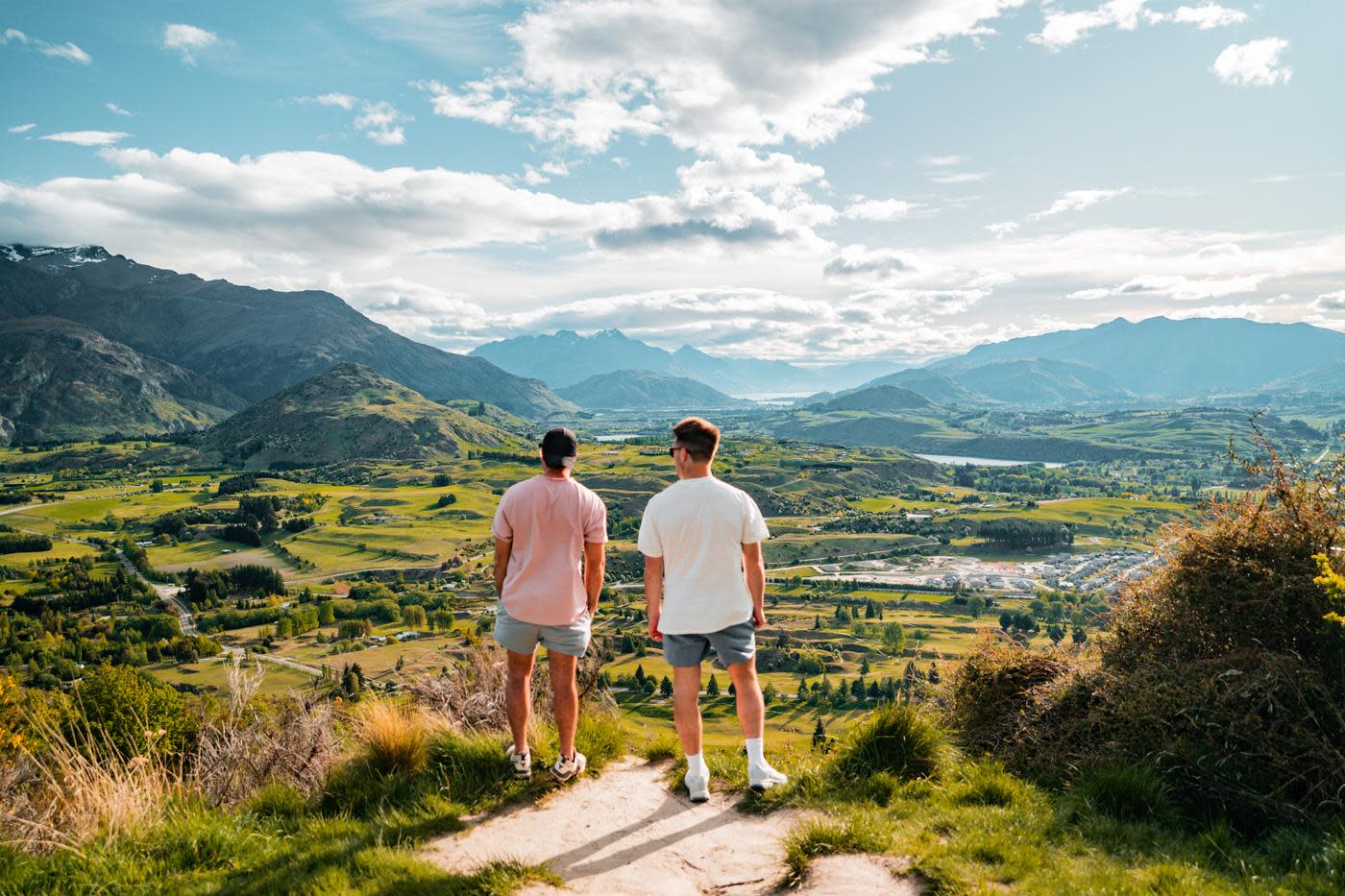 View from the top of Tobin's Track
3. Bob's Cove Track.
Don't be fooled by the shortness of this loop track; Bob's Cove has layers of history and has remained a special attraction for many people over the years. Māori called it 'Te Puna-tapu', which means sacred pool. Bob Fortune, who was the commander of William Rees' boat (the 'founder' of Queenstown), spent a lot of time hiding from storms there, hence the name.
There's also a historic lime kiln on the track, which dates back to the 1800's when the Wakatipu Lime Company used it to process locally sourced lime. Leave yourself plenty of time to soak up all the history, sun and, if you fancy a swim, don't forget to bring your towel.
Length/Duration: 30 minutes.
Difficulty: Easy.
How to get there: The track starts at a car park on the Glenorchy–Queenstown Road, 14 km from Queenstown. On your left hand side if heading out of Queenstown.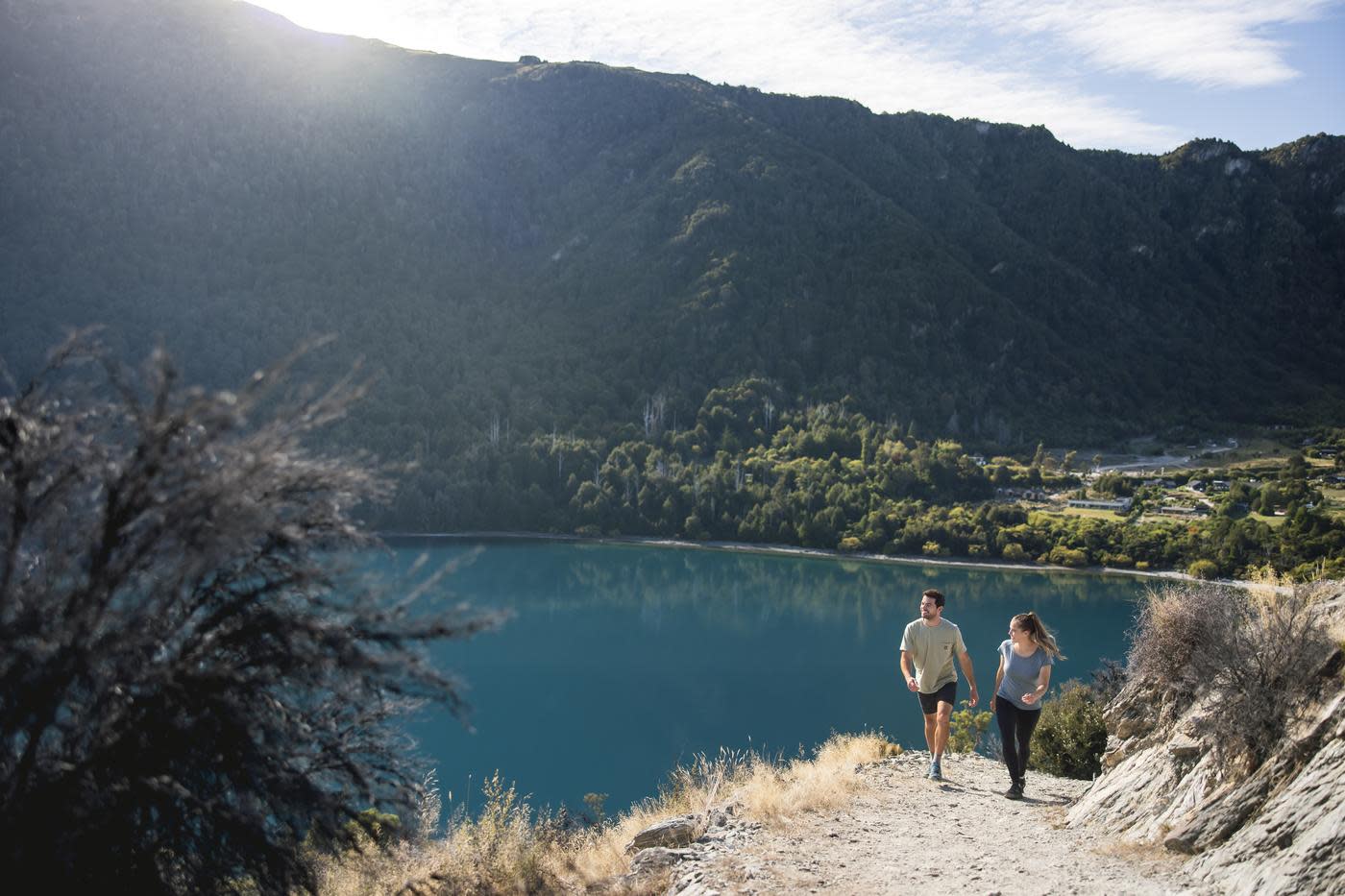 Bob's Cove Walking Track
4. Mt Crichton Loop Track and Sam Summer's Hut.
Take a stunning hike through red beech forest via the Mt Crichton Loop Track and pay a visit to old Sam's hut. Sam Summers was a gold prospector, and built the stone, tin and wood hut in the 1930's. It's a true relic, perched high in the bush with a waterfall nearby. Although overnight stay's are no longer allowed it still makes for a great lunch spot if you're doing the loop track.
Duration: 2.5 hours.
Difficulty: Moderate.
How to get there: The carpark is 12 km from Queenstown near 12-mile Delta, on the Glenorchy–Queenstown Road.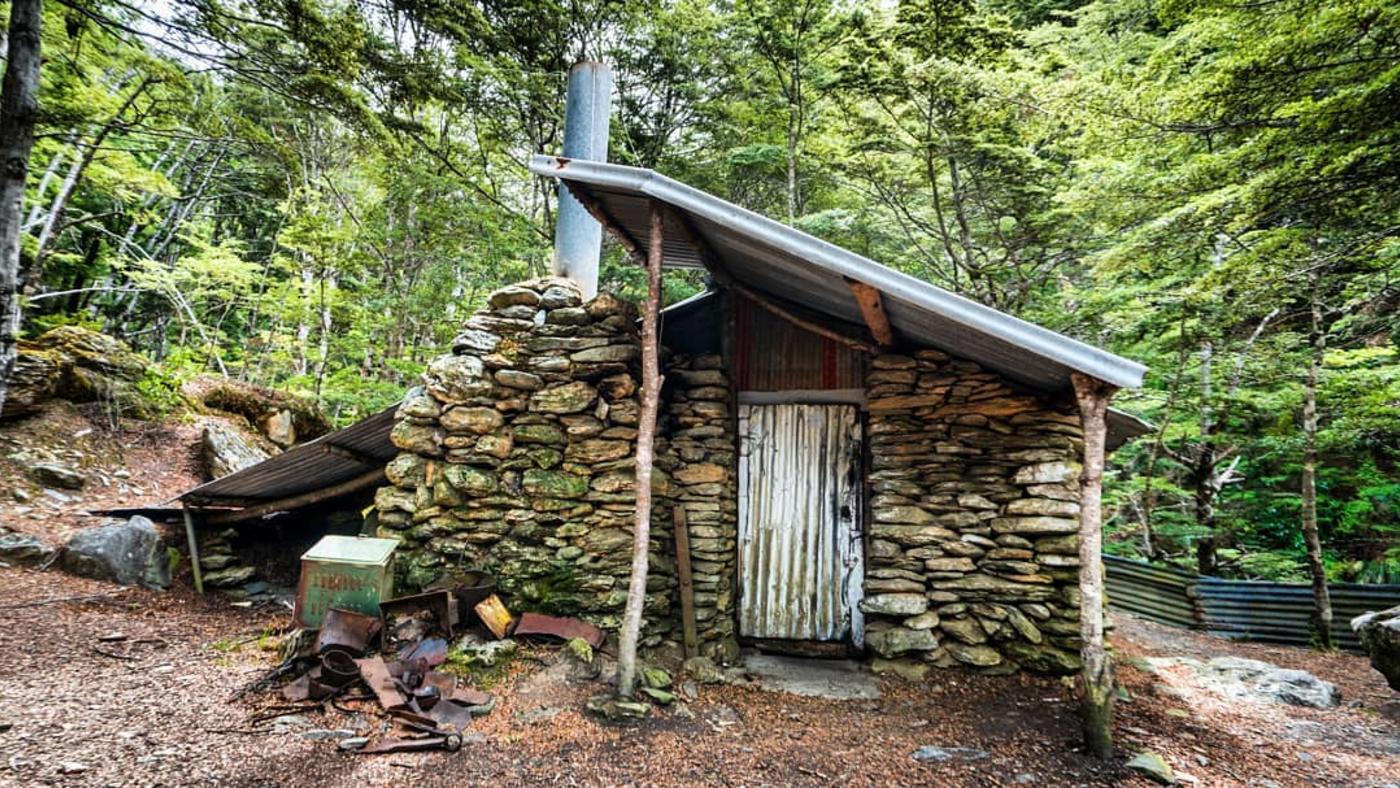 Sam Summers Hut on the Mt Crichton Loop Track
5. Invincible Goldmine.
Walk a path through beech and manuka forest, carved out by miners, to spectacular viewpoints of the Rhys Valley and Mount Earnslaw/Pikirakatahi. The track up to the Invincible Goldmine was built in the early 1800's, and there are plenty of remnants from the mining days: the water wheel, a set of seven berdans (ore-grinding bowls - mining buffs will be impressed) and a gold extractor.
Length/Duration: 3 hours return.
Difficulty: Moderate.
How to get there: 30 minutes' drive up Rees Valley Road from Glenorchy along a gravel road.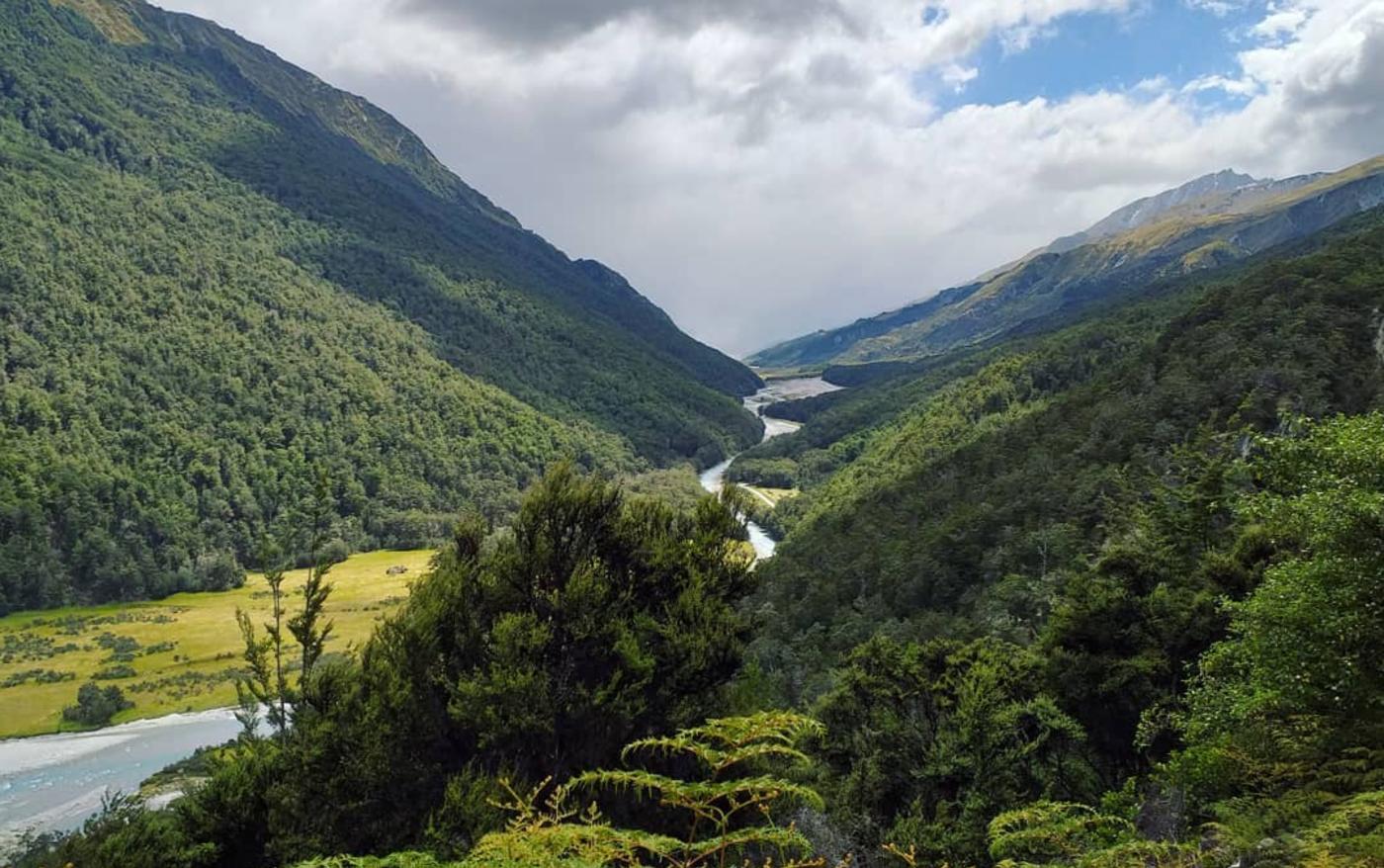 Invincible Goldmine Track
6. Oxenbridge Tunnel Walk.
This is another short and easy one, from which you can lay eyes on a historic river diversion and an old steam engine. People did crazy things for gold back in the day, and the Oxenbridge Tunnel at Arthur's Point was a failed scheme by the Oxenbridge brothers in the early 1900's. Their plan was to divert water from the river so they could get at the gold on the riverbed. It didn't work, but it explains the steam engine sitting in the middle of the river. You might also catch a glimpse of the Shotover Jet as it races up the river.
Duration: 20 minutes return.
Difficulty: Easy.
How to get there: If you're coming from Queenstown, turn left just before the Edith Cavell Bridge at Arthurs Point and head down towards the end carpark.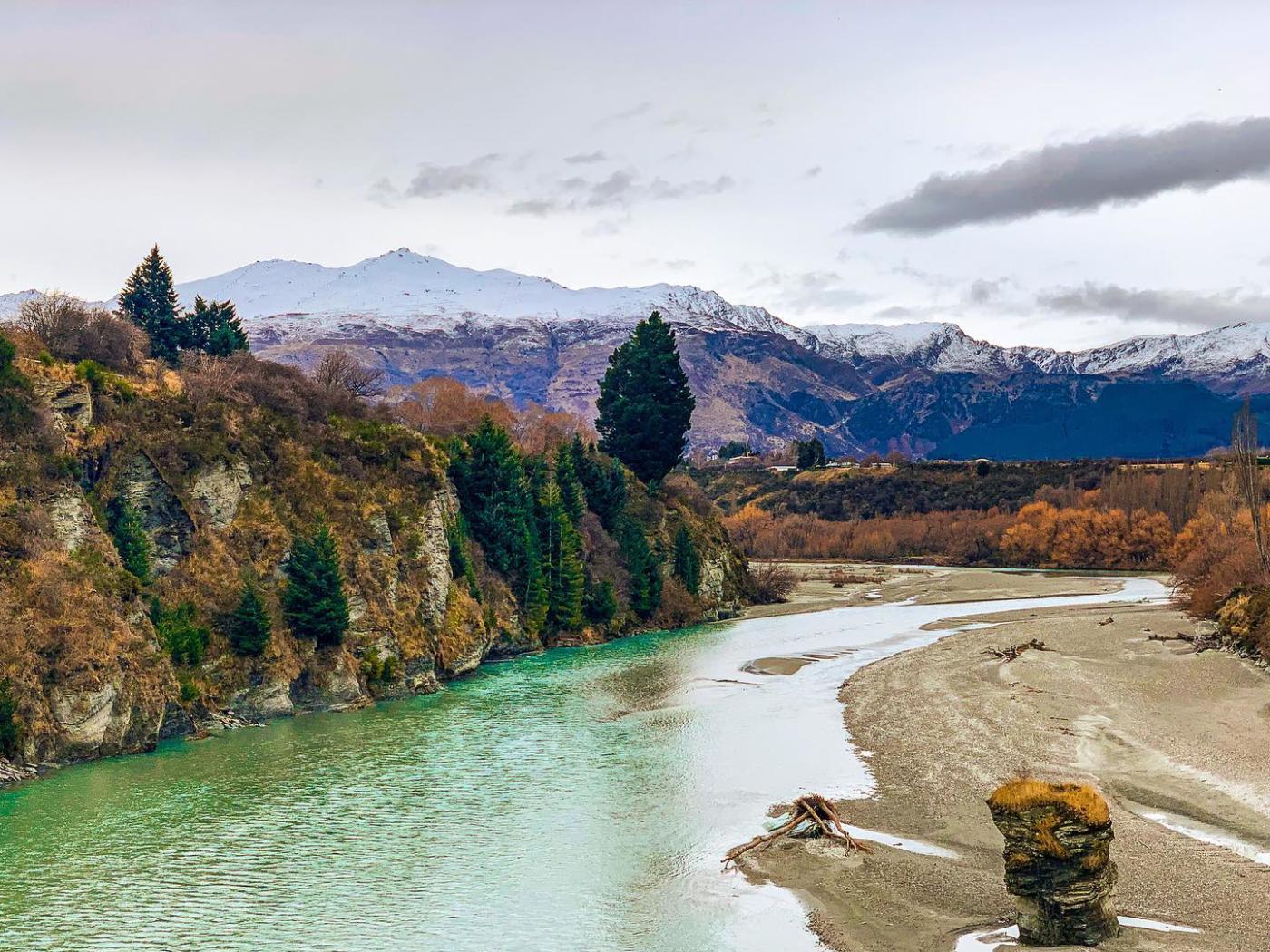 Oxenbridge Tunnel Walk
7. Macetown
This final one is for those who are up for a big mission. Macetown Historic Reserve is 15 kilometres from Arrowtown via a 4WD track, which makes it a fantastic overnight hike (or 1-2 hours each way on a mountain bike). It's an incredible time capsule of the gold rush days and was established in the mid 1800's for both river mining and quartz. Of course, when mining faded out by the 1930's, the town became a ghost town. Read its story while you're out there, through the life of fictional character, Jack Glasson. If you're going to stay the night make sure you bring a tent as there is a basic DOC campsite available for use.
Duration: 3-4 hours each way.
Difficulty: Advanced.
How to get there: Follow the Macetown Road from Arrowtown.
Picnic in Macetown