Day 1: Picnics & Paradise
Enjoy one of New Zealand's most scenic drives.
Take a romantic stroll around the Glenorchy Lagoon Walkway.
Experience a guided tour to Paradise.
Stay in one of the romantic, rustic huts managed by Paradise Trust.
Drive to Glenorchy
Glenorchy's an awe inspiring 45-minute drive northwest from Queenstown. Take the Queenstown-Glenorchy Road and head to the northern end of Lake Whakatipu. Stop at Bennett's Bluff on the way to Glenorchy for magnificent views and snap some pics as mementos of your mini break.
Explore the Glenorchy Lagoon walkway
Grab a picnic at Mrs Woolly's General Store, famous for their pies, generous home baking, and monster gelato sundaes. Then head down to the Glenorchy Boat Shed, turn right and follow the signs to the Glenorchy Lagoon Walkway.
Stretch your legs on this gentle stroll. About halfway, a bench offers incredible vistas over the lagoon towards the surrounding ranges. On a still day, the reflections are glorious. Take a seat, enjoy your food, and the surrounding serenity, before wandering back while watching out for New Zealand wading birds and falcons.
Take a trip to Paradise
What better way to experience Glenorchy than through the eyes of great film directors? Explore the breath-taking landscapes of Middle Earth by touring the movie locations in the region with Pure Glenorchy.
The half-day tour takes in the exquisite setting of Paradise, and the private locations of Arcadia Station as you visit movie locations from The Lord of the Rings, The Hobbit, Wolverine and Narnia.
Stay amidst unspoilt natural beauty
Paradise has been welcoming wonderstruck visitors to the wilderness since the 1800s. The Paradise Trust offers off-the-grid rustic cabin getaways for nature lovers. No Wi-Fi. No electricity. Just open fires, beautiful surroundings, and the song of bellbirds. Bliss.
Choose from nine rustic cabins, including a tiny historic schoolhouse, an old cottage with an outdoor pizza oven and claw-foot bath, and a hut in a beech forest clearing. Lay in a bottle of Central Otago pinot noir, star gaze, and sleep sound for your next day's adventures.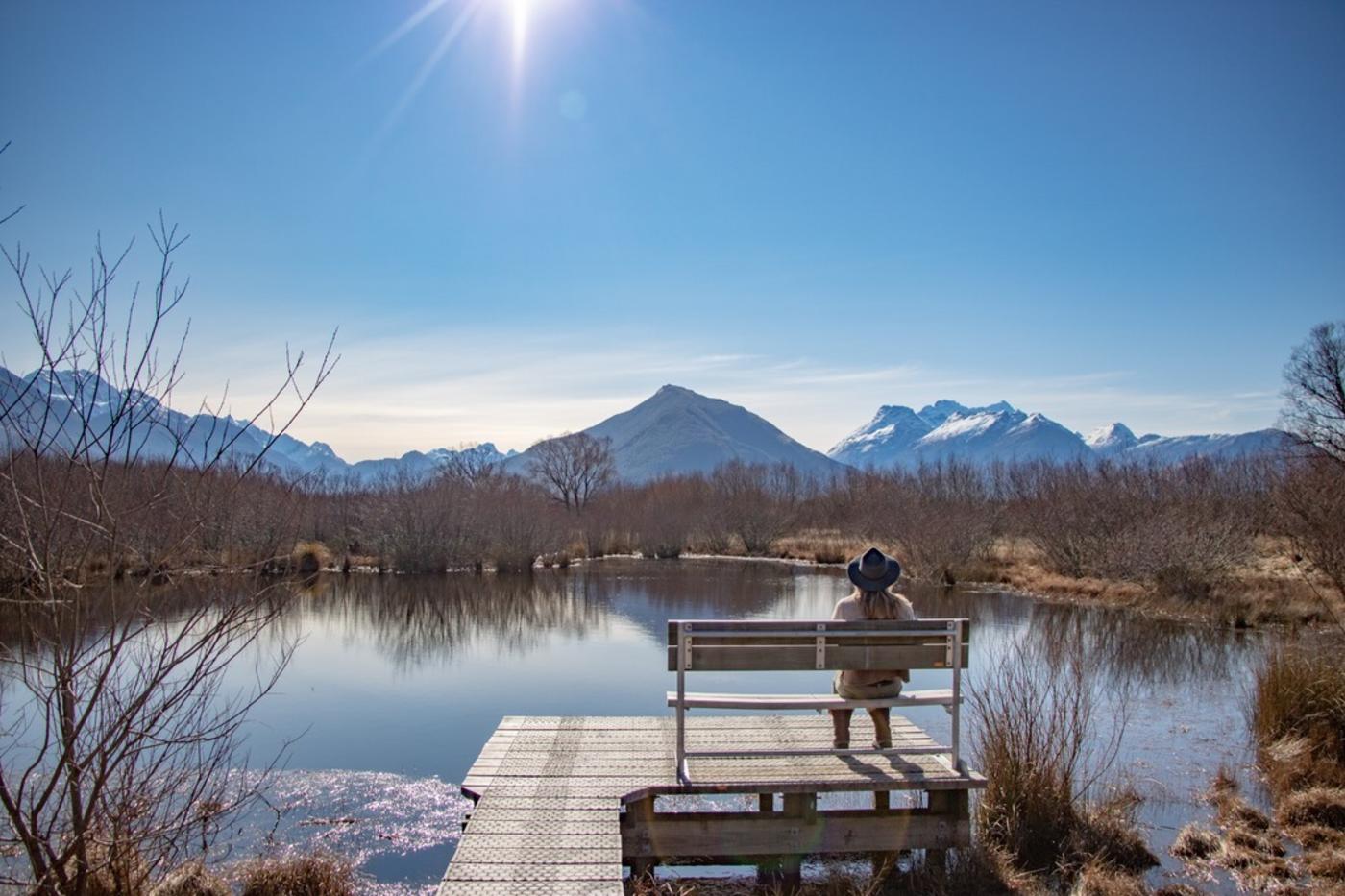 Glenorchy Lagoon Walkway, @adventurekiwis on Instagram
Day 2: Alpine adventures
Ride the Rees River Trail on a half day horse trek.
Lunch at the Glenorchy Trading Post.
Walk the Lake Sylvan Track.
Spend an indulgent night at Blanket Bay.
Ride the Rees River Trail
Explore the stunning scenery around Glenorchy at a gentle pace, as you ride along the beautiful Rees River. Your guide from High Country Horses will tell you stories of the area's rich history as you ride in the footsteps of pioneer farmers from the 1800s. Good for experienced riders and beginners alike.
Lunch at the Trading Post
The Trading Post in Glenorchy is a top spot for a coffee, toasties, home baking and their famous carrot cake. Benches with cosy sheepskins outside are the perfect place to sit as you top up your energy for your afternoon's adventures.
Walk the Lake Sylvan Track
After lunch, take a relaxing stroll to Lake Sylvan's peaceful mountain views, stretch your legs, and discover another beautiful corner of Glenorchy.
The Lake Sylvan Track offers an easy 40-minute walk through red beech forested river terraces abundant with native birds to a viewpoint over the lake. From here you can retrace your steps, or loop around the lake and back via a historic mining tramline.
Bliss out at Blanket Bay
After your day's exertions you'll be ready for some R&R. And Blanket Bay takes relaxation to the next level. This five-star luxury alpine lodge offers sumptuous accommodation overlooking Lake Wakatipu. Kick back in your comfortable room, unwind in the spa, and enjoy food prepared by their Michelin starred chefs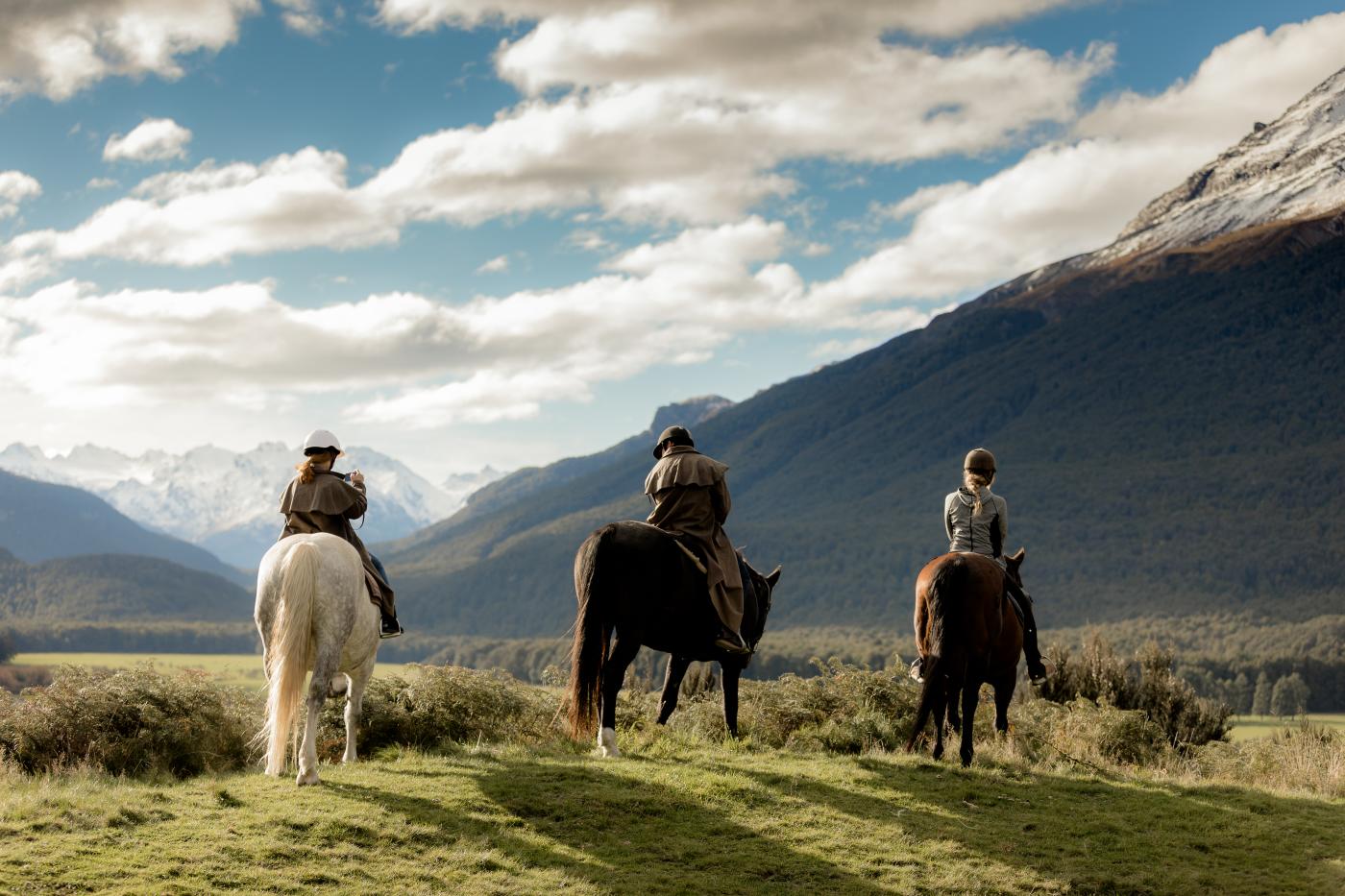 High Country Horses, Glenorchy
Day 3: Fly above it all
It may be tough to leave the warm embrace of Blanket Bay. But give yourself something incredible to look forward to, and it'll be easier to say goodbye (till next time).  
Round off your Glenorchy idyll with a scenic flight with Heli Glenorchy. Their signature experience includes a flyover of the breath-taking Earnslaw Glacier and a snow landing on the Upper Humboldt Mountains. You can also touchdown at Earnslaw Burn, to visit the location made famous as the Misty Mountains in The Lord of the Rings.
Heli Glenorchy also offer mountain weddings, so if the magic of Glenorchy has cast a spell on you both, you can even end your stay with a romantic elopement.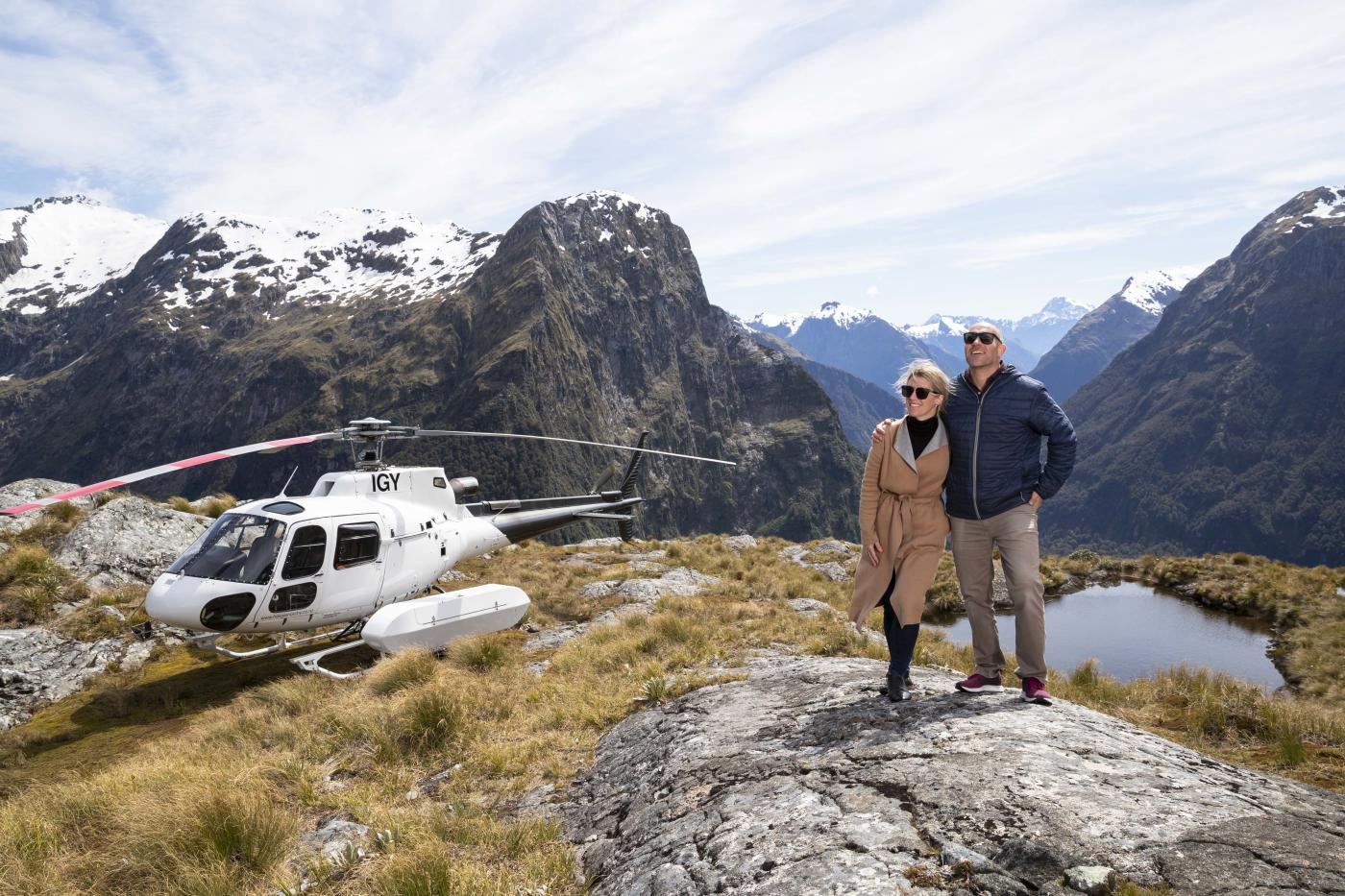 Heli Glenorchy private alpine landing
For more ideas to inspire you and help you plan your trip to Queenstown, check out our Queenstown itineraries.