Experience a visit less ordinary with this guide to adventurous accommodation in and around Queenstown, including camping, glamping, remote mountain huts, eco retreats and extraordinary alpine lodges.
New Zealand's finest eco-retreat at The Headwaters Eco Lodge
In the heart of Glenorchy, at the head of Lake Wakatipu, discover the remarkable eco-retreat that is The Headwaters Eco Lodge. The Lodge is New Zealand's first resort to generate more power than it uses, and the first guest accommodation designed according to the Living Building Challenge – the most rigorous sustainability standards in the world.
Accommodation options range from luxurious eco-cabins to budget friendly backpacker style bunk huts. Activities are plentiful, including massage, morning yoga and guided walks, as well as the full range of adventures that Queenstown is celebrated for. The Headwaters also hosts wellness retreats which offer yoga and breath immersion in the tranquil beauty of Glenorchy. 
Sublime attention to detail makes The Headwaters Eco Lodge an exercise in sustainable luxury. From exhibitions of artwork by local artists, to recycled Kiwiana crockery, delicious seasonal food, and beautifully planted grounds, everything has been carefully considered.
Make new friends in the communal kitchen, or toast marshmallows around the outdoor fire pit. Or take advantage of the serene setting to revitalise with evening yoga and long walks under snow-clad peaks.
The Lodge's commitment to sustainability is inspiring. You can take a daily tour to learn about the initiatives they have in place. Marvel at the state-of-the-art whiff free composting toilets, the iPads that show you how much energy you'll save with shorter showers, and the thermally insulated rooms.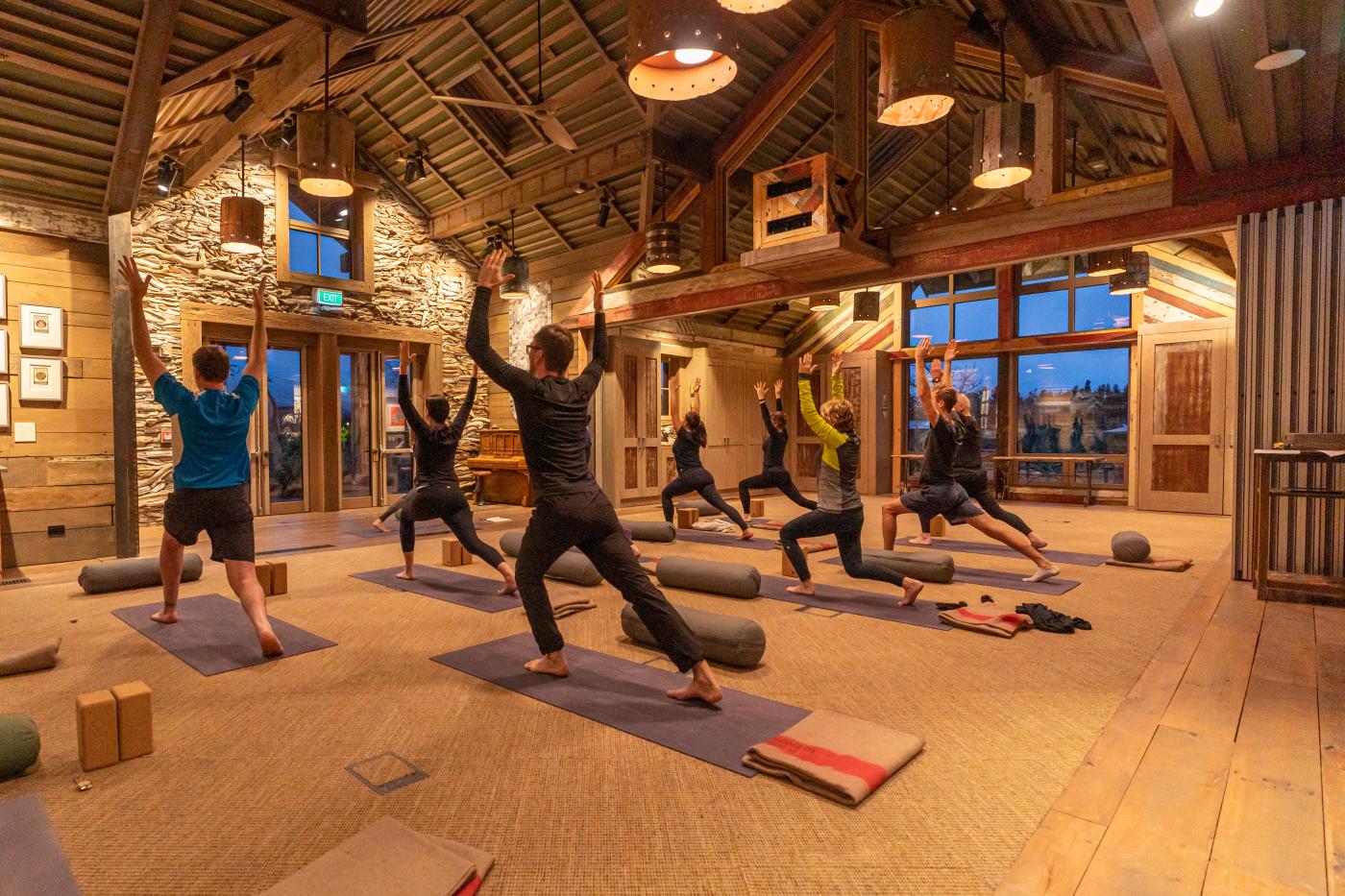 Yoga at The Headwaters Eco Lodge
Magical mountain huts near Queenstown
Back country huts are a New Zealand tradition and treasure. Often accessible only on foot, they offer you the opportunity to stay in pristine back country wilderness. From ramshackle shacks, to a mountain hideaway reached by helicopter, Queenstown's mountain huts take the concept of room with a view to a whole new level.
The Routeburn Flats Hut is a favourite amongst locals, perfect for an overnight trip. An easy 7.5km walk into the first section of the Routeburn Track will take you to the hut set in an exquisite alpine meadow. There are 20 communal bunks and bookings are essential.
Smaller and significantly more rumpty, the Heather Jock Hut is a three bunk hut with an old wood burner and a small water tank, but no toilet. Don't let the (very) basic accommodation put you off though, because Heather Jock is all about location and the journey. The hut is in the middle of the Whakaari Conservation Area, which has a rich mining history. To get there you'll zig zag your way up the Mount Judah Track, through open tussock country, passing old scheelite mines, and historic mining equipment along the way. Once you arrive at the hut you're rewarded with panoramic views.
For the ultimate in remote hut action, fly from Glenorchy to Kelly Hut with mountainhut.nz, a helicopter access-only mountain hut set at 1800m on Mt Larkins in the Whakaari Conservation Area. The hut is on the Stoneburn Saddle, with glorious backcountry views. From May until November there is often deep snow, and you can try your hand at snow shoeing, snow caving, and ski touring.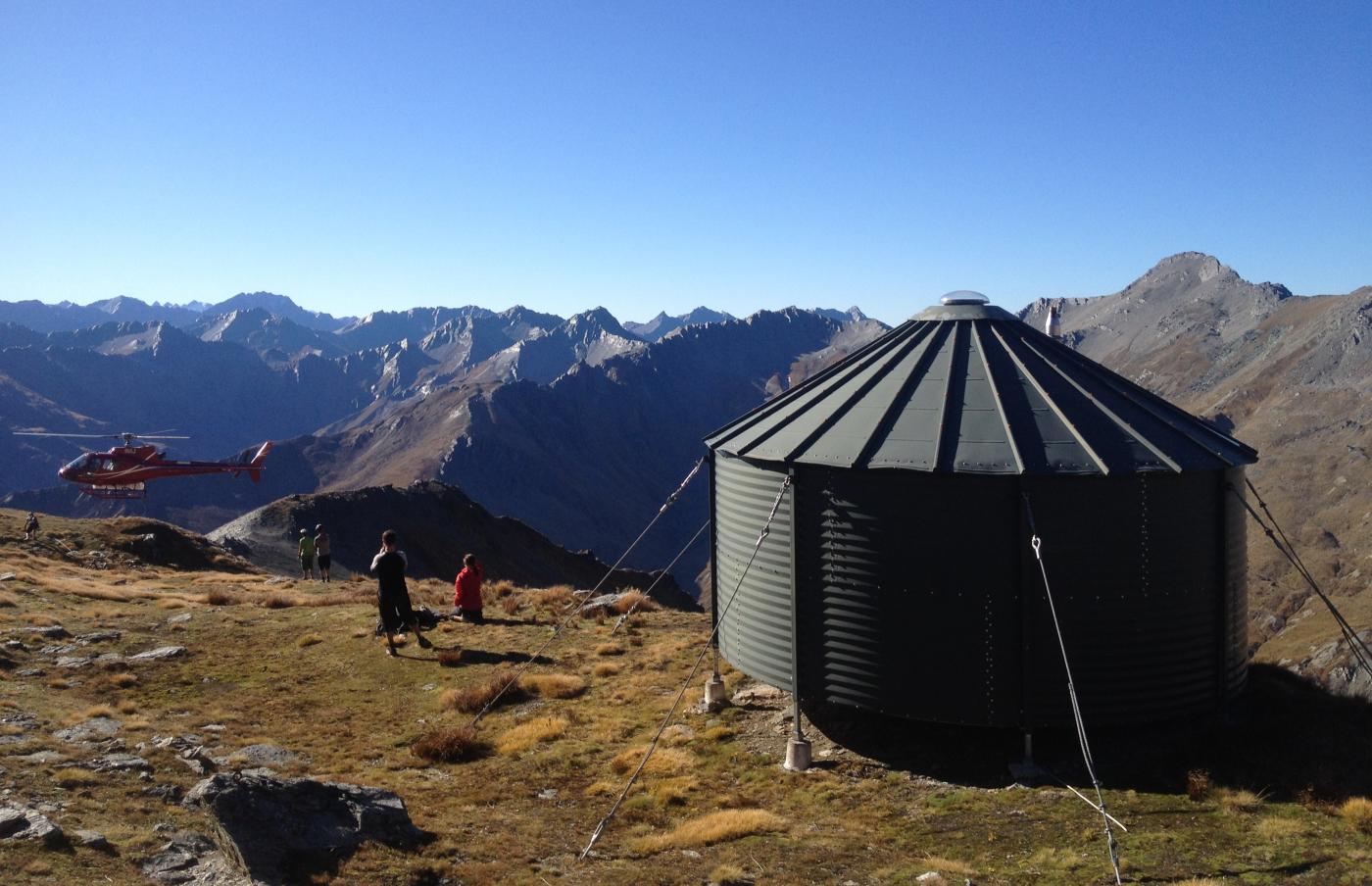 Heli access required to stay at Mountainhut.nz
Legendary pies and soaring peaks at Mrs Woolly's Campground
Mrs Woolly's Campground is another gem from the Headwaters group, the Glenorchy community owned not-for-profit that also runs Camp Glenorchy. This is a campground brought to you by people who know how to make a camping holiday go with a swing.
Set in the heart of Glenorchy, the campground has breath taking views of the surrounding mountains, and you're only a short walk to the lakefront and the lagoon boardwalk. 
Perhaps even better, you're right next to Mrs Woolly's General Store. The term iconic is over-used, so we don't deploy it lightly, but when it comes to Mrs Woolly's pies, their Full Monty gelato sundae, and syrupy Anzac biscuits, no other word will do.
The campground has everything you need for a great break, hot showers, a children's playground, a well kitted out kitchen and outdoor BBQ's.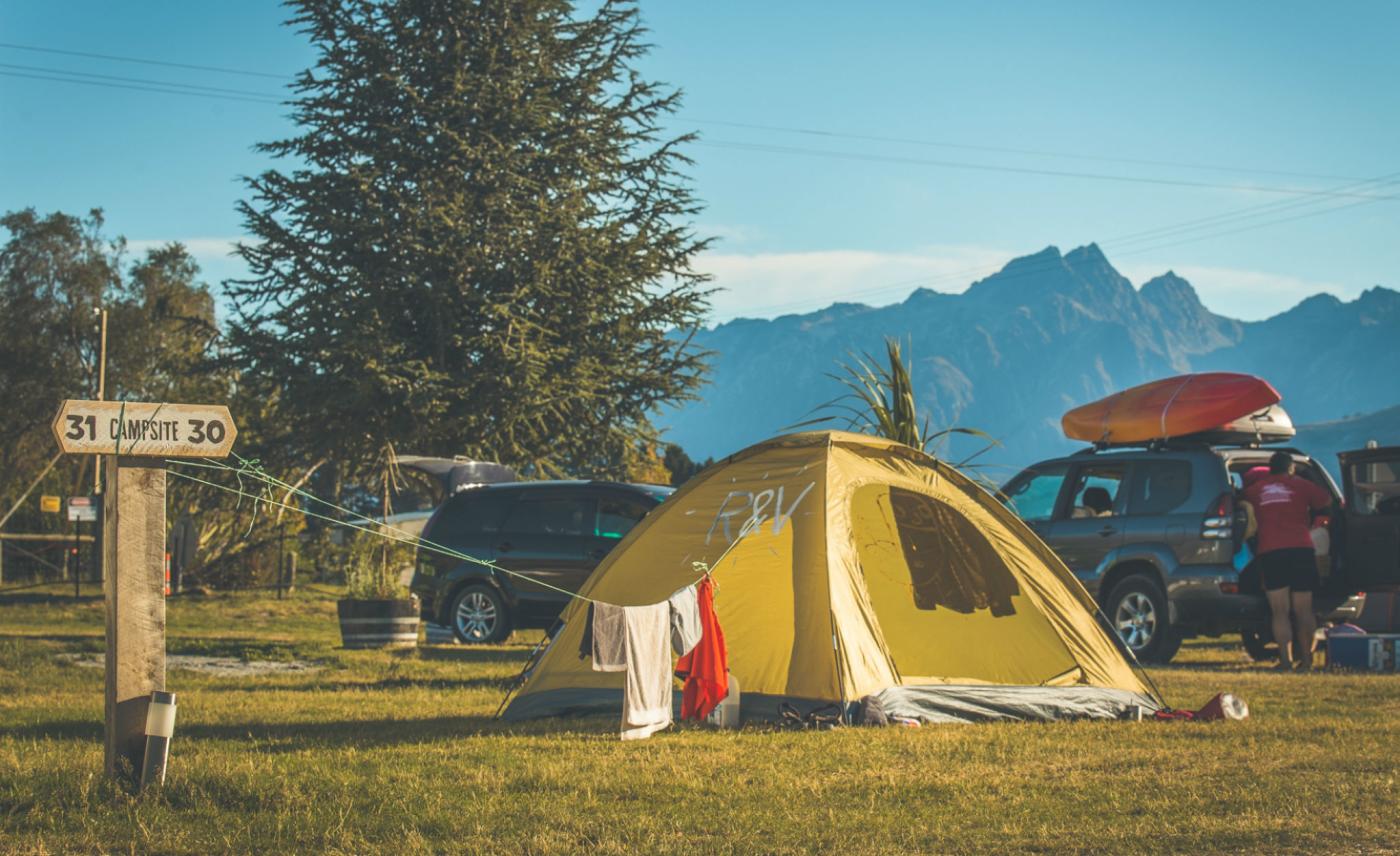 Mrs Woolly Campground, Glenorchy
EcoScape to Kinloch Wilderness Retreat
If camping's a little too rustic for your liking, escape to the tranquillity of a luxury ecopod near Glenorchy at the head of Lake Wakatipu.
These comfortable cabins are built with green tech by clever locals. With a spa pool, gourmet catering from Kinloch Lodge, relaxing places to lounge, and Netflix and Apple TV on your in-room projector, simply settle in to enjoy the serenity and the stunning vistas of the lake and the mountains.
If you're feeling more intrepid, bike hire, and fishing rod hire are all included. You're near spectacular walks like the Lake Sylvan Track, the Invincible Gold Mine Track, or you can even tackle the first section of the mighty Routeburn. The crew at Kinloch Lodge are also delighted to help you arrange other activities like kayaking, horse trekking, or scenic flights.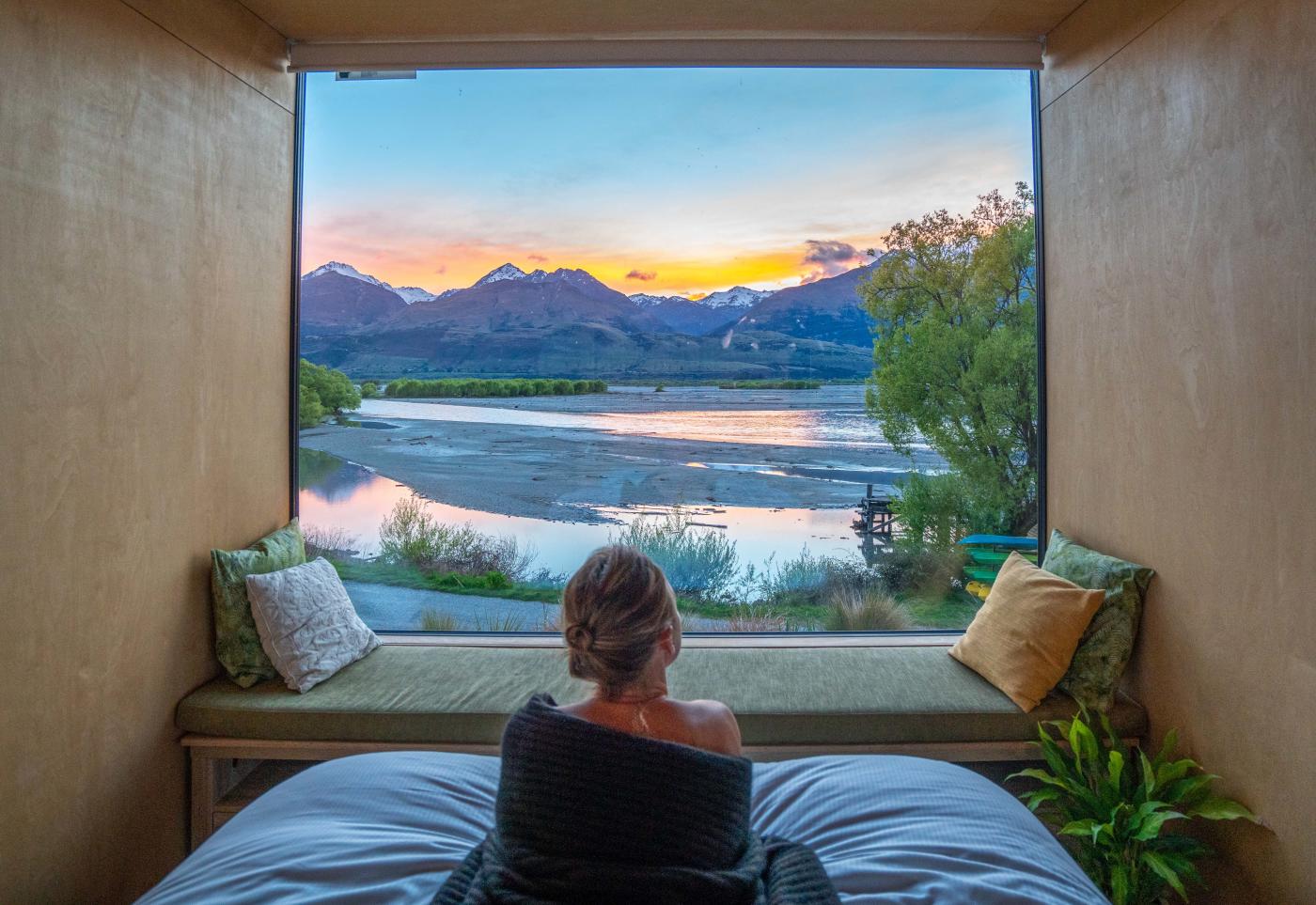 Ecoscapes, ecopod accommodation in Kinloch
Live life large in luxury alpine lodges
Near Glenorchy, Blanket Bay lodge is situated on the shores of Lake Wakatipu at the base of the Richardson Mountains. Blanket Bay's stunning stone and timber architecture fits its rugged surrounds. A classic alpine lodge with open fireplaces, its vast windows frame panoramic views.
Chefs Jo Clarke and Dan Reynolds returned from working in Michelin starred kitchens in Europe to run the award-winning restaurant. The spa offers relaxing therapies, a gym, steam room, and hot tub with glorious vistas. In the lodge grounds you can play petanque, stroll by the lake, or swim in the outdoor heated lap pool.
A string of five-star reviews from delighted guests give you the confidence Blanket Bay lives up to its reputation as one of the world's best luxury lodges.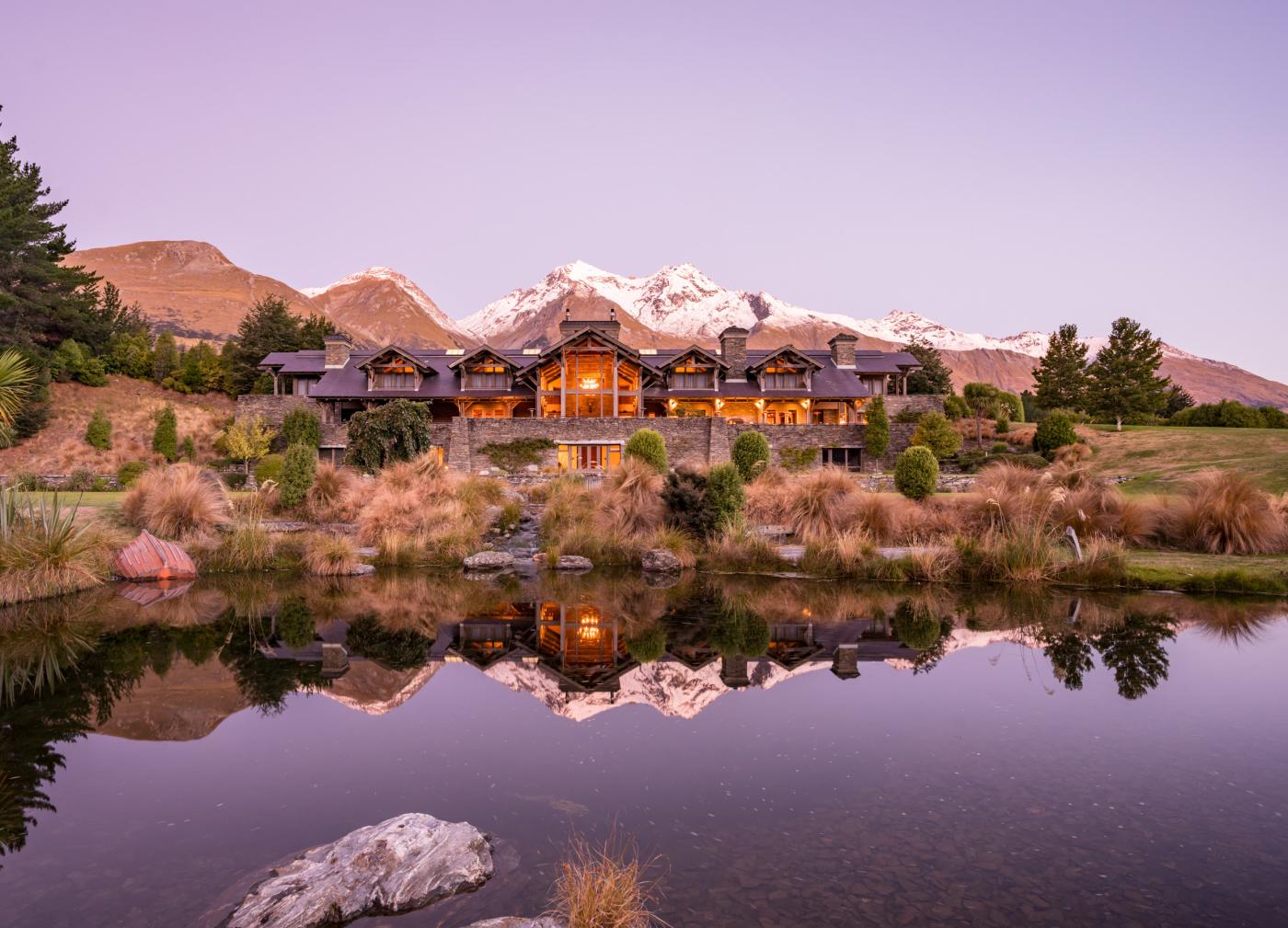 Blanket Bay Luxury Lodge
Not far from Queenstown, on the shores of Lake Hayes, Stoneridge Estate combines five-star luxury with striking medieval-inspired architecture featuring recycled beams from an old church. The beautiful grounds include water gardens, a private vineyard and art gallery.
The Estate has a tradition of hospitality. Over a century ago the Maynes Hotel stood on the site, and you can explore the stone ruins of this historic coaching inn as you stroll around the grounds.
Popular for romantic getaways and honeymoons, Stoneridge offers a range of charming accommodation, from a private cottage, to suites with views of Lake Hayes. Relax in the spectacular infinity pool, hot tubs, gym and sauna. The Estate is known for its excellent food, and their Trust the Chef experience is a wonderful way to taste seasonal local produce.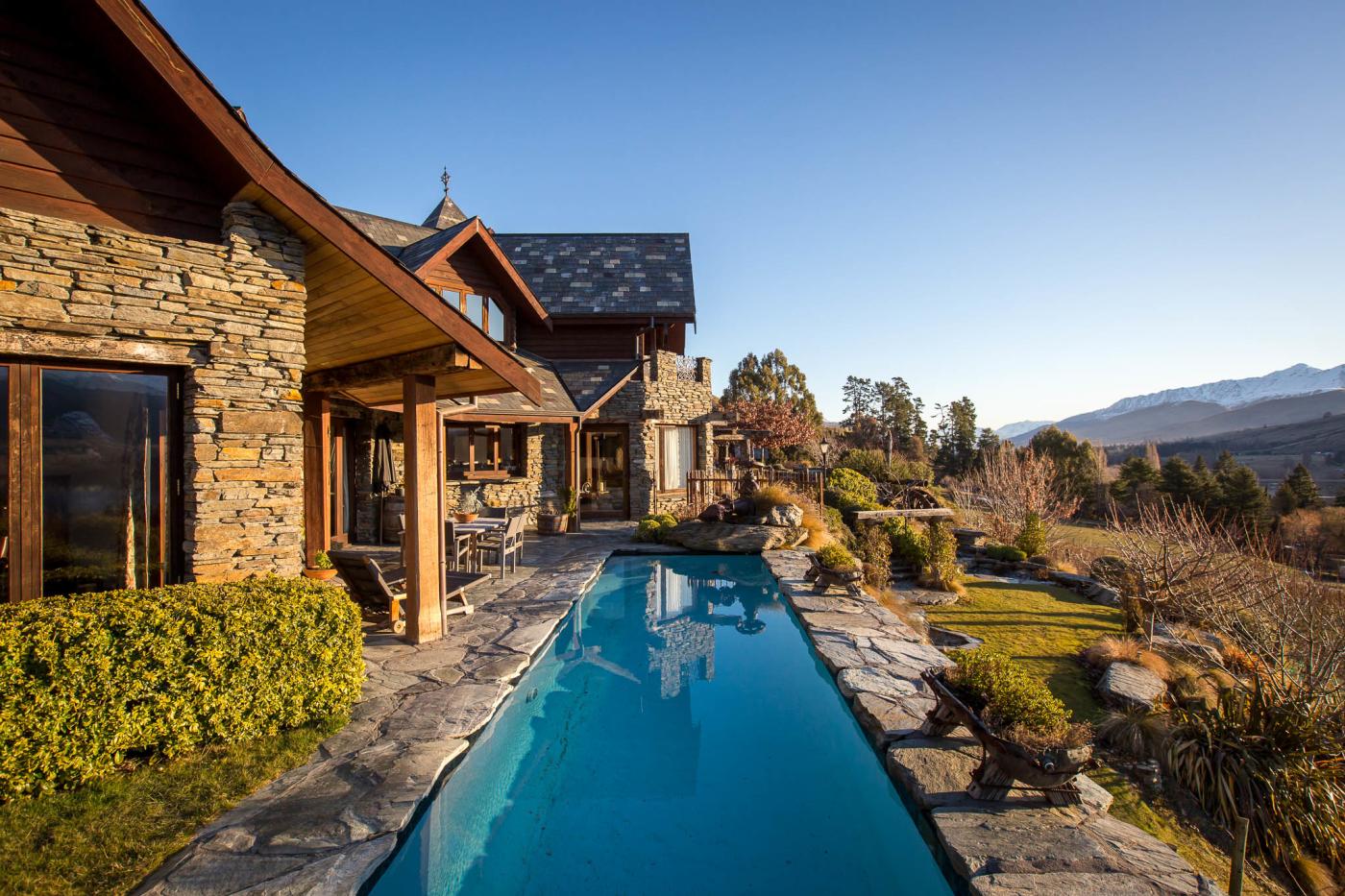 Stoneridge Estate, Lake Hayes