Few places on Earth remain as untouched and magical as the South Island's World Heritage wilderness. Covering a vast area right on Queenstown's doorstep, these spectacular mountain landscapes can be explored on a series of trails including three famous Great Walks and many more multi-day hikes.
Queenstown is the ideal base for tackling these unforgettable adventures. The people at visitor centres, outdoor shops, tour companies and shuttle services have lots of local knowledge and experience, and can help with everything from route planning, hut bookings and packing lists, to arranging round-trip transport or vehicle storage.
Your first challenge is choosing a track. Here are five of the biggest and best, all easily reached from Queenstown. Note that fully guided hikes are available on all of them.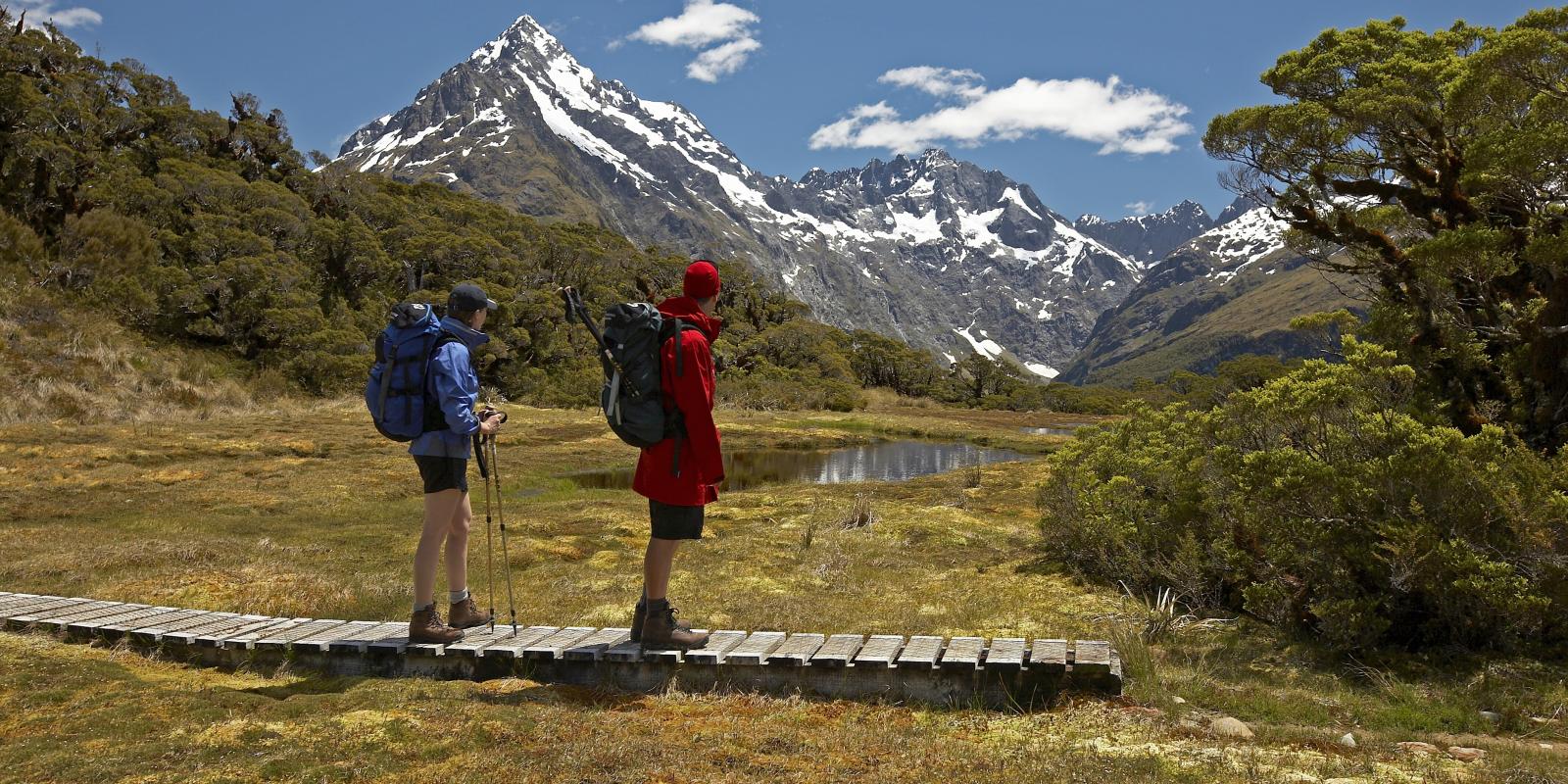 Routeburn Track
32km, 2 – 4 days
This Great Walk crosses the Southern Alps and links two National Parks – Mt Aspiring and Fiordland – taking in ice-carved valleys full of weird and wonderful ecosystems such as wetlands and ancient forest. The trail's middle section takes walkers on a breathtaking journey above the bushline complete with alpine lakes and expansive Fiordland views.
The Routeburn is most commonly started at the eastern trailhead, beyond Glenorchy, two hours' drive from Queenstown; the finish is at the Divide on the Te Anau–Milford Highway, around four hours to Queenstown. Shuttle operators offer round trips and a range of other options. The Routeburn can also be joined with either the Greenstone or Caples Tracks to make a near-loop back to Lake Wakatipu.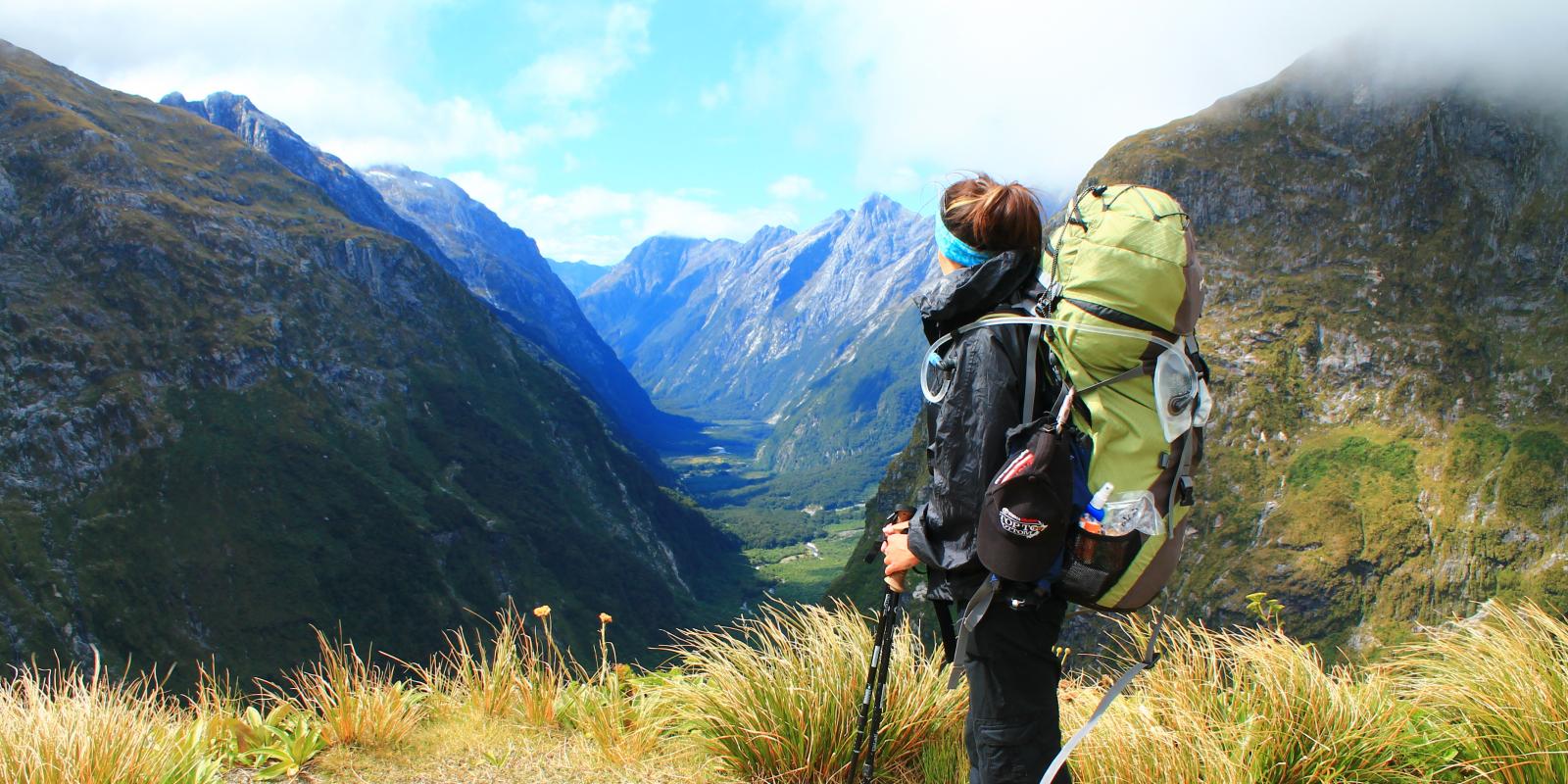 Milford Track
54km, 4 days
A richly rewarding adventure in Fiordland National Park, this Great Walk follows the emerald Clinton River before ascending Mackinnon Pass into an awesome scene of towering peaks, deep glaciated valleys and lofty waterfalls. From the tops, the track traces the Arthur River downstream towards Milford Sound, with a worthy side-trip to the Sutherland Falls.
Scheduled buses and hiker shuttles run from Queenstown to Te Anau (two hours), where vehicle storage is also available for self-drivers. It's another 30-minute drive to Te Anau Downs, launching point for the scenic boat trip to the track's start at the head of Lake Te Anau. The trail ends at Sandfly Point, a 15-minute boat ride from Milford Sound where shuttles collect walkers for the spectacular drive back. It's also easy to add an unforgettable Milford Sound cruise on to this trip.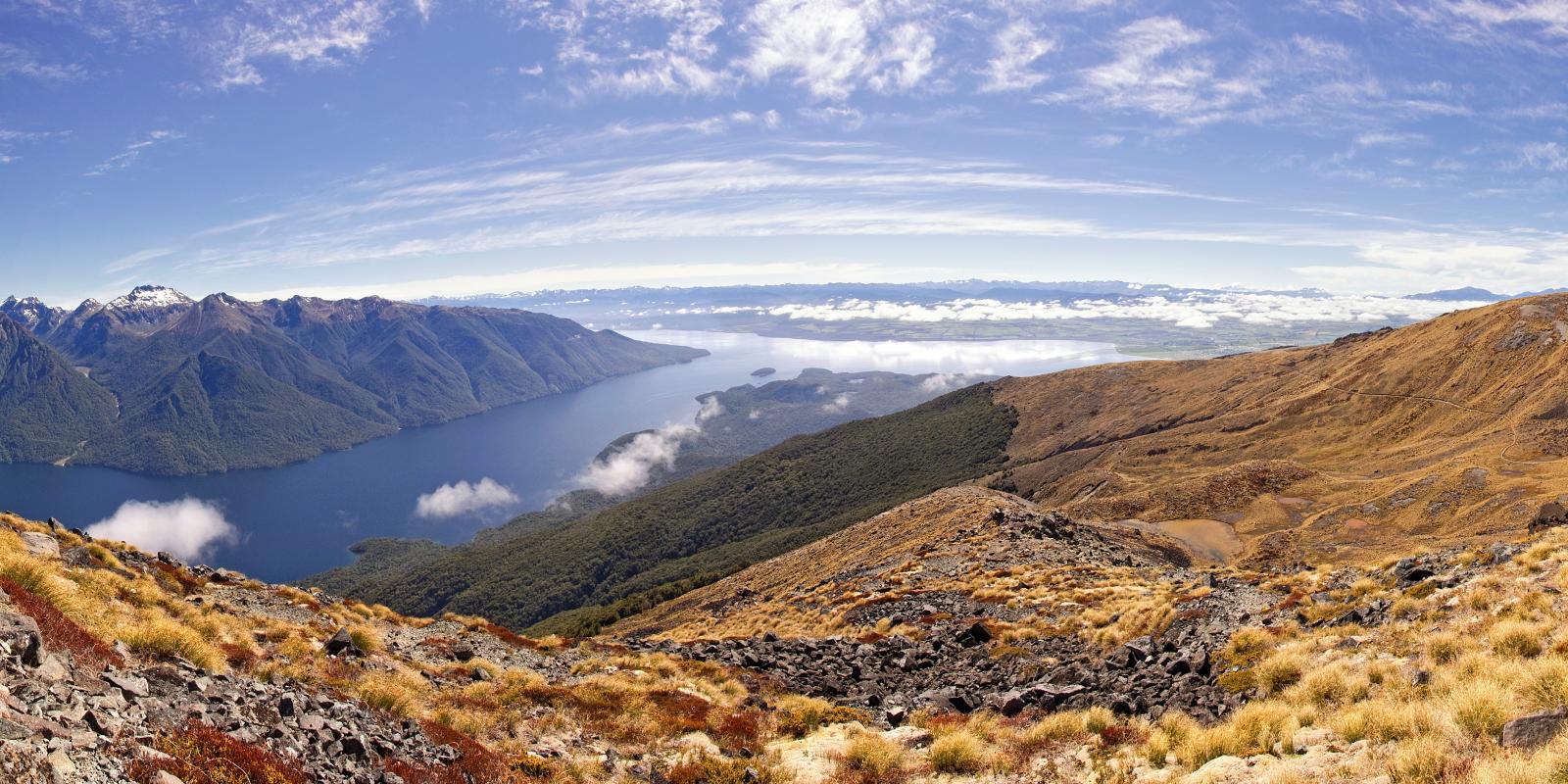 Kepler Track
60km, 3 – 4 days
This circular Great Walk boasts alpine scenery to rival the Milford and Routeburn Tracks. Tracing ridges and crossing saddles above the bushline, it offers ever-changing views across Lake Te Anau and the peaks of Fiordland National Park. Adding to the spectacle are side trips to caves and waterfalls, a rocky valley scarred by an old rockslide, wetlands and moss-covered forest.
Scheduled buses and hiker shuttles run from Queenstown to Te Anau (two hours), where secure vehicle storage is also available for self-drivers. Shuttles provide connections to the start/finish point, just 5km away. While in Te Anau, visitors can readily access the Milford, Routeburn, Greenstone, Caples or Hollyford Tracks, or take a cruise on Milford Sound.
Greenstone Caples Track
61km, 4 days
Traversing two picturesque World Heritage valleys, this loop serves up mountain views, lush forest, tussock land, open river flats and a subalpine saddle. Most walkers head up the wilder Caples Valley to complete most of the uphills during the first two days, then follow the more open Greenstone, famous for an idyllic trout-fishing river.
The tracks start near the shore of Lake Wakatipu, beyond Glenorchy, around two hours' drive from Queenstown by shuttle. It's possible to connect either track up with the Routeburn Track, close to the McKellar Saddle, which makes an alternative, near-loop back to Lake Wakatipu. The low-level Greenstone can be walked all year, while the Caples may be off limits in winter.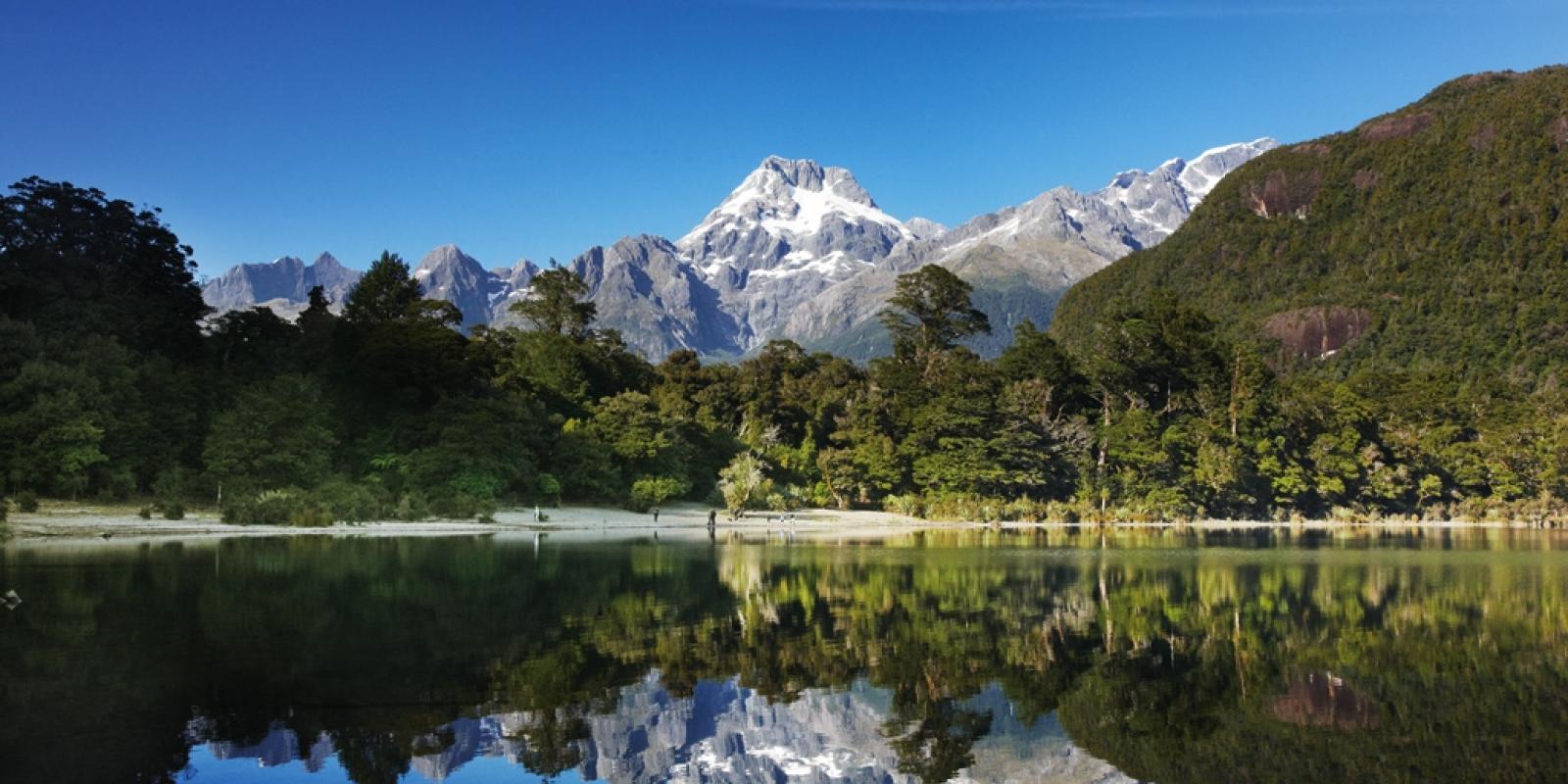 Hollyford Track
56km, 4 – 5 days
Stretching from mountains to sea along a glacier-carved valley, the Hollyford drips with pioneer history as it passes through dense forest and skirts Lake McKerrow at the foot of the Darran Mountains. Beyond the abandoned settlement of Jamestown, the track meets its end on the wild West Coast at Martins Bay, fringed with massive boulders and inhabited by fur seals and Fiordland-crested penguins. 
This is the only low-altitude, multi-day hike in Fiordland that can usually be walked year round. On reaching Martins Bay, most walkers return via a scenic flight from the little airstrip, or jet boat back along the lake for a shorter return walk. The trailhead is at the end of the Hollyford Road, two hours' drive from Te Anau and five from Queenstown; round-trip shuttles and car parking are readily available. It's relatively easy to combine this hike with a cruise on Milford Sound. 
When to go
Unsurprisingly these track are very popular, especially the three Great Walks – the Routeburn, Milford and Kepler – which must be booked during the walking season (end of October to the end of April). Outside of the Great Walks season, facilities are much reduced and, in winter, there are serious risks of avalanche and flooding on all but the Hollyford and Greenstone Tracks. 
The shoulder periods (November and March/April), however, see thinner crowds and great walking conditions in favourable weather. 
For more information on guided walking tours, track transport and hiking equipment hire, visit our Walking & Hiking page.
Explore South Island's stunning great walks and feel the inspiration.