Choose your Great Walk adventure with this guide to the Routeburn Track, the Milford Sound Track, and the Kepler Track, all easily reached from Queenstown.
The landscape you'll explore
This is some of the best hiking in New Zealand. Few places on Earth remain as untouched and magical as the South Island's World Heritage wilderness. Covering a vast area right on Queenstown's doorstep, these spectacular mountain landscapes can be explored on the three Great Walks and other multi-day hikes.

Routeburn Track Falls Hut
When to hike and how to book Queenstown's Great Walks
The Great Walks are very popular. You must book during walking season, which runs from the end of October to the end of April. If you want to avoid the crowds, book in November or in early autumn (March/April) for great walking conditions in favourable weather. 
Outside of the Great Walks season, facilities are much reduced and in winter there are serious risks of avalanche and flooding.
Bookings for the Great Walks are handled by the Department of Conservation (DOC) and you can book online. You can book a bunk in the DOC huts. The Kepler and the Routeburn Tracks also offer campsites. Prices start from $20 per adult per night for camping and $65-$70 per night for a bunk in the huts.
The Milford Sound hike is one of the most popular Great Walks in New Zealand, so if you're planning to walk the Milford Track, we recommend that you book at least six-months ahead, especially if you plan to hike in peak season (January and February).
If you prefer to hike with a guide, our friendly local operators offer excellent guided Great Walk experiences. A guided walk is a wonderful way to learn more about the nature, the geology, and the history of the World Heritage wilderness as you hike. And, if you're a less experienced hiker, walking with a guide also gives you peace of mind in our exposed alpine landscapes.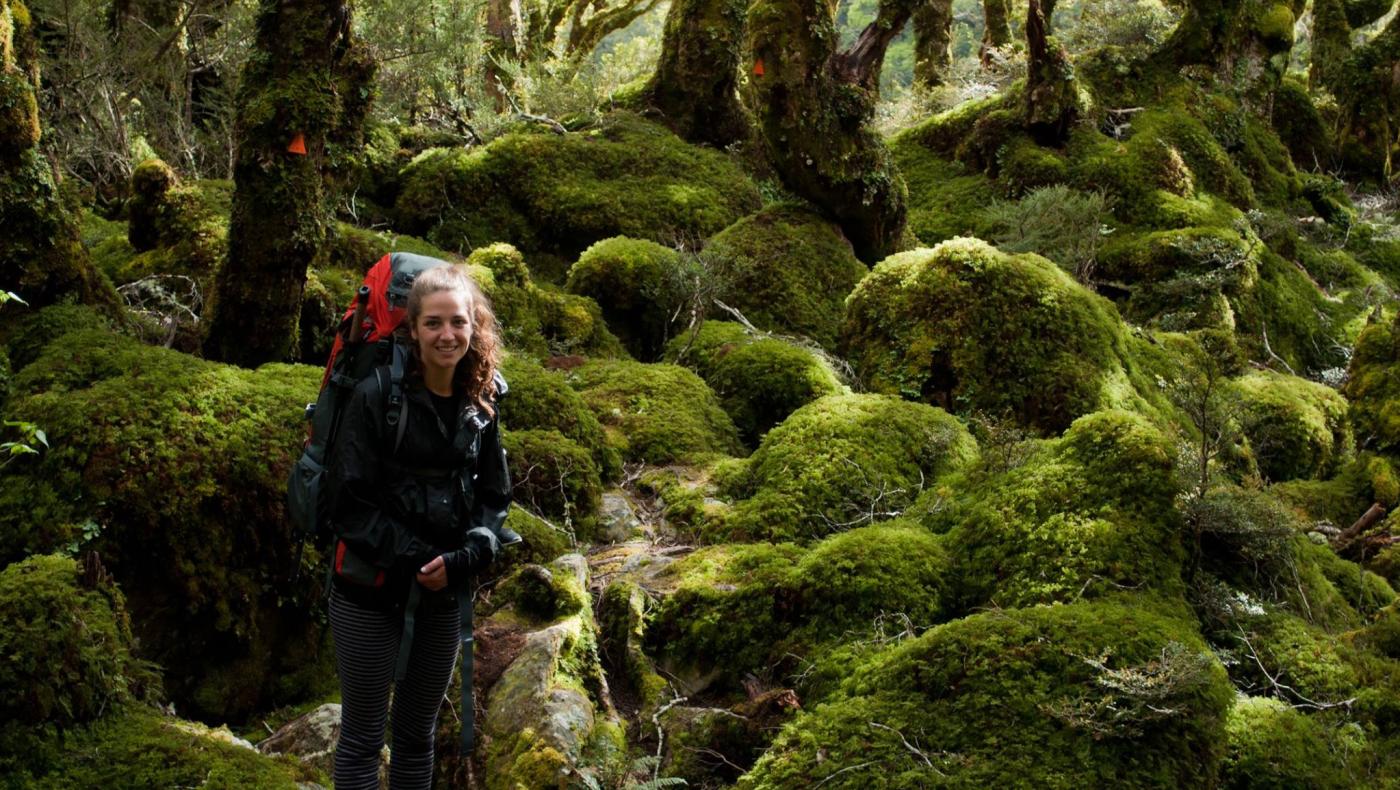 Hiker in Routeburn Moss Forest
The Routeburn Track
Distance: 32 kms
Hiking time: 2-4 days
Elevation: The highest point is near Harris Saddle 1,300 m (4,300 ft)
The Routeburn Track experience
Recently ranked by Lonely Planet as one of the 10 best treks in the world, this Great Walk crosses the Southern Alps and links two National Parks – Mt Aspiring and Fiordland – taking in ice-carved valleys full of weird and wonderful ecosystems such as wetlands and ancient forest. The trail's middle section takes walkers on a breath-taking journey above the bush line complete with alpine lakes and expansive Fiordland views.
The Routeburn can also be joined with either the Greenstone or Caples Tracks to make a near-loop back to Lake Wakatipu. Our guide to multi-day hikes near Queenstown will tell you more about these two gems.
How to get to the Routeburn Track
Most people start the Routeburn at the eastern trailhead, beyond Glenorchy, two hours' drive from Queenstown. The finish is at the Divide on the Te Anau–Milford Highway, around four hours to Queenstown. 
There is no cell phone coverage or Wi-Fi on the track, or at either car park so plan your track transport in advance. Shuttle operators offer round trips and a range of other options.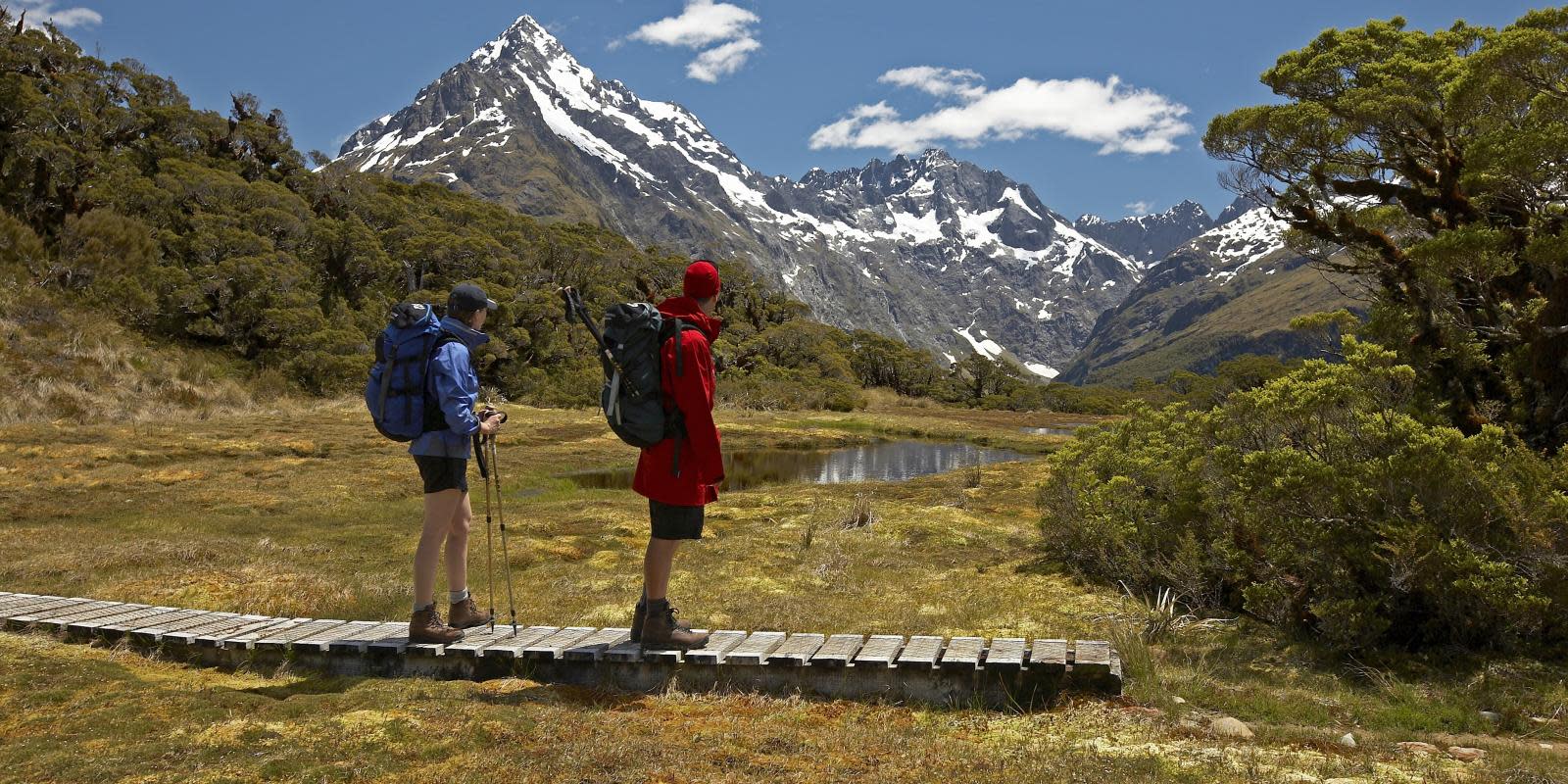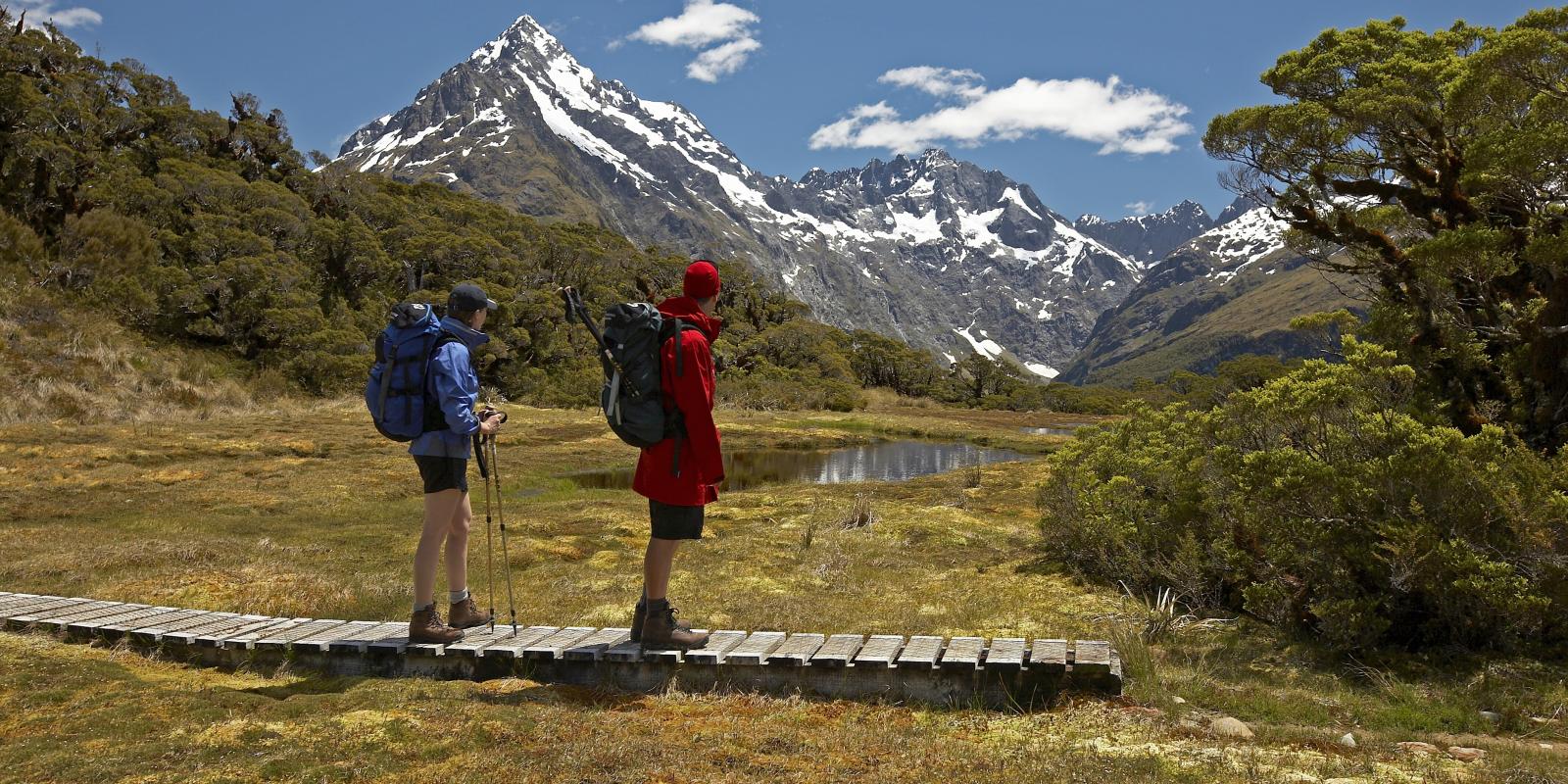 The Milford Track
Distance: 54 kms
Hiking time: 4 days
Elevation: The highest point is Mackinnon Pass, 1,140 m (3,740 ft)
The Milford Track experience
A richly rewarding adventure in Fiordland National Park, this Great Walk follows the emerald Clinton River before ascending Mackinnon Pass into an awesome scene of towering peaks, deep glaciated valleys and lofty waterfalls. From the tops, the track traces the Arthur River downstream towards Milford Sound, with a worthy side-trip to the Sutherland Falls.
Add a Milford Sound cruise on to this trip to round out your experience of this unforgettable southern wilderness.
How to get to the Milford Track
Scheduled buses and hiker shuttles run from Queenstown to Te Anau (two hours), where vehicle storage is also available for self-drivers. It's another 30-minute drive to Te Anau Downs, the launching point for the scenic boat trip to the Milford Sound track's start at the head of Lake Te Anau.
The trail ends at Sandfly Point, a 15-minute boat ride from Milford Sound, where shuttles collect walkers for the spectacular drive back.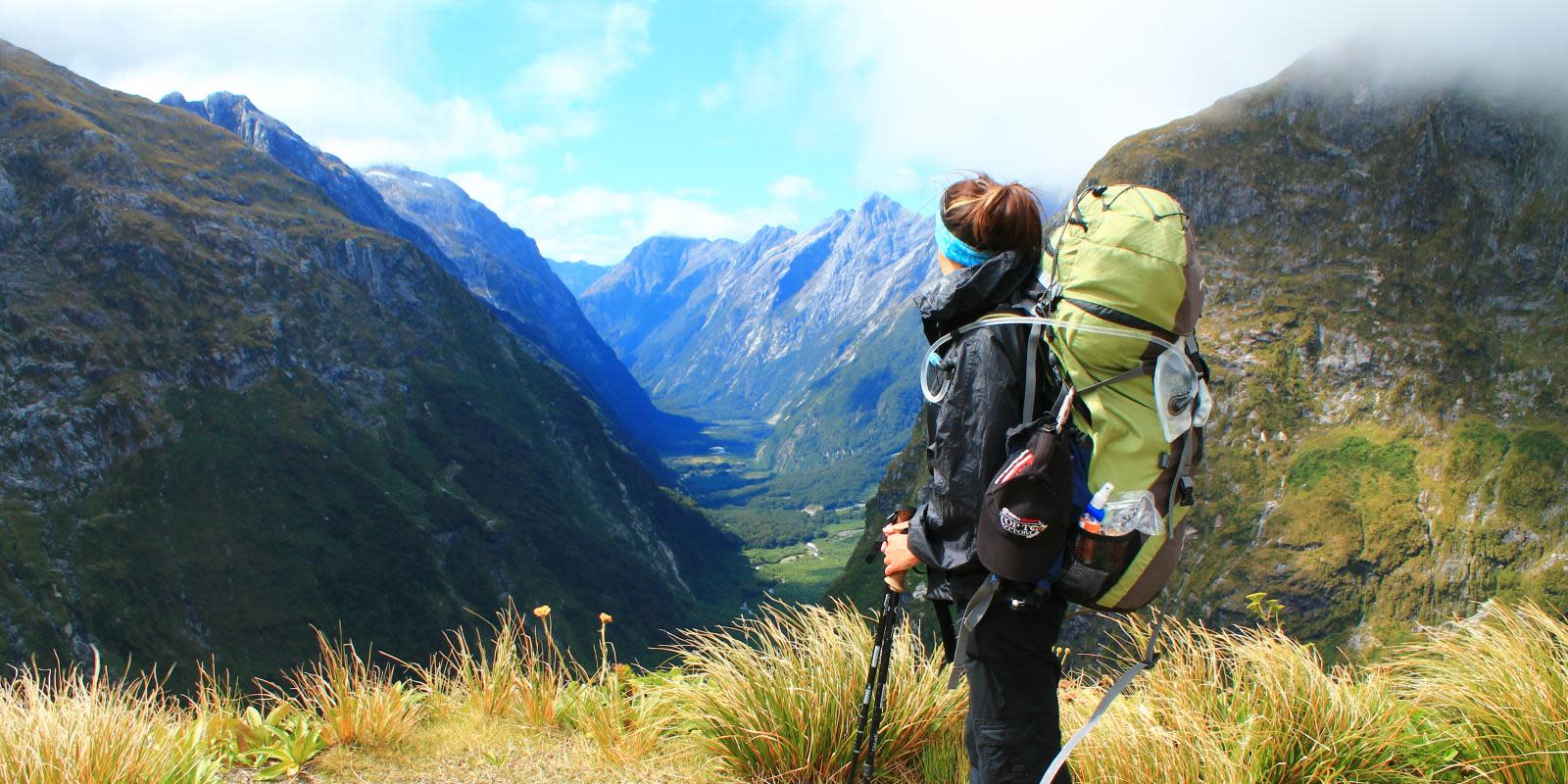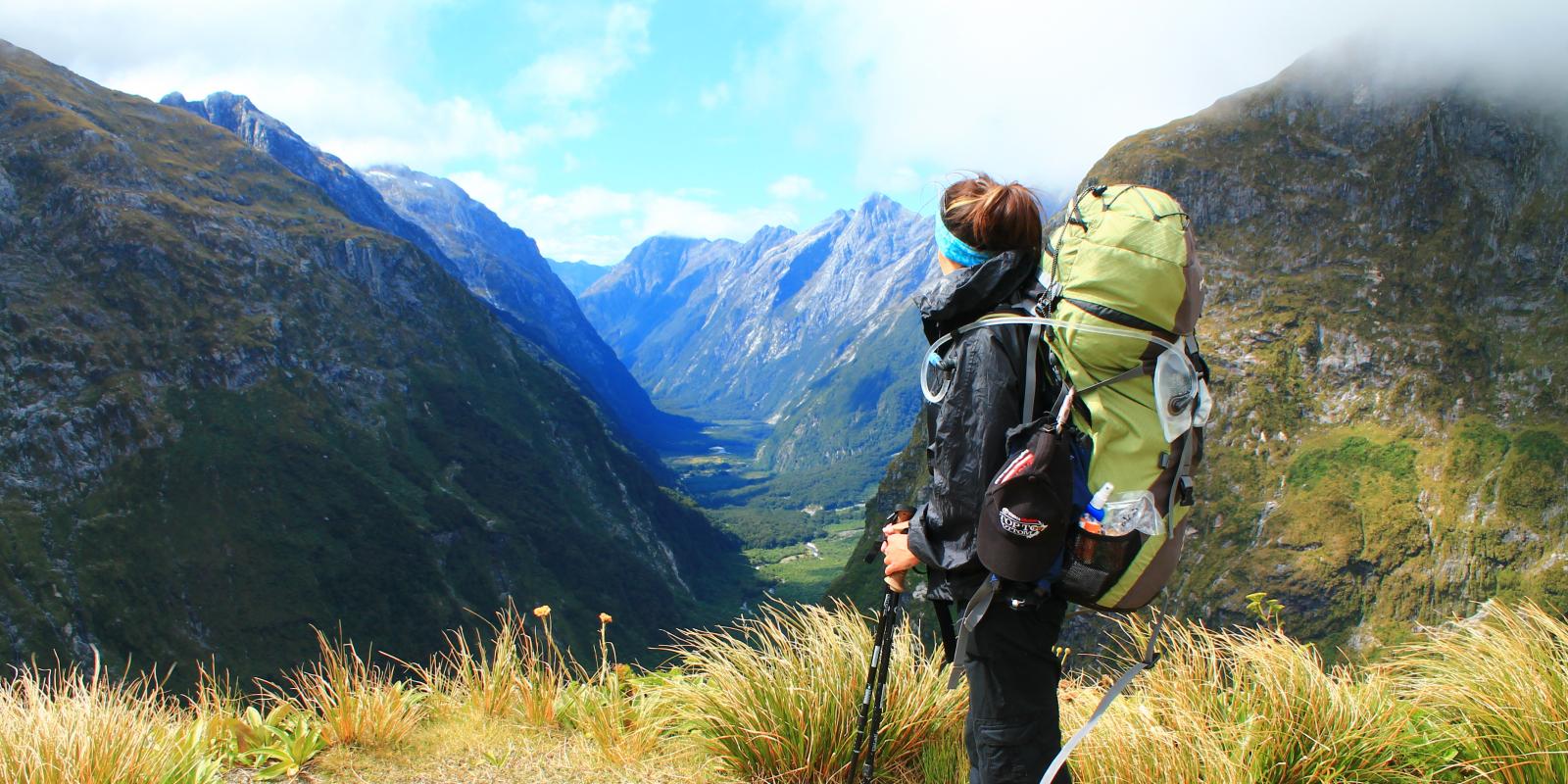 The Kepler Track
Distance: 60 kms
Hiking time: 3-4 days
Elevation: The highest point is Luxmore Saddle 1,400 m (4,600 ft)
The Kepler Track experience
This circular Great Walk boasts alpine scenery to rival the Milford and Routeburn Tracks. Tracing ridges and crossing saddles above the bush line, it offers ever-changing views across Lake Te Anau and the peaks of Fiordland National Park. Adding to the spectacle are side trips to caves and waterfalls, a rocky valley scarred by an old rockslide, wetlands and moss-covered forest. The Kepler Track is also popular for day walks, which take in nature, wildlife, and even Lord of the Rings locations.
How to get to the Kepler Track
Scheduled buses and hiker shuttles run from Queenstown to Te Anau (two hours), where secure vehicle storage is also available for self-drivers. Shuttles provide connections to the start/finish point, just 5 km from Te Anau.
While in Te Anau, visitors can readily access the Milford, Routeburn, Greenstone, Caples or Hollyford Tracks, or take a cruise on Milford Sound.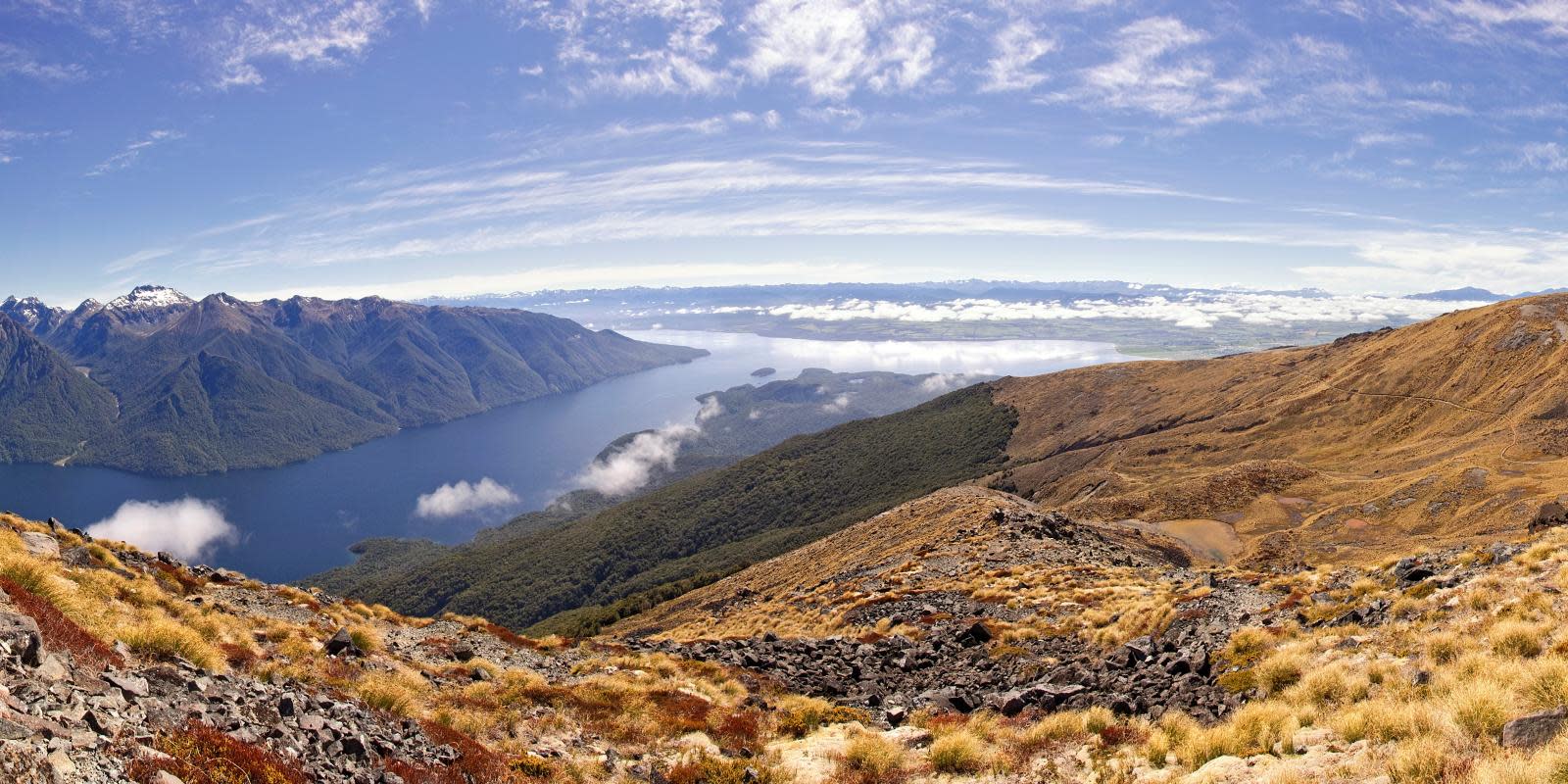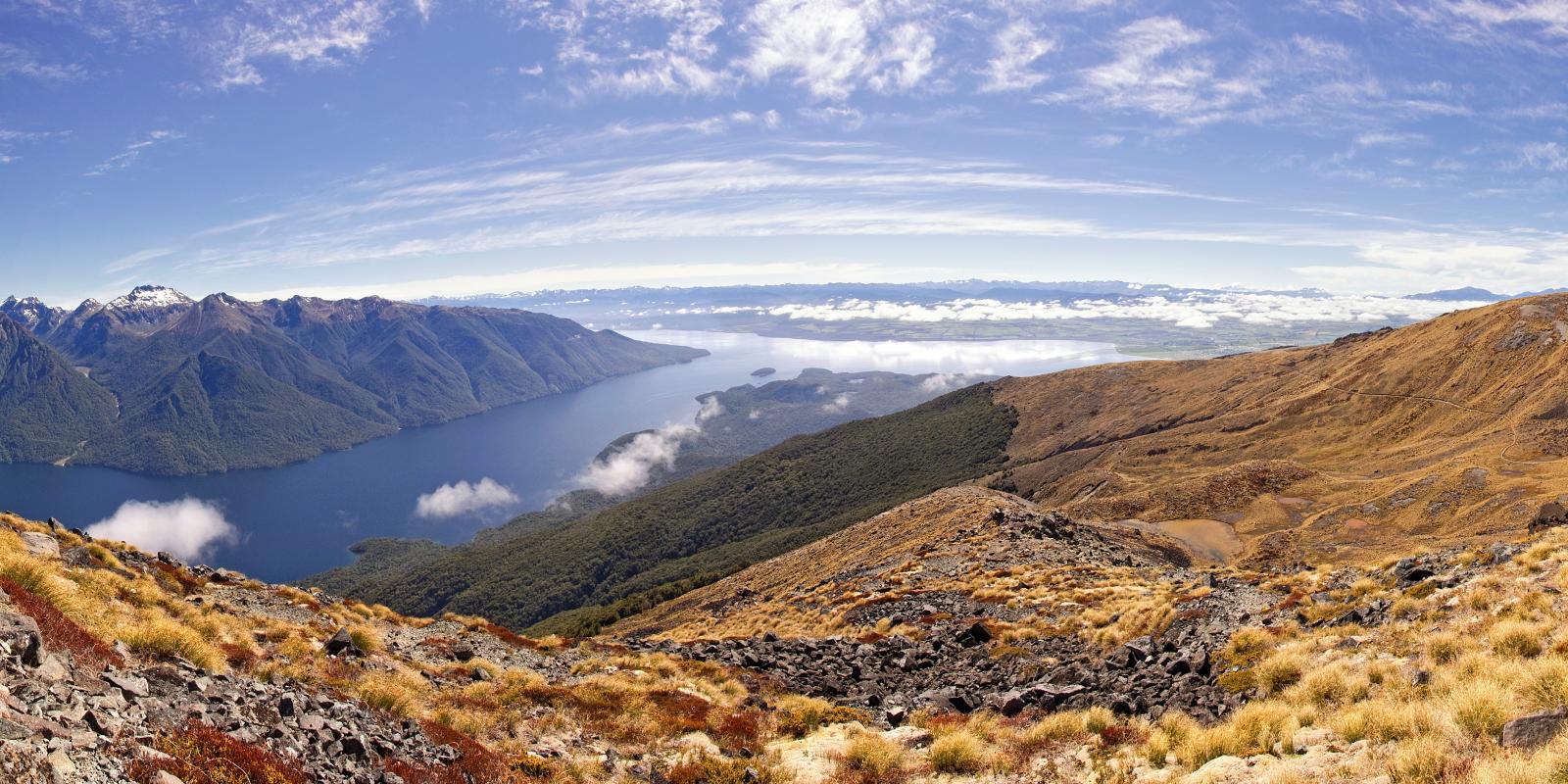 Preparing for your Great Walk
We've put you together a handy guide to training, planning and packing for your Queenstown hike. Also check out the five rules of the outdoor safety code before you leave, to enjoy a safe and memorable Great Walk experience.