Greg is one of the best exponents of the game New Zealand has produced, with 13 tournament wins worldwide, including four victories on the European Tour. Since his retirement as an international tournament winner, Turner has successfully transitioned into a renowned course designer, including the Coronet 18 course at Millbrook Resort and the new Hogan's Gully* development in Arrowtown (earmarked for 2025).
He's lived in Queenstown since 1993, witnessing the transformation of the region into one of the finest golf destinations in the world. We chatted with Turner to get an expert guide to some of the best golf courses in the country.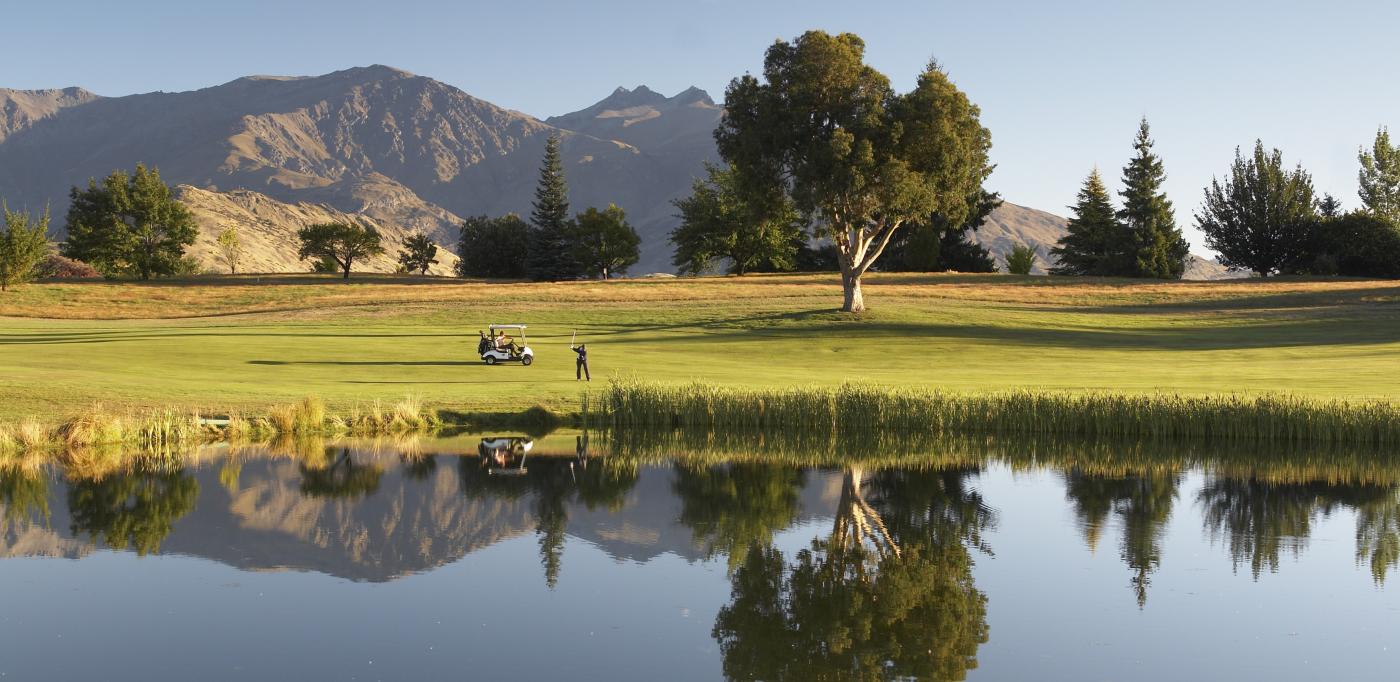 Millbrook Resort Golf Course
How does Queenstown offer unsurpassed variety for golfers? 
Queenstown's courses are all quite different in character, partly due to the nature of the Whakatipu basin. It is stunning in its surroundings, and the topography of the basin changes quite quickly and in close proximity. So within a 25-minute radius, you have courses that are close to each other but speak quite different languages.

The diversity of courses and unique terrain makes Queenstown, perfect for golfers looking to travel and play a number of courses during their stay. You can spend a good week here and play different golf every day.
What is Queenstown's unique golf advantage? 
The turf quality of the courses here is exceptional. That's partly because of the climate, which really lends itself to the dwarf grasses, which are the optimal grasses for playing golf on. They thrive in hardy conditions, whereas in more fertile conditions it is difficult to get ideal golf grasses to prevail.

A lesser-known advantage is that most of the terrain here is free draining and the subgrade is gravel. This means you don't get the build-up of moisture that happens with clay-based soils, which a lot of New Zealand golf courses are built on.

As a consequence, the turf conditions are generally really good all year round, which adds to the playing experience.
Let's start with The Hills. What makes it so special? 
The Hills is a remarkable combination - part golf course, part sculpture park and it oozes exclusivity. It's always beautifully manicured, with stunning conditions; it is the fine dining of golf courses if you like. The greens are firm and fast, with generous fairways but then a long rough if you miss the fairways.

Playing at The Hills is definitely an experience and a place to spend a day, with the art that is around it. The surroundings are stunning but combined with the sculptures it becomes pretty unique. I don't know anywhere else in the world that has that combination, to that extent.

The Hills is first class in every extent, like a Michelin-star restaurant. You have to pay for the privilege, but you should soak up the experience.
The lowdown: 18 holes, par 72.
Facilities: Equipment hire, putting green, restaurant and bar.
Getting there? 20 minutes from Queenstown.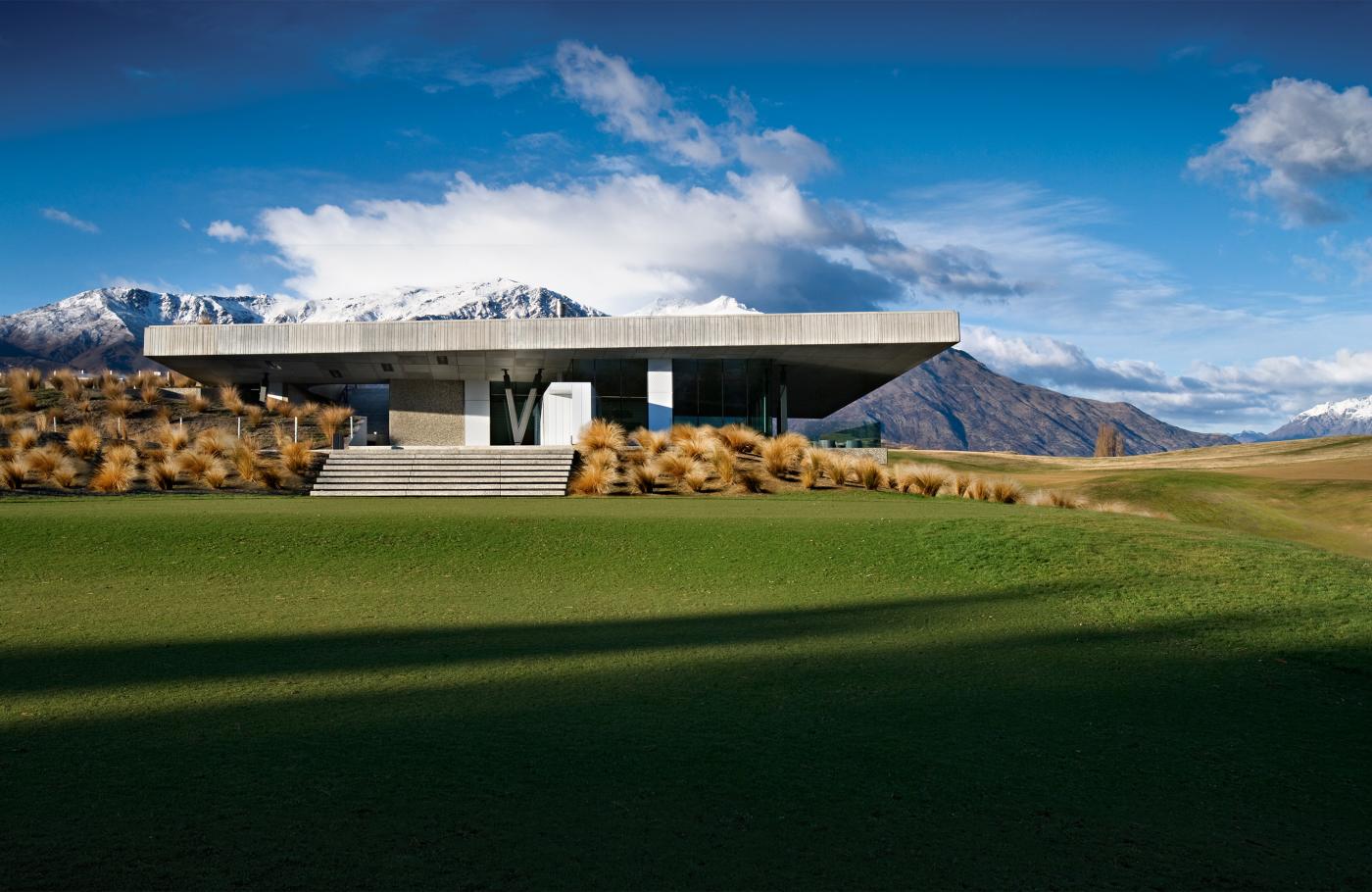 The Hills Club House
Speaking of stunning courses, tell us about Jack's Point.
With The Remarkables on one side and the lake on the other, it is as spectacular a setting for golf as you find anywhere in the world.

Jack's Point is set up as a destination course for that golf fanatic, with high quality turfs, mainly carts and an 80 metre elevation change from the lower to upper holes. It's also all fescue grass, which is unusual in New Zealand other than at the sea side courses.
Jack's Point is probably the most challenging course in Queenstown in terms of difficulty, and because it sits right on the terraces above the lake, it's a bit more prone to the wind than any of the other courses. Because of this, it's a golf resort best suited for experienced players.
The lowdown: 18 holes, par 72.
Facilities: Equipment hire, Pro Shop, practice range, putting green, club house and restaurant.
Getting there: 20 mins from Queenstown.
​​​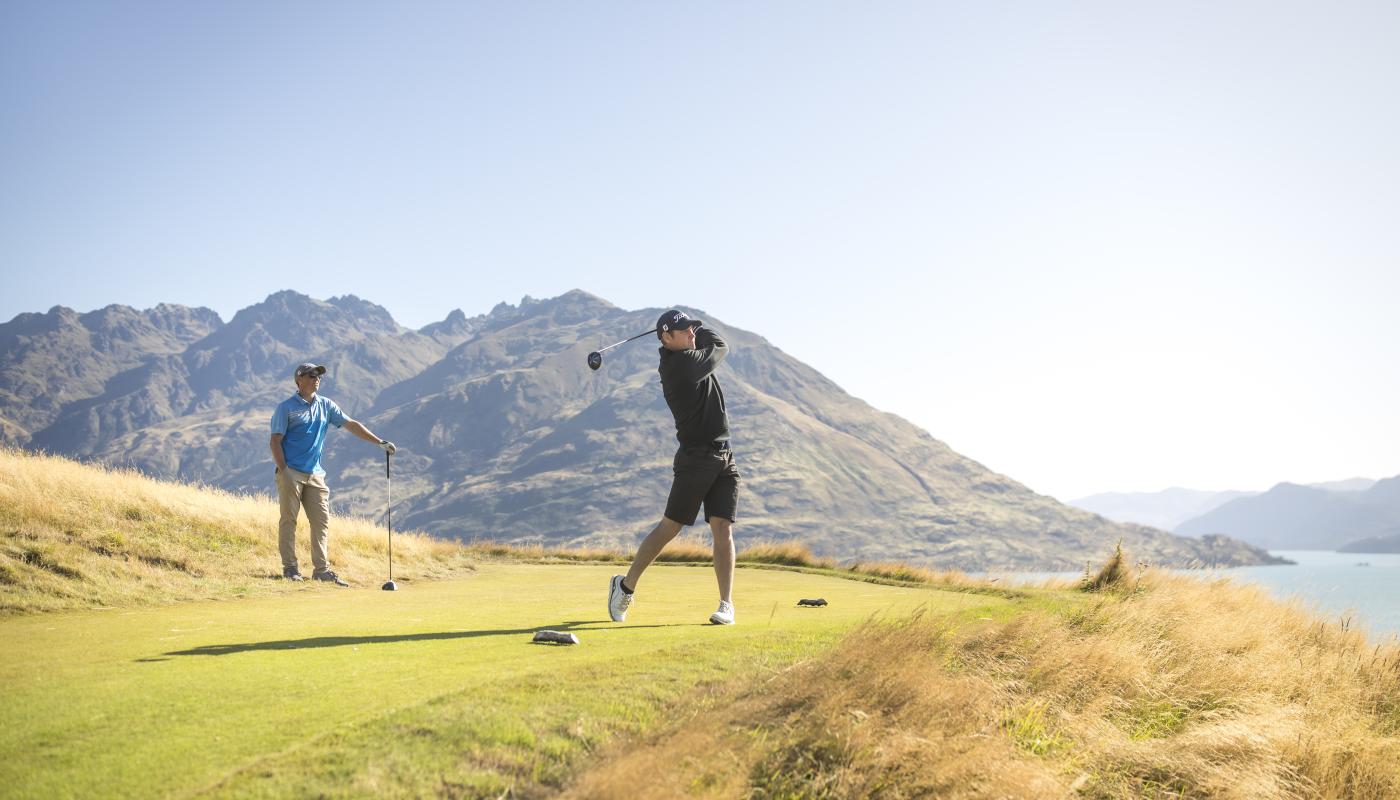 Jacks Point Golf Course
Greg, you also know Millbrook well, after designing the Coronet 18 course there. What's the low down?
Millbrook Resort was the first major residential golf development in New Zealand and it has grown in every way, having recently developed into two 18-hole courses with the addition of the new Coronet Nine. It is genuinely 36 holes of variety and interest and is often talked about as one of the best golf resorts in the Southern Hemisphere.

Millbrook's Coronet course covers a whole lot of different terrain. There are stunning vistas across the basin, and you get that alpine location. The original course wanders around Mill's stream, in a sedate, agrarian sort of environment you would expect from the old Mill farm. So there's a lot of diversity in one location.

Millbrook provides a good range of teeing options and if you play from the right tees, it doesn't have to beat you to death. The Remarkables course is certainly designed to be less challenging than the Coronet course.
The lowdown: Remarkables course, 18 holes, par 72. Coronet course, 18 holes, par 72.
Facilities: Equipment hire, Pro Shop, practice range, putting green, club house and restaurant.
Getting there: 17 minutes from Queenstown. Complimentary shuttle service available.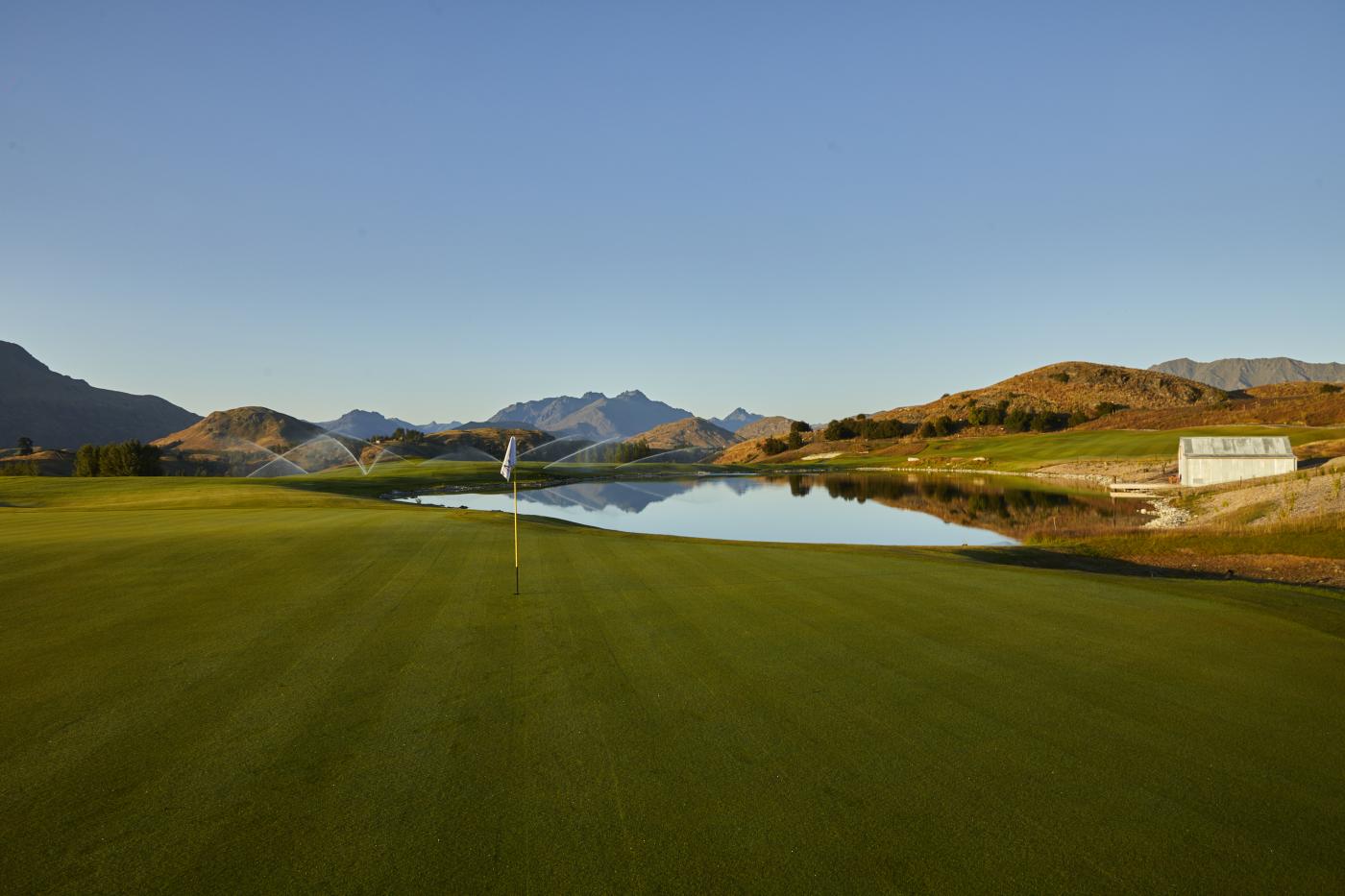 Millbrook 
New Zealand Open at Millbrook 
In 2024 Millbrook will again be the home of the New Zealand Open (29 February – 3 March), the biggest event on the national golf calendar.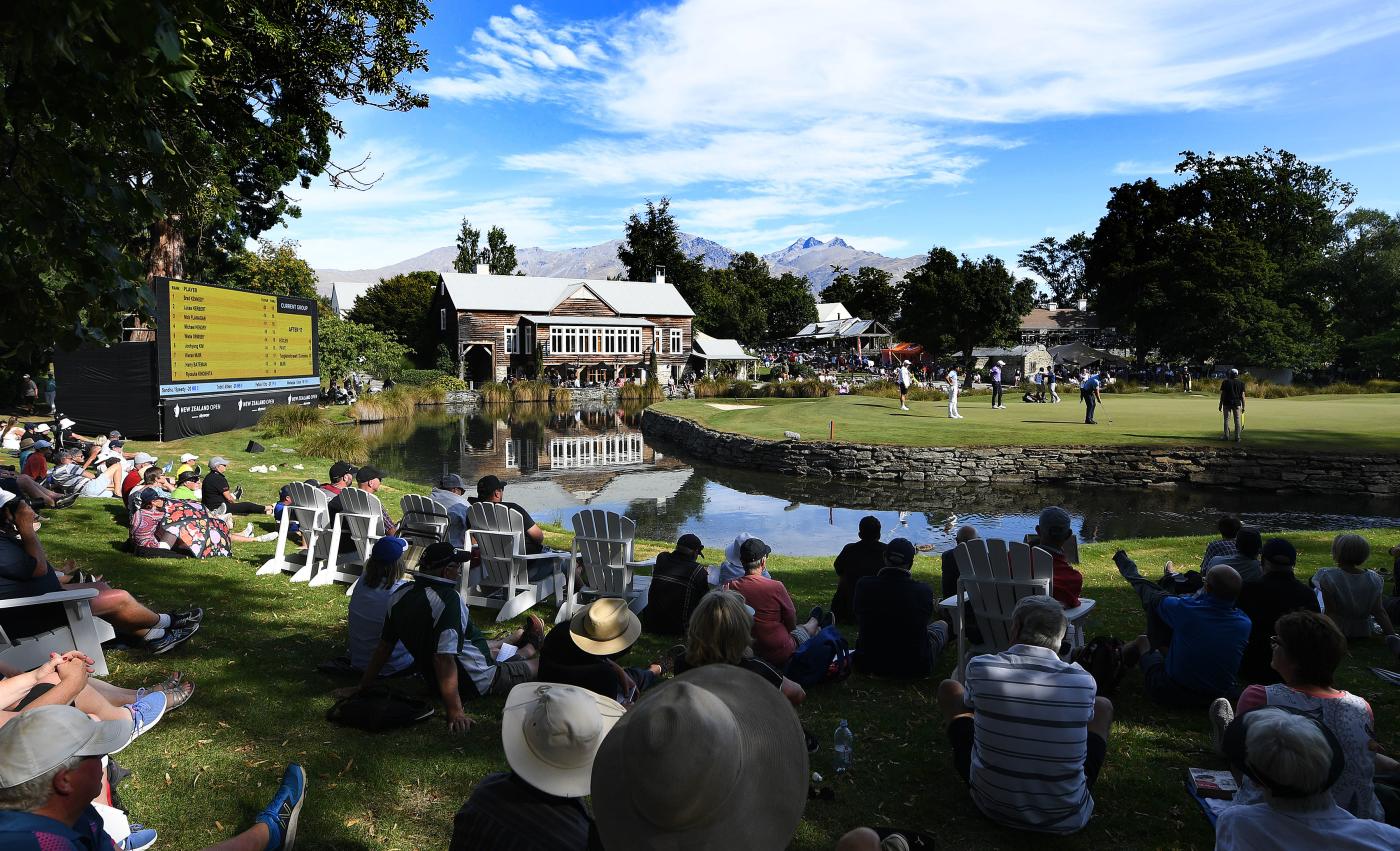 New Zealand Golf Open, Millbrook Resort. Photo Credit photosport.nz
So, heading back towards the city, what makes Queenstown Golf Club stand out? 
Queenstown Golf Club's surroundings are extraordinary, located on the Kelvin Peninsula between the Frankton arm and the main lake.

Queenstown Golf Club is a bit more demanding and hilly - quite up and down. It has a glacial element that will remind some people of a Scandinavian course in its feel, with some big rocks.

This is definitely one of the most spectacular courses in the area, surrounded on three sides by Lake Whakatipu. And it's a club course – a members' golf course rather than a proprietorial one.
The lowdown: 18 holes, par 72.
Facilities: Equipment hire, Pro Shop, practice range, chipping and putting green, club house, café and bar.
Getting there: 16 minutes from Queenstown.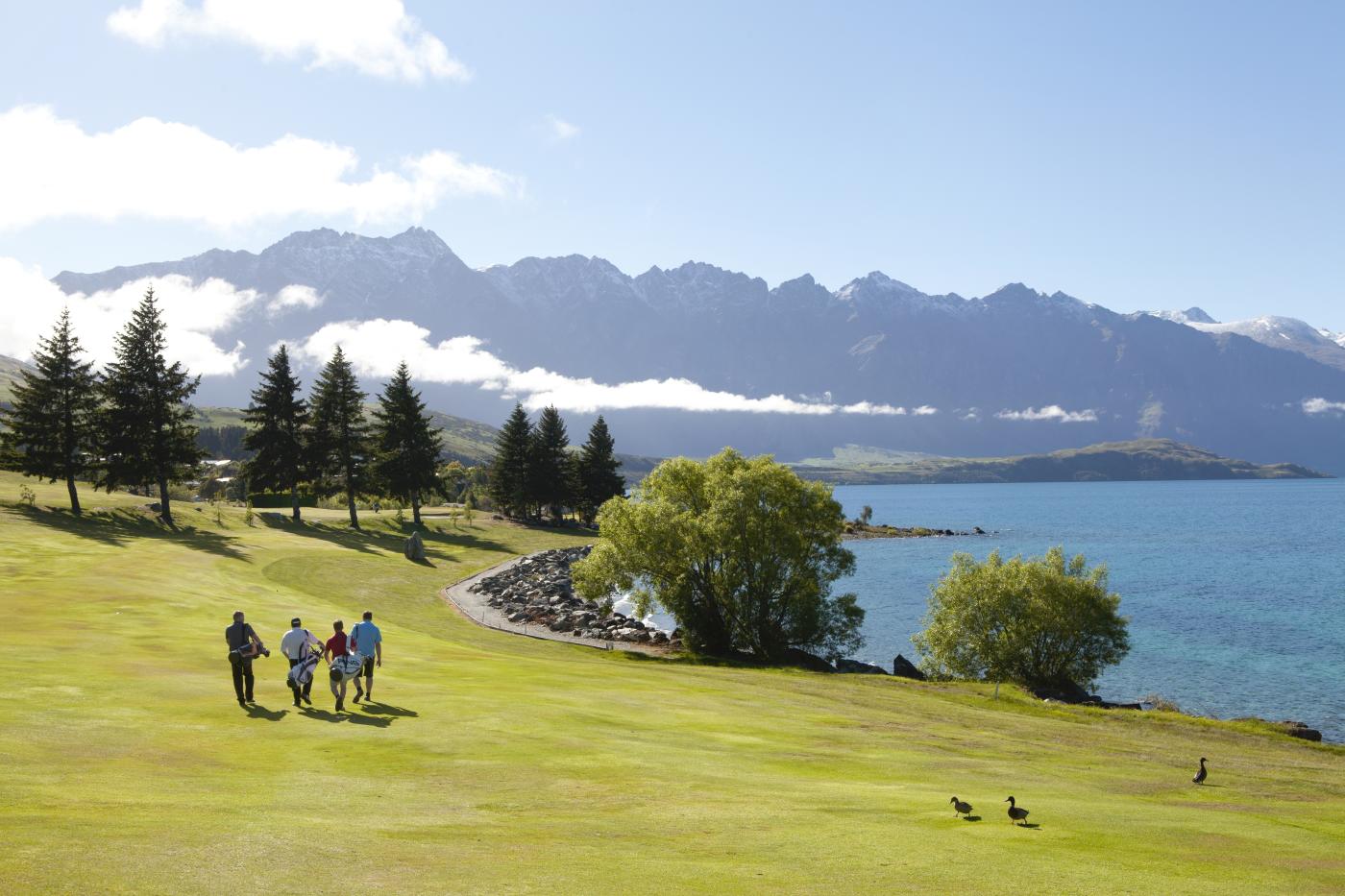 Queenstown Golf Course
Tell us about local gem; Arrowtown Golf Club.
This is a fantastic example of a course that has been hewn out of the natural landscape. Arrowtown Golf Club wasn't professionally designed, it just kind of evolved but it sits beautifully in its unusual terrain.
There are no bunkers on the golf course, but most people don't even notice that, because it doesn't need them. It has such strong natural features in the river terraces that exist.
It's not long, but still quirky and tricky, so lends itself to people who don't hit the ball quite as far, which might suit older or young golfers, as strength is not a prerequisite.
Arrowtown Golf Club is the quintessential Kiwi country course but is maintained to a much higher standard due to the volume of play, and still retains the natural utilitarian feel. It's your local town golf course that just happens to be a level above most others in that genre.
The lowdown: 18 holes, par 70.
Facilities: Equipment hire, Pro Shop, practice range, chipping and putting green, club house, café and bar.
Getting there: 20 minutes from Queenstown.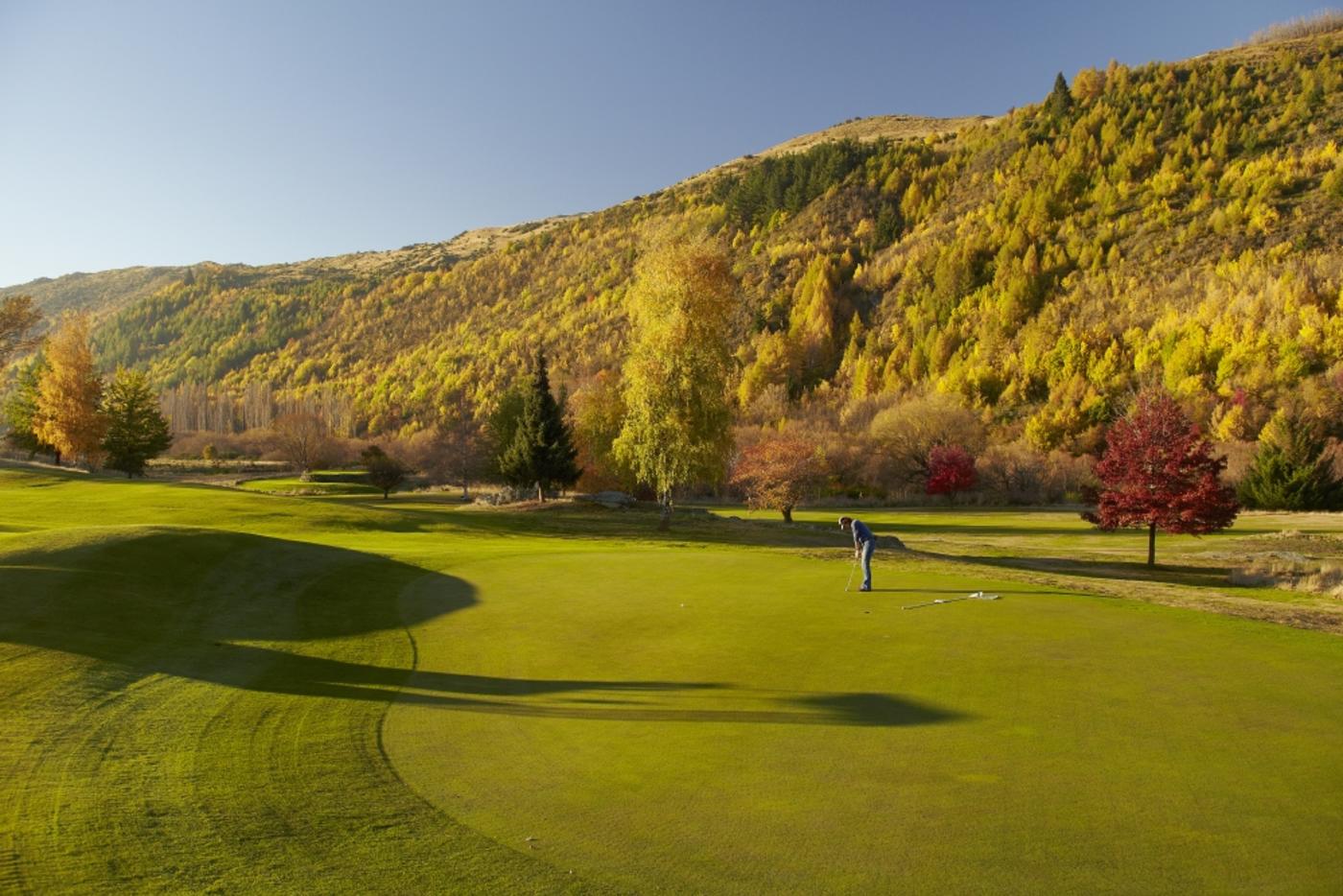 Arrowtown Golf Course
Finally, there's Frankton Golf Centre, where many golf careers have started. 
My son grew up playing there. It's a fantastic little municipal spot to introduce people to the game. It's a handy location (just five minutes from the airport and ten minutes from town) and a nice little nine-hole facility. You can't end up with a strong player base unless you introduce young people to the game, and Frankton Golf Centre is a great place to do this. They offer beginner golf clinics for all ages and levels of experience.
The lowdown: Nine holes, par 30.
Facilities: Equipment hire, Pro Shop, driving range, chipping, and putting green, clubhouse, café and bar.
Getting there? 10 minutes from Queenstown. 
Lastly Greg, we know you are excited about Hogan's Gully, your latest golf design project in Arrowtown?
It's a fascinating piece of land, with some dramatic terrain within the farm.

Hogan's Gully is a big property and the routing of the course utilises all of the natural features; there is more raw terrain than the Hills and the Millbrook, which are typically, agrarian, rolling countryside with streams and ponds. Here the landscape is a bit more rustic, quite sharp edges so it will be a different experience. It's more alpine in its feel than the other Arrowtown courses.

*Recently granted resource consent, Hogan's Gully is earmarked to open in 2025 or 2026.