So you've lived here in Queenstown for a while. It must be an awesome place to ride?
I'm pretty biased but it's the best place I've ever been in the world for biking. Queenstown gets heaps of internationals, obviously not this year but every other year. That's getting more and more so, with internationals coming either before an event in New Zealand or for a couple of weeks or months when it's winter for them. It's a perfect way for them to train and ride bikes all year round. As soon as the world gets back to normal, that will just continue to grow because Queenstown's MTB scene is only getting better and better.
What's your favourite local bike trail?
The Dream Track at Wynyard Bike Park would have to be my favourite - those are the big jumps up at Fernhill. I imagine that soon to be my favourite is the new Mini Dream area which is newly opened. That's just revamping an old, outdated 15-year-old spot.
There are a lot of good trails, though. Coronet Peak is pretty hard to beat. I haven't ridden the new Hot Rod track up there yet but the downhill track and the cross country track are pretty amazing. It's also hard to go past Queenstown Bike Park if you want to just smash out as many laps as you can.
Conor Macfarlane, Queenstown Bike Park
Best spot for a steep climb?
For a climb, Skyline Access Road is a pretty good way to beat your body up, smash your legs and your lungs. Downhill-wise, probably Queenstown Bike Park or Fernhill loop, there are a few good steep ones down off there.
Are there more mellow local bike trails as well?
There's pretty much everything in Queenstown. If you want super steep stuff it's got that, if you want mellow stuff it's got that, too. It's getting better and better - for a while it was definitely a lot more catered towards the gnarly riding or the good riders, but it's definitely diversifying. It's getting a few easier climbs and tracks, which is good - it gets more people into it.
There's 7 Mile (out of town on the Glenorchy side) which is pretty cruisy. There's ups and downs as well as a few steeper ones there, so you can get your fix if you want something more challenging. Up Fernhill there's McNearly Gnarly, the jumptrack which has got a really cruisy climb.
If you want super mellow riding, there's always the Queenstown Trail.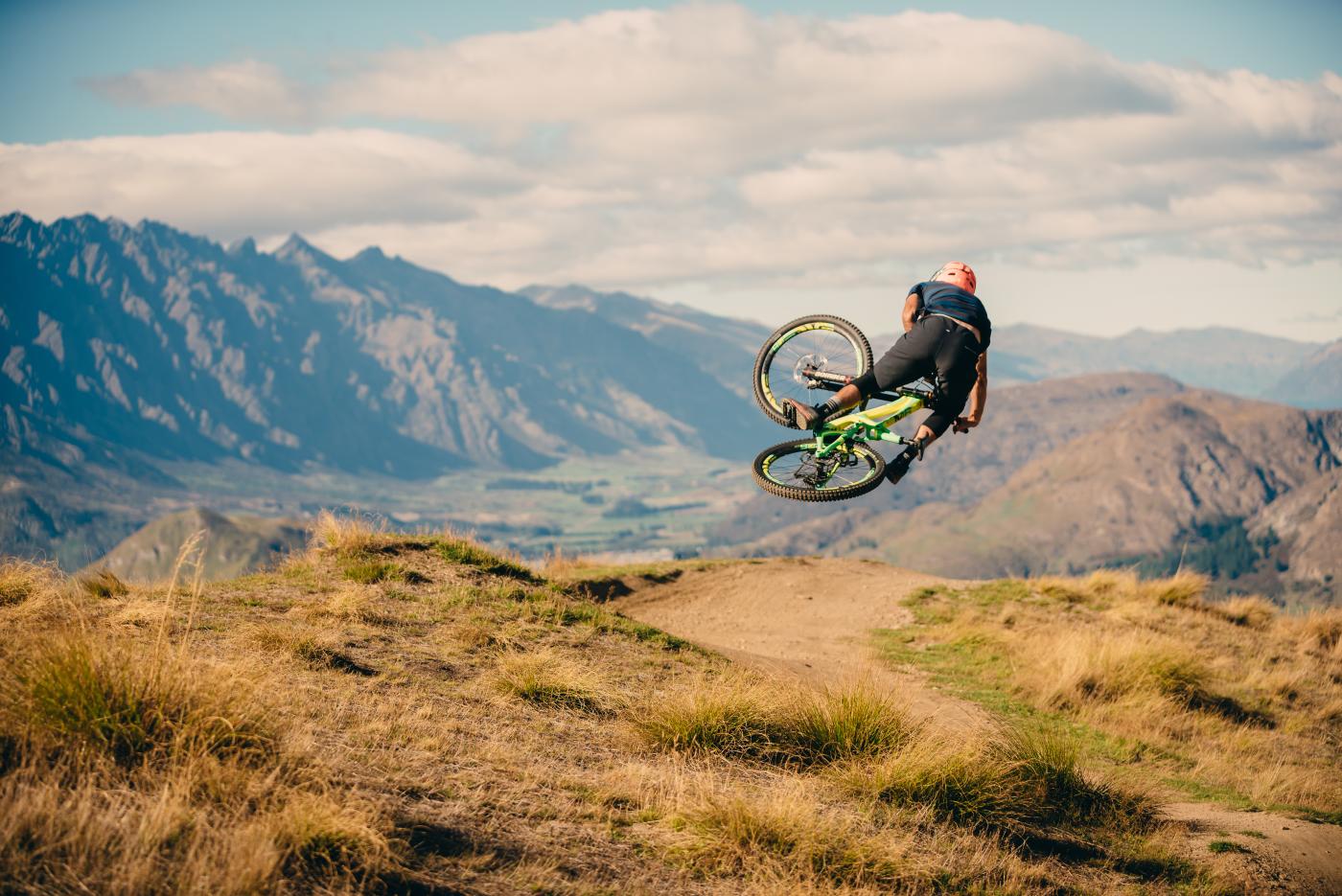 Conor Macfarlane - Rude Rock, Coronet Peak
Where'd be best for intermediate riders?
Queenstown Bike Park has some easy intermediate tracks, progressing to advanced, and Coronet Peak is an intermediate climb. Fernhill, which is accessed via Beeched As, is a pretty mellow gradient but a little more technical climbing.
What's the Queenstown mountain biking community like?
There's a really strong MTB community in Queenstown. As a destination, it attracts a lot of high level bikers. For a lot of them, at least in New Zealand, part of the reason they've got to that level is because they've built their own tracks, to create their own scene for training. I think that definitely translates to people knowing how to look after stuff and knowing when it needs looking after.
So the local bike trails are pretty well looked after?
Yeah, all the jumps around town are amazingly manicured, and Queenstown Bike Park is one of the most manicured bike parks I've ever been to. You go to Europe and the bike parks are just falling to pieces in comparison. Canada and North America aren't bad but they're definitely not as smooth or looked after as the likes of Queenstown Bike Park. The Queenstown Mountain Bike Club are really good at maintaining the tracks, too - they actually budget for that maintenance when they're building a track.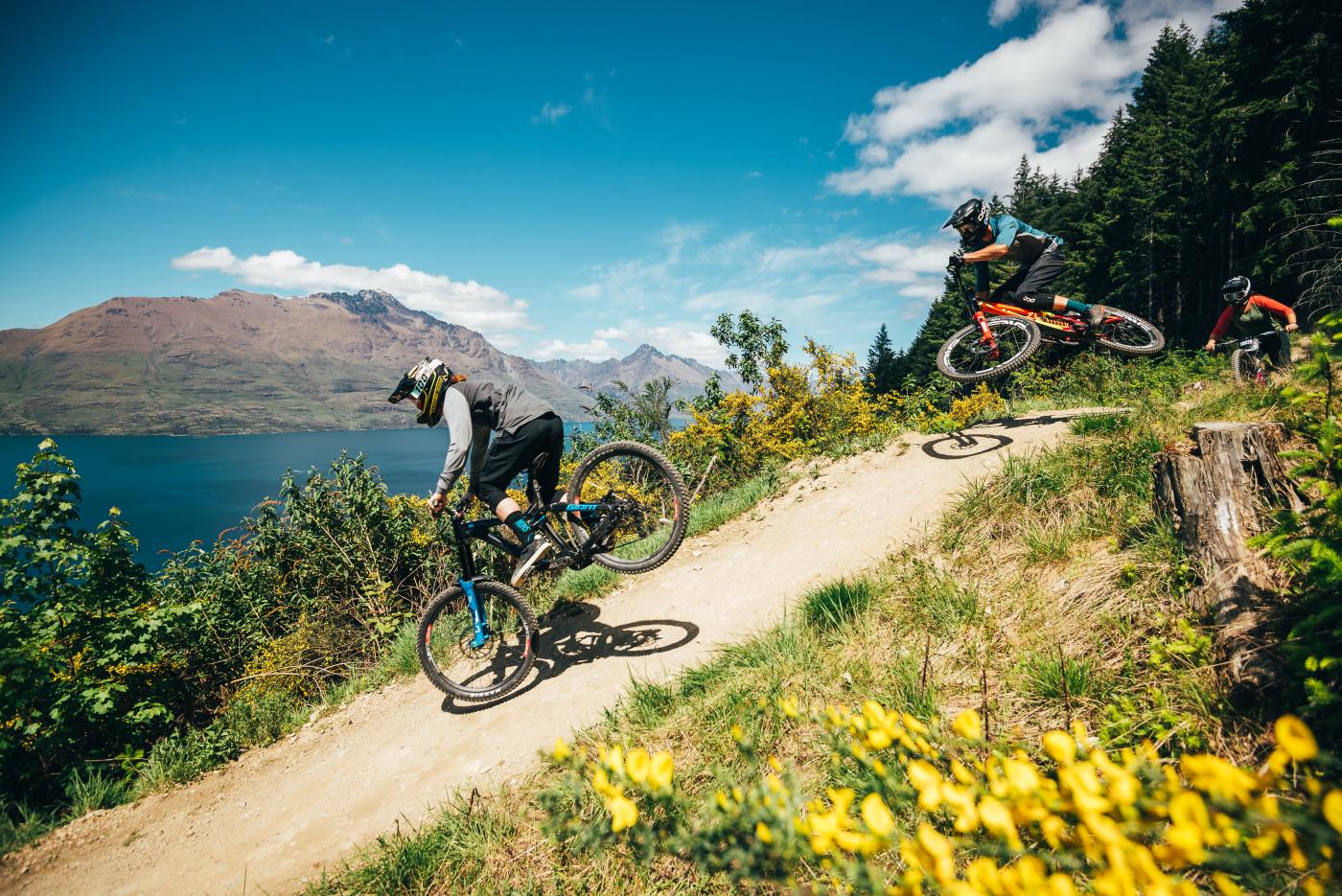 Joel Tunbridge, Conor Macfarlane and Shania Rawson, Queenstown Bike Park
Are there trails for all conditions?
Anything in pine trees - so Queenstown Bike Park -  is good for when it's wet because they soak up a lot of water. So they're good for winter riding, or any wet riding. Coronet Peak in spring or after a bit of rain, or in the evening would be perfect, though you don't want it too wet, obviously.
Mini Dream and Dream Track are pretty much good to go all year because they're quite rocky so they drain away the water really well. Anything in native trees or sycamores is pretty deadly in the wet.
Can you get to the tracks without a car?
Most tracks you can, and you can ride the gondola up to the top of Queenstown Bike Park from town, too. Coronet Peak is a bit of a grind up the hill, but it can definitely be done. Arrowtown, which is a bit further, is actually a bit of a hidden gem. Lots of people haven't ridden the tracks out there but they're amazing. It's further to go, but you can just get on the bus - $2, not bad.
Conor Macfarlane, Nevis Range
Where do you take visitors?
Fernhill loop is a pretty standard one to take people on because it's a cool climb through the beech trees and you get an awesome view from the top of Fernhill loop. Then Coronet Peak, as well, especially if it's just rained because the dirt up there is epic after a little sprinkle. If they're into jumping, definitely take them up Dream Track or Gorge Road Jump Park.
Favourite post-ride re-fuel spot?
It'd have to be Atlas Beer Cafe, in town. It's the standard bike spot, and they help the biking community out so much. Another good spot is Cargo Brewery at Gantleys located at the base of Coronet Peak. I imagine that will become a favourite for people.