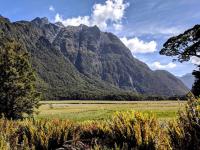 Routeburn Flats
Hike the first section of the Routeburn Track as far as Routeburn Flats Hut. A relaxed stroll through lush beech forest, dramatic river gorges, and alpine meadows with panoramic views.
Distance: 7.5km one way, 15 km return
Duration: 1.5 – 2.5 hours one way, 3-5 hours return. 
Difficulty: Easy, well-maintained track with little elevation.
Best time of year to go: October – April. 
Location: Start of Routeburn Track
Start / finish point: Head to the end of the Glenorchy-Routeburn Road, about a 35-minute drive from Glenorchy. Walk from the Routeburn shelter carpark and follow the DOC signs.
Insider's tip: Stock up on food and water and petrol at Glenorchy, as there is nothing between there and the start of the track. And don't leave it too late to head off on your walk, or you'll miss a spot in the Routeburn shelter carpark. By 10:00am in high season, most parks are gone. 
The Routeburn Flats Track experience
Hike the first section of the Routeburn Track as far as Routeburn Flats Hut. Cross the suspension bridge from the carpark across the crystal-clear turquoise waters of the Route Burn and start your adventure.
You're in for an easy walk on a smooth flat track, through mighty beech trees, the floor of the forest carpeted with lush ferns and moss. As you walk, you'll enjoy wonderful views of the river and occasional vistas back down the valley. Listen out for bird song and watch out for the curious bush robins, who may hop on your boot if you stand still.
You'll pass the beautiful Bridal Veil Falls as the Bridal Veil Stream joins the river. Continue following the trail above the Routeburn river gorge, where white water tearing down from the mountain peaks has carved a dramatic chasm through the woods.
About two hours into the walk, another swing bridge leads you to the alpine meadows of the Routeburn Flats. Here the river widens and slows as it flows through the grassy flats. The meadows are surrounded by vertiginous mountain peaks, and you have a view up the spectacular Routeburn valley.
The Routeburn Flats Hut has picnic tables and other facilities, making it the perfect spot to picnic and take in the stunning valley views in both directions, before heading back to your car.
Contact Us
Physical Address
Queenstown