Gearing Queenstown visitors and locals up for the great outdoors
Small Planet Outdoors is on Shotover Street in the heart of Queenstown. Walk in and you'll see this is no ordinary gear store. It's packed to the rafters with an eclectic range of outdoor gear, and crewed by knowledgeable staff who know their stuff when it comes to skiing, mountaineering, hiking, and adventuring.
The name's a story in itself. One day Darryl saw a visitor carrying a shopping bag saying, 'It's a small planet, recycle it'. Small Planet got stuck in Darryl's head, and when he needed a name for his new shop, out it popped.
Small Planet isn't Darryl's first outdoor gear rodeo. "Some mates and I set up a store called R&R Sport. We started out selling surfboards, wetsuits, and mountain bikes down in Dunedin."
R&R Sport expanded to stores across New Zealand before being acquired by Torpedo7. Darryl had already moved on. "R&R Sport became more corporate, so I sold my shares, and moved to Queenstown in the mid-nineties. But I still had all my connections, outdoor gear was what I knew, and all I'd ever done, so I opened Small Planet, and here we are."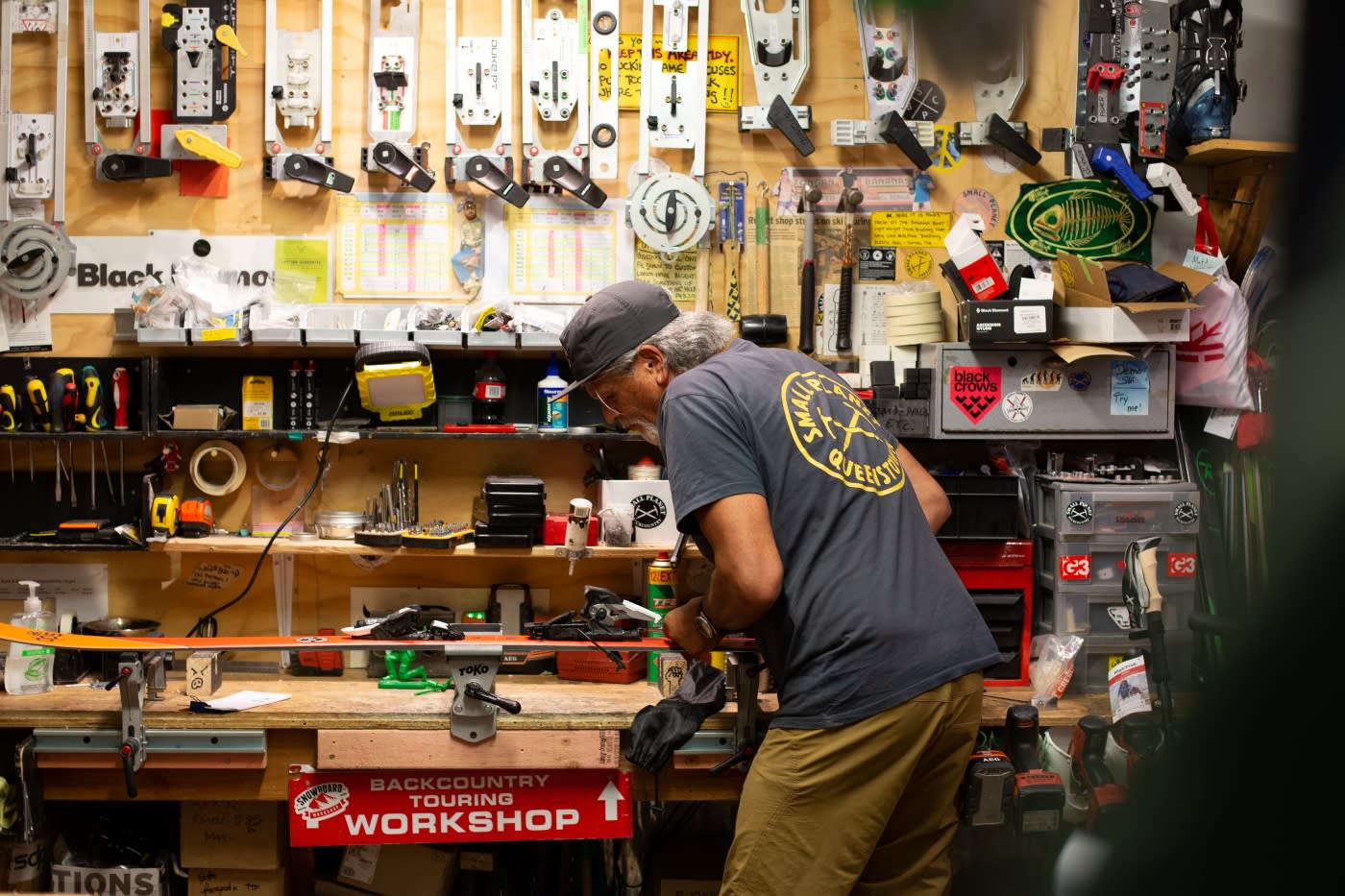 Darryl in the workshop
Queenstown feeds the soul
Darryl explains what drew him to Queenstown. "I used to come here as a young fellow, and you know when you've come to a good place … you can feel the vibrations. It smells good here. I like the smell of the mountains and the fresh air. And visually it's a magnificent place to live with the mountains all around."
"When we moved here, my wife and I had young children. Queenstown was the perfect place to bring up kids, so we bought a bit of land and built a house. Then this became home, and that's what kept me here. Home means everything, the place, and the people. It's as simple as going to the local cafe and knowing the people behind the counter. The Queenstown community is a great young community of motivated people from all over the world, and there's a strong sense of trust. Those things are important in life, they give a sense of well-being."
"Modern society can pile up on you. We're all too tied up paying mortgages and filling the car, which is a shame. But here, you can stop and breathe and see what's in front of you. So sometimes I just like to sit and look at the mountains, and it's good."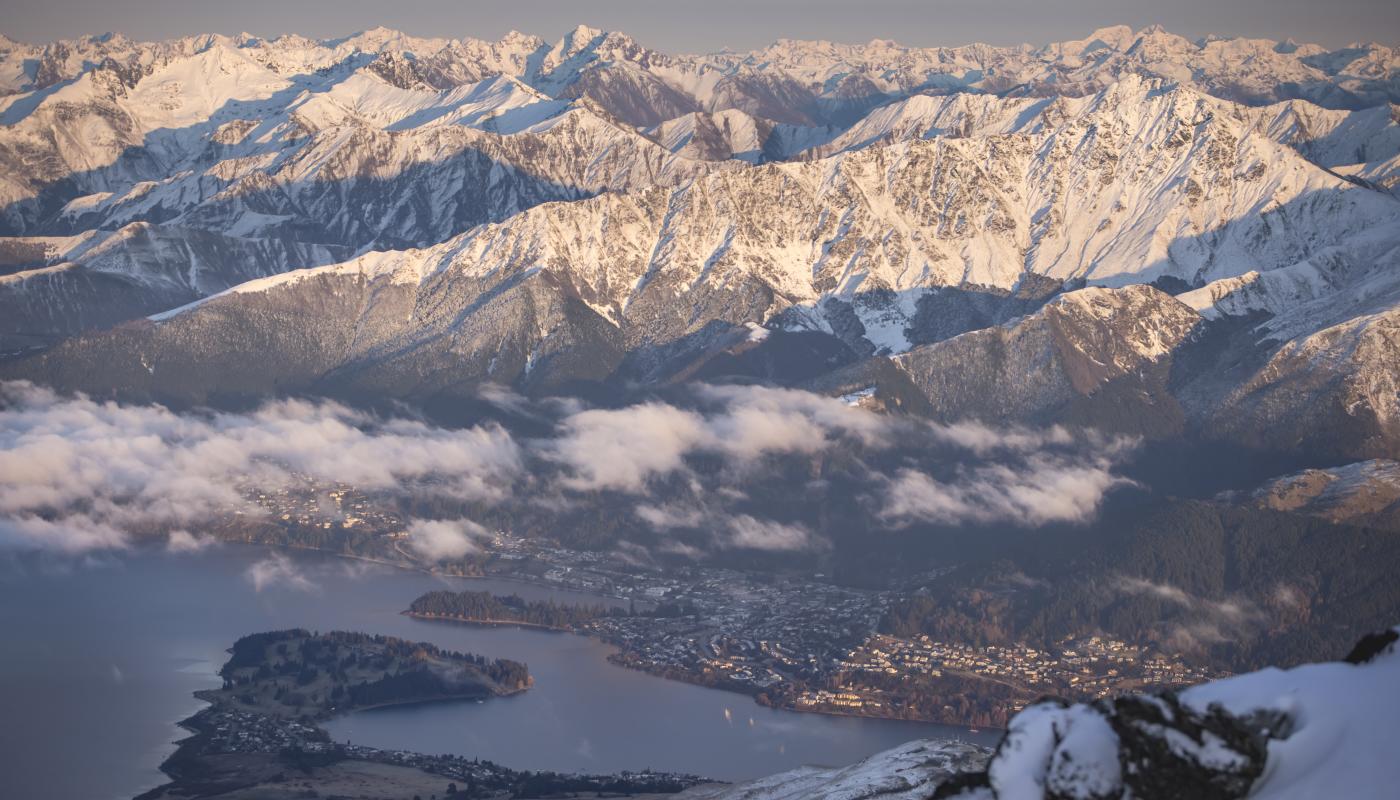 Queenstown in Winter
Queenstown's backcountry skiing gems
Darryl's been a keen skier for 45 years, so we asked him for his tips for skiing in Queenstown. "We do a lot of backcountry ski touring. You can head up to huts in the ranges, stay overnight, and get an uncrowded skiing experience. There are no queues, no vehicles, no noise. You're right out in nature, able to breathe deeply, and absorb it all."
"Ski touring comes in two categories. There's early morning ski touring up Coronet Peak. You head up the mountain early, ski down, go off to work, and it sets you up for the day. A lot of locals do that.
"Then there's backcountry ski touring away from the main Queenstown ski fields. One of my favourite backcountry skiing spots is Dan Kelly's Mountainhut in Glenorchy on Mount Larkins. It's a five-minute helicopter ride from Glenorchy. Another great one is the Invincible Snowfields down the Invincibles mountain range. It's helicopter access from Glenorchy, you can stay up there in a hut, and there's a rope tow."
"If you're an experienced backcountry skier, or you go with experienced guides, you can go into the Remarkables backcountry, build a snow cave and stay the night. There's also a row of five little mountain huts that go from Queenstown to Wanaka and form the Mahu Whenua Traverse, a backcountry ski traverse from Coronet Peak ski area to Treble Cone ski area. They're called the Mountain Turk Club Huts, and it will take you numerous days to do the traverse. If you want to use the huts, come and talk to us, and we can help you make the arrangements.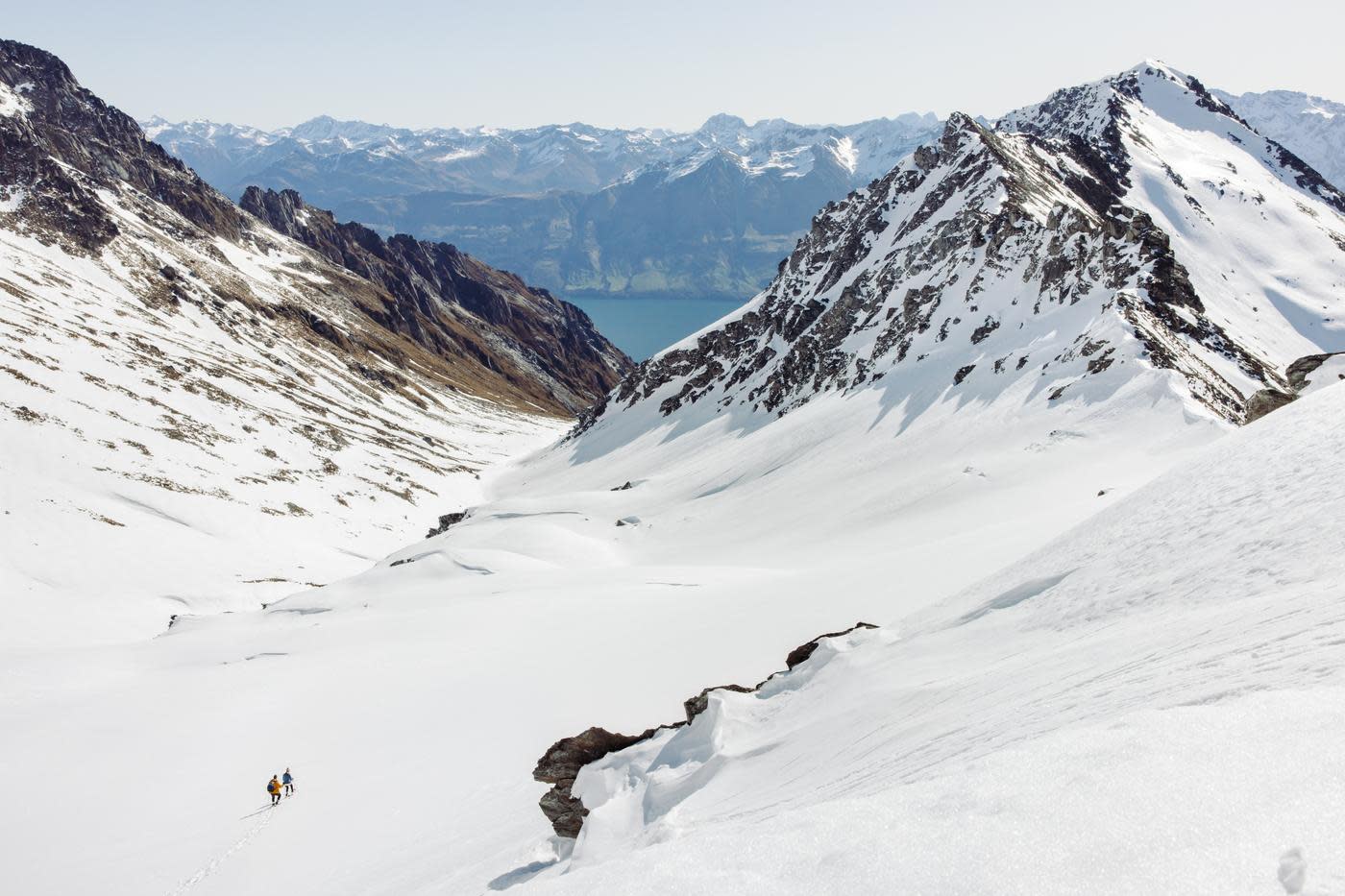 Mount Larkins, Glenorchy
Meet Queenstown's backcountry skiing community
During Queenstown ski season, the Small Planet Crew run a ski touring race series in collaboration with Coronet Peak and the Remarkables called Skin to Summit. Racers gather before dawn and climb to the peaks as the sun rises. Darryl says, "We've been running Skin to Summit for four years now, and it's a very lovely close-knit crew of ski touring people, all committed skiers. I get the barbecue happening and the shots of schnapps poured for when people come off the hill. If you're in a fun sport like skiing, you've got to be fun."
If you're a keen outdoor enthusiast, and you want to get out into the community and meet like-minded people, Darryl and the Small Planet crew also recommend doing an alpine course on ski touring or mountaineering through Queenstown Mountain Guides. And he and his crew are always on hand to offer advice. "Small Planet has mountain guides who work in the shop, and we specialise in gear for backcountry skiing: skis, boots, skins, which are essential, and probes, shovels, and transceivers if you need them."
Small Planet is more than a gear store. It also operates as a drop-in hub for Queenstown's outdoor community. Darryl says, "We've a little seating area, and there's always a beer in the fridge for anyone. From 4pm, people come in and we sit down and swap info. The ski patrol will come in and tell us what's happening on the mountain. Everyone is welcome and if you've any problems, we'll do our best to help." 
That openhearted ethos is quintessentially Darryl. He says, "We focus on people, not money. That's what I've found most important over the 40 years I've been adventuring outdoors, focus on the people first, and everything else will happen if you've got a good heart."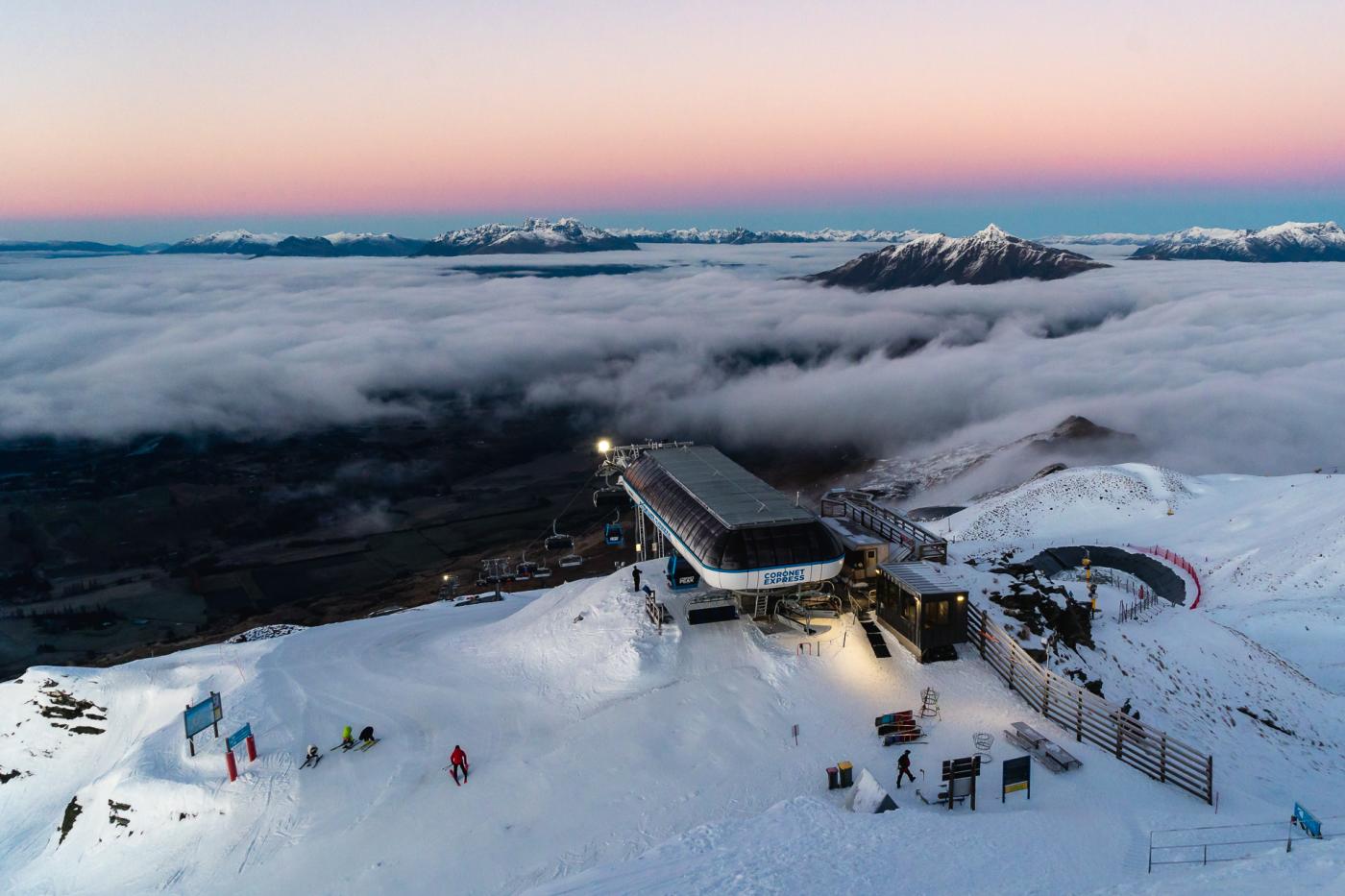 View from Coronet Peak at sunrise
Plan your Queenstown winter adventure
There are even more ideas for winter weekend getaways in our guide to winter in Queenstown.  As you explore Queenstown this winter, share your Queenstown winter adventures with us on Instagram.