Why mountain bike Queenstown? 
Queenstown is one of the world's top mountain biking destinations. It has enormous diversity of trails for all ages and abilities, from tracks for beginners to extreme trails for experienced riders.
Our passionate local biking community has built a huge variety of tracks so they can pursue their different passions. 
Most of our mountain bike trails are on public land and they're built and maintained by volunteers, who give time, expertise, and help raise money so our trails are free for everyone to ride. This creates a vibrant bike scene that attracts mountain bikers from around the world.
When's the best time to ride in Queenstown? 
Queenstown is a 12-month biking destination. From October until May the full network of trails is open, however, you can ride here all year. Most trails sit in the trees, below the snowline, so only a few close during winter, and the trails handle wet well.
Queenstown offers three lift-assisted bike parks which kick into gear once the snow melts. Cardrona is open December through April and Coronet Peak is open December through March. The Queenstown Bike Park, located in the heart of town at the foot of Bob's Peak, is a public recreation reserve that can be ridden any time of the year, but if you don't feel like pedalling up you can get an uplift on the Skyline Gondola from September to May.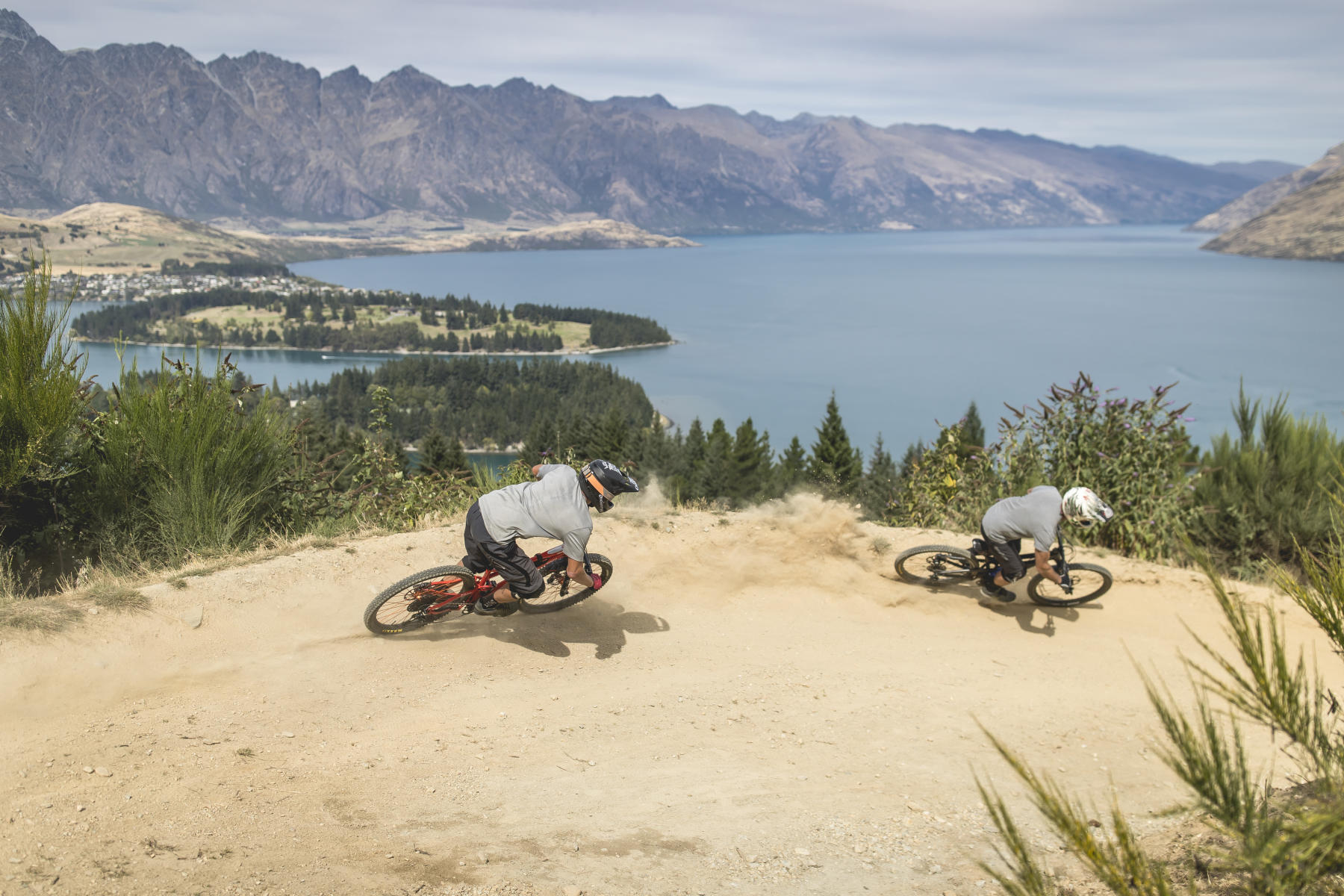 Queenstown Bike Park
Parks and trails overview
There are six bike parks in and around Queenstown offering something for all mountain bikers, from cruisy flow trails to gnarly technical tracks. The quality and variety of the Queenstown bike offering means there's a biking experience for everyone, whatever your age, ability or biking style.
The Queenstown Bike Park is accessible via the Skyline Gondola, or by pedalling up the access road. It boasts over 30 trails in the heart of town, with more than 30 kms of riding and 450 metres of vertical descent.
Coronet Peak offers fun, flowy trails from grade 3 to grade 5, and is home to the world-famous Rude Rock and Slip Saddle. The new Hot Rod extension is a must do this season.
New Zealand's highest mountain bike park, Cardrona has 600 metres of downhill trails with lift access and over 1270 metres if you tackle the infamous Peak to Pub. There's a free zone for learners and mountain bike lessons to progress your skills.
Other Queenstown bike parks include 7 Mile Scenic Reserve Mountain Bike Park, with flowing XC, Enduro and progressive jump trails. Gorge Road Jump Park is a massive playground for hardtail and BMX.
For more information on trails, download Trailforks and the Queenstown Mountain Bike Club's app to get all the latest trail updates. The QMTBC app is free to download, and for only $40 you can join the Queenstown Mountain Bike Club and get access to a host of amazing deals around town, including discounts on gear, food and drink. Plus, you're supporting the trails you love to ride.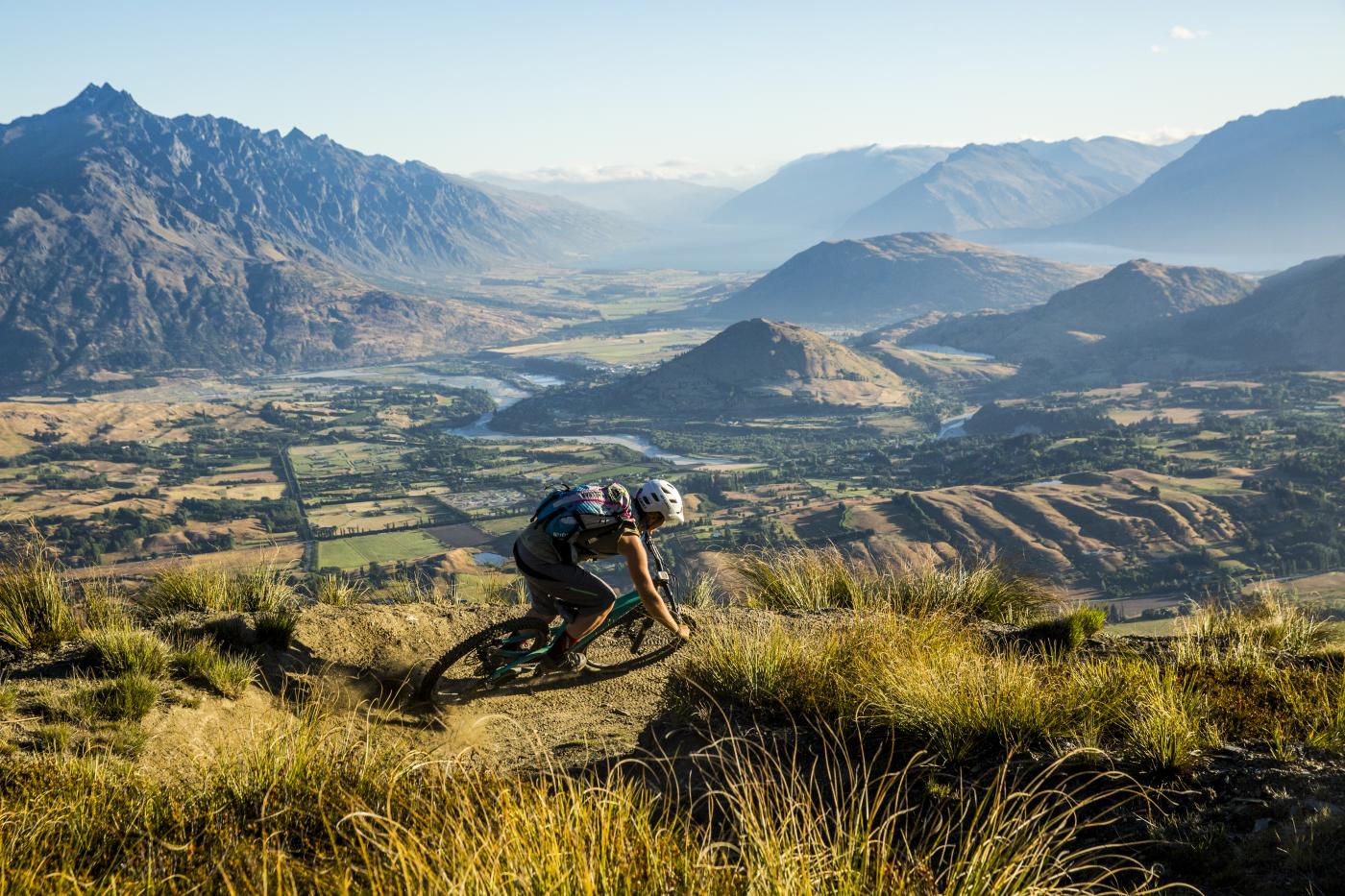 Coronet Peak
Bike-friendly accommodation 
Finding a bike-friendly place to stay is easy, Queenstown offers a vast range of accommodation options for different budgets. Because the town is so bike orientated, there's a range of hotels close to the biking tracks and many offer hire and storage.
The Hilton and Sofitel have bike hire and trails on their doorstep. The Sherwood offers hire, storage and even a bike maintenance space. If you're looking for accommodation popular with the biking crowd, Pinewood Lodge has mountain bike trails within 100 metres, mountain bikes to rent, bike washing, and storage. 
Bring your bike or rent here
Almost all the trails in Queenstown can be ridden on a trail bike unless you're coming to jump.
If you're flying to Queenstown, you can check your bike in as luggage, as long as it's packed in a bike bag or bike box. Or if you prefer to travel light, rent a bike at one of our bike hire places, where the crew will sort you out with the right ride for the trails. Renting is the perfect opportunity to try a new bike or give an e-bike a go. There are a various bike hire places in town offering anything from lead-in bikes to the latest and greatest.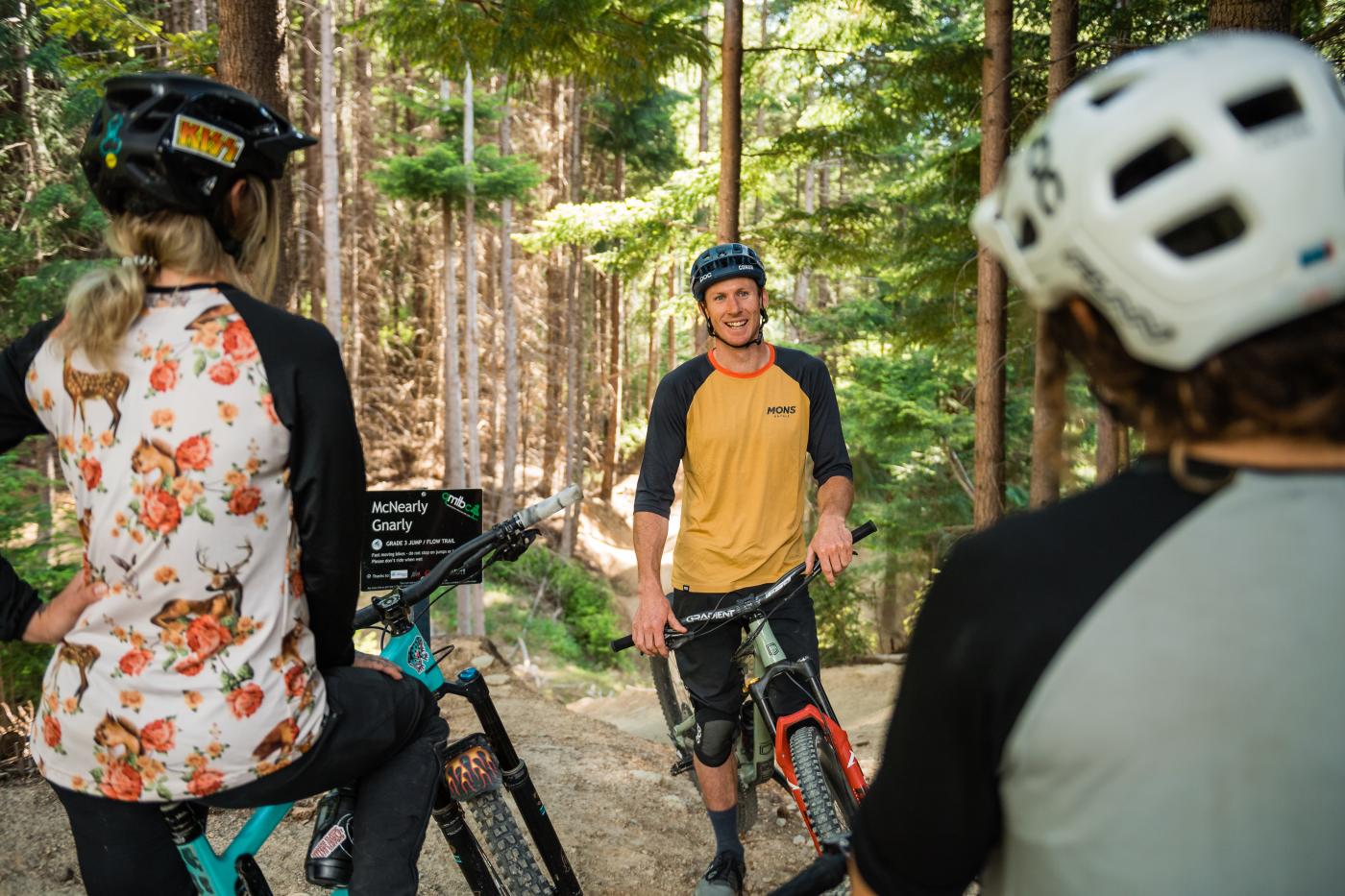 McNearly Gnarly 
Preparing for your trip 
Not sure what to take mountain biking or what to wear? Queenstown is in an alpine setting and the weather can be changeable. In peak summer the weather is hot and dry. Many trails are in shade but not all - it's still wise to have sunblock and water bottle. The weather can get cooler when in shade and at night, pack layers, including waterproofs, and go for moisture-wicking base layers like thermals or merino, so you're dry and safe.
Pack protective gear suitable to your riding style. If you want to ride more advanced trails, bring a full-face helmet as well as your open face helmet, eye protection and wear pads. If you don't have protective mountain bike gear, you can buy or rent here.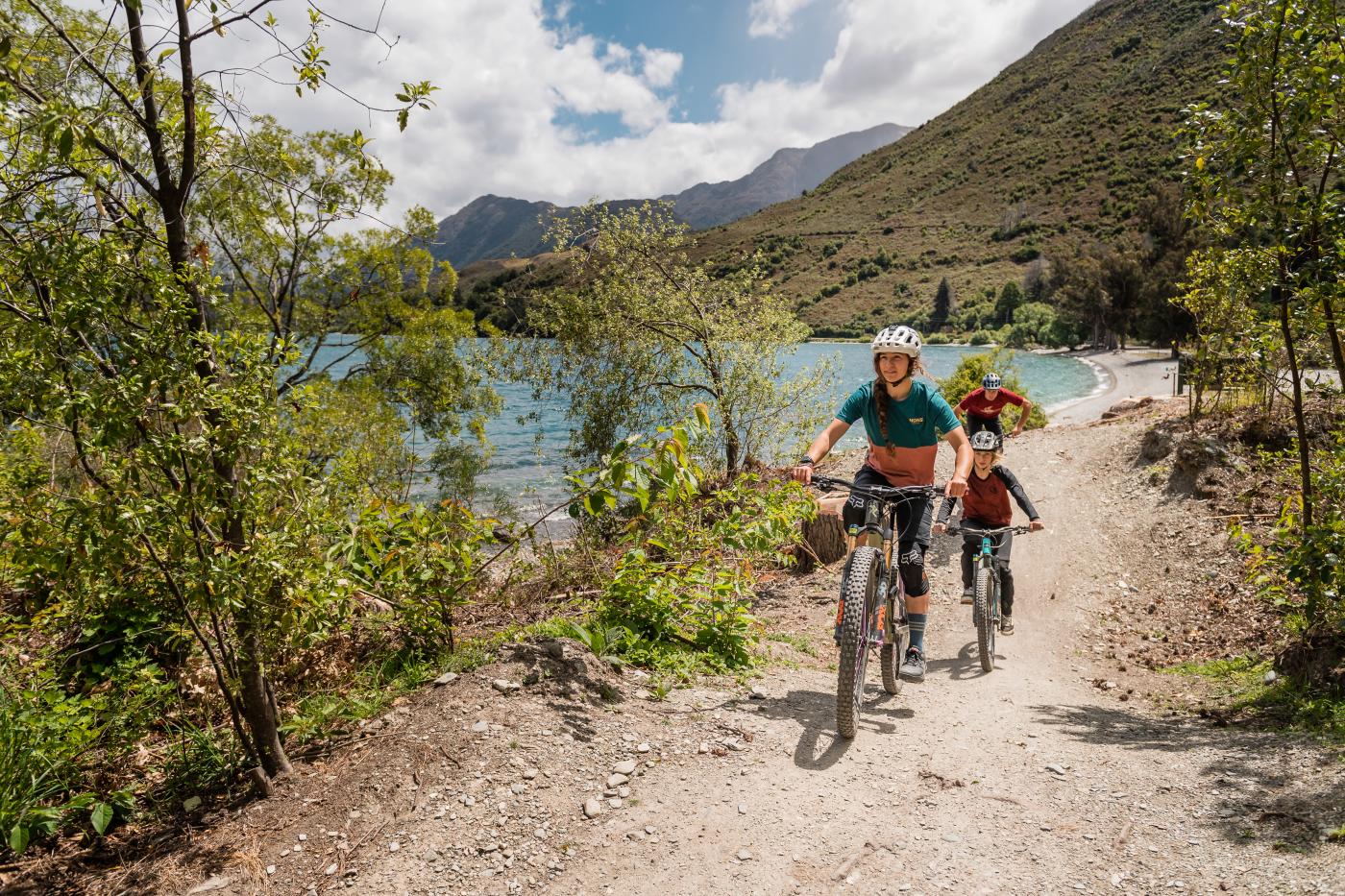 7 Mile Scenic Reserve Bike Park
Getting started riding in Queenstown
With many trails in the heart of Queenstown, you can ride out your door and onto the trails. You don't need a rental car, and bike taxis can take you further afield.
The bike shuttle drivers are knowledgeable and flexible. They'll ask your skill level, and the sort of trails you like to ride and create a trip just for you.
Some trails here are more advanced than the rest of New Zealand. So, ease your way into the riding here by warming up on mellow trails like 7 Mile Bike Park which is great for getting started.
If you love technical trails the Salmon Run in the Queenstown Bike Park is a world-class technical trail, and the Squid Run offers roots, rocks and challenges galore.
If you're more jump orientated, try the mega-jumps of Fernhill Bike Park and the Gorge Road Bike Park.
For downhill flow, Coronet Peak can't be beat, and the Hot Rod extension of Rude Rock takes trails from the top to the valley floor, with 1,200 metres of vertical descent.
Find your favourite trails with this guide to Queenstown's bike parks, and five of Queenstown's top mountain biking spots.