Queenstown Bike Park
Grades: Beginner to extreme double black.
Trail Types: Flow and downhill progression for beginners, technical downhill and jump tracks. 
Access: Ben Lomond Reserve. Ride up Skyline Access Road or take Skyline Gondola to the summit.
For riders who want to roll out of bed and onto their bike, Queenstown Bike Park, situated below Skyline Gondola, offers 450m of vertical descent, incredible vistas and 30 trails of varied terrain to cater for all riding abilities. Queenstown Bike Park is one of New Zealand's best mountain bike parks with over 30kms of tracks maintained and managed by the Queenstown Mountain Bike Club.
Hammy's. 6km of mellow downhill flow and gorgeous sweeping berms. Perfect for beginners and a lovely cruisy ride for all abilities.
Huck Yeah. Super fun jump line with high speed tabletops. Two lines for different abilities.
Rat Attack. A fast technically challenging trail featuring monster jumps, doubles, and drops.
World Cup. One of the first trails built in the Bike Park, this beast has not mellowed with time. Experienced riders only. Drops, jumps and extreme technical riding.
EXPERT TIP: Attach your mountain bike to your Skyline Gondola cabin, take in the views and enjoy the ride up. Choose from single ride passes to full, multi-day or season passes.
Queenstown Bike Park
Coronet Peak
Grades: Intermediate to extreme double black.
Trail Types: Cross country and downhill. 
Access: Coronet Peak Road. Take the chairlift to the summit
Coronet Peak's trails have flowing berms and unparalleled views over the Wakatipu Basin.
Coronet Peak is open for mountain biking from December through until March, with chairlift-assisted access. There's a busy schedule of sporting and social events in summer, and you can't beat a cold beer with a view on the deck after your ride.
Coronet Peak DH. This world-famous downhill line is fast, flowy and technical, with incredible panoramic views. Grab a lift pass to stack up the laps all day.
Coronet Peak XC & Slip Saddle.  Ride the XC track to the top then ride all the way down to Arrowtown. Slip Saddle's is a highlight of your descent. River crossings on Bush Creek.
Rude Rock. Described by Trailforks as 'the definition of flow'. This trail starts just above the base buildings at Coronet Peak Ski field and hugs the hill down.
Hot Rod is the long-awaited extension of Rude Rock. The two trails combined will form 1,200 vertical metres of descending flow track. Flowy with big berms and fun features.
EXPERT TIP: Hot Rod will feature in the super DH series as part of the MTBNZ National Event Series Downhill and Cross Country held at Coronet Peak in February.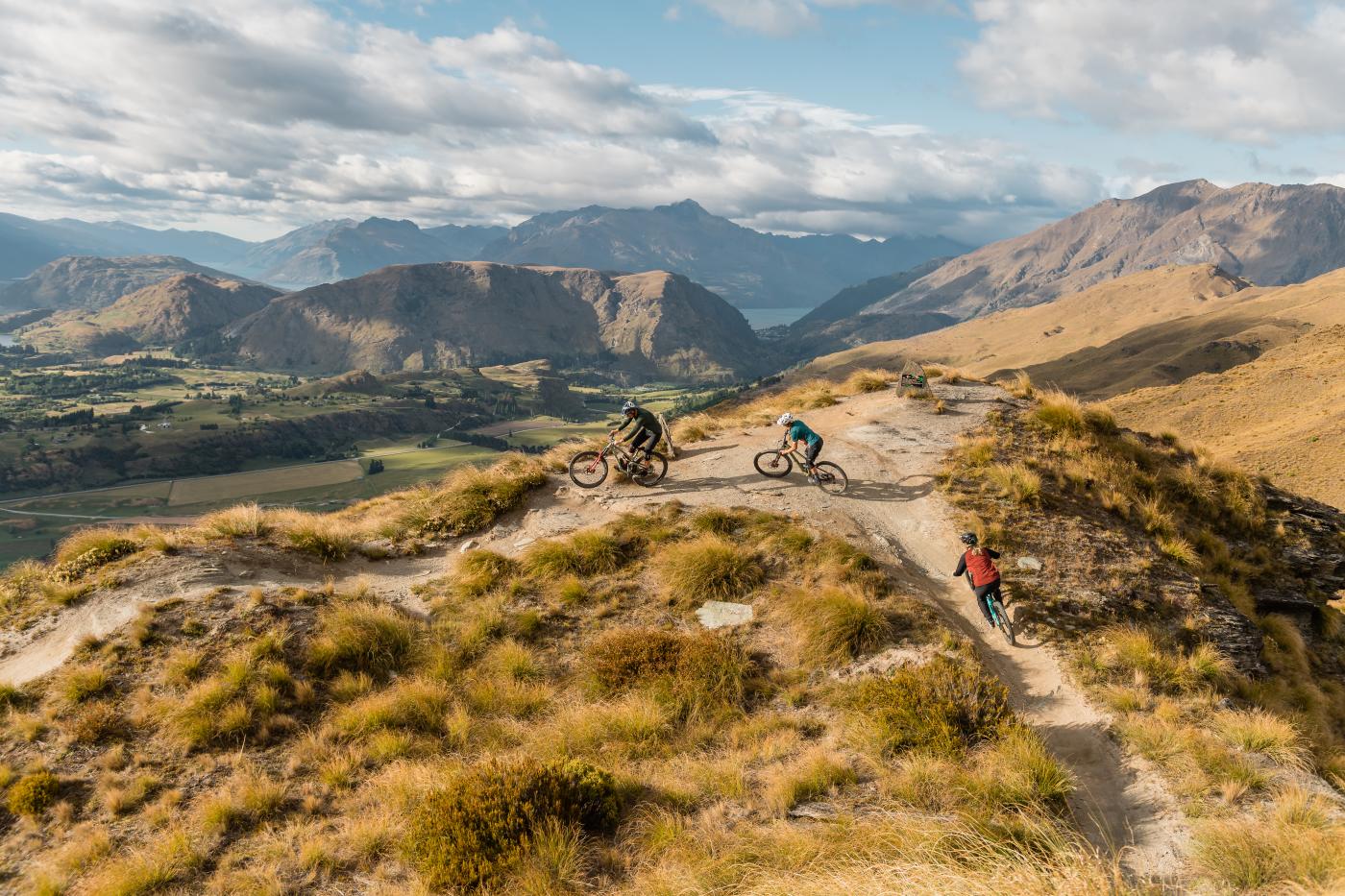 Rude Rock, Coronet Peak
Cardrona Alpine Resort
Grades: Beginner grade 2 to extreme double black.
Trail Types: Downhill and a free style jump track.
Access: Cardrona Valley Road. Take the chairlift to the summit
Although famous for its winter pursuits, Cardrona Bike Park opens for summer from December through to Easter, when it becomes New Zealand's highest bike park. The chairlift accessed bike park means more energy to lap the incredible downhill trails scattered across the mountain. Onsite accommodation and dining options.
Afternoon Delight. A mellow easy trail for first timers. Great for young kids.
The Jumps. A new jump track with road gaps, big jumps and huge berms. One for experienced jumpers. Access via Whitestar.
Peak to Pub. Try the legendary 1270m 10km descent from peak to the historic Cardrona Pub. Ride the trail competitively as part of NZ's longest downhill race.
EXPERT TIP: Cardrona Bike Park is a fun outing for families. The tracks cater to all levels, they offer lessons for beginners and for skill progression, and they hire gear. The local club organizes summer evening races, including runs for kids of all abilities.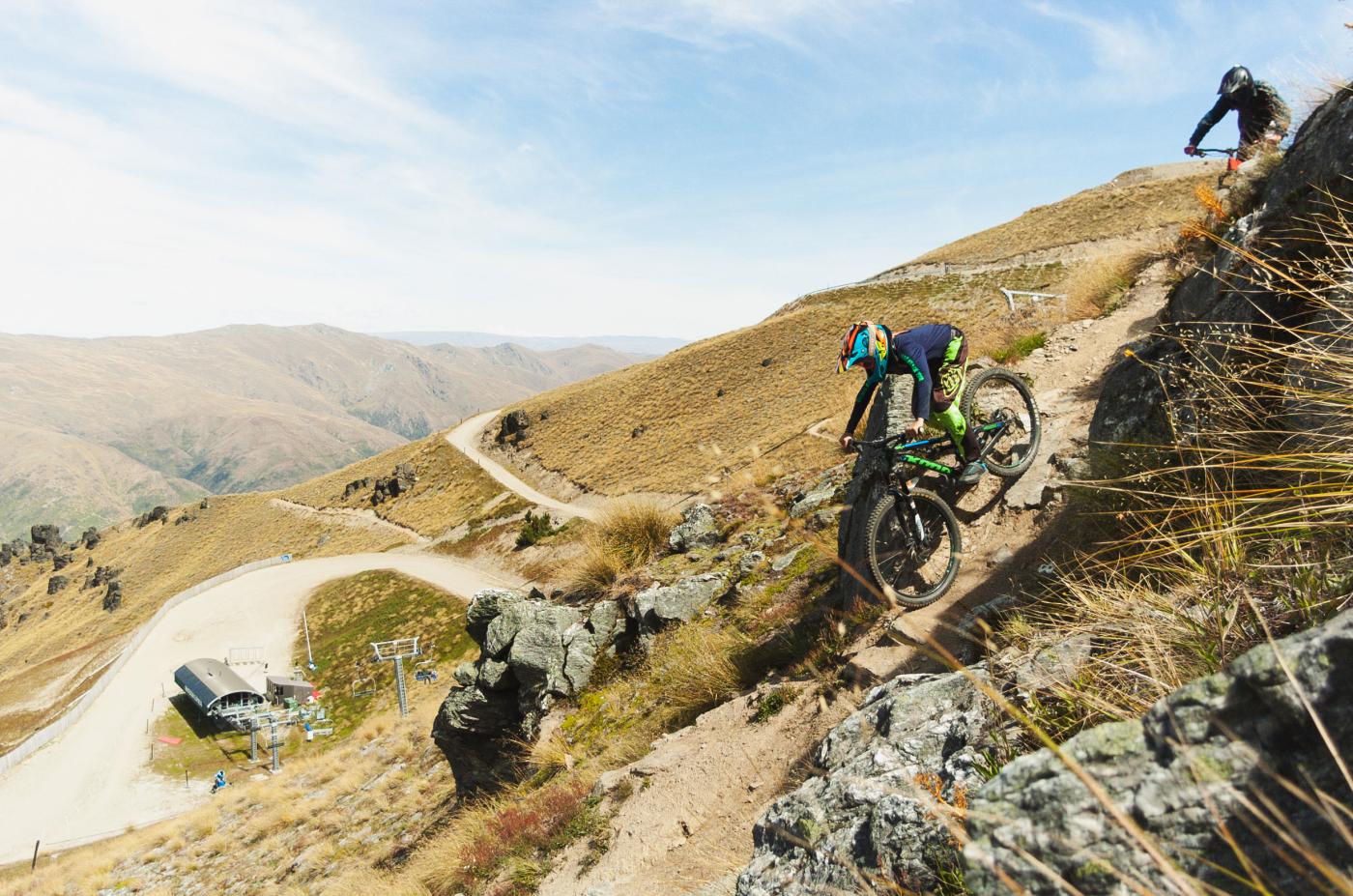 Mountain biking at Cardrona Alpine Resort
7 Mile Scenic Reserve Mountain Bike Park
Grades: Beginner grade 2 to expert black.
Trail Types: Cross country and downhill.
Access: Glenorchy Road. Access from the 7 Mile car park or Wilsons Bay.
Located on Glenorchy Road, just 7 miles from Queenstown and renowned as one of the best bike parks in the south, the 7 Mile Bike Park is a local favourite. Jumps, banked corners, wooden log rides and clatter bridges add extra excitement to your ride.
New trail improvements. Upper Kachoong, Gravitron, and IB55 have all been redesigned. The trails set the speed for you and make it safer and more fun for you to ride.
Jack B Nimble. A new jump track with tabletop style jumps, railing berms and step downs.
EXPERT TIP:  7 Mile is ideal for a group of riders at different levels. Advanced riders can get their fix while the beginners do their thing. With plenty of intermediate riding, interspersed with pockets of advanced areas, it's a fantastic place to push yourself if you're feeling good.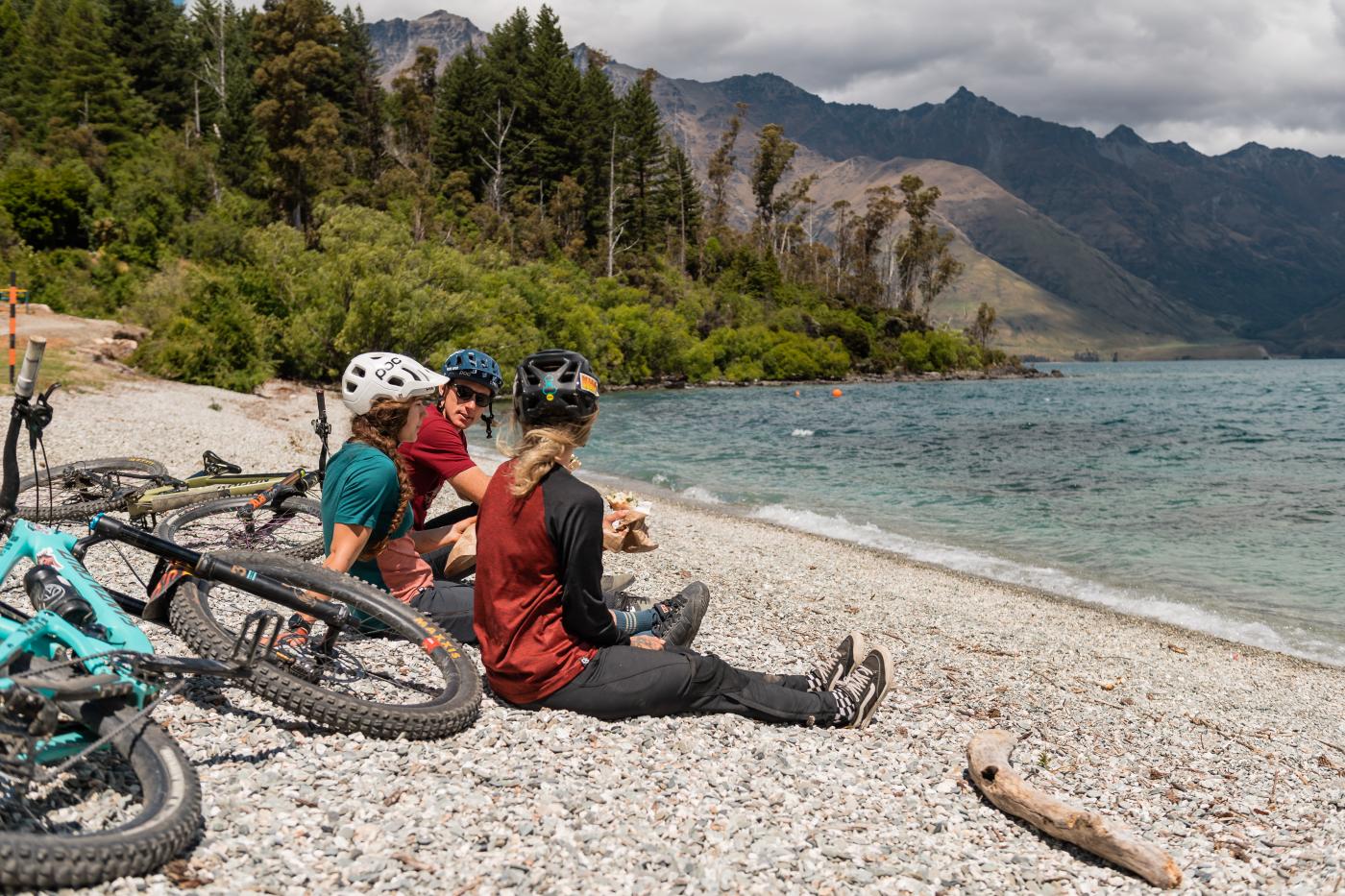 7 Mile Scenic Reserve
Fernhill Bike Park (also called Wynyard Bike Park)
Grades: Beginner grade 2 to expert black.
Trail Types: Cross country and downhill.
Access: Access from Wynyard Crescent or from Hammy's Track in the Queenstown Bike Park.
A world-class bike park with two world-famous jump tracks, a progression zone for learner jumpers, and some superb downhill runs, including challenging technical descents. Come to ride or watch the pros train.
Dream Track. A world-famous freestyle jump track. The huge 60 ft gap jumps are some of the largest public jumps in the world. One for expert riders and pros.
Mini Dream. Great progression for beginners. Currently being reworked with slopestyle course features by Elevate Trail Building.
McNearly Gnarly. A 2019 addition to the Queenstown Mountain Bike Club network, with 64 berms and 54 jumps, this track is already making list of top trails in New Zealand.
Salmon Run. A local favourite. Steep technical descent with switchback turns.
EXPERT TIP: Fernhill Bike Park stalwart, the Wynyard Express, recently got a refresh. One of the first downhill tracks built in Queenstown, its reincarnation has cool new features, along with the flowing berms and steep sections that made it a local favourite.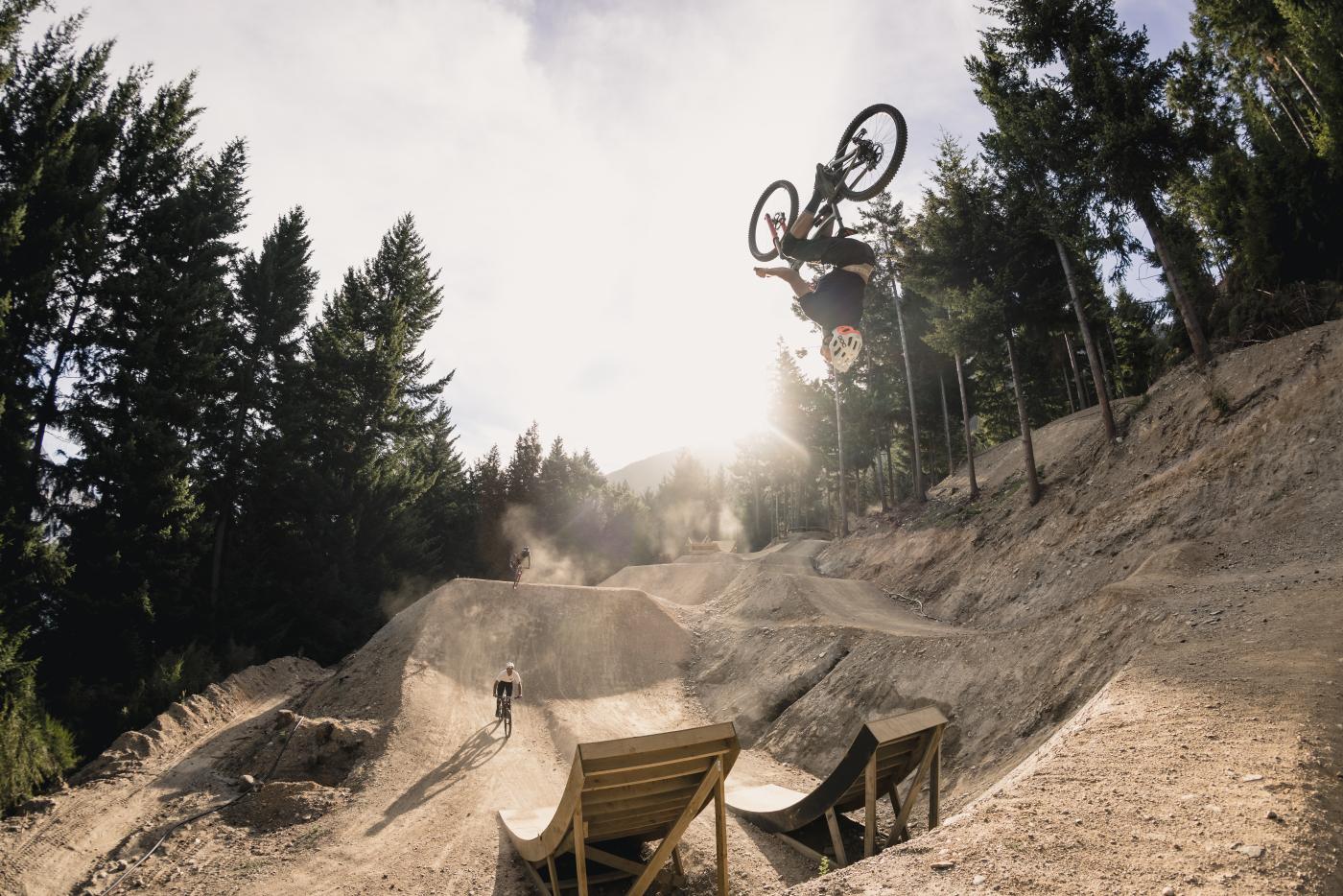 Mini Dream, Wynyard Bike Park
Want more Queenstown mountain bike action?
In town for a while and want more mountain bike action? We've got you.
Gorge Road Jump Park. A legendary dirt jump facility for BMX and Mountain Bikes that attracts dirt jump enthusiasts from around the world.
Remarkables DH. A rugged trail with fast natural flow descending the iconic mountain range. Book a shuttle.
Moke Lake. A scenic circuit of the lake, staring from Moke Lake Road. A steep climb at the start rewards you with spectacular views.
Queenstown's epic mountain bike trails are built and maintained by the Queenstown Mountain Bike Club. Show your support by downloading their app and joining the club. For only $40 you get access to amazing deals around town. Plus, you're supporting the trails you love to ride.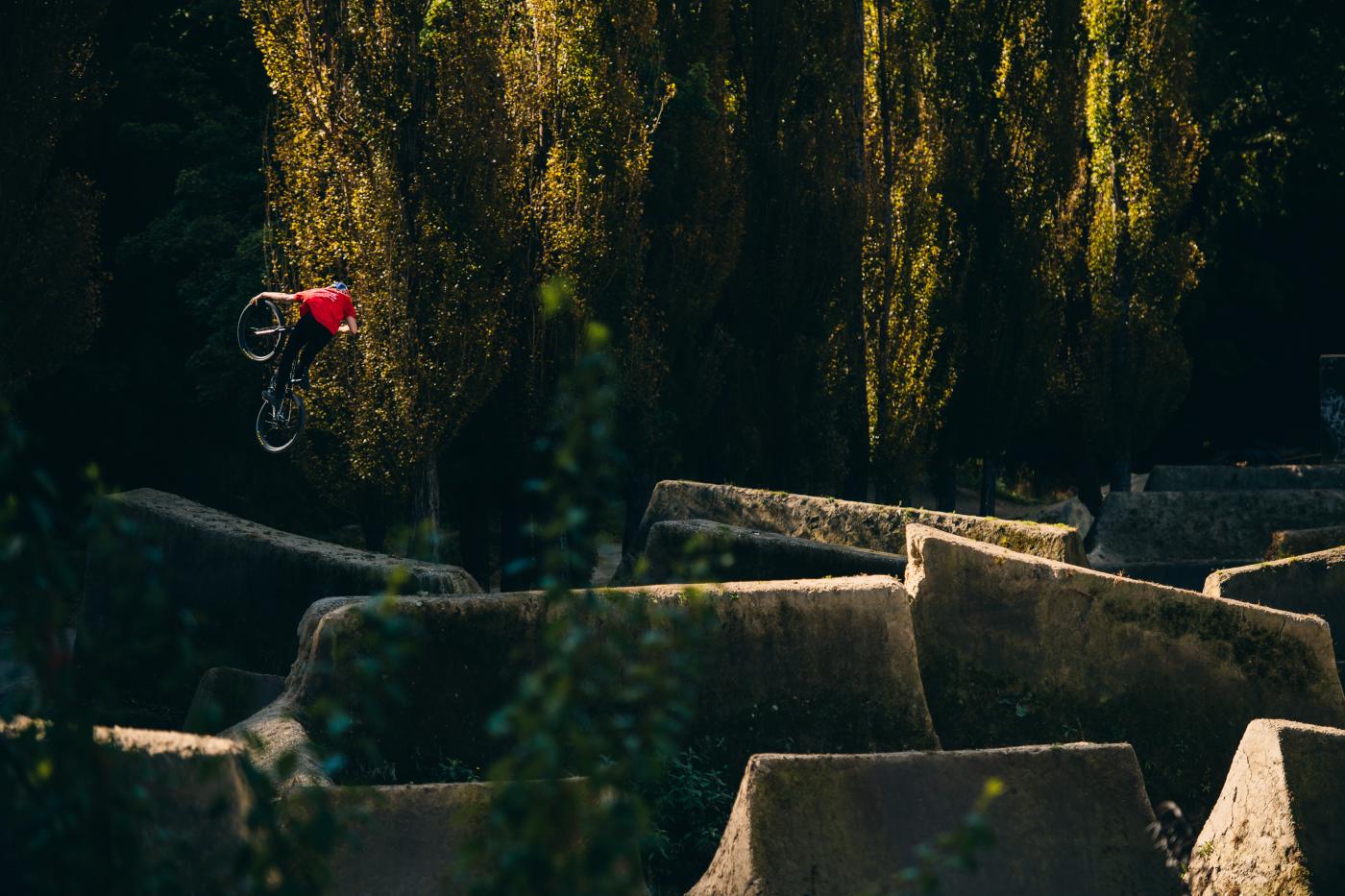 Gorge Road Jump Park