While you still have to be able to ride a bicycle, an e-bike is fitted with a small battery pack to give you a little extra boost. E-bikes are ideal for zipping along long straight roads or getting up a steep hill without breaking a sweat.
Covering ground quickly means you can explore further. The Queenstown Trail is more than 130km long. A pedal assist e-bike with a 480Wh battery will give you around 50 kms range, although that varies in hilly terrain. So, you can ride faster and explore even more of our beautiful region.
Plan your e-biking adventure in and around Queenstown, with this guide to e-bike hire, popular e-biking trails, and e-biking tours.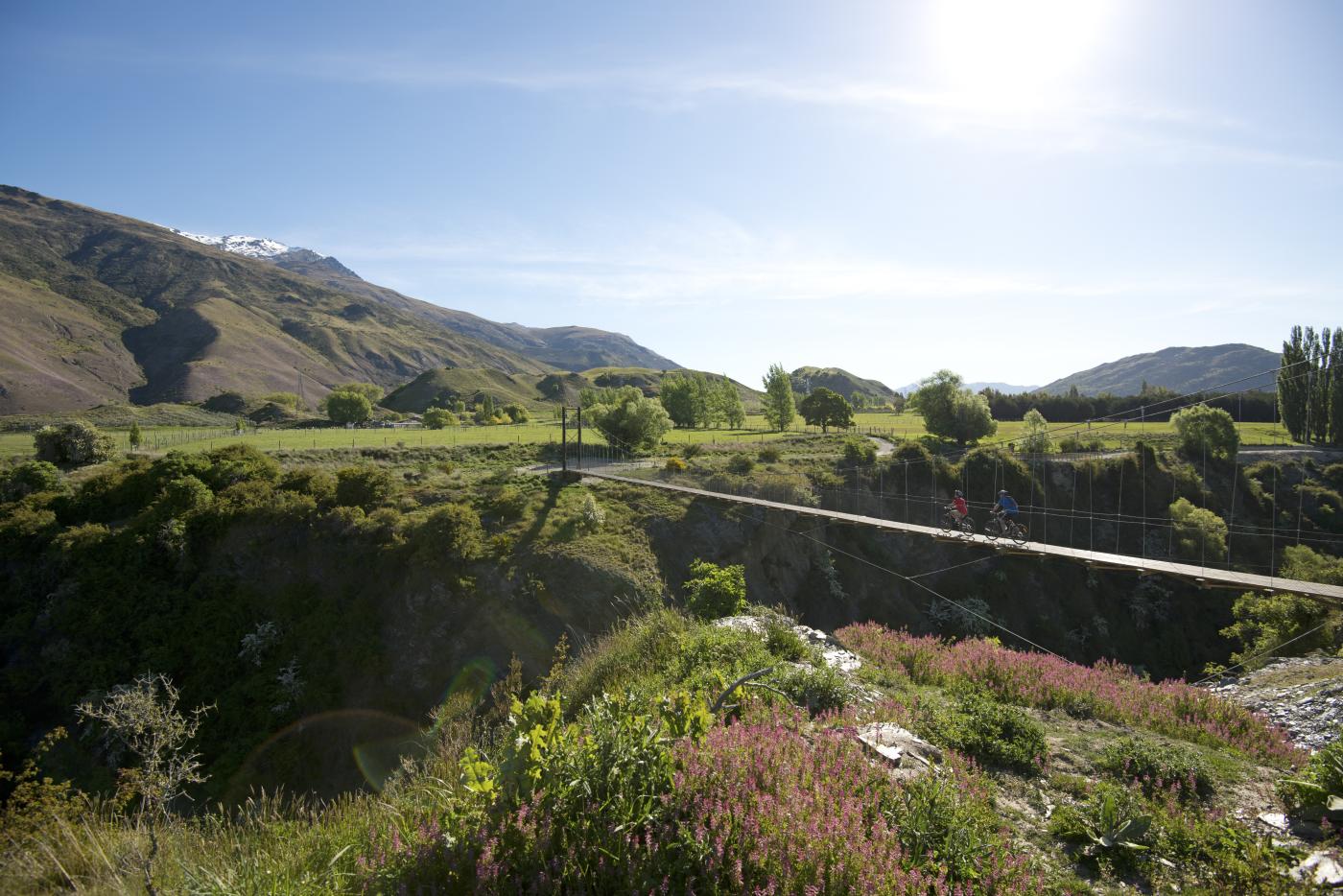 Popular e-biking trails near Queenstown
The Queenstown Trail from Queenstown to Arrowtown
A popular riding option is the section of the Queenstown Trail between Queenstown and Arrowtown. This is a 33 km commitment on a pushbike, but if you're not so keen on a hard slog and would prefer a gentle cruise, an e-bike will make your day.
Head from Queenstown to Frankton, then follow the Kawarau and the Shotover Rivers on the Twin Rivers Trail as you climb towards Arrowtown. Join the Arrow River Bridges trail from the Twin Rivers Trail, make a left at Morven Ferry Road and go over the Knights Family bridge (the one under SH6) then the Southern Discoveries Bridge before carrying on through to Arrowtown.
The Gibbston River Trail
If you've started in Arrowtown and have vines in your sights, the wine-soaked valley of Gibbston is now an easy 14km away. This is an easy trail made even more so with a little electric assistance—and it's possible to join a tour to meet like-minded riders to share your tasting notes with.
This beautiful trail has panoramic vistas of the Kawarau River and the vineyards. Make time to stop and enjoy the scenery of the Kawarau Gorge.
Top of the lake from Glenorchy
Head north to Glenorchy, and pick up an e-bike from Electric Bikes Glenorchy at Mrs. Woolly's General Store. Explore the film locations of Paradise or ride the trail around the headwaters of Lake Whakatipu. You can even venture around the top of the lake to Kinloch for lunch and a refreshing beverage before cruising back to base.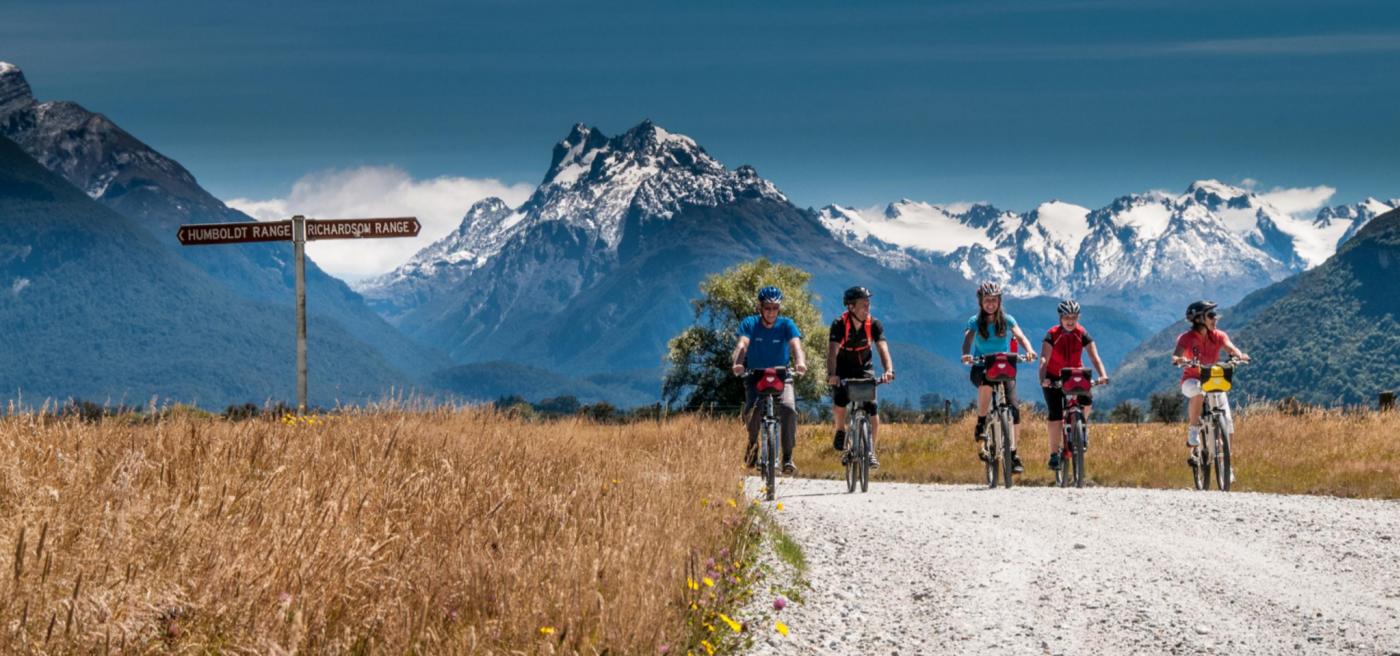 Hire an e-bike from Electric Bikes Glenorchy and take in Glenorchy's stunning surrounds
Where to hire an e-bike in Queenstown
Here are some of the best paces to hire e-bikes in Queenstown, Arrowtown, and beyond.
Around the Basin
Around the Basin is based in Queenstown's CBD and they offer something for all requirements including e-bikes, guided tours, and transport to various points along the Queenstown Trail as well as scheduled pick up services. 
Going Blue
Going Blue e-bikes come with repair kits, maps, helmets, water bottles with holders, and instant support from the team. They can deliver them to your door, and their online tutorials will show you how to operate your e-bike.
Arrowtown Bike Hire
On the main street of Arrowtown, Arrowtown Bike Hire specialize in providing bikes and equipment for multi-day hire for groups to tour around and beyond the Queenstown region. You can hire an e-bike for half a day, or for up to 28 days.
Better by Bike
Better by Bike offer a full day e-bike tour from Queenstown. Head into Gibbston's valley of vines or explore the trails around Arrowtown. Better by Bike provide on-trail support, so you can be collected by a bike shuttle at the end of your ride.
The Gibbston Valley Bike Centre
Pick up an e-bike from the Gibbston Valley Bike Centre in the heart of wine country. You're within easy riding distance of wineries along the Gibbston River Trail, and gorges and historic bridges on the Arrow River trail. They have e-bikes for riders aged five and over, and you can book return transport on the Gibbston Valley Shuttle.
Alta
With a location in Frankton and Queenstown, Alta provides bike hire for all occasions. There is a range of E-bikes to jump on and explore, with half day and full day options available. A great option to explore the Frankton area of the Queenstown Trail!
Electric Bikes Glenorchy
Enjoy a self guided tour around the Glenorchy area and into Paradise or along the Lake into Kinloch with Electric Bikes Glenorchy. Conveniently located at Mrs. Woolly's General Store on the main road into Glenorchy this is the perfect way to get your Glenorchy bearings and explore further afield.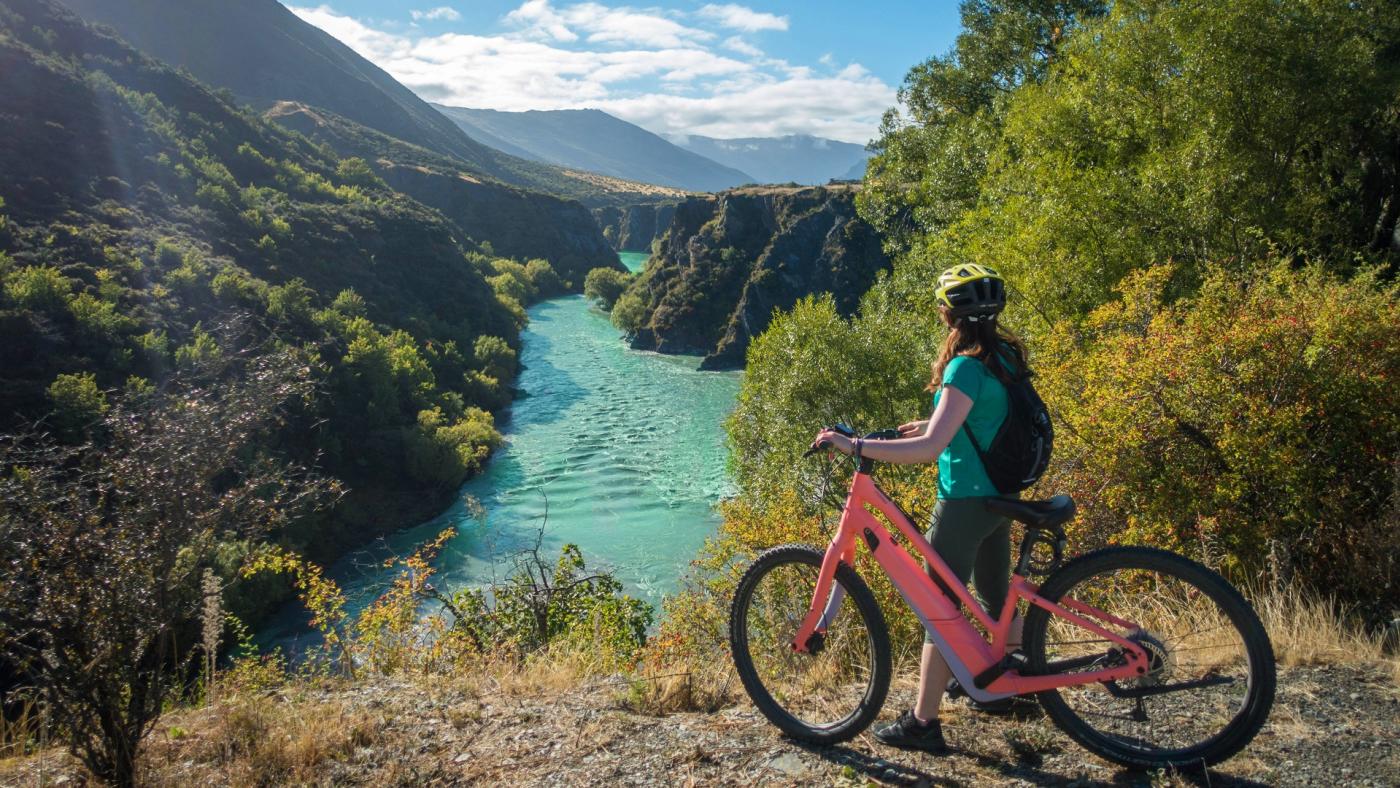 E-biking tours in and around Queenstown
Guided e-bike wine tour
Get picked up from your hotel and enjoy a guided tour of the Gibbston wine region on an e-bike with one of Queenstown's fantastic e-bike operators. You'll start in Arrowtown, where your local guide takes you along the Arrow River and into the stunning scenery of Gibbston.
There are a range of different cellar doors, wineries and restaurants to stop at along the way. Taste wine grown on the first commercial vines in Central Otago at Gibbston Valley Winery. Further up the valley, enjoy a wine tasting at Kinross. Here you can taste six boutique Gibbston wines: Domaine Thompson, Coal Pit, Valli, Hawkshead, Wild Irishman and Kinross's own label.  
Heli-e-bike into Queenstown high country stations
For more far-flung adventures, look no further than a heli e-biking adventure in Queenstown's backcountry. Long the domain of extreme downhill mountain bikers, heli-biking now provides a slightly more sedate but no less epic experience. Fly in style into a remote high-country farm and explore forest-clad trails, high ridges and rugged farm tracks for a day with an experienced a knowledgeable guide.
Local operators like Heli Bike NZ, Southern Lakes Heli Bike and Over the Top Helicopters provide heli-biking excursions and would be more than happy to assist with your heli-biking requirements. 

E-biking events
Cyclorama 
New Zealand's First E-Bike Festival is held over Labour weekend in Arrowtown, with rides themed for wine, beer, gin, food, art or bird watching and some read riding to be had.  Arrowtown's Butlers Green transforms into the festival hub with plenty of fun for the whole family with bikes, equipment, rentals, sellers, food stalls, and fun activities. For more information on this years festival, click here.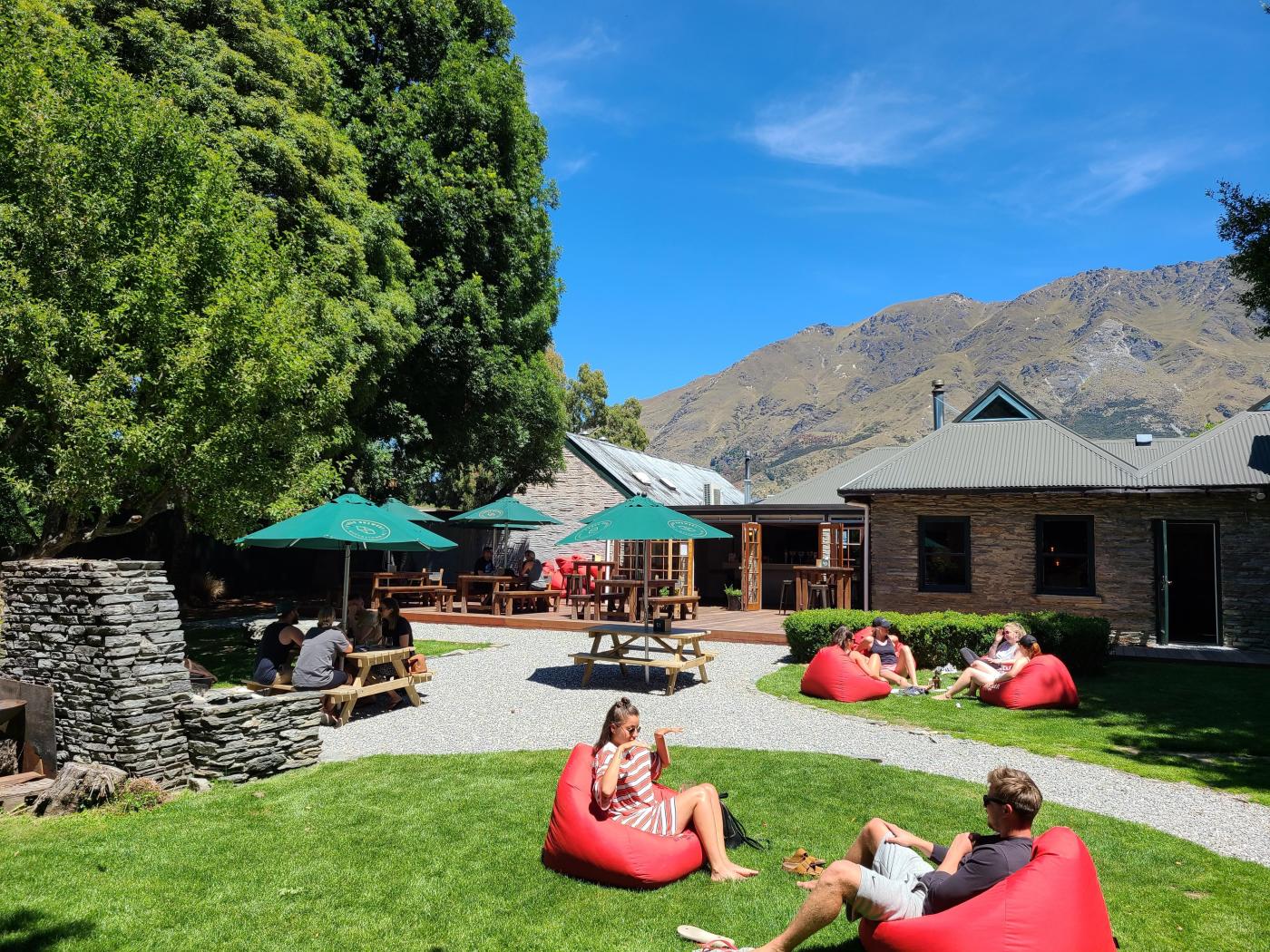 Cargo Gantleys Pub. Craft Beer Stop on Cyclorama's Hop Trail
Planning your e-bike adventure
E-bikes make riding the bike trails around Queenstown even more accessible. Here are a few tips to make your e-bike adventure even more enjoyable.
Wear appropriate closed footwear.
Wear or pack appropriate wind-resistant clothing as weather conditions can change unexpectedly.
Hire a helmet too—they're a requirement on New Zealand's roads.
Bear in mind the road rules of New Zealand.
Pack snacks and bring extra water, especially if you plan on being out all day.
We've noticed that the fun of e-biking brings out the inner child in everyone, and people come back grinning from ear to ear. Enjoy your Queenstown e-biking experience.