Queenstown to Arrowtown
Arrowtown is a 20-minute drive from Queenstown's CBD, accessed either via a scenic drive through farmland and Arthur's Point or via State Highway 6 and Lake Hayes. 
Once in Arrowtown, you may be surprised at how much there is to do in the historic town. Take a stroll along the Arrow River or head up Tobin's Track for views over Arrowtown. Or, take a step back in time at the Chinese Village, a cluster of old stone miner's cottages dating back to the 1880's. Free to walk through, the old village gives you a glimpse into what mining life in Arrowtown would have been like. 
After exploring Arrowtown's surrounds, head into the cosy town centre and check out the boutique shopping and galleries along Arrowtown's main streets or refuel at one of the cafes and restaurants. For a laid-back evening, grab some dinner and check out a movie at Dorothy Brown's cinema or enjoy a casual drink at one of Arrowtown's bars.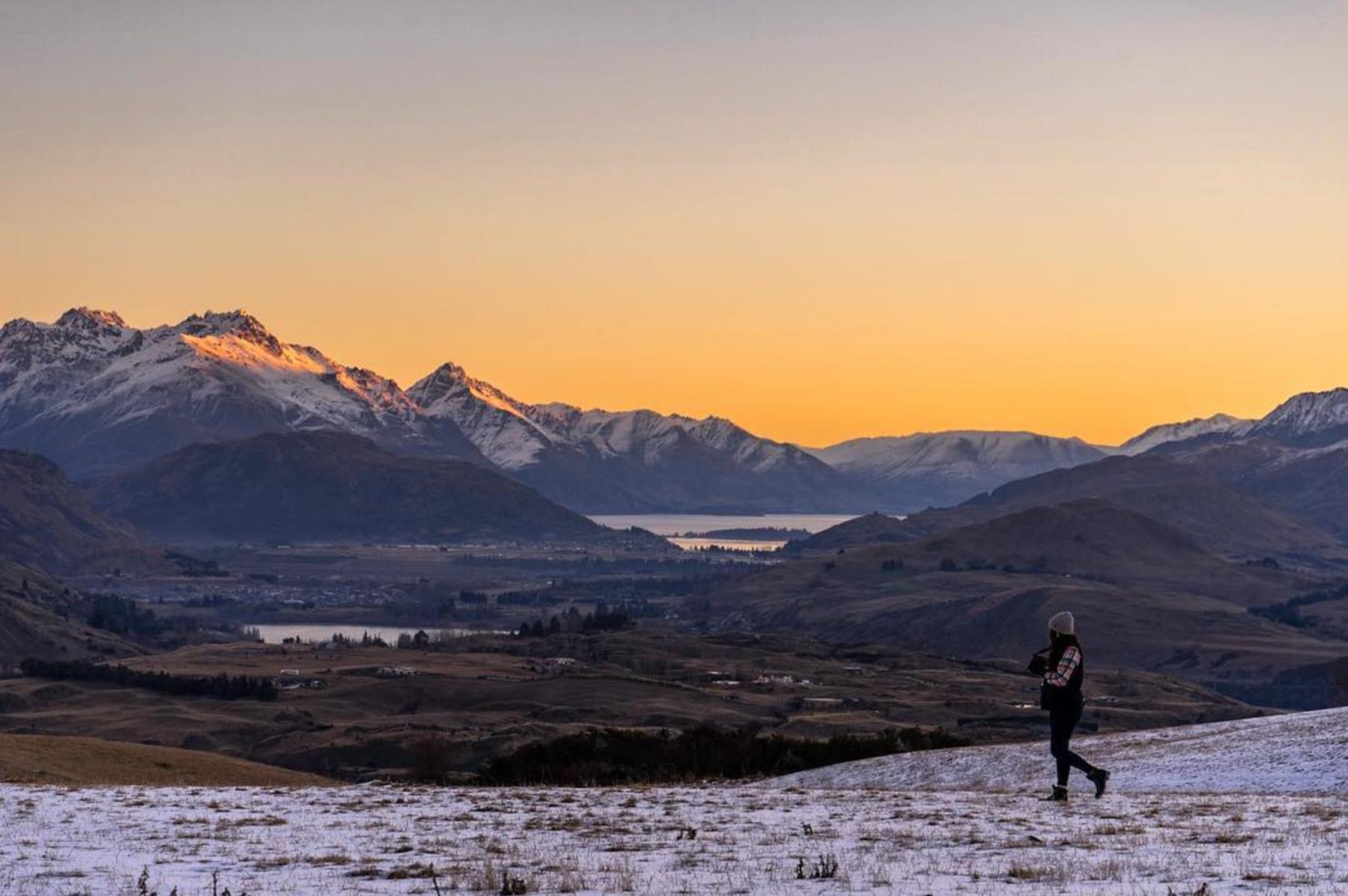 Tobin's Track in winter, shot by @jessefrank.nz
Queenstown to Glenorchy
The 45-minute drive from Queenstown to Glenorchy is an absolute must-do in New Zealand. The road winds its way along the lakeside with incredible views over Lake Wakatipu, Cecil Peak and Walter Peak. Take your time on the drive and be sure to stop along the way, there are plenty of viewpoints to stop at as well as a few short hikes, like the Bob's Cove loop track, to explore along the way.
When you arrive in Glenorchy, you'll understand why it has been used as a filming location for blockbuster films and TV shows. Make sure you head down to the lakefront and check out the iconic red shed and Glenorchy wharf, and take a walk along the Glenorchy lagoon boardwalk. Grab a spot of lunch in Glenorchy or continue on to Paradise or Kinloch, a further 20 minutes down the road. Take care when driving to Glenorchy in winter as the roads can be dangerous in frosty or icy weather.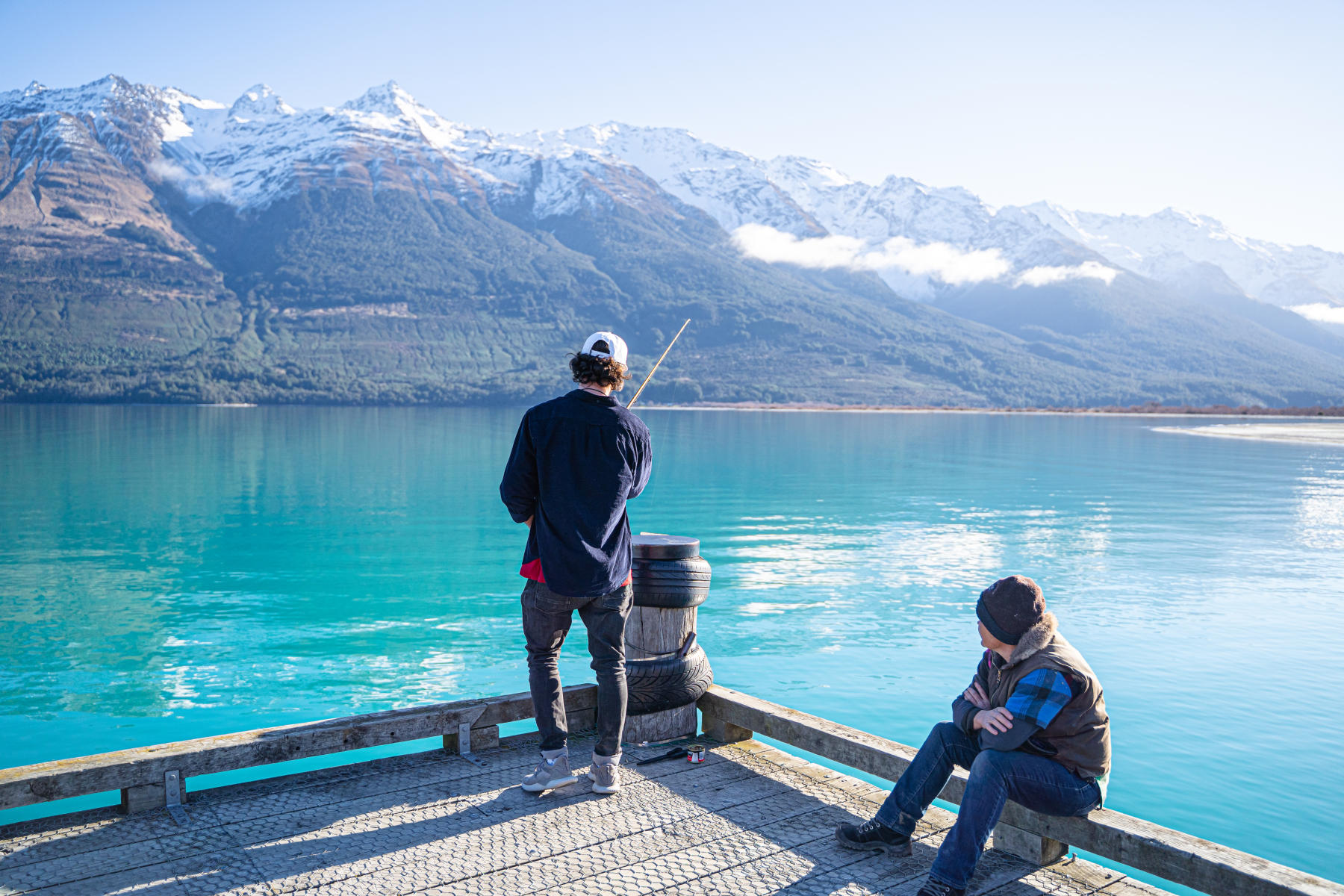 Glenorchy wharf in winter
Queenstown to Jack's Point
Jack's Point is located at the base of The Remarkables mountain range, a 20-minute drive away from Queenstown's CBD, with stunning views of snowy peaks in the distance. 
Once in Jack's Point head down to Homestead Bay, a beautiful long beach which is perfect for an easy lakeside stroll in winter. If you're after a walk that will get your blood pumping try the Jack's Point Loop Track which can also be accessed on the drive to Homestead Bay. The track starts with a steep uphill climb, but you will be rewarded with stunning lake views and an easy descent once you reach the top.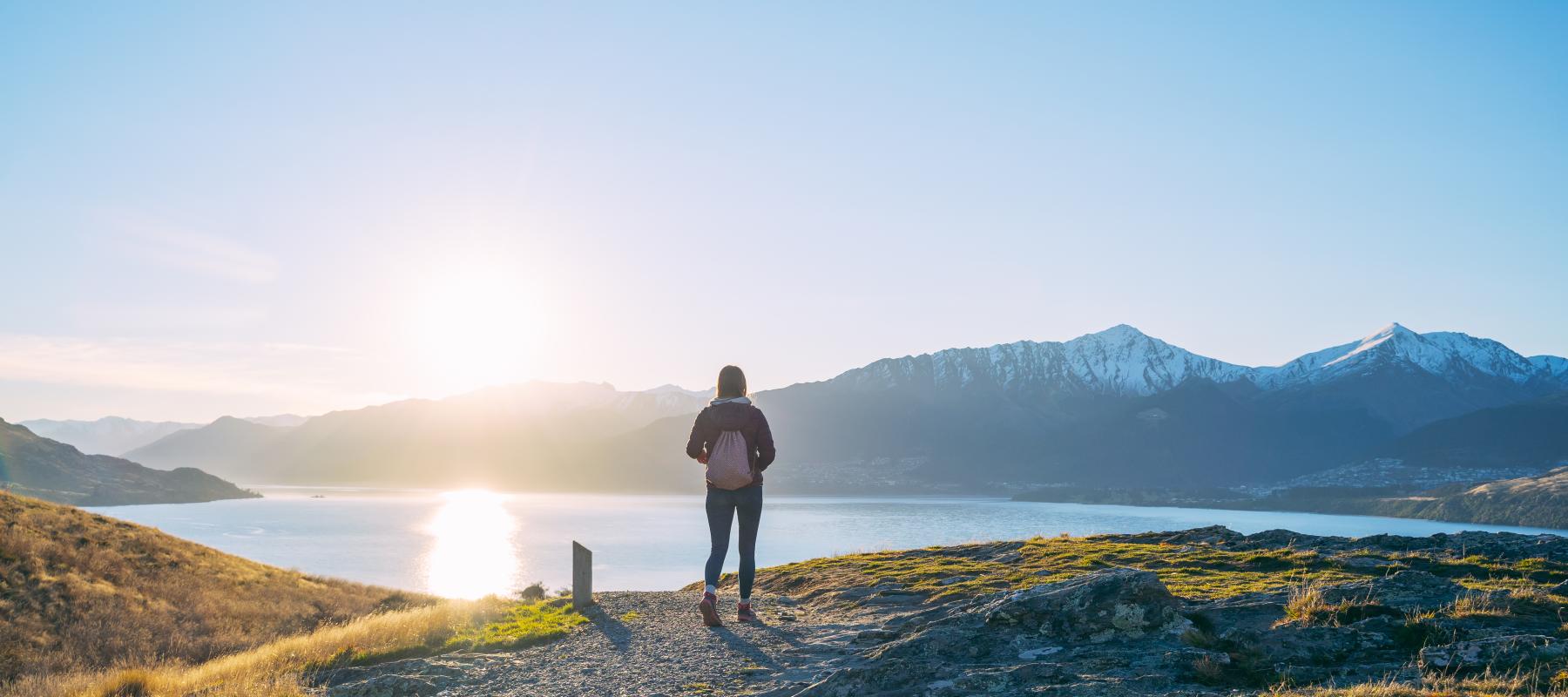 Jack's Point Loop Track 
Queenstown to Moke Lake
Moke Lake is a small lake located a 25-minute drive from downtown Queenstown. Surrounded by mountains and farmland, you'll feel like the only person for miles once you reach the lake.
Pack a picnic with some local treats and prepare to spend the day as there's plenty to do once you get out to Moke Lake. If you're a keen angler, purchase a day licence and try your hand at capturing a trout from the lake, or stretch your legs on the Moke Lake Loop Track.
Be sure to bring your camera with you, Moke Lake is great for mirror photography on a still day.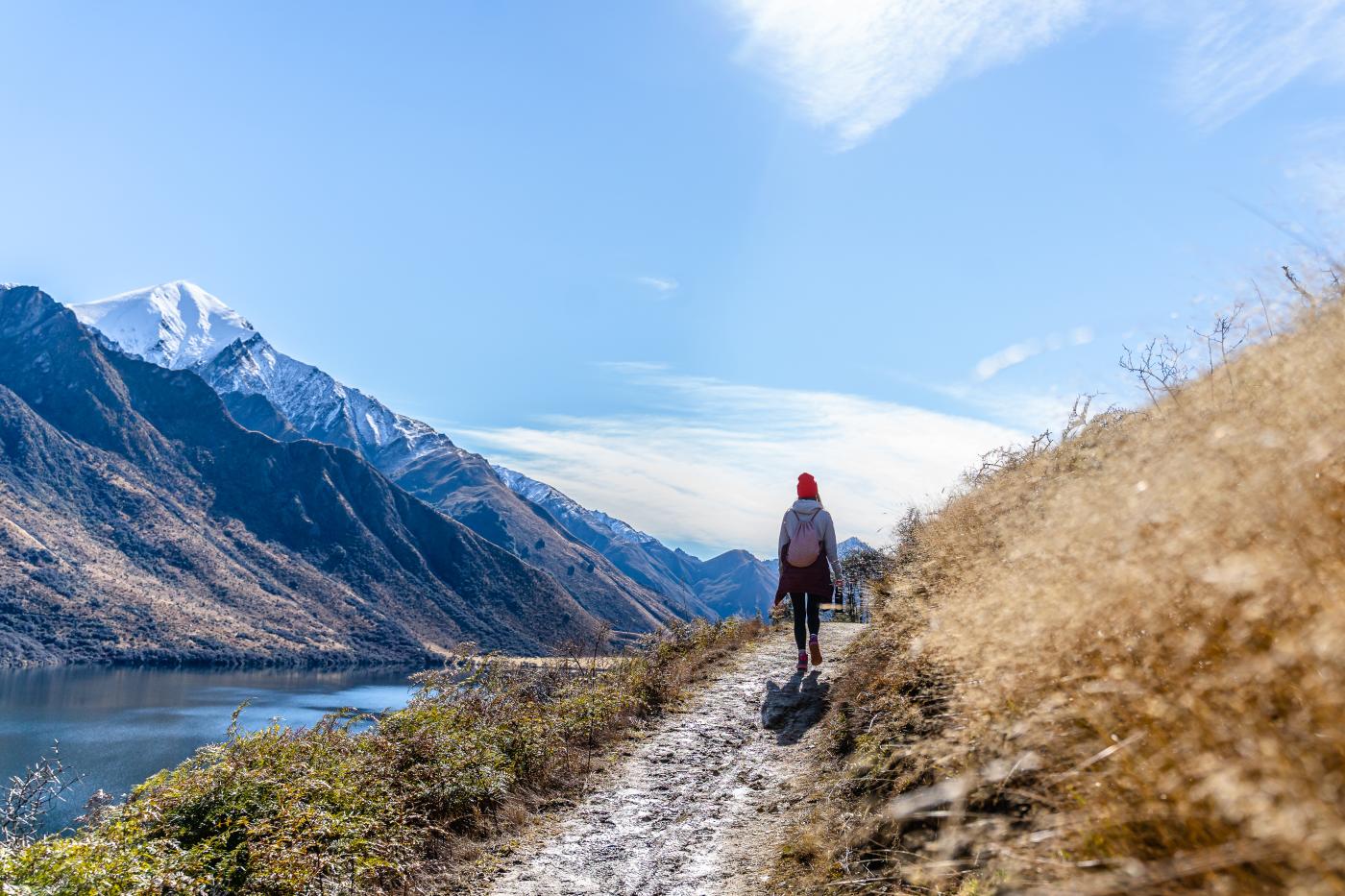 Moke Lake loop track
Queenstown to Gibbston
Gibbston is located a 30-minute drive from Queenstown's CBD and is known as the 'Valley of the Vines' due to the award-winning pinot noir produced in the area. Gibbston is the perfect place to visit for an afternoon of wine tasting, e-biking, a cosy long lunch by the fire, or simply to enjoy a bottle of the latest vintage.
There are numerous award-winning vineyards throughout the valley, with everything from intimate one-room tasting rooms to all-encompassing premises with on-site accommodation and restaurants. Local wine tour companies have a fantastic selection of tours to suit all tastes and timetables and are more than happy to create bespoke tours based on your group's preferences.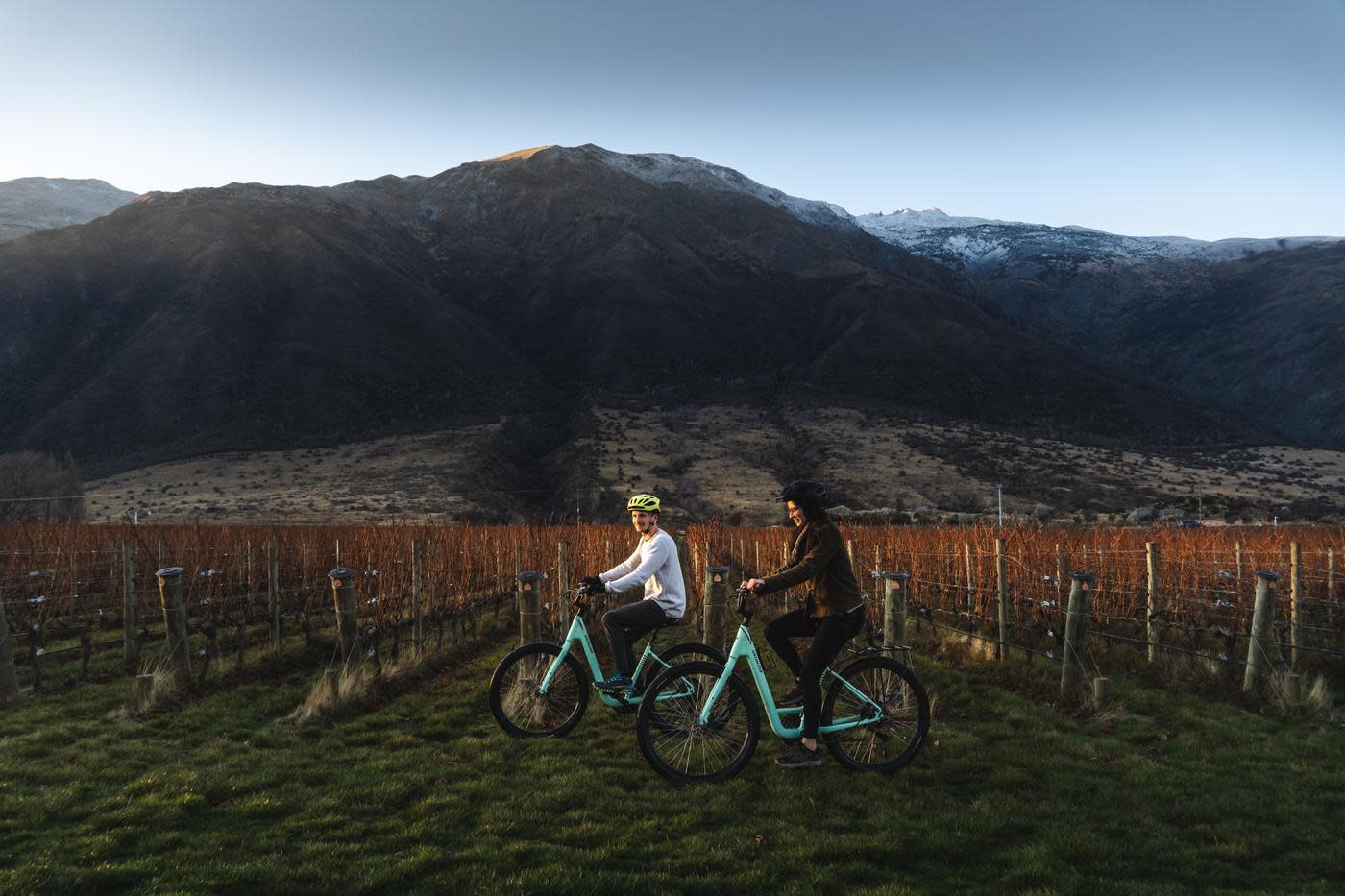 E-biking in Gibbston Valley