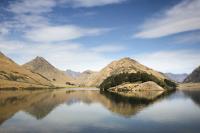 Moke Lake Loop Track
Located just a 15 minute drive from Queenstown, the Moke Lake Loop Track is a popular short, undulating walk and cycle track. The track takes you right around the edge of picturesque Moke Lake, through grassland and surrounded by towering mountains. After a short climb, you will be rewarded with a stunning view overlooking the lake.
Best time to go: Year round
Location: 15 minutes from Queenstown on SH6 heading towards Glenorchy by car.
Start/finish point: Moke Lake Reserve
Bike too? Yes: Intermediate Grade 3
Insiders tip: From Queenstown, drive along the road to Glenorchy for about ten minutes before turning off on the right for the road signposted 'Moke Lake Road'. You'll then drive up a steep and windy road before you reach an unsealed gravel road which you will drive along for about 8km, passing the smaller Lake Kirpatrick, before arriving at Moke Lake. Start your walk from the camping ground, crossing over a small wooden bridge heading toward the western side of the lake.
Moke Lake is a beautiful scenic spot off the beaten track, while still close to town. The stunning lake is framed by mountains and is a popular spot for walking, cycling, camping and in warmer temperatures, even swimming.
Before you head out into the beautiful outdoors, make sure you're prepared before you go by reading these tips on safely hiking in Queenstown.
Contact Us
Company:
Moke Lake Loop Track
Physical Address
Queenstown