As soon as you touch down, you'll understand why the local biking community is so passionate about mountain biking in Queenstown. There's three lift-assisted bike parks, Queenstown Bike Park, Coronet Peak and Cardrona Alpine Resort, a world-famous dirt jump park, and one of the most hard-core freestyle jump tracks in the world, right at your fingertips.
Here's five reasons why Queenstown is the ultimate mountain biking destination.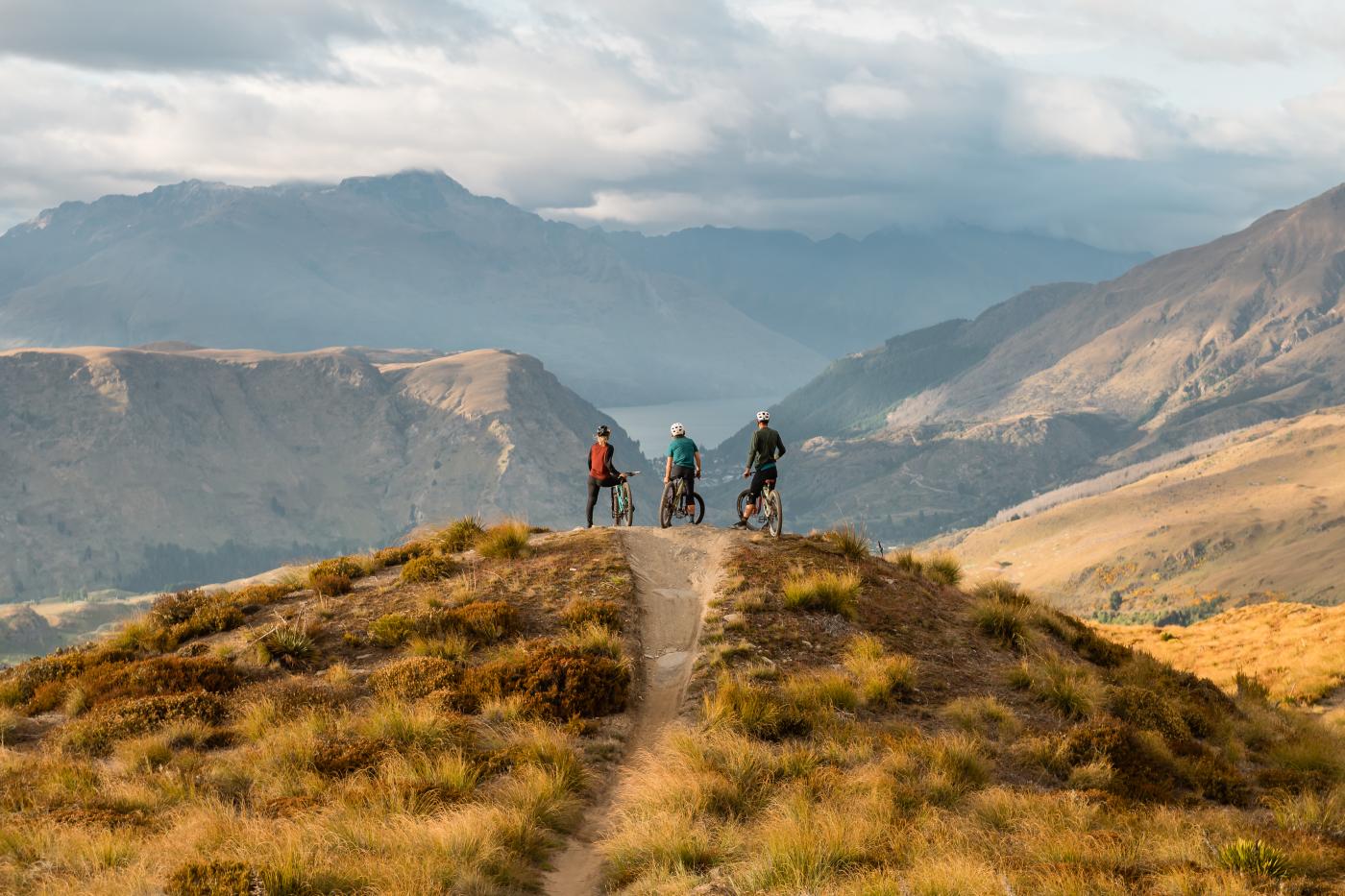 Epic views from Rude Rock, Coronet Peak
Queenstown's world-famous trails
Whatever your preferred MTB discipline, there's something for you. From dirt jumps at Gorge Rd to Wynyard's renowned Dream Track, and Queenstown Bike Park, the options are endless.
Cross country riders are well catered for with kilometres of single-track and 4WD trails starting right from the centre of town. The XC track at Coronet Peak has incredible views and the bike park at 7-Mile has a cross country network right next to Lake Wakatipu.
Infamous trails such as Rude Rock up Coronet Peak and the new McNearly Gnarly at Fernhill Bike Park are not to be missed during your time here. These flow trails are MTB perfection, with smooth single track, jumps and berms guaranteeing a good time. For adventurous riders, trails like Huck Yeah or Salmon Run in Queenstown Bike Park put your skills to the test.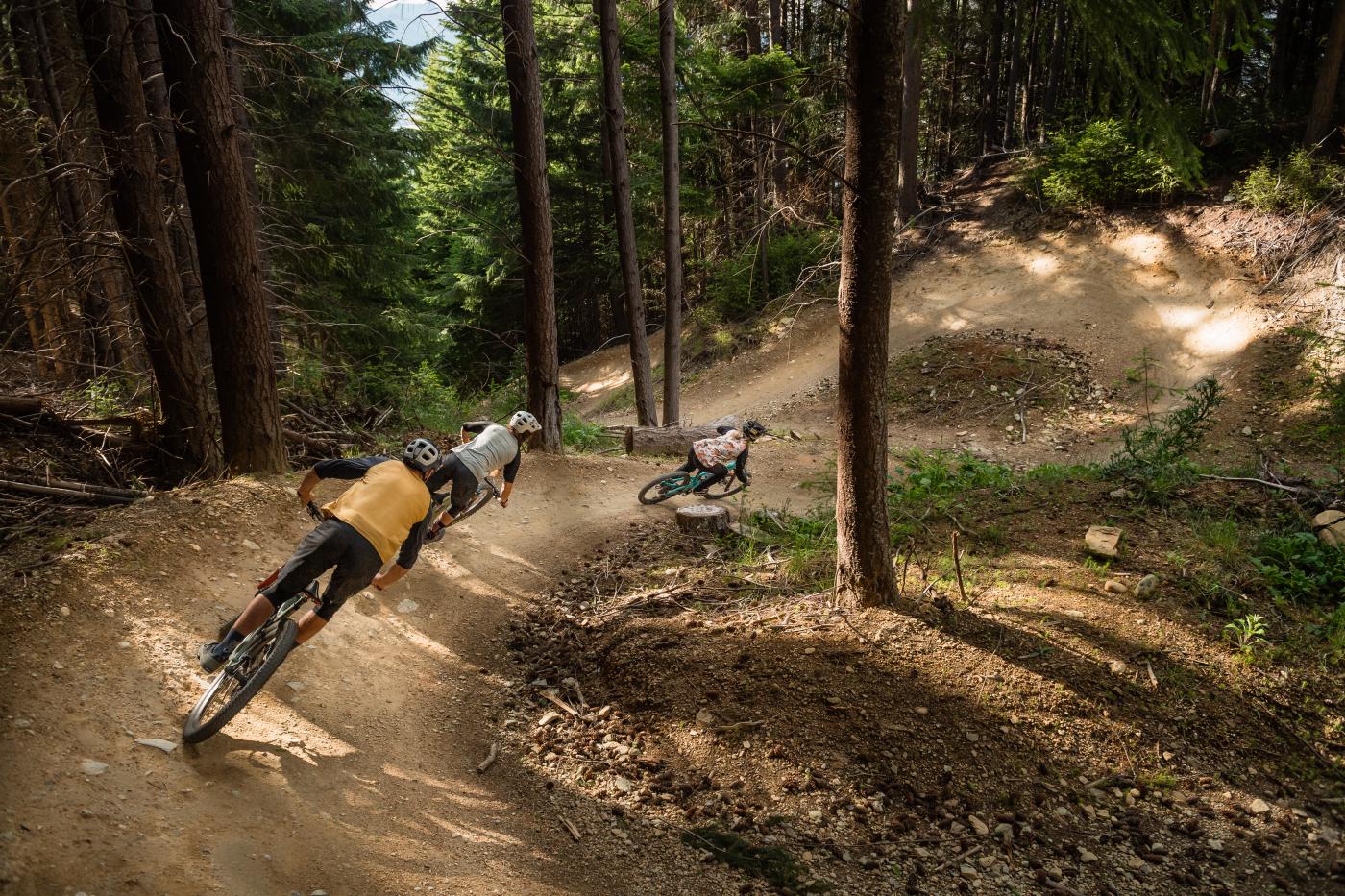 McNearly Gnarly, Fernhill
Ride with the locals
The Queenstown Mountain Bike Club is the heart of Queenstown's MTB scene. The club's volunteers are a passionate bunch who build and maintain the trails that make Queenstown famous, and if you bump into a club member they'll be more than happy to share their favourite trail with you.
The team at Atlas Beer Café are also staunch supporters of the local scene, and local bikers are often hanging out having a cold one after their ride. There's no doubt they'll be into having a chat, giving you some advice, or even inviting you along for a ride.
Top tip: download the QMTBC app for all the latest trail updates and some sweet local deals. Plus, you'll be supporting the growth of the trail network you love to ride, giving you that extra feel-good factor.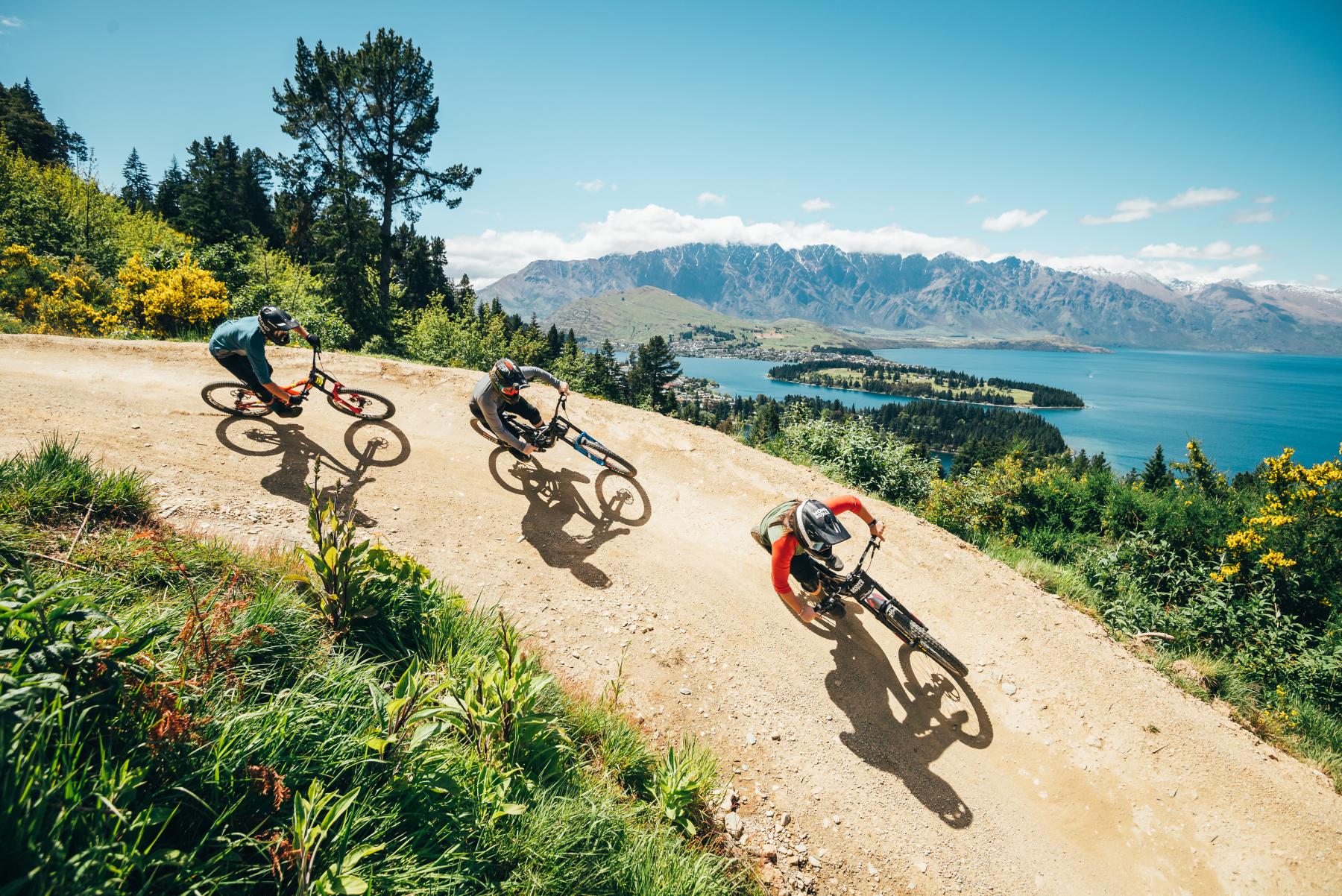 Queenstown Bike Park
Play where the pros play
Queenstown is a training ground for the world's best mountain bikers. Over the summer Queenstown is a hot spot for world class-riders like Loic Bruni, Finn Iles, Bernard Kerr, Ed Masters, George Brannigan and our very own Red Bull biker Remy Morton.
The pros steadily descend on the area around Crankworx in March, training before the event and hanging out afterwards. Stop by the Gorge Road dirt jumps or Dream Track and watch some of the world's best doing jumps and flips. If you're lucky you might even see Conor Macfarlane or Remy flying over your head upside down.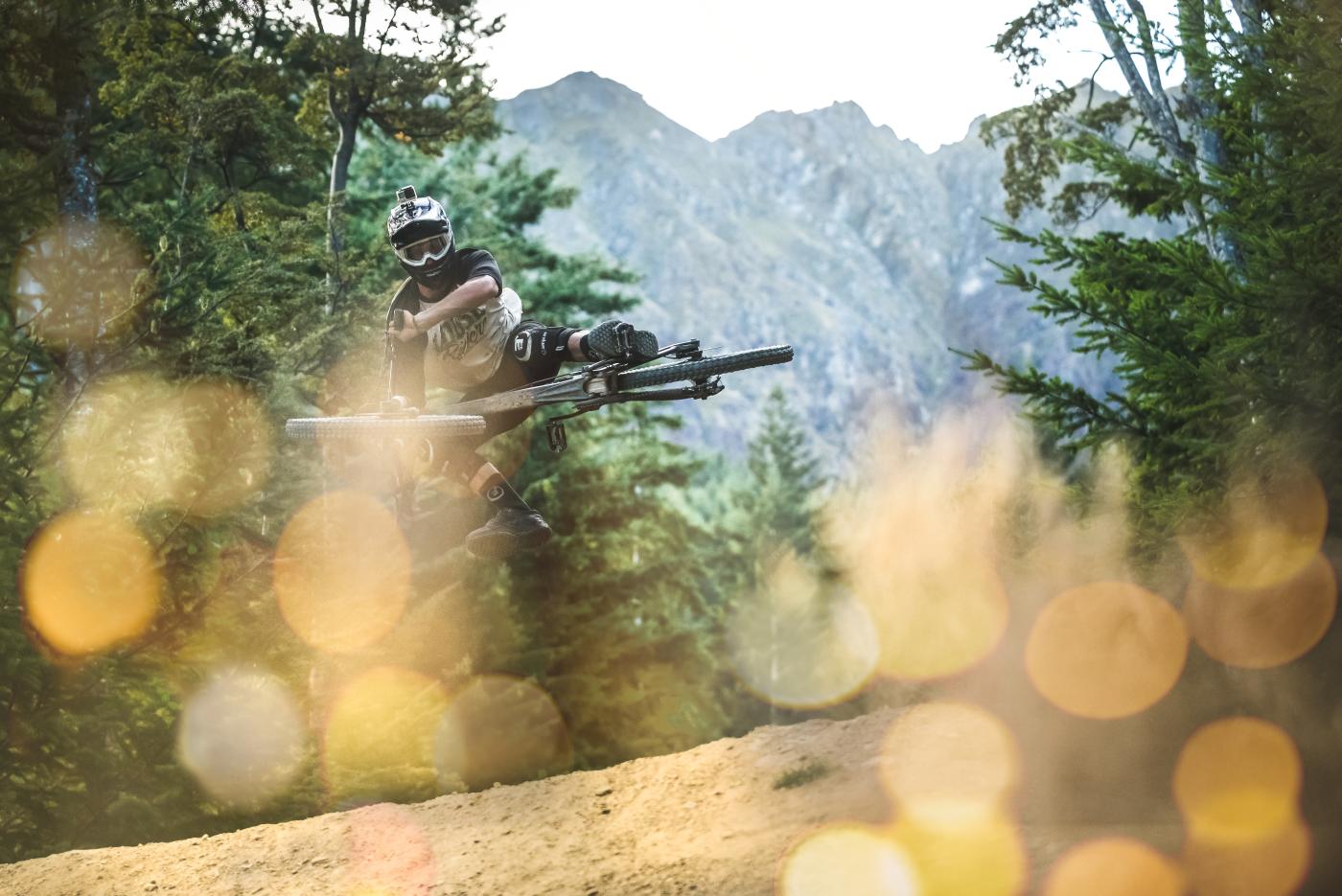 Dream Track, Wynyard Bike Park
Epic racing and local events
Queenstown hosts some of the greatest international riders for Enduro, XC and DH events. Events like TransNZ come to the area for multiple days of enduro racing and Queenstown also sets the stage for The Pioneer, a six-day race which takes riders through some of the best trails in the area.
But its not all about the international races, some of the smaller local events are just as epic. Vertigo Bikes run a summer downhill series of events, with at least one event on each month. In January, Queenstown's trails host McGazza Fest, a three day event celebrating the legacy of legendary local rider Kelly McGarry.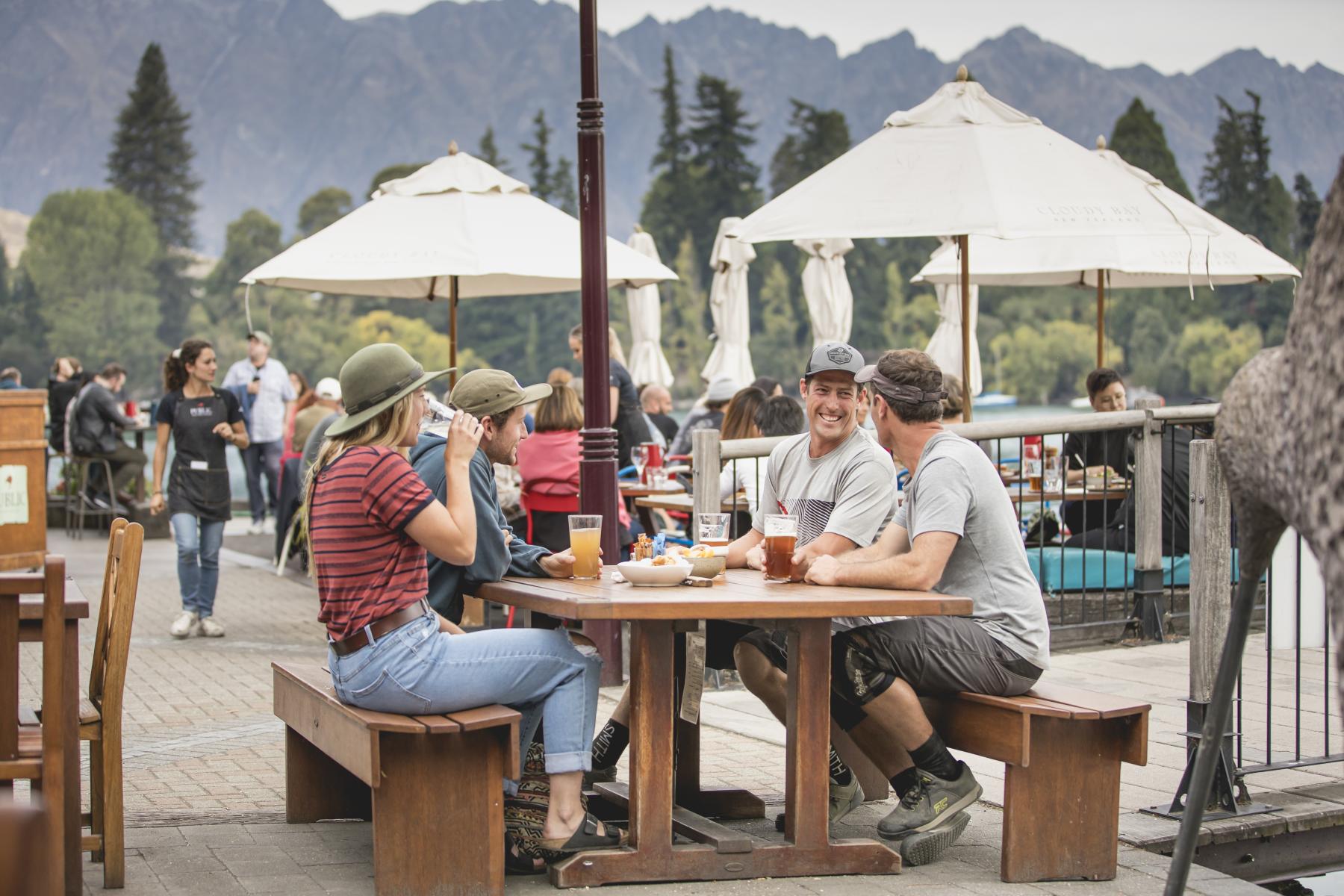 Atlas Beer Cafe
The après-bike scene
Arguably one of the best parts of riding in Queenstown is finishing with a refreshing swim in Lake Wakatipu and a beer at a local brewery like Altitude or Cargo. Just by looking at the bikes parked outside, it is easy to see where the popular watering holes for post ride refreshments are. 
Spots like Fergburger, Devil Burger and Taco Medic serve tasty takeaway food, perfect to enjoy on the lakeside.
Mountain bikers like to enjoy a bit of nightlife and the scene in Queenstown is always buzzing. You can go anywhere from a friendly pub to a world-class restaurant and then onto a heaving nightclub, the après ride scene never fails to deliver in Queenstown.