Home of New Zealand's most stunning fairways, Queenstown boasts eight spectacular golf courses, including four international championship courses and four experience courses. Host destination to the New Zealand Open, Queenstown offers an unparalleled golf holiday destination for players of all abilities.
Queenstown's championship courses Jack's Point, The Hills and Millbrook Resort (Coronet 18 and Remarkables 18) feature exceptional course design incorporating our majestic natural landscapes and spectacular scenery to create a stunning golf experience. Golf tours and packages can be tailored to the needs of small or larger groups.
Plan your golf trip of a lifetime with this guide to Queenstown's championship courses.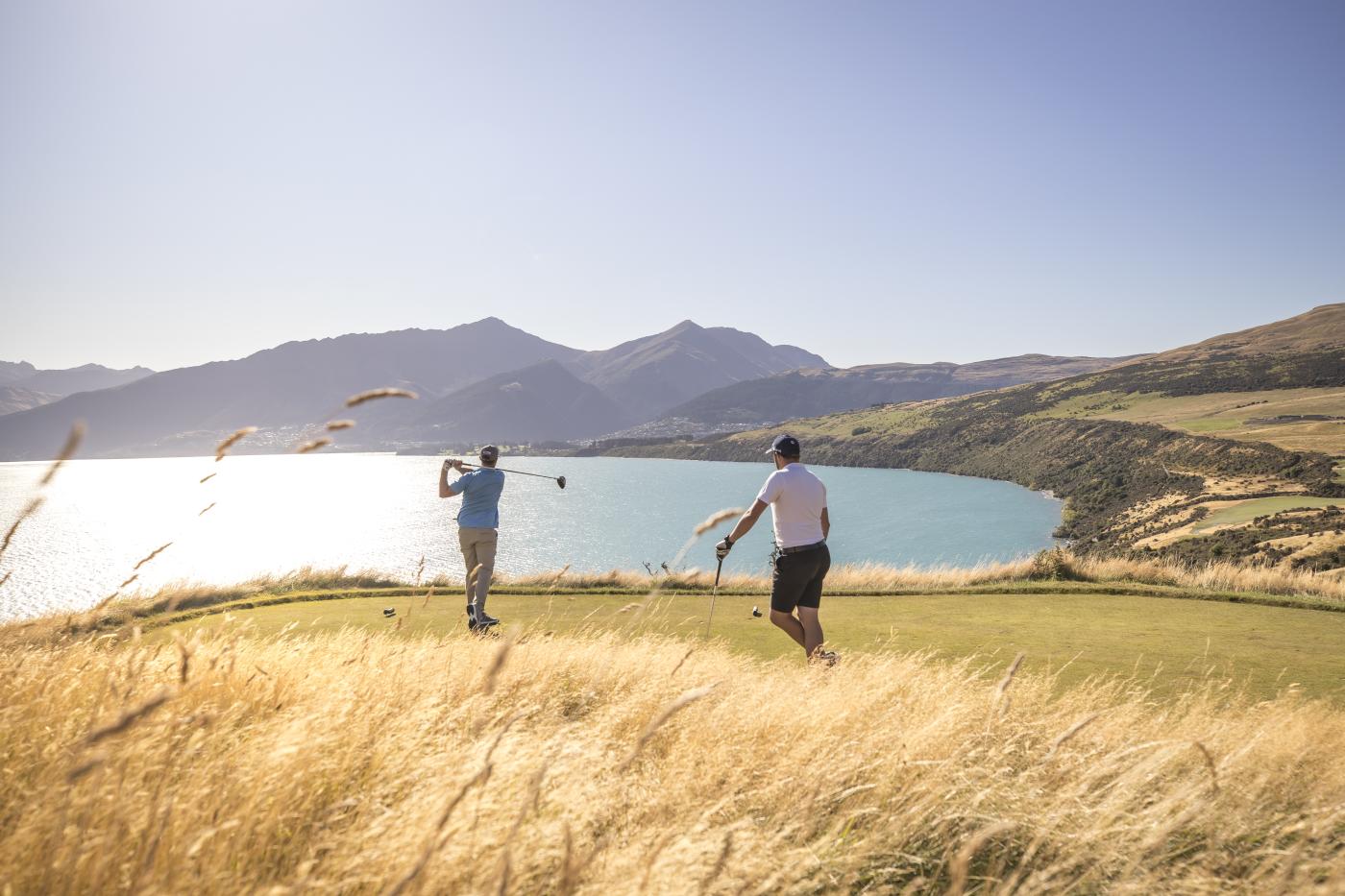 Jack's Point Golf Course
Jack's Point Golf Course - Ranks 2nd in NZ
Designed by John Darby, this 18-hole championship course has recently been ranked second in the list of the top 40 courses in the country by New Zealand Golf Magazine. The course's name is a subtle nod to Queenstown's gold mining history and is named after Jack Tewa, the first man to find gold in the district.
Jack's Point is gaining international recognition for its challenging layout and the spectacular environment which affords 360-degree views of the Remarkables mountains and Lake Whakatipu. The course steadily inclines through wetland, tussock, rocky outcrops and native bush before descending in the face of the Remarkables back down to the clubhouse.
The view from the seventh hole is particularly stunning, a 145 yard par 3 which will stop you in its tracks with the steep drop down to the lake, and the par 5 holes, 8 and 14 wind uphill with a blind shot to the greens making for an interesting play. As Peter Dawson, a Chief Executive of the R & A, said: "Jack's Point was simply unforgettable."
Every necessary facility is available from equipment hire, Pro Shop, practice range and putting green to the Jack's Point Clubhouse, a beautiful restaurant set alongside Lake Tewa again named for Jack Tewa.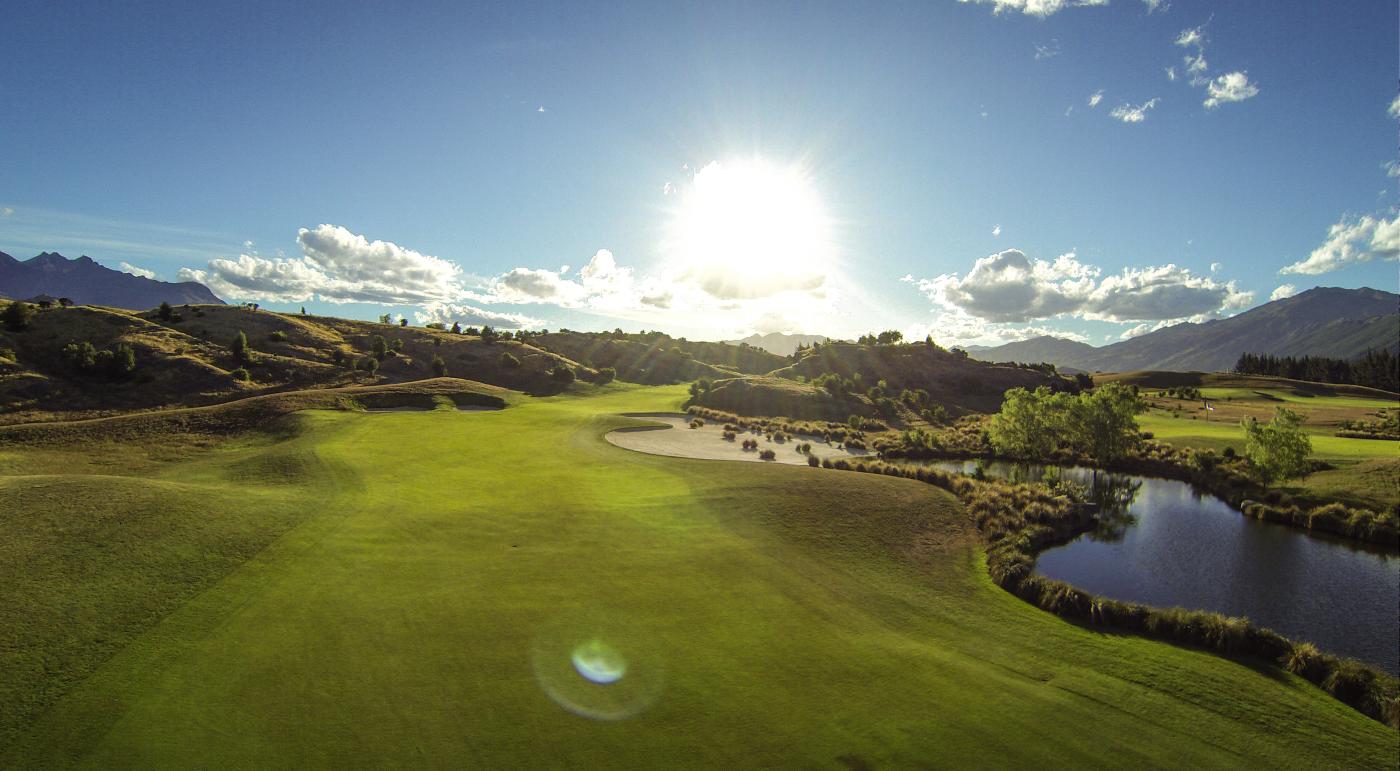 The Hills Golf Club 17th Hole
The Hills - Ranks 3rd in NZ 
One of the most unique courses in the world, The Hills is a genuine sculpture park as well as a world-class golf course and has previously co-hosted the NZ Open. The sculptures are a reflection of the vision and inspiration of jeweller Sir Michael Hill himself.
The Hills is golfing luxury with a superb layout designed by John Darby. Every hole has its own character and challenges. The 4th is a beautiful par 3 dropping down to a long green with bunkers left and water right. The 6th features a lake that is home to several magnificent Dragonfly sculptures by Mark Hill, and the signature 17th hole is a spectacular par 5 which rises through a canyon before you enjoy sensational views and an adrenaline rush 18th. 
Another attraction is the 9-hole farm par 3 course designed by Australian Darius Oliver which has been ranked in the 'Top 25 Par 3 courses' in the world. The landforms are spectacular and the 1st and 8th double green is the largest in the Southern Hemisphere.
Enjoy the outstanding practice areas plus the award-winning clubhouse, restaurant and bar.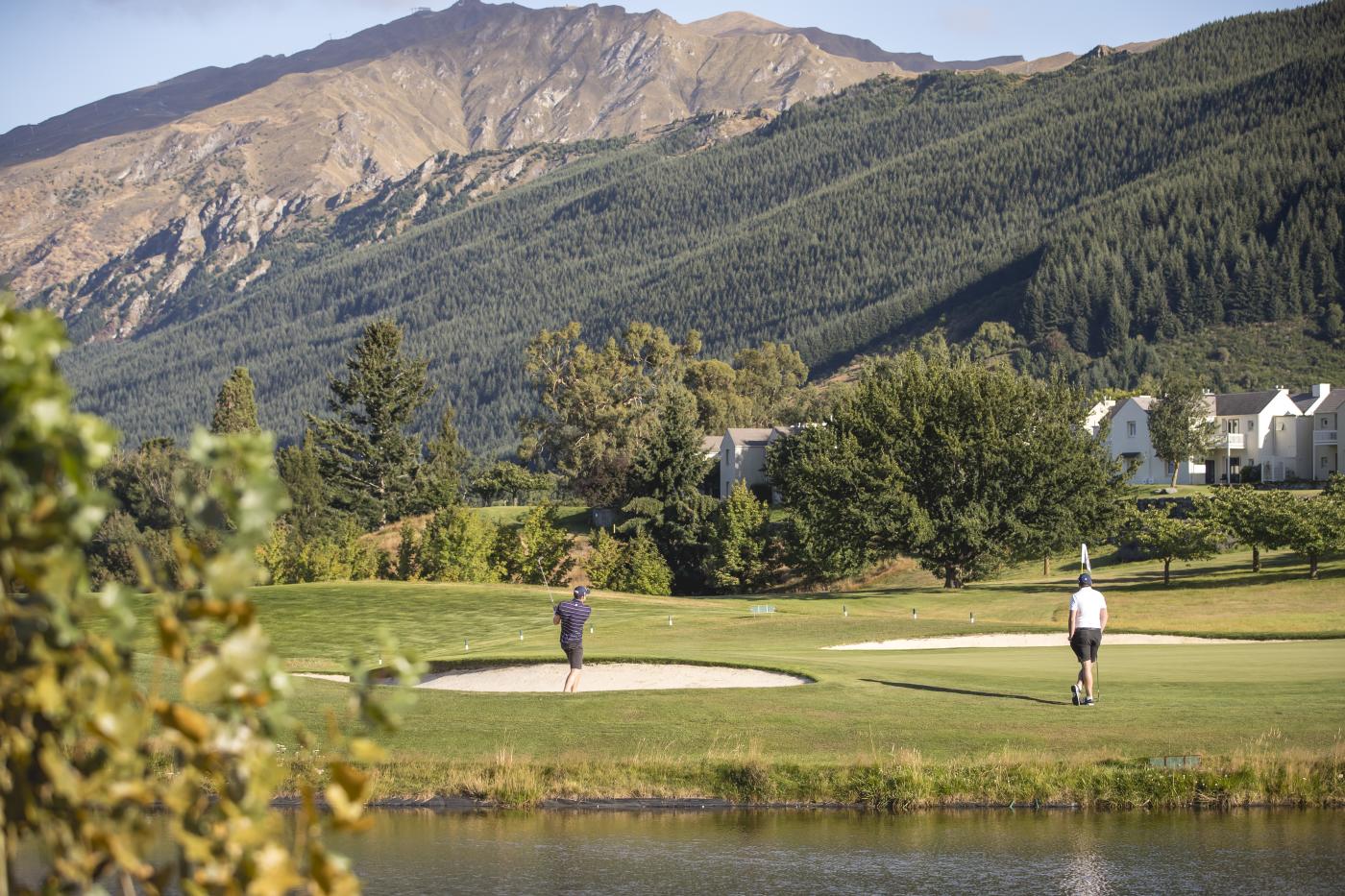 Millbrook Golf Resort
Millbrook Resort - 9th in NZ
Millbrook is one of the world's premier resorts with the finest services on offer to ensure a memorable experience for golfers and holidaymakers alike. Millbrook offers state-of-the-art facilities and a Pro Shop with the highest quality golf gear and clothing. Millbrook has been voted Best Golf Hotel at the World Golf Awards and named Oceania's Best Golf Hotel.
Designed by Sir Bob Charles, Greg Turner and Scott Macpherson, Millbrook Resort's two 18-hole championship courses, Coronet 18 and Remarkables 18, each feature five different tee positions for complete enjoyment at all levels of playing expertise.
Millbrook also has a number of award-winning restaurants, and spa facilities which make for the perfect post-game pit stop.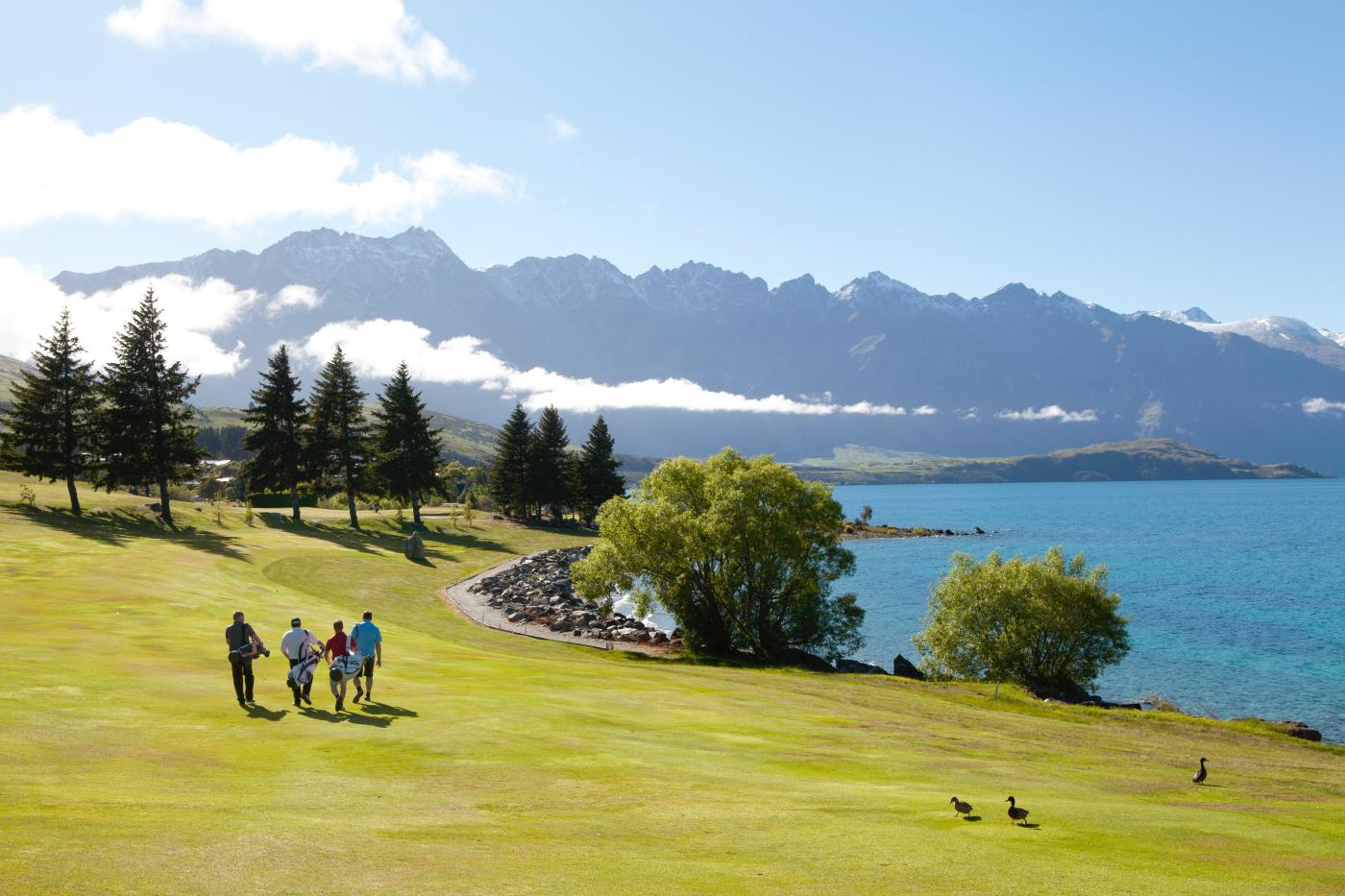 Queenstown Golf Club
Tee off beyond the Championship Courses
If you are looking for quality club courses the Queenstown (Kelvin Heights) and Arrowtown courses are highly rated.
Queenstown Golf Club is situated atop the end of Kelvin Heights Peninsula and is renowned for its stunning location, undulating land and several memorable holes.
Arrowtown Golf Club has earned the nickname "Narrowtown" because of several narrow fairways which meander through schist rock formations that can punish errant balls.
To top off the golfing experience, take off with an adventurous helicopter ride to the 20th hole, and tee off from a mountain top.
Take advantage of the golfing holiday packages on offer this summer, and make Queenstown your slice of golfing heaven for your next holiday.