Only a 45-minute scenic drive from Queenstown, this historic settlement and ancient Māori gateway to the West Coast is the perfect place to reconnect with nature - no matter your budget or level of fitness.
Here are some ideas on how you can create your perfect weekend itinerary by choosing from a wide range of distinct Glenorchy walks, activities, and accommodation.
Day 1 – Get to know Glenorchy
Your weekend adventure begins with a drive along one of the most scenic routes in New Zealand – the Glenorchy-Queenstown Road.  If you self-drive, make sure you stop half-way at the Bennett's Bluff Lookout to capture the most amazing alpine lake views capped by the Mt Earnslaw glacier. If you arrive late in the day or need to loosen those travel legs before your next activity, try a couple of easy Glenorchy walks.
The Glenorchy Lagoon Walkway is a flat and easy walk along a boardwalk that crosses wetlands filled with birdlife and offers spectacular views of Mt Earnslaw/Pikirakatahi and the surrounding ranges. And if you are not sick of driving, head 15 minutes out of town to the Diamond Creek Track for incredible views of the Rees and Dart valleys. Although it can get a little boggy in places, the Diamond Creek track offers a quick and easy option for immersing yourself in the natural surroundings. 
Make your first night extra special with a luxury lodge stay at Blanket Bay, situated in a secluded spot on the shores of Lake Whakatipu. In the heart of Glenorchy you'll also find the Glenorchy Lakehouse, a luxurious self-contained accommodation, plus other self-contained options including the Glenorchy Motel and Glenorchy bed & breakfasts. Pick up your dinner supplies from Mrs Woolly's Store or enjoy a hearty pub meal at the Glenorchy Hotel.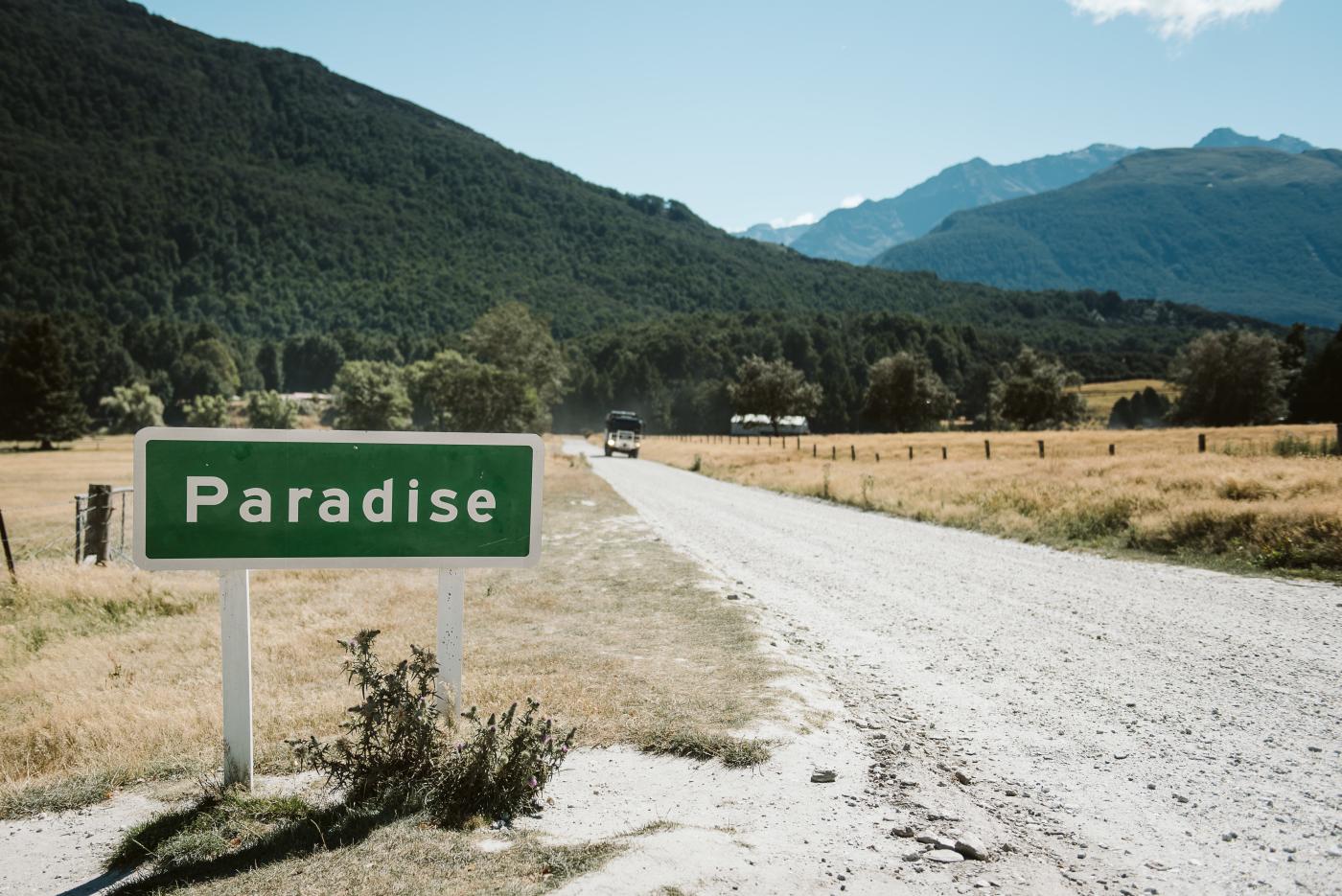 Paradise, shot by Queenstown Expeditions
Day 2 – Go off-grid
Unplug for a day and immerse yourself in the wilderness of Glenorchy. So many Glenorchy walks and adventure activities are easily accessible from the township, yet they seem far from civilisation. Spend the day exploring native beech forests, sparkling lakes, rivers and waterfalls, and iconic hiking trails in the mountains and valleys beyond. 
Glenorchy offers plenty of day-long activities designed to immerse you in the diverse outdoor scenery, Try hiking in the UNESCO World Heritage Routeburn Valley or get out on the water on a packrafting venture, which you can also turn into an overnight or multi-day wilderness immersion experience. Take to the skies on a heli-adventure, a thrilling helicopter ride over Glenorchy to the top of a mountain where you'll hike or bike your way back down. Even better, make this an overnight adventure and stay in an alpine hut on Mt Larkins with Mountainhut.
If hitting the trails is your thing, try the Mt Judah Track, which takes around 4-6 hours to complete and can also be explored by bike or on horseback. Experienced trampers will love the longer challenge of either the Scott Creek Track (approx. 5-7 hours return) or the Earnslaw Burn Track (8-12 hours return). These advanced tracks are steep, can be irregularly marked, and include river crossings, but the payoff is an incredible day in the wilderness.
Fuel up with a good breakfast at the Glenorchy Café and Bar and finish your day with a delicious meal across the lake from Glenorchy at the historic Kinloch Lodge, which also offers variety of accommodation options to suit all budgets, including EcoScapes. These passive cabins have been constructed using green building technology and designed to blend with the environment while offering total comfort and luxury.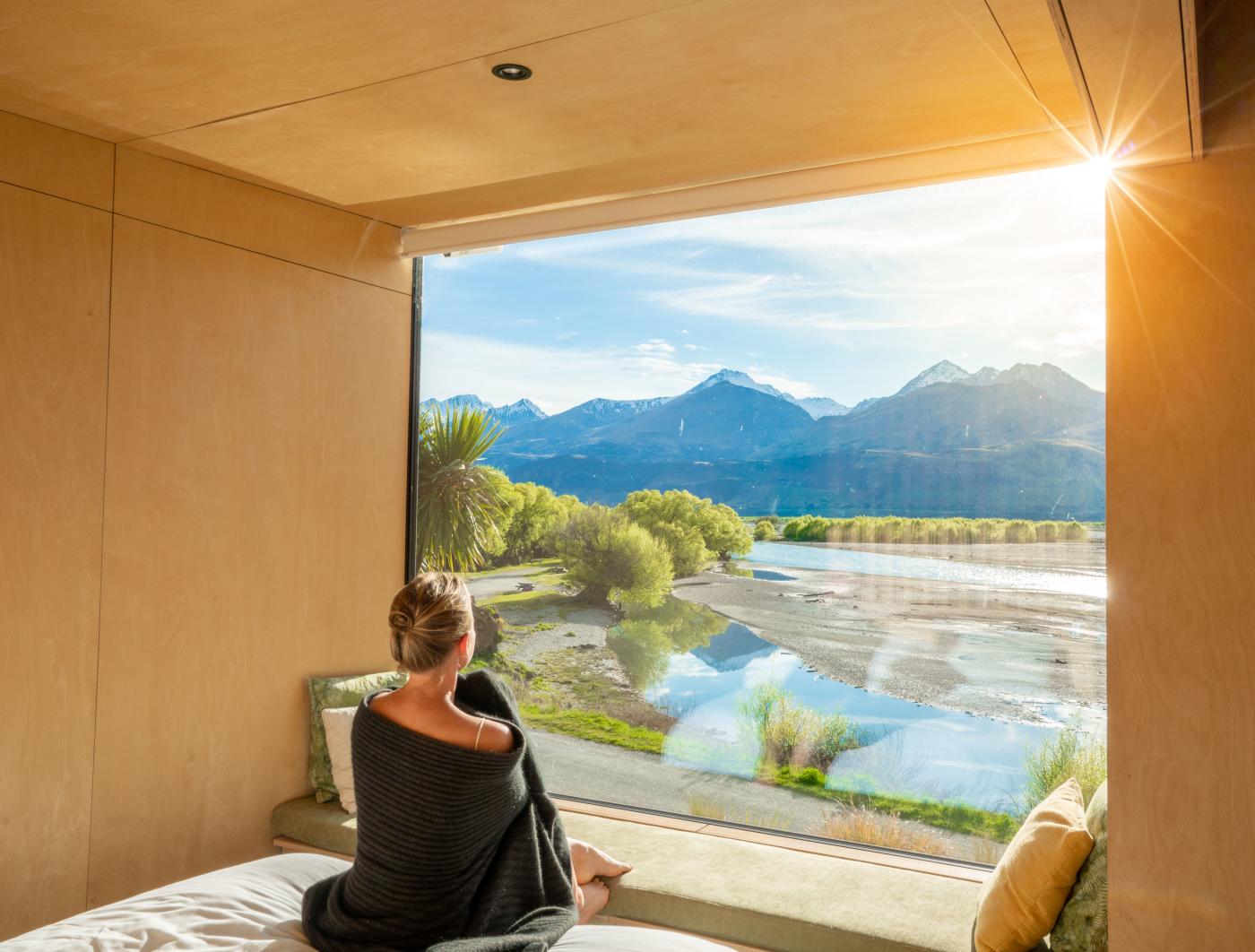 EcoScapes at Kinloch Wilderness Retreat
Day 3 – Maximise your last full day
No matter your timeframe, you can make the most of your last full day with some short but challenging Glenorchy walks or adventure activities. Catch your dinner on a guided fishing trip or earn it with a hike to Glacier Burn Track, which takes approximately 4 hours and climbs 506 metres in 3km for an incredible view over Glenorchy's vast and wild backyard. 
Grab some lunch then jump on a jetboat to explore the Dart River in a half-day adventure that takes you deep into the Mt Aspiring National Park and includes an easy hike through ancient beech forests. If you have time, turn this into a jet boating and kayaking combo with a funyak experience. Or stay on dry land with an epic horse-riding adventure. If you'd rather wind down for the day, hire some fishing gear and try your luck along the lake, or stroll along to the Glenorchy Golf Club and give the 9-hole golf course a go.
Stay in Glenorchy at the The Headwaters Eco Lodge, a Net Positive Energy Accommodation provider with options from luxurious eco-cabins to backpacker style bunks. Or treat yourself to Paradise, a 300-acre property run by the Paradise Trust, recognised for outstanding heritage significance and unspoilt natural beauty complete with a number of accommodation options.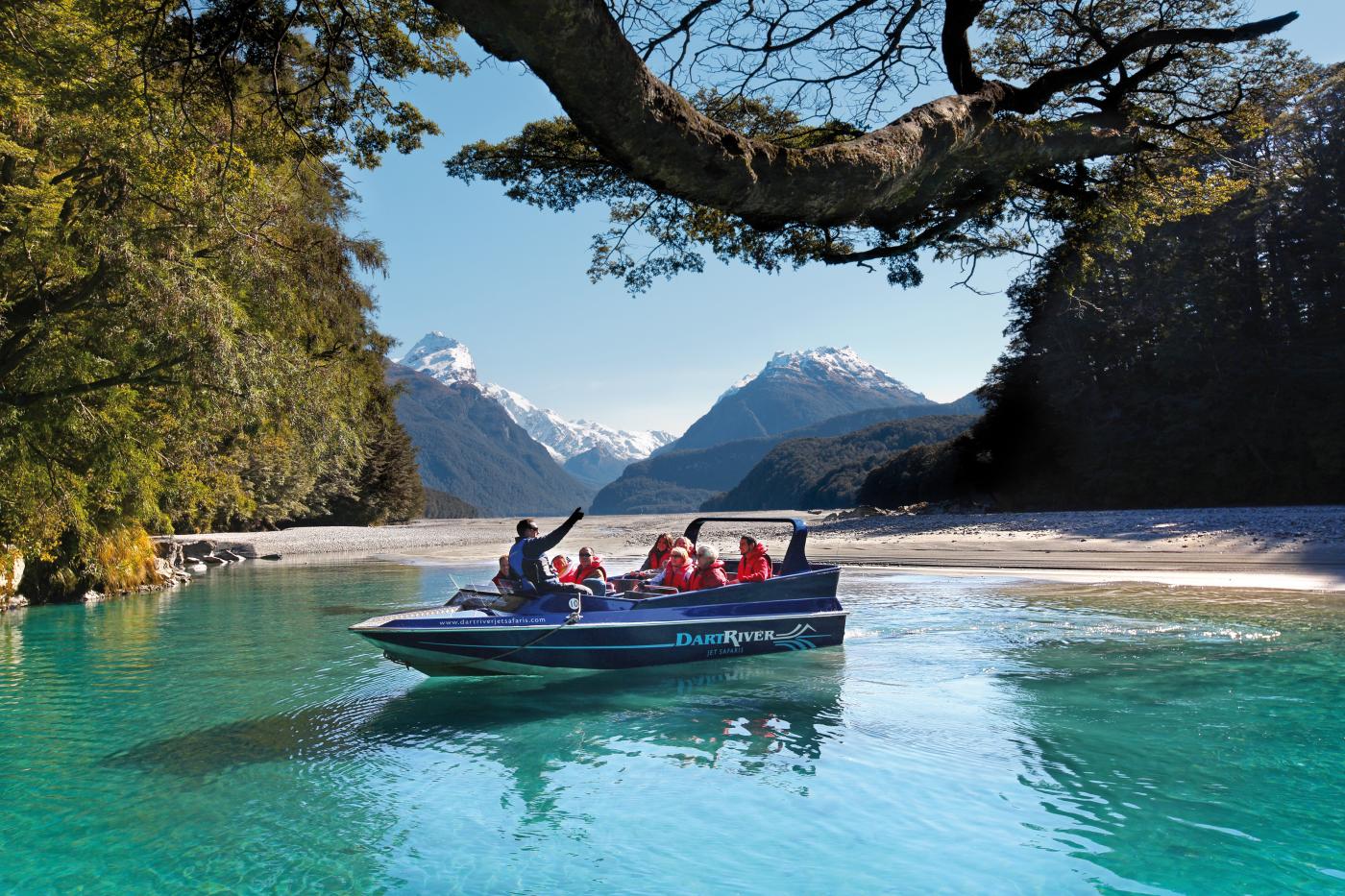 Jetboating with Dart River Adventures
Day 4 – A last glance at Glenorchy – or should you stay a little longer?
Enjoy a delicious breakfast then take a last look at the wildly beautiful Glenorchy landscape with a scenic flight or helicopter ride. Local operators such as Heli Glenorchy specialise in Glenorchy flight-seeing experiences. Or, walk-off breakfast with a short but steep hike on the Invincible Gold Mine Track, a relatively easy hike that can be done within 3 hours, leaving plenty of time in the day for other activities or travel.
If you are just starting to settle into your Glenorchy experience, why not extend your stay and tackle one of the spectacular multi-day hikes that are available just a short drive from the town?  New Zealand's best known, multi-day hike, the Routeburn Track is listed by Lonely Planet as one of the 'best hikes in the world' and recognised as one of the nine Great Walks in New Zealand. You can also explore the spectacular Te Wahipounamu World Heritage area on the advanced Rees-Dart Track or the intermediate level Greenstone and Caples Tracks.
Saying goodbye to Glenorchy won't be easy as it's a gateway to so many incredible activities and adventures.