If you are keen to stray off the beaten track, there are endless backcountry options surrounding Queenstown making it a prime destination for ski-tourers and splitboarders alike. Whether you are looking to take your first uphill steps, or you are a seasoned pro searching for your next big adventure, you are well catered for.
Read on for an overview of ski touring in Queenstown, local guides, planning tips and trip inspiration from local tourers.
Ski touring 101 
Ski touring and splitboarding provide access to remote, backcountry terrain and untouched powder. By using skins and special bindings, you can walk uphill and then switch to anchor your heel to ride down the slopes.
Touring is not for those learning to ski or board. In its most basic form, it demands an advanced skiing ability and an in-depth understanding of snow science and avalanche safety equipment.
If you are considering going backcountry, we recommend you book a local ski touring guide. You can learn more about the basics in this introductory piece by Queenstown Mountain Guide, Mike Madden here.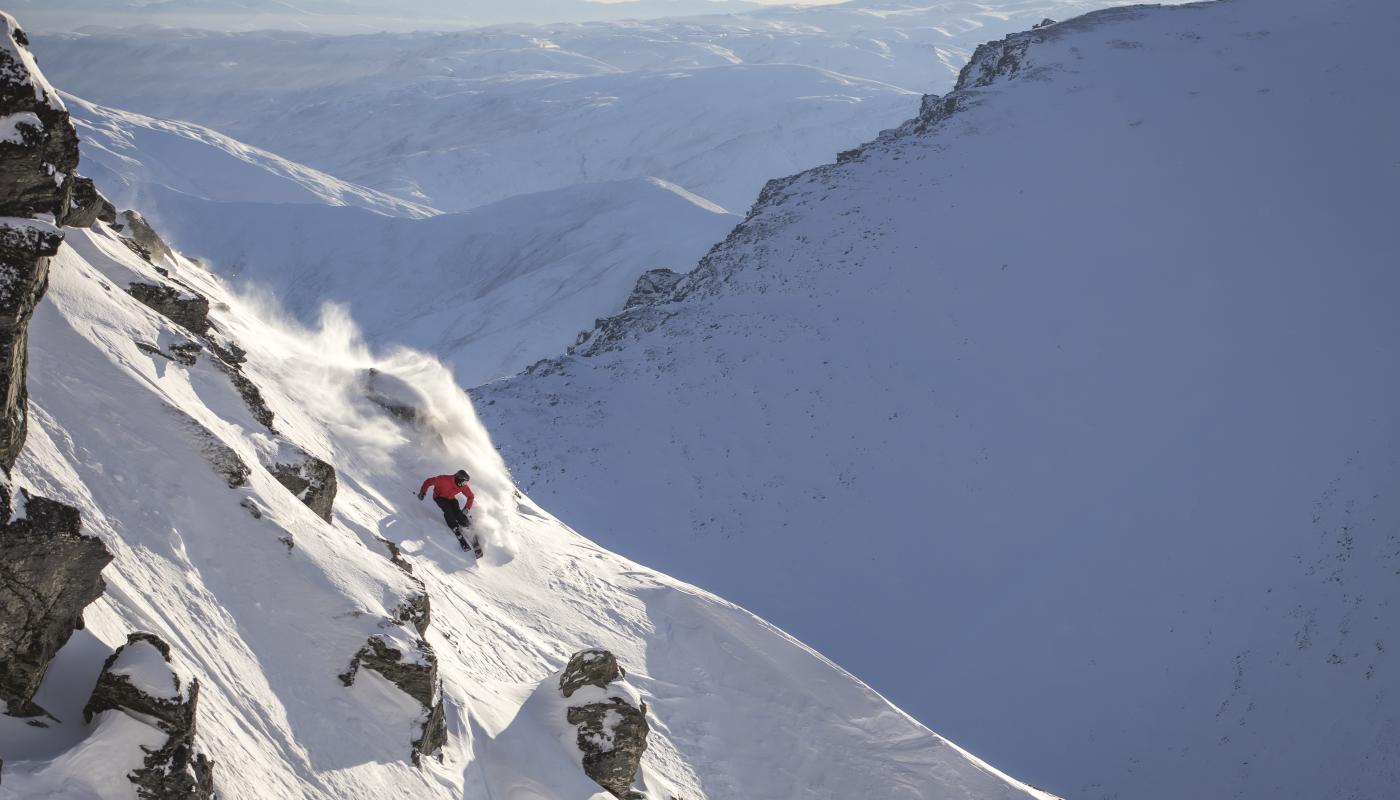 Why Queenstown? 
Queenstown is nestled in the Whakatipu Basin surrounded by a breath-taking, mountainous landscape. Due to its position and terrain, the region provides a wealth of ski touring opportunities and is the perfect base for your next expedition.
As the largest town in the Southern Alps, Queenstown boasts an extensive range of restaurants, gear experts, ski shops, guiding companies, ski resorts, heli-ski operations, and bars (important for celebrating your latest and greatest ski touring success).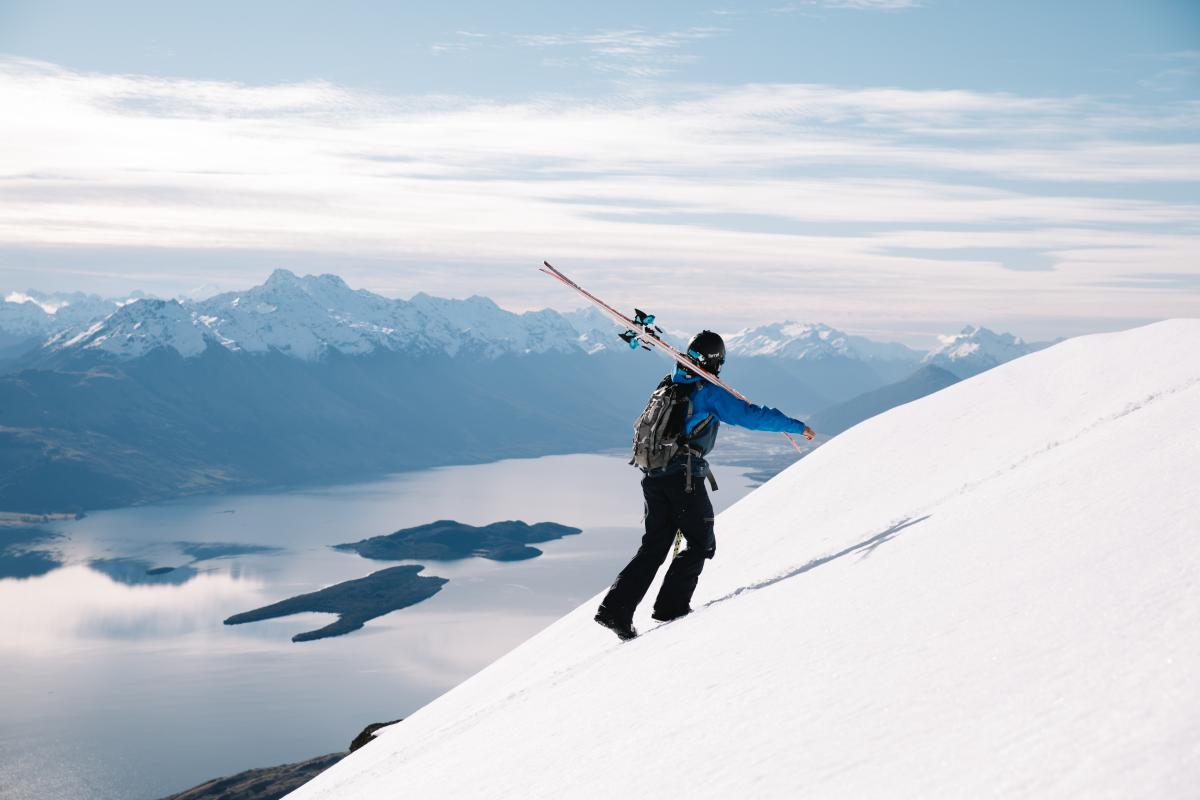 Insider's guide to Queenstown's backcountry 
After some ski touring inspiration? We checked in with some local legends and here some ideas you can pencil into your logbook this winter. 
1. Guided Ski Touring & Camping Experience: Mt Larkins with Dan Kelly:
Mt Larkins lies in the stunning mountain ranges between Queenstown and Glenorchy. The serenity of this remote location is inaccessible to most, but through mountainhut.nz, you can access an incredible ski touring and glamping experience.
A helicopter from Glenorchy will drop you, your gear and your friendly guide out to Mt Larkins where you will settle in and get organised for your first day of touring.
With terrain that varies from medium angle to steep, this is a great choice for advanced ski tourers. Your guide will cater the runs to the fitness and ability of your group, pacing you through the day. A night, you will cosy up in the hut which sleeps six people for a hearty dinner and glass of wine. Tired legs make for a deep sleep, ensuring you're all set for the next day of touring, before returning to civilization.
2. The Remarkables Backcountry with Queenstown Mountain Guides:
Queenstown Mountain Guides' tour begins with a skinning ascent to the ridge line above The Remarkables ski field. From the ridge's high point, we take in the immense views and spot the multiple possibilities for an epic descent. On a clear day, you can admire the giants of the Southern Alps such as Tititea Mt Aspiring and Aoraki Mt Cook.
The crew refuels and transitions to downhill mode – now it's time for our reward. In the coldest parts of winter, we will be skiing untracked powder while in the spring, our search switches to the sun-softened 'corn'- it's all about good skiing and fun!
Heading out with a guide will help you make the most of your day, accessing the best runs and keeping you safe in this mountain playground.
3. Coronet Peak Slackcountry with Natalie Reeves:
Natalie Reeves lives in Arthur's Point and works a stone's throw from Coronet Peak. Her favourite way to start the day is ski-touring up Coronet's Sarah Sue piste with a head torch before dawn, to watch the sun rise over the Whakatipu Basin. It keeps her ski legs ready for the weekend and injects a pinch of adventure into an otherwise routine workday. Click here to check out Coronet Peak's advice on ski touring Sarah Sue.  
The back bowls of Coronet hold more excitement yet - the official launch pad for the Manu Whenua Traverse which takes tourers all the way to Treble Cone. More information about the traverse and the Mountain Turk project set up by Arrowtown local, Erik Bradshaw can be found here.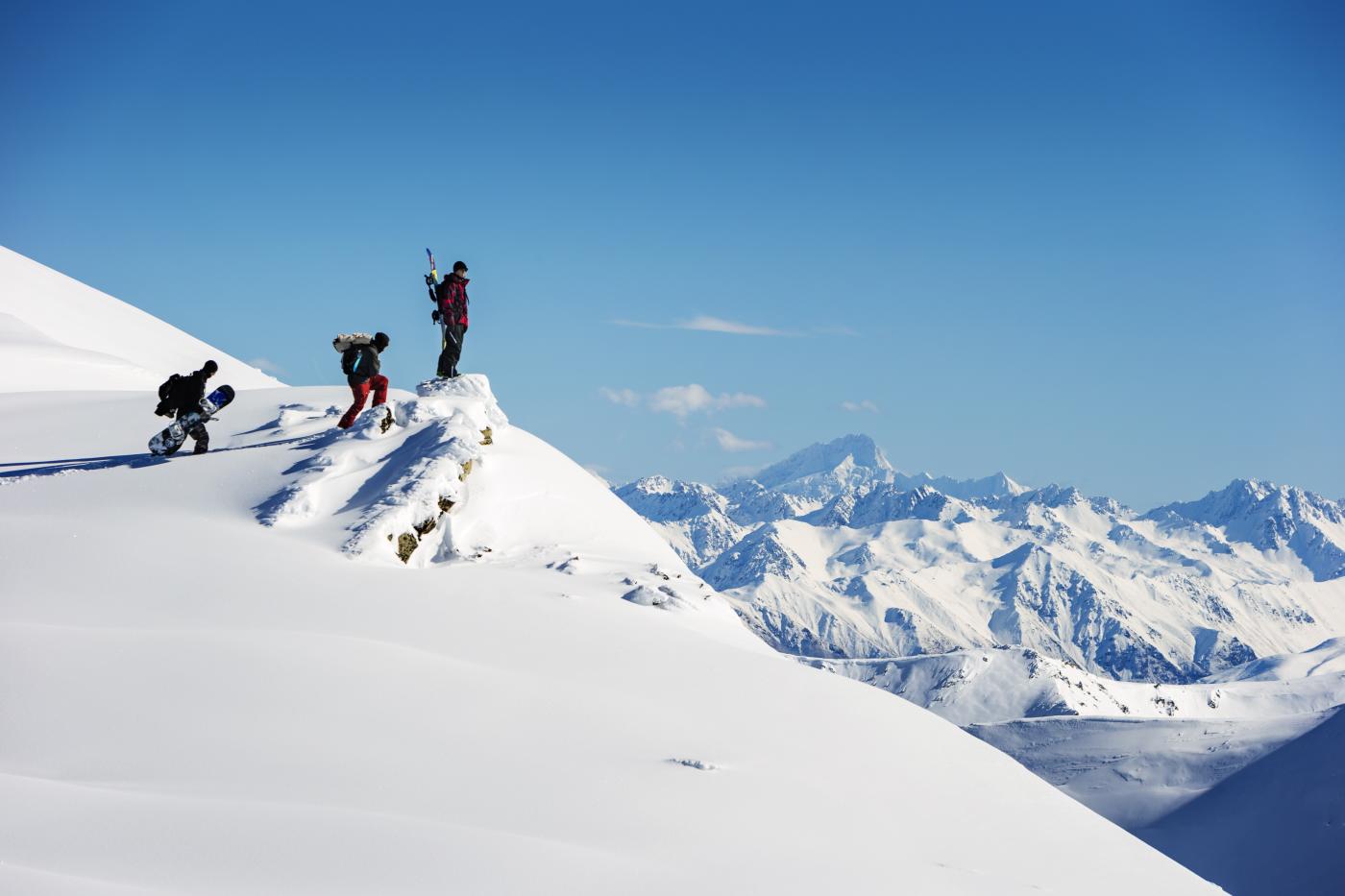 So, you're planning a backcountry trip? 
Snow conditions, weather conditions, gear, route planning, group dynamics and communication are just some on the considerations before embarking on a backcountry trip. 
More information on planning a successful backcountry experience can be found here. We highly recommend you hire a guide to ensure the best (safest) trip ever!