Planning a first time family skiing holiday? Then Queenstown is your ultimate destination with a great range of accommodation, beginner lessons, learners slopes, and plenty to do for the kids off the mountain! With four family ski resorts within a 90 minute drive, Queenstown is the perfect place for a family snow holiday in New Zealand.
Here's how to plan a fun family ski holiday in Queenstown.
Find a great place to stay
Queenstown has accommodation to suit all groups and requirements, from the ultimate in luxury, to the comfortable basics. If you plan on skiing at Coronet Peak, you can easily access the base building within a 20-minute drive of downtown Queenstown or Arrowtown. For those who want to be even closer to the ski field, there are hotels, holiday parks, serviced rentals and B&B's located in Arthur's Point, only 15-minutes away.
Those who want to be located close to The Remarkables Ski Area might consider staying in holiday rentals at Jack's Point or Hanley's Farm, or choose from hotels or holiday rentals in Kelvin Heights or Frankton. If your preference is to stay in town, The Remarkables is easily accessed within 40-minutes.
Cardrona Alpine Resort is just over an hour's drive from downtown Queenstown and Treble Cone is an easy 90-minute drive from Queenstown. For those who want the full on-mountain experience, Cardrona Alpine Resort has on-mountain accommodation.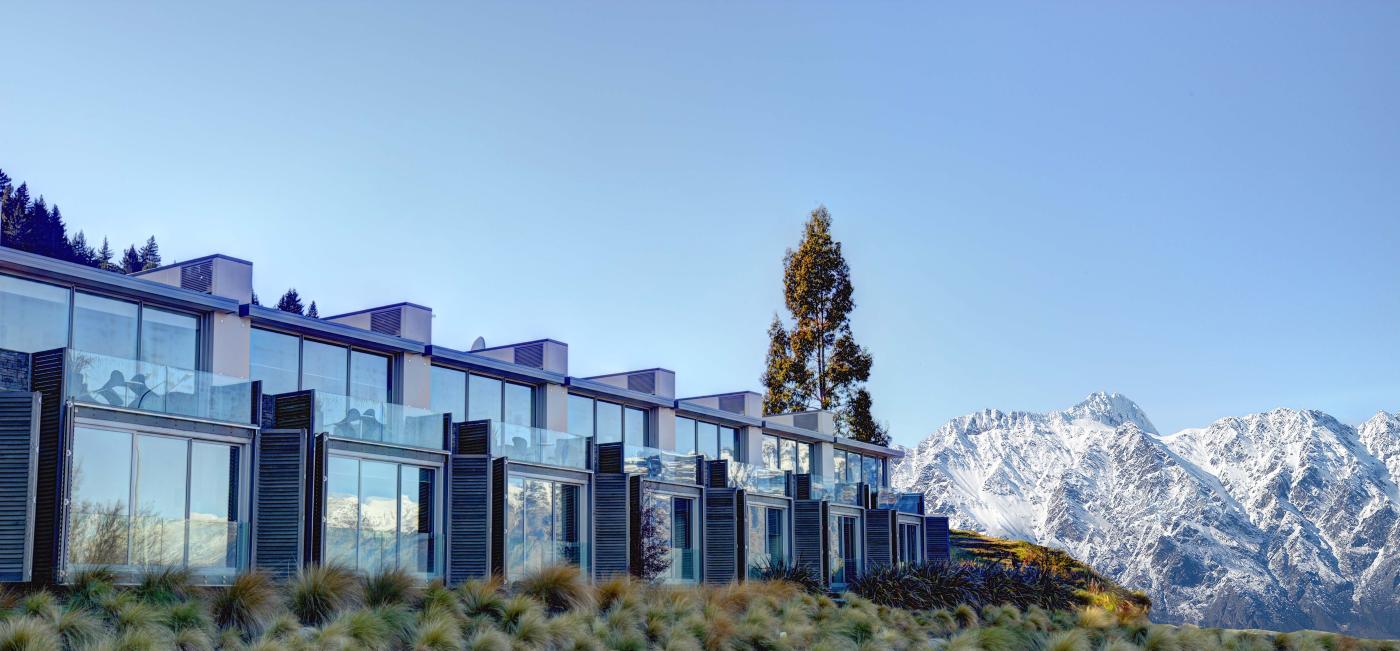 Pounamu Apartments, Queenstown
Get the gears or hire on the hill
When you're learning to ski or board, it can sometimes feel like you spend more time falling over in the snow than you do actually standing up. This means that having the right gear is really important. Make sure you select the correct type of skis or board for your level, and have them set up by the team on the mountain or at the hire shop for your experience level. Ski hire stores have expert fitters who will make sure you have the right gear.
It's also important to wear thermals under your ski gear and ensure your outer layers are waterproof. Being cold and uncomfortable will wear down your patience levels and can make it harder to learn to ski. You can hire or buy your full ski get up on the mountain or at one of the fantastic stores in central Queenstown or Frankton. It's all part of the experience.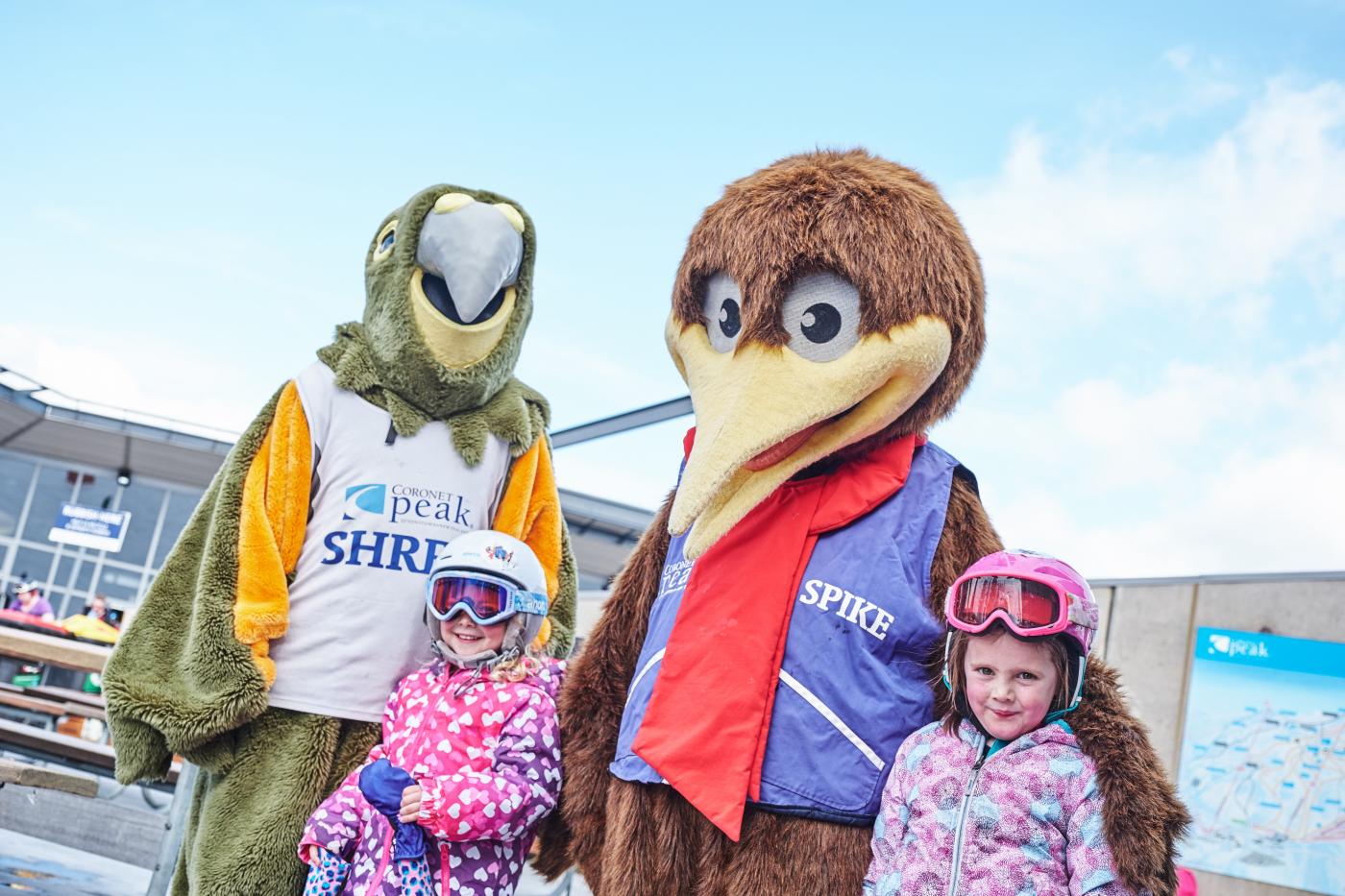 Spike & Shred, Coronet Peak
Organise your transport in advance  
The last thing you want to worry about when you're busy getting the family dressed and fed, and packing the gear for a day on the mountain, is actually how you're going to get up the hill. Make sure you have an easy way to get to the ski fields organised in advance, whether you book a shuttle, taxi or bus up the mountain or you hire a car for your holiday.
You can get to the four ski fields via daily scheduled shuttle and bus services that stop at popular hotels throughout town. These need to be booked in advance to secure your spot.
Queenstown also has plenty of car hire companies and hiring a car can give you more flexibility. Be sure to hire chains with your car hire, the weather can change quickly up the mountain and it is important to carry chains with you at all times.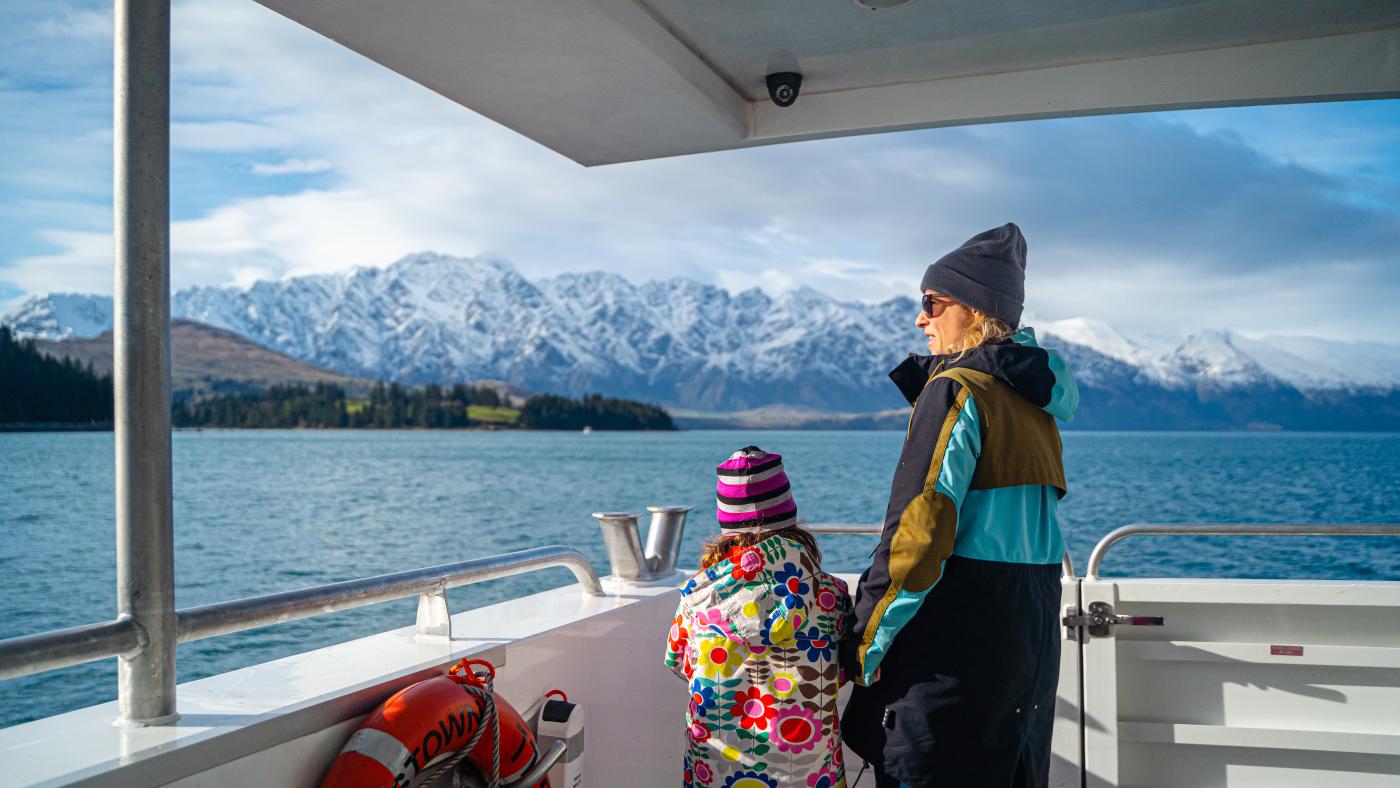 Scenic winter cruises with Southern Discoveries
Plan your Day off activities
Skiing can be tiring, especially for beginners and littlies, and breaking up the days on the mountain with other activities around town is a good idea. Plus, there are so many activities to enjoy in between days up the hill.
Take in the beauty of Queenstown from the lake on a scenic cruise, or take the gondola up Bob's Peak and enjoy the panoramic views over Queenstown at the top. While you're up there kids over 6 years old can race the rest of the family down the hill on the luge or even go zip lining. At the bottom of the Gondola, you can visit the Kiwi Park, learn about endangered native wildlife and even see kiwi in real life.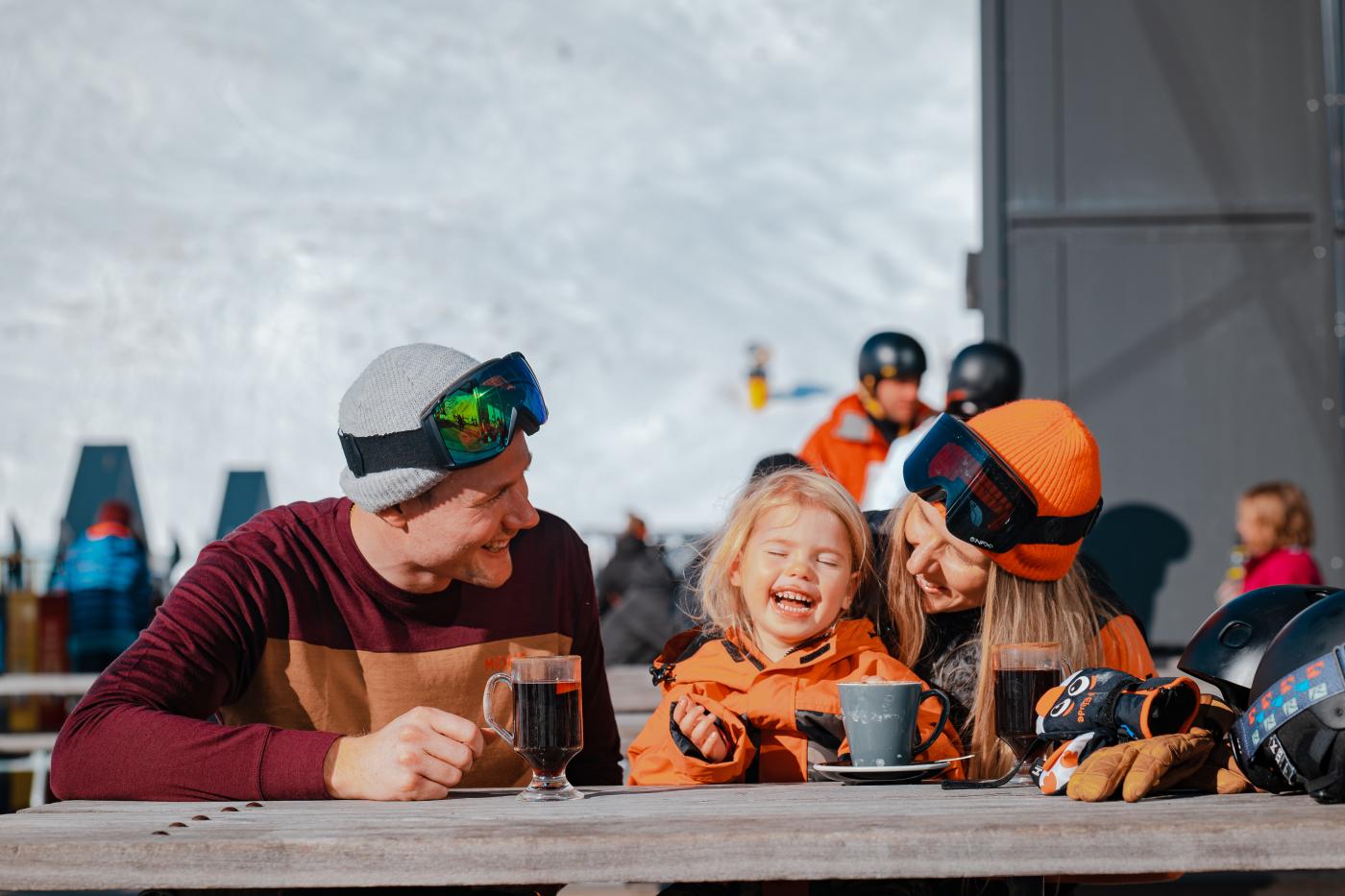 Family enjoying hot drinks at The Remarkables 
Pack a lunch or enjoy on-mountain cafes
Skiing burns up a lot of energy so having plenty of snacks and stopping for meals is really important. You can stop in at one of Queenstown's local supermarkets or bakeries and pack your lunch to enjoy up the hill, or visit one of the many on-mountain cafes, there's lots of delicious food to enjoy.
All four ski fields have a great selection of restaurants, bars, and cafes on the mountain, with a range of tasty food options available.