Queenstown is famous for its spectacular skiing, but there's so much more you can do here in winter. So, stay longer to experience all Queenstown has to offer, both on and off the slopes. Explore the region's hidden gems, go deeper, and return to 'real life' refreshed.
In this six-day itinerary, we've grouped suggestions by theme and proximity, so there's no rushing around, just leisurely exploration by EV, bike, or on your own two feet. Take it slow, connect with the land, with the people, and live like a local. You're on Queenstown time now.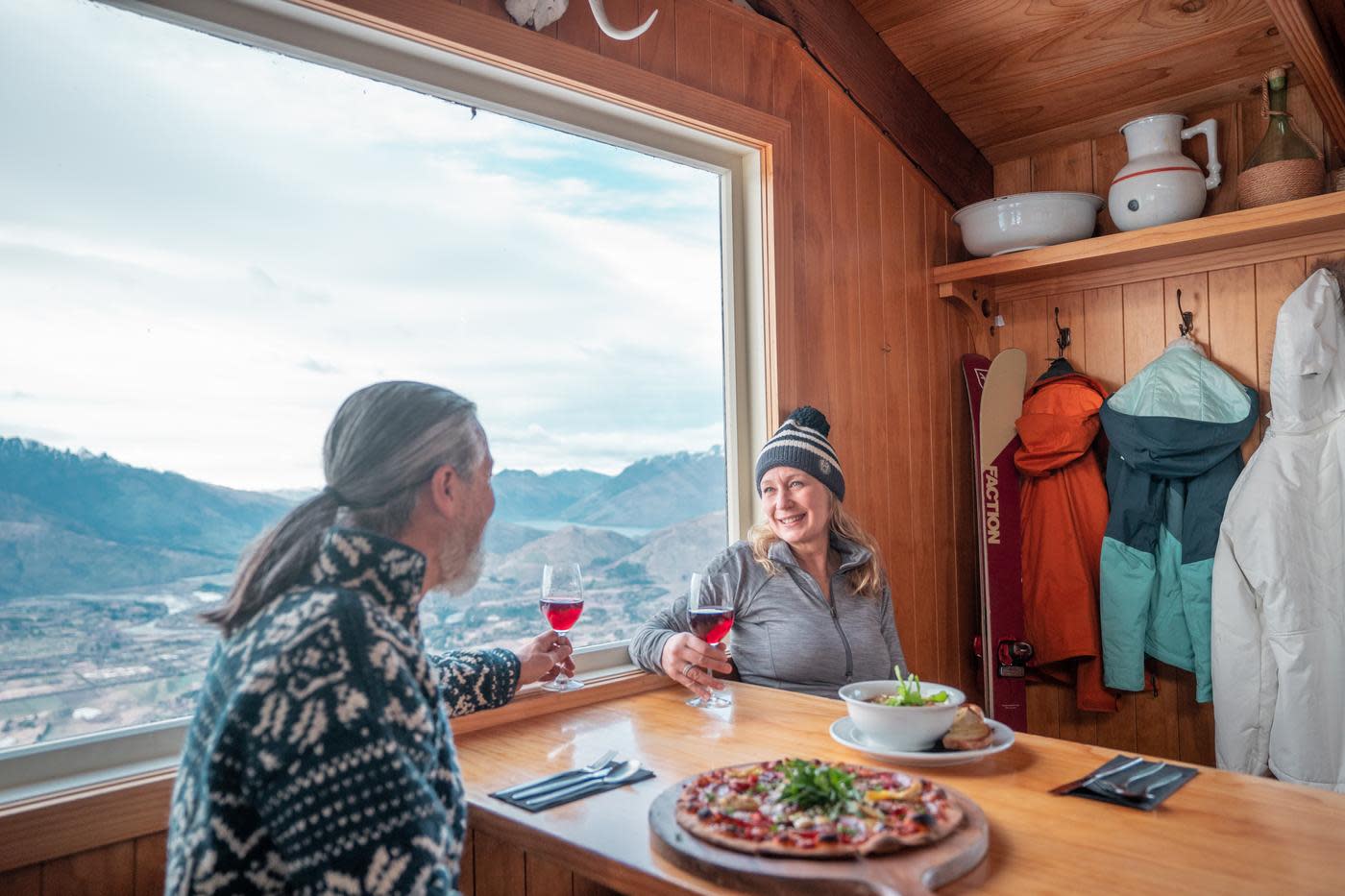 Heidi's Hut, Coronet Peak
Day one: on the slopes
Skiing and snowboarding
Every winter, Queenstown's alpine slopes attract skiers and snowboarders with our magnificent scenery, clear blue-sky days, and easy access to four of New Zealand's finest ski fields, Coronet Peak, The Remarkables, Cardrona Alpine Resort, and Treble Cone.
Each ski area offers a range of terrain for all levels whether you're a learner, love long groomed runs, or enjoy the challenge of off-piste and freestyle. Ski area highlights include panoramic views of the Whakatipu basin from The Remarkables lookout, gourmet food and a glass of bubbly by the outdoor firepit at Heid's Hut at Coronet Peak, and the most extensive terrain park in the Southern Hemisphere at Cardrona Alpine Resort.
The four ski areas are all within a 20 to 90-minute drive of Queenstown. Coronet Peak, The Remarkables, and Cardrona offer a daily ski bus (pre-bookings required) while Treble Cone ski buses from Queenstown run every Tuesday, Thursday and Saturday.
You can drive your EV up to Coronet Peak and The Remarkables, and both ski fields have Tesla charging stations. Whichever ski field you choose, allow plenty of time to get up the mountain, carry chains, check the weather and individual mountain snow reports before you go, and drive to the conditions.
Sightseeing on the mountain
You don't have to be a skier to appreciate the majesty of the mountains in winter. Buy a sightseeing pass and take a gondola ride to the summit of Coronet Peak for spectacular views out over the Whakatipu basin. You can hire sturdy winter boots and go for a walk in the snow or recreate childhood fun by hiring a toboggan and hurtling down the hill in the snow play area.
Night ski
Coronet Peak is the only ski area in New Zealand with night skiing. Nights on the slopes usually start in late June, and run Wednesday and Friday nights until late August (subject to conditions). Get up there for the spectacle of the winter sunset and then ski under the huge spotlights until 9pm. Night ski is popular with Queenstown locals, so the vibes are warm and welcoming. Enjoy a few drinks and a pizza while you soak up the tunes around the fire and stare up at the stars.
Explore the local craft beer scene for some Après ski
The craft beer scene in Queenstown has taken off in recent years with six craft breweries creating characterful brews using locally sourced ingredients. Explore the local craft ales at a line-up of chilled craft brew pubs. Cargo at Gantley's, Altitude Brewing, Atlas Beer Café, and Smith's Craft Beer House all have a fantastic line up of local brews on tap, and they're also busy with Queenstown locals, who love to swap stories from the slopes in front of the fire.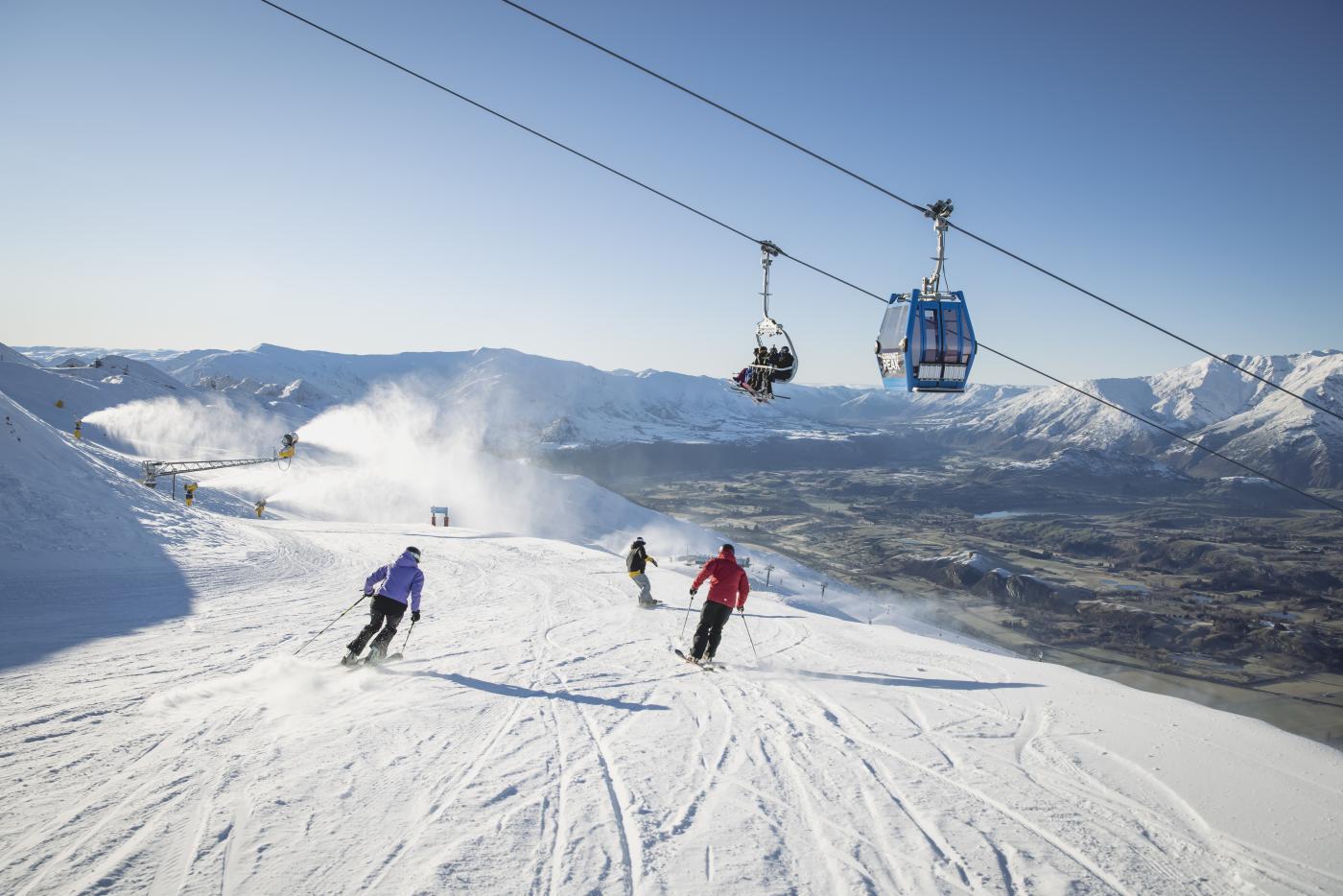 Skiing on Coronet Peak
Day two: on two wheels
Hire an e-bike and explore the local trails
Queenstown may be a mountain resort, but we don't get snow that often on the valley floor. So, while folks are skiing the slopes you can still wrap up warm (ski clothing comes in handy here too) and hire an e-bike to explore Queenstown's vast network of beautiful bike trails. With rides for all ages and abilities, the Queenstown Trail offers over 130kms of magnificent off-road trails that take you as far as Arrowtown, the Gibbston wine region, or Frankton and the Kelvin Heights sculpture trail. Our Guide to E-Biking Adventures in Queenstown has everything you need to know to plan your adventure.
Taste the local vintages on a bike tour
A guided e-bike tour of the Gibbston Valley wine region is a wonderful slow-paced introduction to Central Otago vintages and the austere beauty of the winter scenery. Your guide will tell you local stories about the history of the places you pass and introduce you to the passionate people who make our celebrated wines.
If you prefer to freestyle, the Gibbston Valley Bike Centre hires out e-bikes so you can explore the wineries along the Gibbston River Trail, or the gorges and historic bridges on the Arrow River trail. You can book return transport on the Gibbston Valley Shuttle.
Head to the hot tubs to relax those muscles
E-biking is easy, but a full day on the trails is still a workout, so relax with a warming soak at one of Queenstown's hot tubs with a view. They're popular, so book in advance. At Driftaway Holiday Park in Frankton, you can book a private lakeside hot tub. Lie back and gaze down at lake and mountain views that are even more magical at sunset. Onsen Hot Pools Retreat and Day Spa sits above the Shotover River at the bottom of Coronet Peak and offer a free shuttle bus if you book in advance. Locals like to head out to these cedar-lined hot pools after dark, to soak up the starry skies.
Explore seasonal, local flavours
Neighbourhood local odd saint is open for brunch and lunch, and dinner from Thursday to Sunday. They make local ingredients shine, serving up creative global soul food in a playful, relaxed bistro-style space with a sunny courtyard. It's an excellent choice for those with dietary needs, and the friendly staff are always happy to suggest substitutions.
Ranked one of the world's top ten most sustainable hotels by Expedia, Sherwood started its environmental journey by repurposing a 1980s mock Tudor motor lodge into an eco-chic hotel. Their restaurant is known for its delicious garden-to-table food. They grow their own veggies, keep bees, and work with local producers and foragers to serve up seasonal treats infused with the flavours of the region. Gather round the fire afterwards with a local whisky for a nightcap. If you're lucky there may even be some live music or poetry.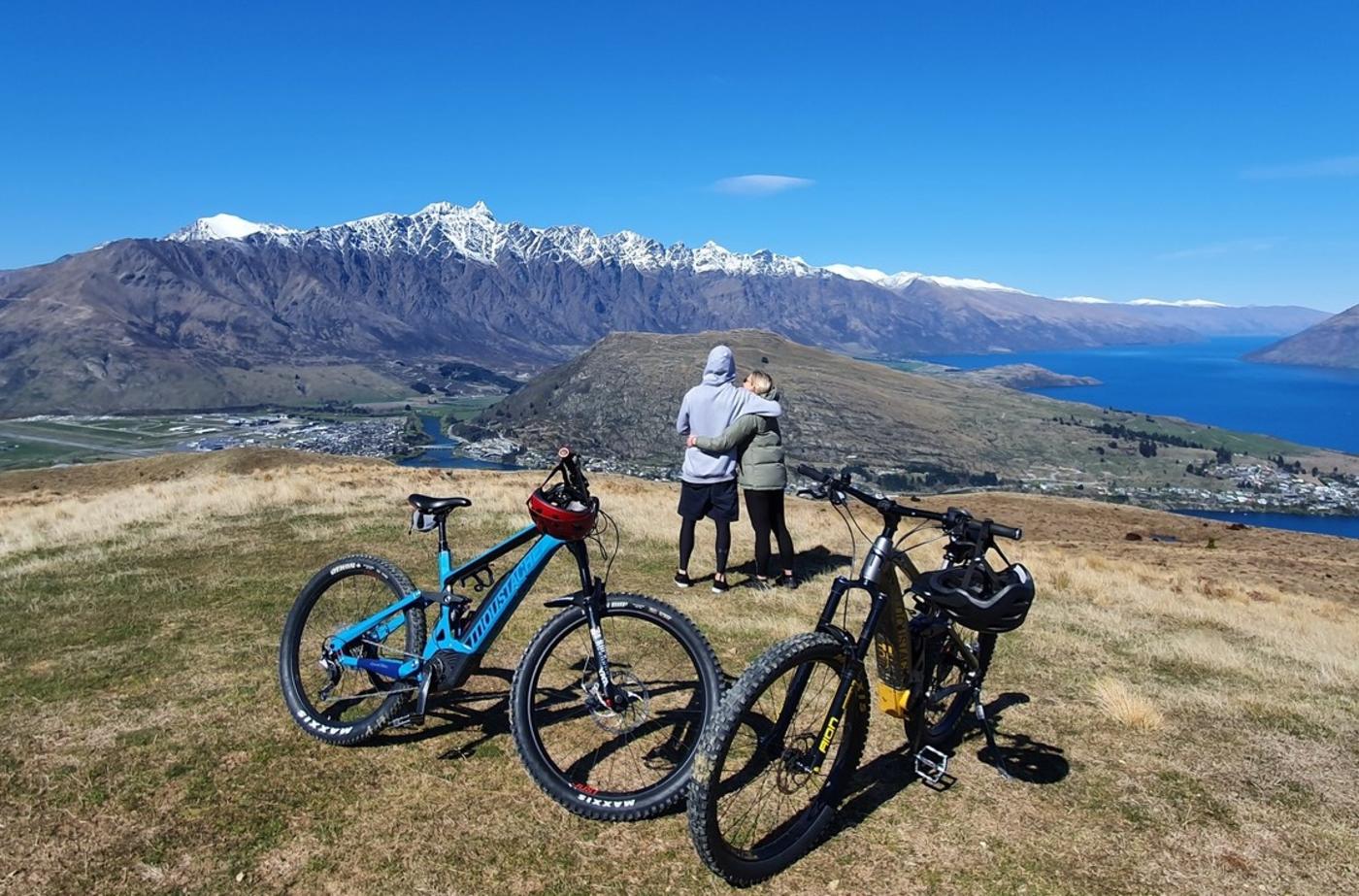 Ride to the Sky, guided E-bike tour.
Day three: on foot
Brunch blissfully
Queenstowners love to brunch. Make like a local with a slow, delicious start to the day, with a coffee (or two) to set you up for your wanders. Local favourite, Yonder's sunny space serves up plenty of options. They make all their bread, pastries, and sauces in-house. The Bathhouse Café and Restaurant set in a historic Victorian bathhouse on the lake shore, has recently been renovated. Head there for a cosy fire and a menu that combines colonial nostalgia with classy comfort food. Check out our guide to the best breakfasts in Queenstown for more inspiration.
Get friendly with Queenstown on foot
The best way to explore Queenstown is under your own steam. Layer up and dedicate a day to meandering along the town's delightful tracks and in and out of cafes. Start with the Queenstown Gardens Trail where you can play frisbee golf under hundred-year-old trees, then stroll along the lake. If you're energetic enough for a climb and trail conditions allow, Queenstown Hill is a popular walk, with panoramic views of snow-capped mountains from the top. The trail also introduces you to Queenstown's history with interpretation panels exploring Māori settlement, the goldrush, and the coming of tourism.
Capture beautiful memories
Queenstown is absurdly photogenic, and if you're a photographer, a self-guided photographic walking tour is a lovely mindful way to explore the town. Some lens-worthy highlights include the views from Queenstown Hill and the Skyline Gondola, the historic steamship TSS Earnslaw, and sunset on the lake shore. Local photographer Krista May has some tips for photographers keen to capture the winter Alpenglow and night-time starscapes.
Head for the hill and ride up Bob's Peak
Take the Skyline Gondola and ride up 450 metres to the top of Bob's Peak in the Southern Hemisphere's steepest cable car, before marvelling at the views of Coronet Peak, The Remarkables, Walter and Cecil Peak. Midwinter is also the best time to book Skyline's alpine stargazing tour and explore the wonders of the night sky.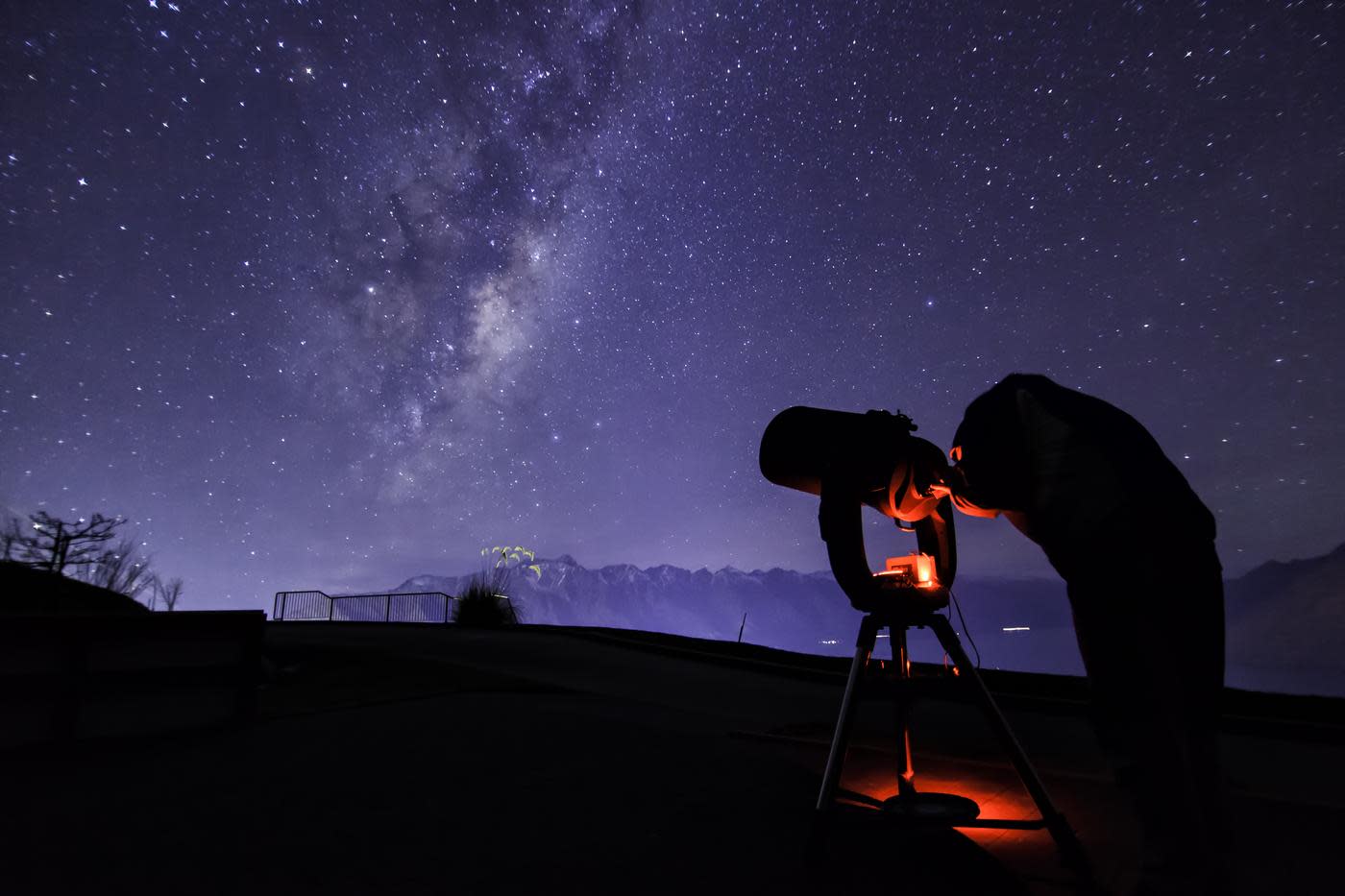 Skyline's stargazing tour
Day four: live like a local
Join Queenstown Parkrun
Get out in the crisp, winter morning air and set yourself up for the day with a relaxed 5km run alongside a welcoming crew of locals. Queenstown Parkrun starts in the Queenstown Gardens every Saturday morning at 9am in winter. All you need to do is register before you turn up.
Warm up with a hot yoga session
Sweat it out and warm yourself to the core with a hot yoga session. The heated room can make the session more challenging, but it also means you can go deeper into positions, and it's a fantastic way to meet people who call Queenstown home. Sangha Yoga and Nadi Wellness both offer hot yoga classes in central Queenstown, while Fierce Grace studio is in Frankton.
Cosy up with a library book
Head on down to one of the Queenstown Lakes Libraries for a comfy chair and a good read. Check out local authors Whiti Hereaka, Bethany G Rogers, and Jane Bloomfield. Adult classes on offer include meditation, origami, book club, and Te Reo Māori, and temporary library membership is available if you decide to stay in the area for a few months.
Head along to a quiz night or an open mic
Queenstown folks love a good pub quiz on a winter night, and there's no quicker way to make some local friends. A few regular quiz nights to check out include:
The Sherwood Songwriter Society is a free monthly open mic for musicians or spoken word poets held the last Thursday of each month at Sherwood. Póg Mahone's has an Irish trad session on Sunday from 5:30pm. While open mic night at Canyon Brewing is twice a month on Thursday's from 6pm, and they run a winter quiz night as well.
Grab a coffee and a bite to eat at a local favourite
These local haunts are all as different as can be, but they've two things in common; delicious, affordable, food, and a warm welcome. This is why Queenstown locals keep coming back for more.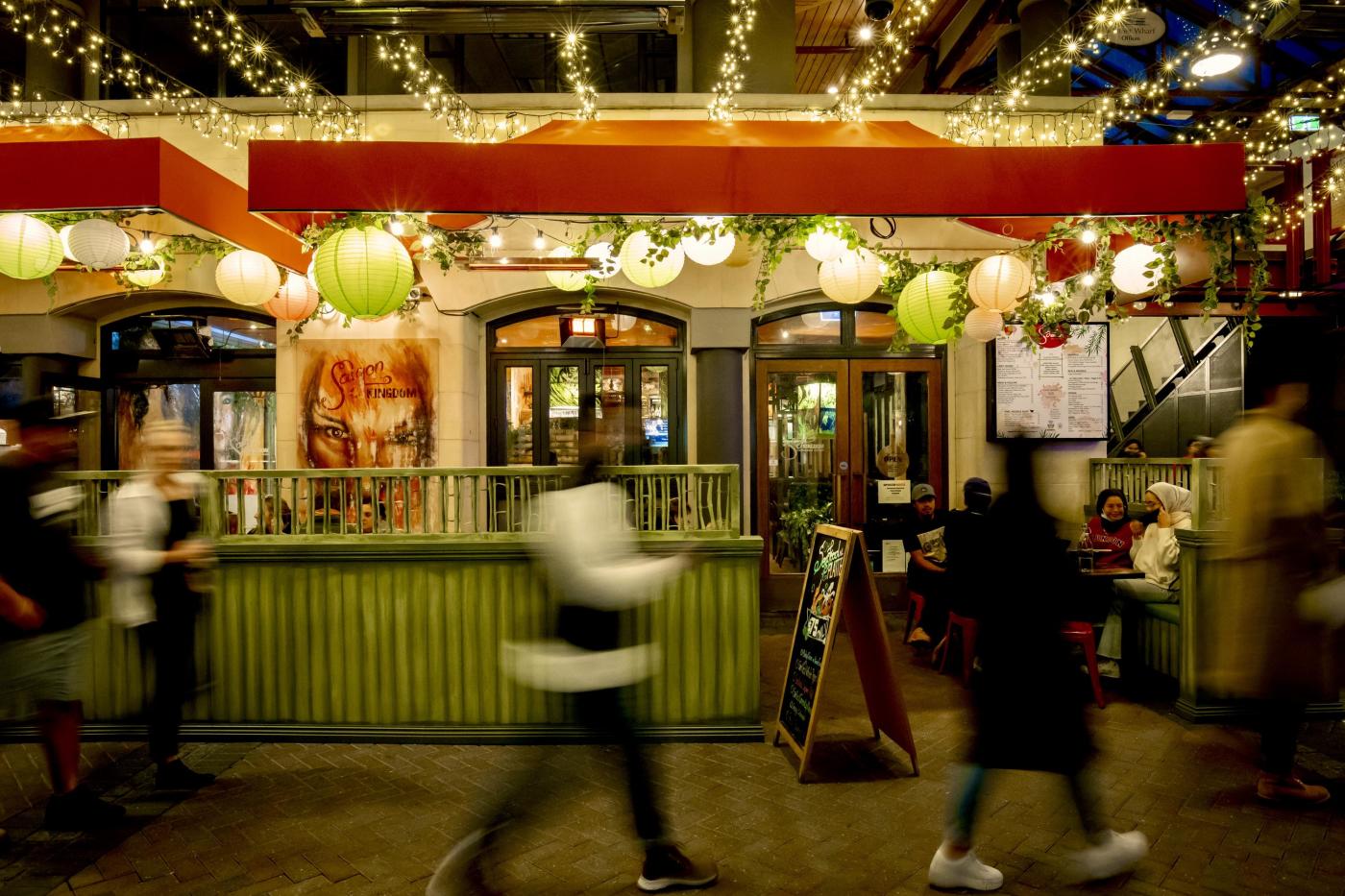 Saigon Kingdom
Day five: explore Glenorchy
Charge up your EV and get ready to explore
Up to this point, it's possible to see and do everything in this itinerary using public transport, walking or biking. But if you want to explore the local region, you can hire an EV from Go Rentals, Snap or Europcar and hit the road.
Driftaway Holiday Park, Creeksyde Holiday Park, The Heritage Hotel, The Rees Hotel, and Sherwood all have EV charging stations. But if you're not staying somewhere where you can charge your EV, then locations offering charging include Queenstown Airport, PAK'nSAVE and Kmart in Frankton.
If you're exploring the rural communities around Queenstown why not book at least one night in each location to take it slow and really immerse yourself in that sense of place? Ensure you check the winter driving conditions on the Queenstown Lakes District Facebook page before you hit the road. 
Stay a while in Glenorchy
Glenorchy has a cluster of cosy accommodation ideal for winter stays. The Headwaters Eco Lodge was built by local artisans, using non-toxic construction materials and water and energy-efficient technology. Stay in one of their luxurious eco-chalets, eat delicious food from their organic kitchen garden, and stroll in their native gardens.
Kinloch Wilderness Retreat offers a range of accommodation from passive low-energy cabins designed with local green building technology to affordable wilderness rooms. They serve up veggies and eggs from their own organic gardens and regeneratively farmed organic meats, while food scraps go to the lucky chickens or are composted on-site.
The Great Glenorchy Alpine Basecamp is built for hikers and wilderness lovers, a cluster of wooden huts with a strong Scandi aesthetic are clustered around a woodfired restaurant. They're warmed by clean-burning log burners, and there's a sauna to ramp up the snug factor another notch. 
Play a round at the Glenorchy golf course
Glenorchy's home to a beautiful 9-hole golf course in the recreation grounds on the corner of Mull and Oban Street. With an honesty box and very reasonable green fees, it's the perfect down-to-earth community setting to give golf a go. Honestly, it's worth it just for the views. You can hire clubs at the Glenorchy Information Centre.
Walk the Invincible Gold Mine track
This walk introduces you to the rich mining heritage of the area and climbs to views of the Rees Valley and Mt Earnslaw. Part of the Otago Goldfields Park, the track was built by miners in the early 1880s and passes the remains of a water wheel and cast iron bowls for grinding the ore. The track can become slippery in bad weather, so if it's been raining or snowing, or you fancy an easier hike, check out this guide to great Glenorchy walks.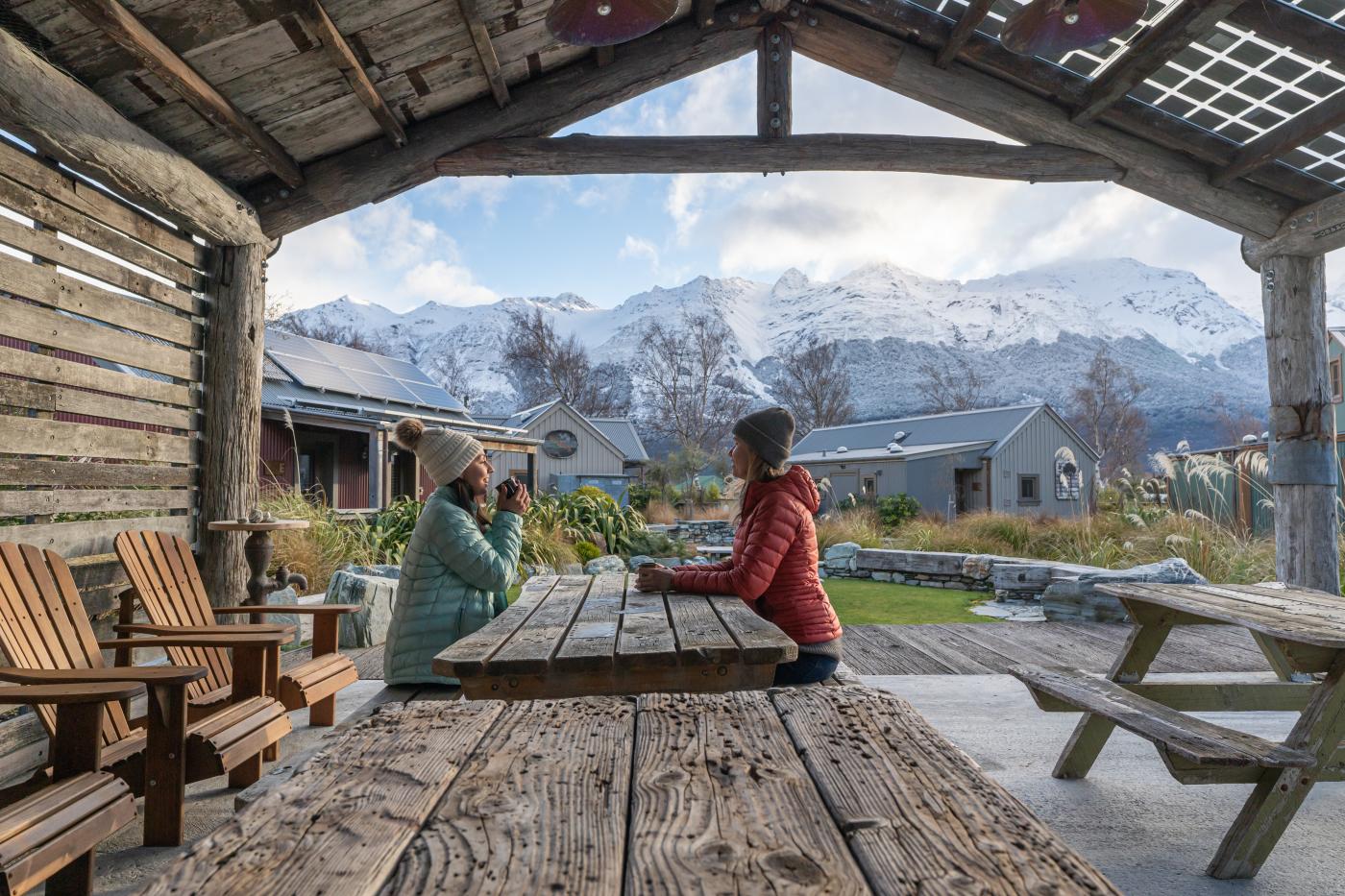 The Headwaters Eco Lodge
Day six: explore Arrowtown 
Take a hike to get a feel for the lay of the land
The Arrow River Trail gives you a taste of the Arrowtown trails, and it's an easy, fairly flat walk on a trail that's doable all year round. Stroll through the woods above the Arrow River past a waterfall to the Norman Smith footbridge where you can turn and retrace your steps. For a steeper climb and stunning views across the Whakatipu Basin and surrounding mountains take Tobin's Track up to the Crown Terrace, where a couple of benches allow you to catch your breath and take in the scenery.
Enjoy a movie at Dorothy Brown's Cinema
Dorothy Brown's is an opulent little boutique cinema with a roaring fire and comfortable seats. Pick up a glass of local pinot noir or a craft beer, along with a cheeseboard from the bar, and enjoy a snug afternoon watching an arthouse favourite or a contemporary film
The cinema is named after a local photographer who scandalised local colonial society at the turn of the 19th century by living with a Chinese man from the gold mining community. We hope Dorothy would approve of Queenstown's diverse and welcoming community today.
Eat local around Arrowtown
The Millhouse at Millbrook Resort is built on the site of the old flour mill and looks out over the Mill Pond and the golf course. The Millhouse uses veggies and fruit from Millbrook's own kitchen garden and orchard, eggs from their own hens, and produce from local farmers, so their menu always showcases the seasonal flavours of the region. Millbrook offers a free shuttle service from Queenstown and Arrowtown.
On the way to Arrowtown, by the shores of Lake Hayes, Mora Wines and Artisan Kitchen combines a cellar door with a restaurant in a historic cottage with garden seating. Their chef seeks out sustainable ingredients, and seasonal produce from Central Otago growers. Food is matched to Mora wines, for memorable local flavours.
Dorothy Brown's Cinema
Plan your Queenstown local experience
Our local profile stories are packed with more ideas to inspire you to experience Queenstown and the surrounding region like a local. See Queenstown through the eyes of photographer, Krista May, or discover mountaineer, Hamish Fleming's favourite winter adventures.
As you explore Queenstown, share your experiences with us on Instagram by tagging #QueenstownLive.
To leave a lasting memory of your trip you can also donate to Love Queenstown to support local climate, conservation and biodiversity projects that actually make an impact. Or, you can lend a hand and meet Queenstown locals while you're here by volunteering.