Getting around
GOOD Travel's eco-itinerary begins once you collect your eco-friendly Tesla from GO Rentals. GO Rentals estimates that 318kg CO2e is saved when travelling in an electric vehicle as opposed to a medium-sized petrol car.
Locating EV power sources along the way is easy as the GO Rentals team can help guide you but it is also worth downloading the PowerTrip app. The app uses map data, the physics of your car and your driving profile to estimate how much energy your car will need to get from A to B and which charging stops you'll need to make.
Stay
Rest your head in tranquil surrounds at the top of the lake at positive energy eco-retreat, The Headwaters Eco Lodge. The retreat has been built from the ground up following the principles of the Living Building Challenge, one of the highest standards of sustainability globally, which has made them one of the most sustainable visitor accommodations in the world. All profits from your stay go to the Glenorchy Community Trust to benefit the local community.
Stay a little longer in the region and sleep, dine and unwind at The Rees Hotel, Queenstown, a luxury hotel on the shores of Lake Whakatipu. Offering a variety of spacious and luxurious accommodation options, the hotel is on a journey to being carbon zero. The hotel has various initiatives underway to support this, including recycling used soap through the Soap Aid Initiative, and sending their kitchen food waste for composting via the Waste to Wilderness Initiative. Bordering the hotel is a natural grove of beech trees endemic to New Zealand which they have preserved and enhanced with additional plantings and a public walkway to the foreshore.
Another accommodation provider with a focus on protecting their stunning natural surroundings and reducing their impact is Kinloch Wilderness Retreat. In addition to their Heritage Lodge, Lakehouse and Wilderness rooms, they also offer Ecoscapes - two passive 'low energy' cabins designed with locally sourced green building technology offering outstanding comfort and stunning views. Ideal for a luxurious romantic break off the beaten path.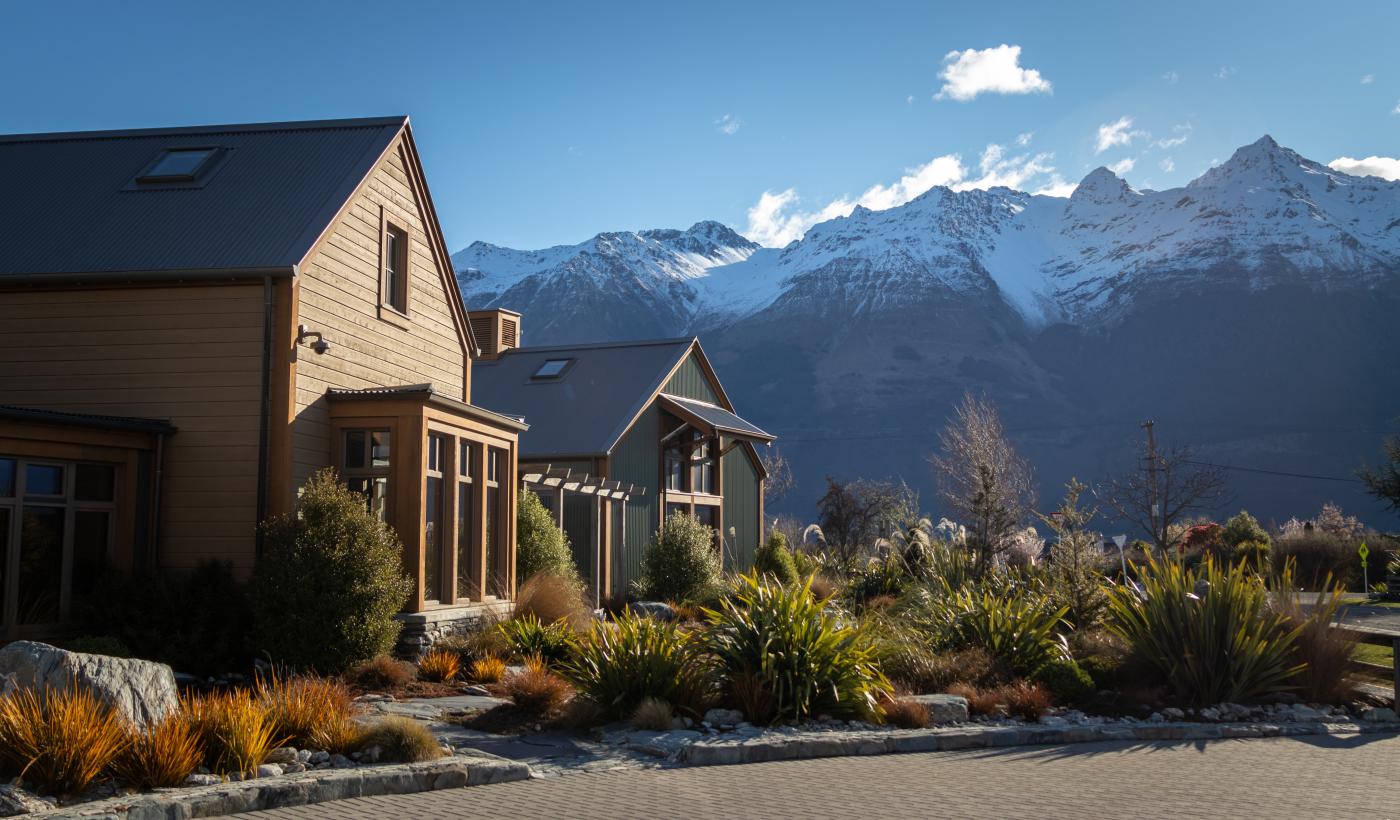 The Headwaters Eco Lodge
Play
Zip through the treetops with Ziptrek Ecotours, Queenstown's first carbon-zero certified tourism business which has won an array of awards in the sustainability space, including the Qualmark 100% Pure Experience Award and the 2021 RealNZ Queenstown Business Awards – Excellence in Sustainability. Ziptrek Ecotours has also declared its ambition to become Future-Fit – a global movement of businesses working towards an environmentally restorative, socially just and economically inclusive future. In FY2020-21, Ziptrek Ecotours' measured carbon impact was just 1.35kg CO2e per guest - made possible through elements like gravity-powered ziplines and solar panels - and the company encourages others to consider carbon offsetting through its 'Let's Talk About Carbon' video series. 
Take the backseat and relax while a guide from Nomad Safaris shows you around the region in a Tesla. They offer a range of Tesla tours including an Enviro Experience tour where you will venture up Queenstown Hill and also have the opportunity to give back to the community by helping to remove wilding pines. Wilding pines are an invasive, non-native tree that is gradually being replaced by native plantings thanks to the passion and sheer determination of local community groups and local businesses.
Over the spring and summer months, head to the Remarkables Market which is striving to be one of New Zealand's first zero-waste markets. Take in the stunning Remarkables mountain range backdrop as you wander through stalls offering a variety of local produce, fresh food and drink, and locally crafted gifts and wares. Once you have replenished yourself, take advantage of the warmer temperatures and explore the alpine environment by bike, kayak or on foot. Queenstown has an abundance of biking and hiking trails offering epic scenery at every turn; while an afternoon on the lake as the sun shimmers on the surface and the mountains surround you is an experience you won't quickly forget.
In the winter months, head to one of the four ski fields near Queenstown. Each is striving hard to reduce its environmental impact and are making leaps and bounds in the sustainability space. Cardrona Alpine Resort and Treble Cone both offer free mountain shuttle services and hitchhiking spots up each mountain. Both Cardrona and Treble Cone promote a pack-in/pack-out culture and don't sell anything in their food and beverage outlets with packaging that needs to go to landfill. Coronet Peak and The Remarkables follow a similar approach, encouraging carpooling and waste reduction and they also have a strong programme of activity to restore and enhance the environment. This includes work to eradicate wilding, non-native plants, revegetating trails, and pest control.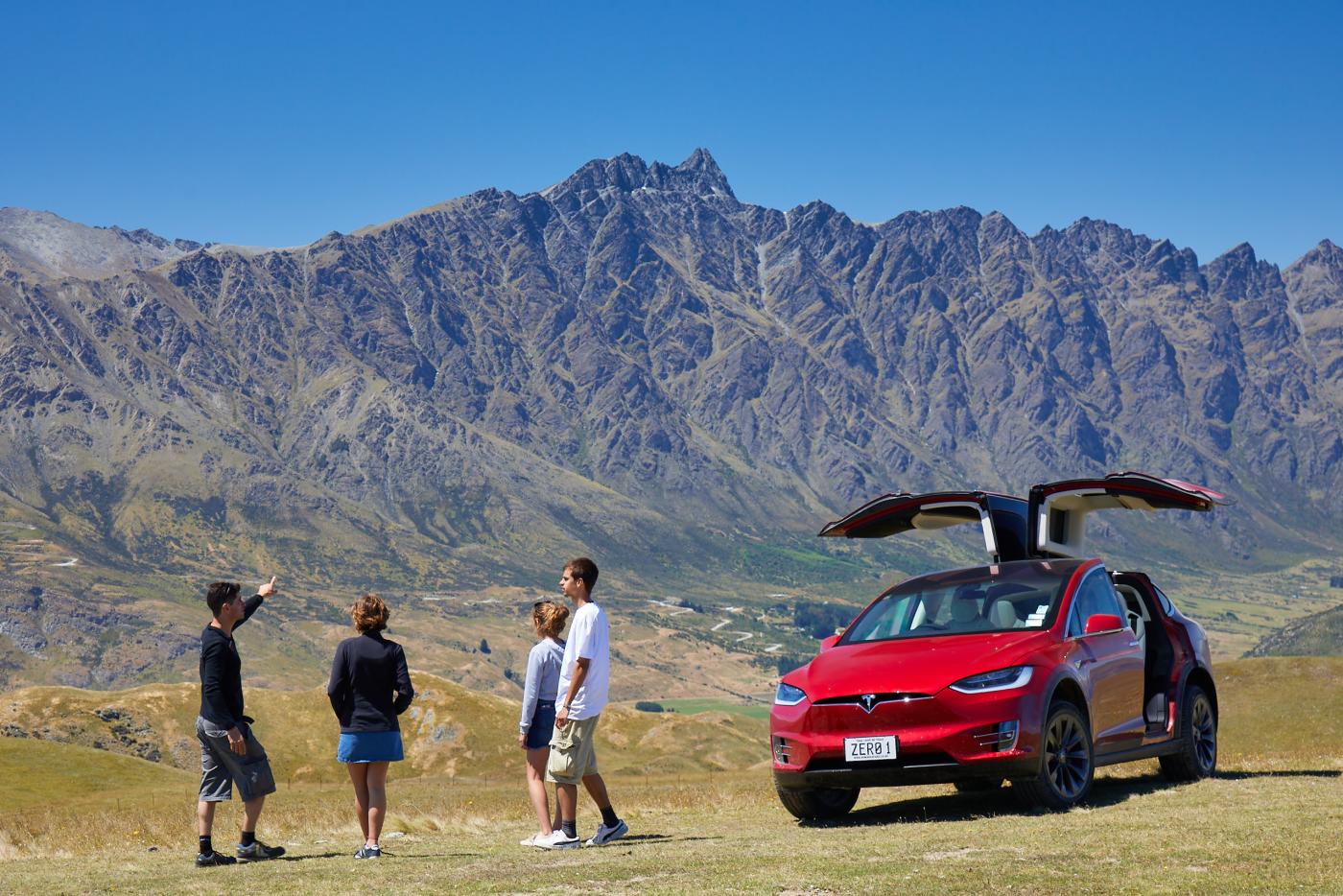 Nomad Safaris Tesla Scenic Tour
Eat
Set upon three acres of alpine hillside in Queenstown overlooking Lake Whakatipu, Sherwood is a favourite for locals and the environment too. Nothing travels far at Sherwood with a large vegetable garden which they farm under organic principles and the site is powered by the sun. Sherwood's goal is to be able to say the only thing that enters, and leaves Sherwood is people. In addition to being a stunning place for dinner, Sherwood also offers comfortable accommodation made from low-impact materials including carbon-negative cork wall linings, curtains from up-cycled woollen army blankets, and carpet tiles made from recycled fishing nets.
If you are looking for locally sourced ingredients and seasonal ingredients, you are spoiled for choice in Queenstown. Some eateries to try include The Boatshed Café & Bistro, Odelay, The Exchange, The Dishery, Nest Kitchen + Bar and Kinross.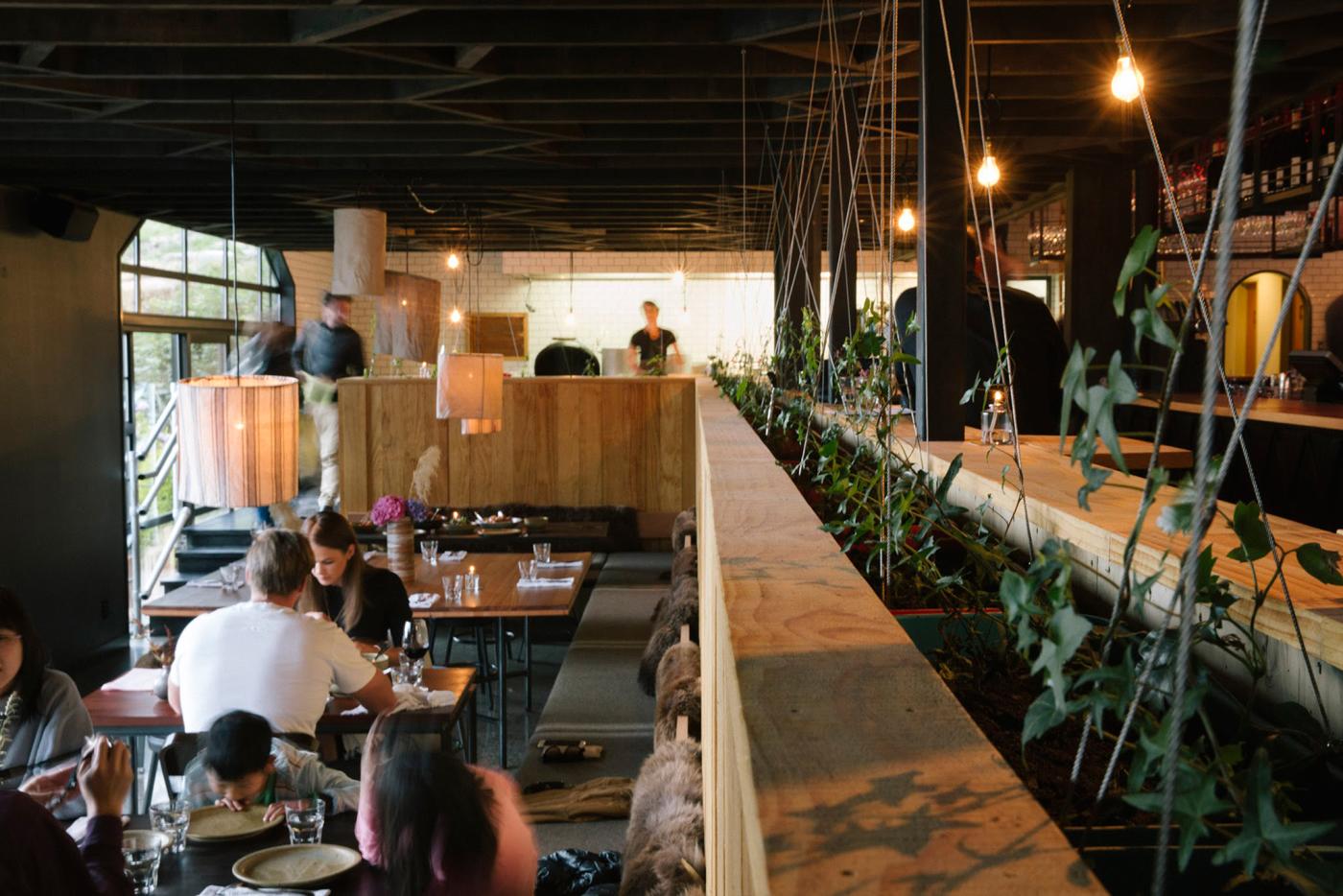 Sherwood
More ways to get more from your visit to Queenstown
Check out our Queenstown slow travel itinerary and our guide to experiencing Queenstown like a local for more inspiration on ways to get more out of your visit to Queenstown.
Did you know that Queenstown is the first tourism destination in the world to commit to becoming carbon zero by 2030? Learn more about our big goal of becoming a regenerative tourism destination here.
You can help us spread the word by sharing your Queenstown EV adventures with us on Instagram and #QueenstownLive.