Every day, ski patrolling couple Charlotte and Sam are up at Coronet Peak managing potential avalanches, patrolling the mountain for hazards, helping people in trouble, and learning more skills to keep people safer while they ski. 
Falling for life in the ski patrol
Sam and Charlotte first met on the mountain in 2018, when she was a lift operator and he was a ski patroller. Charlotte recalls, "We were just friends and enjoyed hanging out at work and had the same group of friends. I then left to do another ski season in Europe and returned back in 2019 in May for my second winter at Coronet Peak. I reached out to Sam before the season began to hang out, and then the rest is history!" The couple got engaged in February on a glacier overlooking Mt Aspiring and are now planning their wedding.
Sam has been a ski patroller since 2013 with quite the back story. He says, "The winter I was 18, I was caught ducking under an avalanche rope at The Remarkables. I had no idea how dangerous avalanches are. They took my ski pass away and told me to write a 2,000-word essay on why I shouldn't ignore an avalanche closure sign. A good family friend ran Coronet Peak ski patrol at the time. So, I went up and spent a day with the ski patrol. The next season they offered me a trail safety job, which was a good foot in the door. From there I got my qualifications and worked my way up, learning all I could, and becoming a team leader in 2017."
Charlotte first came to Queenstown in 2018. "One of my friends was managing the lifts at Coronet Peak and said I should come over. So, I got on a flight and started working as a lift operator. I absolutely loved it. We're all really close on the mountain, so I got to know the ski patrol team and saw how cool their job was. In 2021, I went for a trail safety role. Trail safety sits under the patrol team, so I was part of their morning meetings and saw what the life of a ski patroller consists of. Anytime I had a chance, I tagged along so I could learn more skills.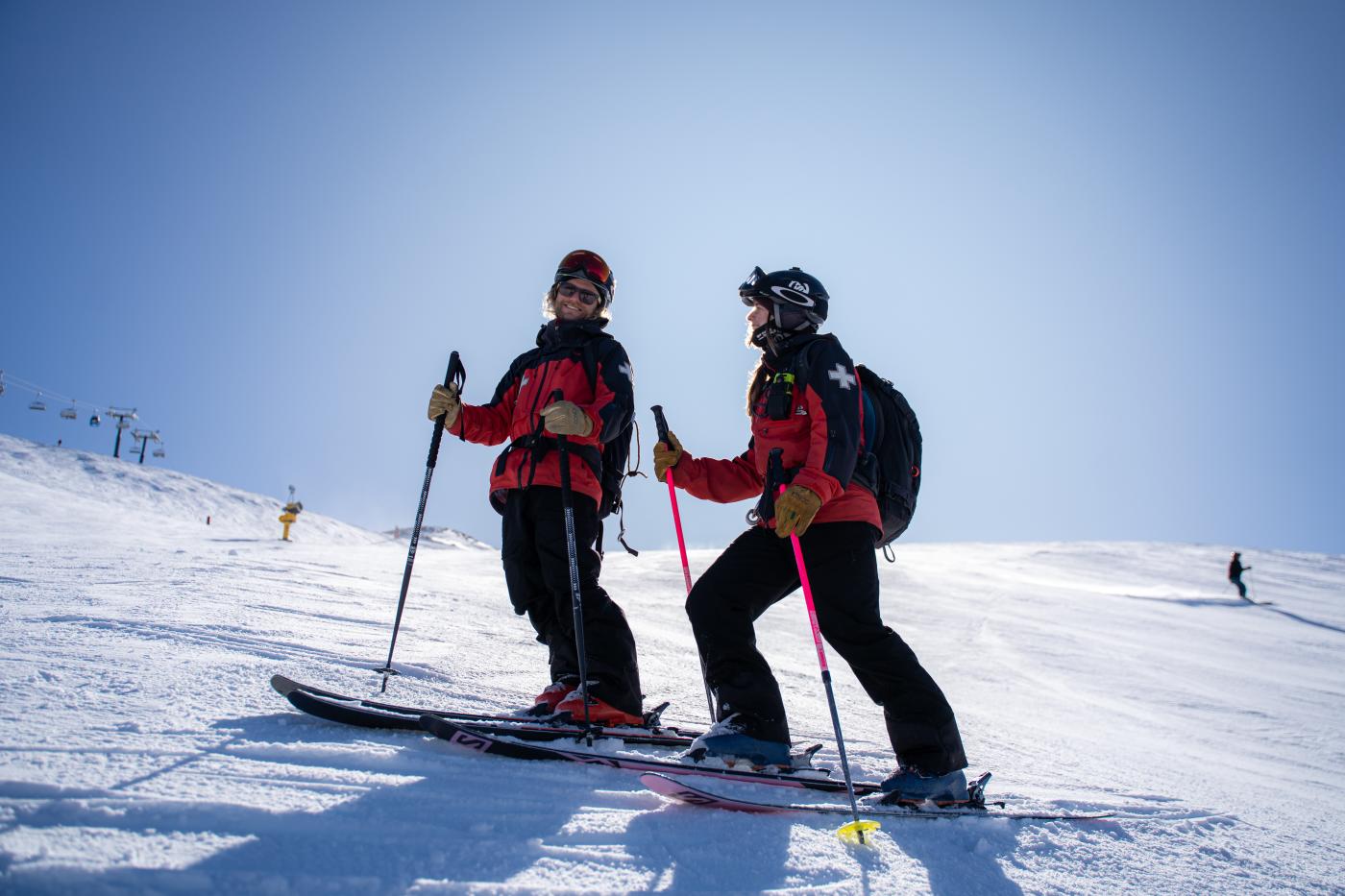 Sam and Charlotte patrolling together
Managing avalanche risk 
Sam explains it's pretty hard to describe a typical day on ski patrol. "It's such a varied job and no day is the same as the next, which is why I love it so much. But if it's a snowy morning, we'll come up around 5am to go out and manage the avalanche problem. Our snow safety officer will have been up in the middle of the night, checking readings from instruments, talking to the people on the hill, trying to get a gauge on how much snow has fallen." 
"There are areas on the mountain where avalanches occur regularly. We record all that info, so seasoned team members know where to manage avalanche risk. When we go out and cut avalanches, we do it with our skis. We ski really fast across the thickest part of the snow and push down with our skis in the sweet spot, that point on the slope likely to trigger an avalanche. If a potential avalanche is large enough to bury us, it's too large for us to mitigate with our skis. So, we use explosives to trigger bigger avalanches."
"After triggering any avalanches, we go out and do our run checks, and make sure the hill is ready to go when we open the chairlifts at 8am. Each patrol has an area where we check anything health and safety-related, as our role is to make sure guests don't hurt themselves. We mark any exposed structures or dangerous anomalies near the runs with signage, or we'll put a foam pad on it to stop someone hurting themselves." 
Daily training to stay on top of all the aspects of ski patrol 
Every morning at 10am the ski patrol team get together and train for an hour. They train in avalanche rescue skills, first aid, and other important skills like rope rescue, or crevasse training. There are so many facets to the job, and the team try to stay current with each one. After training they spend the day checking padding and fences and tending to injured guests. 
Charlotte says, "When the chairlift stops at 4pm, ski patrol will be on the very last chair. Then we all sweep from top to bottom of the mountain in unison, making sure no one is left. We have designated runs, and we go in one big line and work our way down, so we can leave the mountain confidently knowing no one is left behind at night. It's such a dynamic challenging job. Still new to the role, every day I learn something I didn't know before. The number of skills I have now that I didn't two years ago is awesome."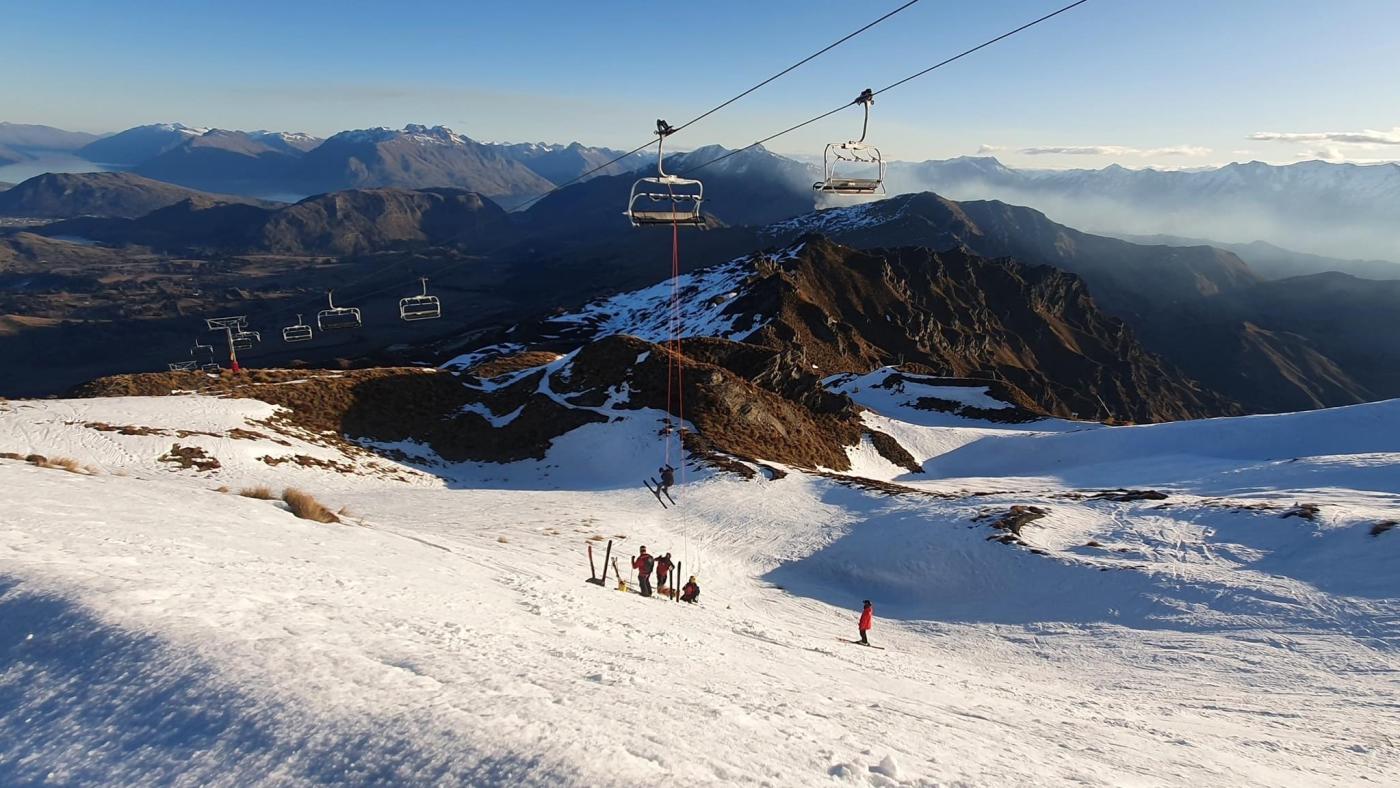 Ski patrol training at Coronet Peak
Keeping yourself safe on the resort slopes
Charlotte has a few tips for staying safe on the resort slopes. "Our main focus is educating guests. We won't tell you off or shout at you because a lot of the time people don't know if they're doing something wrong. We want to educate you, so you can change your behaviour to be safer. What you can do to stay safe on the mountain is pay attention to the signage, ski to your ability, and ski to the snow responsibility code. That will make everyone's experience on the mountain positive because less injuries will happen."
"The main thing is knowing your ability and skiing to your ability. We ask people to follow our snow responsibility code on the mountain. It has four main points: slow down, stay visible, give way, and give space. Look after yourself. It's very easy, especially on those amazing powder days, to push yourself too far. I know I definitely do. But that's when people get hurt. So, listen to your body. If you're feeling tired, stop for a moment, have a coffee and a sit-down."
Sam adds, "If you're skiing straight down the hill, you generally won't crash into someone. Incidents occur when someone skis across the slope. People collide with each other because they haven't looked uphill before they cross the run... So, if you cross the piste, look back up the hill to make sure no one's coming down above you."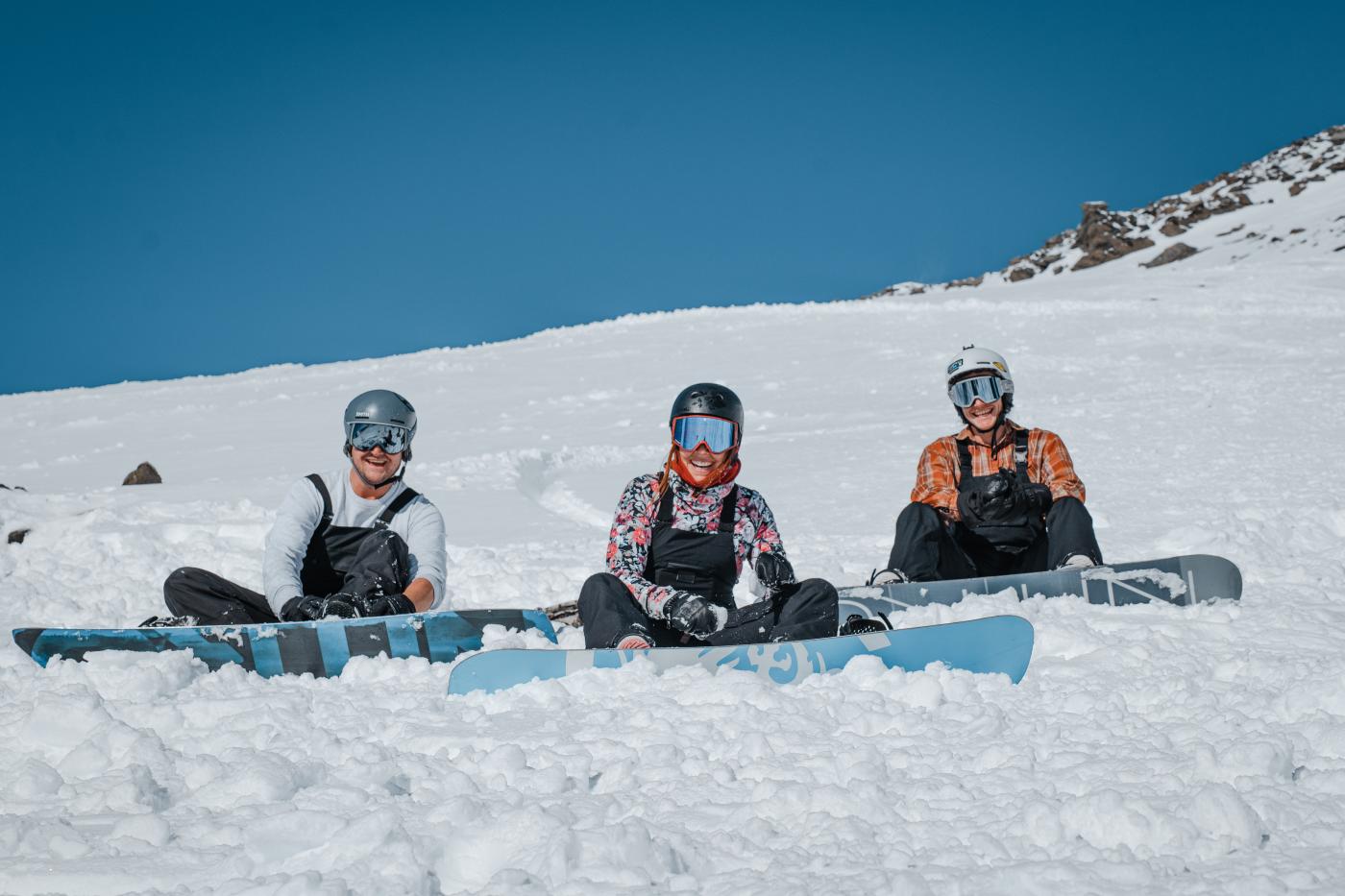 Snowboarders taking a shred break
Safe backcountry skiing
Backcountry skiing is a different kettle of fish. Sam explains, "In the resort, whenever it snows we go out and trigger potential avalanches before you get onto the hill. In the backcountry, there are no ski patrollers out there triggering avalanches, so avalanche risk is heightened."
So, if you plan to ski in the backcountry, first you need education. There are many different courses, avalanche awareness courses for recreational skiers, and professional avalanche courses, which are a prerequisite for a ski patrol job. Secondly, you need all the correct equipment: a transceiver, a shovel, and a probe. We recommend you wear an airbag as well, so if you do get caught in an avalanche, you can pull the trigger on the backpack and that will inflate a large balloon on your back, which will keep you up on top of the debris and reduce your chance of being buried under the snow. That equipment is paramount for going backcountry. No one should set foot into avalanche terrain without it."
Checking the weather and avalanche forecast when planning your trip is also essential. "Ski patrollers and heli-ski guides throughout the Southern Alps constantly monitor the snowpack risk and give a danger rating on the avalanche risk scale at avalanche.net.nz. So, backcountry users can go on the site and clearly see what conditions they can expect to encounter in the backcountry."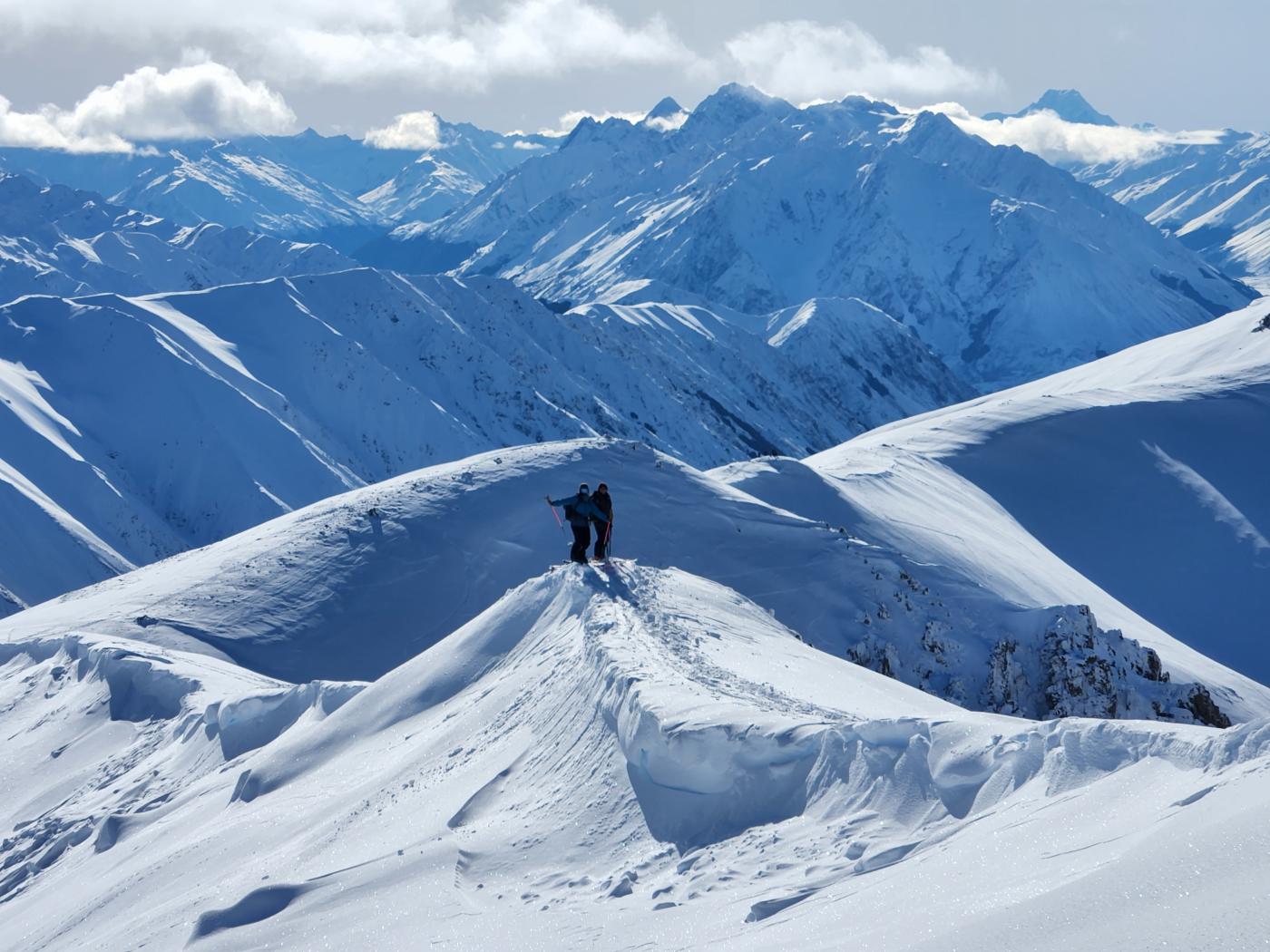 Sam and Charlotte on a backcountry adventure
A sense of community and belonging  
Charlotte has lived in many countries and worked in Europe and North America, but says there's something extra special about Queenstown. "There's no doubt Queenstown is an absolutely stunning part of the world to live in, having the mountains, and lakes all accessible on your doorstep. But the reason people stay here is the community feel and the people."
"Queenstown attracts a certain type of person. Everyone you meet here is very outgoing and seeking adventure. They want more out of life and there's so much to do here. Queenstown definitely has that massive community feel, which is really cool. People come here for one season and never leave because they find their people and have that sense of belonging."
"I came here with every intention of just doing a couple of ski seasons. But I quickly discovered that wasn't happening. I've met my person and Sam is from Arrowtown, so we've built our life here and all our friends are here. Arrowtown definitely feels like home to me now."
Sam grew up in Arrowtown and went to school and university in Christchurch. But he quit university early because he was missing the mountains too much. He explains, "Being in the mountains and the ability to access anything you want, whether it's winter sports or mountain biking, fishing, and hunting in the summer, was so appealing to me that it pulled me back."
"Arrowtown has this really interesting community. It's small enough that everyone knows everyone, but full of people from all different walks of life. In Arrowtown, you can have a famous musician or artist next to a salt of the earth Central Otago type."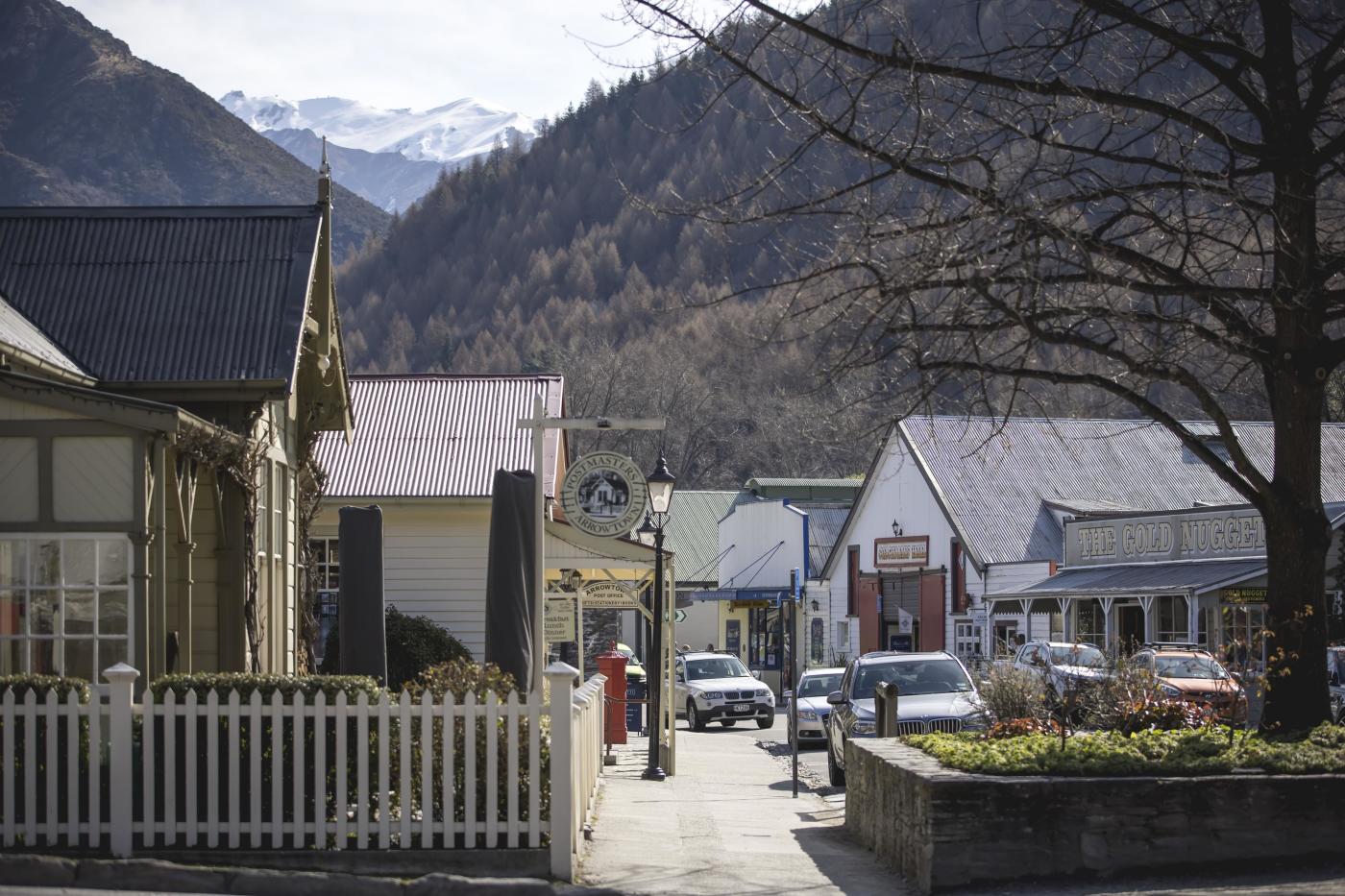 Arrowtown in winter
An Insider's Guide to Arrowtown
We asked Charlotte and Sam for their top tips on things to do in Arrowtown. Charlotte says: "There are loads of things to do here without having to spend much money, which is really cool. There's heaps of great short walks. Sawpit Gully Trail is one of our favourites, it's a shortish walk, not too hard, starting and finishing in Arrowtown, but very rewarding because when you get to the top, you can look down the whole valley and see Lake Hayes, it's really stunning view. New Chums Gully Track is another good one. You head up Tobin's Track and go all the way around the back ending up on Macetown Road. It's a really cool diverse walk."
"You can also bike the whole Queenstown Trail system from here. One of my favourite things to do is grab an e-bike from the guys down at Better By Bike and go on the Arrow River Bridges Trail following the Arrow River and crossing over all the suspension bridges all the way out to Gibbston Valley and go wine tasting at the different wineries out there."
"This winter we've been really lucky because Bush Creek Ice Rink reopened. Sam skated on the rink when he was very little, but it closed in the early nineties. In the last few years, a committed group of locals have been working to reinstate it, and this winter it was cold enough, and they opened up the ice rink for all the locals to enjoy. We've had people coming from all over to skate and play ice hockey. So, check that out this winter if the temperature is right."
Sam says, "Another great thing about Arrowtown is you've so many food and drink options.  Growing up I worked in hospitality and developed a healthy respect for good food, and Arrowtown takes the cake for the number of quality food options for such a small town. Get a burger from Slow Cuts. they're an American-style burger restaurant and they're hands down the best burgers in the basin. The secret local's burger is called the Jack and Yak, a chicken burger with bacon and jalapenos. It's not on the menu, but it's a local's favourite."
"Unrivalled among Queenstown winter activities, if you know how to ski, is to book a heli-ski trip with Alpine Heliski. I do some guiding for them and it's incredible. We go deep into the beautiful Southern Alps to mountainous terrain you've never seen before. You get untouched snow everywhere you go. They can accommodate for strong intermediates through to experts."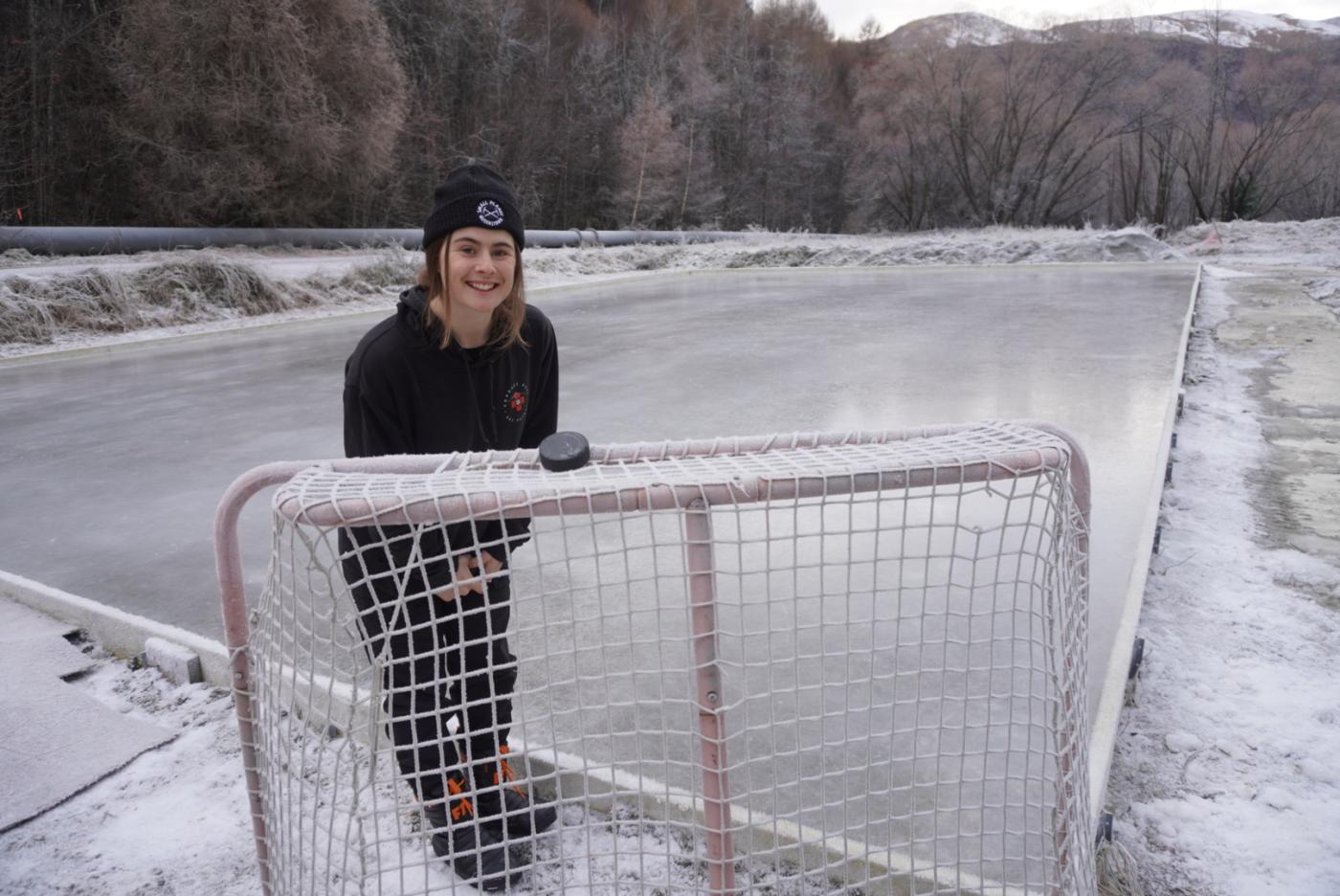 Bush Creek Ice Rink
Plan your local Queenstown winter adventure
This winter, stay a bit longer to experience all Queenstown has to offer, both on and off the slopes – find plenty more ideas for immersive winter adventures in our 6-day guide to savouring winter in Queenstown.
As you explore Queenstown this winter, share your Queenstown winter adventures with us on Instagram and #QueenstownLive.