Well known for its Central Otago hospitality, Queenstown is ready to welcome golfers of all abilities and tastes, with online bookings, driving ranges and hire equipment available across its headline acts.
Here's your Queenstown Golf Holiday 101 – so what are you waiting for?
Packing peak golf into your itinerary is no problem in Queenstown – Jacks Point is less than 15 minutes from the Airport, the Queenstown Golf Club is nestled in Queenstown Bay in Kelvin Heights, and Arrowtown, just 20 minutes away, is home to Millbrook, The Hills and the Arrowtown Golf Club.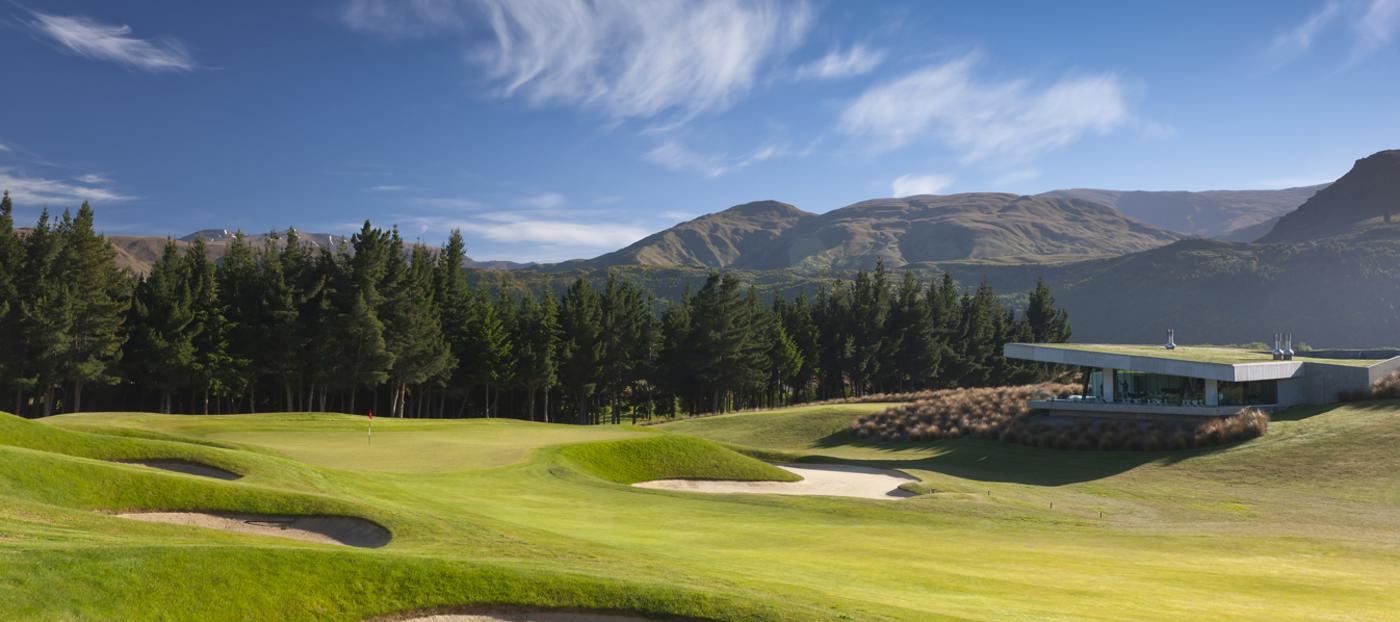 The Hills Golf Club
What to pack?
Bring your 'A' game if you've got it, but you don't need to be Dustin or Rory to enjoy your time in Queenstown. It's impossible to sulk over an average round when you are surrounded by such amazing scenery and the best hospitality in the country.
Pack the sunscreen in summer and it pays to remember that range finder if you use one because judging distances against those mountainous backdrops adds a special challenge to any round.
And that's about it. If you don't want to bring your own clubs, don't worry – all five of the major venues will be happy to kit you out, club you up and put you into a cart. It's that easy.

Eichardt's The Residence
Where to stay and what to eat?
Take your pick. With so many golfing options on your doorstep, you can pick your price from homely to boutique and five-star in Queenstown or neighbouring Arrowtown and still make your tee time with ease. Millbrook Resort was judged the world's best golf resort by US Golf Digest, with The Hills and Arrowtown Golf Club all within 10 minutes drive, while Gibbston Valley Lodge & Spa is another great option. If Queenstown is your destination, it's hard to go past Eichardt's Private Hotel and for the final word in luxury there is Blanket Bay near Glenorchy. That's a little further out, but with helicopter services available, it's certainly not a problem. And what a way to make your way to the golf course.
Golf packages
There's never been a better time to golf in Queenstown and experience what Queenstown's world-class golf courses offer. Explore excellent Queenstown golf packages including green fees, accommodation and transfers.
How good is the equipment?
Leaving your clubs behind but don't want that strange club anxiety on the first tee? Don't worry. Jacks Point offers executive clubs, shoes and range balls for a good warm up. You can choose between a trundler and a cart, but we'd definitely recommend a cart. Jacks has summer and winter rates, but note the course is closed for winter maintenance from early June to mid August.
Millbrook's pro shop also has everything you need, while Arrowtown has clubs, carts and trundlers for hire and the Frankton Golf Centre, which sits right next to Queenstown Airport, also sports a fully stocked pro shop.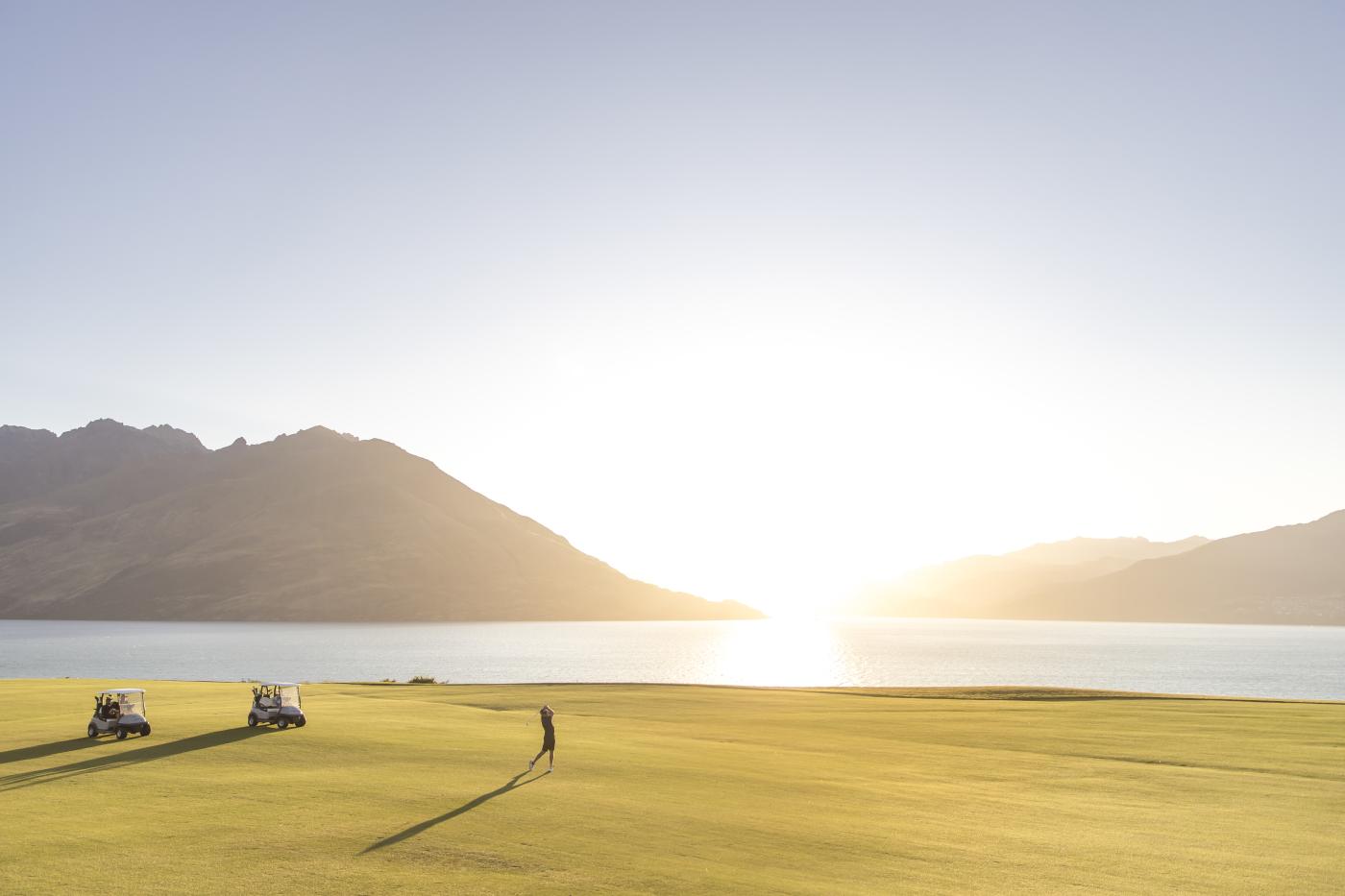 Jack's Point Golf Course
These courses aren't actually as close to the action as you say they are, surely?
You bet they are. You can get to Jacks Point from downtown Queenstown in less than half an hour, and Arrowtown, with Millbrook Resort, The Hills and Arrowtown Golf Club are even closer. Sitting on the Kelvin Heights peninsula, the Queenstown Golf Club is literally right across Queenstown Bay. We would recommend booking a tee time online at any time of year, but especially in late spring and summer.
Tell me more about the climate
Central Otago's beauty has been honed by extremes, providing some of the coolest, driest temperatures in New Zealand during winter. The seasons are sharply defined, summers are dry, hot and low in humidity; winter mornings are often misty, the days cloudless and windless. A bluebird day in Central is like no other.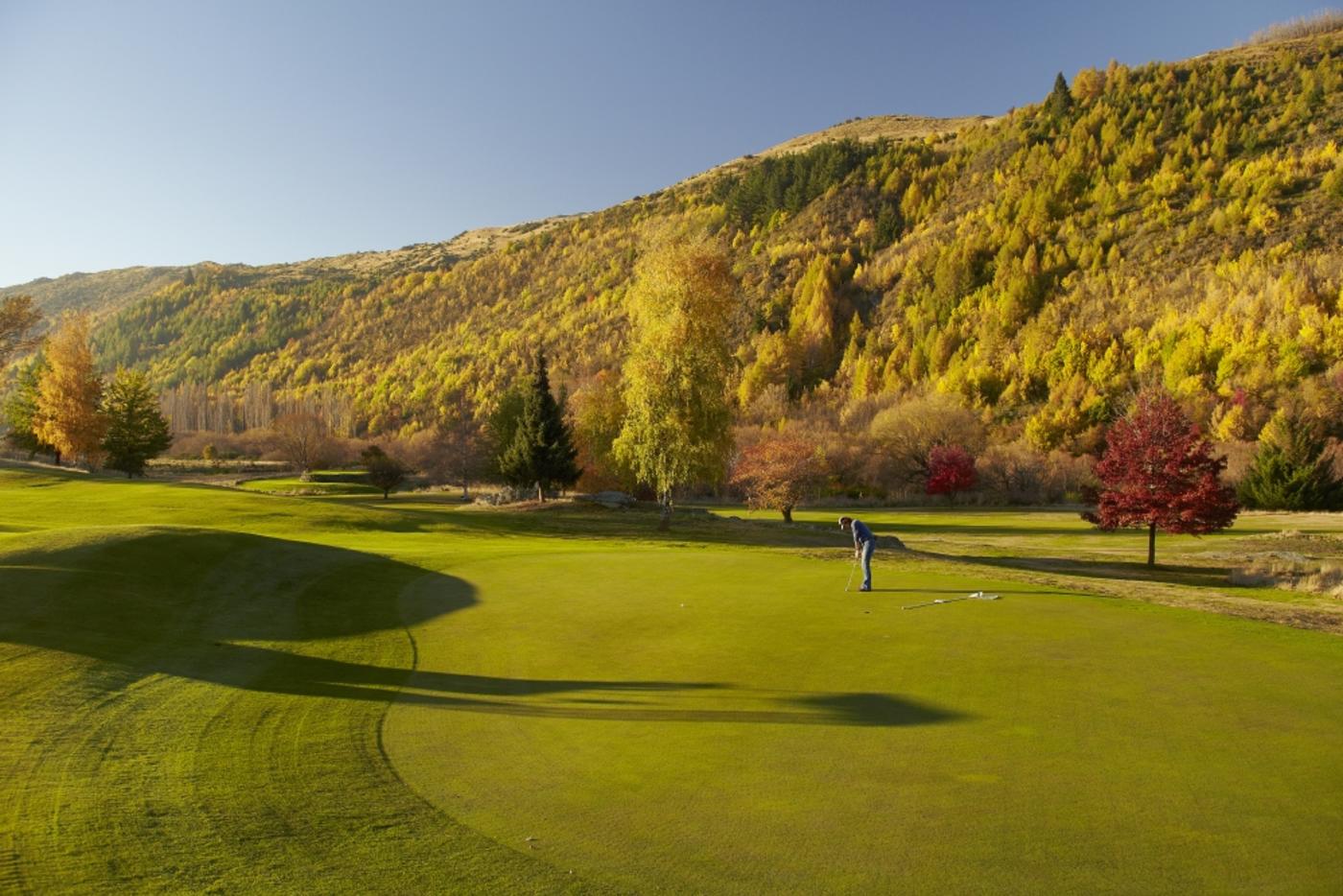 Arrowtown Golf Club
I'm hooked, what course should I play?
Take your pick, with the proximity of the course you can truly reach peak golf. Jacks Point is a 6388m championship course that is a perennial pick in any list of New Zealand's best golf courses and has been beautifully designed to take advantage of the natural landscape. The Hills offers a stunning 18-hole course on the outskirts of Arrowtown but is much more than a golf course. An amazing array of sculptures are incorporated into this southern marvel and they provide delightful distractions throughout the course, not to mention the award-winning clubhouse which overlooks the 18th green.
Across the way from The Hills, you'll find the five-star Millbrook Resort and a choice of three nine-hole courses named after the surrounding mountains – The Remarkables, The Arrow and The Coronet Nine, with a fourth on the way. Holding court over Queenstown Bay, the 5840m (white tees) Queenstown Golf Club course provides a test for any golfer with its alternating elevations and you'll also be rewarded with some fantastic views across the Wakatipu basin. Situated barely a five-iron away from the Arrow river which provided New Zealand with its first gold rush in the 1860s, the Arrowtown Golf Club stands up well in the company of its more high profile neighbours.