Who says mountains and beaches don't go together? Queenstown is home many pristine lakes providing swim spots framed by our spectacular mountain landscape.
Lake Whakatipu is New Zealand's third largest lake at 80 kilometres long and covering 293 square kilometres. It has an average depth of 300 metres for over half its length (that's around the same height as the Eiffel Tower!),
Being glacier-fed, Lake Whakatipu is icy all year round, with temperatures ranging from 8 – 10 degrees Celsius. Smaller lakes like Moke Lake and Lake Hayes warm up more in the peak of summer but always be prepared for water cold enough to give you brain freeze.
Queenstown swimming tips
Our mountain lakes are cold, so wearing a wetsuit is a good idea to ease the chill. At the very least, bring warm clothes for after your swim.
In our district, it's compulsory to wear a lifejacket at all times when on any boat six metres in length and under – this includes kayaks and stand-up paddleboards. Find more information about lake and boat safety here. 
Southern sun takes no prisoners and sunburn will put a real downer on your holiday. Fair skin can burn in 12 minutes. So, slip, slop, slap. You know the drill.
Stay safe. Don't swim alone. Stick to your limits, check what's under the surface, know where you're going to get out of the water, and never underestimate rivers.
Right, now we've covered the sensible stuff, let's get to the fun bit, finding you a breathtakingly beautiful spot to spread out that towel and swim.
Here's your guide to some of the best swimming spots in Queenstown.
Queenstown beaches on Lake Whakatipu
Queenstown Bay
Queenstown Bay Beach is a  five-minute stroll from central Queenstown. Looking  straight towards Cecil and Walter Peaks, it's the perfect scenic spot for a swim on a hot day.  There's a pontoon at the far end of the beach and paddle boards, kayaks and other water sports for hire in the summer months. There are also plenty of restaurants and cafés nearby.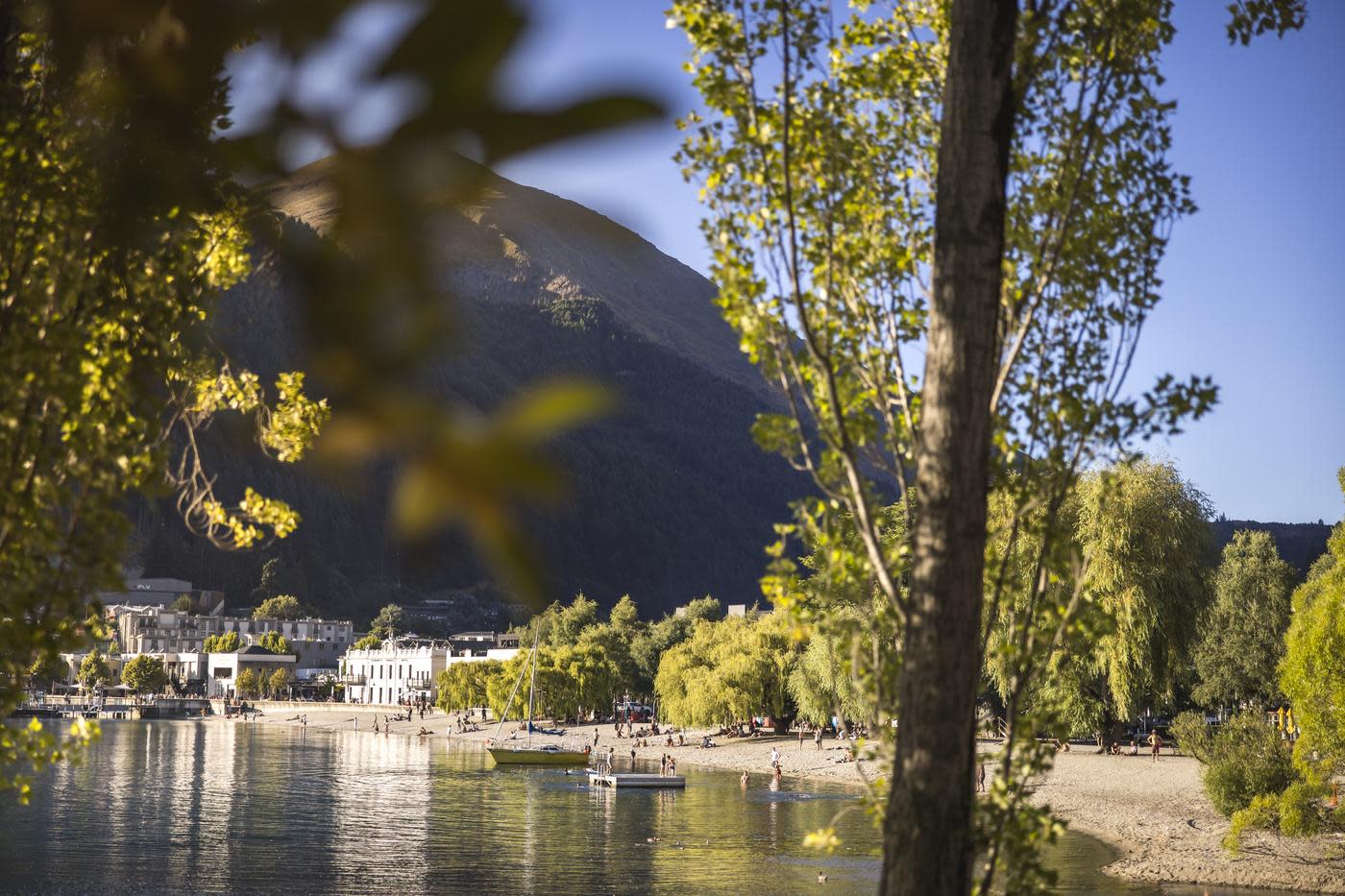 Queenstown Bay
Sunshine Bay
Sunshine Bay is a quiet secluded beach on the left-hand side of the Queenstown-Glenorchy Road, three kilometres from town. You can walk or cycle there on the scenic Sunshine Bay Track, or it's a five-minute drive.
Here you can enjoy stunning views of Cecil Peak and alongside Queenstown locals who enjoy the serenity of swimming, sunbathing and paddling at this secluded beach.
There are a few benches, a bathroom and a small jetty, but that's it for amenities, so bring everything you need with you.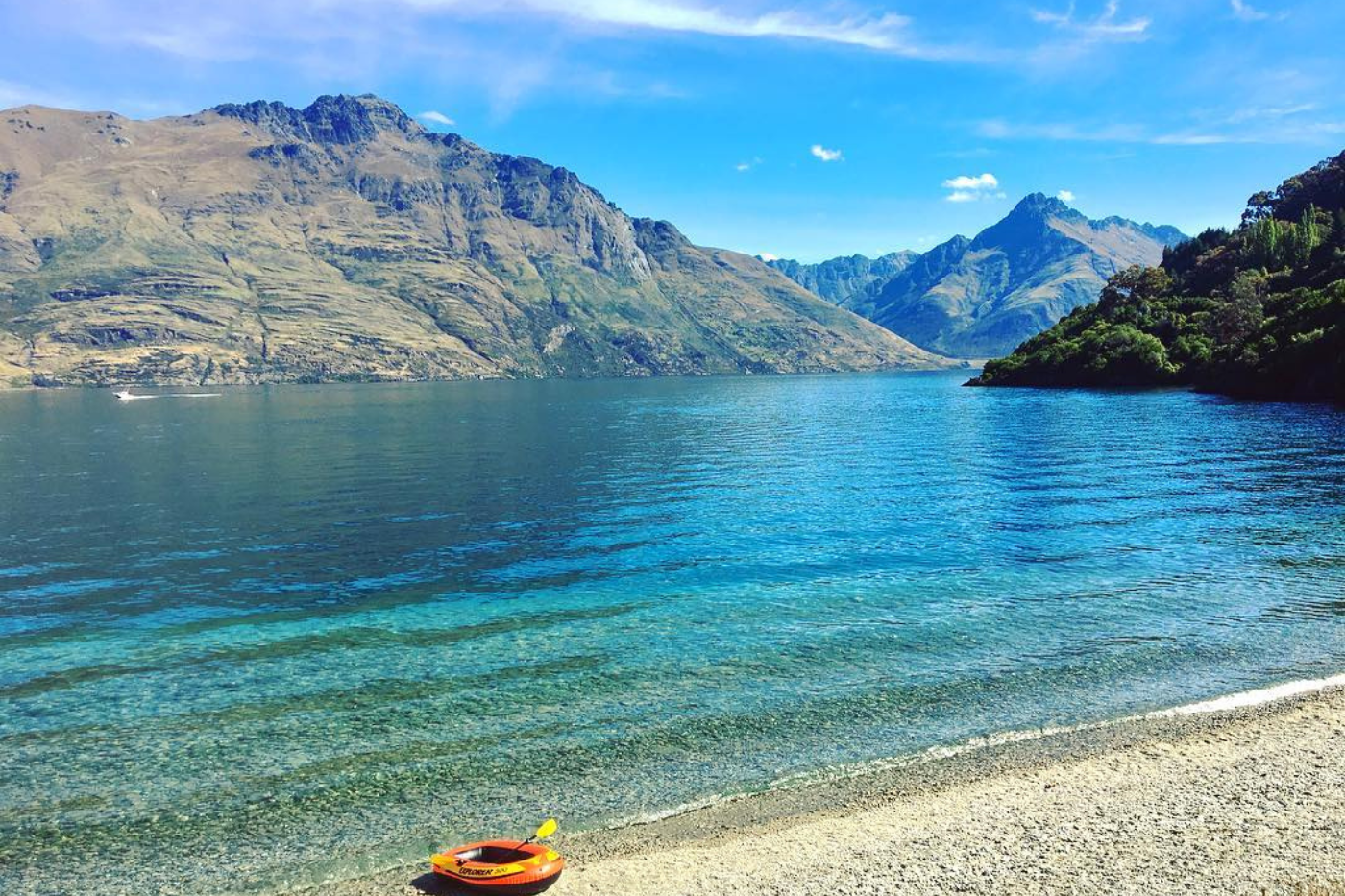 Sunshine Bay. Credit @melissapenrose
Frankton Beach
Frankton Beach is a popular local swimming spot in Queenstown. Being fairly shallow, the water is known to be slightly warmer here. Facilities include a BBQ area, toilets, and a playground for kids. It's a beautiful place to come for a swim, picnic, or just to relax on a hot summer's day – and worth staying for the sunset, too.
To get to Frankton Beach, hop on a local bus to the Frankton Bus Hub or walk or bike along the Frankton Track.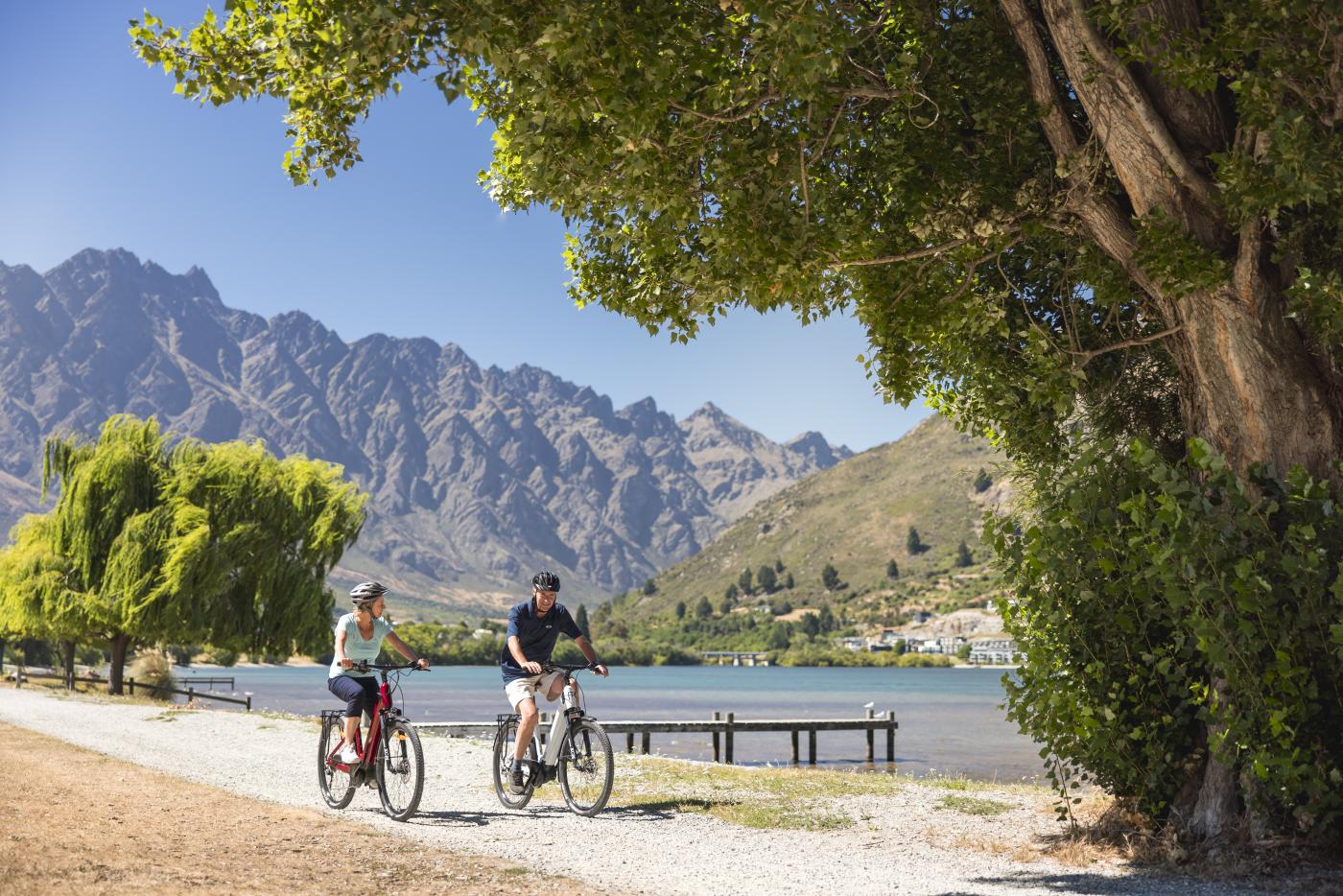 Frankton Track
Kelvin Heights beach
Kelvin Heights beach has incredible views of the Remarkables mountain range. It's popular with boater, water skiers and wakeboarders, as there's a large boat ramp located on Bay View road. The sheltered beach is also a great spot for paddle boarders.
The beach is a 20-minute drive around Lake Whakatipu from central Queenstown. Or if you prefer, take a 10-minute water taxi across from Queenstown and do the short walk to the beach. There are no shops or cafés this side of the peninsula, so pack a picnic.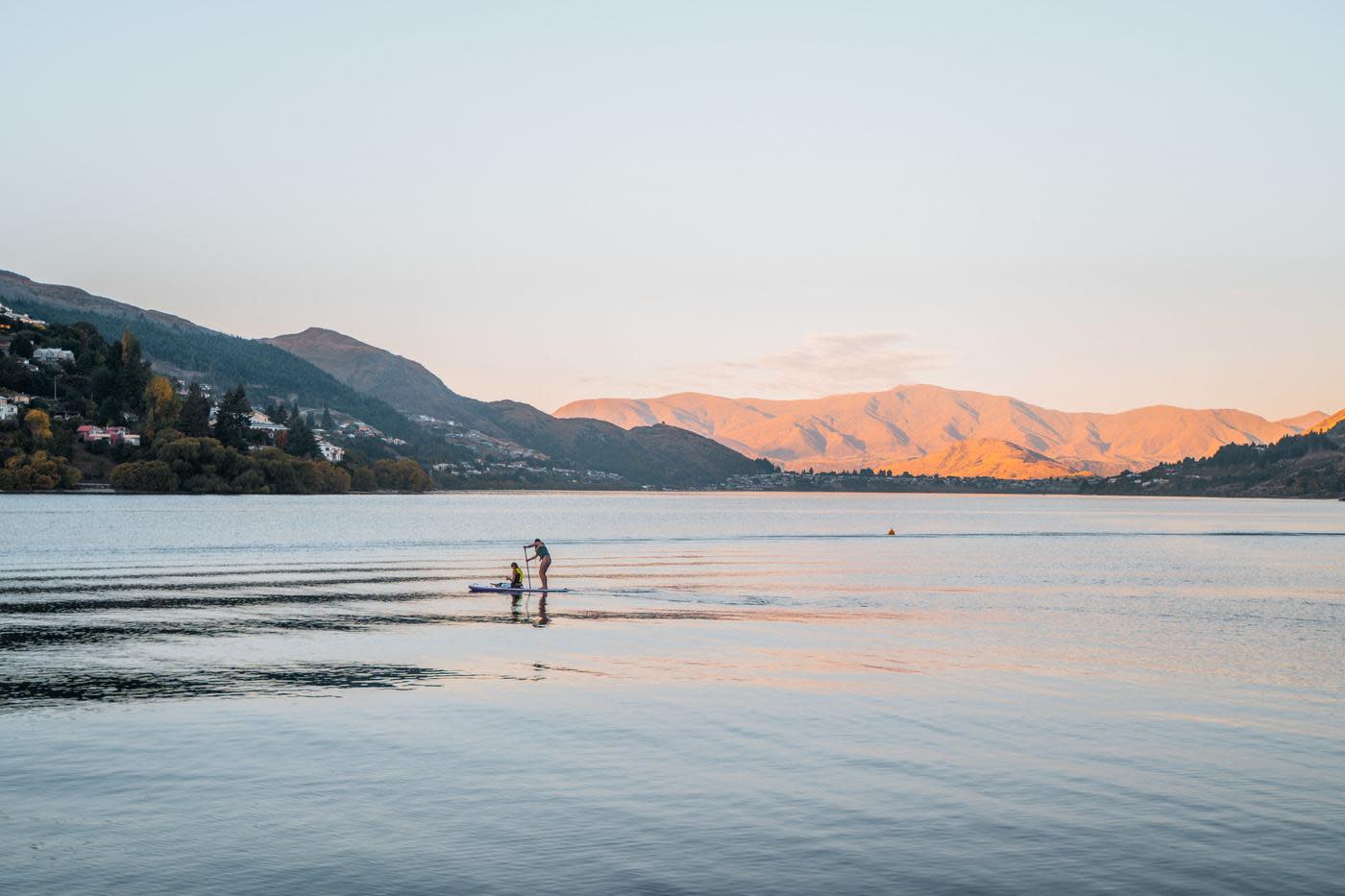 Kelvin Heights 
Wilson Bay
Wilson Bay's crystal-clear waters are great for wakeboarding and water skiing, and you're far enough out of Queenstown to feel like you're on your own private beach.
The bay is a great rest stop on the way to Glenorchy, and there's also a walking/biking track that runs alongside the lake through regenerating native bush and pine forest connecting Wilson Bay to 7 Mile Bike Park.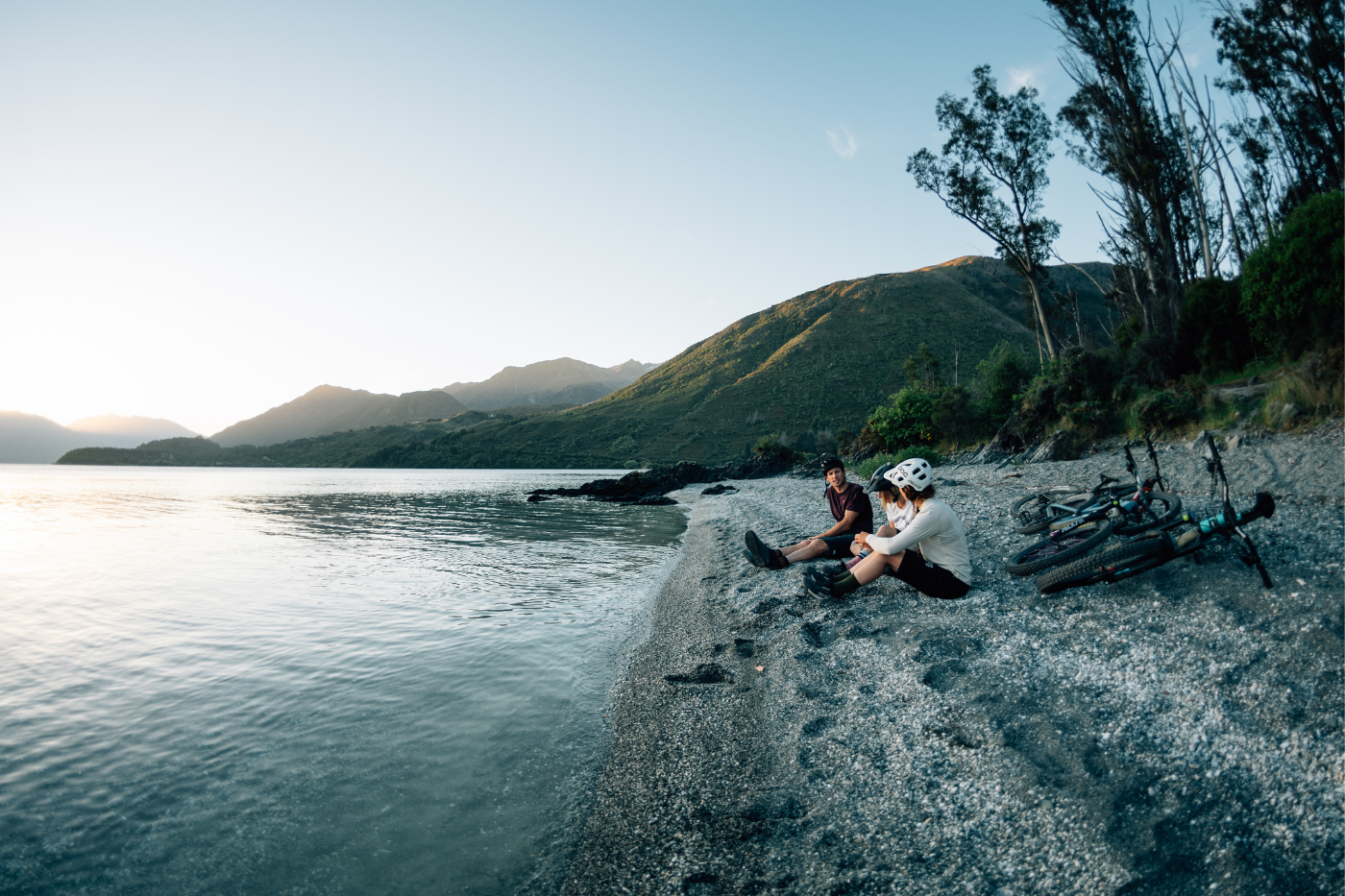 Wilson Bay
Bob's Cove
A hidden treasure, about 20 minutes out of town, Bob's Cove is a favourite for locals who want a short walk to a stunning spot. The track descends through native bush, and past a historic lime kiln from the 1800s.
The Bob's Cove area has one of the best-preserved examples of lake-to-alpine ecosystems with intact old-growth beech forest and many rare plant species. Learn about the important work local organisation, Southern Lakes Sanctuary is doing to protect biodiversity here.
There's a small jetty (perfect for jumping off in summer), shore swimming and fishing spots.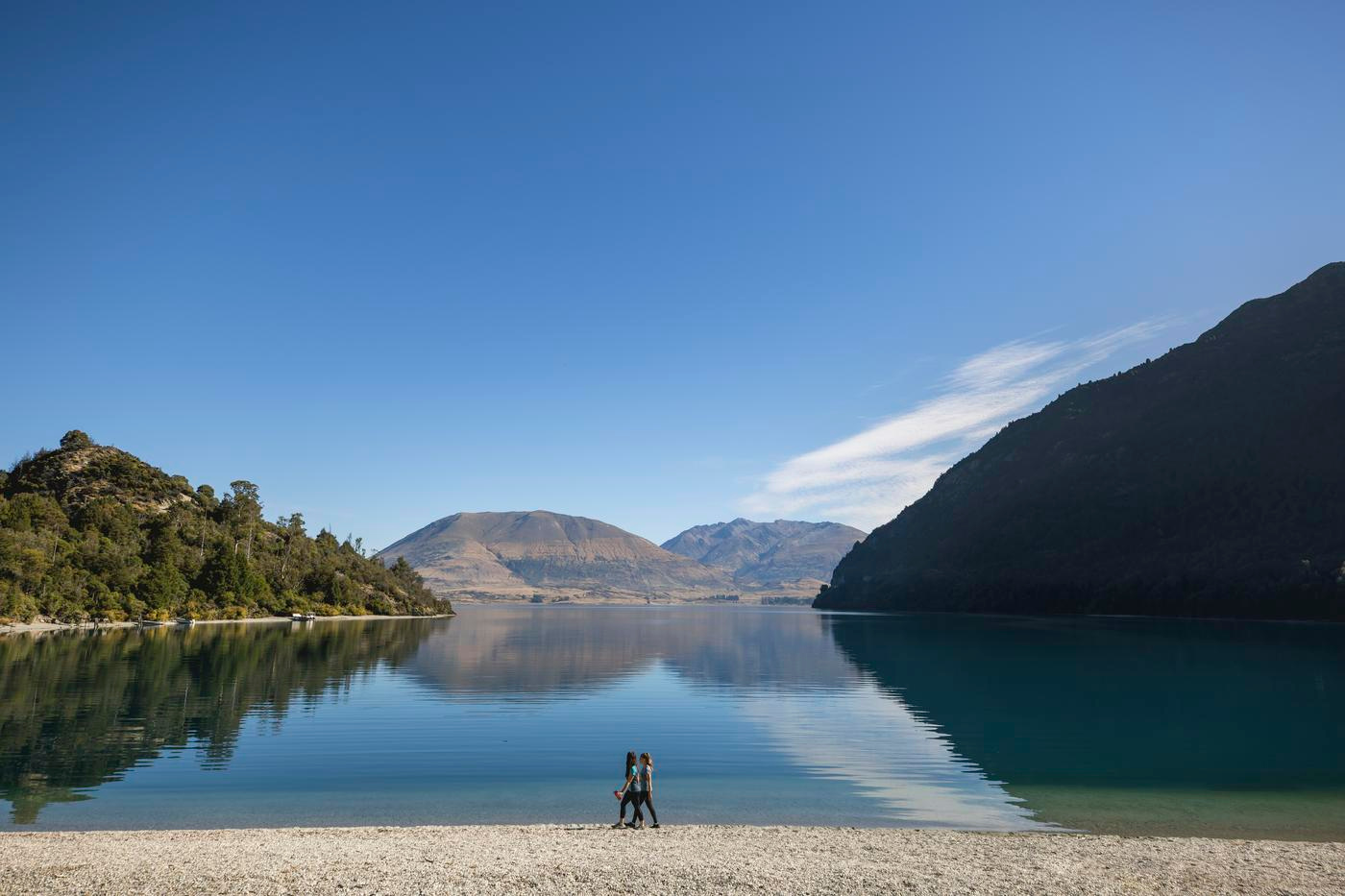 Bob's Cove
More wild swimming spots near Queenstown
Moke Lake
Moke Lake is a ravishing setting for a wild swim. A high-country lake flanked by tussock clad slopes, the water is clear and fresh. On a calm day, the glassy surface reflects the surrounding peaks.
To get there take the road to Glenorchy, turn off 6 km out of Queenstown onto Moke Lake Road and follow the gravel road for about 7 km to the lake.
On a hot day, the water warms up enough for that first dip not to be too big a shock. Pack a picnic and settle in for a day strolling or biking around the lake, with a swim to cool off.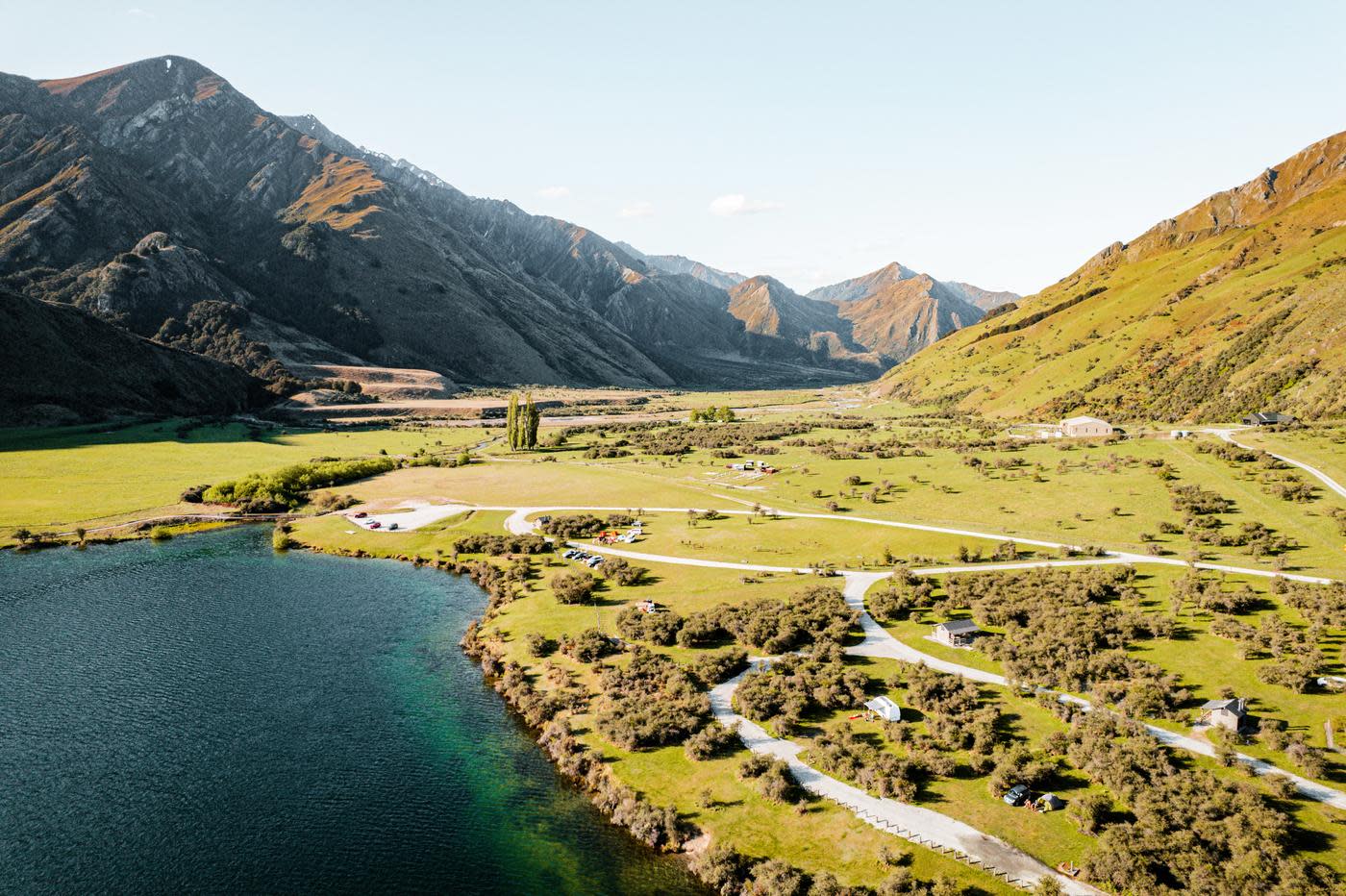 Moke Lake
Lake Hayes
Lake Hayes is a popular summer swimming spot, as its shallow depth means it warms up more than other alpine lakes in the region. A grassy beach at Mill Creek Shallows is a good spot to enter the lake.
On the road from Queenstown to Arrowtown you can access the lake from Lake Hayes Pavilion on SH 6 or from the North Lake Hayes picnic area.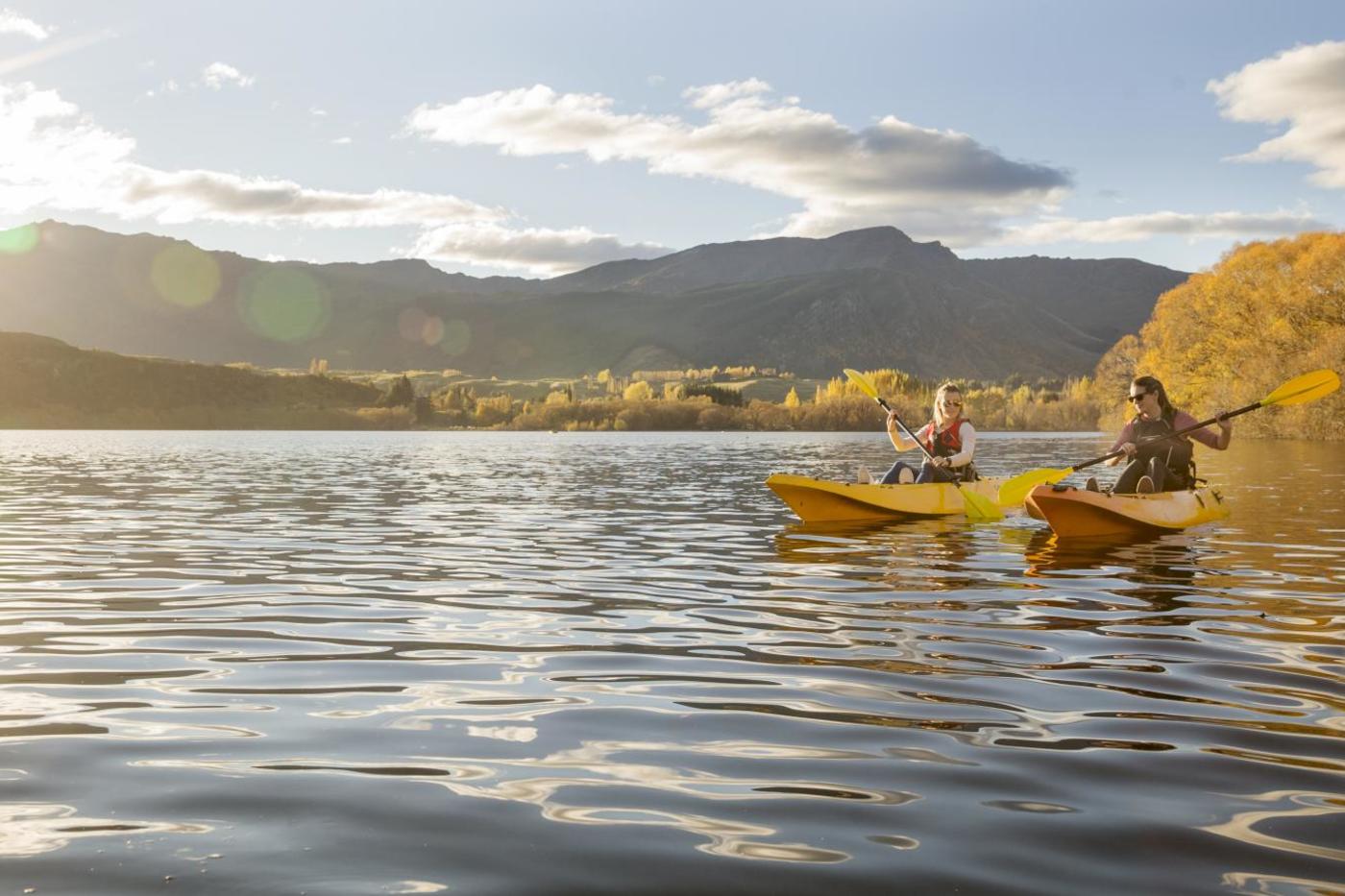 Lake Hayes 
The Arrow River
The Arrow River, near Arrowtown, is another unique Queenstown swimming spot. The river's shallow, clear waters are ideal for a refreshing swim on a hot day.
Combine your visit with a walk or hike or a bike ride along the Arrow River Bridges Trail. Plan an extended stay here to truly immerse yourself in this charming historic gold-mining village.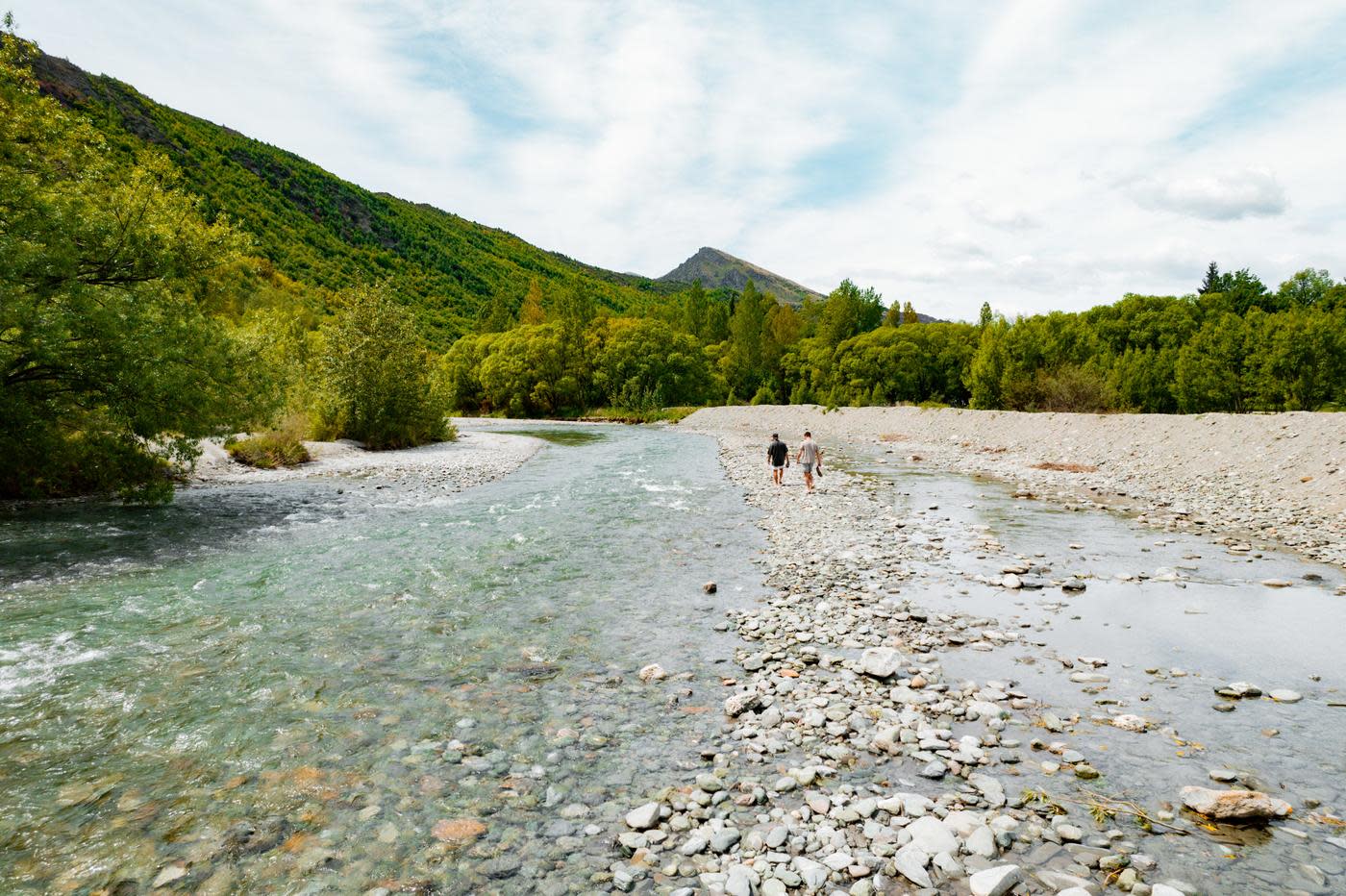 The Arrow River
Ways to care for Queenstown while you're exploring this summer
Take your time to immerse yourself in Queenstown's landscapes, meet our friendly locals, savour our delicious food and uncover hidden gems – find more inspiration in our 6-day slow travel guide.
You can help protect Queenstown's landscape by donating to Love Queenstown L, a local community fund that supports our region's climate, conservation and biodiversity projects that actually make an impact.
As you explore Queenstown, share your Queenstown summer adventures with us on Instagram and #QueenstownLive.