Fuel up for your Arrowtown shopping expedition with coffee and brunch in one of the town's quaint cafes. Sit out in the garden of a historic cottage in summer or cosy up by a wood fire in winter  before hitting the pavement. Here's your guide to the gems you will find when shopping in Arrowtown.
Fashion, clothing and jewellery
Arrowtown is a hub for stylish folks who appreciate New Zealand design and quality New Zealand made clothes. Fashion stores stock New Zealand designer fashion, knitwear, technical clothing, activewear, jewellery, and children's clothes.
Te Huia is the home of New Zealand design with brands like Paula Ryan, Caroline Moore and Standard Issue. Think knitwear, leather, designer jewellery and body products.
Golden Fleece specialises in New Zealand made clothing, especially knitwear. Cosy up in merino and even more snuggly merino possum blends.
21 Buckingham also stock New Zealand made clothing, knits, slippers, and boots along with rustic cowhides, sheepskins and possum fur throws.
WoolPress Arrowtown feature NZ made knitwear, leather goods and outdoor gear. Think quality brands such as Icebreaker, Earth Sea Sky, Merinomink, and Native World.
Wallace & Gibbs offer New Zealand high fashion for men and women, with brands like Catalyst, Obi, Calliope, Marilyn Seyb, Ricochet, Cutler & Co and Reactor.
Bunnies is a designer consignment store, a treasure trove of pre-loved (and new) designer clothes, accessories and shoes in an adorable space.
Seletti Concept Store brings together fashion, beauty, and art with covetable global brands including Isabel Marant, Balenciaga and Chloe, along with styling and skincare advice.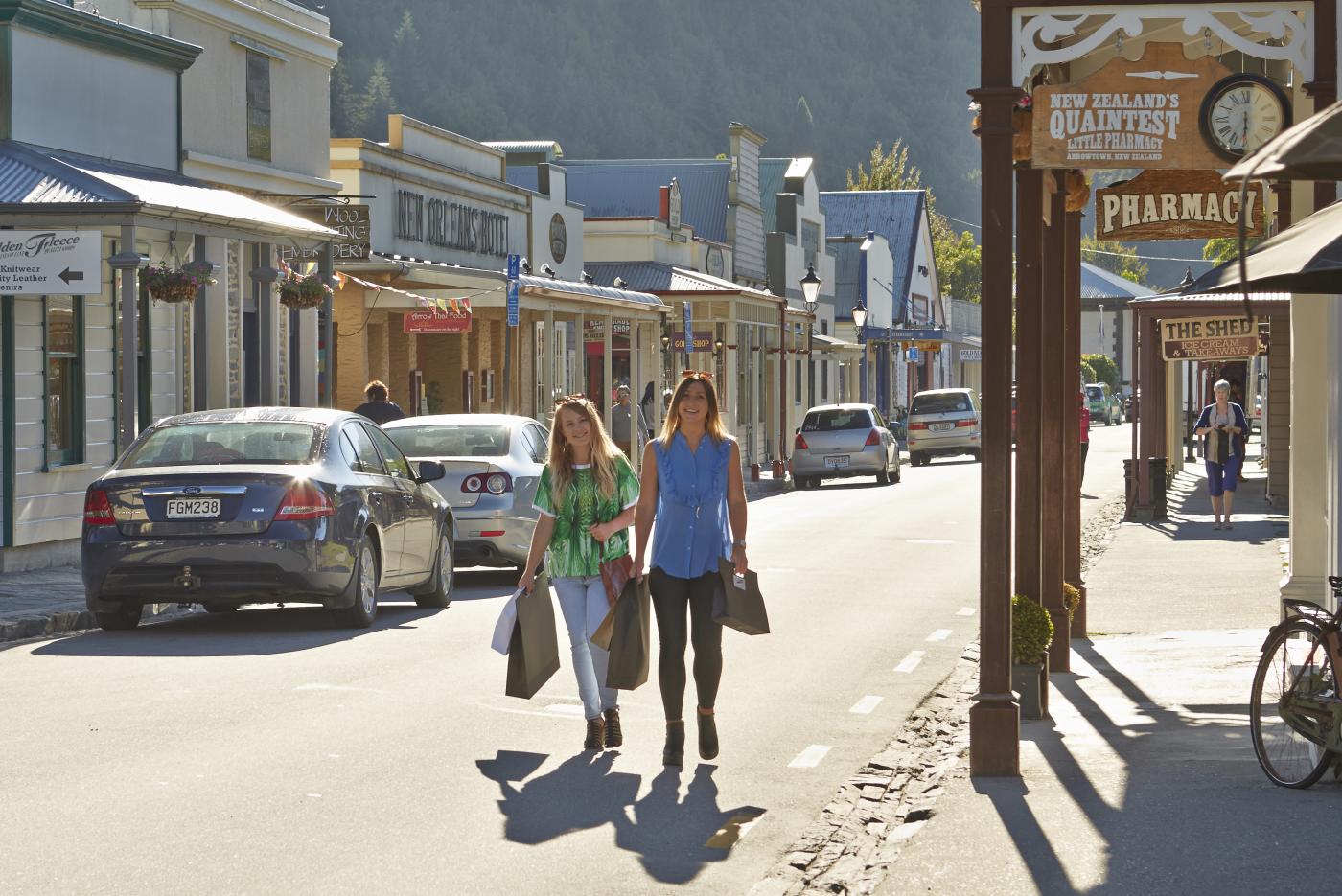 Shopping in Arrowtown
Art galleries & artist's studios
Arrowtown has a cluster of art galleries and artist's studios. Enjoy everything from New Zealand's top contemporary artists, to regional landscapes and enthusiastic local talent.
Nadene Milne Gallery represents a who's who of New Zealand's most celebrated contemporary artists. See work from Shane Cotton, Judy Millar, Fiona Pardington, Max Gimblett, Gretchen Albrecht, Laurence Aberhart, Tony de Lautour, and more.
Arrowtown Gallery is the place to see work from local artists Peter Beadle and Russ McLean, who both specialise in local landscapes, and New Zealand artists Steve Harris, Philippa Bentley, Anna Reid, Douglas Badcock, and Ping Wang. 
The Lakes District Museum has a special exhibition gallery hosting a variety of exhibitions from local high school art students,the local arts society to historical collections of New Zealand paintings, and exhibitions from acclaimed local photographers.
Jenny Merhtens studio and gallery displays her decorative paintings exploring cultural identity. Portraits, cultural iconography, and layered patterns line the walls in riot of colour and gold leaf.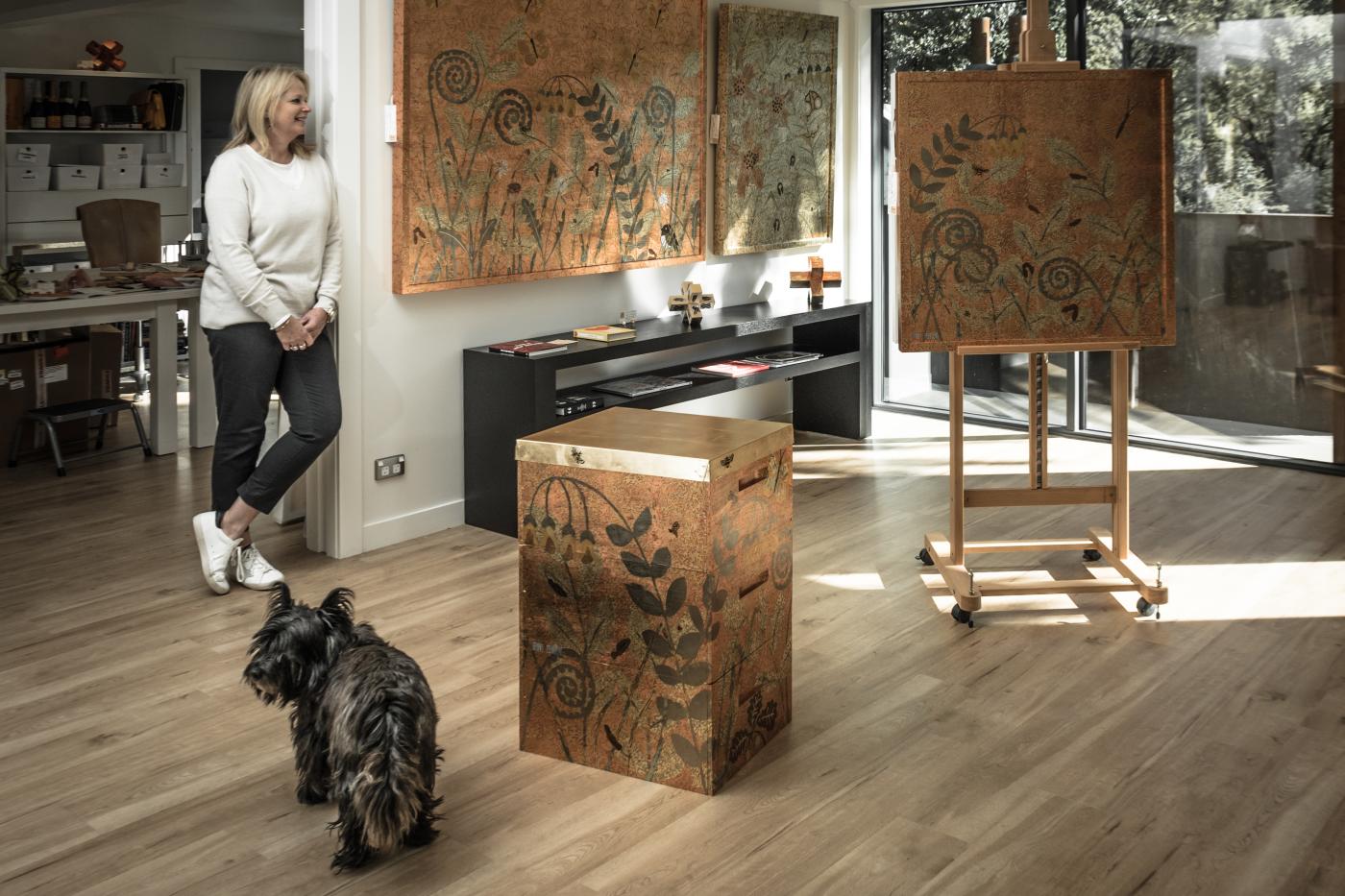 Jenny Mehrtens in her Arrowtown Studio by Emma Westwood
Homeware and gifts
Arrowtown's laneways are home to high-end homeware stores, and quirky gift stores stocking local designs and sophisticated souvenirs. Stock up on gifts for friends and family at home or treat yourself to something special.
Arrowtown Curios is a haven for antique lovers. Think antique jewellery, furniture, vintage prints and unusual pieces to decorate your home.
Attic Homestore is a trove of stylish vintage furniture, cushions and throws, lighting, Kartell's plastic design classics, outdoor accessories, and covetable knickknacks.
Francis Patterson stocks a carefully curated collection of quality homewares, gifts, cute kids clothing and beautiful wooden toys handcrafted in Dunedin..
The Opal & Jade Factory stocks pounamu, pāua, bone opal, and pearl pieces, many carved by skilled craftsmen based in Arrowtown.
Ogle Giftware Store sources gifts, books, and treats from around the world. Choose from homewares from Mexico, art and soft furnishings from New Zealand, and Italian leather.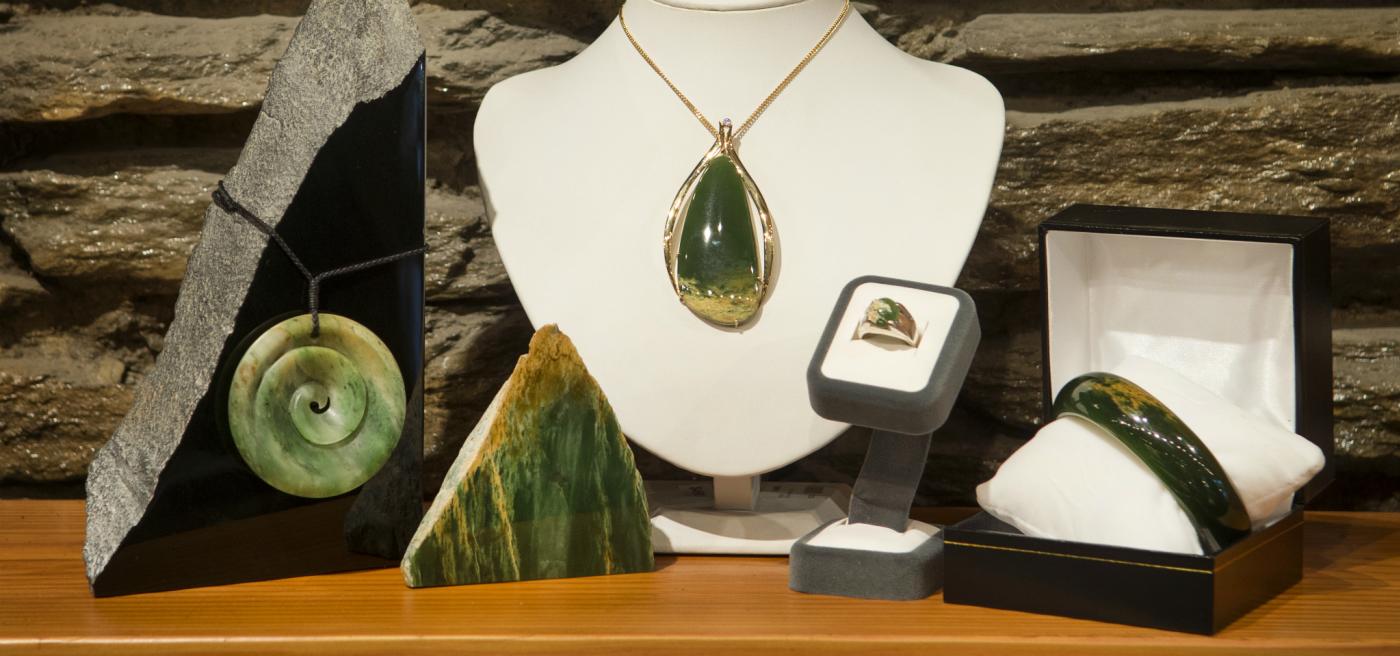 Jade Jewellery from The Opal and Jade Factory 
Wine & delicious treats
With many award-winning wineries nearby, Arrowtown is home to two excellent wine shops if you're looking for something special to add to a picnic, or even send home for your return.
The Winery is an Arrowtown must-do. Taste 80 New Zealand wines, eight rare New Zealand Malt whiskies, or try one of their gin-tasting flights, before choosing your favourites to take home.
Arrowtown Wine Store has a fantastic selection of Central Otago wines, including small boutique vineyards, and local craft beers. You can even fill a rigger to take home.
The Remarkable Sweet Shop is an Arrowtown treasure. Fill a bag with homemade fudge and nougat, great glass jars of nostalgic vintage flavours, and local sweets and chocolates.
The Royalburn Farm Store stocks produce from Nadia Lim's regenerative farm at Royalburn Estate. Stock up on seasonal fresh produce, fresh and cured meats, eggs, and honey.
Patagonia Chocolates Arrowtown make handcrafted chocolates, ice cream and desserts. Stop off for a coffee and take home a gift box of chocolates.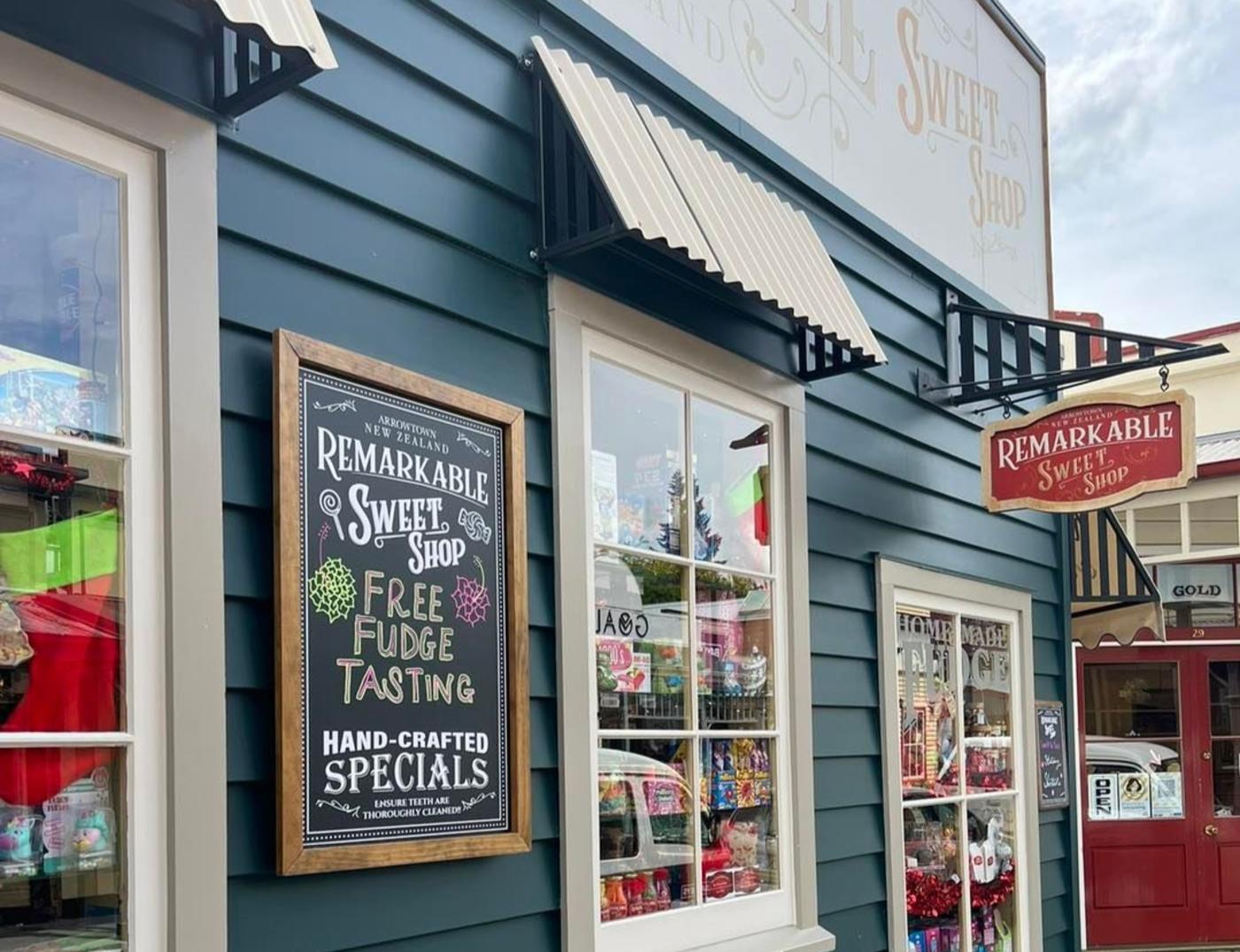 Remarkables Sweet Shop 
Getting to Arrowtown
Make a day of exploring Arrowtown's sophisticated shopping scene, along with the many heritage activities, and Arrowtown walking trails.
Arrowtown is just a 20 minute drive from Queenstown, or public transport can take you to and from Arrowtown easily. Hop on the regular #2 Orbus service from town for only $2 with an Orbus Bee Card. Check the Orbus schedule here.