It's just 30 minutes drive from downtown Queenstown to Gibbston, the heart of Central Otago wine country. Ruggedly beautiful and home to some of the region's oldest vineyards, it's a wonderful place for a wine tour whether by bus, bike, or on foot.
Lined up along the valley is a collection of cellar doors offering tastings of a wide variety of wines from throughout Central Otago's six sub-regions. There's also delicious food to savour at several restaurants and pubs serving up atmospheric, al fresco dining.
Here are the most popular ways to explore the 'Valley of the Vines'.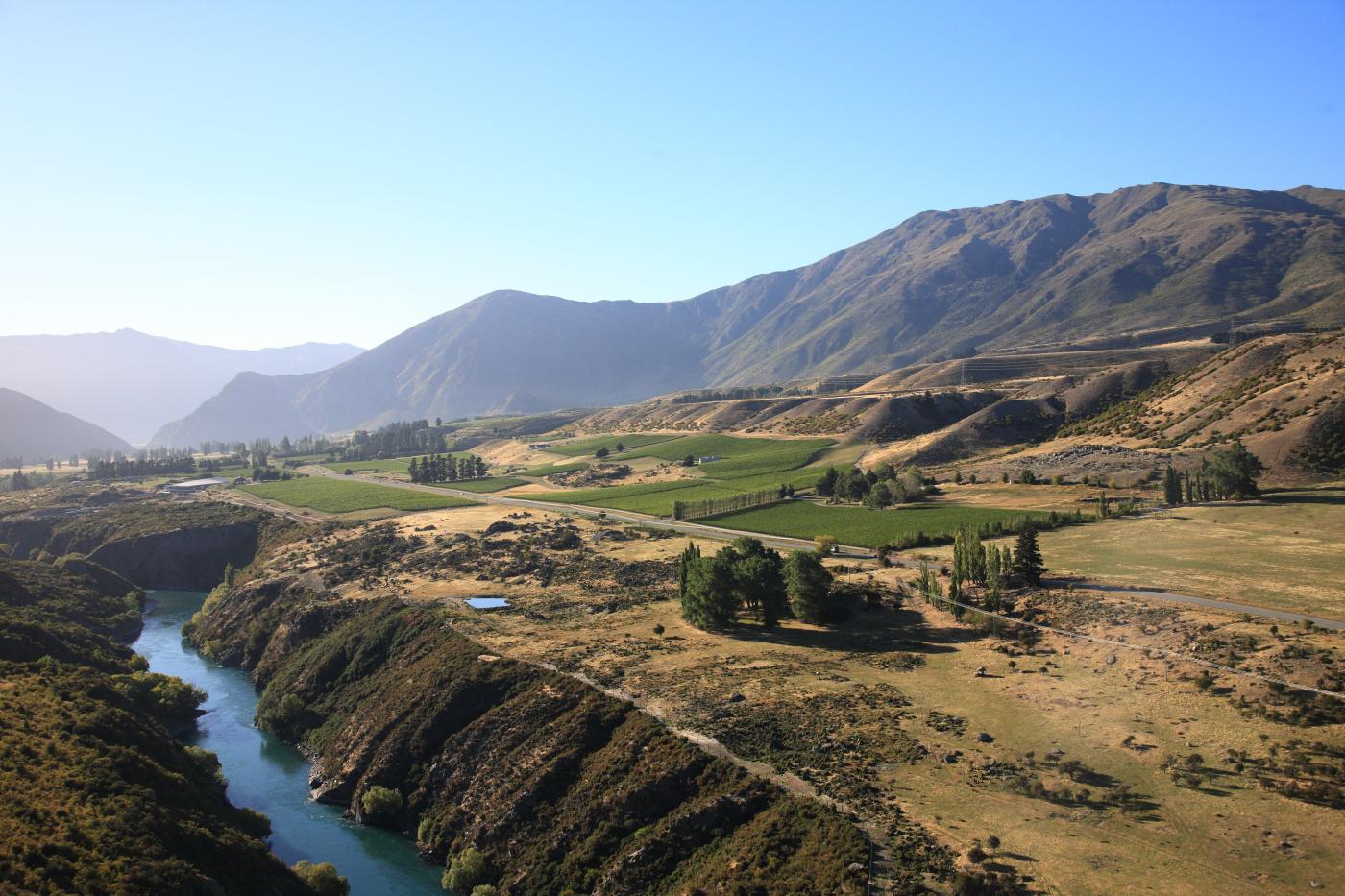 Gibbston Valley Station from above
Guided Wine Tours
You're spoilt for choice when it comes to guided wine tours around Queenstown, with a choice of operators offering everything from popular group trips to private tours customised to specific interests and tastes. Also available are combo tours blending in other must-see sights and activities such as jet boating or a heli flight. Whatever you choose, you're guaranteed a wealth of local knowledge and plenty of stories to tell at the end of the day.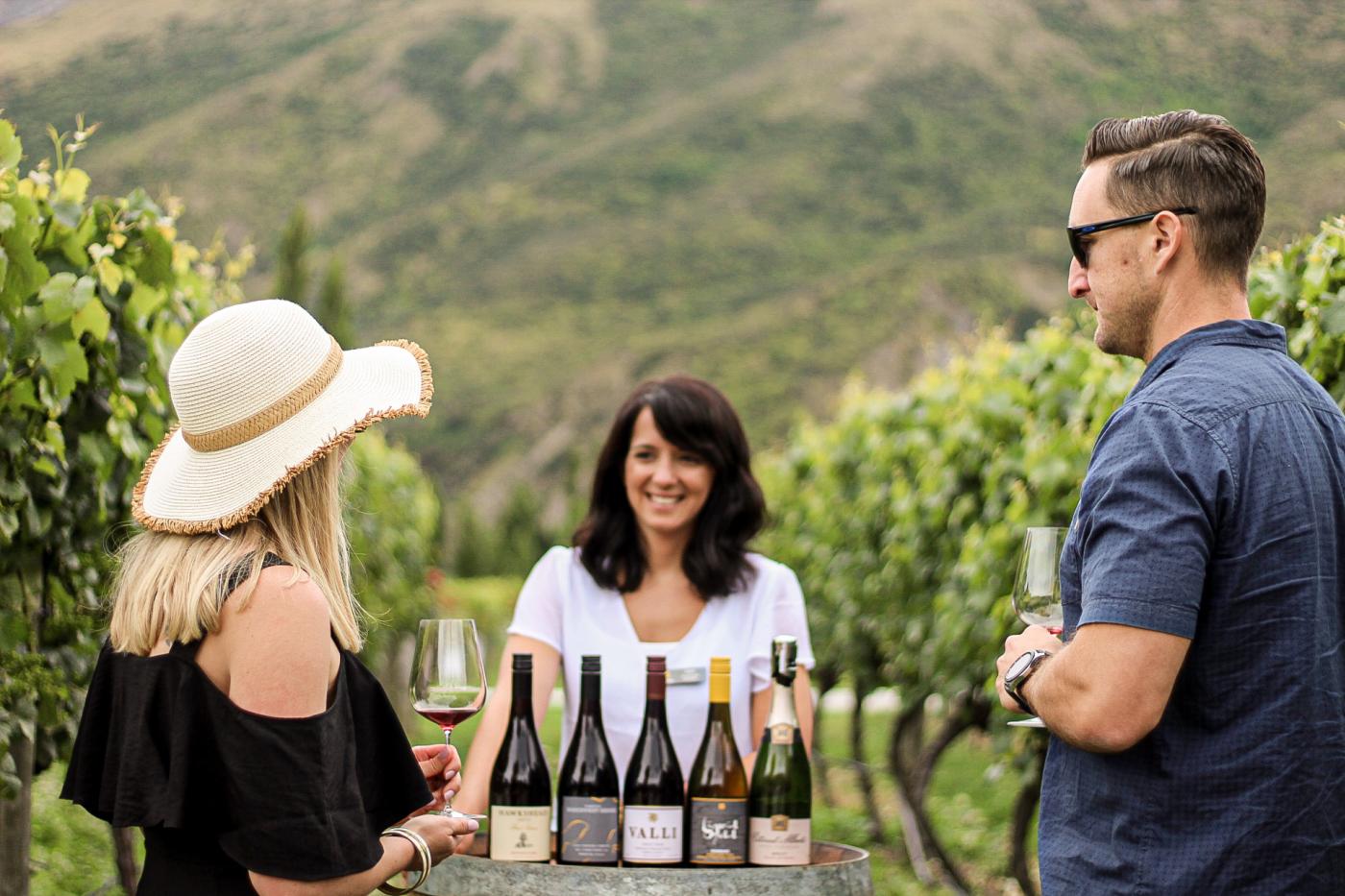 Wine tasting at Kinross with Appellation Wine Tours
Gibbston Valley Shuttle
An easy transport option from downtown Queenstown, this shuttle bus runs 2–3 times daily to Gibbston Valley Winery, one of Central Otago's pioneer producers. Located at the gateway to Gibbston, the winery is the valley's major hub with bike hire, a cheesery and gift shop alongside an impressive cellar door. With tastings, wine cave tours, and both casual and upmarket dining, this is a great place to start or finish your Gibbston wine tour.
Jump-on jump-off shuttle options
Jump-on jump-off tours are a fun and flexible way to get around the wineries without expending too much energy. Get top tasting tips on the journey out to Gibbston, then hop-off to start your self-guided tour. Linger as long as you want at your favourite spots, and enjoy walks between cellar doors for a breath of fresh air. Then simply hop back on the bus again as it passes various pick-up points per the timetable. Hop On Hop Off and Wine Hopper Bus both offer jump-on-jump-off services departing several times a day from downtown Queenstown.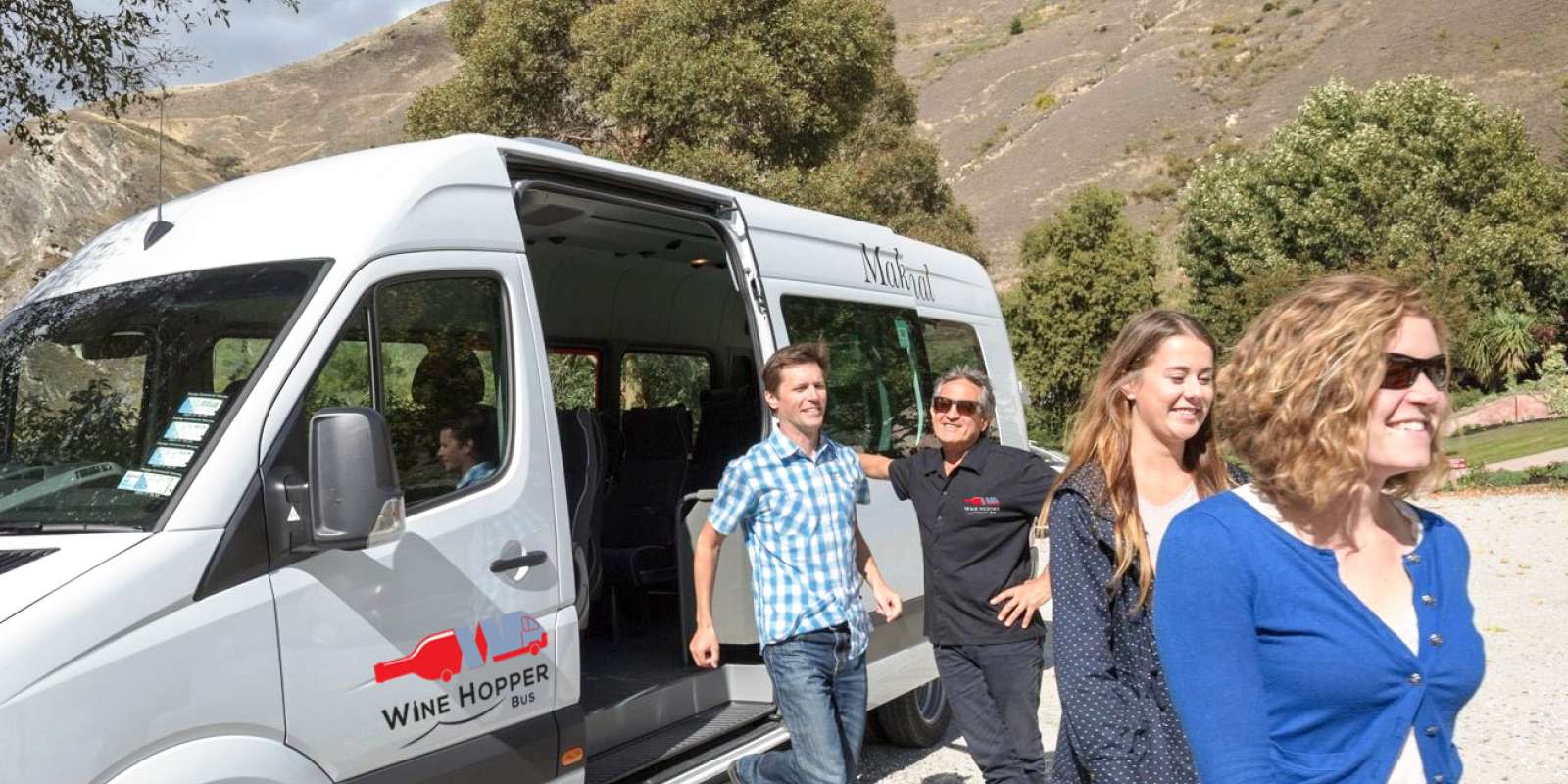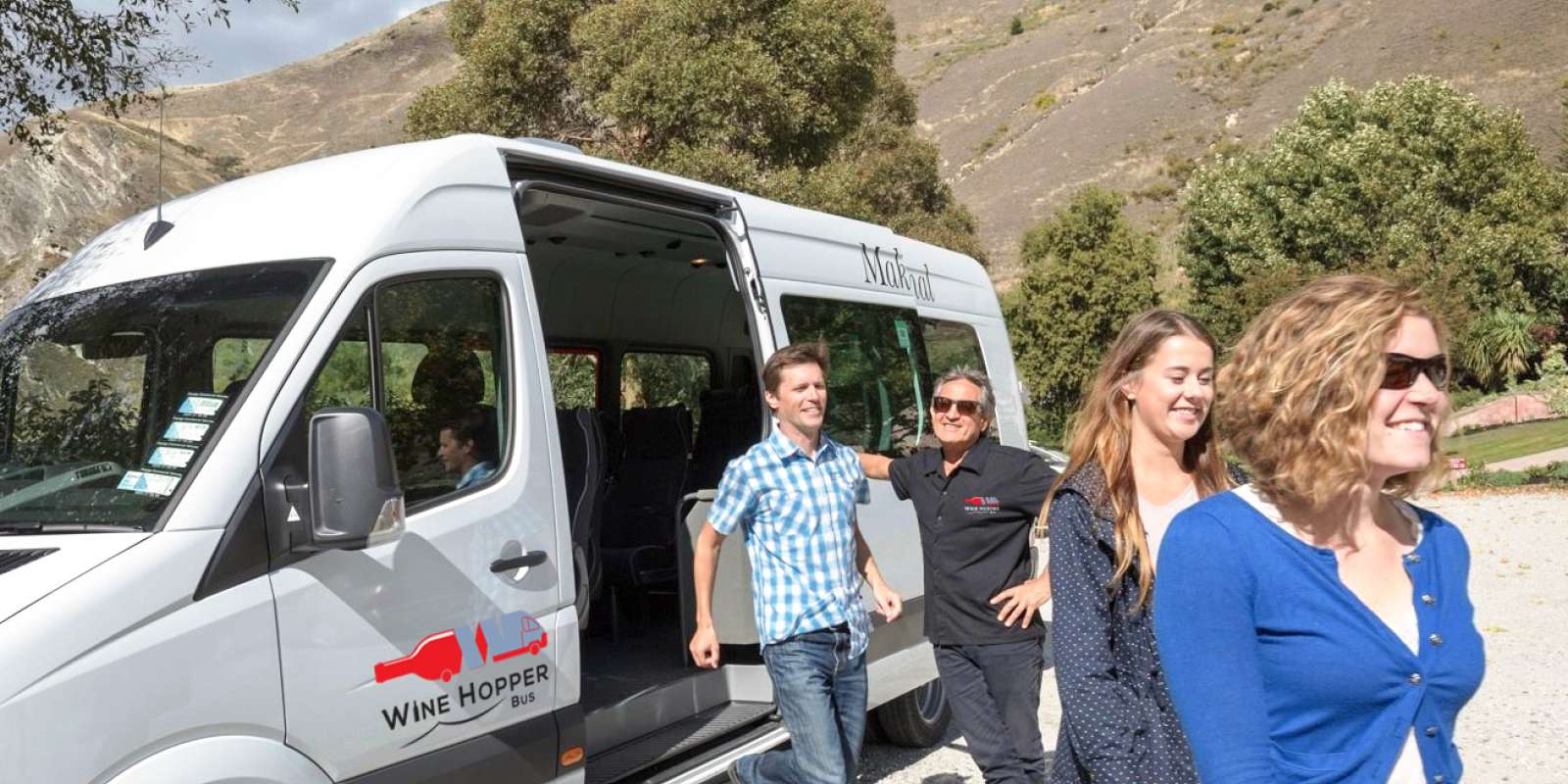 Jump-on, jump-off winery shuttle services
Gibbston River Wine Trail
A fantastic option for cyclists, the Gibbston River Wine Trail meanders past the dozen or so cellar doors and other attractions lining the Gibbston Valley. It's around 9km of flat, easy riding from end to end, with Gibbston Valley Winery a hub for bike hire and shuttles. Bike tour operators will also collect you from other points along the trail so you don't have to do the full there-and-back. Walkers can also enjoy the trail; just ask your shuttle driver or other local expert to recommend a route to suit your interests and timetable.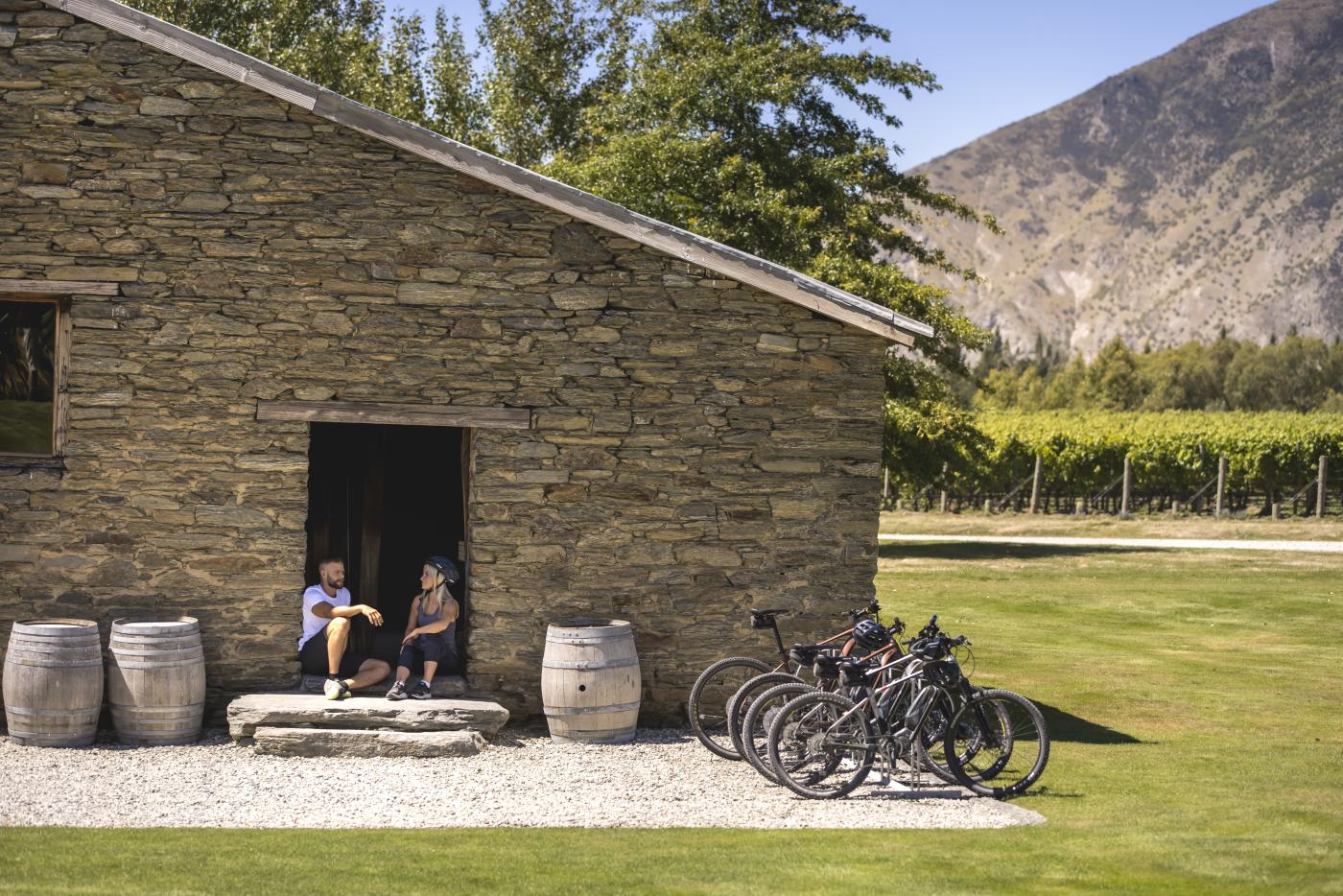 Peregrine Winery, Gibbston River Wine Trail
Arrow River Bridges Trail
Starting in Arrowtown, the Arrow River Bridges Trail is a brilliant way to work a longer bike ride into your wine tour. The 14km trail takes 2–3 hours, so setting off early morning will see you arrive in Gibbston perfectly timed – and hungry – for lunch. Along the way you'll cross five distinct bridges spanning the pretty Arrow River, with the option of calling into A J Hackett's Kawarau Bridge Bungy at the entrance to Gibbston. What better way to pop the cork on your Gibbston wine tour than by taking the big leap!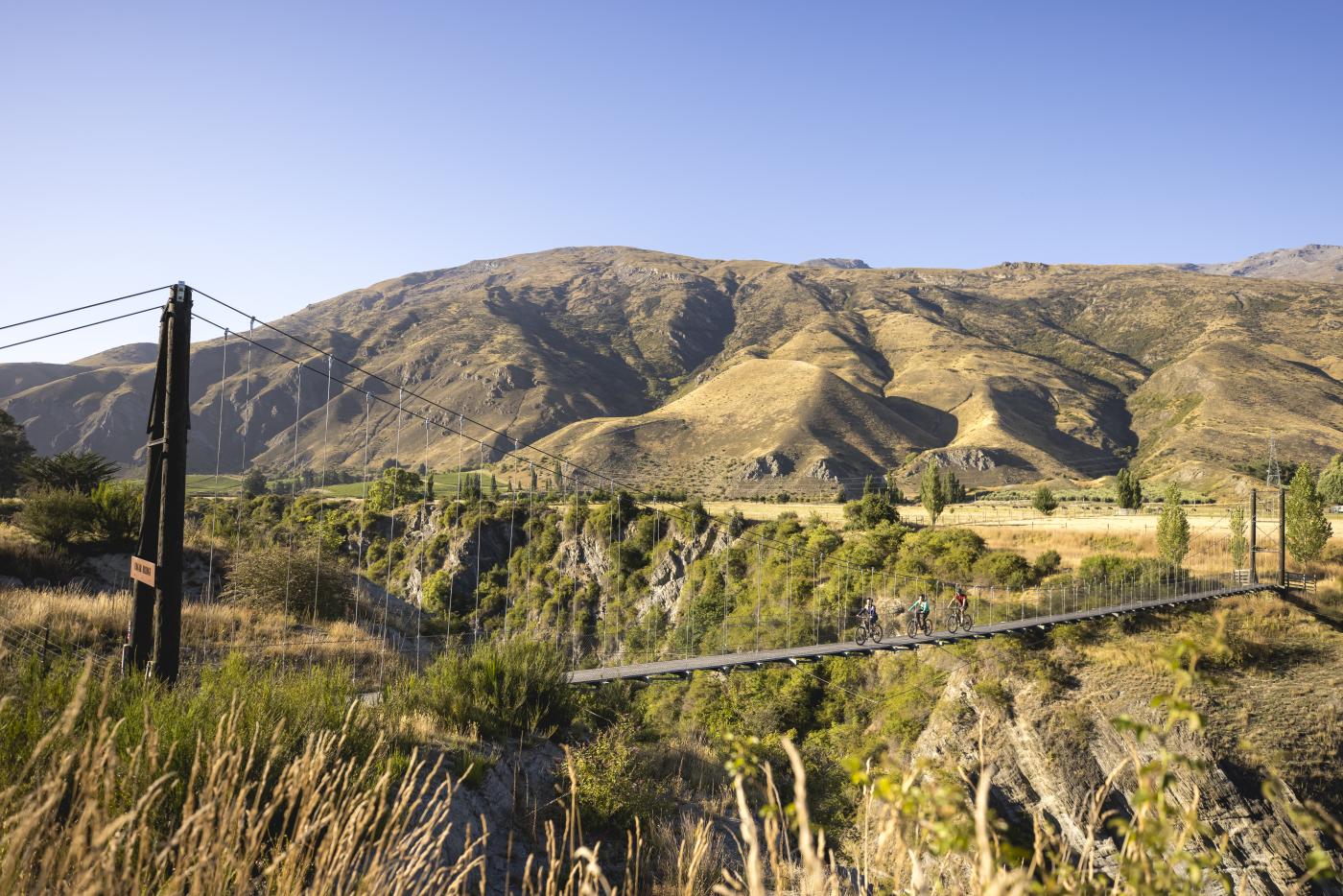 Biking over the Edgar Bridge
Self-drive
Pick up a wine map, designate your driver, and create your own wine tour of Gibbston and beyond. Highlights between Queenstown and Gibbston include historic Arrowtown, Amisfield Bistro & Cellar Door near pretty Lake Hayes, and Chard Farm winery perched high on the river terraces at the entrance to the Valley.
Enjoyed your Queenstown wine tour? Don't forget to share your good times with us on Instagram @queenstownnz #queenstownlive