Shotover Canyon Swing
Canyon Swing
THE CANYON SWING
It's perfectly normal to feel nervous jumping off a cliff, but boy is it fun!
The freefall is intense, lasting just a bit longer than you think it should. Then when the swing kicks in it's smiles from ear to ear. Is it worth it? Hell yeah it is. So much so that you will want do it all over again!

SPECIAL OFFERS
Check out our deals below, save yourself some money!
HOW IT WORKS
After leaping off the platform you'll free fall 60 metres, rushing past the rocky cliff so close you'll think you could touch it.
Then it's a supersmooth transition from freefall to swing, soaring above the river below.  Once you've stopped swinging, we'll bring you back up to where it all began.
WHY CHOOSE US
109m high
60m freefall
200m swing
Smooth transition from freefall to swing
Heaps of crazy jumpstyles
Jump yourself or be released
Epic scenery just 15 minutes from town
Small groups with regular trips
Awesome photos & videos
Locally owned and operated since 2002
A must do in Queenstown
SOLO OR TANDEM
Would you go it alone or share the fear?  Both different experiences, so it all depends on how you get your kicks.  Perhaps it's your first time doing something this ridiculous try a tandem, then, if you you're gagging for more, go for round two solo.
HEAPS OF JUMPSTYLES
We simply don't jump off a cliff we make it seriously fun.  Why not ride off on a trike or with a bin on your head?  Don't worry though we are still a bit traditional with forwards and backwards styles too.  For those whose feet just won't leave the safety of the ground we have cutaway options.  With solo and tandem options too choose from, there's something for everyone.
RESTRICTIONS
Minimum age – 10 years
Maximum solo weight – 160kgs
Maximum combined tandem weight – 180kgs
Those who are pregnant are unable to participate
Closed toe shoes required
THINGS YOU NEED TO KNOW
Extra swings available on site
Spectators welcome
Transport included – private access to site
Two hour round trip
Photos & video to purchase
We operate rain, hail and shine
Contact Us
Company: Shotover Canyon Swing
Physical Address
34 Shotover Street
Queenstown, 9300
MinPrice: $179
Solo - $199 Solo + Photos & video - $249 Tandem - $358 Tandem + photos & video - $408 Spectators - $10 Extra swings - $30


Just 10 minutes drive from town Transport included Pick up's available from Shotover Jet river base Spectators welcome


Open For Business : Yes


Monday : 9:00 AM - 5:00 PM
Tuesday : 9:00 AM - 5:00 PM
Wednesday : 9:00 AM - 5:00 PM
Thursday : 9:00 AM - 5:00 PM
Friday : 9:00 AM - 5:00 PM
Saturday : 9:00 AM - 5:00 AM
Sunday : 9:00 AM - 5:00 AM


Months of Operation : Jan - Dec
Group Info: Suitable for small groups, please contact us for details


Group Reservation Email: bookings@canyonswing.co.nz


Group Capacity: 0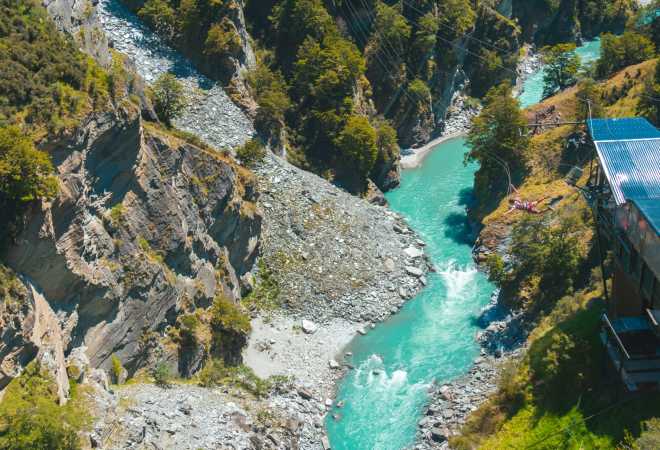 109m High, 60m Freefall & 200m Swing Take a break from the slopes this winter and go jump off a cliff! Save $50 per person on Solo and Tandem Canyon Swings
Valid until 31 October, 2021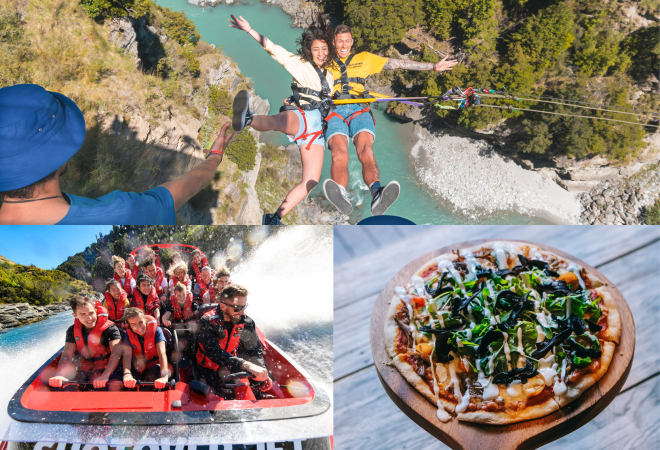 For just $309 for adults and $249 for kids (10-15yrs) you'll get a Canyon Swing, Shotover Jet boat ride, and your choice of either a beer tasting paddle or flat bread (pizza) at Canyon Brewing. All located in the spectacular Shotover Canyon in one amazing day out. Save up to $176!
Valid until 31 October, 2021