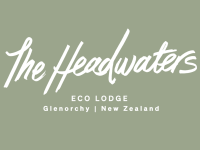 The Headwaters Eco Lodge
The Headwaters Lodge
Breathtaking Glenorchy, just 40 minutes from Queenstown, has captured the imaginations and hearts of travellers for over 150 years. Set snugly between two soaring mountain ranges, a glacier-topped peak and the river-fed headwaters of Lake Wakatipu, Glenorchy is a unique destination with an endless variety of things to do, from the peaceful to the exhilarating to the sublime.
The Headwaters Eco Lodge is part of the Headwaters Group and sister to Mrs Woolly's General Store. The innovative eco lodge is committed to delivering environmental, financial and community sustainability. Designed and built according to the specifications laid out in the Living Building Challenge, the lodge not only feels right but it does right too - with all profits going back into the Glenorchy community
AWARD-WINNING
Picture yourself in one of Time Magazine's 2019 World's 100 Greatest Places: The Headwaters Lodge has been created from the ground up to delight and inspire our guests. Whether you're an active adventurer or looking to relax, herein you'll find stunning natural beauty, hand-crafted artistry and warm, welcoming Kiwi hospitality.
TIME Magazine has named The Headwaters Eco Lodge in the World's 100 Greatest Places of 2019. Featured in its September issue, it was the only New Zealand accommodation chosen to make this list, and one of only 44 of TIME Magazine's "must go" accommodation destinations in the world.
ACCOMMODATION AND FACILITIES
The Headwaters offers world-class regenerative facilities and unforgettable immersive experiences. Our all-inclusive packages range from a one to four night stay all sharing incredible views, premium facilities and supporting a sustainable future. Designed to inspire and connect through nature, our new all-inclusive luxury getaways are finely curated multiday adventures that provide life changing moments of wellness and discovery. Unique in every sense these year-round experiences will reconnect you to the great outdoors and ultimately to yourself.
OPTIONS
The Headwaters Lodge offers all-inclusive adventures for 
Couples - stunning accommodation available for 1 night or more
Adventurers - a broad range of all-inclusive luxury getaways
Small boutique weddings beautiful & flexible location with an event manager to assist you in making your day special
Special interest groups cabins set in a stunning location with lots to do locally - fishing/tramping/kayaking/mountain biking
Families eco chalets with flexible room configurations
Corporate Hospitality an ideal destination for conference groups, incentive programs, leadership meetings or celebrations, with premium facilities and on-site catering.
Contact Us
Company:
The Headwaters Eco Lodge
Physical Address
42 Oban Street
Glenorchy, 9372
Airport Transfers

Coffee/Tea Facilities

Ensuite

Internet Access

Kids menu

King Bed

King Single Bed

Laundry

Non-Smoking Hotel

On-site Parking

Outdoor seating

Pets Allowed

Queen Bed

Restaurant on Site

Single Bed

Ski Storage

Spa

Super King Bed

Wheelchair Accessible

Wifi Internet
MinPrice:

$550
$550 for 2 people overnight accommodation in rustic luxe chalet plus hot breakfast.


Monday:

8:00 AM - 6:00 PM

Tuesday:

8:00 AM - 6:00 PM

Wednesday:

8:00 AM - 6:00 PM

Thursday:

8:00 AM - 6:00 PM

Friday:

8:00 AM - 6:00 PM

Saturday:

8:00 AM - 6:00 PM

Sunday:

8:00 AM - 6:00 PM



Months of Operation:

Jan - Dec



Hours:

24 hours, 7 days a week


Group Reservation Email:

Events@theheadwaters.co.nz



Number Of Rooms:

23



Num Of Function Rooms:

3



Theatre Capacity:

120



Banquet Capacity:

120



Cocktail Capacity:

120



Board Room Capacity:

40