Queenstown is renowned for being the mountain bike mecca of the Southern Hemisphere, boasting three lift-assisted parks, jump parks and a variety of trails covering every discipline from downhill to enduro to cross country. With this reputation comes various other bike-related activities such as pump track, and Queenstown is home to four different pump tracks, all with varying terrain, style and housed in stunning locations that showcase the surrounding mountains.
A pump track is a looped sequence of berms and rollers, designed to maximise your momentum without pedalling. Not only does it improve your bike handling skills including cornering, weight and unweighting the bike, it is also incredibly fun and excellent for your fitness. Pump tracks are suitable for all abilities, from kids and new riders through to seasoned professional Crankworx athletes on the World Circuit as seen at the Crankworx Summer Series. You don't have to be a mountain biker to make the most of a pump track either, road riders, gravel riders, and BMX riders can all reap the benefits a pump track provides.
Kerry Drive Pump Track
Kerry Drive is the latest and greatest addition to Queenstown's ever-growing biking portfolio and made its debut at the Crankworx World Summer Series in December 2021.
Located on Queenstown Hill, Kerry Drive Pump Track is a 15-minute walk from the town centre or a five-minute drive. There is plenty of ample parking at the base of Kerry Drive and toilet facilities available.
The Kerry Drive Pump Track design is a dirt loop track, the traditional pump track format, and mirrored to allow for two riders to be on the track at once and ultimately ride against each other. This format can make for exciting race watching! Take a picnic on a summer's evening to enjoy the breathtaking views of Lake Whakatipu while you pump around the rollers.
Insider's tip: Put your timing and explosive power to test on the air operated gates at Queenstown Mountain Bike Club (QMTBC) local's nights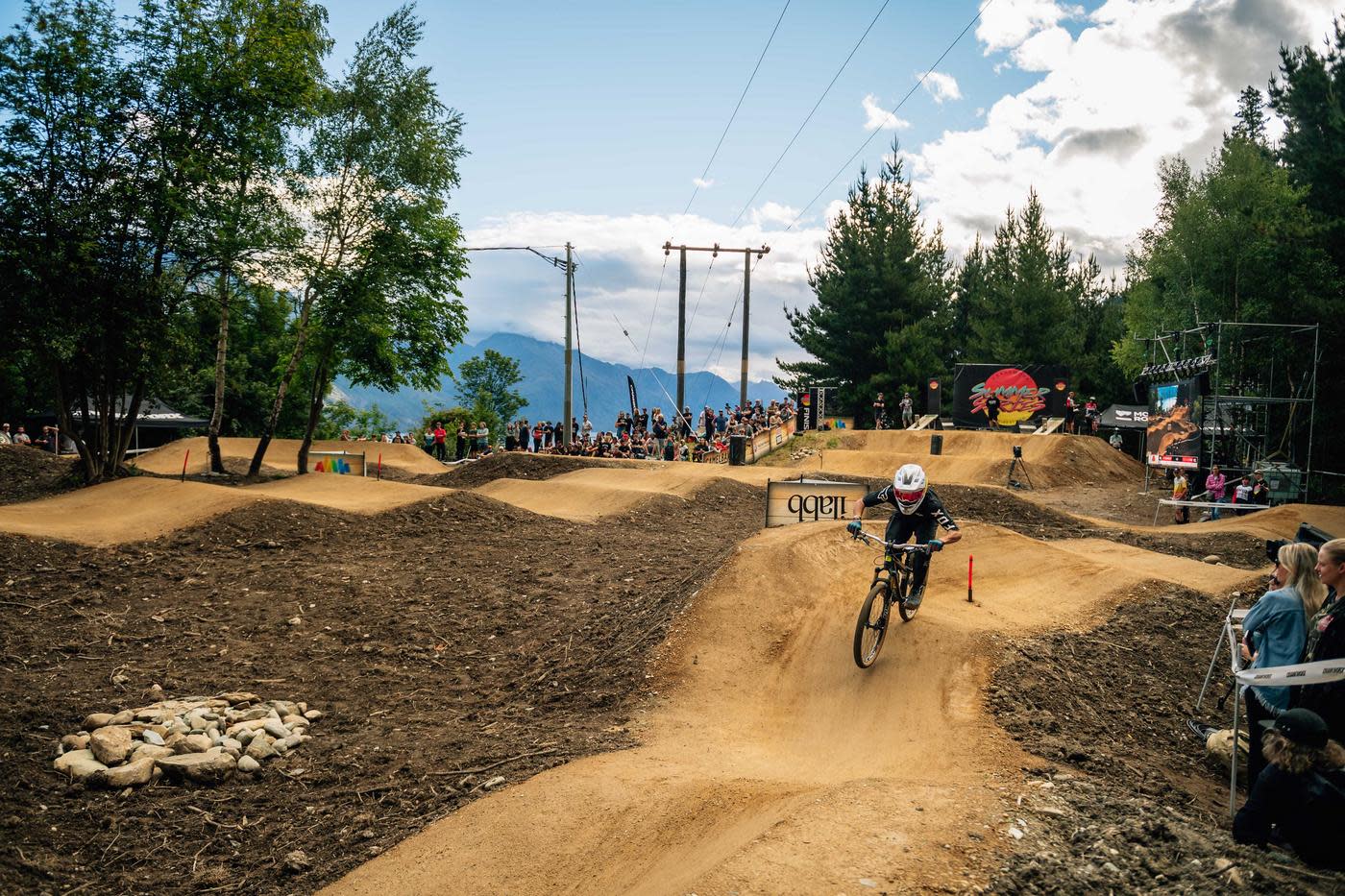 Crankworx Summer Series at Kerry Drive Pump Track
Hanley's Farm Pump Track
Equally as beautiful as Kerry Drive Pump Track, the asphalt Hanley's Farm track is nestled in front of the dramatic Remarkable Mountains which sets the tone for any great session.
Located just a five-minute drive from Frankton, this pump track is designed for multiple use, with children through to talented BMXers making the most of the different line options. The design ultimately encourages a one-way flow, however there are multiple different options to spice up your laps when you have mastered the flow and rhythm of the one-way system.
Insider's tip: The Hanley's Farm Pumptrack is equally as popular with pre-school children, scooterists and skateboarders. To avoid peak crowds, attend during school hours or evenings. Evening sessions are epic, especially when The Remarkables mountain range gets drenched in the golden hours of the sunset.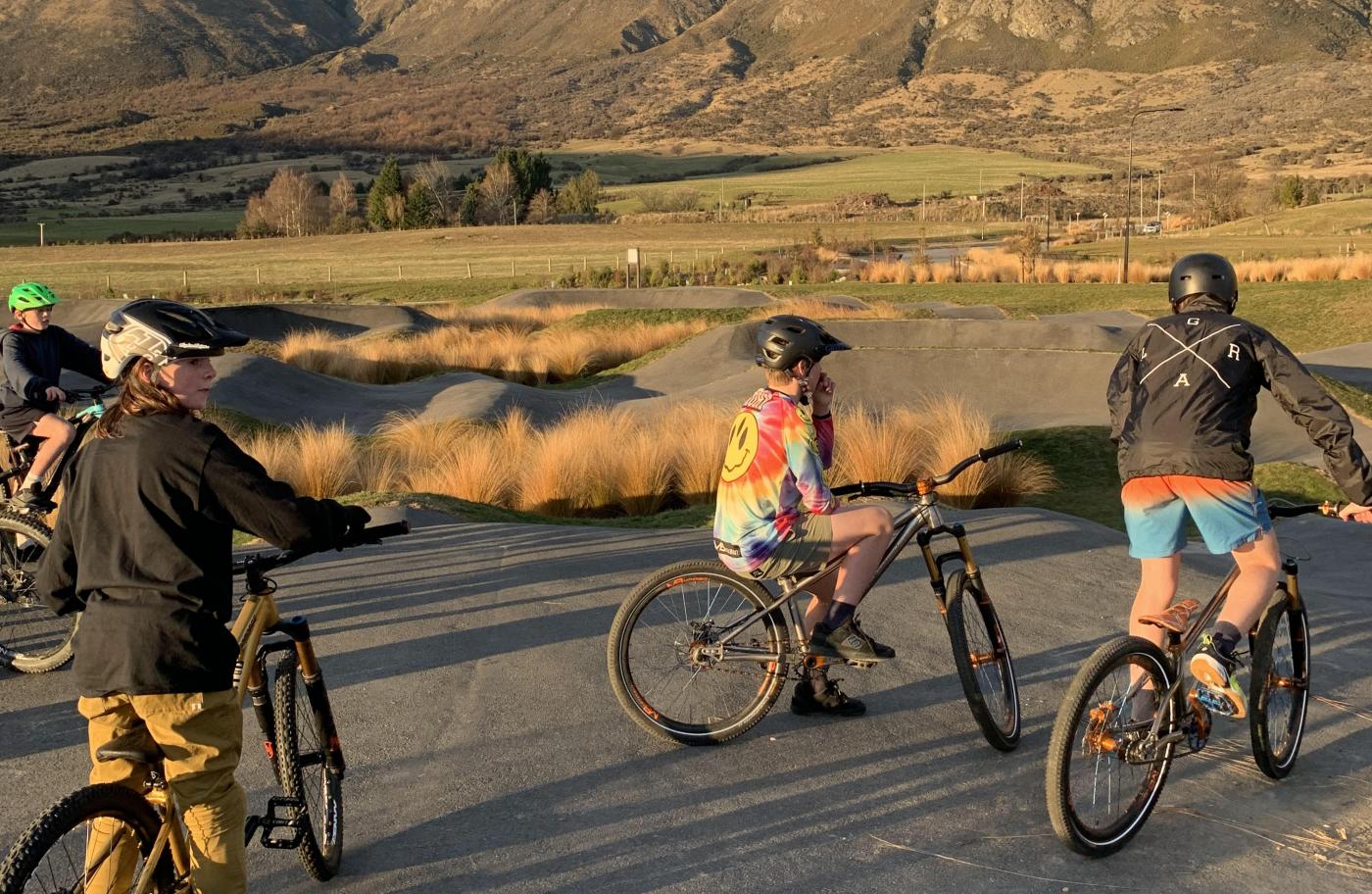 Hanley's Farm Pump Track. Credit @MeekBoyz
Jack's Point Pump track
The Jack's Point pump track is another new addition to the Whakatipu basin, and about a ten-minute drive from Frankton. This pump track is perfect for beginners due to its smaller rollers and berms – ideal for those wanting to find their flow and rhythm. This one is a hidden gem, therefore less busy and is a great option when you want to practice your skills in peace.
The format is similar to the Hanley's Farm pump track with the one-way system, however without the varying lines.
Jack's Point Pump Track
Lake Hayes Estate Pump Track
The Lake Hayes Estate is the original pump track in the Whakatipu Basin that set the scene for all to enjoy. Located in the heart of Lake Hayes Estate, only 5–10-minute drive from Frankton or 20 minutes from Queenstown, and services the children (and playful adults) of the neighbourhood.
The technical difficulty is much the same as Jack's Point, with an asphalt loop sequence. Perfect for those who are wanting to hone in on their rhythm or flow, or want to teach children how to pump, corner, weight and unweight on the smaller berms and corners.
Just like the Hanley's Farm pump track, Lake Hayes Estate is popular with pre-school children, scooterists and skateboarders, so make sure you factor that into your session planning.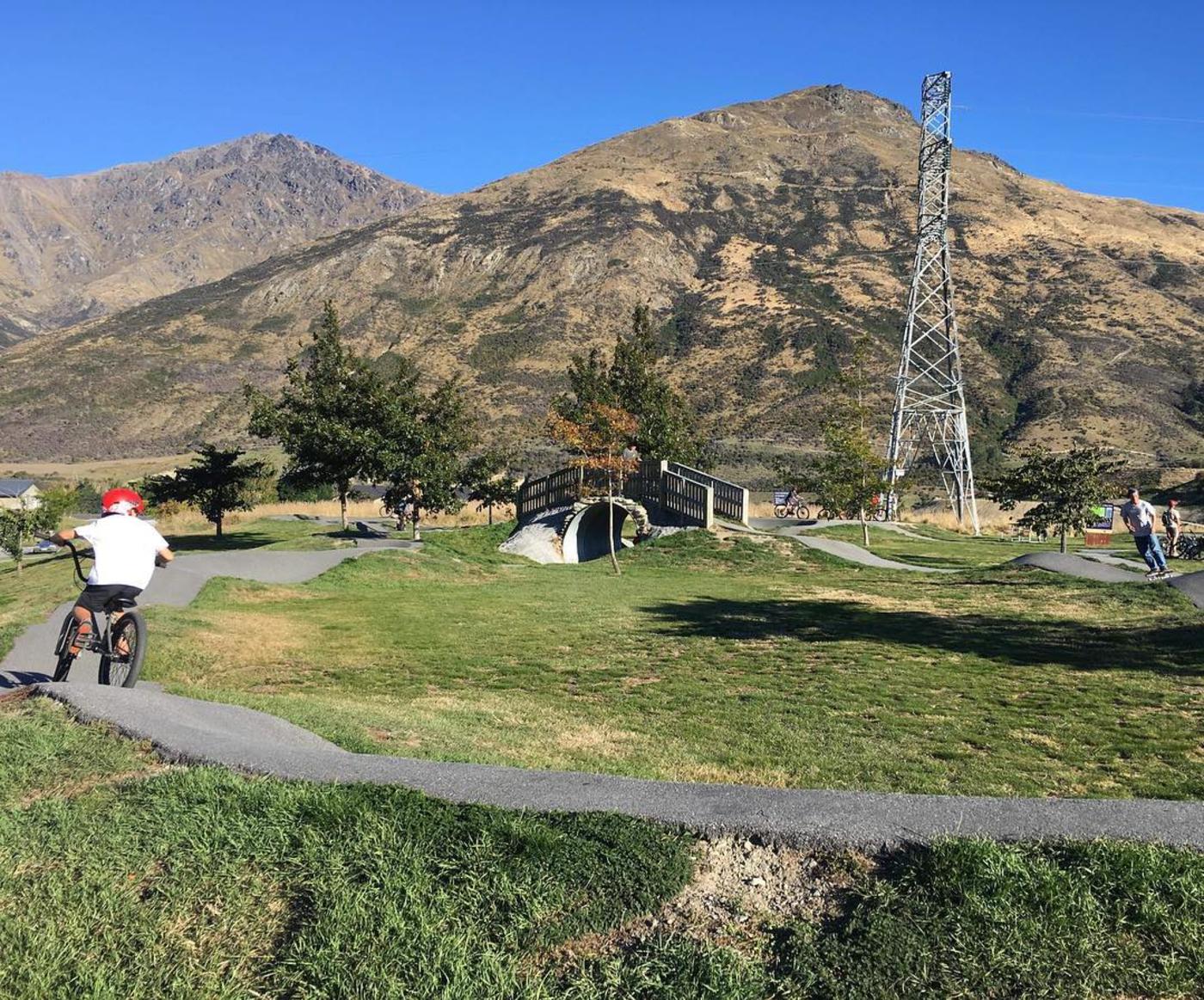 Lake Hayes Estate Pump Track. Credit @bikeschoolnz