Queenstown is a vibrant, cosmopolitan destination with more restaurants, bars and cafés than you can shake a fork at. There's a range of gourmet dining destinations in Queenstown's compact town centre, but there are also plenty of low-cost alternatives that are great value for money.
If you've blown your budget on activities, adventures and a new pair of skis, check out these cheap eats in Queenstown that are big on flavour and low on price.
The best grab-and-go cheap eats in Queenstown
With world-class views like this, why wouldn't you want to get a takeaway and dine al fresco? These low-cost eateries offer great takeaway food you can savour inside or take out with you on a picnic to savour the views of Queenstown.
Caribe Latin Kitchen
Queenstown Mall
Caribe serves Latin American food with a Caribbean flair. Expect bold flavours and creative, colourful dishes. Tapas, arepas, nachos and burritos are all on the menu, with some dishes starting at just $10. A big feed, for small prices.
Ferg
Shotover Street
You'll have heard the hype about Ferg Burger – the giant, delicious burgers with cheeky names. A Morning Glory breakfast burger could start your day off right or pop in for lunch and sample some Mr Big Stuff. Though it doesn't have the world-renown of its neighbour, Ferg Bakery is also a firm favourite among locals. Grab a pie and Boston cream doughnut for a quick, delicious and value filled lunch option.
Erik's Fish & Chips
Earl Street
Award-winning, traditional Kiwi fish and chips made from South Island-sourced ingredients. Everything can be made gluten-free and the menu's certified Halal. The family meal deal is great for a picnic on the lake and includes two Hoki fish, six fish bites, large chips and two cans of coke.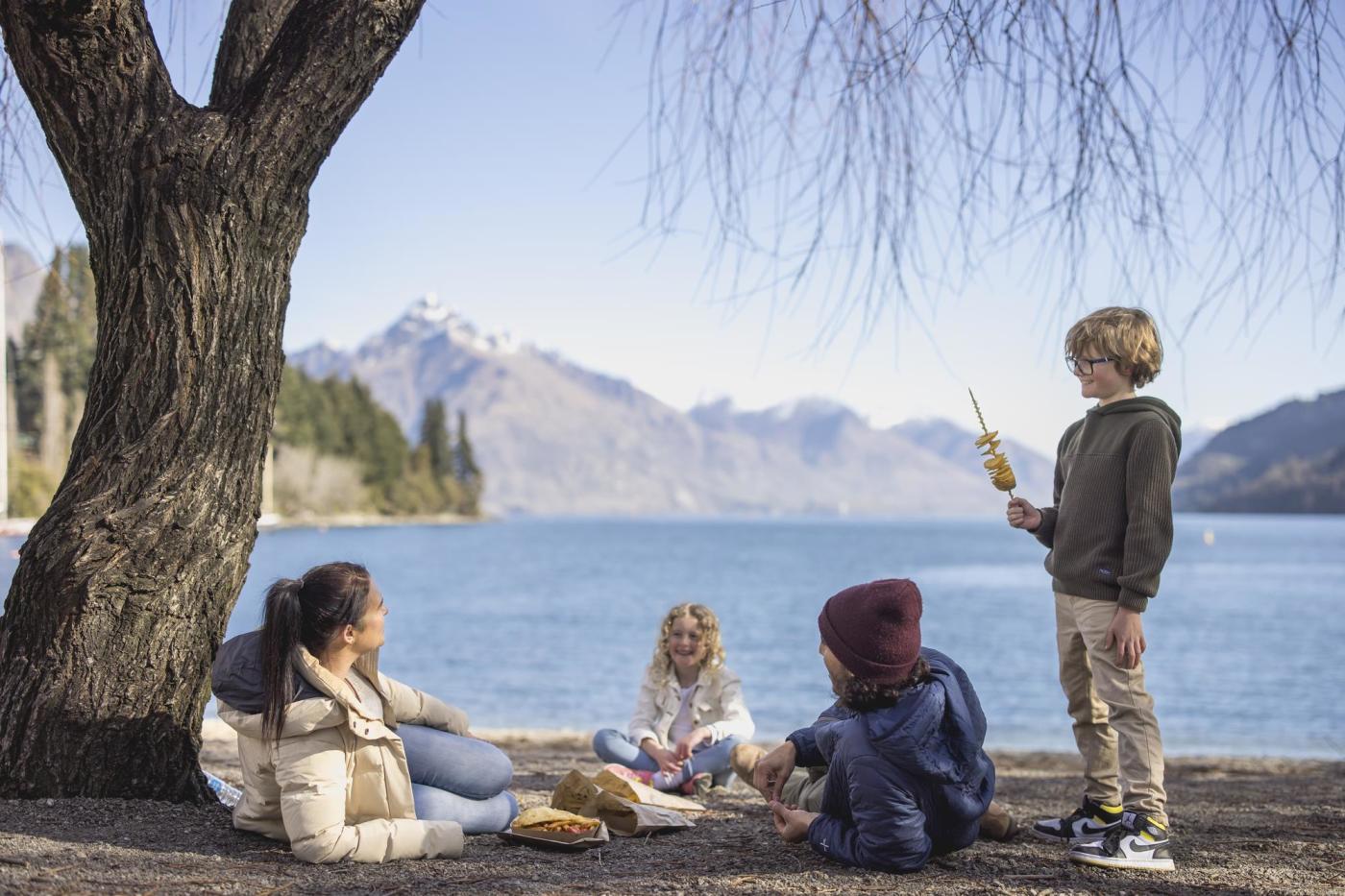 Family enjoying Erik's Fish and Chips by the lake
Devil Burger
Church Street
This restaurant doesn't hold back on quality, serving up gourmet burgers with heaps of flavour. Burgers like the vegetarian Poison Ivy (stacked with eggplant, halloumi, cheese, red peppers and salad) are available as a regular or a large, perfect for any appetite.
Arthur's
Queenstown Mall
Arthur's, Queenstown's gourmet sandwich and salad shop, is here to fuel your adventures. Expect classic sandwiches, salads, wraps and filled jacket potatoes. Their quintessentially English breakfast deal is a hearty bacon butty and a cup of tea (or coffee). Not to mention their two slices of toast with a choice of two toppings might be Queenstown's lowest-cost breakfast for people on the go.
Taco Medic
Searle Lane and Frankton
Tuck into tacos with a Kiwi twist. Taco Medic is the home of fast food with soul. The team handcraft tortillas every morning, ready to fill with fresh produce for hungry people on the go. They're gluten-free and budget-friendly, not to mention their featured Taco Tuesday event.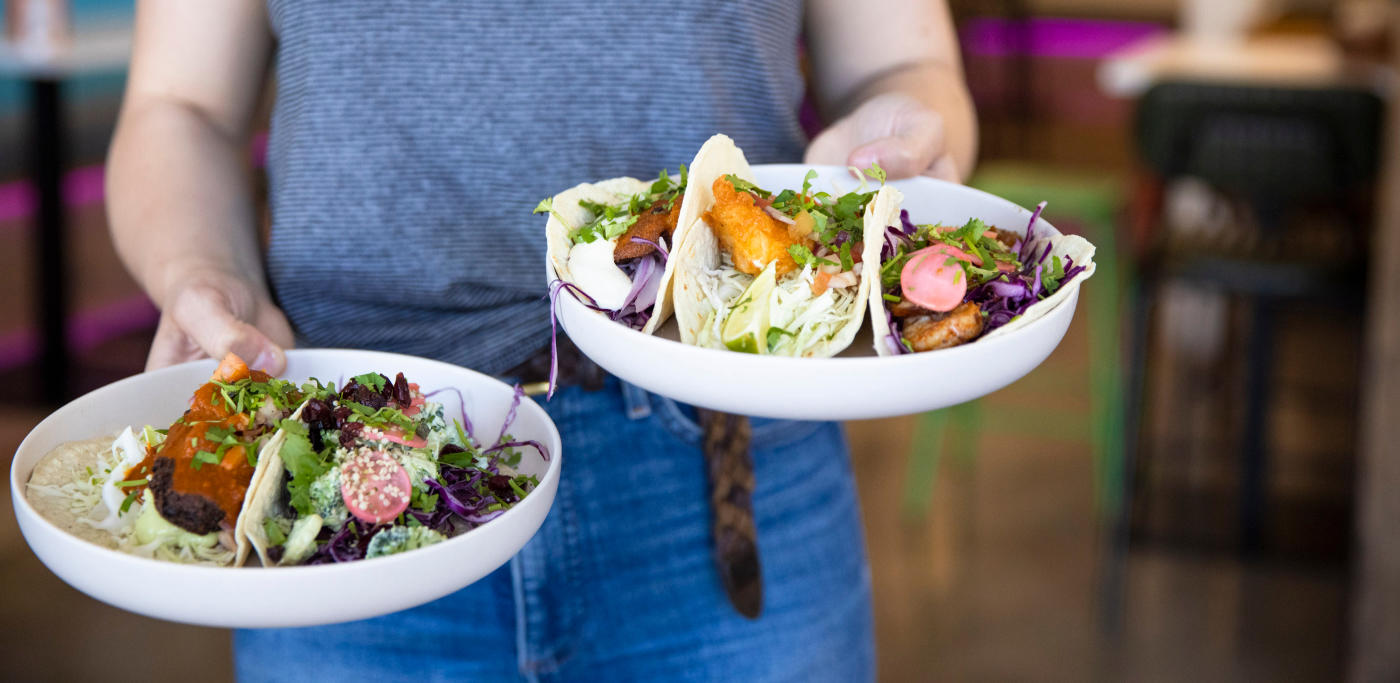 Taco Medic
Balls & Bangles
Shotover Street
Run by a local family, Balls & Bangels is the home of outrageously indulgent doughnuts and shakes. But it's the fresh bagels with a huge variety of fillings that make our list. Grab yourself a plain, unadorned bagel, or you could splash out and get a vegan cheese burgle with a Beyond meat patty and pickles. 
Queenstown's best budget-friendly restaurants
If you don't feel like takeaway food and want to dine in on a budget, Queenstown also has plenty of low-cost restaurants and fancy restaurants with meal deals.
Fat Badgers (Camp Street) is renowned for its 20-inch pizzas – a good option if you're dining as a group.
Tanoshi's Ramen Ramen (Searle Lane) takes simple Japanese ramen dishes and offers a choose-your-own-adventure style menu. Choose your broth, noodle style, extra proteins and extra toppings according to your tastes and budget.
Saigon Kingdom (Steamer Wharf) is known for its top-notch traditional Vietnamese dishes. Popular noodle soups like Pho Bo and Pho Ga are hearty, filling, delicious and great value.
If you love Thai food, @Thai (Church Street) has got you covered with an extensive menu of traditional curries, noodles and wok dishes. A platter for two is great value for money, and there are plenty of reasonably priced rice and noodle dishes.
Mexican food fans rejoice: El Camino (Brecon Street) knows how to throw down a deal. There are Mad Mondays (tacos and hot wing specials), Taco Tuesdays, and Wings Wednesdays.
The Locker Room sports bar (Brecon Street) is the go-to for sports fans. Watching sport is hungry work. Luckily, there are chicken wings Wednesdays and a range of low-cost dishes to share, from garlic bread to lazy poutine.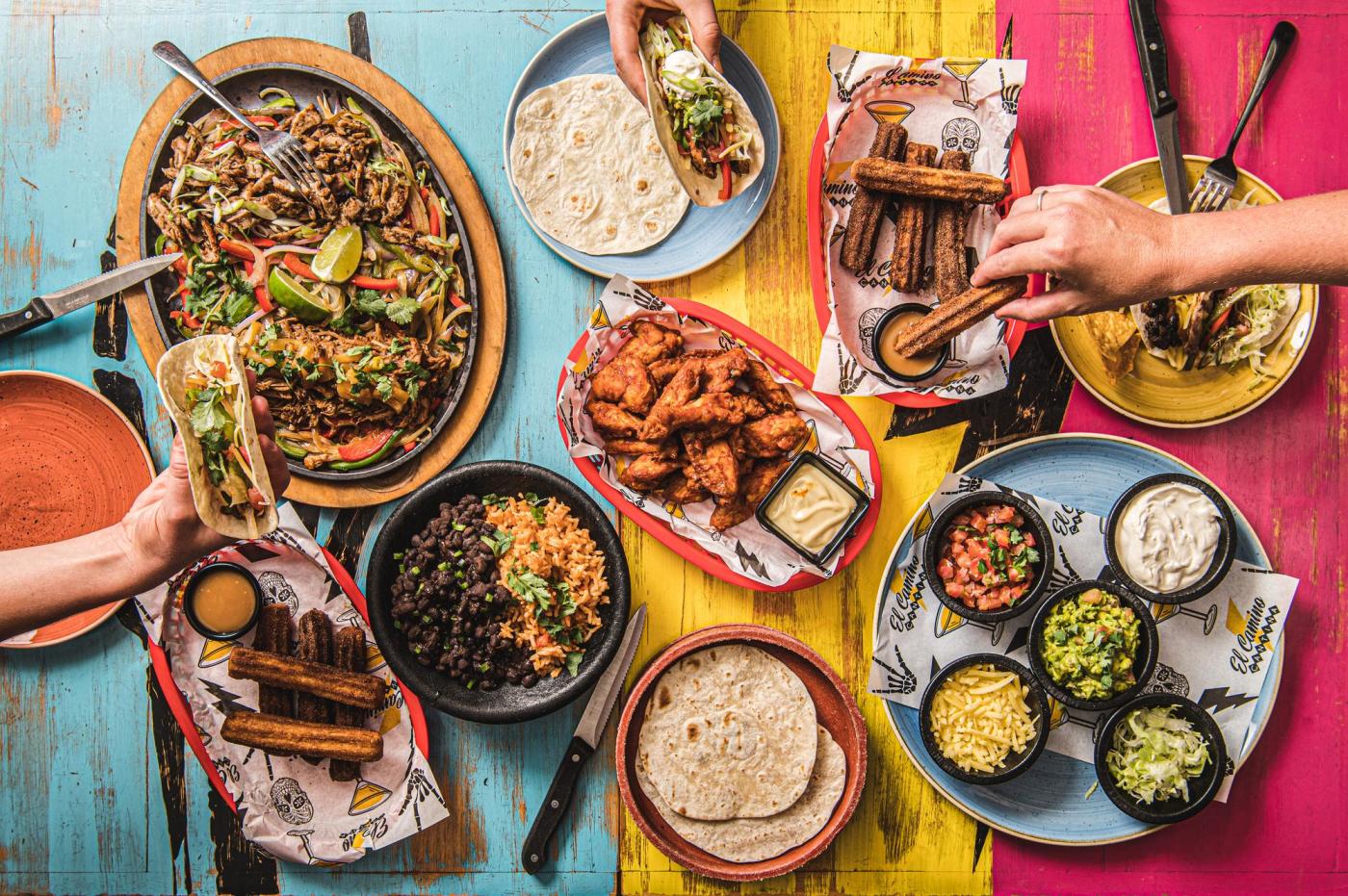 El Camino
There you have it. No matter what adventures you're having in Queenstown, whether you want a hearty sit-down meal or a sandwich on the go, there's a great eatery for all budgets and appetites.