Queenstown is the ultimate wedding destination – here lovers say "I do" in secluded mountain-top ceremonies, amongst lush vineyards, or even as they leap off bungy platforms. Here's our guide to planning yours.
Pre-planning your Queenstown wedding
Organising a wedding can be both an exciting and daunting process. You may wish to enlist the help of a local wedding organiser to help plan your perfect celebration. From venues to celebrants to catering and entertainment, there are plenty of Queenstown wedding packages and planners that can take the stress out of pulling together your perfect day.
In New Zealand, a registered marriage celebrant can marry you anywhere, anytime, as long as you complete some simple legal formalities.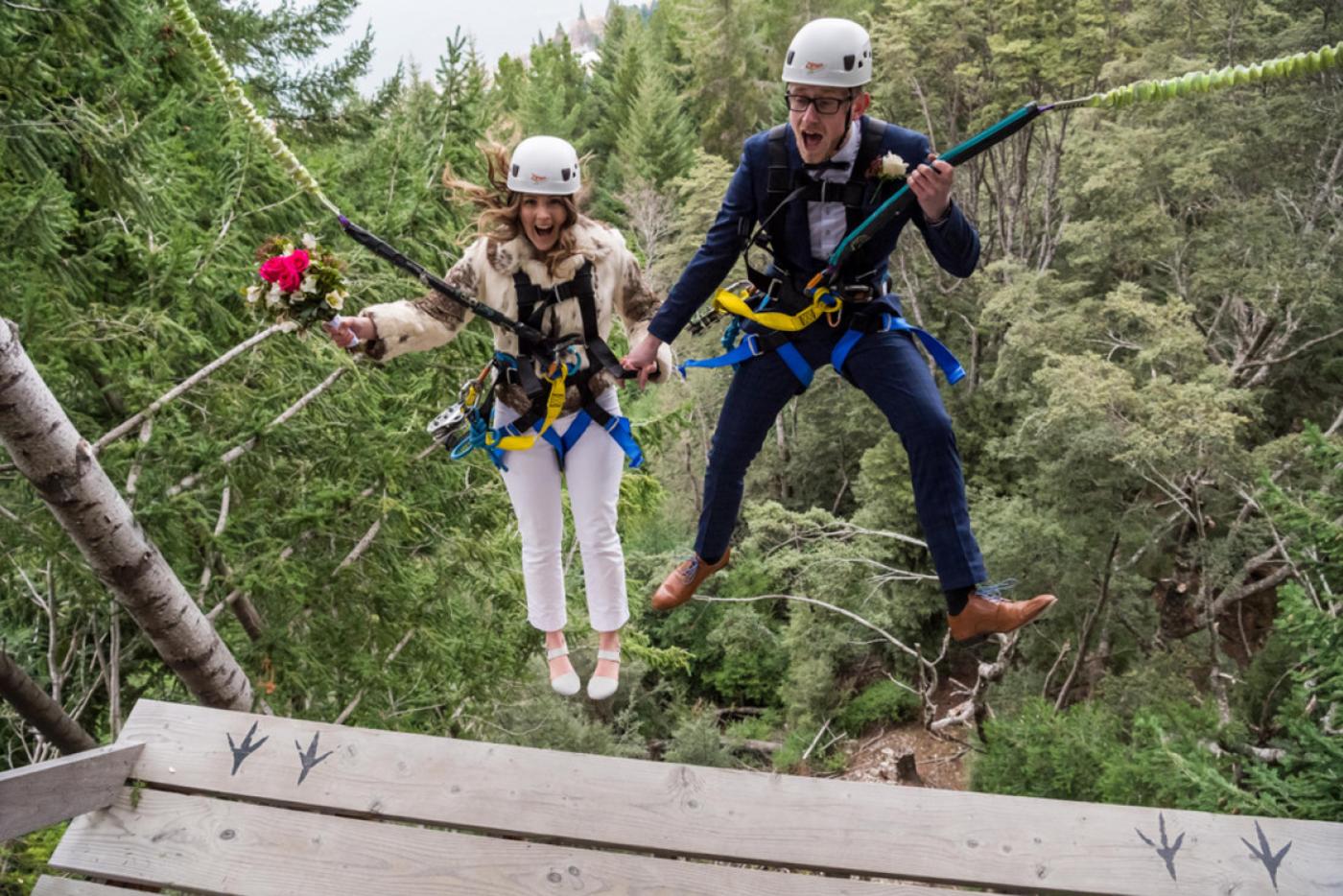 Ziptrek Ecotours eco-elopement
Lock in a date and location
In Queenstown, choosing the perfect venue/s for your ceremony, reception and photos is no easy feat. With an array of wedding venue options from luxury lodges to marquees by mountain lakes to glacial heli-elopements, or the traditional church – the hardest part will be choosing your favourite!
Wherever you decide, be sure to plan and reserve in advance. If you're opting for an outdoor or heli-wedding, where your ceremony location may be affected by the weather, it's ideal to pre-organise a backup location.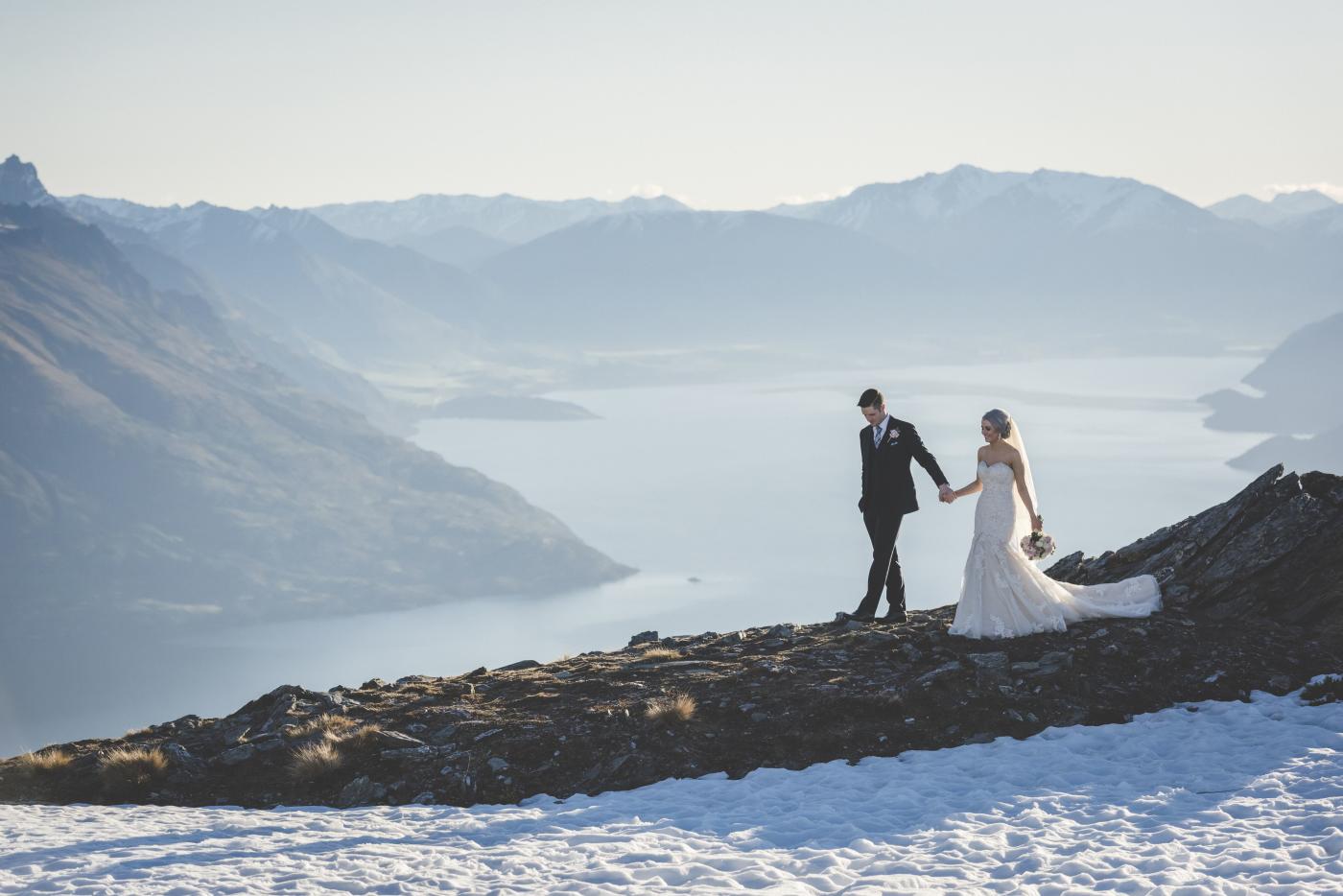 Queenstown heli-elopement
Apply for a marriage licence 
Before you tie the knot, you'll need to apply for a marriage licence online. Anyone can apply for a marriage licence and you don't need to be a New Zealand citizen.
A marriage license application takes at least three working days to process, so be sure to apply in advance. The license application expires after three months if unused.
You must include your wedding location in your application for a marriage license. If you have a backup location, include that in your application too, as you can only marry in the locations you specify.
To find out more about applying for your marriage license, or to apply online, read the official New Zealand Government guidelines.
Contract a celebrant
To get legally married in Queenstown, you'll need the assistance of a registered marriage celebrant.
When contacting a celebrant, confirm that they're happy to officiate your marriage in the location you have chosen and the date of your ceremony. Your celebrant will also be able to assist with ceremonial and legal obligations.
Queenstown is a welcoming place with a friendly and inclusive community. Many local businesses including wedding professionals are actively involved in ensuring the health, safety and visibility of the LGBTTQIA+ people through the Pride Pledge initiative.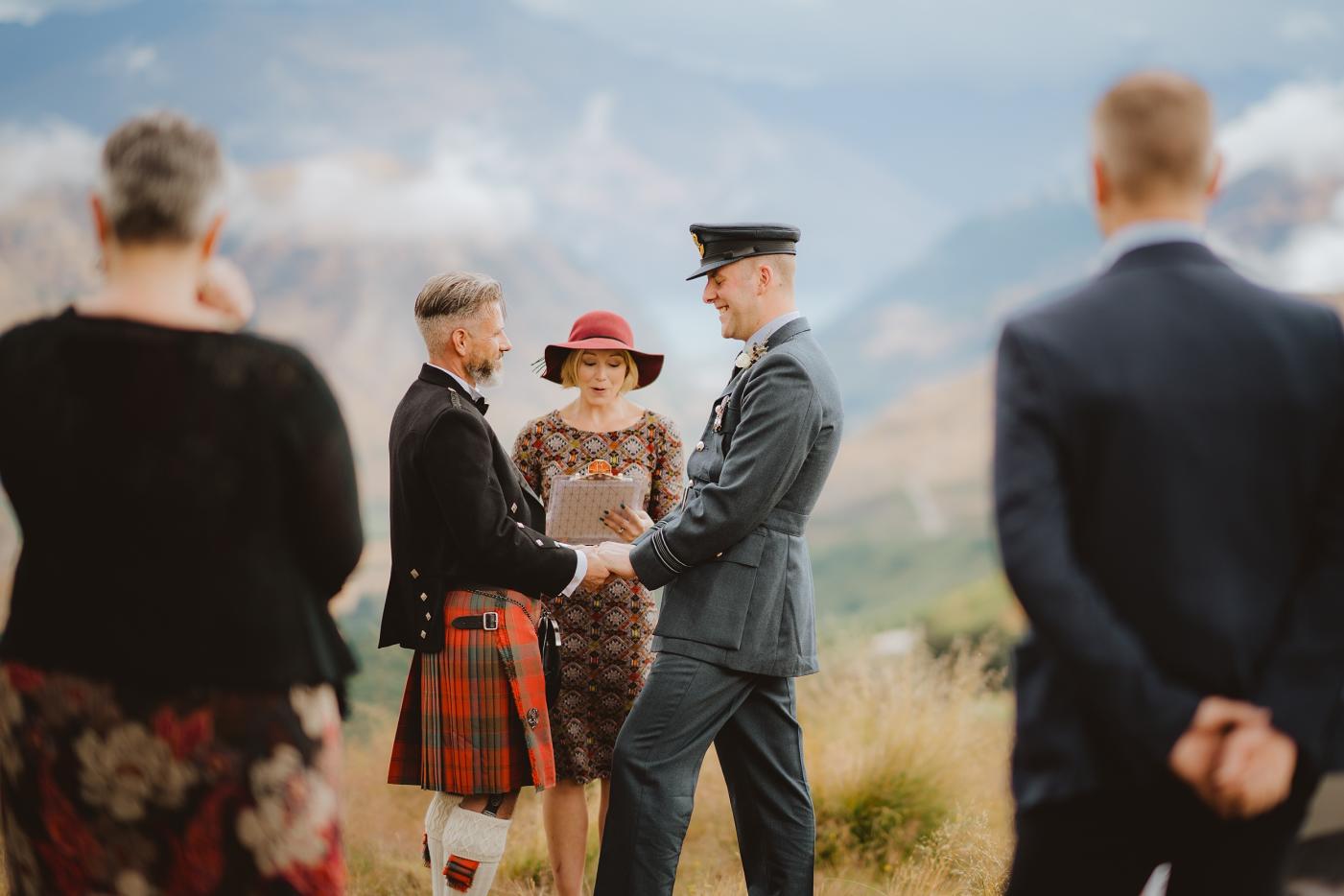 Wedding ceremony in Queenstown
Source your suppliers
From catering to wedding cakes, to décor, dining, and of course, photography – your suppliers are key to bringing your dream wedding to life.
The Queenstown Wedding Association provides a detailed directory of local wedding vendors trusted to deliver a truly memorable event. Plus, choosing local will help reduce the carbon footprint of your day.
To tread lightly and with love while celebrating, be sure to enquire about suppliers' sustainability initiatives – with some pre-planning your Queenstown wedding can be beautiful and sustainable at the same time.
On the day of your Queenstown wedding
The big day, finally here! Whether you are exchanging vows in front of a crowd of family and friends or in a secluded mountain-top ceremony with just your witnesses, take a deep breath, savour every moment, and enjoy the magic of your special day in Queenstown.
Assemble your witnesses
Legally, you'll need two witnesses at your ceremony. These can be friends or family, or if you're eloping, they can be strangers or even your wedding photographer. There is no age restriction for the witnesses, it's at the celebrant's discretion.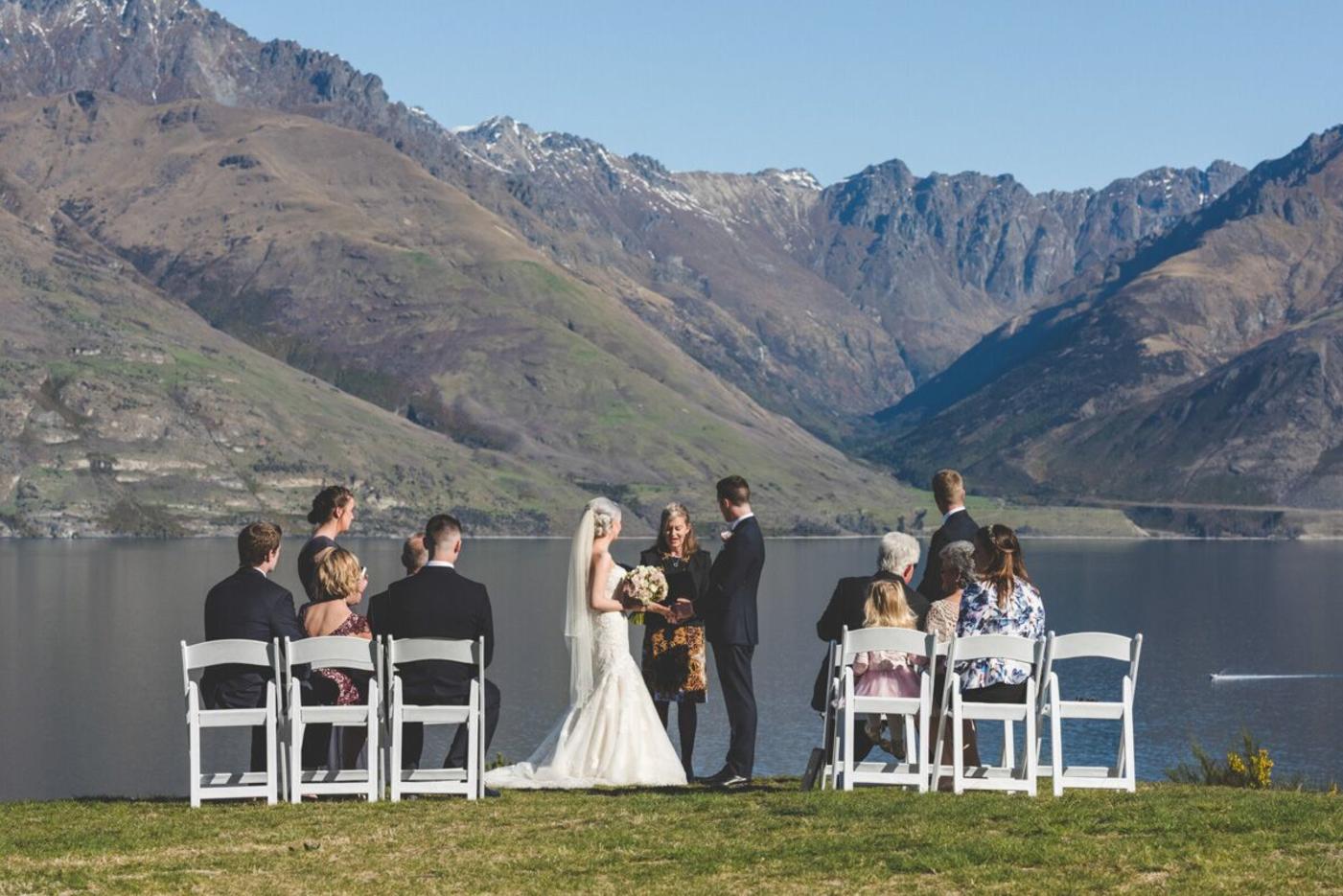 Lakeside ceremony
Tie the knot!
To legally tie the knot, you, your partner, celebrant and witnesses must be physically present in the same place. With the beauty of Queenstown as your backdrop, your special day is guaranteed to be full of love. 
Then, it's time to celebrate! You're spoilt for choice in Queenstown – choose to indulge in endless exciting nightlife, top restaurants and unforgettable adventures, or relax with a rejuvenating day spa or a luxury lodge stay post-ceremony.
After the wedding, you or your celebrant will be sent your marriage license, and two copies of the 'Copy of Particulars of Marriage' form to finalise the formalities.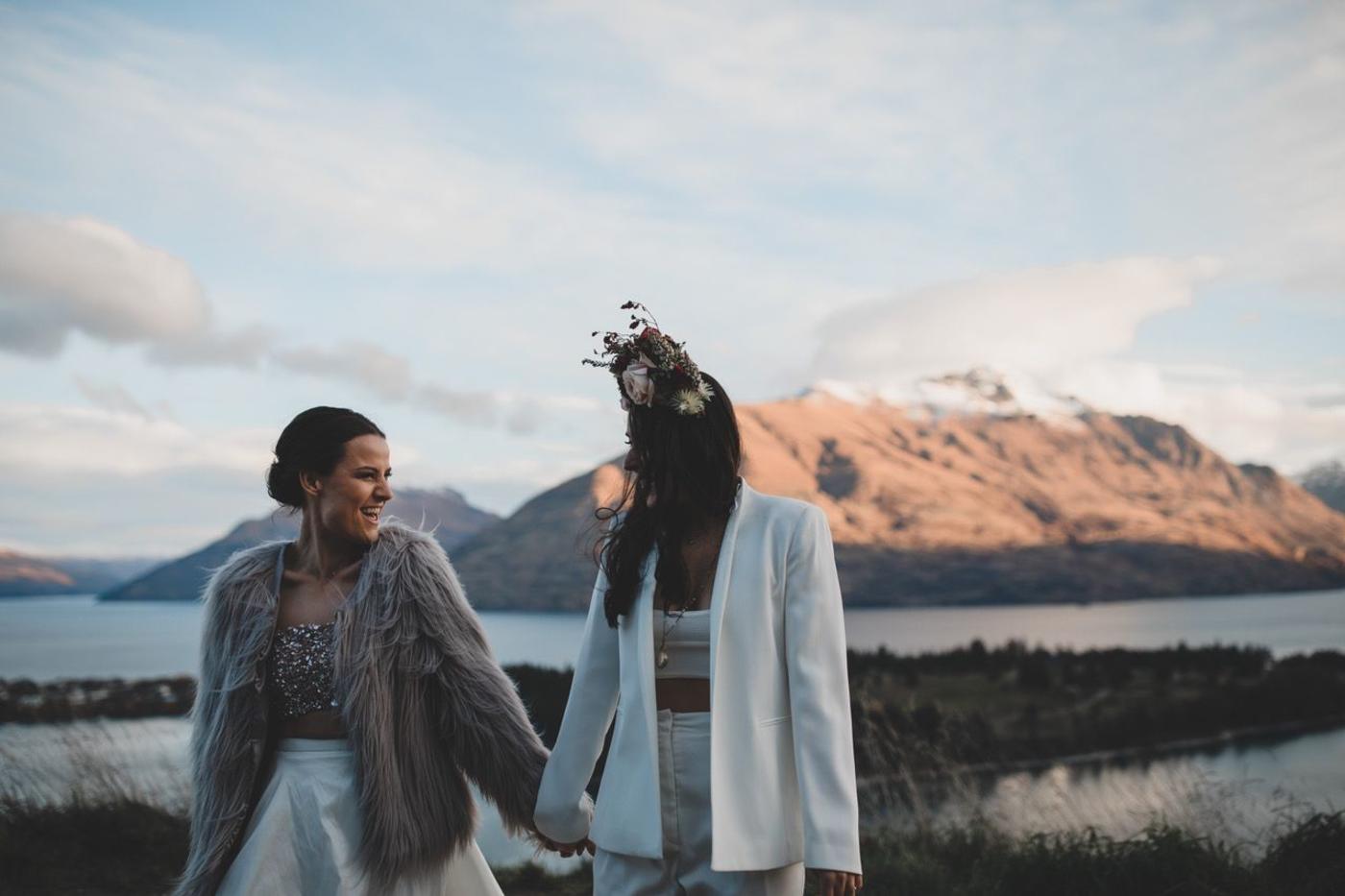 Queenstown wedding
With its stunning scenery, inclusive community and abundance of local wedding vendors and packages, Queenstown is truly a unique and unforgettable place to make your dream wedding a reality.