If you're thinking about taking the kids mountain biking to Queenstown, we've put together a quick guide for you, covering everything from gear to must-ride tracks.
Getting started
Booking lessons
Coaching gives your kids a head start. With the right advice, they'll enjoy riding more, be safer and progress faster. The elite riders that coach here between races are an amazing resource.
Cardrona offers beginner group lessons for kids. They'll learn the basics of bike position, braking and turning techniques before trying a beginner's trail. Cardrona also run a Dirtbags summer holiday programme for 10-14-year-olds.
The Queenstown Mountain Bike Club is reinventing their junior riding program, which will be relaunched in early 2021. Check out their website for updates and follow them on Facebook for news of junior friendly events.
Hiring bikes for your kids
Our bike hire shops are staffed by friendly, knowledgeable crews who can help you rent or buy bikes and gear.
Vertigo Bikes is easy to access close to the bottom of Skyline Gondola. Their friendly team do voluntary work organizing local races, and they can offer advice on the best tracks for your level.
Bikeaholic is close to the dirt jump park on Gorge Road. The owners have been part of the local bike scene for a long time and with children of their own, they look after families well.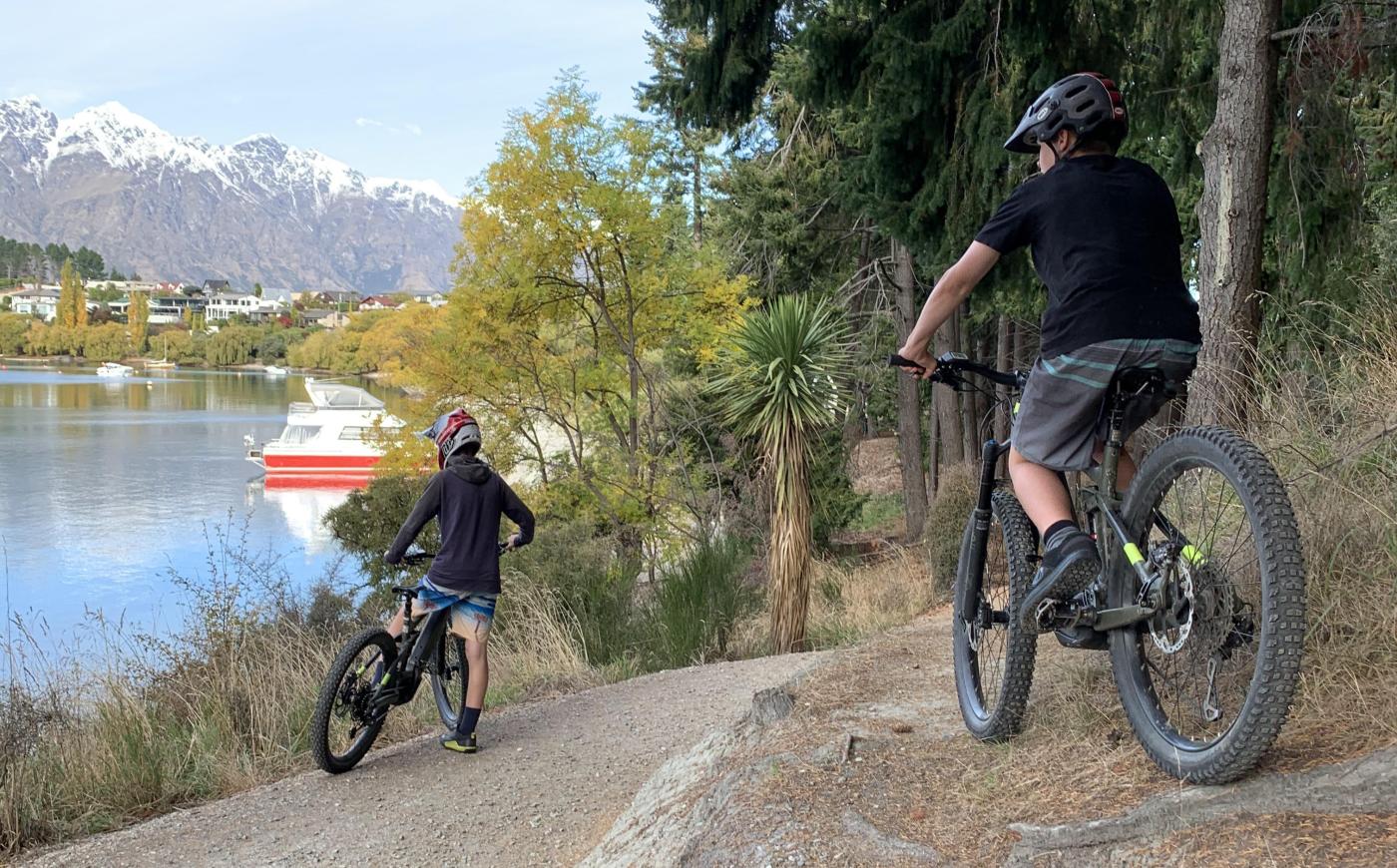 Queenstown offers a variety of riding from wide open trails, to thrilling downhill MTB options​
Wear protective gear
It's a good idea for your kids to have their own helmet that fits well and is comfortable for them to wear. They'll also need elbow pads and knee pads. If you don't already have safety gear, head into one of our local bike shops, and get kitted out by one of the riders who work there.
Pack for the conditions
In summer Queenstown has long sunny days and strong sun. Slip, slop, slap is our mantra and water bottles are essential. But we're an alpine resort, so weather can be changeable. Always bring waterproofs and dress your kids in moisture wicking layers to keep them warm.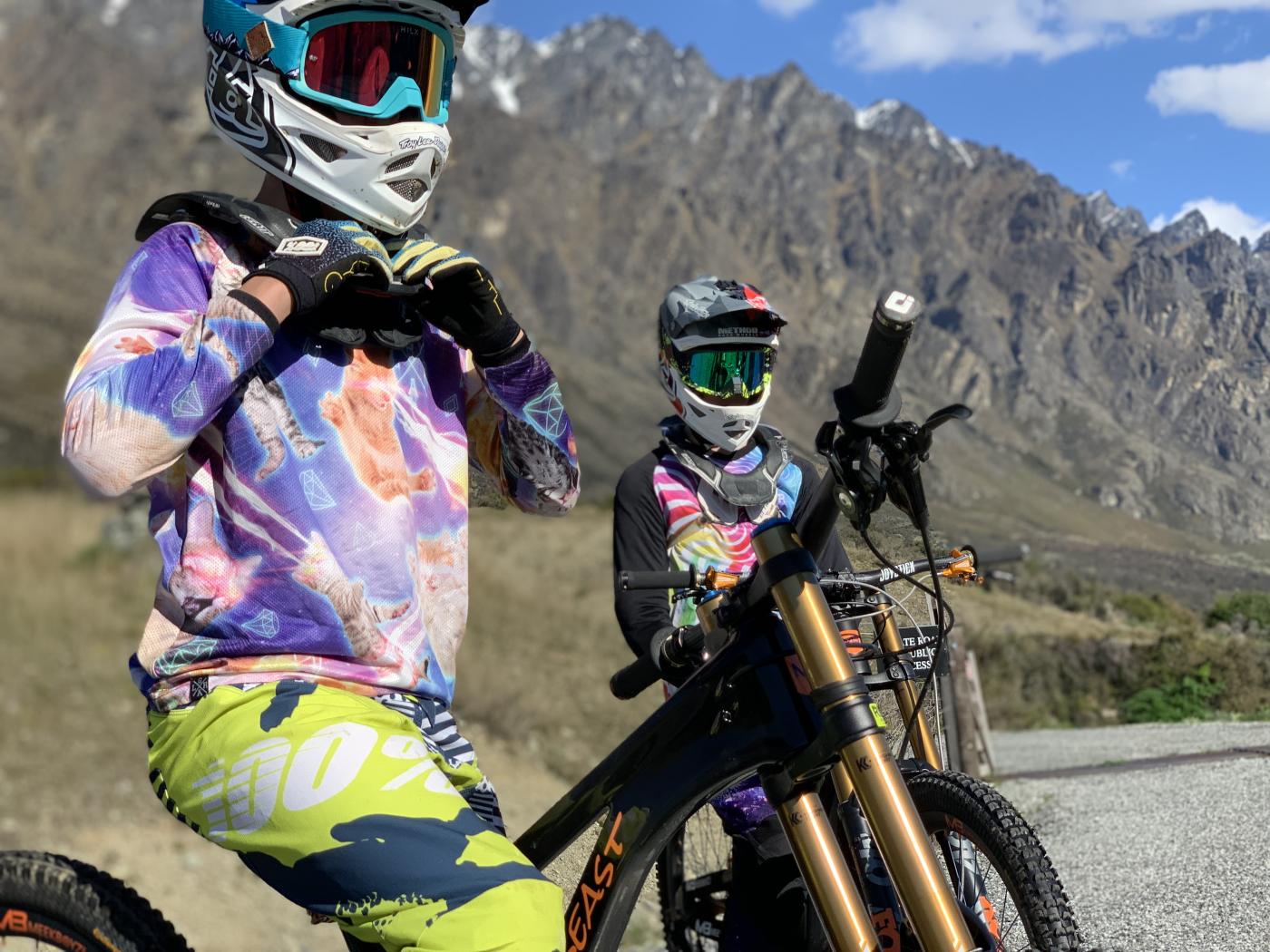 Make sure your young shredders have protective gear
Beginner trails for kids learning to MTB ride
Hammy's Track at Queenstown Bike Park
Level: Easy, Grade 3
Location: Queenstown Bike Park. Pedal up the access road or get an uplift on Skyline Gondola.
Give the kids a gentle introduction to downhill riding with Hammy's. The longest trail in the park at 6km, it's wide, smooth and not too steep. When they're ready to tackle their next challenge the bike park has a range of tracks through to advanced.
Hanley's Farm Pump Track
Level: All abilities
Location: Hanley's Farm, 45 Jack Hanley Drive, Kawarau Falls
Hanley's Farm's epic pump track is a hidden treasure loved by local families. The park also has an outdoor gym and an excellent kids' playground with a huge climbing frame and slide, trampolines and a flying fox. Be warned. Your kids will not want to leave.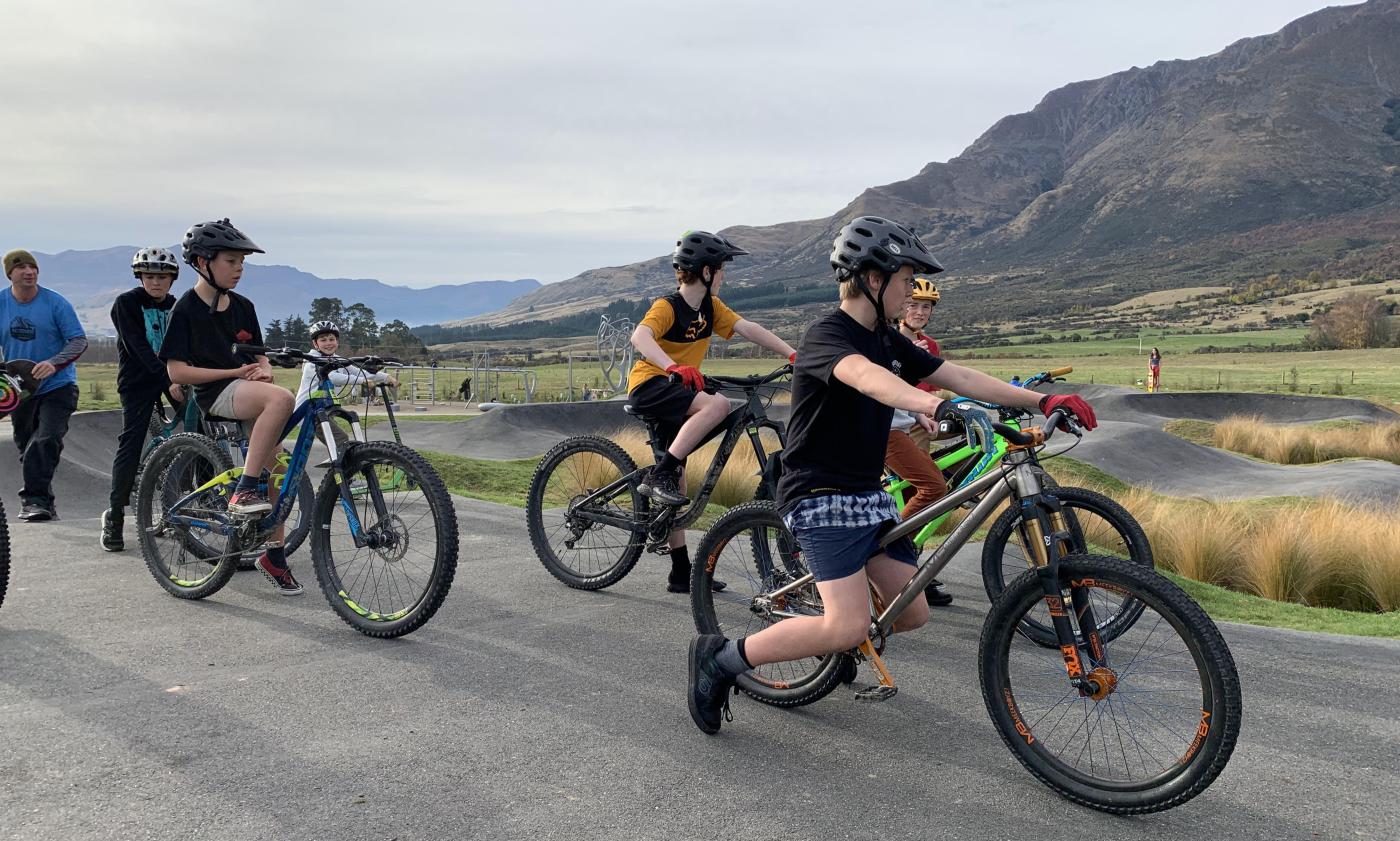 Hanleys Farm pump track
Hot spots for kids who want to shred
Cardrona Mountain Bike Park
Level: All levels 
Location: Cardrona Mountain Bike Park. Lift-assisted.
Cardrona Bike Park is family-friendly. Tracks cater to all levels, and they've recently built a fun new jump line. The local club organizes summer evening races, including runs for kids.
Huck Yeah at Queenstown Bike Park
Level: Expert, Grade 5
Location: Queenstown Bike Park.
Huck Yeah's flow jump track has tabletop jumps and bigger and smaller jump lines. It's ideal progression for kids who love jumping.
Coronet Peak DH
Level: Expert, Grade 5
Location: Coronet Peak Bike Park. Lift-assisted.
During the summer Coronet Peak has a downhill line that caters to intermediate and advanced riders. The local kids love to ride this one, and with a lift pass they can stack up the laps all day.
Dream Track at Fernhill Bike Park
Level: Expert. Note the top section is rated dangerous, pros only
Location: Fernhill Bike Park. Access from Wynyard Crescent.
More advanced jumpers can try the legendary Dream Track. The top section with its massive world-famous jumps is only for pros, but the bottom section has tabletops and ramps where kids can practice their skills and develop their riding techniques.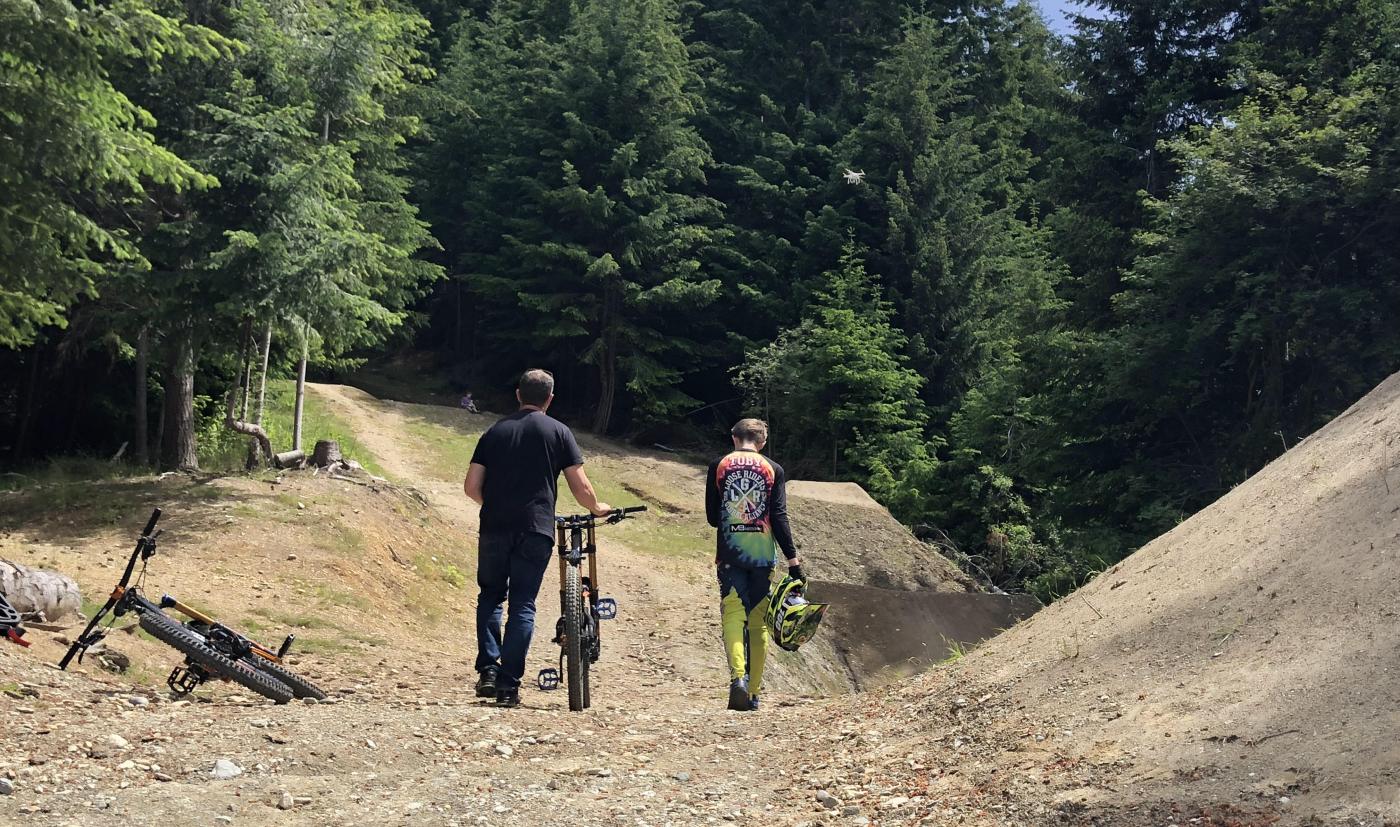 Dream track, Fernhill Bike Park
Plan your family mountain biking adventure
Plan your family mountain biking adventure with our guide to family biking in Queenstown. More advice for families biking with kids, gear hire, bike parks and top trails.