Glenorchy's a paradise for lovers of alpine scenery. The village sits between the massive Humbolt, Barrier, and Richardson mountain ranges in the mighty Southern Alps. Whether your style's relaxing with a picnic in idyllic surroundings, or tackling a demanding hike, we've a Glenorchy experience for you.
Head on out of Queenstown and take the breathtaking road to Glenorchy at the northern end of Lake Whakatipu.
1. Jetboat and kayak on the Dart River
The Dart River's glacier fed waters run from the head of Lake Whakatipu, deep into the World Heritage area of Mount Aspiring National Park. 
Dart River Adventures operate jetboat tours on the Dart River. Run by Ngāi Tahu, the jetboat experience combines exhilarating wilderness jet boating, with a guided tour that brings Māori history, pioneering heritage, and the landscape and environment to life.
For an even more immersive adventure, jetboat into the park, then kayak back out on easy to use inflatable funyaks, exploring dramatic river chasms and tranquil side streams as you paddle downstream.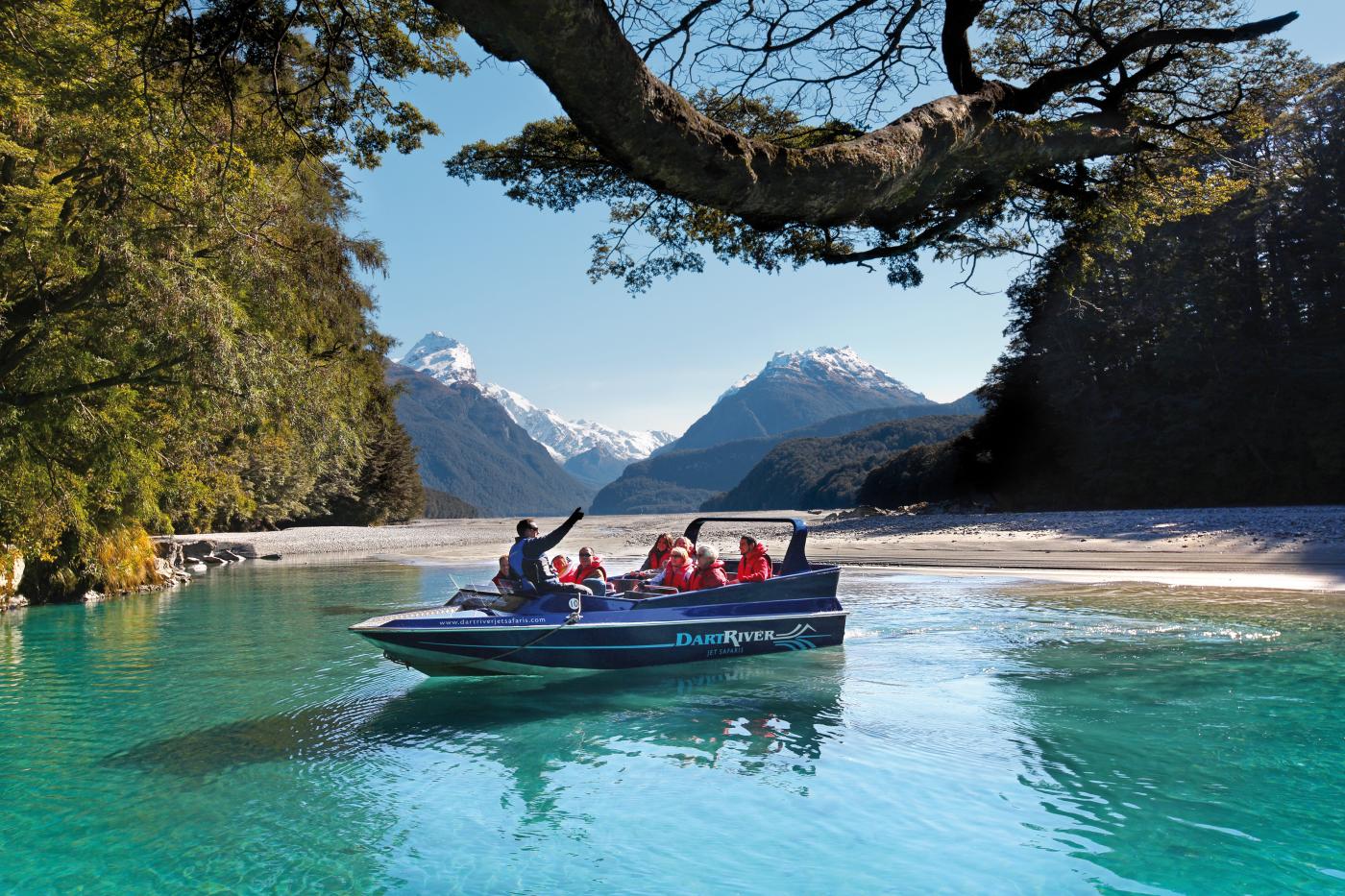 Dart River Wilderness Jet
2. Horse trek in the footsteps of pioneers
Explore the landscape around Glenorchy at a relaxed pace, as you ride along the beautiful Rees River, through rolling paddocks, and groves of beech trees. Experienced guides will share stories of the region's rich history as you ride in the footsteps of pioneer farmers from the 1800s.
Two local horse trekking operators offer a range of expeditions on horseback, from a pony ride for your littlest adventurer, to overnight treks into the pristine backcountry. There are experiences for experienced riders and beginners alike.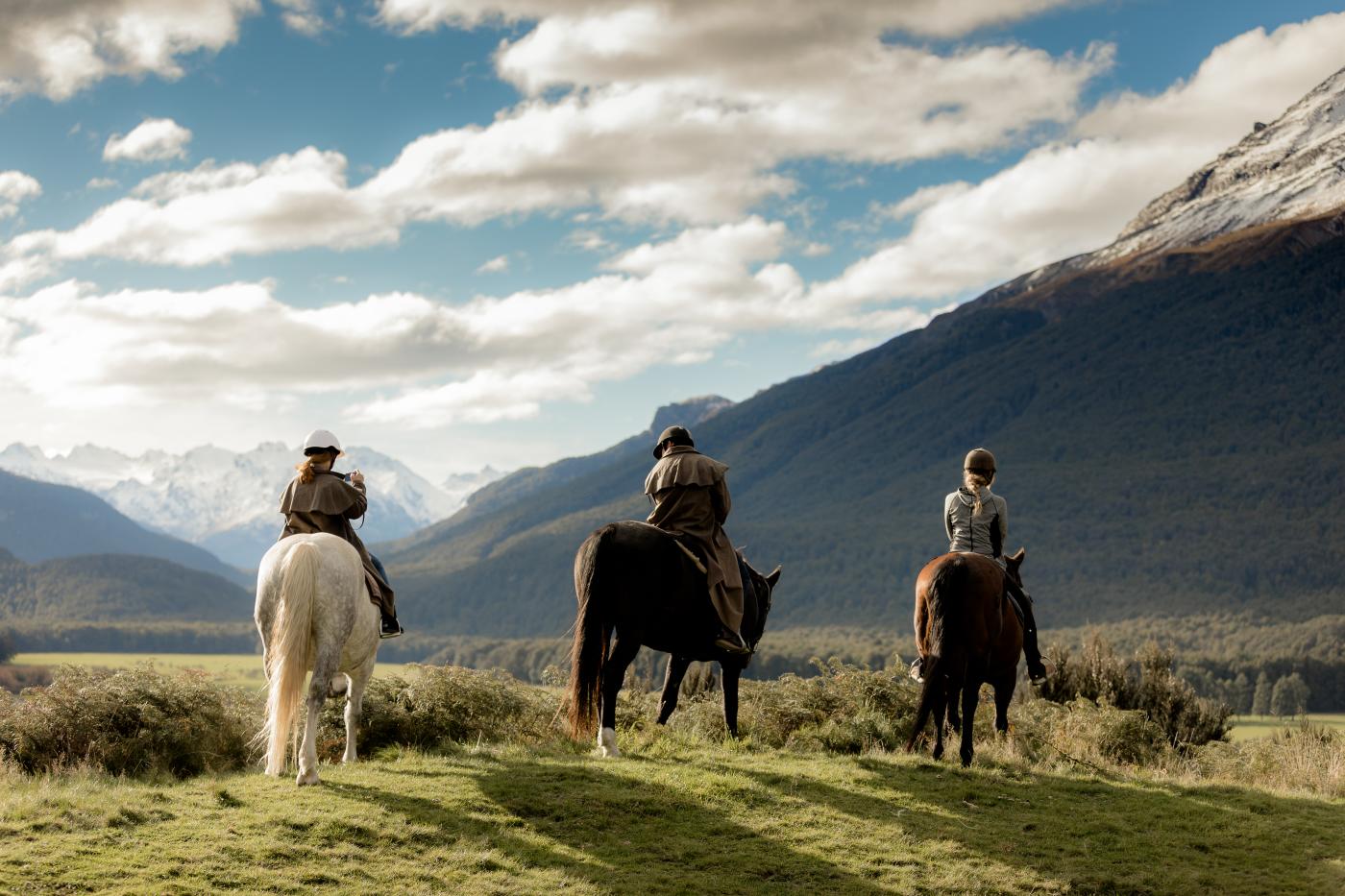 High Country Horses
3. Visit movie locations
The remote scenery around Glenorchy may be off the beaten track. But it's also world famous as backdrop to some of the most popular movies ever made.
Visit the famous fantasy movie locations around Glenorchy. Think Isengard, Lothlorien, the Forest of Fangorn, Amon Hen and Ithilien Camp from The Lord of the Rings. The Misty Mountains, and Beorn's House from The Hobbit. Earnslaw Burn from Rings of Power. And Paradise stands in for Narnia in spring.
Book yourself onto a fun movie location tour with one of our local experts. Some of them even acted as extras in the movies, so they've great stories to tell.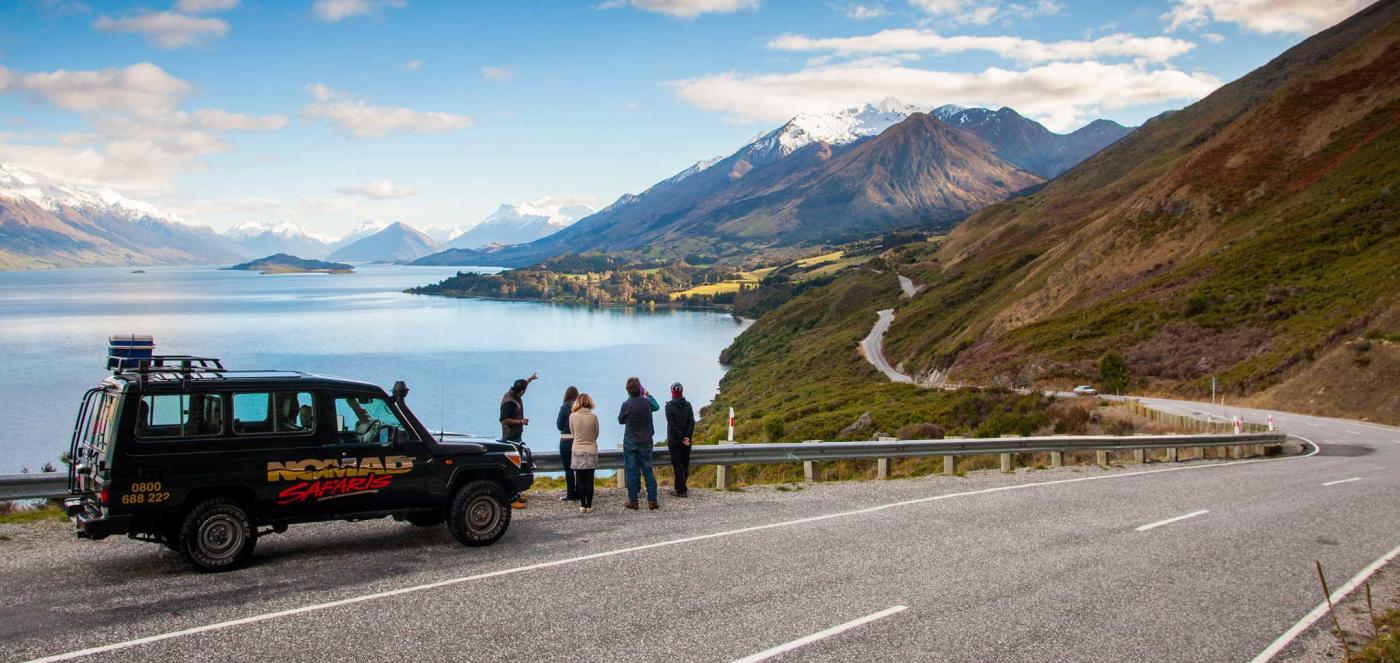 Nomad Safaris Lord of Rings tours
4. Take a hike to remember
Glenorchy's the gateway to some of New Zealand's best multi-day hikes. The Routeburn Track is one of New Zealand's Great Walks, along with the Greenstone-Caples and the Rees-Dart also offering stunning alpine scenery, vertiginous river gorges, pristine wilderness, and native wildlife. Or if you want the best of both worlds; take a flight with Heli Glenorchy over the Dart River, and Mt Alfred before touching down in the Mt Earnslaw basin which features in the new Rings of Power Amazon series as Khazad-dum, the kingdon of the dwarf people. From there, an experienced guide will tell you tales and guide you through some of New Zealand's most spectacular scenery. 
Our detailed guide to Glenorchy's best walks gives you nine fantastic hikes to choose from, short strolls, day hikes, and the big three. Take a guided hike, heli-hike or lace up your boots and choose your own Glenorchy hiking adventure. Be sure to prepare carefully and check out the outdoor safety code before you leave. It's wild out there.
Routeburn Track
5. Picnic in Paradise
If you'd simply like to relax with a picnic and admire the view, you've come to the right place. Because Glenorchy is also the gateway to Paradise.
This exquisite valley 20km from Glenorchy is quite simply unforgettable. Majestic mountains, rolling green fields, the crystal waters of Diamond Lake, and the peace of ancient beech forests. It's no wonder the local station is called Arcadia.
The cast and crew of The Lord of the Rings and The Hobbit loved filming here. Sir Ian McKellen said, "Who needs an after-life when there is Paradise on Earth?"  
Stop off in Glenorchy and pick up some tasty goodies at the Trading Post or Mrs Woolly's General Store, before heading off up the gravel road and into Paradise. If you haven't got a car, guided scenic tours run from Queenstown and Glenorchy.
6. Ride the Paradise Ziplines
Between Glenorchy and Paradise a secluded canyon is home to Paradise Ziplines, an exhilarating course of eight ziplines through beech forests.
The experience includes training, forest walks, and dramatic ziplines. Launch yourself off a cliff for views of the surrounding forest and the valley of Paradise, and ride visitor favourite the Orc Chasm, which rockets through a canyon and across an alpine stream.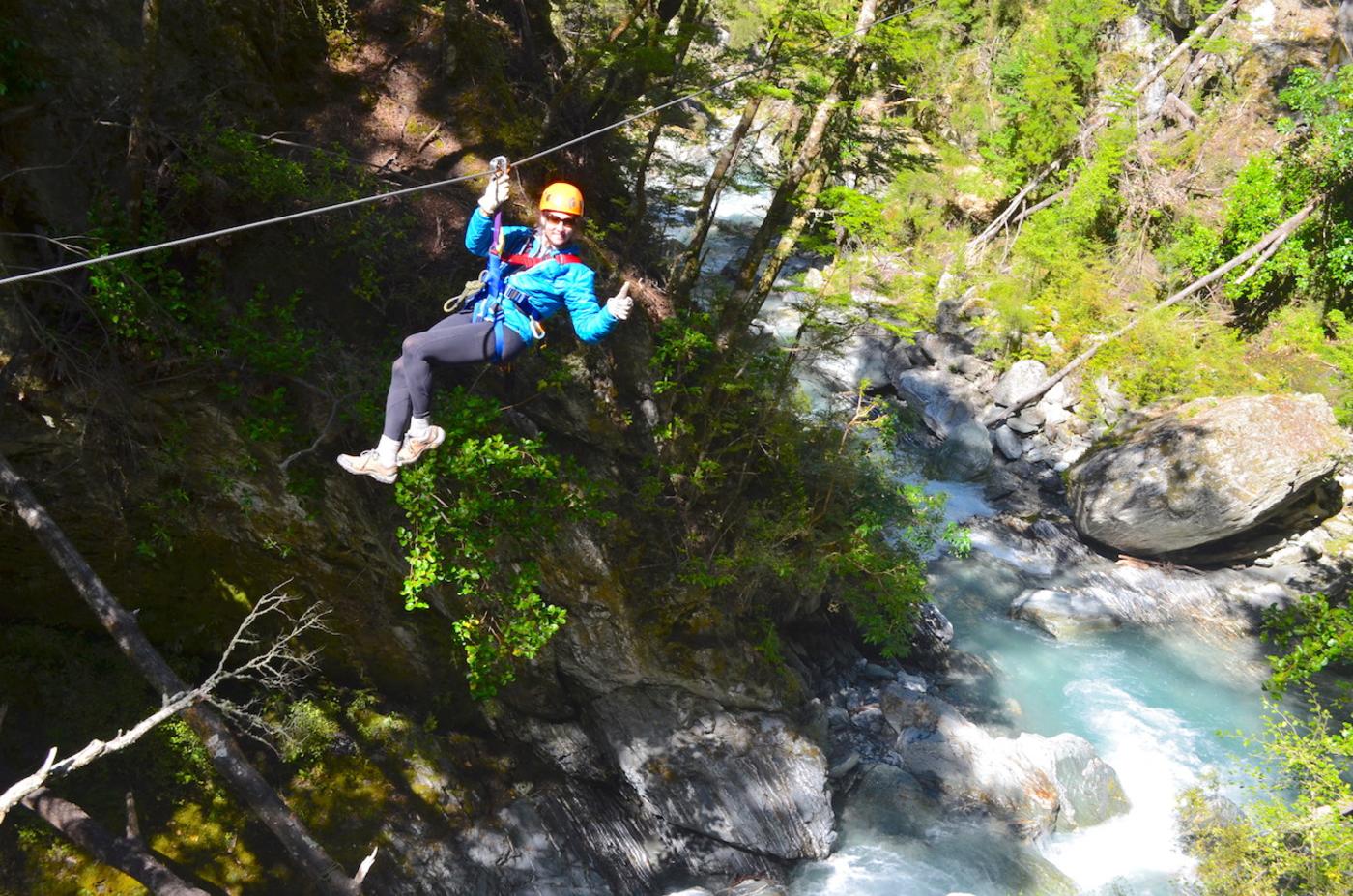 Paradise Ziplines
7. Stay in eco-accommodation
With so many things to do in the Glenorchy region, stick around and stay for a few days. Make your visit even more memorable by choosing one of the eco-accommodation options offering sustainable luxury.
The Headwaters Eco Lodge is a remarkable eco-retreat designed to the most rigorous sustainability standards in the world. They offer elegant eco-cabins and budget friendly backpacker style bunk huts.
The EcoScapes at Kinloch Lodge are comfortable ecopods built using local green building technology with spectacular views, spa pools, and tasty home cooked meals from nearby Kinloch Lodge.
And if you're after the get-away of a lifetime, Blanket Bay's alpine lodge was awarded the Qualmark Enviro Gold award in recognition of their eco-friendly luxury initiatives.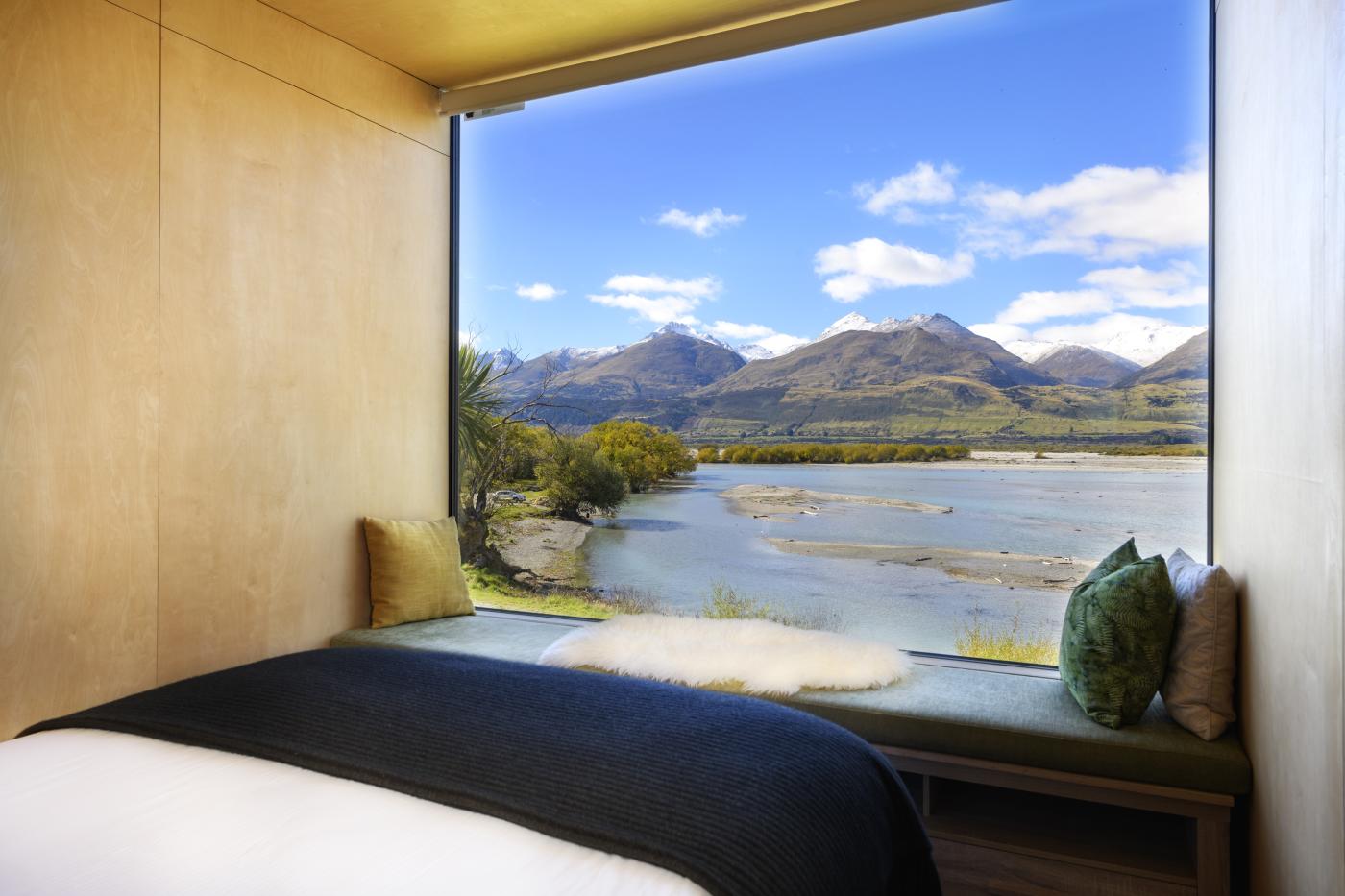 EcoScapes