Op shop enthusiasts know visiting a new place is about exploring new second hand shops. While Queenstown's famous for scenery and adventures, we've a pretty spectacular selection of op shops as well.
We love op shops (thrift stores or charity shops if you're American or a Brit) because they're sustainable, affordable, and fun. The thrill of the treasure hunt. That high when you find the perfect piece. Maybe bungy isn't the biggest buzz in town after all.
Enjoy your guide to second hand shopping in Queenstown, from charity op shops to vintage shops, and pre-loved designer boutiques.
Op shops in Queenstown
Gorge Road is home to a cluster of op shops in Queenstown, so start your thrift store adventures there, before venturing to treasures further afield.  
SPCA Op Shop Queenstown
51 Gorge Road, Queenstown
The SPCA have 70 op shops across New Zealand, and they're always a good time. People who like animals donate nice stuff. The Queenstown SPCA op shop has women's, men's and kid's clothing, jewellery, homeware and other assorted goodies.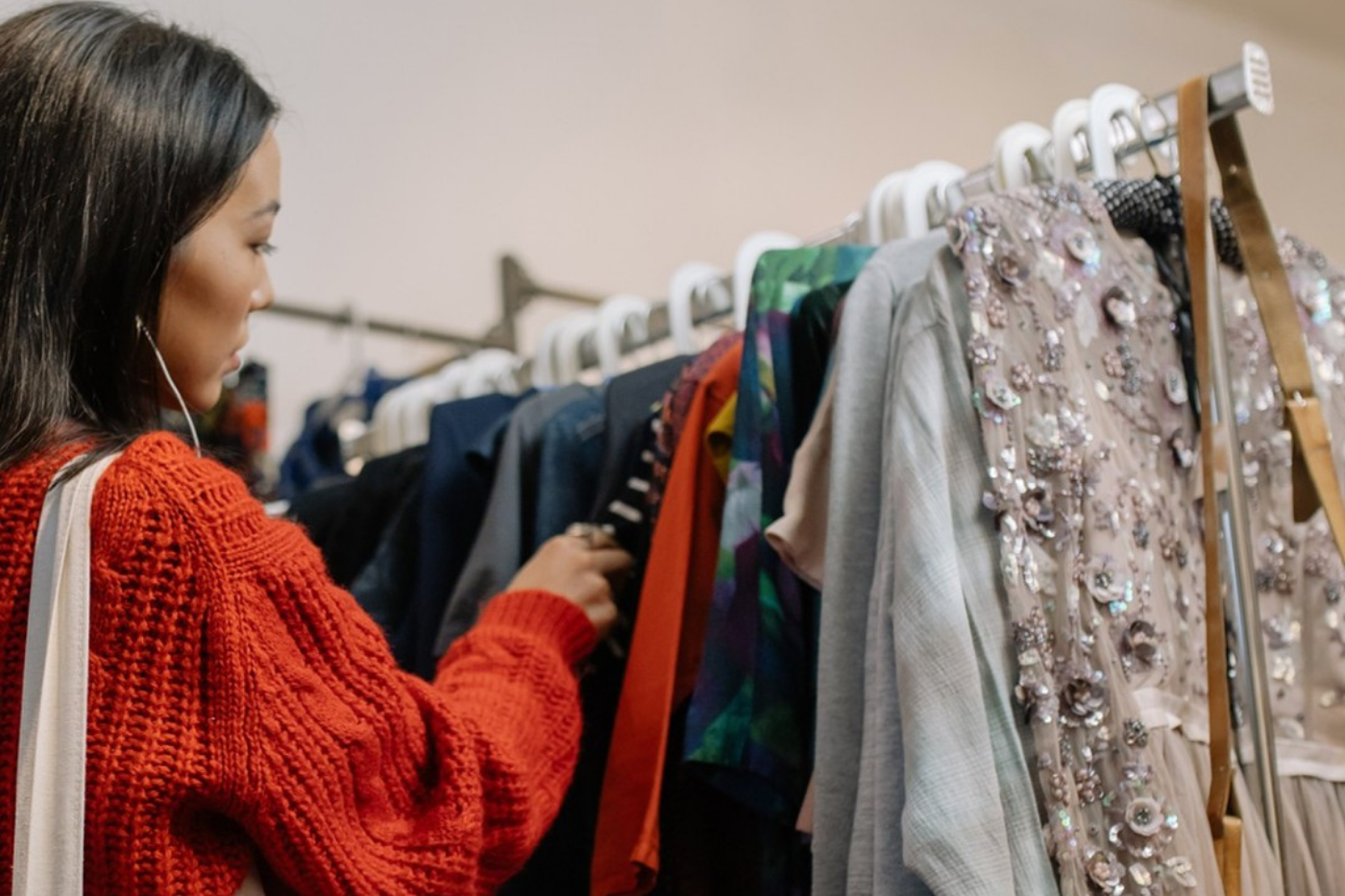 SPCA Op Shop. Credit @spcaopshops
Salvation Army Queenstown Family Store
71 Gorge Road, Queenstown
Salvation Army Family Stores recycle clothing, furniture, household goods, toys and books. The Queenstown Family Store is an excellent place to find old-school wooden furniture to upcycle, and their second hand clothing selection is one of the strongest in Queenstown.
Hospice Southland Queenstown
106 Gorge Road, Queenstown
Hospice Southland have seven shops in the region. Because of their local work, many Queenstown people have a personal connection to Hospice Southland, so their op shop is a treasure trove. Their lovely motto is sustainable shopping for sustainable care, and they stock everything from furniture to jewellery and art.
Happiness House
4 Park Street, Queenstown
Happiness House is a local community support centre that offers social, emotional, and practical support to the Whakatipu Community. Their op shop operates on a low-cost model to help resource the community, with clothing, homeware, books and jewellery. They even have a basket you can fill for the bargainacious price of $10. 
Orphans Aid Shop Queenstown
Terrace Junction, 1092 Frankton Road, Queenstown
Not your usual op shop, the Orphan's Aid Shop sells beautifully curated Fair Trade goods, handcrafted treasures by New Zealand makers, and some tasty local produce. Queenstown's only Fair Trade store.
CanShop Queenstown
56/12 Hawthorne Drive, Remarkables Park, Queenstown 
CanShop, located in Remarkables Park, is owned by the Cancer Society and operated by a dedicated team of volunteers. If you are looking for a great place to shop sustainable fashion while also supporting a worthy cause, then CanShop is the ideal op shop for you. All proceeds go directly towards supporting people in our community affected by cancer. 
Boutique second hand shops in Queenstown and Arrowtown
Queenstown and Arrowtown are home to a small but delightful selection of vintage shops and second hand designer gear emporiums.
Boutique second hand shops may not offer the sheer bargain buzz of a charity store, but their curated line-up makes finding treasures a breeze. And if the store owner shares your aesthetic, you'll be lucky to get away with your wallet unscathed.
The Walk In Wardrobe
Beech Tree Arcade, 34 Shotover Street, Queenstown
Unit 5/6 Hawthorne Drive, The Landing, Frankton
Sustainable lifestyle boutique the Walk in Wardrobe sells quality pre-loved clothes, footwear, accessories. Their stores are a joy to shop, with everything colour coded and clearly sized. The Frankton store also stocks a range of handcrafted and up-cycled furniture and homewares.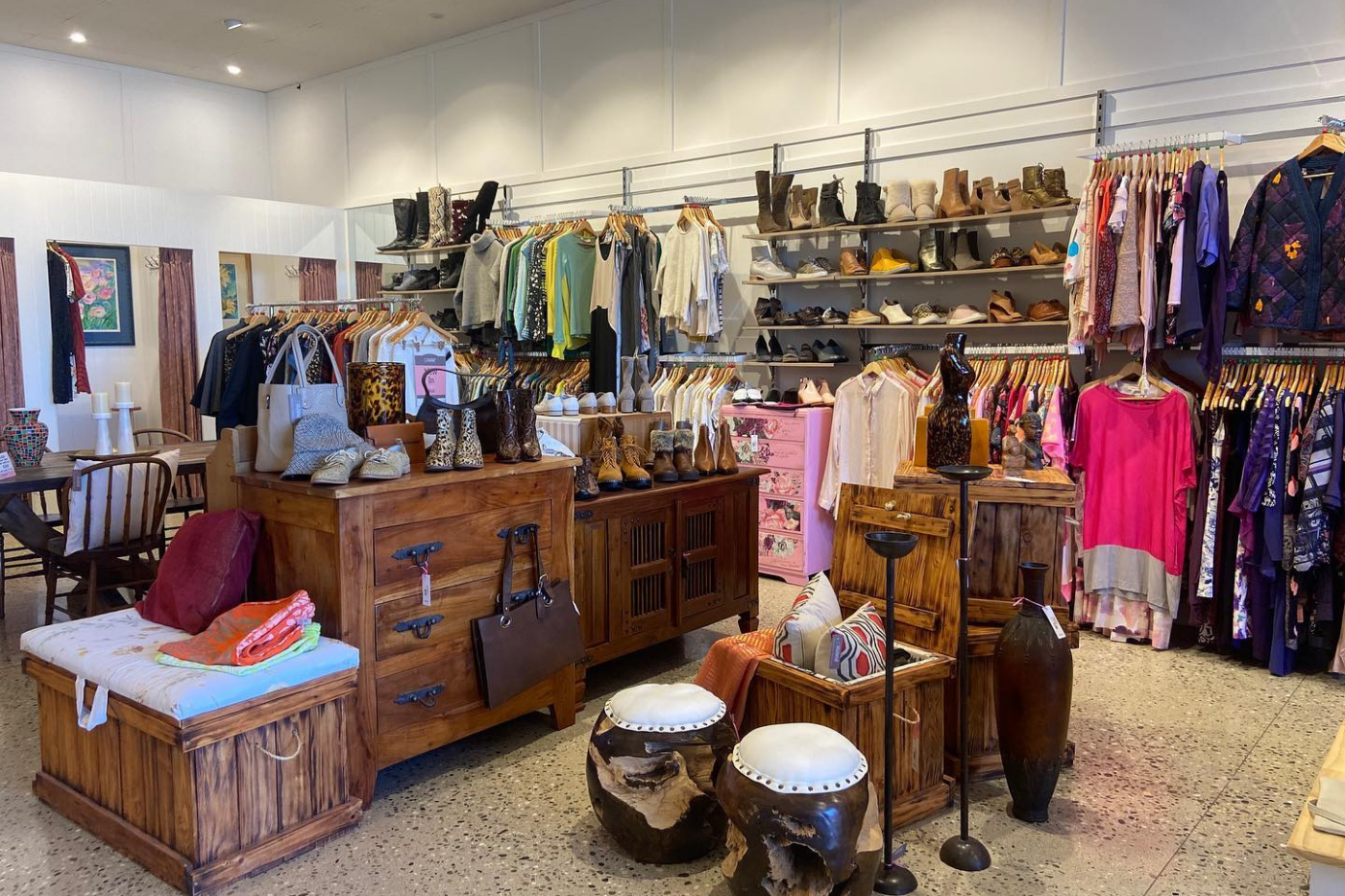 The Walk In Wardrobe. Credit @thewalkinwardrobeqt
Recycle Boutique
69 Beach Street, Queenstown
Part of a New Zealand chain of consignment stores, Recycle Boutique on-sell your preloved clothing, shoes and accessories, and specialise in designer and vintage clothing for men and women. Their ethos is selling and shopping second hand clothing is the most sustainable way to reduce the environmental impact of your wardrobe and refresh your look.
Coco's Cabin
Country Lane, 26 Hansen Road, Frankton
Coco's Cabin started out in chalet 20 at the Queenstown Holiday Park. This magpie's haven of New Zealand-made preloved clothing still occupies the same space, it's just that chalet 20 has moved up the road to Country Lane artisan village. Coco's owners aim to inspire everyone to make second hand clothes their first choice, and with such a selection of beauties, it isn't hard.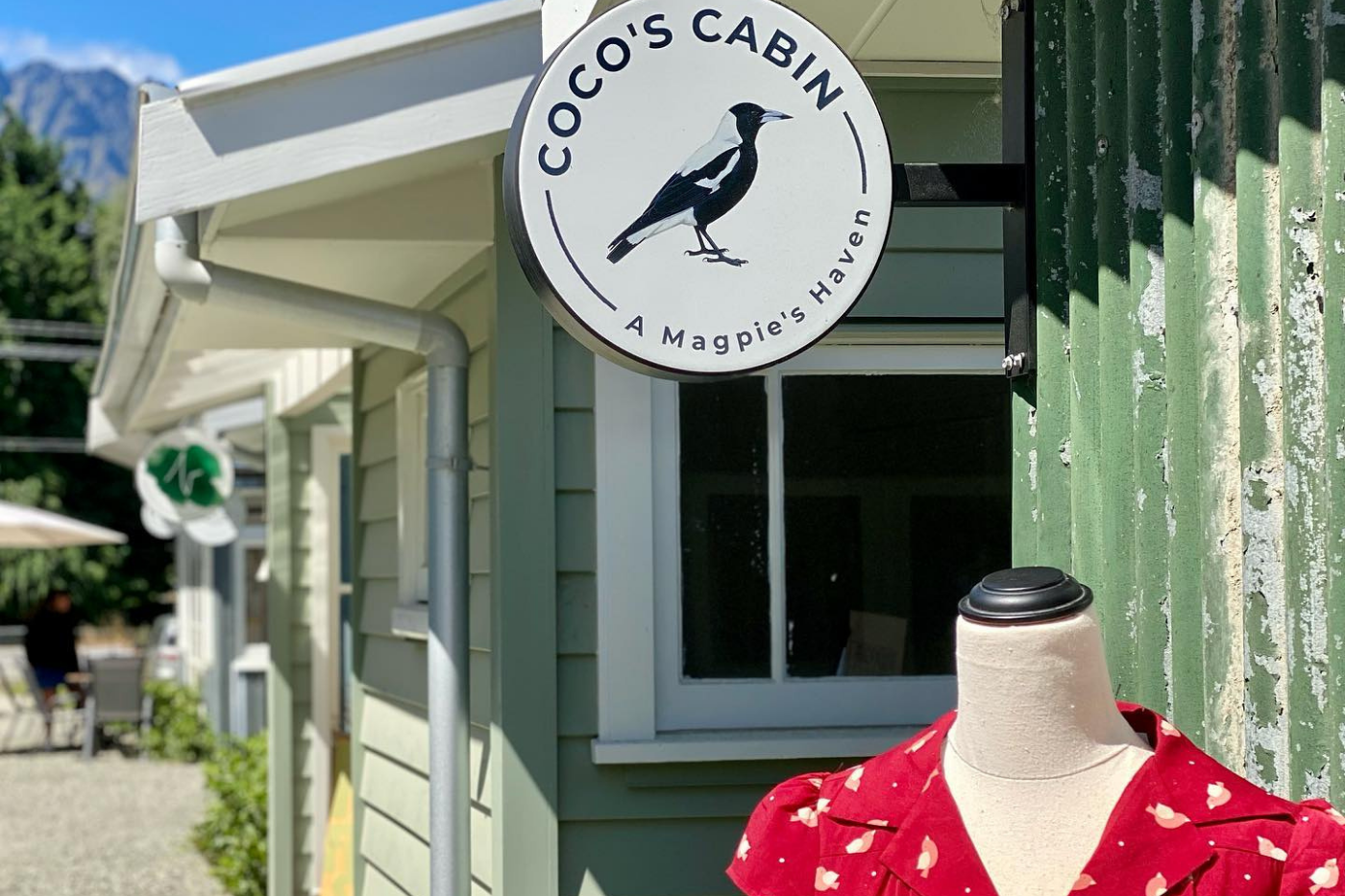 Coco's Cabin. Credit @cococabinnt
Bright Ink
Country Lane, 26 Hansen Road, Frankton
It's not all about the clothes. Near neighbour to Coco's Cabin, Bright Ink is Queenstown's second hand indie bookshop. They stock books on New Zealand and the local area, adventure, memoirs and contemporary fiction. It's the perfect shop to find your holiday read.
Bunnies
21A Ramshaw Lane, Arrowtown
This gorgeous little designer consignment store sells clothes, bags, shoes and accessories. Bunnies nestles in one of Arrowtown's picturesque historic cottages. You'll find an eclectic selection of pieces by global designers alongside the pre-loved treasures, and the sales rack is always worth a rustle.
Blue Moon Rummage
Now online only
An honorary mention to a long-time highlight of the local vintage scene, Blue Moon Rummage has now moved online. But their quirky collection of vintage ski gear and memorabilia, homewares and rummaged treasures is still well worth a look, not least because they deliver free in Queenstown and Arrowtown.
Plan your Queenstown op shopping experience
If there's anything we love more than a good Queenstown op shop adventure, it's the vicarious thrill that comes from someone else's second hand haul. So share your Queenstown op shop scores with us on Instagram and #QueenstownLive.