There's nothing like a local to show you hot spots and hidden gems. So, we asked two local lads to spill the beans.
When Queenstown content creator Jordan Ranson isn't inspired by nature @motionbrosnz, he lives on the slopes. And Seb McKinnon did his best to ski every inch of Queenstown's mountains, before co-founding his adventure tourism company, exploreGO. 
Here are their top tips for a mates' ski trip to Queenstown. 
Head Straight to the Slopes
Both our local experts spoke with one voice on this. Take Friday off and make it to Queenstown in time to hit night skiing at Coronet Peak. 
The action kicks off at 4:00pm. Get a bus up to the Peak from central Queenstown, so you can start your après-ski on the mountain. Guest DJs kick things off and get the crowd vibing. You can crack a cold one at the Base building Bar before you start your run. 
Jordan remembers last winter. "Snowboarding down Coronet Peak while the sun was setting was utterly surreal. It was so epic I had to stop and pinch myself. If you haven't done night skiing before, it's an amazing experience that you don't get anywhere else in NZ."
Seb recommends you arrange gear hire from Ski Hire NZ & the Snowboard Workshop. They offer virtual fittings and tailor your gear to the conditions. Thom and his team will get your gear ready and waiting for pick-up when you arrive. Their store's in Frankton near the airport. 
Jordan suggests making a long weekend of it and getting a pass for three days. The Queenstown Superpass from NZ Ski gives you access to the Remarkables and Coronet Peak. 
He says: "That first day you're acclimatising to the cold, getting used to your rental skis or boards, and discovering the mountain. Day two, you'll have your mojo back and you'll be raring to go. Ski the Remarkables one day. Coronet Peak the next. Then on day three do your favourite again."
Seb agrees. "Have a day up the Remarkables on Saturday. I like Shadow Basin Chair. Do the 15-minute hike up to the viewing point that looks out over Queenstown. On a powder day, head out to Homeward Bound and Outward Bound. These runs drop down to the main road and you can jump on a complementary shuttle bus back to the ski field." 

Après ski Public Kitchen and Bar
All the Après-Ski Action
After the hills, Seb makes tracks to Smiths Craft Beer House for poutine and a Ground Up Brewing Black IPA. He also digs dinner at Atlas Beer Café on the waterfront. Their $20 rump steak special, accompanied by an Altitude Brewing Mischievous Kea IPA is a local fav. Or grab a table at World Bar for the best fried chicken and waffles in town, live music, dancing, and banter with the locals.
Seb and Jordan both rate Little Blackwood. Great mulled wine and delicious cocktails in a cosy setting on the lakefront. 
Après-ski hot spots for Jordan include dinner at Yonder. "It's a great spot, a buzzing social hub with a cool vibing atmosphere. There's heated seating so you can sit outside when it's cold. It's always got live acts on, DJs, a story slam, and live comedy. If there's a great sunset try Sundeck for rooftop drinks. Then there's Harry's Pool Bar. We always have fun there. There's a log fire and a good selection of pool tables."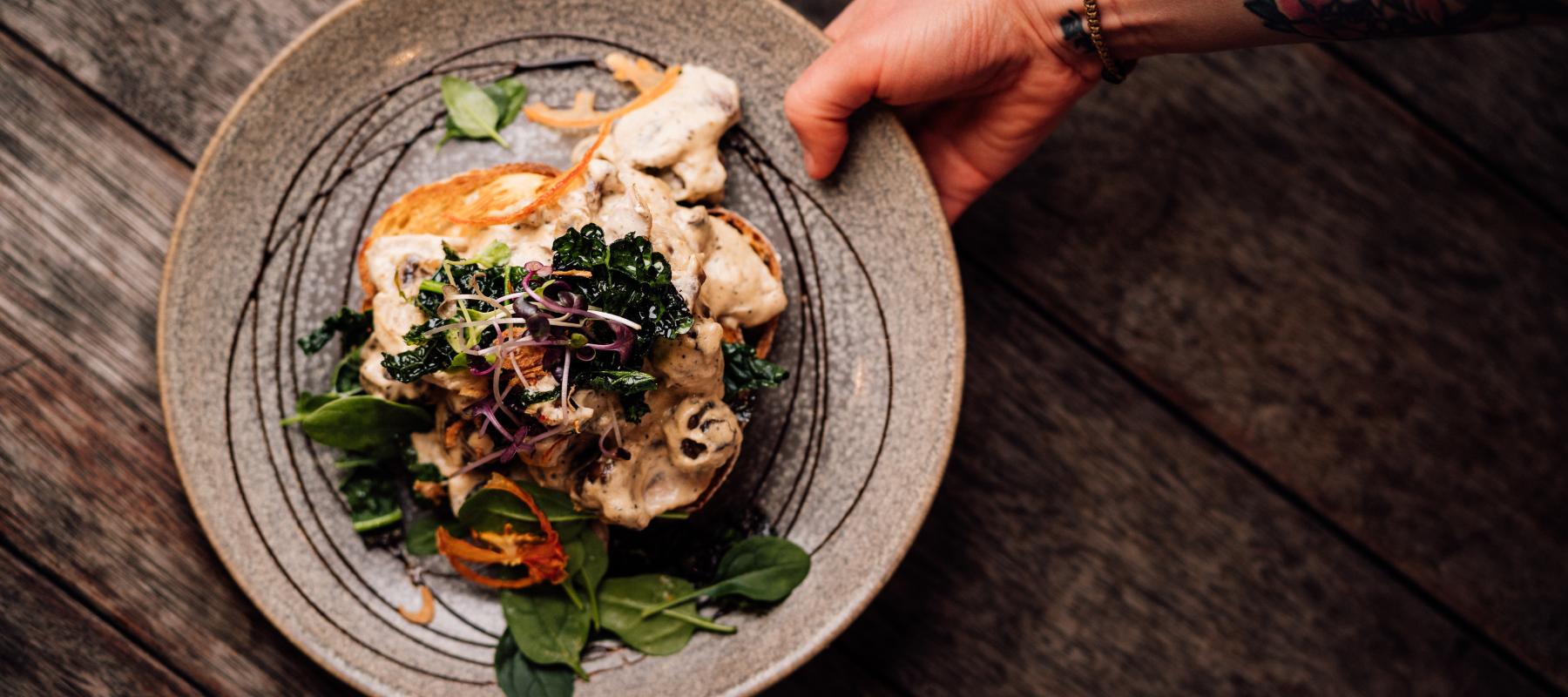 Bespoke Kitchen - Thomas Rees Photography
Breakfast of Champions
Jordan starts his day with brunch at Bespoke Kitchen on the hill under the Skyline Gondola. "I'm vegetarian so I like their use of fresh seasonal produce. They do great fresh vegan and veggie options, and you can grab brunch, then go up the gondola." 
Seb's got some tasty local's tips for you if you fancy a taste of the iconic Ferg empire. "Try a venison and Portobello mushroom pie from Mrs Ferg's bakery on Shotover Street. They're arguably the best pies in NZ. And if you're craving a Fergburger, don't wait in line for an hour, call ahead or order online, then go eat it at the beach." Nice one Seb.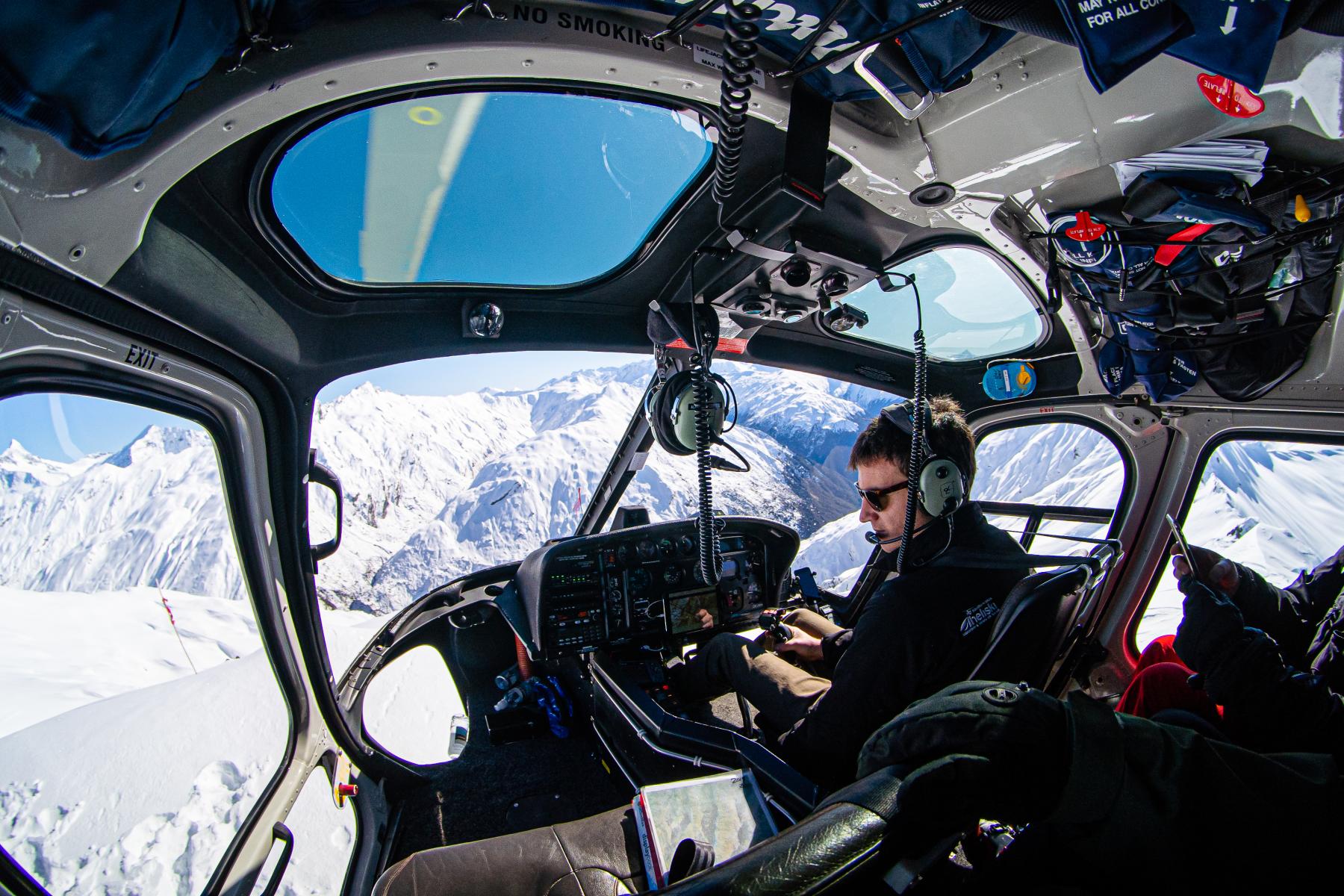 Heli-skiing
On and off the Mountain
Queenstown is at its most beautiful with snow-capped mountains. And not all winter fun requires you to strap a board to your feet. 
If you're a bit dusty from a big night, a stroll around the beautiful Queenstown Gardens is a gentle start to the day. And you can get the blood pumping with a round of disc golf.  If you want a bit more of a challenge, the Queenstown Hill Loop Track up to the Basket of Dreams look out takes about three hours. It's a stunner and it starts from downtown Queenstown. 
If you've hired a car, take a drive to Glenorchy. Follow one of the most spectacular roads in the world all the way down Lake Whakatipu, past Paradise. For another beautiful drive, hit up Gibbston Valley. Stop off at Kawarau Bridge Bungy and hurl yourself into space above the wild river 43 metres below. That'll get rid of any lingering cobwebs. Stop off for a wine at Gibbston Valley afterwards to steady your nerves. 
You don't need a car for spectacular views and a big ole rush. Head up the Skyline Gondola and take your pick from the world's steepest zipline, the Skyline Luge. 
Jordan takes us back to the mountains for a last adventure. "I always tell my mates to save enough to go heli-sking. It's a once in a lifetime experience, the best skiing in the country. We flew to the top of a mountain, skied down fresh untouched powder, then the chopper picked us up. Then we went to another peak, and another. It felt like an action movie."
Your mountain is waiting. Adventure is waiting. Queenstown is waiting. All we need is you.