Queenstown and the Central Otago region is home to some of the very best bike rides in New Zealand. So, if you're looking for some of the best biking adventures and bike trails on New Zealand's South Island, look no further than Queenstown.
With its accessible international airport, Queenstown is the gateway to six of New Zealand's Great Rides and is a natural hub for cycling enthusiasts. There are plenty of bike shops and bike hire centres here, that specialise in finding you the correct bike or tuning up your own bike – you'll also find that they have great insider knowledge of the local and regional trails. Bike transfer services are available to all the trail heads from Queenstown and it's easy to arrange transfers back to this central hub too.  
And with the multitude of comfortable accommodation, fabulous restaurants and jaw-dropping vistas, there's no better place to put foot to pedal than Queenstown.
Here's our guide to the six New Zealand Great Rides in Queenstown, Central Otago and Southland.
The Queenstown Trail
Trail type: Multi-grade trail network
Difficulty: 70% grade 2 (easy), 20% grade 3 (intermediate), 10% grade 4 (advanced)
Length: This is a network of five trails, ranging from 8km to 16km (one hour up to three hours' ride).
Getting there from Queenstown: 0 minutes – start right here!
Why ride? The ultimate way to see Queenstown by bike, you can tackle these trails individually, or link them up for an epic multi-day cycling adventure through Queenstown.
There's a little bit of everything in this trail network, built and managed by the non-profit organisation, Queenstown Trails.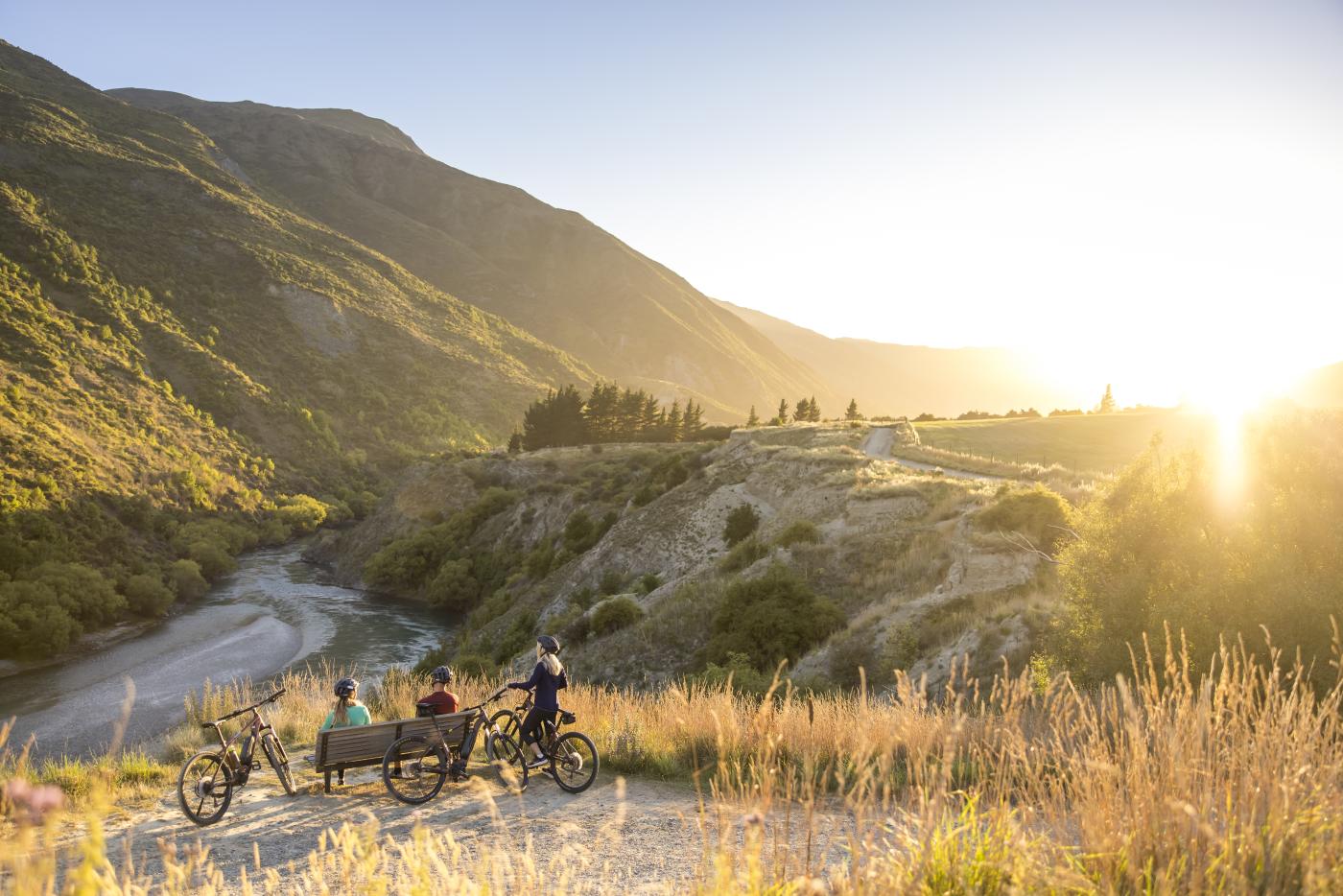 Biking the Gibbston River Trail
Otago Central Rail Trail
Trail type: Multi-day (3 – 5 days)
Difficulty: 100% grade 1 (easiest)
Length: 152km
Getting there from Queenstown: 1 hour transfer to Clyde or 2hrs 50min transfer to Middlemarch
Why ride? It's one of the original Great Rides of New Zealand and a must on any cyclist's bucket list.
The Otago Central Rail Trail is the original and one of the best Great Rides in New Zealand. The bike trail follows the route of the former Otago Central Railway between the towns of Middlemarch and Clyde, and has been specifically upgraded for biking and walking. This makes it ideal for adventurous families.
Think: dry, golden hills with a dusting of snow at their very tops in winter and a purple smattering of tall viper's bugloss wildflowers in summer. You'll bike through pleasant-smelling Alexandra with its rocks covered in white thyme and flat green farmland bordered by mountains in Ranfurly. The trail is well-serviced with lots of great accommodation options and hearty country pubs along the way.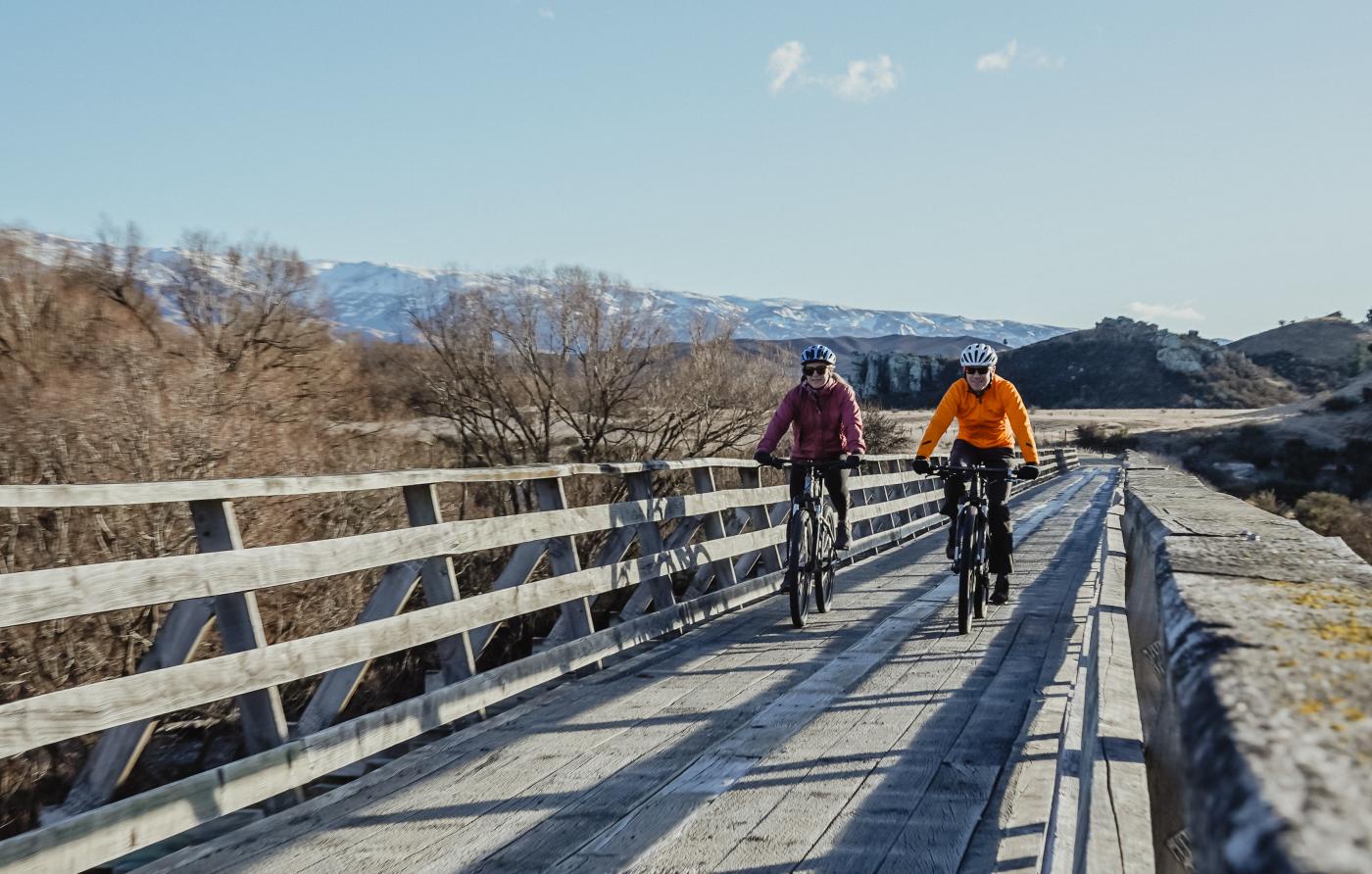 Otago Central Rail Trail, credit James Jubb
Roxburgh Gorge Trail 
Trail type: Day trip (5 – 6 hours)
Difficulty: 90% grade 2 (easy), 10% grade 3 (intermediate)
Length: 21km (plus 13km boat ride)
Getting there from Queenstown: 1hr 15min transfer to Alexandra or 1hr 40min to Roxburgh Dam
Why ride? You've not seen anything quite like this before… this is the trail where biking meets jet boating!
Picture the mighty Clutha Mata-Au River with its blue-green waters cutting through the gorge. Imagine an eye-popping colour palette with dusty, golden hills covered in purple wild thyme. This is a landscape unlike anything you've ever seen before. 
Steeped in history, there's plenty to see on this stunning bike trail and though you can do a return trip, there are shuttle operators who can take you back to Alexandra (about 1hr 15 min drive from Queenstown) or to the dam (depending on where you start). There's also an option to save your legs and whiz along the river in a jet boat for 13km in the middle section of the trail. Um, yes please!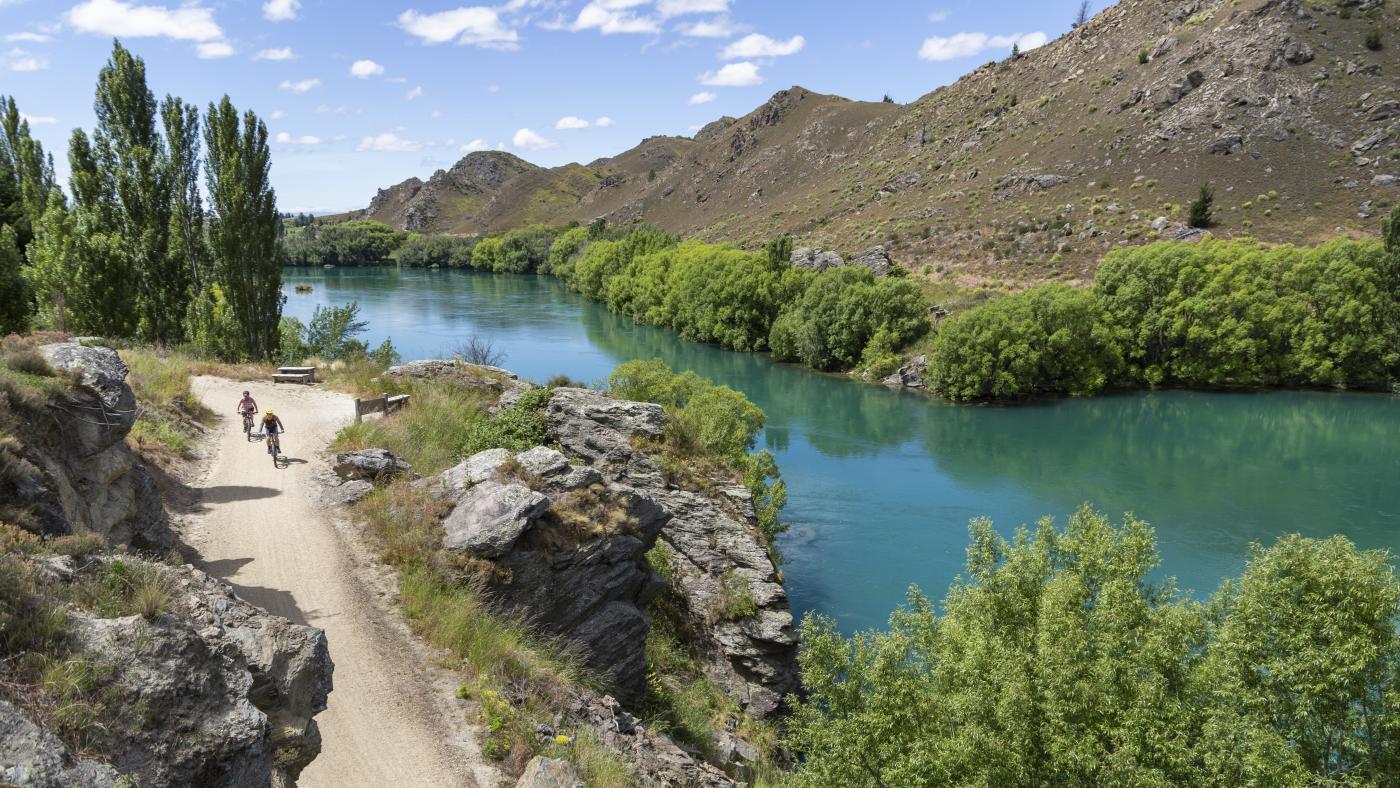 Roxburgh Gorge Trail, credit Geoff Marks
Clutha Gold Trail
Trail type: Multi-day (2 – 4 days)
Difficulty: 50% grade 1 (easiest), 50% grade 2 (easy) 
Length: 73km (plus a 13km boat cruise)
Getting there from Queenstown: 1hr 40 to Roxburgh or 2hr 20min to Lawrence
Why ride? Great views, even better pies. What's not to like?
This cruisy bike ride from Roxburgh to Lawrence passes through four small Otago townships and winds its way between the mountains alongside the Clutha Mata-Au River. You'll pass through rugged rural landscapes, gold mining history and native scrublands. There's a great swim spot at Pinders Pond and this trail also offers the opportunity to jump on a jet boat and enjoy the river from a different perspective. Delicious pies, freshly-picked stone fruit and world-class wines can be found in the townships.
The easy grade of this trail means ambitious bike riders can complete it in a day.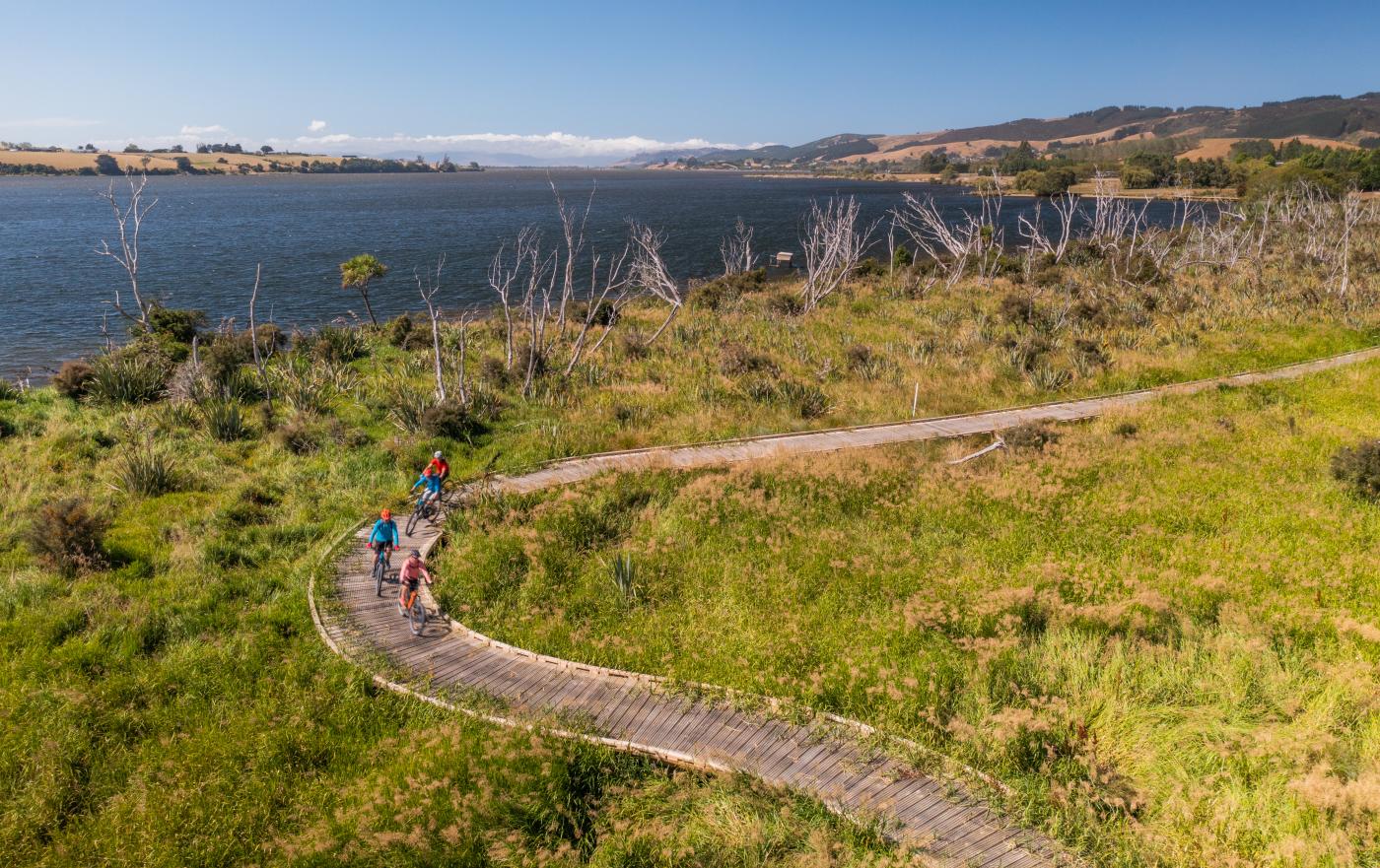 Clutha Gold Trail extention, credit Will Nelson
Around the Mountains Cycle Trail
Trail Type: Multi-day (3 – 5 days)
Difficulty: 40% grade 2 (easy), 60% grade 3 (intermediate)
Length: 186km
Getting there from Queenstown: 0 minutes – start right here!
Why ride? This is the ultimate cycling adventure in the Queenstown region.
Start your adventure with a trip on the century-old steamship, the TSS Earnslaw, to get from downtown Queenstown to Walter Peak. Then ride through rugged high country farmland, spectacular alpine views and historic townships (where there's coffee, food and boutique accommodation). Relax for a moment at Mavora Lakes (a Lord of the Rings filming location) before finishing your ride at Kingston, on the edge of Lake Whakatipu.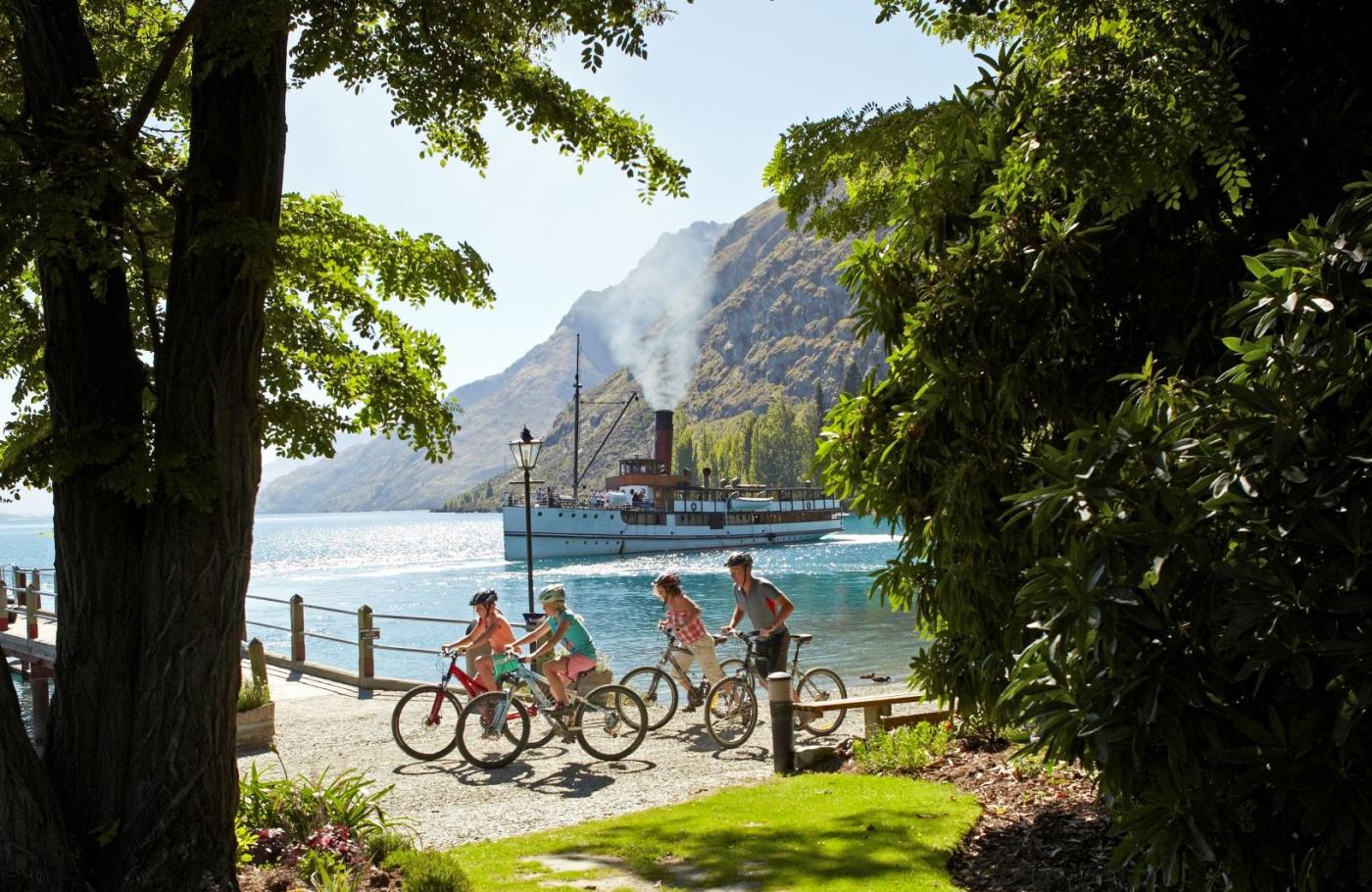 Cycling from Walter Peak
Lake Dunstan Trail
Trail type: Day trip (for intermediate cyclists) or 1-2 days
Difficulty: 30% Grade 1 (easy), 70% Grade 2-3 (easy to intermediate)
Length: 55km
Getting there from Queenstown: 50min to Cromwell, or just over an hour's drive to Clyde
Why ride? The Lake Dunstan Trail is the newest biking and walking trail in Otago's already enviable trail network. The trail links the townships of Cromwell and Clyde, taking you through the unique landscapes characteristic of Central Otago as it journeys alongside Lake Dunstan, the Kawarau River and the mighty Clutha River.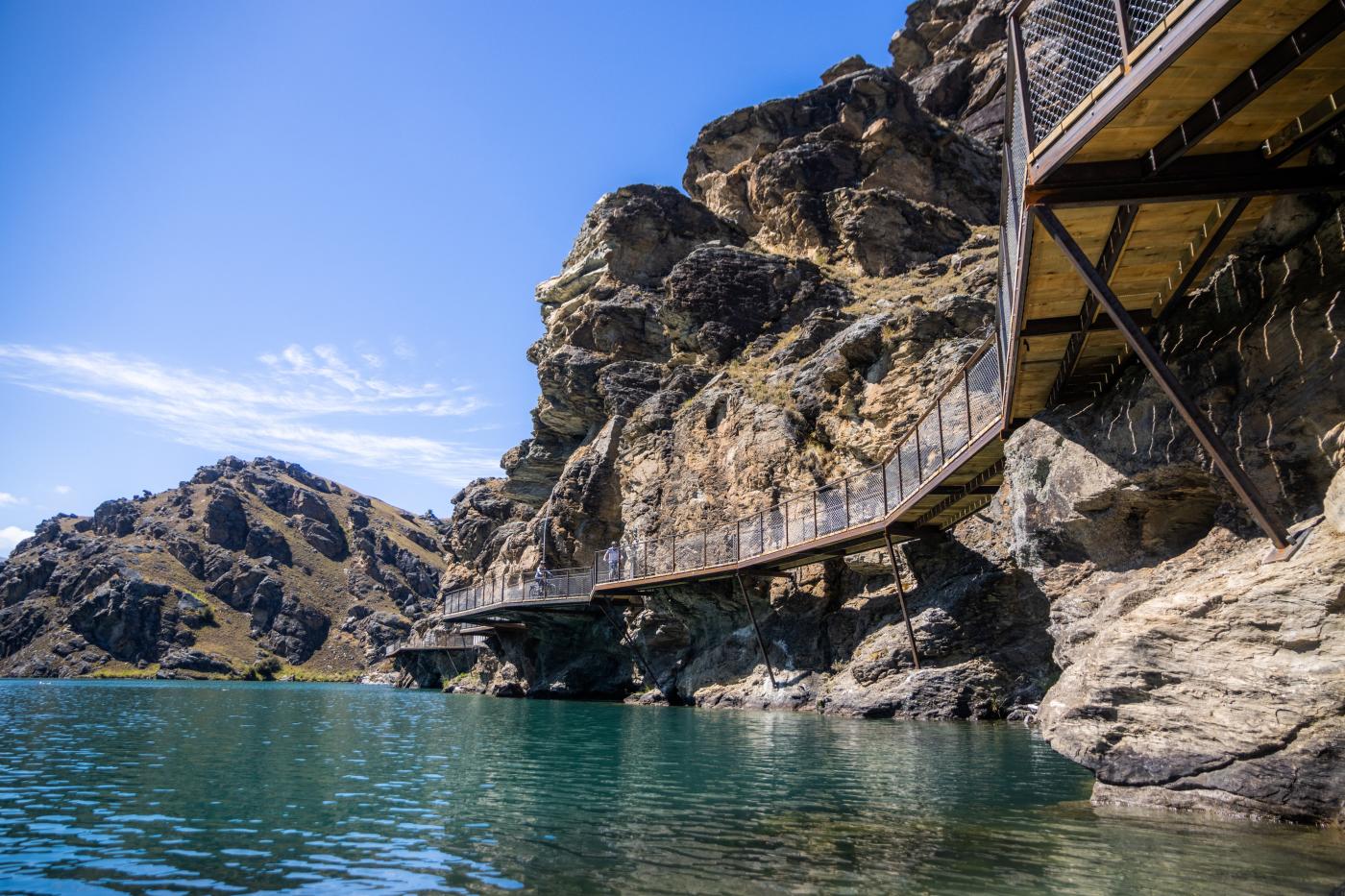 Lake Dunstan Trail. Credit Will Nelson.
Explore further afield
The cycling adventure continues in Central Otago and Southland. Central Otago is known for its vast, rugged landscapes, interesting heritage, expansive off-road cycling trails, and excellent food and wine. Or head south and experience Southland's nature, wildlife, dramatic scenery and southern hospitality.
So what are you waiting for? Hop on your bike and explore Queenstown and surrounds for your next bike holiday.
Ways to care for Queenstown while you're biking
While you're biking in and around Queenstown you can minimise your impact by respecting people, wildlife and places – check out these handy Tiaki tips for treading lightly during your trip.
You can help protect Queenstown's landscape by donating to Love Queenstown, a local community fund that supports our region's climate, conservation and biodiversity projects or by supporting Queenstown Trails who work to maintain and extend our trail network.