From September to November, Queenstown's valleys burst with fresh spring buds and blossoms to the backdrop of spectacular snow-capped peaks.
The best time to see spring flowers in Queenstown is generally between mid-September and mid-October. Cherry blossoms typically start to bloom in early September, but the duration of their season can vary depending on weather and location – pring wind and rain can quickly bring an end to this burst of colour.
Here's where to find some of the best blooms and blossoms in Queenstown this spring.
The Lake Esplanade
Take a walk along the Lake Esplanade and you'll see the shores of Lake Whakatipu lined with large blossom trees. It will take around 15 minutes to walk from Queenstown to the start of Glenorchy Road along this flat, accessible walkway. Take in views of The Remarkables, the Queenstown Gardens, and Walter and Cecil peaks as you admire the spring blooms on your stroll.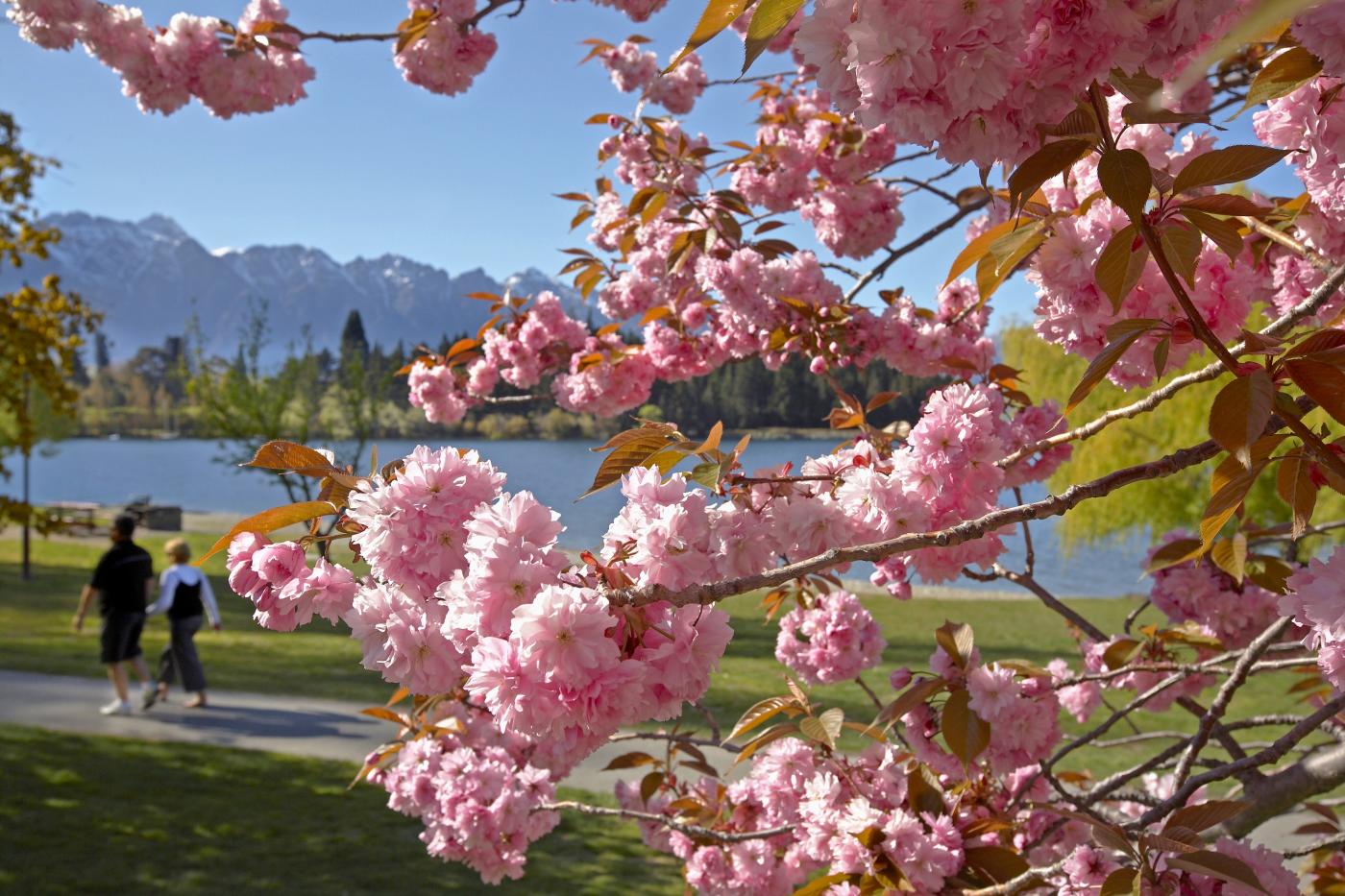 Lake Esplanade
The Queenstown Gardens
The Queenstown Gardens bloom with daffodils, tulips and cherry blossoms in spring. The gardens are popular with locals and visitors alike and are the perfect spot to spend a day relaxing and enjoying the lake, alpine and garden views.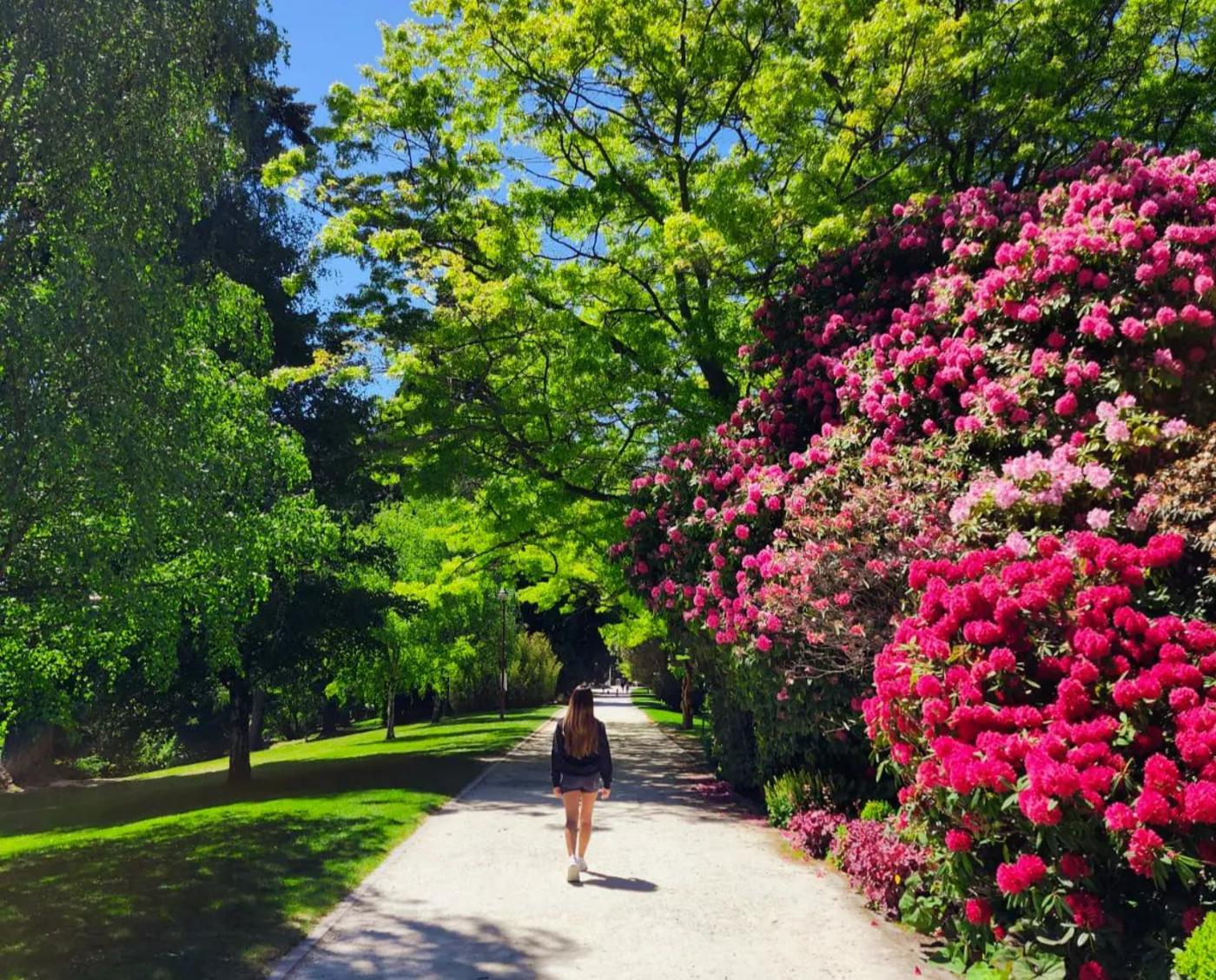 Queenstown Gardens. Credit @chriudhshrt11
The Village Green
In the heart of downtown Queenstown, The Village Green bursts into colour with its oriental flowering cherry trees. It's the perfect spot to bring your lunch, bask in the spring sun and admire the pink blossoms.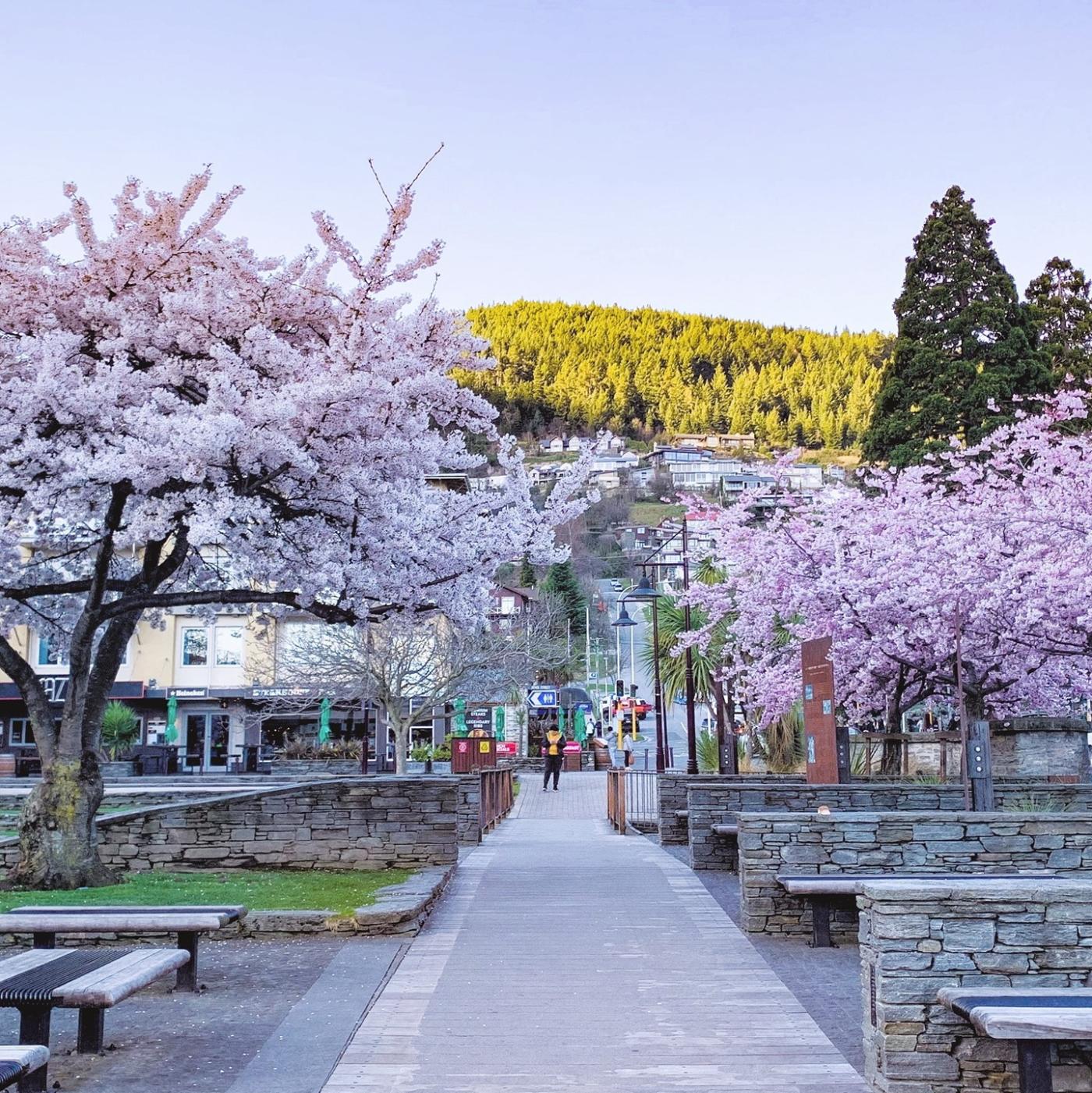 Village Green in spring. Credit @airnapier on Instagram
Walter Peak
The Homestead at Walter Peak is home to a colonial English garden with thousands of tulips, daffodils and spring flowers. Take the evening cruise across Lake Whakatipu to enjoy al fresco dining and see the garden during twilight.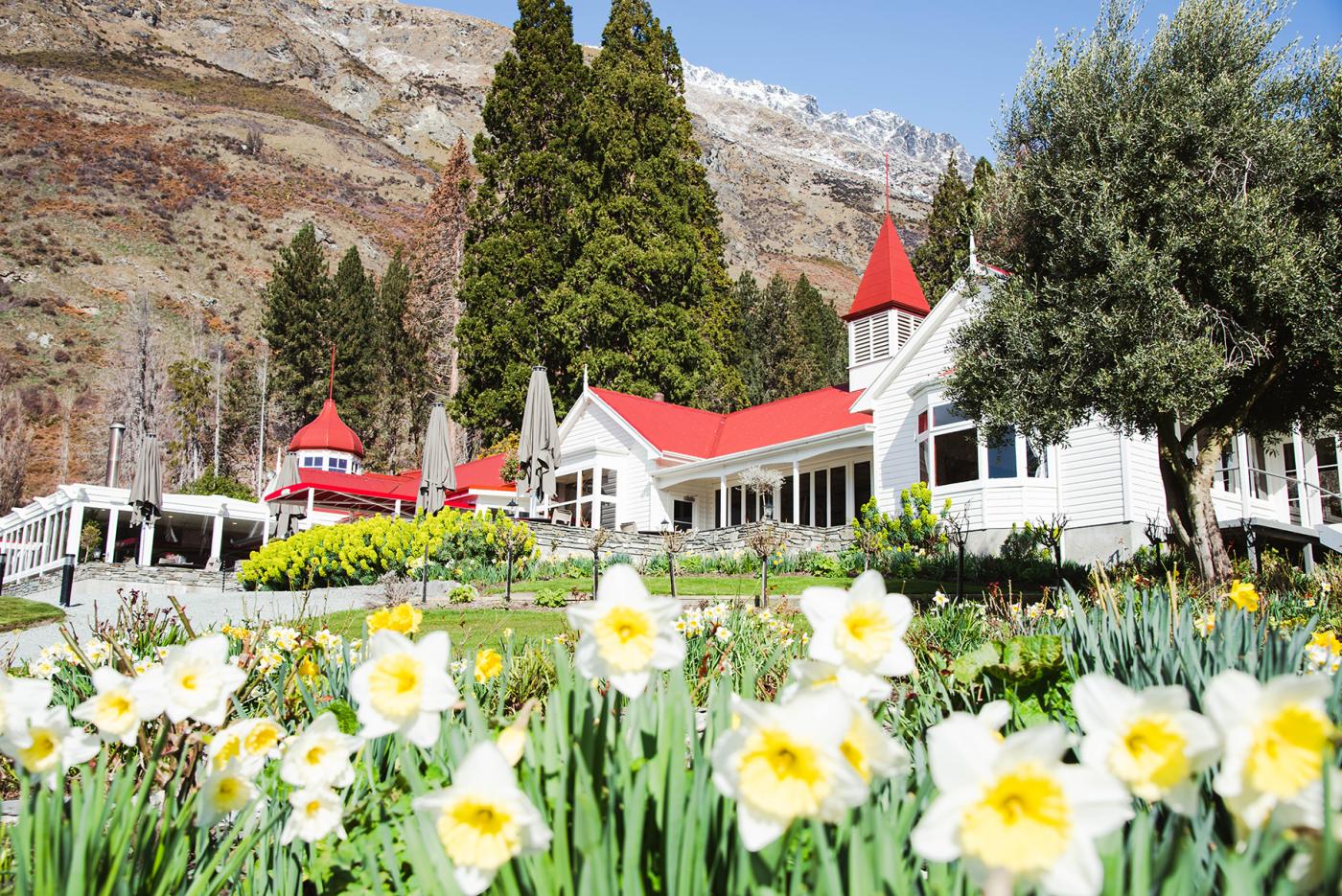 Walter Peak Homestead
Arrowtown
The quaint former gold-mining town is known for its autumnal beauty, but spring here is just as stunning. The main street bursts with potted colour as locals create stunning gardens to wander by. Make a day of it and walk or bike the Arrow River Trail through picturesque woodland lined with stunning wildflowers.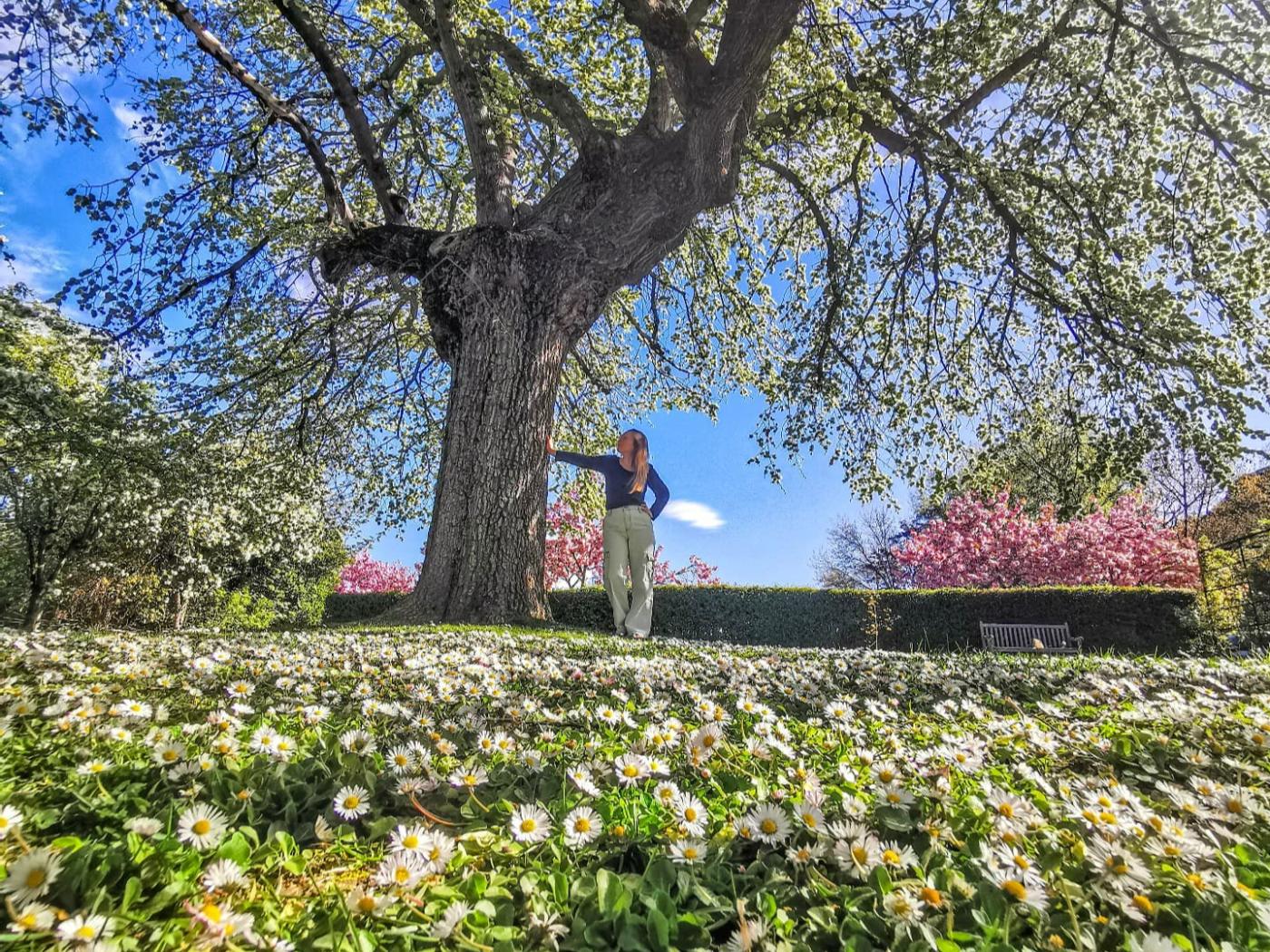 Arrowtown in spring. Credit @la_anni_ on Instagram
Queenstown Mall
Queenstown Mall is lined with blossom trees, which will burst to full bloom for a short time in spring. Al fresco dining is a great way to enjoy their beauty. Enjoy a meal outside or a drink in the sun – the evening light lasts even longer from the end of September after daylight savings begins.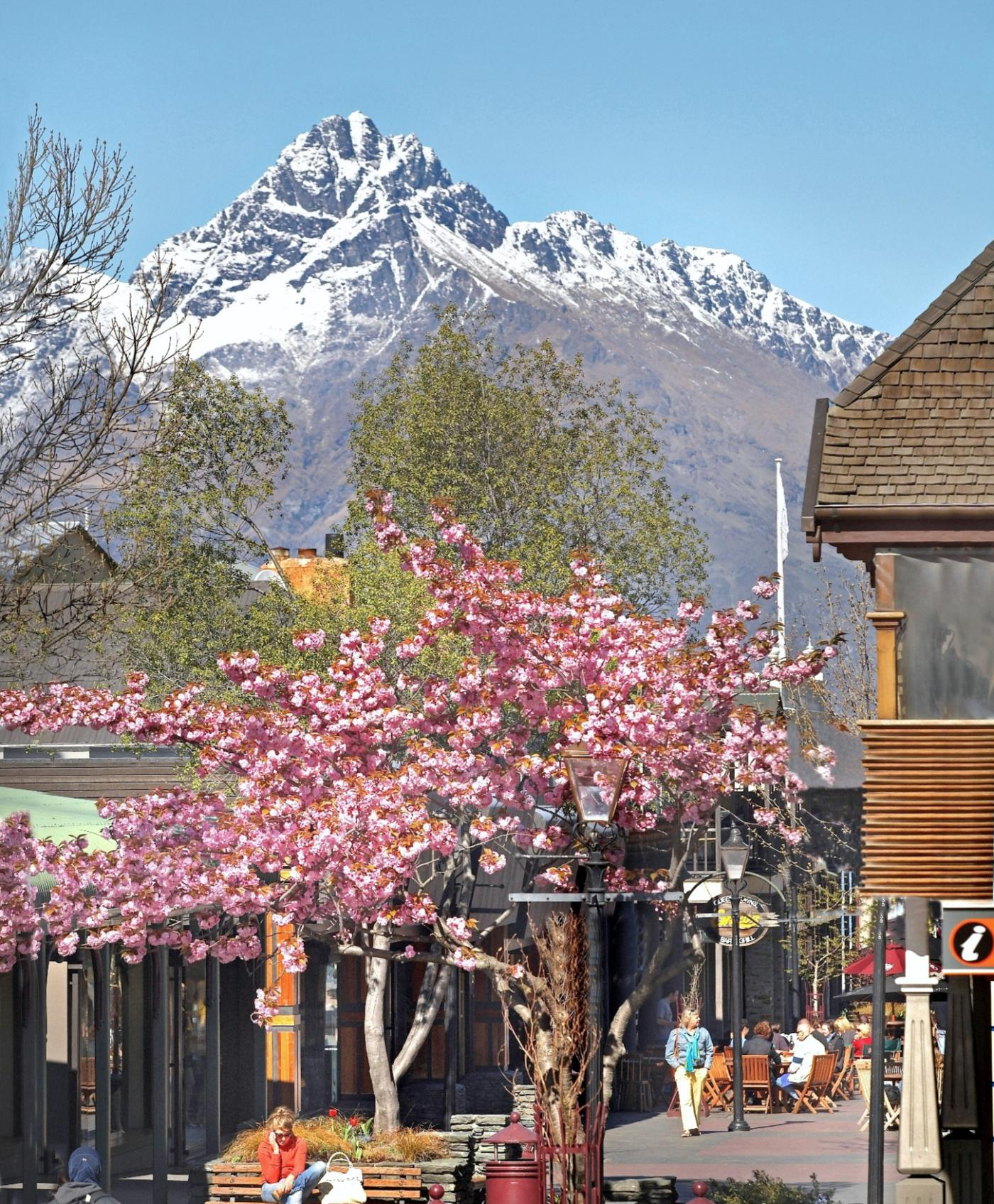 Queenstown Mall
More ways to immerse yourself in Queenstown's scenery
This spring, stay a bit longer to experience all Queenstown has to offer – find plenty more ways to savour the longer, sunnier days in our guide to the Must Do's Off The Slopes In Spring.
As you explore Queenstown, share your experiences with us on Instagram by tagging #QueenstownLive.