Is there any finer meal than a leisurely holiday breakfast when the day lies before you, packed with delightful possibilities? 
Sit down and take the time to savour the simple pleasures of a café breakfast in a majestic mountain setting. Here's your guide to some of Queenstown's top breakfast spots. Even better, many of these foodie favourites are easily walkable or bikeable from central Queenstown accommodation.
Queenstown central breakfast places
odd saint
1 Earl Street, Queenstown
This new addition to the Queenstown breakfast scene is run by the same crew who own Little Mez, Margo's, and Little Blackwood, which won the title of New Zealand's Best Bar in 2022. So, you're in safe hands. Named in tongue-in-cheek homage to its saintly neighbour, St. Peters' Church, odd saint is sunny, bright and welcoming, with a north-facing courtyard.
The menu is a tasty cultural collision where American diner meets European bistro, meets Asian fusion in an entirely tempting and uncontrived way. It's as if the well-travelled owners simply made a list of all their favourite things to eat from around the world. Owner James Ace says the team want to push the boundaries of food in Queenstown—just to be a little odd. If idiosyncratic tastes this good, we say, bring it on.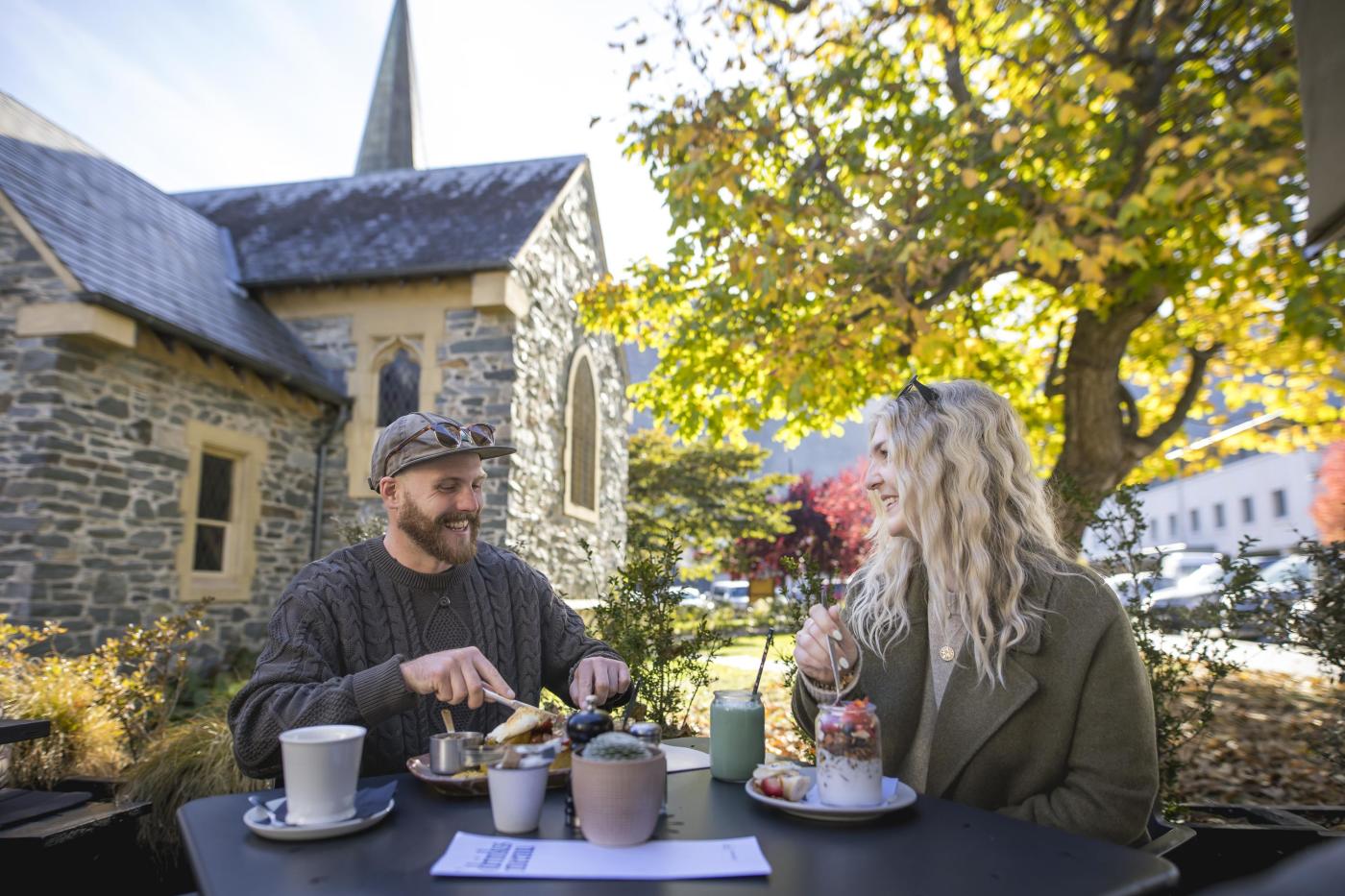 odd saint café and restaurant
Vudu Café & Larder
16 Rees Street
Vudu Café and Larder is a long-time Queenstown local favourite. Always popular, you may have to wait for a table. When you go up to the counter to order, you'll see why, because the cabinet is brimming with delectable-looking treats both sweet and savoury.
Their brunch menu is packed full of classic dishes, and there's a refreshing line-up of fresh juices and smoothies, along with coffee and chai. Portions are generous, and the flavours are a testament to the owners' fresh local, seasonal, philosophy.
Bespoke Kitchen 
9 Isle Street
Five minutes walk from Queenstown town centre you'll find Isle Street and the delights of Bespoke Kitchen. The space is light and airy, with doors and windows opening onto a courtyard overlooking Lake Whakatipu and the peaks of the Remarkables. 
Food is fresh, unprocessed, and locally sourced whenever possible. Owners Rae Ellis, Michelle Freeman and Chris Vile also own local favourite, Vudu Café and Larder. Bespoke Kitchen was their second foray into hospitality when Vudu became so popular. Vegan and dietary-needs friendly, their menu is ever-changing, but they're famous for excellent pancakes and coffee.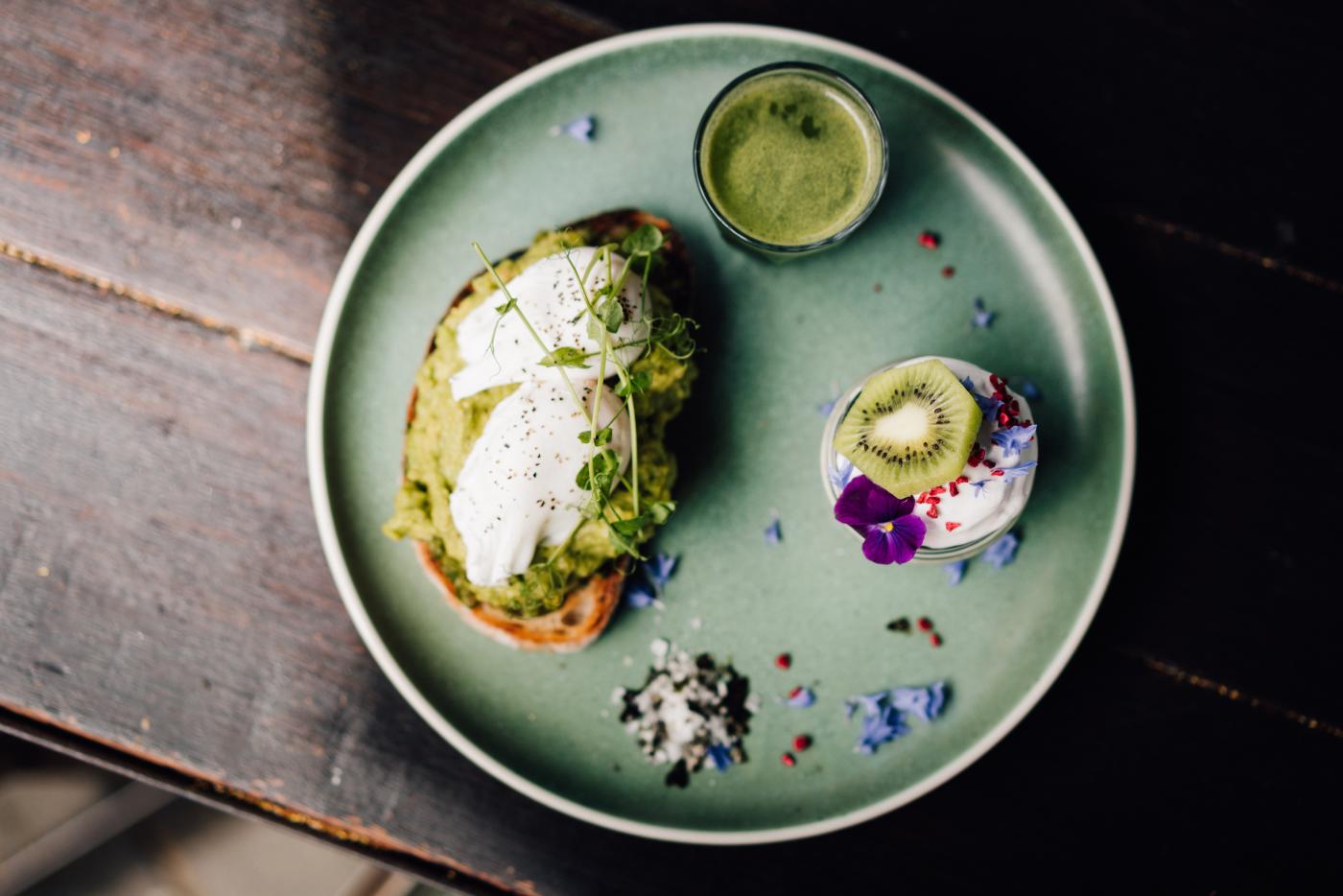 Bespoke Kitchen
The Exchange
39 Ballarat Street
Set in what was once a post office and telephone exchange, The Exchange now connects hungry humans with great breakfasts. Queenstown folks appreciate The Exchange for its consistently great food and attractive space that works as well for friends catching up as it does for business meetings. Speedy Wi-Fi makes it ideal for catching up on emails or posting to social.
The breakfast menu is classic and well executed with eggs benny, granola bowls, pancakes and French toast, as well as a smattering of more creative dishes. Ideal for comfort food, friendly service, and a strong cup of coffee that'll set you up for a day exploring Queenstown.
Yonder  
14 Church Street
Yonder is another great breakfast spot with a sunny outdoor courtyard for an al fresco start to the day. Inside the old stone cottage, cute little nooks and booths make intimate seats to snuggle and indulge in their excellent brunch menu packed with healthy, whole food options. Yonder's breakfasts are excellent for vegans, vegetarians, and folks with special dietary needs. Healthy definitely doesn't mean dull. The food is as tasty as it is fresh and nourishing and the Yonder crew make all their breads, pastries, sauces and marinades from scratch.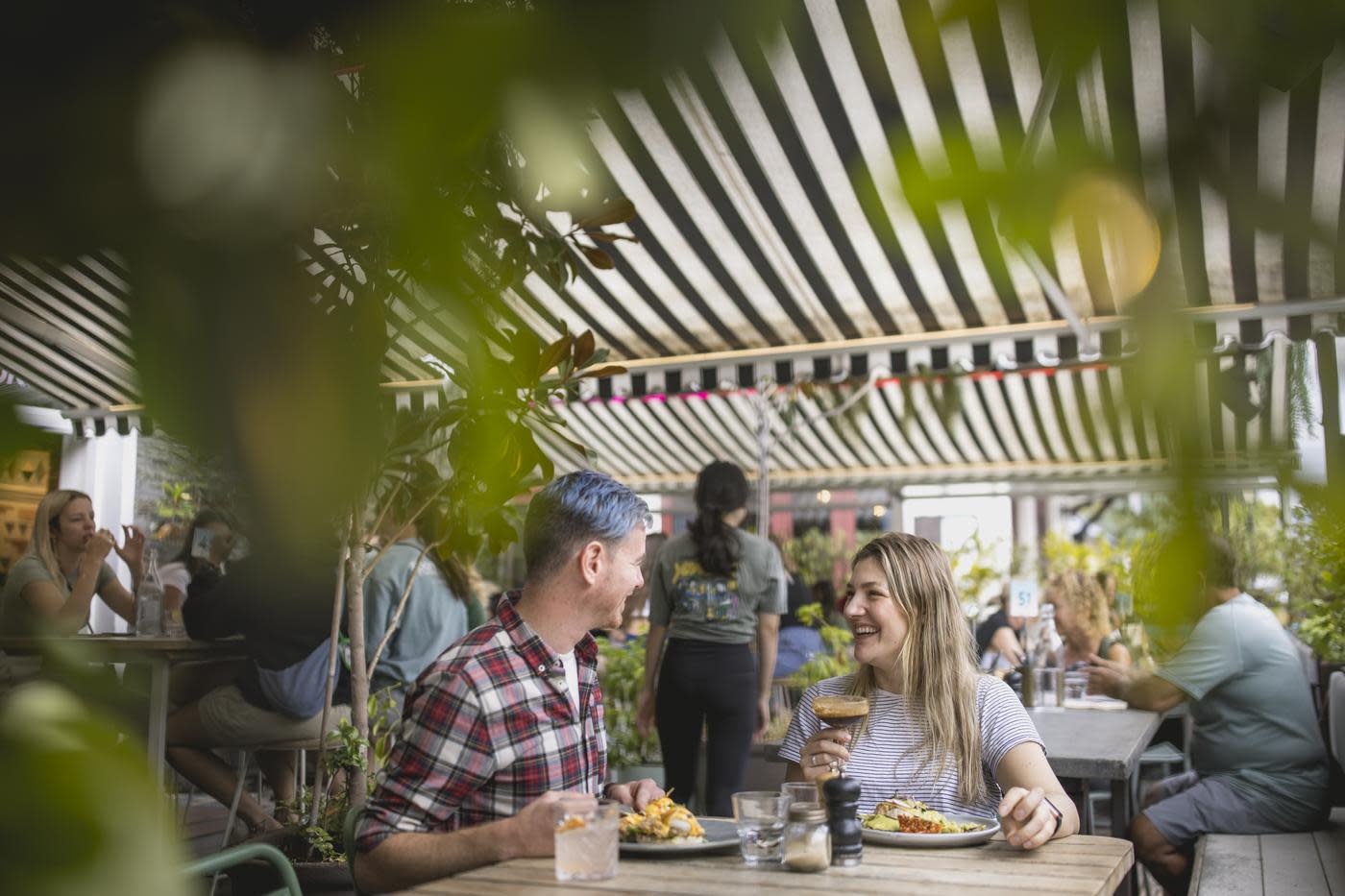 Yonder Café
Coco Cabana by Frank's 
24 Frankton Road
The quirky Coco Cabana by Frank's café is part of the family-run Frank's Hospitality Group, who also operate Pantry by Frank's, Eatery by Frank's, and 11th Avenue by Frank's. The fun, colourful space has a tropical Tiki bar theme with outdoor seating. 
The team take an ethical approach to their food using free-range, local produce. Organic porridge bowls cosy up to breakfast wraps and spicy scrambles, while you can opt for kombucha or a tempting wholefood smoothie with your breakfast coffee. 
Ivy & Lola's
88 Beach Street
Set on Steamer Wharf, Ivy & Lola's is named after the owners' daughters. This detail sets the scene for a family-style welcome and attentive service. The eclectic décor features a collection of early-20th-century radios mounted on the wall. These, interspersed with other curiosities and mismatched china, create a warm atmosphere with outdoor seating and lovely lake views.

Open for brunch from 9am until 2pm, Ivy & Lola's favour fresh local ingredients. Their menu spans from classics like eggs benny to more global flavours like southern fried chicken and waffles, and pot sticker dumplings.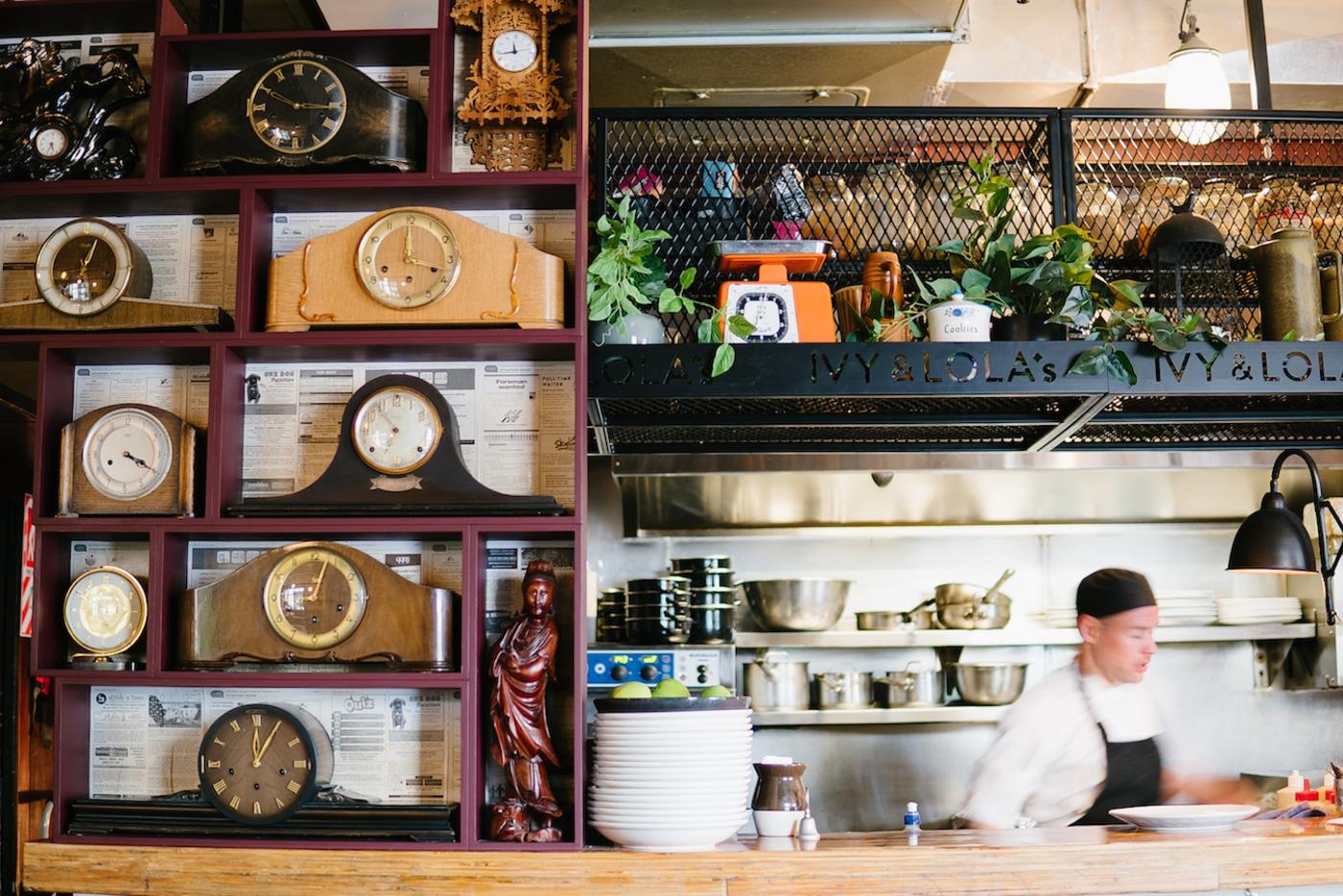 Ivy & Lola's
Queenstown breakfast options towards Frankton  
Sherwood
554 Frankton Road
Sherwood has a large kitchen garden growing vegetables using organic principles. Because of the short southern growing season, produce comes and goes swiftly, so their menu is hyper-seasonal. What they don't grow or forage, they buy locally. Head chef Chris Scott says, "There's a focus on well-being and the food is a significant part of that."
Breakfast is served from 7am-11am. Look out for the excellent home baking, from scones to sourdough, local chorizo, and salmon from the southern waters of Rakiura Stewart Island, as well as seasonal fresh fruit and compotes. 
Odelay  
10/5 Hawthorne Drive, Frankton
A light, spacious café, Odelay's sunny courtyard overlooks Coronet Peak and the Remarkables. Inside, wood, tiles and jars of greenery make for welcoming industrial chic. 
Good on gluten-free and vegan options, the breakfast menu includes delectable additions like vegan yoghurt, free-range eggs and bacon. Local owners Edward and Bryony Devereux say they grow what they can in their garden and use free-range and organic produce sourced from local independent suppliers wherever possible. 
The Boat Shed Café and Bistro 
Sugar Lane, Frankton Marina 
A building with a rich history, The Boat Shed Café and Bistro is set in the old New Zealand Railways Shipping Office built in 1869. In 1936 it was moved from central Queenstown to its current location on the Frankton waterfront. The building was restored in 2011 by the Wakatipu Community Maritime Preservation Society and is now home to a buzzing café. 
The seasonal breakfast menu has elegant takes on brunch gems, with porridge spiced up with poached fruit and crumble, waffles given a lift with a dollop of dulce de leche, and savoury options a-plenty from bubble and squeak to a steak sandwich.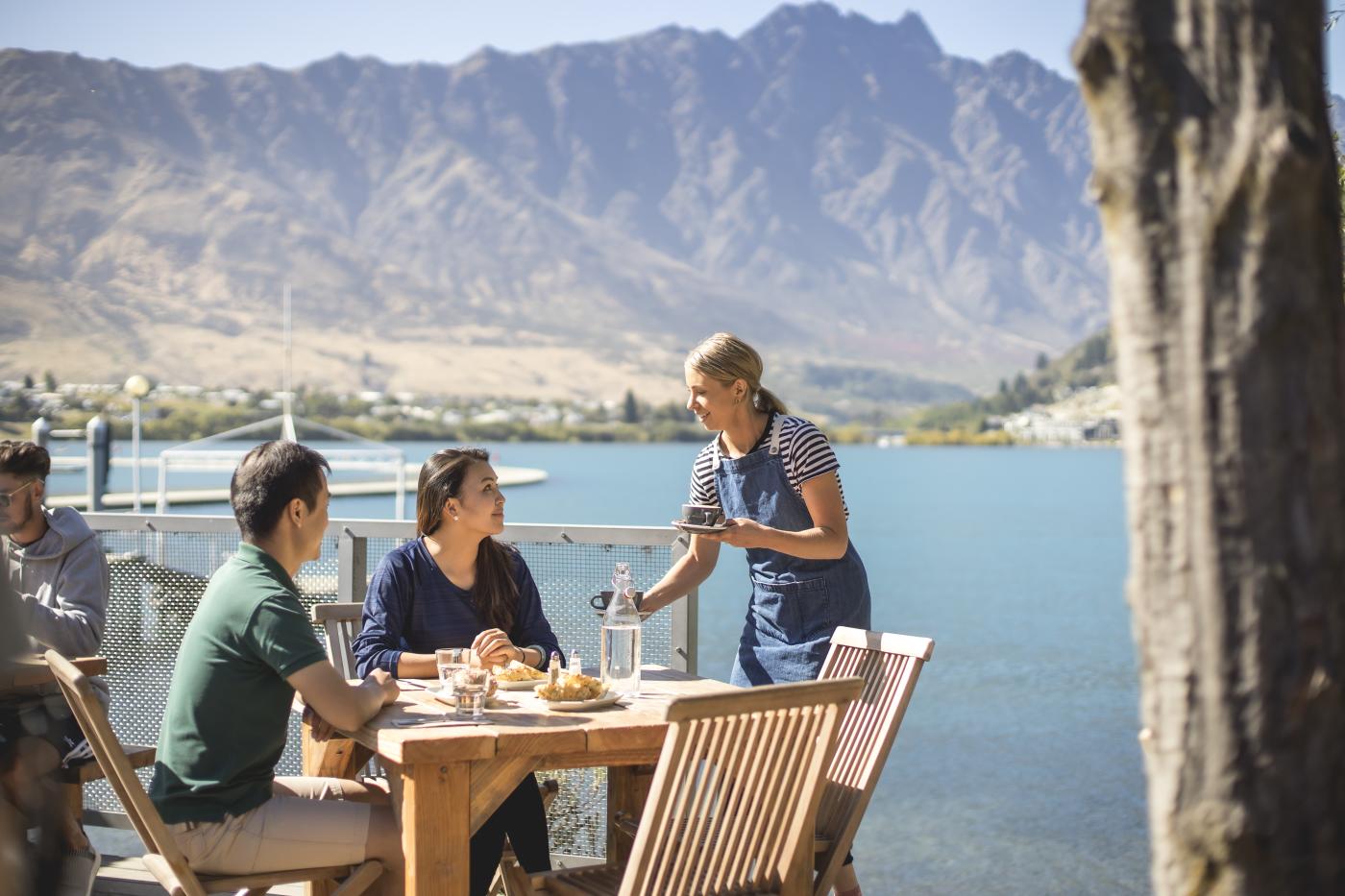 The Boat Shed Café and Bistro 
Buzzstop 
26 Hansen Road, Frankton 
Buzzstop is a honey-themed café part of Buzzstop Honey Centre, which offers a range of fun bee and honey-related activities. Set in a cluster of boutique shops with outdoor garden spaces to sit overlooking the Remarkables, you can bike here from Queenstown along the lakefront trail.
The cafe has a honey-influenced menu, with sourdough toast or waffles drizzled in local honey, a tasting platter of cheeses and crackers paired with New Zealand honey, and chilled honey mead. Even the hot chocolate is dusted with chocolate in a honeycomb pattern. The menu changes seasonally to use locally grown fruits and vegetables and the team grow their own herbs, greens, tomatoes, and berries onsite.
By dining at Buzzstop, you'll be supporting their mission to increase the understanding of bees, and their role as pollinators in the global food chains. 
Arrowtown breakfast beauties 
If you're heading out of town towards Arrowtown check out our guide to Arrowtown Breakfast Spots with local favourites like The Dishery, Provisions of Arrowtown, Mora Wines and Artisan Kitchen, and Clubhouse at Millbrook.
Getting to Arrowtown from central Queenstown is easy. The #2 Arthurs Point to Arrowtown route makes stops in Queenstown and the Frankton Hub before continuing on to Arrowtown. Fares are just $2 with a Bee Card, or $4 cash each way.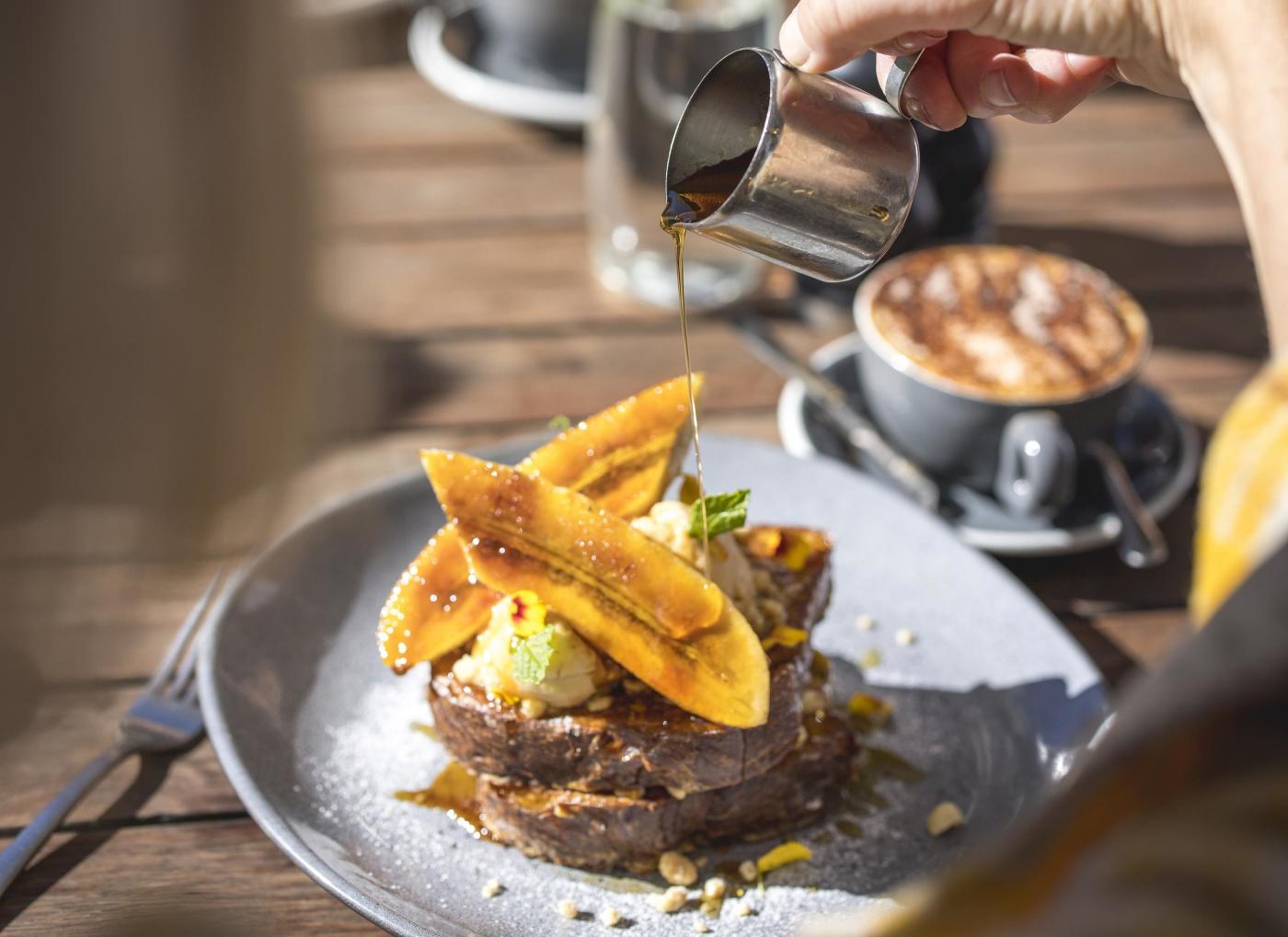 Mora Wines & Artisan Kitchen
More ways to get a taste of local flavour in Queenstown
Explore Queenstown's cafés for more delicious breakfast ideas. Delve deeper, and learn how you can immerse yourself the region's foodie scene in our Wine And Food Lover's Guide To Queenstown.
As you explore Queenstown, share your food experiences with us on Instagram by tagging #QueenstownLive.