Queenstown's celebrated food and beverage culture has been shaped by the dramatic landscape of the region and the diversity of people who call this place home. Here, the views and the food are as unique and spectacular as each other.
During your stay, immerse yourself in Queenstown's vibrant food and wine scene by sampling local produce, learning the stories of growers, brewers and bakers and taking the time to really savour this place.
Here's your in-depth guide to planning your Queenstown culinary journey.
Central Queenstown: delight in our multicultural offering
Central Queenstown is small, but it packs a punch. Nestled around Lake Whakatipu, it's the multicultural heart of the region with scores of bars, restaurants, cafes and eateries to try. From Asian fusion to Japanese to traditional Kiwi fish and chips, you'll find it all here within walking distance. 
For a quick bite, Drop Cafe, Eat Space at O'Connells and Taco Medic, are local go-tos. 
Fish and chips are a Kiwi tradition – and perfect for a lakeside on-the-go lunch. Locally owned Erik's Fish and Chips source their fish from nearby Dunedin and their chips from potatoes farmed in Canterbury so you're guaranteed a fresh and tasty meal with local ingredients.
If you're getting thirsty, check out the many rooftop bars, laid-back pubs, or even the Sofitel's opulent 1789 Jazz Lounge. Sip whiskey and nibble on a charcuterie platter at Rodd & Gunn's The Lodge Bar which features locally handcrafted Zamora meats. Or, drink champagne while enjoying a long, summer evening or a cosy winter night by the fire at Sundeck.
For a truly unique experience, try Blue Kanu. Their 'Polynasia' menu combines Pacific and Asian cuisines to create healthy, fresh and exotic dishes and cocktails you'll rave about.
You might be surprised to learn that central Queenstown is also home to premium sake brewers, Zenkuro. Behind an unassuming door on Repco Boulevard is New Zealand's first sake brewery – handmade here using traditional methods with no preservatives or additives. The team here have captured international attention by scooping up five awards at the London Sake Challenge. Sample their award-winning brew at a number of restaurants and bars around Queenstown, including White & Wong's, Eichardt's and Little Blackwood.
Central Queenstown is the best place to soak up the town's cosmopolitan vibes and try something different as you watch the last of the sun sparkle on the glistening waters of the lake.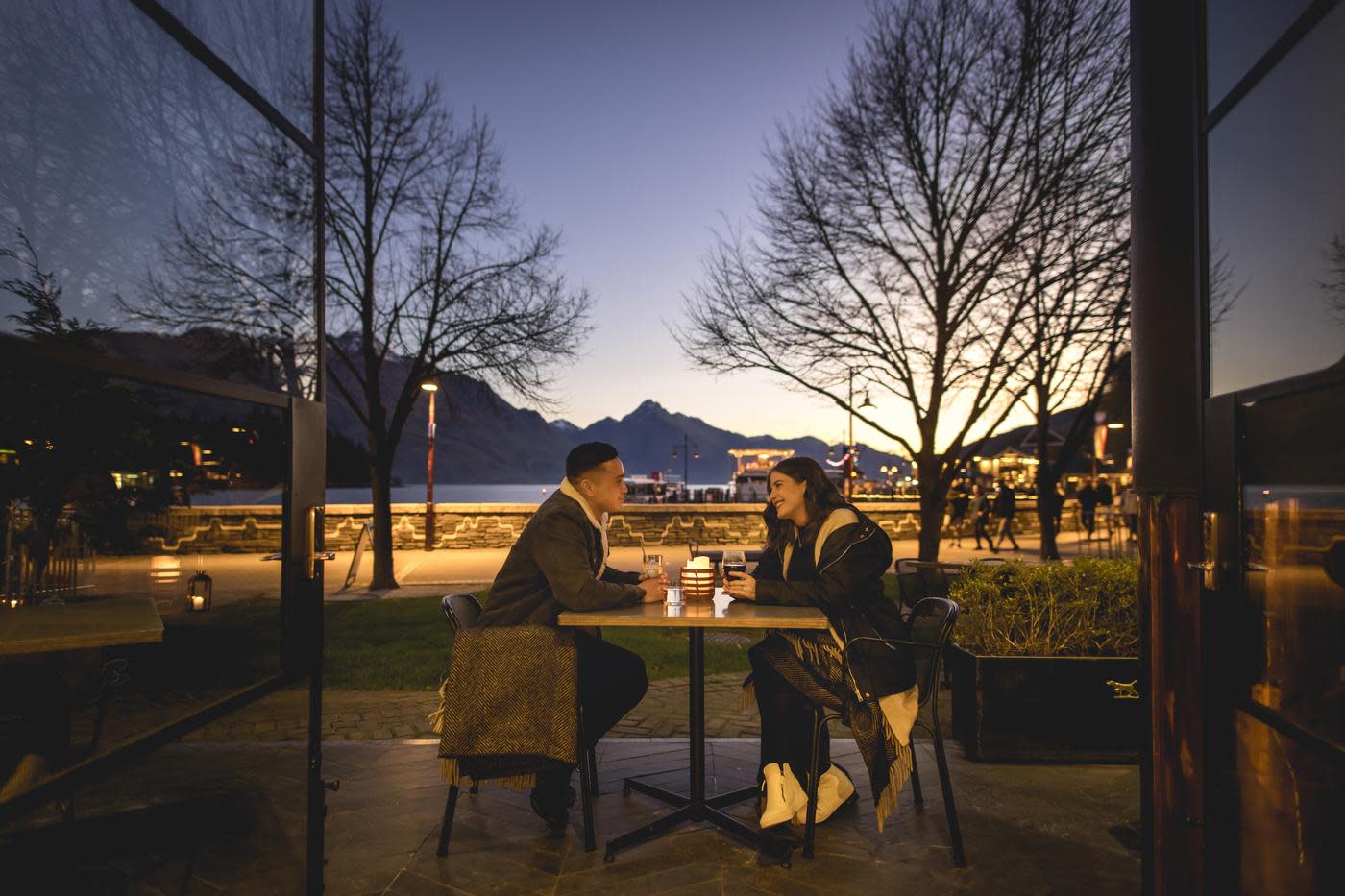 The Lodge Bar
Arrowtown: discover old-school charm
This historic mining town is an easy bus ride or 25-minute drive from the centre of Queenstown and well worth visiting for the food alone (never mind all the incredible history and scenic walks).
Stone cottages and historic buildings that were once home to gold miners and stallholders are now classy restaurants and bars. You'll find rustic and fine dining here, from the down-to-earth Kiwi fare at the Fork and Tap to sensational seasonal tapas and cocktails at La Rumbla.
Hidden away on Ramshaw Lane, you'll find The Winery, a veritable wine, whisky, gin and spirit-tasting goldmine. Here you can taste over 80 wines from New Zealand, including many varieties of the world-class Central Otago pinot noir. Relax and unwine-d in their cosy wine lounge as you enjoy local cheese and tapas to accompany your tasting adventure. 
Good views and delectable slow-cooked brisket are to be found at The Dishery, next to the Arrow River Reserve. Owned and operated by local Arrowtowners, Emily and Scott Stevens, the bistro restaurant prides itself in sourcing locally produced and sustainable ingredients – like pasture-raised Royalburn eggs and wild-caught South Island seafood.
Take a trip to Northern Italy – a region with flora, fauna and seasons very similar to Central Otago – at Aosta, a collaboration between top chef Ben Bayly and Sir Michael Hill. Chef Bayly takes his inspiration from the cooking techniques of Northern Italy and pairs this with ingredients and wine local to the Arrowtown/Central Otago region. Locals all agree the tiramisu is a must-try.
Mora Wines & Artisan Kitchen is another stand-out eatery in a heritage building. This collaboration between well-known winery Mora and exclusive catering company Artisan Catering is well worth stopping by for. Mora (Latin) means to linger, to take pause. The team at Mora serve what they like to call 'honest, comforting and social' food, giving guests the opportunity to take time, slow down and enjoy good food and wine with family and friends.
As it turns out, glacial waters make for great distilling. If you're looking for something a little stronger to drink, try Arrowtown-made Rifters Gin – a small-batch boutique gin made with New Zealand-sourced ingredients.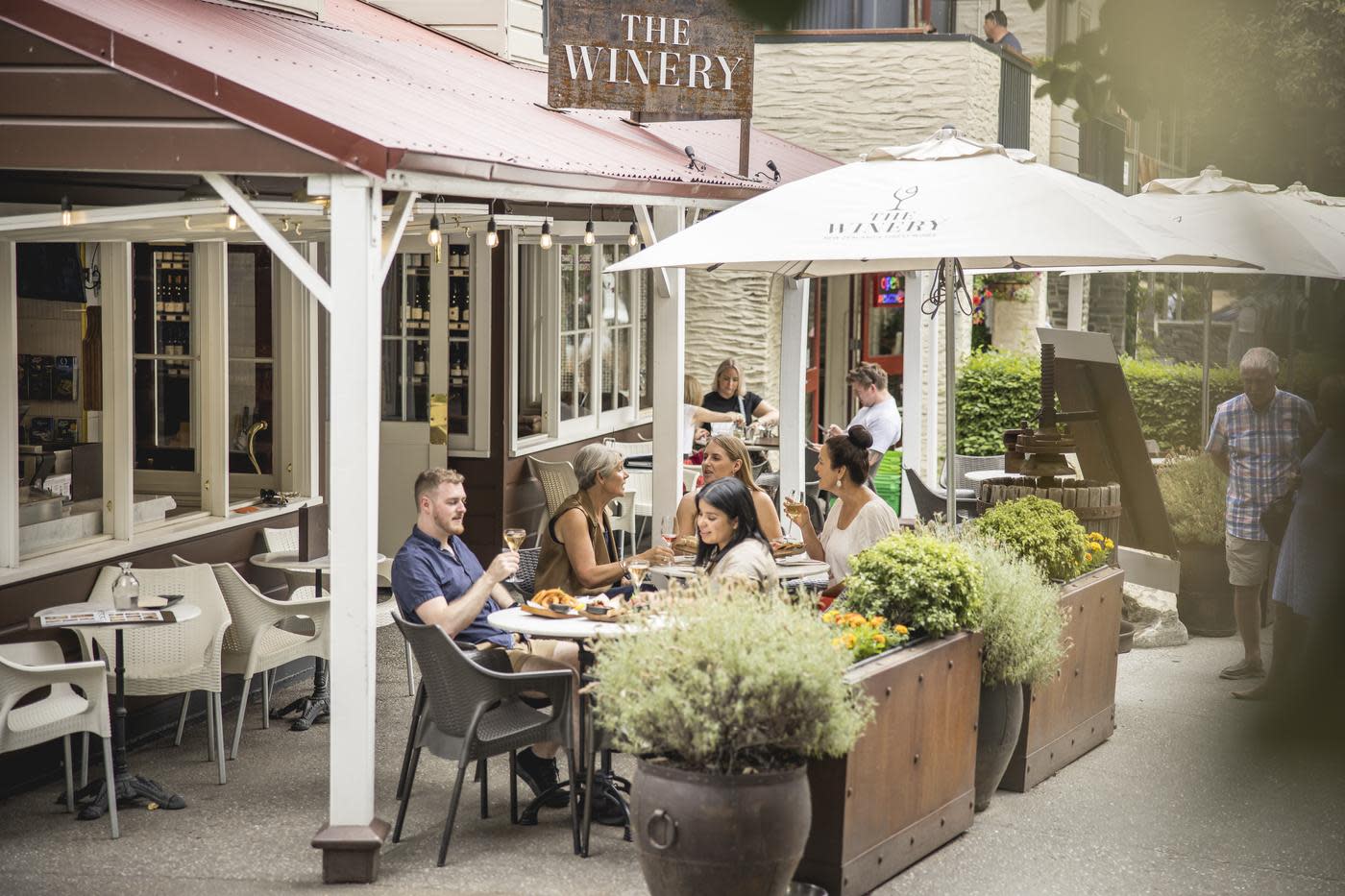 The Winery, Arrowtown
Frankton: go where locals dine and play
The suburb of Frankton is where many Queenstown locals dine and play.
On Saturdays from October to April, you'll find locals gathered at the Remarkables Market. The weekly market is on a journey to become New Zealand's first zero waste market – and is the go-to place to sample local Queenstown produce and baked goods. Wander the stalls to the tune of live music with a coffee and cinnamon scroll in hand and soak up the ambience and epic views of the Remarkables mountain range.
Remarkables Park Town Centre is home to plentiful bars, cafes and restaurants and is close to the airport. Here, local favourites include Odelay Café which is great for families, Frank's Eatery that's known for its great range of food and Giovi which has brought an Italian flair to the area with excellent pasta, pizza and ice cream. 
Queenstown Central is the latest addition to Frankton's booming retail and cafe offering. Head there for top-quality coffee at Hustl (which has its own mug library in case you forget yours), fresh handmade tacos from Taco Medic or free-range chicken burgers from Love Chicken, all located within easy walking distance.
For a casual afternoon beverage and snack, head down to Frankton Marina and stop in at brewery and tap room, Altitude Brewing. By sampling a local craft brew here you'll also be helping the team give back to the local Queenstown community – they donate 1% of profits to local charities through their '1% for the Wakatipu' program.
Queenstown has a burgeoning craft beer scene. There are many award-winning IPAs, pilsners and hard stouts brewed beneath the mountains and you'll find tap rooms everywhere from Frankton to Arthur's Point, Gibbston and Arrowtown. Discover more in our Queenstown Craft Beer Guide.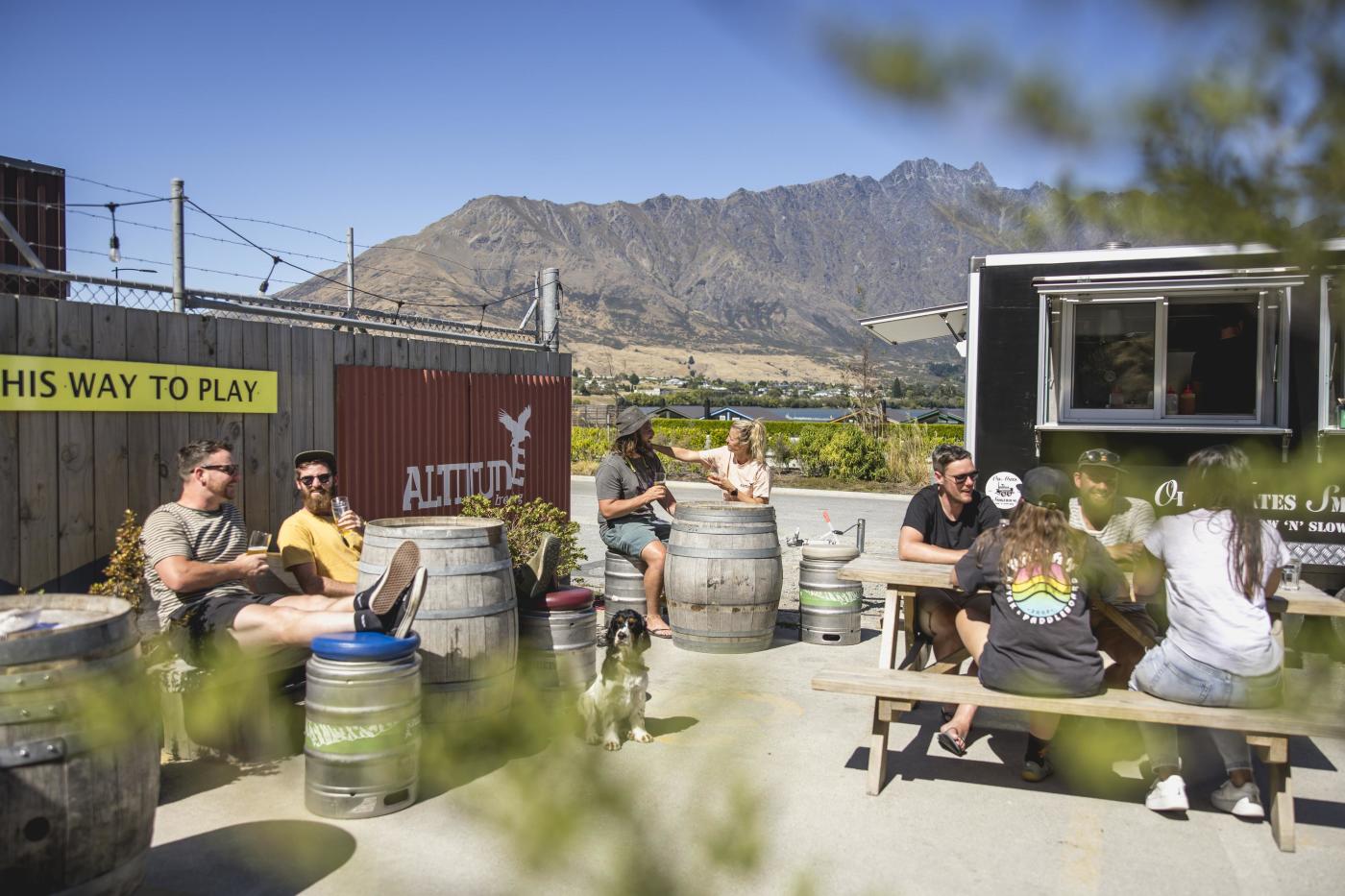 Altitude Brewing
Gibbston: the wine lover's destination
Rugged mountain beauty, schist rock and rows and rows of vines – this is Gibbston, one of the world's southernmost wine-growing regions and home to some of the oldest vineyards in Central Otago.
The first grapes were planted near Queenstown in 1864. But over a century would pass before local wine pioneer, Alan Brady of Gibbston Valley, would found today's famous Central Otago wine scene – learn more about The Story of Queenstown Wine before your visit.
These days, Gibbston is home to award-winning pinot noir producers, boutique accommodation and fantastic restaurants. Take a shuttle, hop on a guided wine tour, or hire an e-bike to explore the many vineyards by cycle trail. Alternatively, Gibbston is a 30-minute drive from central Queenstown. 
There's not just wine to be found here. Gibbston Tavern, owned by the Roberstons family, dishes out exceptional wood-fired pizzas and serves up the region's fine wines as well as having local craft beers on tap.
What is wine without a little cheese? The Gibbston Valley Cheese company crafts award-winning artisan cheese from New Zealand sheep, cow and goat milk. A cheese platter at the Gibbston Valley Cheesery & Deli goes down very well with local wines after biking through the vines.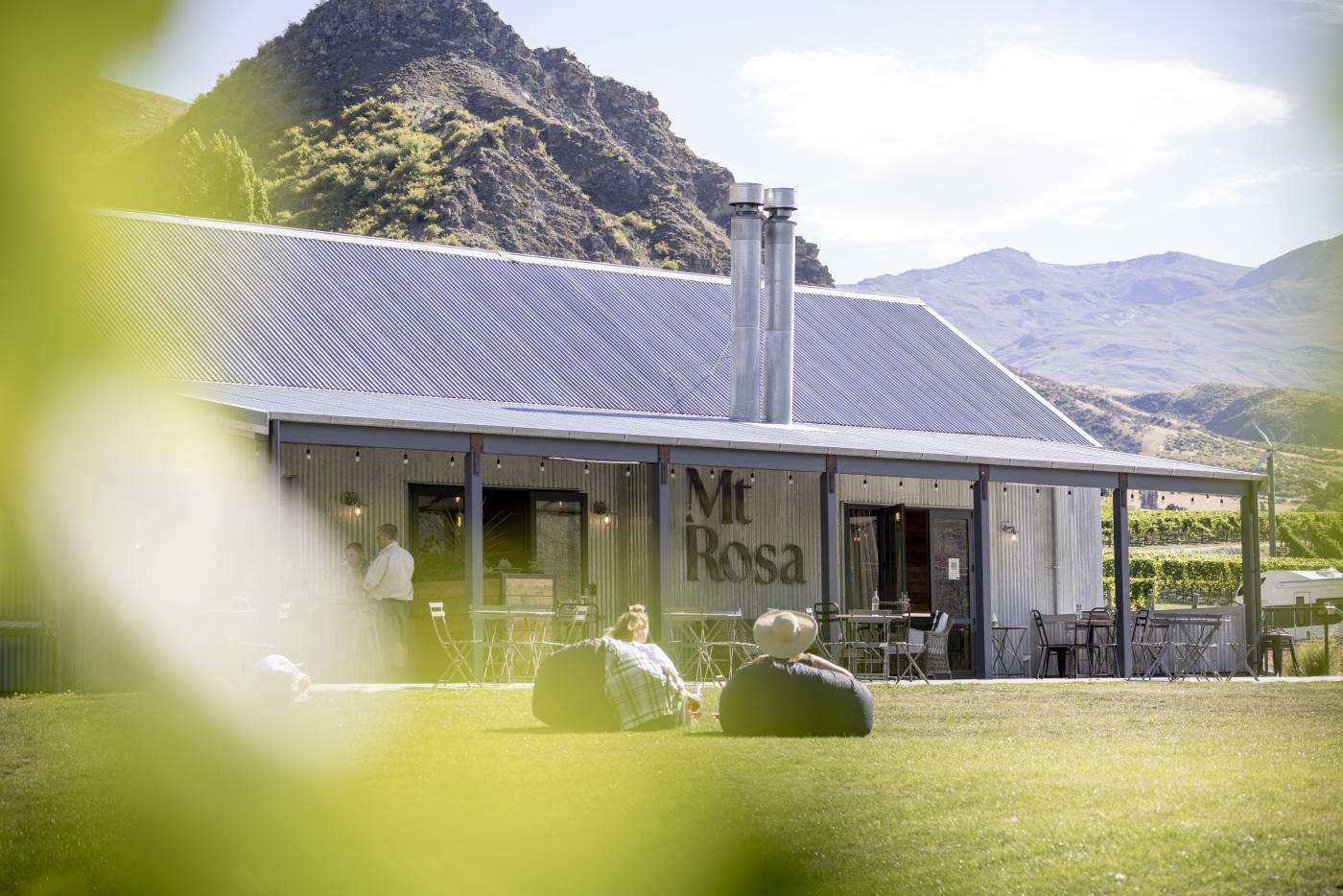 Mt Rosa Winery, Gibbston
More ways to get a taste of local flavour in Queenstown
Delve even deeper with these Six Immersive Food and Beverage Experiences – extraordinary gourmet experiences which speak to our breathtaking surroundings and the fascinating people who make Queenstown truly special.
As you explore Queenstown, share your food and wine experiences with us on Instagram by tagging #QueenstownLive.