The dramatic landscape of the Queenstown Lakes region has shaped its food and beverage culture. There are some of the world's southernmost vineyards here alongside a vast array of restaurants inspired by cuisines from around the world and culinary experiences boasting a long list of accolades.
Queenstown is known for its international and cosmopolitan dining offering, but you also don't have to stray far to find relaxed Kiwi fare. Read on for your guide to Queenstown's food and wine scene.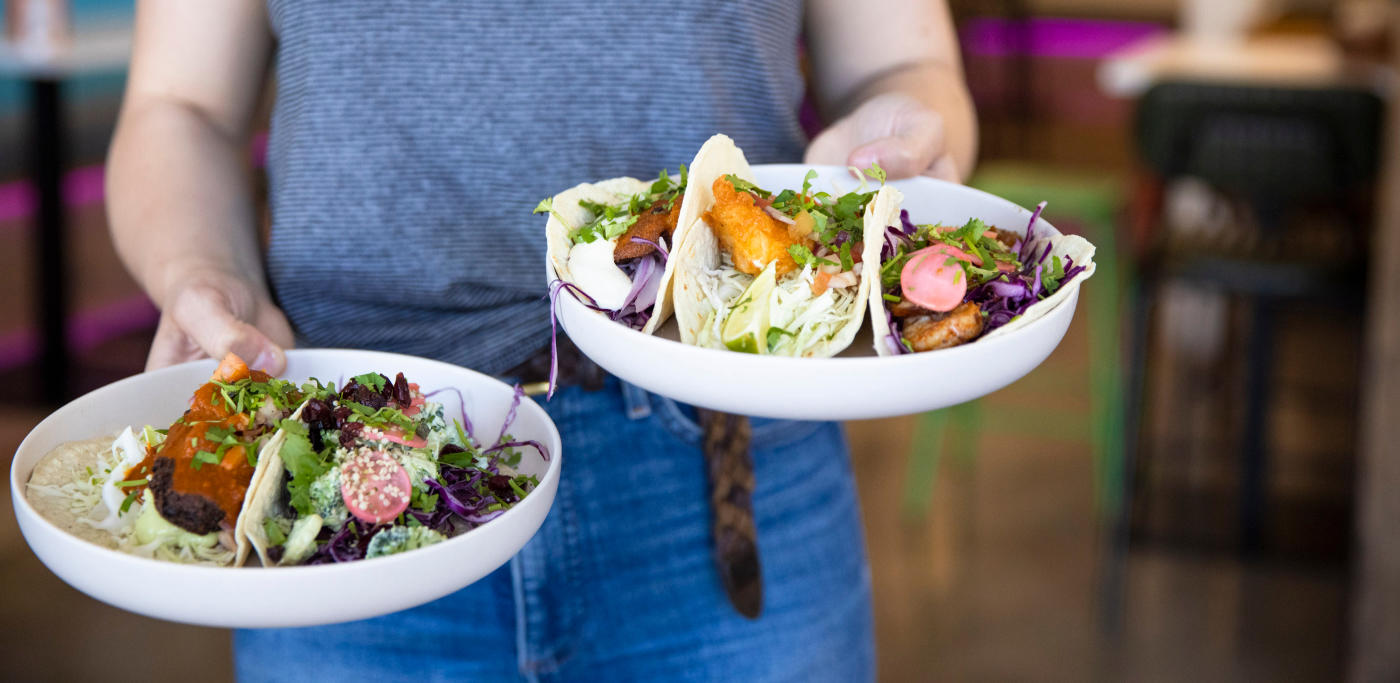 Taco Medic
Queenstown CBD: the multi-cultural offering
Queenstown's CBD is small, but it packs a punch. Nestled around Lake Whakatipu, this is the multi-cultural heart of the town with scores of bars, restaurants, cafes and eateries to try.
You'll find Asian-fusion, South American, Japanese, South African, Italian and traditional Kiwi cuisine within walking distance here. From quick bites like Erik's Fish and Chips (13 Earl Street) and Taco Medic (3 Searle Lane), to margaritas at Margo's (22 Ballarat Street) and Pacific-inspired cocktails at Pacific/Asian fusion restaurant Blue Kanu, there's something to suit every occasion.
There's also rooftop bars, laid-back pubs and even a jazz lounge (the Sofitel's opulent 1789 Lounge, 8 Duke Street). Sip whiskey and nibble charcuterie at Rodd & Gunn's The Lodge Bar (2 Rees Street) or drink champagne while enjoying a long, autumnal sunset at Sundeck (top floor, 4 The Mall).
For a truly unique experience, bring your own bottle to the table at The Cow Pizzeria (Cow Lane) – one of the town's longest-running restaurants.
The CBD is the best place in Queenstown to soak up the town's cosmopolitan vibes and try something different as you watch the last of the sun sparkle on the glistening waters of the lake.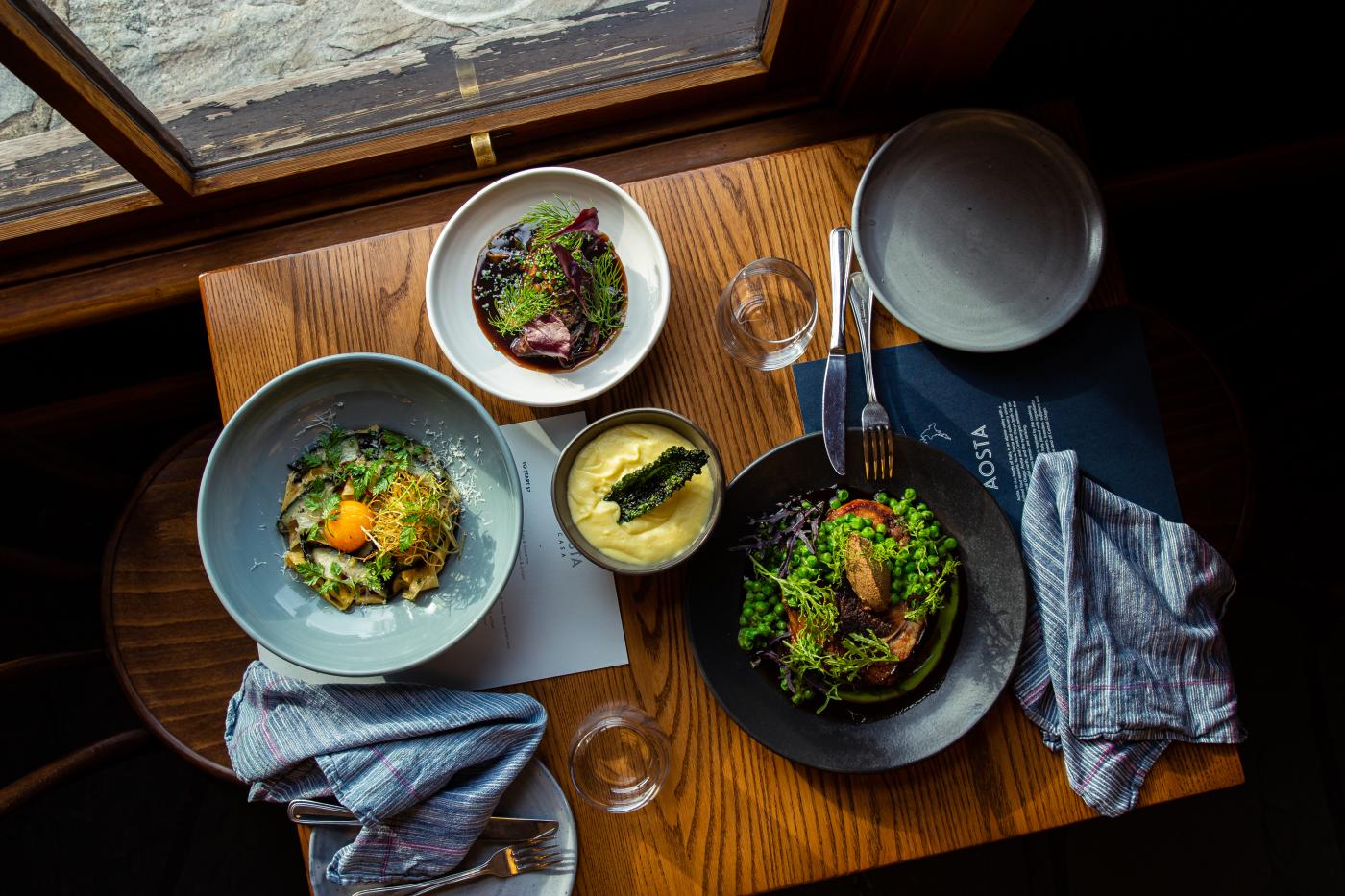 Aosta in Arrowtown
Arrowtown: old-school charm
This historic mining town is just 25-minute drive from the centre of Queenstown and well worth visiting for the food alone (never mind all the incredible history and scenic walks).
Stone cottages and historic buildings that were once home to gold miners and stallholders are now classy restaurants and bars. You'll find rustic and fine dining here, from the down-to-earth Kiwi fare at the Fork and Tap (51 Buckingham Street) to sensational tapas and cocktails at La Rumbla (54 Buckingham Street). Good views and delectable slow-cooked brisket are to be found at the new bistro restaurant The Dishery, next to the Arrow River Reserve. Or, take a trip to Northern Italy at Aosta, a collaboration between top chef Ben Bayly and Sir Michael Hill. 
Akarua Wines & Kitchen by Artisan (265 Arrowtown-Lake Hayes Road) is another stand-out eatery in a heritage building. This collaboration between well-known Bannockburn winery Akarua and exclusive catering company Artisan Catering is well worth stopping by for.
The oh-so-Instagrammable Arrowtown area won't disappoint your taste buds.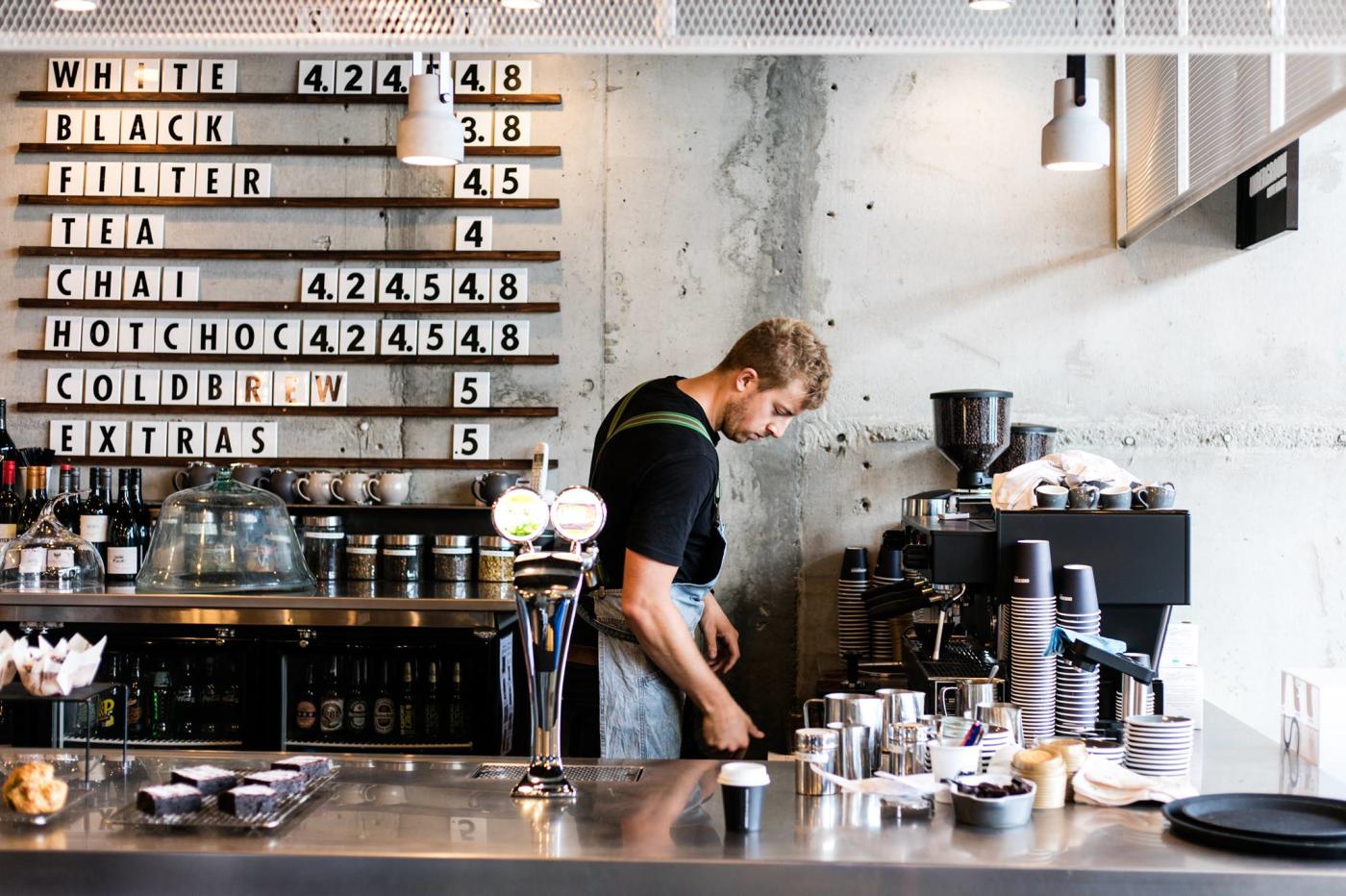 Frank's Eatery
Frankton: where locals dine and play
The growing suburb of Frankton is where many locals dine and play.
For a casual afternoon beverage and snack, make sure you head down to Frankton Marina and stop in at brewery and tap room Altitude Brewing to refresh yourself with the latest craft brew. Or, wander over to the historic Boat Shed Café & Bistro, just a stone's throw away, and grab a coffee and sweet treat right on the lakeside.  
Remarkables Park Town Centre is home to plentiful bars, cafes and restaurants and is close to the airport. Here, Odelay Café is great for families, Frank's Eatery is known for its great range of food and Giovi has brought an Italian flair to the area with excellent pasta, pizza and ice cream. 
Queenstown Central is the latest addition to Frankton's booming retail and cafe offering. Head there for fresh handmade tacos from Taco Medic, free-range chicken burgers from Love Chicken, or a peruse around the fashion boutiques all located within easy walking distance. 
On Saturdays, head to the Remarkables Market (Red Barn, Remarkables Park) to buy and taste local produce and baked goods. Wander the stalls with a coffee and cinnamon scroll and take in the sights (and smells) of great food while shopping for local vegetables, cheeses and teas.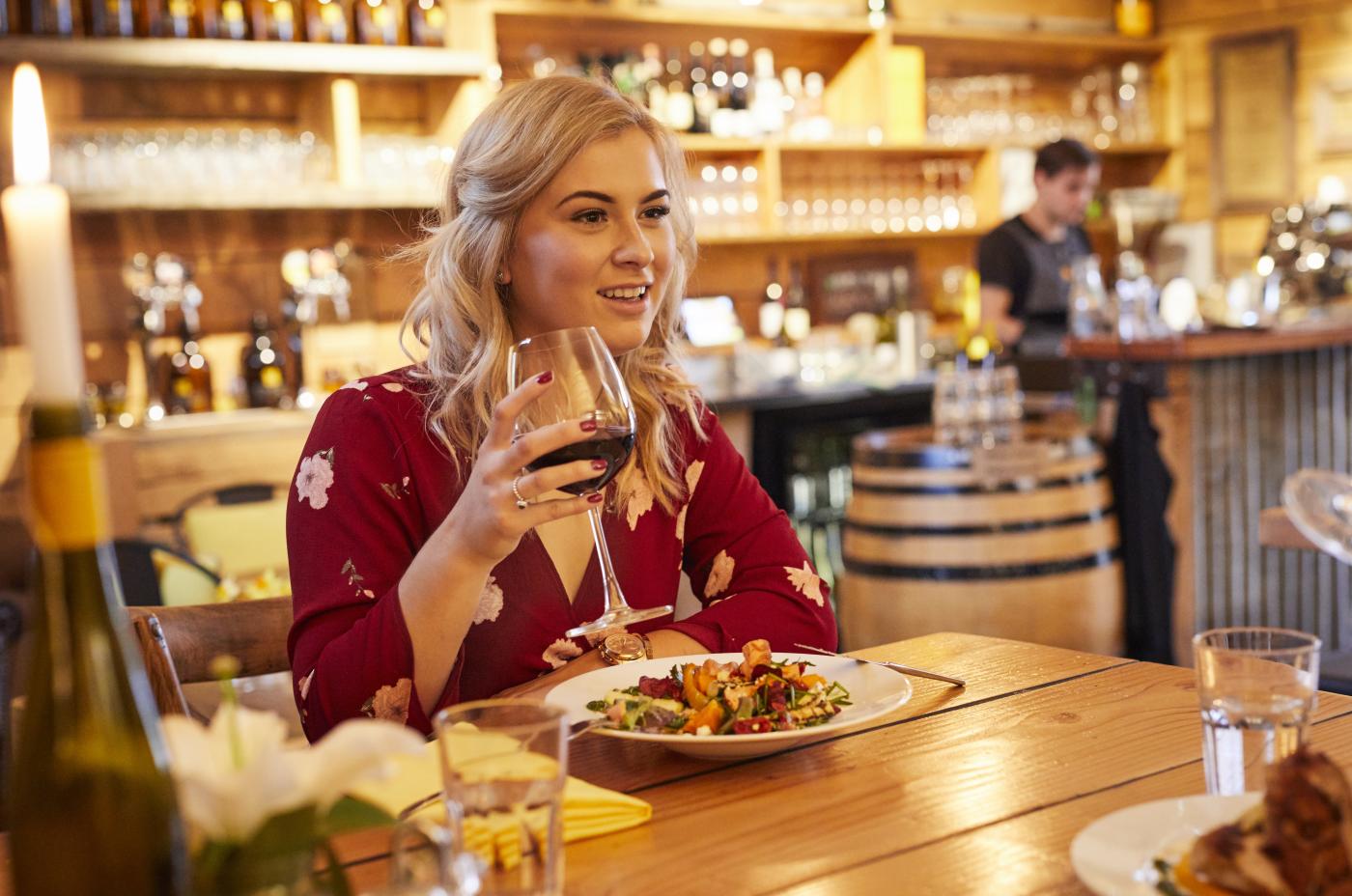 Kinross
Gibbston: the wine lover's destination
Rugged mountain beauty, schist rock and rows and rows of vines. This has to be Gibbston, home to some of the oldest vineyards in the region and one of the world's southern-most wine growing regions.
Gibbston is a picturesque part of Central Otago's wine-growing community and home to award-winning pinot noir producers, boutique accommodation and fantastic restaurants. Just a 30-minute drive from downtown Queenstown, you can take a shuttle, guided wine tour or hire a bike and explore the vineyards by cycle trail.
But there's not just wine to be found here. Gibbston Tavern (8 Coal Pit Road) dishes out exceptional wood-fired pizzas and serves up the region's fine wines as well as having local craft and New Zealand beers on tap.
What is wine without a little cheese? The Gibbston Valley Cheese company crafts cheese from New Zealand sheep, cow and goat milk. A cheese platter goes down very well with local wines after biking through the vines. If you want to buy cheese to take home, you'll find their new shop in Arrowtown (25 Ramshaw Lane).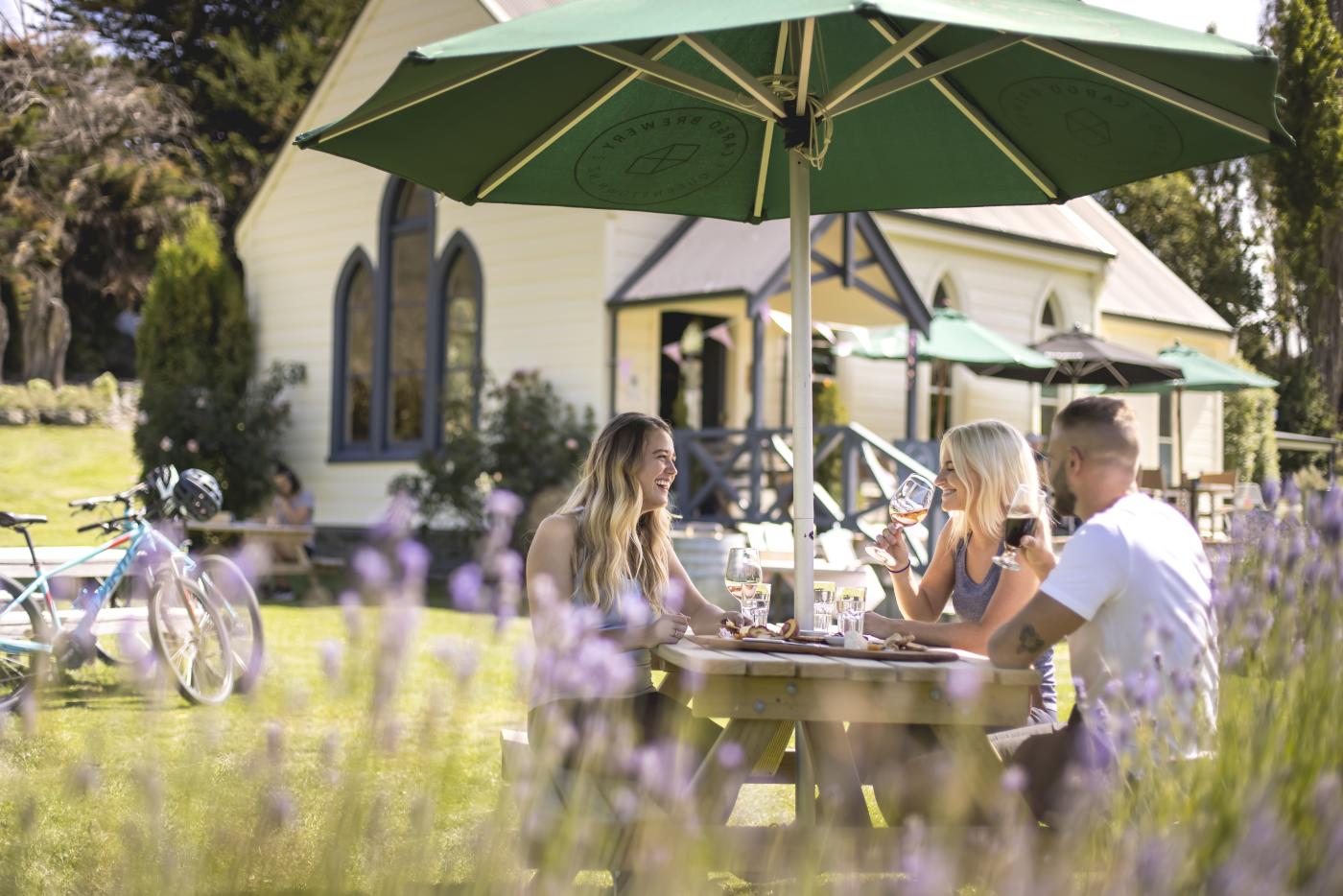 Cargo Brewery at Waitiri Creek
Other fabulous food experiences in Queenstown
Queenstown has a burgeoning craft beer scene. There are award-winning pilsners and hard stouts brewed beneath the mountains and you'll find tap rooms everywhere from Arthur's Point to Frankton, Gibbston to Arrowtown.
Glacial waters make for great distilling and if you're looking for something a little stronger to drink, try Arrowtown-made Rifters Gin a small-batch boutique gin made with New Zealand sourced ingredients.
You might be surprised to learn than Queenstown is also home to premium sake brewers, Zenkuro. Behind an unassuming door in Repco Boulevard near central Queenstown is New Zealand's first sake brewery. The team here have captured international attention by scooping up five awards at the London Sake Challenge.