Easy Arrowtown cycle trails
Arrowtown Lake Hayes Loop via Millbrook
Depart from Arrowtown, through the historic Chinese mining village towards Millbrook Resort, one of New Zealand's premier golf courses. Descend Christine's Hill to the entrance of Lake Hayes where you will experience exquisite mountain and lake views, boardwalks and unique views of some of Queenstown's stunning homes.
18km loop, approximately 3-4 hours round trip
Undulating terrain
Narrow track on the west side, be mindful of walkers and other riders
Suitable for anyone who has an average level of fitness
E-Bike accessible. 
Countryside Trail
The Countryside Trail is part of the Queenstown Trail 'Great Ride' network. This segment of trail allows you to enjoy breath-taking scenery, world-class architecture and the quiet countryside of the Whakatipu Basin. Here, the magnificent colours of Central Otago come to life - especially in autumn. 
13.5km one way
Beginner to intermediate trail with some undulation
Ridable year-round
E-Bike accessible
Arrowtown River Trail
If time is of the essence or you're riding with young ones, the Arrowtown River Trail is a fantastic loop track due to its convenience and accessibility from Arrowtown. Enjoy the tranquil setting on this Arrowtown cycle trail as you ride through willow trees paired with the soothing sound of the Arrow River along the trail edge.
4.2km loop track
Slightly undulating
Narrow in parts
Moderate foot and bike traffic, be aware of other users
If cycling and wine is more your style, embark on an Arrowtown bike wine tour with one of our Arrowtown-based bike hire and shuttle operators; Arrowtown Bike Hire or Better By Bike. Spend a gorgeous day cruising out to the Gibbston wineries alongside rivers and through vines. Bike back to Arrowtown if you've got the energy, or arrange pickup from Gibbston.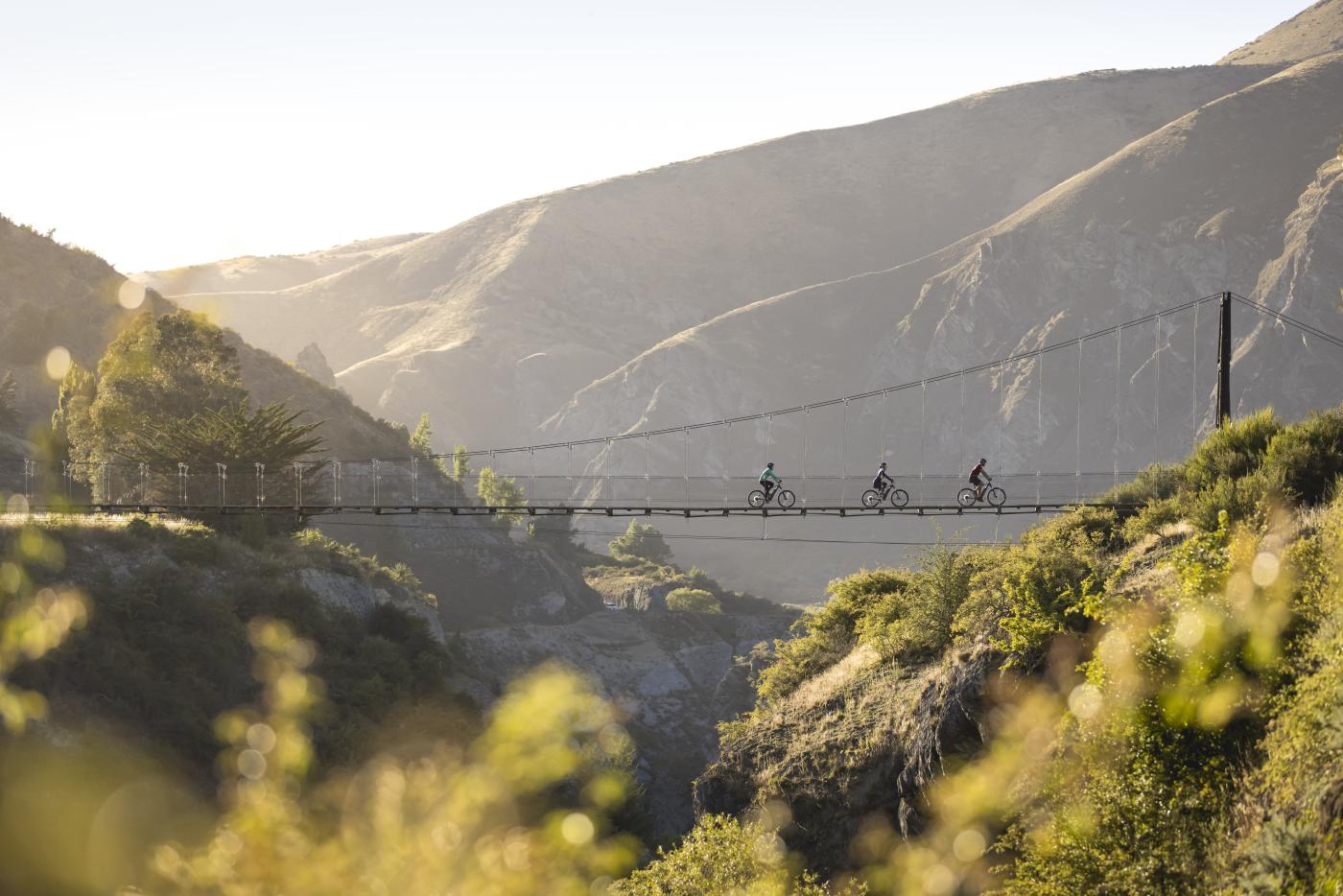 Edgar Bridge, Gibbston Valley Trail
Intermediate Arrowtown bike trails:
Bush Creek XC Loop
Start with an easy spin on Malaghans Road (soon to be replaced by trail) and a relatively cruisy climb up Dan O'Connell track to the water race. Enjoy fantastic views of the Whakatipu Basin before your descent down Bush Creek back to Arrowtown. 
22.4km round loop, allow over 2 hours
599m total climbing
809m descent
Avoid in winter due to freeze-thaw
Insiders Tip: Finish your ride with a pint and pizza at the Fork and Tap. A ride of this calibre warrants it!
Murphys Run
A tight, yet fun and flowing track that is accessed two thirds of the way up Tobin's Track. The climb is hard going but you are rewarded with fun roots, rocks and technical single track. Being a short climb - lap this trail for training!
1.3km one-way
146m elevation gain 
One-way, downhill only
Macetown Mountain Bike Trail
This scenic trail climbs adjacent to the Arrow River on 4WD trails to Macetown, a gold mining ghost town full of relics hidden within high-country tussock land. There are singletrack options beside the river to keep you off the 4WD track and out of the water that are fun and flowing.
7.5km one way, allow approximately two hours 
301m elevation gain
Suitable for XC Bikes and All-Mountain Bikes
Shared trail, be mindful of walkers and 4WD vehicles.
Insiders tip: Ride in Spring when the trail is dotted with an array of pink and purple lupins against the stunning Central Otago backdrop.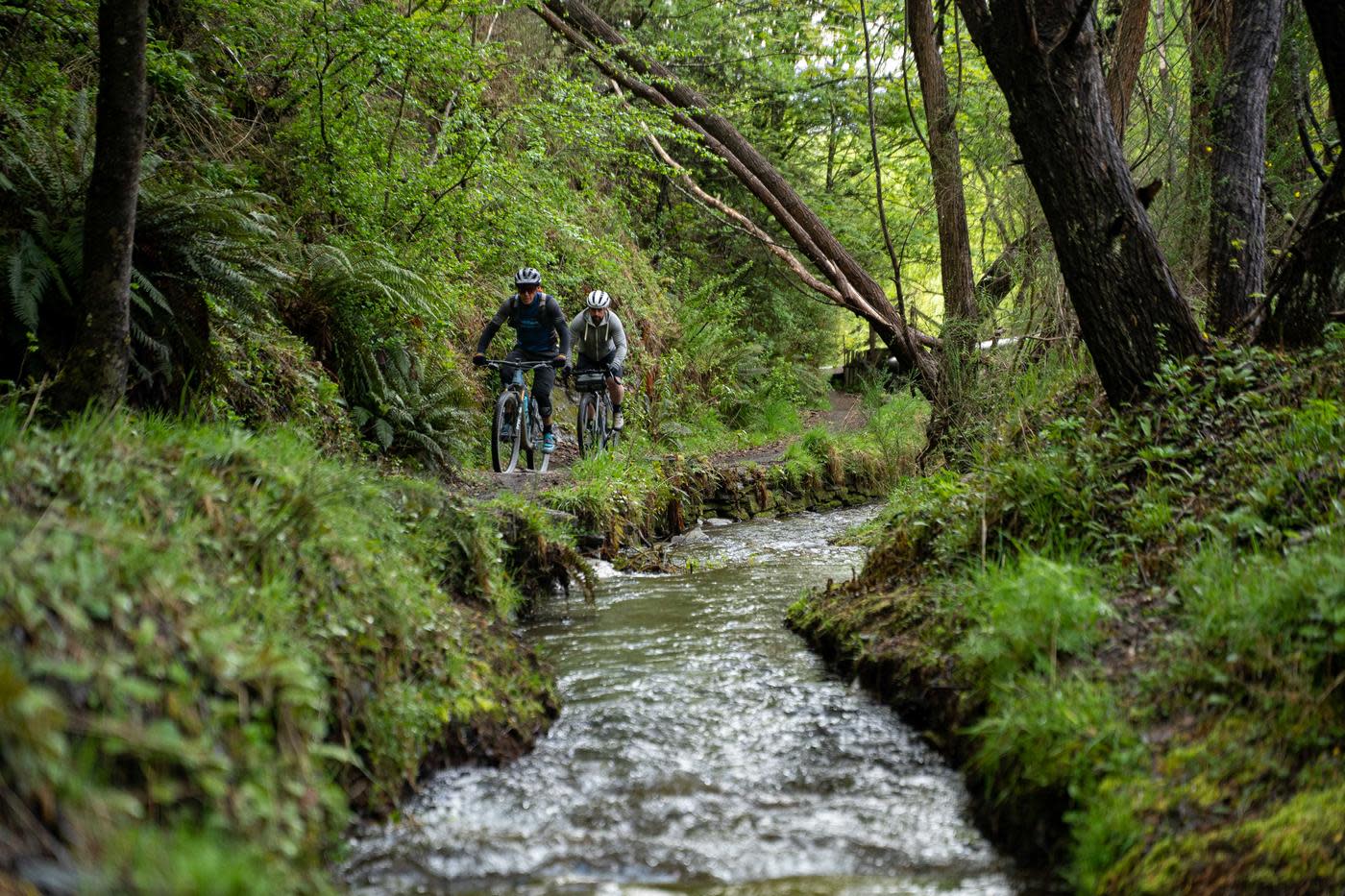 Queenstown Trail, Bush Creek
Advanced Arrowtown rides
Corotown
This is a bucket list trail and where advanced mountain bikers come to test their mettle. Corotown has all the necessary attributes of a world-class enduro trail - a decent climb to deter beginners, steep exposed chutes to get your adrenaline pumping, rutted single tracks and fast and flowing plains to chase down your pals and native beech forest for your loam fix. This trail is sure to leave you hollering.
10.1km one-way
1,193m vertical metre decent 
Plenty of river crossings at the bottom, be prepared to get wet feet 
Ride late Spring - early Autumn. Avoid in bad weather due to the exposure!
Insiders tip: Queenstown Bike Taxis do $30 shuttles to Coronet Peak base building. Be sure to finish at the Fork and Tap to celebrate!