Your family holiday planning starts with finding the right place to stay and there's plenty of family-friendly options around Queenstown for every budget. Here are some things to consider that are extra important with kids in tow.
Book ahead
It's much easier to 'wing it' as a couple than travelling with the kids. It's best to book your accommodation ahead of time, especially since if you think a place is ideal for your family, chances are other families will like it and want to book it too.
Types of accommodation
Queenstown offers families a wide choice of accommodation, including holiday parks, holiday homes, bed and breakfasts, motels, hotels and apartments. From budget to luxury family accommodation, and heritage to modern, there are many options to consider when choosing your home away from home.
Proximity to town centre
If your favourite stay is out of town, will you have a car, or is there bus or shuttle transport available?  If you've chosen the cute townships of Arrowtown or Glenorchy as your base they have their own vibrant centres.  Most activity and ski shuttle operators pick up at accommodations so being out of town is easy to manage.  Otherwise you might like to stay somewhere you can wander downtown with dozens of eateries and entertainment options right on hand.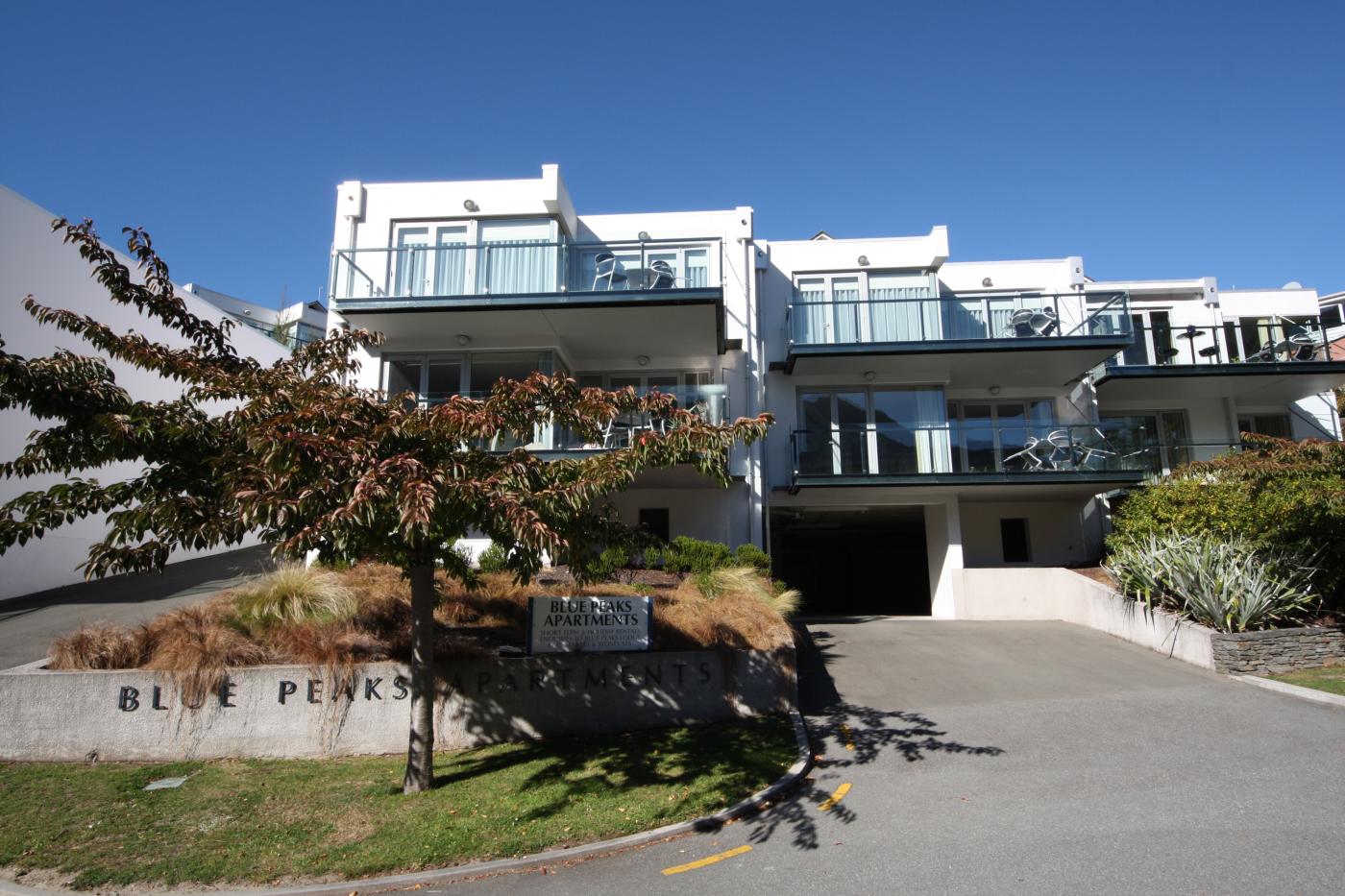 Blue Peaks Apartments, Central Queenstown
Proximity to activities
Everything is pretty easy to access around the Queenstown Lakes and there are plenty of fun family activities to choose from, including more than 130kms of walking and cycling trails, linking downtown Queenstown to all the surrounding suburbs in the Wakatipu Basin. If you're here for a family ski trip, you might want to think about whether you want to stay close to our local ski areas.
Coronet Peak is just a 20 minute drive from the town centre and The Remarkables is approximately a 45 minute drive from town but both have accommodation close to the bottom of their access roads. A good option is to look for accommodation in Frankton, it's just 6km from Queenstown centre, near the lake and closest to The Remarkables. Frankton is also a great shopping hub for Queenstown and has restaurants, supermarkets and an awesome base for kids activities such as trampolining and climbing.
Closest to Coronet Peak is Arthurs Point which is nestled right at the base of the access road, so no excuse not to be first up the hill in the mornings!  Arthurs Point has a holiday park, hotel and apartment style accommodation as well as a couple of cruisy eateries.
There are no shortage of exciting family activities in Queenstown
Room configurations
Catering
It's pretty much a necessity for a family group to have at least a kitchenette for breakfasts and preparing snacks.  Otherwise maybe you'll opt for a hotel that has an in-house dining area for breakfasts or all-day meals.  Work out how you want your days to pan out and whether you need a fully-equipped kitchen or whether you're happy to eat out at one of our many great cafes, restaurants and takeaways.  There are many large, fully-stocked supermarkets around Queenstown, including the most centrally-located Fresh Choice.
Space
Kids like space to let off steam - particularly while you're relaxing with a wine at the end of the day or perhaps while you're trying to plan your itinerary.  Check how much safe, outdoor space your accommodation offers.  Do they have a playground, games room, swimming pool or spa pool?  Does your apartment/room offer a balcony or patio?
Other extras to make family life easier
Babysitting Queenstown or Tots on Tour offer a childminding service that you can call direct, or your accommodation might arrange it for you.  Some places have their own service or a kids' club so this is worth checking.
WiFi: All accommodation offers WiFi but some may incur a charge, or a charge over a certain amount.  It's pretty useful with the kids to stay somewhere with unlimited free WiFi in your room!  
Views: To avoid disappointment ask about the view from the room you'll be staying in, if a lake view for example, is a must-have.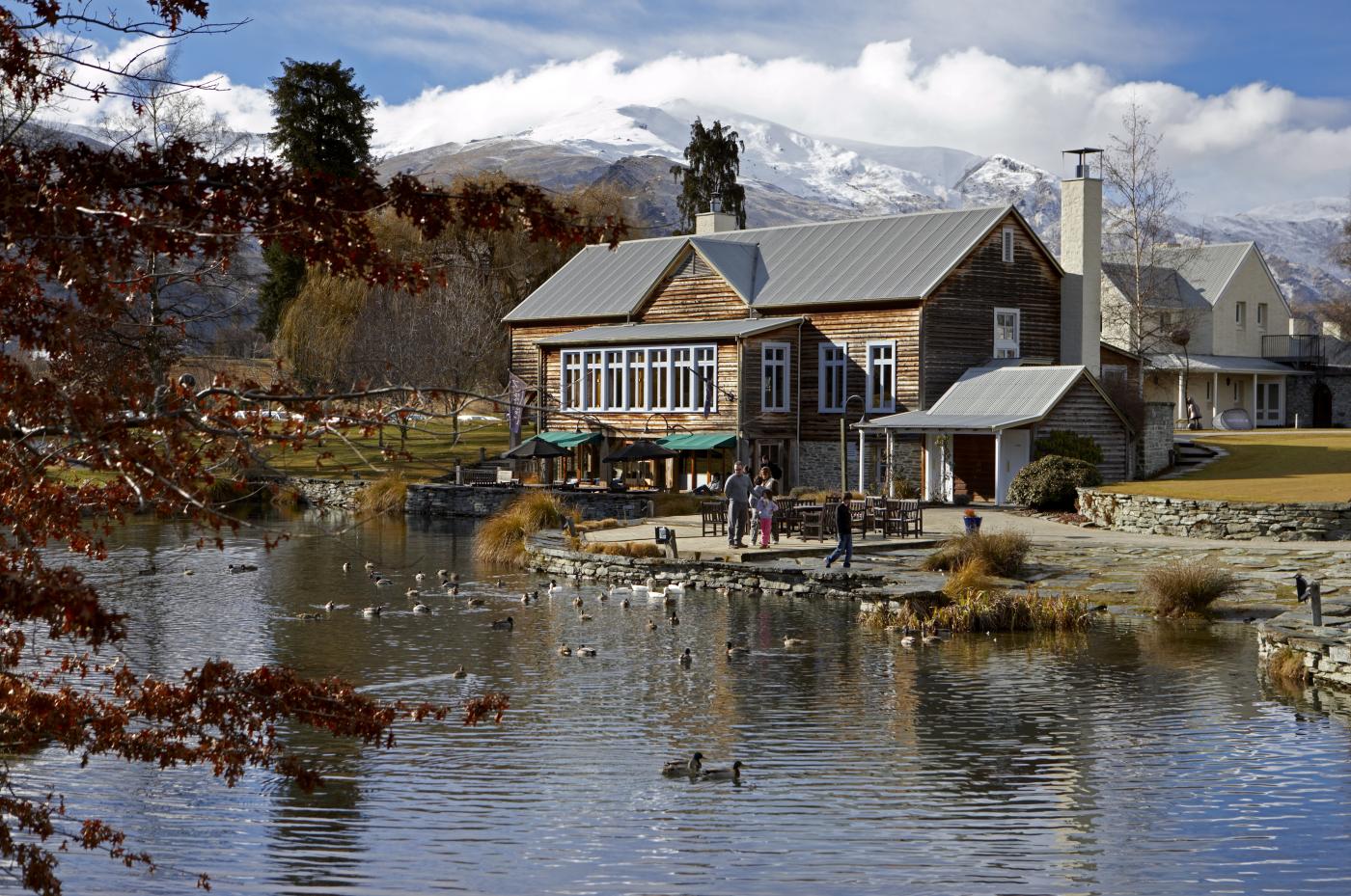 Family at Millbrook Resort in winter
Best places to stay in Queenstown for families
Below are just some of the many family friendly accommodation choices to get you started.  All our recommendations actively welcome and encourage family visitors.
Queenstown
Apartment style with 2-4 bedroom apartments
Hotel
Holiday Park
Arrowtown
Apartment style with 1-4 bedroom apartments
Holiday Park
For more information on family-friendly accommodation options, visit the Kidz Go Queenstown App and website.