Getaways are always better with a local guide to show you hidden treasure. So, we asked two local ski lovers for their insider's guide to a top winter weekend in Queenstown.
Skateboarder Te Rina Adams manages the terrain parks at the Remarkables ski area. Brand Strategist Diana Mendes gets up on the slopes whenever she can. Both women are amped to share their Queenstown winter favourites with new friends. 
Start the Day Delicious
If you're up and at it early to make the most of all Queenstown has to offer, you're gonna need a good breakfast. 
Te Rina's first stop of the morning is the Boat Shed Café and Bistro, set in the old New Zealand Railways Shipping Office. It has a spectacular outlook to The Remarkables and a great breakfast menu. If you're there early, you might catch the sunrise over the lake.
Diana recommends brunch at Mora Wines & Kitchen. Their seared halloumi, poached eggs, and smoked labne is sublime. They also do sensational sharing platters.
Bespoke Kitchen is a Queenstown classic. A five-minute walk from town, its relaxed homely interior has vibes and views aplenty. Te Rina's top pick is the vegan benedict with fried tofu, vegan hollandaise, rosti, and dried tomatoes. Their coffee is always on point. And it's right next to the Tiki Trail, so you can take a walk to aid digestion after.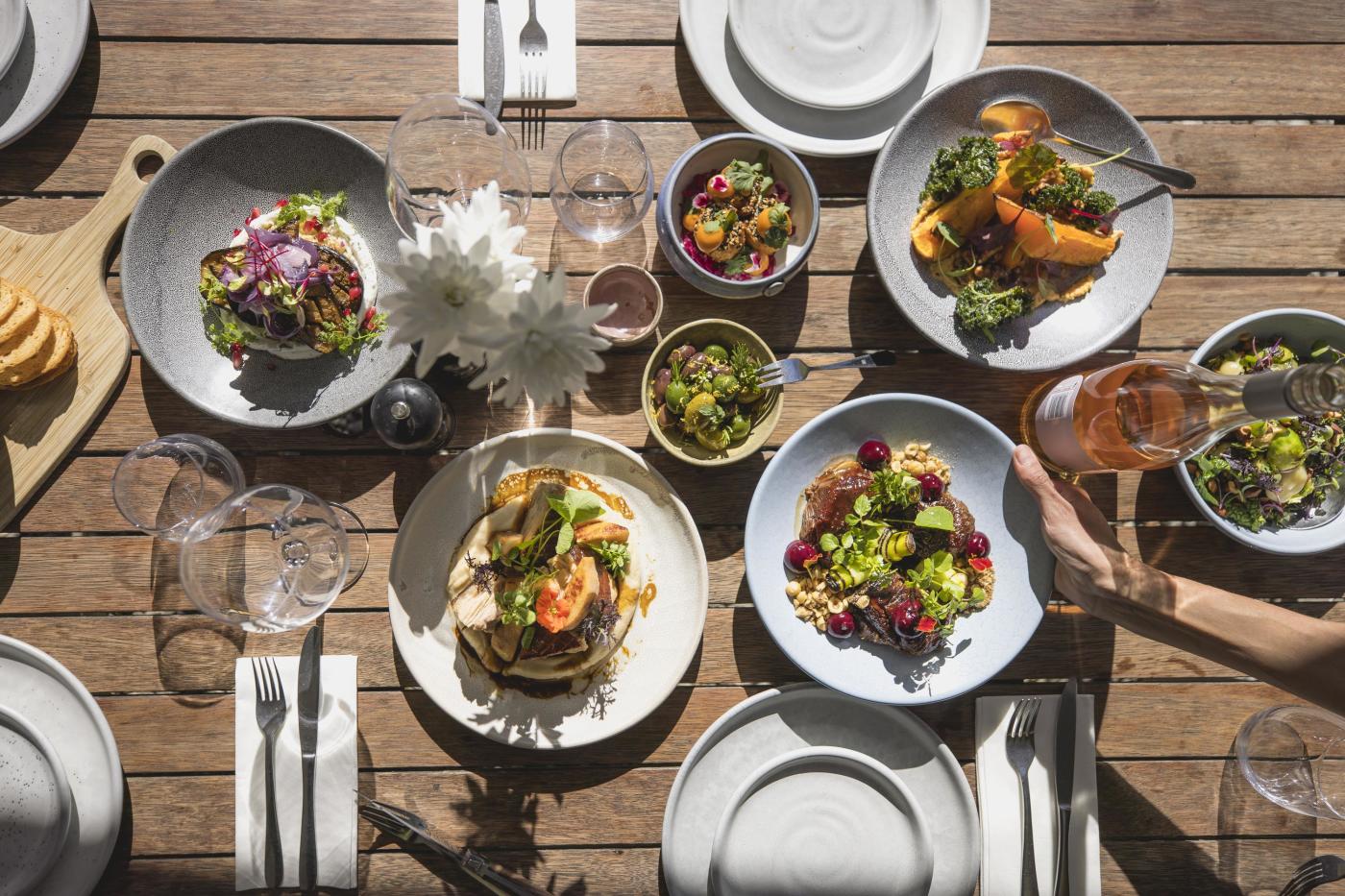 Mora Wines & Kitchen
Hot Tips for Cool Slopes
With two ski fields so close, you can ski The Remarkables one day, and Coronet Peak the next. 
Start your weekend with a bang by hitting Coronet Peak for Friday night skiing. It's the only place in NZ you can ski in the dark. See the sun set. Go for a few runs down the floodlit slopes. Enjoy some mulled wine, soak up the tunes and party vibes, and be back in town for dinner. 
Te Rina likes to introduce her mates to the jumps in the Remarkables terrain park. But if you're not up for getting a bit sendy, take the Curvey Basin Chair for a long open run and a choice of routes to the bottom. 
Then grab a coffee and one of the infamous sliders – an English muffin with hash brown, egg, and cheese. Te Rina says: "It's greasy and delicious. Just what you want when you're burning so much energy." Refuelled with fried goodness, jump on the Shadow Basin Chair. At the top, take a 10-minute hike to the Lookout for a panoramic view out over Queenstown.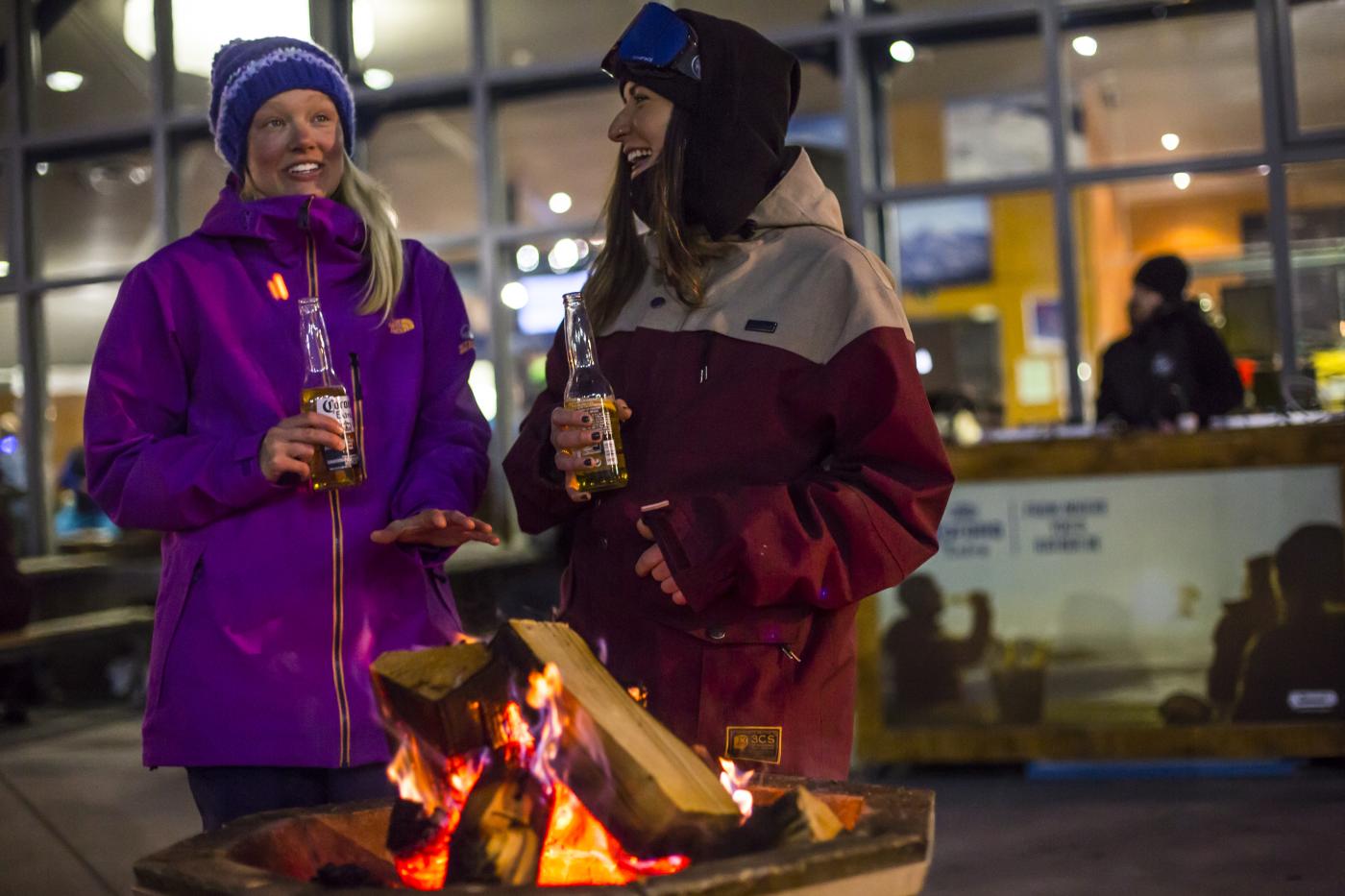 Coronet Peak night ski
It's Not All About the Powder
Well maybe it is … and who can blame you, with such great mountains so close. 
But if you're keen to mix your weekend up with other midwinter activities, you've come to the right place. Queenstown has so much to do. Your only problem will be choosing how to spend your time. 
Diana's top tip is to explore Arrowtown for a stroll up the main drag of Buckingham Street and browse the lovely boutiques. You'll find homewares, wine, fashion, and artisan crafts in the charming heritage shops.
Or take a wine tour and visit some cellar doors. Explore original Queenstown legends like Gibbston Valley and Chard Farm Winery. Then taste a few newer drops, like Wet Jacket, Coxs' Vineyard, and Kinross, a vineyard set in a 100-year-old station. Central Otago is famous for its Pinot Noir. These vineyards also produce exceptional Chardonnay and aromatics like Riesling and Pinot Gris.
Te Rina's a fan of hiking up Bob's Peak. "I'll hike the Tiki Trail with my friends with good legs, or you can take the gondola up. Then you've got the Skyline Luge and the Ledge Bungy to play around with. Plus, there are some beautiful ziplines through the trees"
Both our local guides recommended booking yourself in at the Onsen Pools for some blissful relaxation in nature. At the foot of Coronet Peak, these spring-fed hot pools have panoramic views over the Shotover River. Nugget Point also has private spa pools you can rent, a swimming pool, and spa. And Millbrook Resort offers day passes for their spa pools and hot pool. 
Skiing is mighty exercise. If you're not used to such exertions, your muscles may be yelping. We've got your back. Try the Body Sanctum Day Spa for a deep tissue massage with warming aromatherapy oil. Or book an aroma stone therapy at the Spa at Millbrook.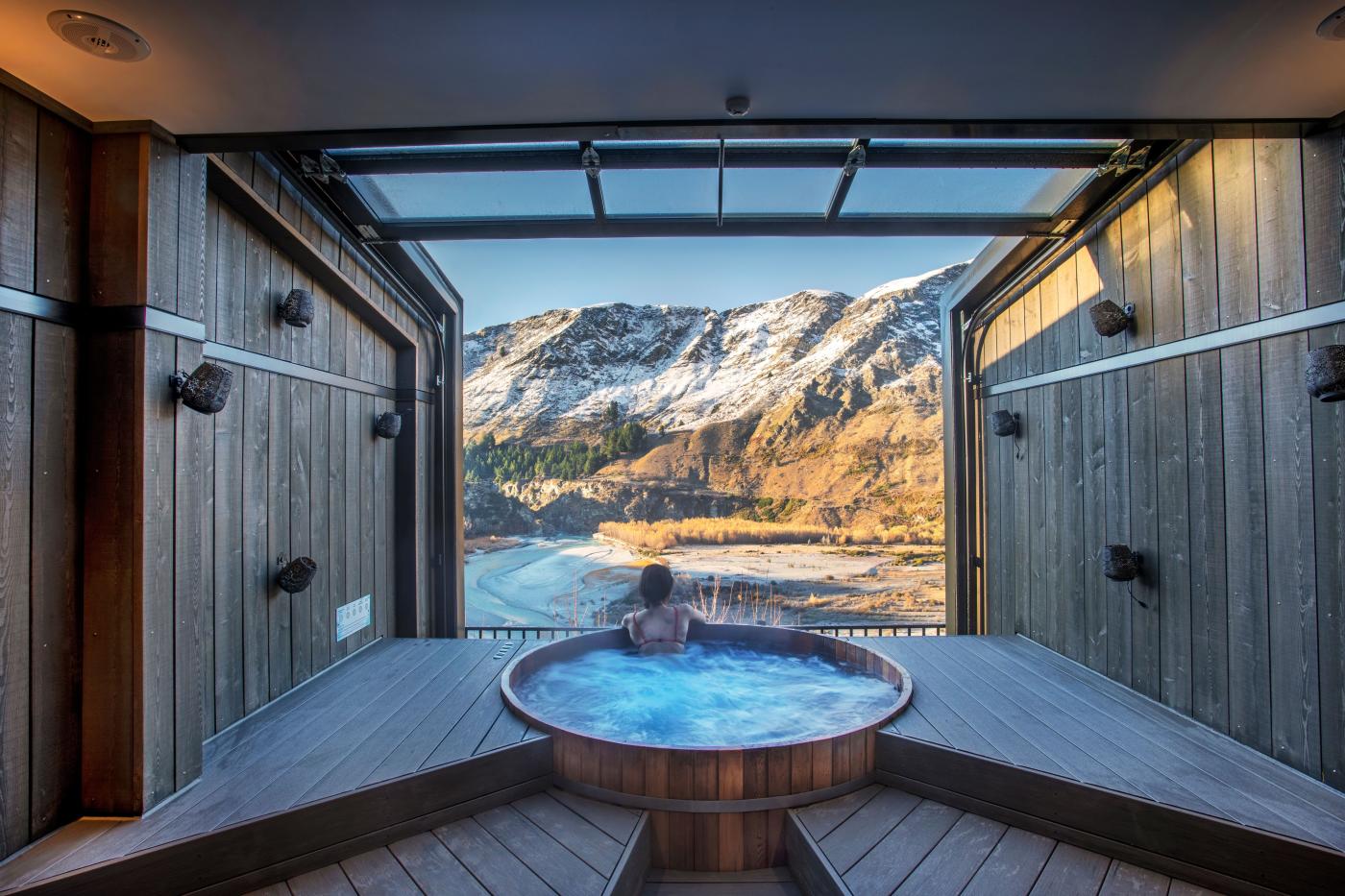 Onsen hot pools in winter
A Little Après-Ski Delight?
The only thing Queenstown does better than skiing is après-ski, and we are here for it. 
If you've spent the day at Coronet Peak, you don't have to go far for a well-earned beer. Head to Cargo at Gantleys in Arthur's Point to try small batch seasonal local brews and sit outside by the large outdoor fireplace. 
Te Rina's a fan of Sherwood for chilling after a big day on the slopes. With a sauna and table tennis, they pour a luscious orange wine. And they've an ever-changing selection of craft beers. Te Rina says: "It's also a great place for dinner. The food is amazing, they grow a lot of their produce and they're sustainably minded." 
Diana recommends booking a table at Queenstown icon Botswana Butchery. Set in a historic cottage, roaring log fires and lake views make for the perfect indulgent evening with friends. We're a fan of their French onion soup with Gruyère cheese as a winter warmer. Their dessert menu's packed with crowd pleasers like crème brûlée, chocolate mousse and affogato. 
Or dress up warm and do a cocktail crawl. Start with a mulled wine (best in town) at Perky's Floating Bar. Then head to Little Blackwood for early live music and an espresso martini pick you up. Next mosey up to the Eureka Arcades for a Dark and Stormy at Habana Boutique Rum Bar. Round off the night at the Bunker in Cow Lane with a late-night bottle of Champagne, and toast midwinter adventures with good friends.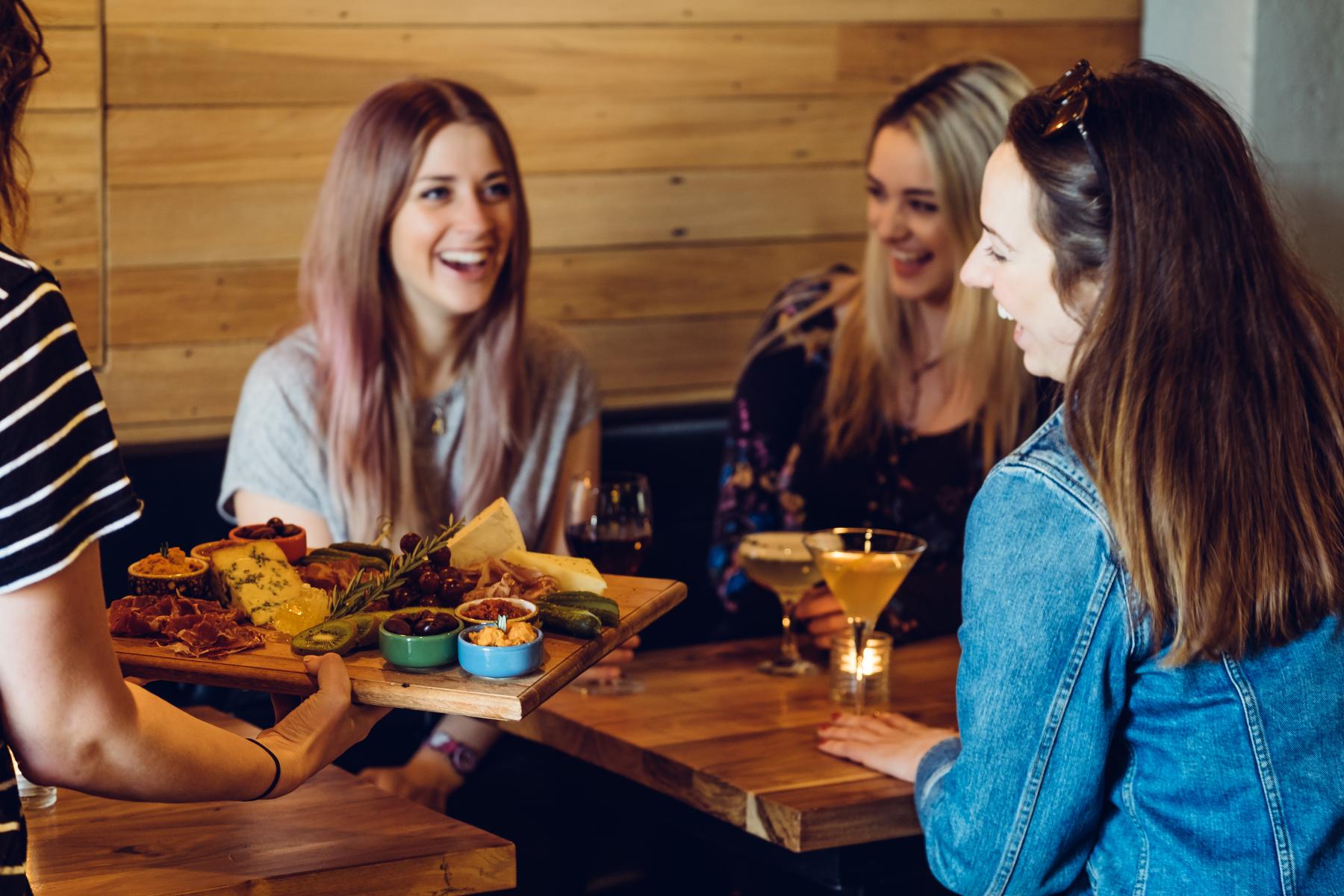 Little Blackwood